THE BILL'S BACK IN TIME COLUMN PAGE
Copies of my column in Mark Thomas' "Racin' Paper"
Column #13 from Column 26
BILL'S BACK IN TIME
By Bill Ladabouche
ANOTHER LONG-FORGOTTEN FAIRGROUNDS RACE TRACK
Despite being pretty attentive to racing my home region –the area that encompassed Fairmont Speedway in Fair Haven, Vermont, I could not travel around as I might have wanted due to the fact I wasn't old enough to drive. The area involved a lot of important and obscure race tracks within the immediate traveling area: Lebanon Valley, Claremont, Fonda, and Albany – Saratoga were well – established ovals, while the variously – named track near Vergennes, Vermont was less so successful.
With the lack of mobility [beyond my uncle's generous chauffeuring to as many distant points as his limited time would allow] I had not managed to be aware of the fact that the Stateline Speedway in North Bennington, Vt. had survived far longer than I knew, as had Mettowee – over in North Granville, NY. Whites Beach Speedway had run its course in Ballston Spa, NY without my ever hearing about it.
Another facility that I had no idea had survived into the 1960's was the track at Warrensburg, New York. I had always been aware that there had been a Warrensburg track, as so many Fairmont and Otter Creek Speedway stars were from that region; but, I had mistakenly formed the impression in my pea brain that the track had long since died out. At least until 1961, that was a wrongful assumption.

Ladabouche Photo
Ed Baker was one of the more prominent Warrensburg stars to travel his skills into Vermont. Here the car is at the Rutland fairgrounds. I believe the man is Vern Baker, owner, He might have been a brother or uncle.
The Warrensburg track [sometimes referred to as Ashland Park] was located at the old Warren County fairgrounds in Warrensburg. From helpful sources like Bruce Keith and Ralph Palmer, I have gotten some fragmented information on this track was, previously, almost totally unknown to me and which was far more active and significant than I had imagined. Running approximately from 1954 to 1961, it was promoted by different individuals and partnerships; and, it all seemed to end when there was a grandstands fire in 1961.
Ashland Park was able to draw from a surprising reservoir of potential competitors. At the beginning of Warrensburg, Fonda Speedway was not yet the giant it would become soon; nearby Ticonderoga had had a race track [Champlain Speedway]; West Glens Falls, surrounded by an area rich with avid race drivers, had tried a track; Mettowee was running in North Granville; and Whites Beach, Empire, Route 66 and Burden Lake all took turns trying racing in the Capital District [which was not that far away].

Ladabouche Photo
The Ash's Hotel watering hole served ad the unofficial gateway to the old fairgrounds. I think the proprietor was the first and most widely - remembered track promoter.
Warrensburg could draw on some large contributing families, the largest of which were the Bakers and the Pennocks. And, the Bakers even provided some of the track's numerous promoters. At various times,, Ashland Park was run by Rick Patterson [who also had a hand in Whites Beach]; Wilbur Baker and Beacher Baker; Ward Tower; and, finally, Hank Schmidt, a driver and future CVRA official from Gansevoort, NY. Who ran the track with help from Fonda legend Earl Maille.
Some of the members of the large Baker clan also managed to stay the course at Warrensburg as drivers, as well as perform in front of me at Fairmont, too. Most notable of these were: Lennie and Wilbur Baker – ME2 and ME2, Jr; Ed Baker, with his Hudson 6 PAKS; Vern Baker, who seemed to do mostly mechanical work for Ed; and believe someone named Stu Baker ran, as well.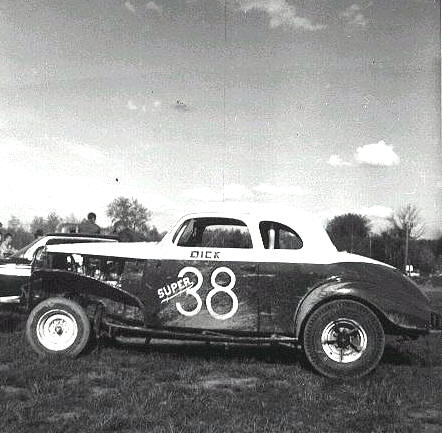 Ladabouche Photo
This beautiful Chevy was the 1963 version of Dick Pennock's SUPER 38's. The term Super 38 originated from the 1938 body. This was the only '38 body I ever saw Dick run.
From Day One at Fairmont, the Champlain Valley Racing Association had Dick Pennock, Sr. with his immaculate SUPER 38 cars. Pennock's great – looking Chevy coupes sported the artful metal fabrication work of Wayne Reed, and they were crafted ahead of their time. Dick's brother Jerry, whom the family called "Porky", started at these tracks in a very limited role and went on to Malta and Fonda and a very full, successful career.
Some other names, prominent in that era and that region, ran the dirt of the Warren County fairgrounds track at Warrensburg. Earl Maille, a hulking native of Glens Falls and man often mentioned in the Fonda Speedway history book, ran one of Henry Caputo's legendary red and white 111's at Warrensburg until he was involved in a career – ending accident. He later co-promoted there in 1961. Bob Shriner brought a #19 up from Troy, and Ralph "Rufus" Chittenden would haul North from his usual stomping grounds in Morris, NY. Earl "Little Joe" Spellburg, one of the most obscure Fonda feature winners of all time, was a Whites Beach regular who took cars to Warrensburg. Wally LaBelle, a legend in the early days of stock car racing, was another Whites Beach driver who was an Ashland Park regular.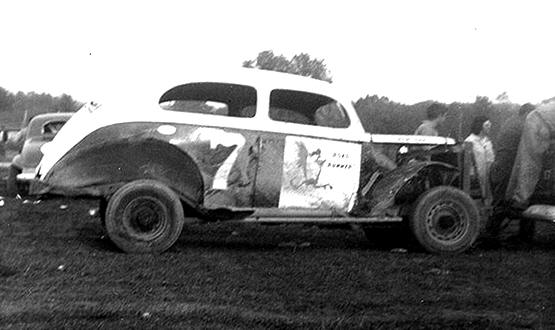 Ladabouche Photo
The Joe Spellburg sedan, shown here at Fairmont, was once an Ashland Park car.
Granville, New York's Art Visconti began his career at Warrensburg, using his father-in-law's home there as a racing base. Known as "Bud" when he started. Visconti managed to destroy his first race car at Warrensburg before moving his operation on to Fairmont Speedway around 1963 to run his familiar orange and white #001's. Red Lamphere's maroon #19 was a familiar sight in Warrensburg, running out of Lake George with drivers like Tom Bennett. Glens Fall's Rapid Ralph Palmer, later to be car builder Dexter Dorr's chosen wheelman, started first at Warrensburg. According to Palmer himself, his first car – his own #44 ran there around 1958. The 1946 Ford coupe was probably the car that gave rise to Palmer's red sedan numbered 444 at Fairmont in the mid 1960's. Palmer also ran the #150 for Joe Griffith in 1959.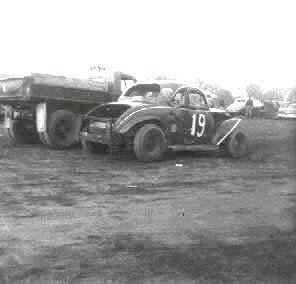 Ladabouche Photo
The Red Lamphere coupe, from Lake George.
One of Fairmont Speedway's early favorite cars was Joe Spellburg's 1940 Ford sedan, the black and white #7 with the cartoon Roadrunner professionally painted on a white panel on the sides. The car was first stock car to drive onto the Fairmont track surface for the very first practice session on the first race date in the C.J. Richards era at Fairmont. The freshly – painted, snazzy – looking sedan captured the fancy of many of the fans. Gutted, as the stock cars were in that time, the large roof would characteristically quiver as the car traversed the rough Fairmont clay track. Spellburg had bought the car from Johnny Jones, who fieded it for legend Wally LaBelle at Warrensburg in 1960 and 1961. Palmer, who always loved the cartoon on the side panel, acquired the panel from the car when it was junked in 1964 and used a similar Roadrunner on his Dexter Dorr #43's, when he ran them in the late Sixties.

Ladabouche Photo
Rapid Ralph Palmer, whose car is shown here at Fairmont, ran this same rig at Warrensburg. I think he got the car from friend, Earl Maille.
With rising competition and the fire, the Warrensburg track closed in 1961 [probably with a little help from the dust and noise – weary populace of the village]. The remaining [newer] aluminum bleachers may have ended up at Fairmont or even Devil's Bowl. The Warrensburg tradition lived on with the Pennocks, with Rusty Duell, and with "Fast Eddy" Keenan [also called The Gray Ghost]. Not much is left of the track but a few photos, some traces of the track, and Ed Harrington's 8 mm movies. But, the effect it had on racing the region will live on forever.

Hackel Family Photo
This is one of the few pictures of the actual Warrensburg facility.
The Vern Baker - owned 6 PAC of Wally LaBelle is lined up in
the rear of the field. Note the date on the photo.
Return to the Main Page
Return to the Columns Link Page
Return to the Main News Page