BILL'S [Somewhat] WEEKLY COLUMN/BLOG PAGE
THE FIRST COMING OF RICK HENDRICK
You hear it so often – complaining about how the sport of major league stock car racing has come to a battle among huge teams whose size and resources actually eclipse the formidable factory teams of bygone days. In these current days, probably Rick Hendrick is the poster child for these mega – operations. Appearing in the 1980's, Hendrick Motorsports did not kick off the concept of the multi - car team; but, it not only brought that concept up a notch – it also seemed to attract a number of other mega teams' entry into the fray: Richard Childress, Jack Roush, and the like.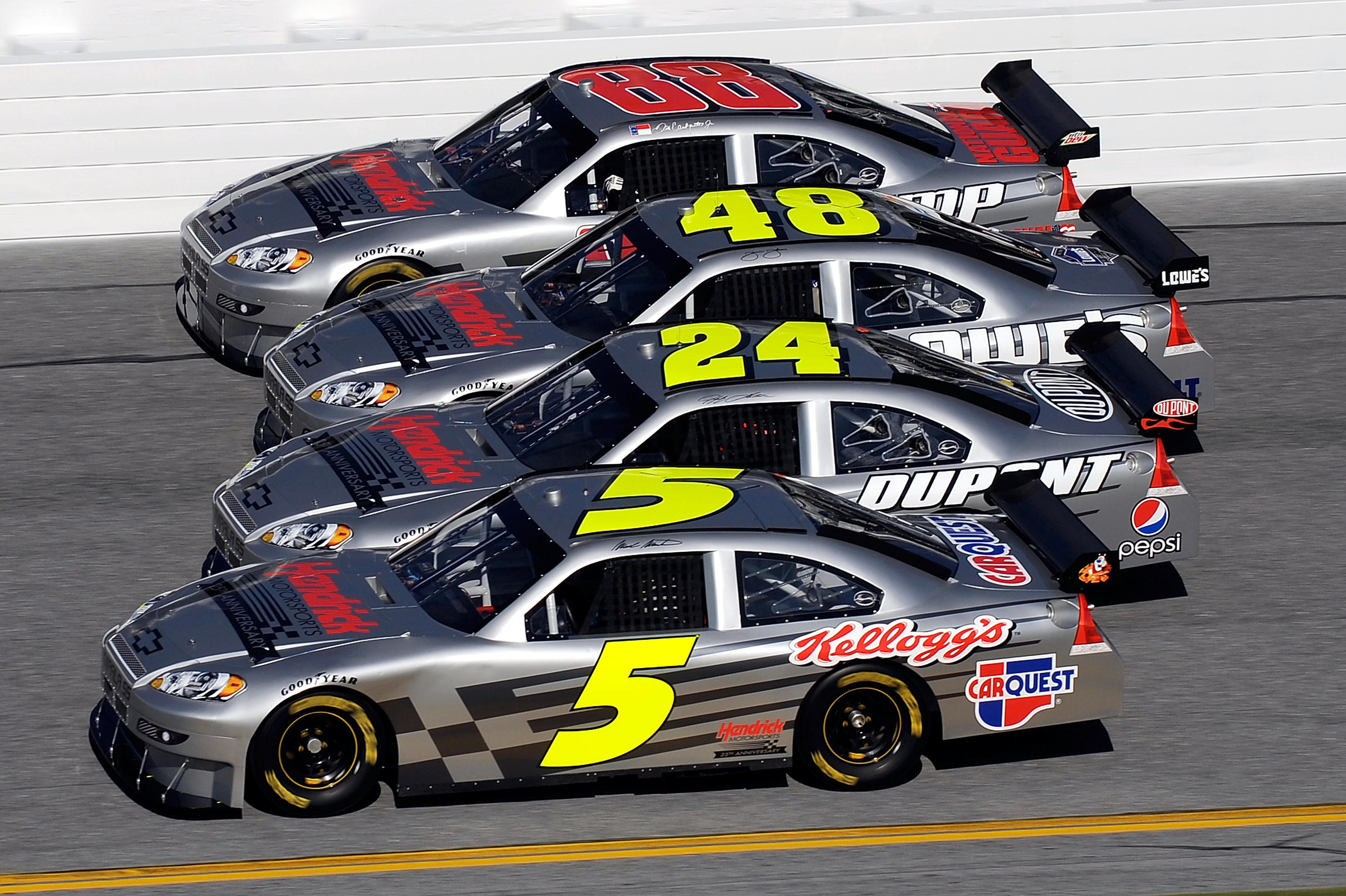 Dan's Pit Stop Racing Image
Shots like this of the 2009 Hendrick Motorsports lineup at Daytona seem commonplace today.
This wasn't always the case. Below - Red Byron future Kiekhaefer wrench Red Vogt's basic coupe.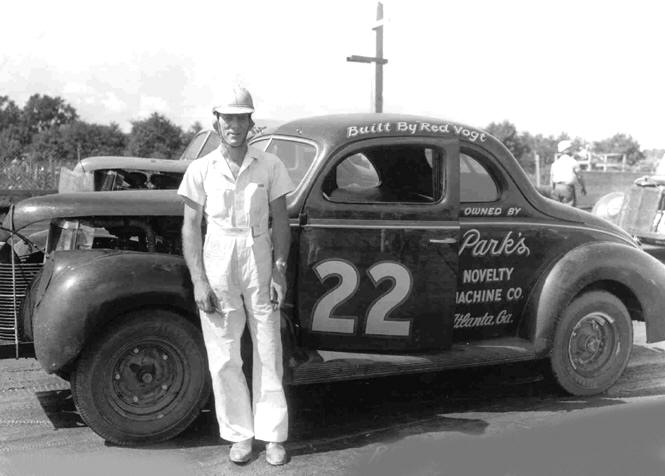 Legends of NASCAR Photo
Factory support was always a huge factor in the earlier days of racing, with the various Big Three manufacturing corporations taking turns being involved. While Ford seems to have been the most consistent supporter of NASCAR's biggest league, Chrysler Corporation involvement [in my opinion] made Petty Enterprises what it was in the 1960's and '70's. However, when one considers the huge groups like Hendrick's, it is not totally tied in with the factories, as it once was.
One brief but noteworthy non – factory multi – car effort was that of J.D. Stacy. As one writer Matt McLaughlin put it, :"Jim "JD" Stacy, a mercurial megalomaniac millionaire, who had made his fortune in coal mining, and visited various misfortunes on those naïve enough to trust him, spoiling a good many drivers' careers along the way." Stacy had involvement with at least a dozen drivers over a period of eight years; but his multi – car racing efforts usually derailed.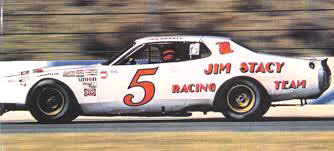 From Jayski's Site
J.D. Stacy started out with the floundering harry Hyde cars and ended up involved with racing efforts for a large number of drivers between 1977 and 1983.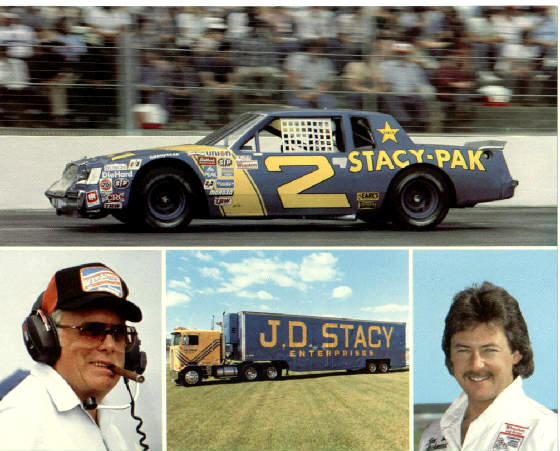 Dead Man Walking51 Photo
Between his seeming rescue of a sagging ex – Nord Krauskopf #71 team in 1977 until his final bowing out around 1983, Stacy touched the careers of such as Joe Ruttman, Morgan Shepard, Dale Earnhardt Sr., Mark Martin, Tim Richmond, Jody Ridley, Dave Marcis, Neil Bonnett, Terry LaBonte, Ron Bouchard, Benny Parsons, and even a little – known female driver named Robin McCall. He also had a direct [and equally deletrious] effect on Harry Hyde, Junie Donleavy, and Ferrel Harris. Stacy went through that tempestuous few years creating such ill will and enemies that he once found his car rigged with a bomb.
The Stacy cars were arguably the most watched entrant in Grand National racing for a while, running wither with a large "J.D. Stacy" emblazoned on them or with "Stacy Pak Vitamins" ads instead. An early 1977 entry with Neil Bonnett showed the car labeled simply as "Jim Stacy Racing Team". He had, in the course of his run, also bought the Rod Osterlund #2 team, which plummeted after a promising beginning. However much of it was faced, notwithstanding, Stacy was a super team independent from the factory teams
This brings us to the first real big – time, big buck, multi -car racing operation to hit the NASCAR Grand National division: The Kiekhaefer Mercury Outboard racing team. E. Carl Kiekhaefer, educated as an engineer, was a driven man who took a floundering brand of outboard engines and farm equipment and transformed the former product to the point where the demand for them generated a multi – million dollar business operating out of Fond du Lac, Wisconsin. Apparently his competitiveness and a love of cars and speed spurred him to form the sport's first super team. The team would come against the onset of factory teams in the Grand Nationals and came out smelling like a rose.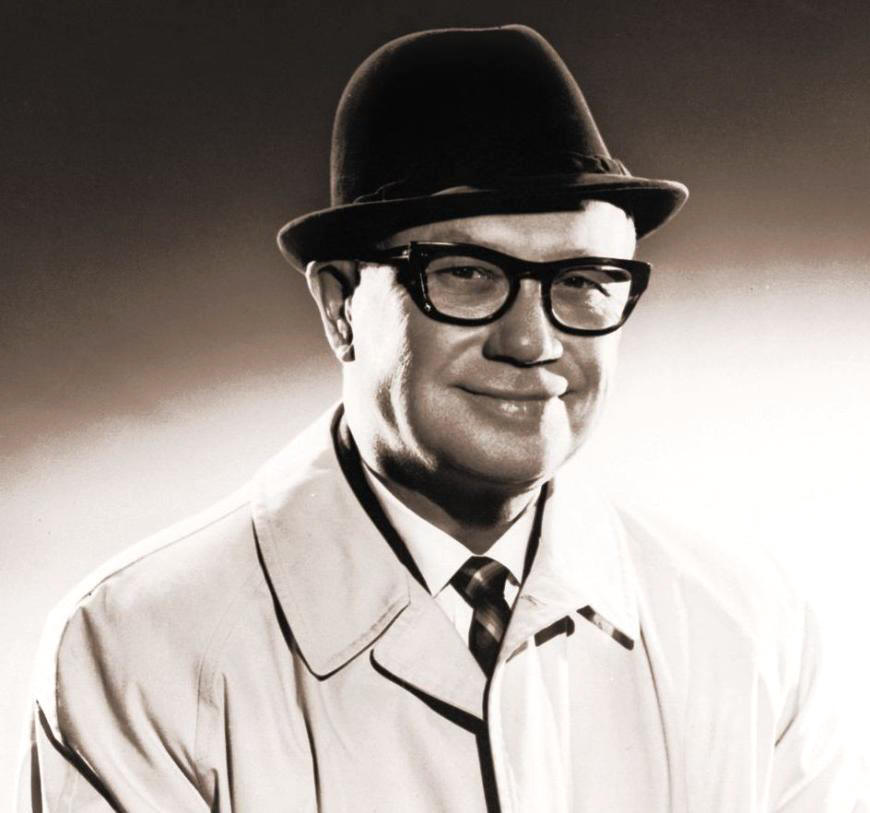 Courtesy of Hemmings Motor News
The remarkable E. Carl Kiekhaefer. Below – a 1947 Mercury Lightning Bolt outboard motor.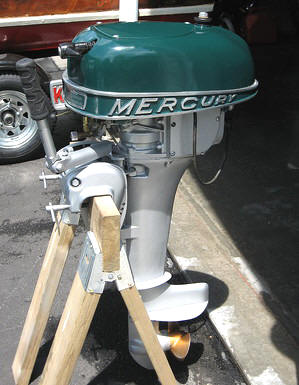 Bing Images

The story for Kiekhaefer begins when the attention and fancy of racing America had been captured in 1950 by a young West Coast driver named Herschel McGriff who had entered the first running of the Mexican Road Race, the Carrerea Panamericana. McGriff had entered with a newly purchased, right – off – the showroom – floor Oldsmobile 88. The following year, two Kiekhaefer – prepared Chrysler Saratogas entered, one finishing third with Indy driver Tony Bettenhausen behind two professional Ferrari teams. That was it – Kiekhaefer was bitten by the auto racing bug. Before that, his only competition had been on the water.


Chrysler Racing Magazine
The Tony Bettenhausen entry in the 1951 Carrera PanAmericana race. Below – Frank "Rebel" Mundy poses with a Kiekhaefer car the might used for AAA.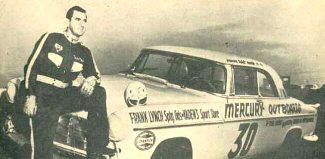 Georgia Racing History.Com
Discouraged by road race rules that favored lighter cars, Kiekhaefer turned to newly – paved fairgrounds track at Milwaukee for his next venture. He and Bettenhausen won the AAA race with a Mopar that likely had been prepared for Mexico. Carl would use Tony and AAA / USAC driver Chuck Stevenson to run AAA races until Frank Mundy took over and won the last AAA title. With AAA getting ready to bow out of racing, Kiekhaefer turned his eyes to the burgeoning National Association for Stock Car Auto Racing [NASCAR].
NASCAR was touting the Grand Nationals as its "strictly stock" division, a class which seemed dominated by medium weight Fords and Chevrolets, although almost every brand of American car was represented. There was a lot to consider in deciding to field Chrysler 300's. Lee Petty had won a title driving a Chrysler New Yorker, but the 300's were really heavy and came with automatic Powerglide transmissions. Prospective Kiekhaefer driver Tim Flock's input led to Carl legally installing manual transmissions in his cars. The team felt the sheer weight of the cars would work well in the almost – constant contact that occurred in that sport; then, the huge hemi engine would keep the cars fast.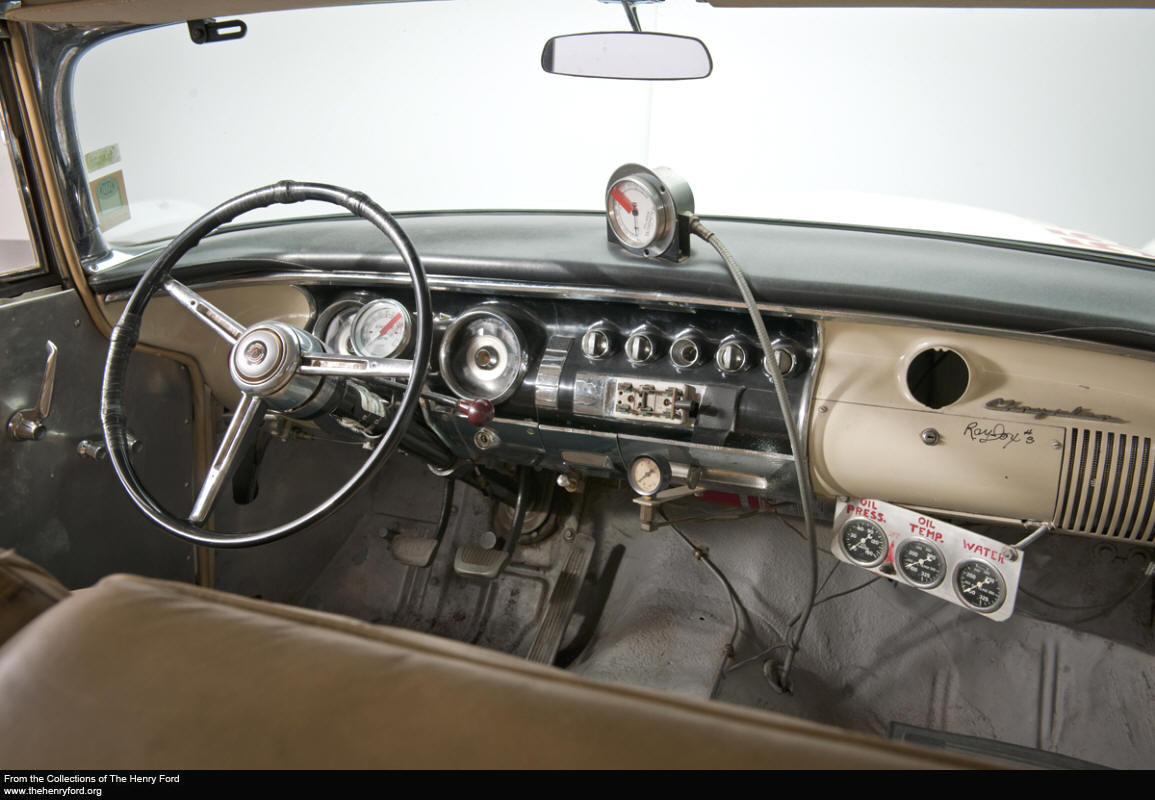 Courtesy of Henry Ford Museum
Tim Flock's "office" in the Kiekhaefer organization. Not much safety equipment or special modifications. Below – Tim Flock.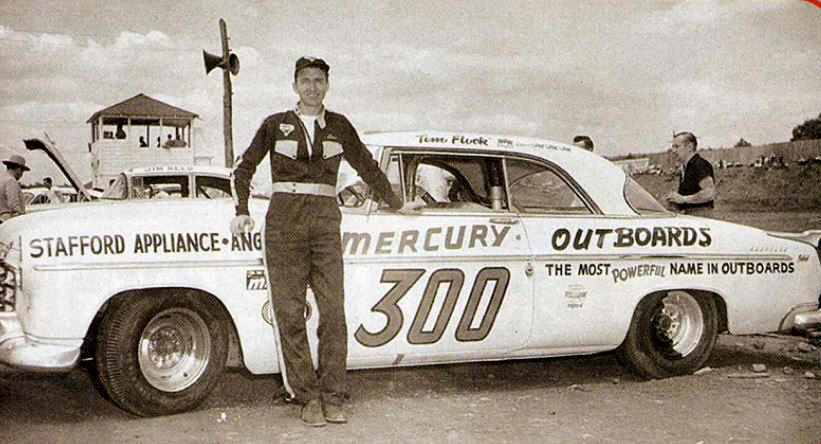 gpix.com
Chrysler had awarded race – outfitted 300's to both Lee Petty and to Kiekhaefer [who ended up with two of them]. Doubtless, Chrysler had felt pressure from seeing Chevy and Ford becoming more and more involved. In time, it was thought that Petty received car #1001 [the first such race – outfitted 300] and that Kiekhaefer somehow ended up finally with the next four. Tim Flock was the lead driver, with brother Fonty, usually running as team mate. Frank Mundy seemed to be sent to run the last year of AAA races in the MidWest. He would often be joined by Bettenhausen and Norm Nelson driving 300's with numbers like 99.
It is almost completely impossible to follow everything Kiekhaefer had his tentacles in in 1955. A car 303, which ran Kiekhaefer ads, was reported to owned by one Henry Ford [who even drive it once or twice in races]. The 303 was driven at times by Buck Baker. Another team [#302] had driver Carl Krueger. Writer Dan Elliott estimates that at one point in the 1955 season, given racing in both AAA and NASCAR events, as many as seven race – ready Chrysler 300's were in the Kiekhaefer stable.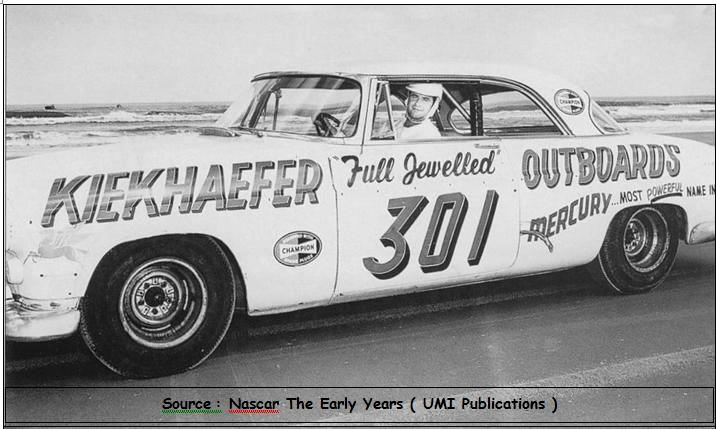 Courtesy of Forum-Auto.Com
One of the "other" Kiekhaefer cars besides Flock's. It's not Tim, Buck, or Fonty. Below - Speedy Thompson in a Kiekhaefer – related Victory Lane.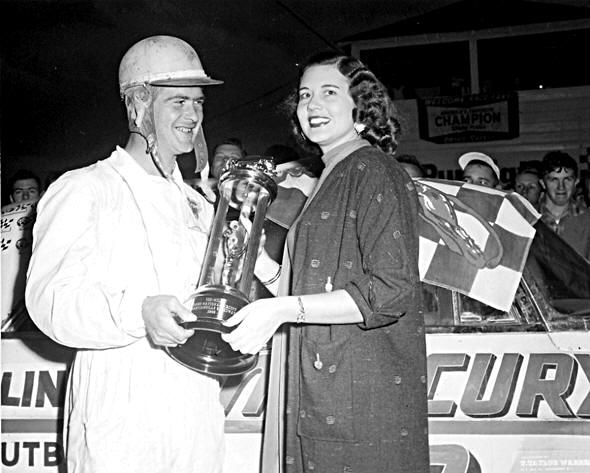 Not in Hall of Fame.Com Photo

By the Labor Day race at Darlington, it looked like Tim might be in line to win the Grand National title. He had won the race there in a Chrysler numbered 16, but Fonty had crashed .the team car numbered 36. It was becoming clear the sheer weight of the 300's did not work on all racing surfaces and configurations. Kiekhaefer was looking ahead to 1956 and thinking about field at least some lighter cars.
Towards the end of the 1955 season, probably as a response to the massive Kiekhaefer effort, Ford had begun a factory team behind old Indy 500 hero Peter DePaolo. The supposed clash of these two groups would be at the 1.5 mile Lehi, Arkansas race. Kiekhaefer had four Chryslers in the field; but here's where it gets muddy: some of the Depaolo Fords in the field [all bearing numbers in the 290's], were reportedly owned or sponsored by Kiekhaefer. Speedy Thompson won the race in Ford #297.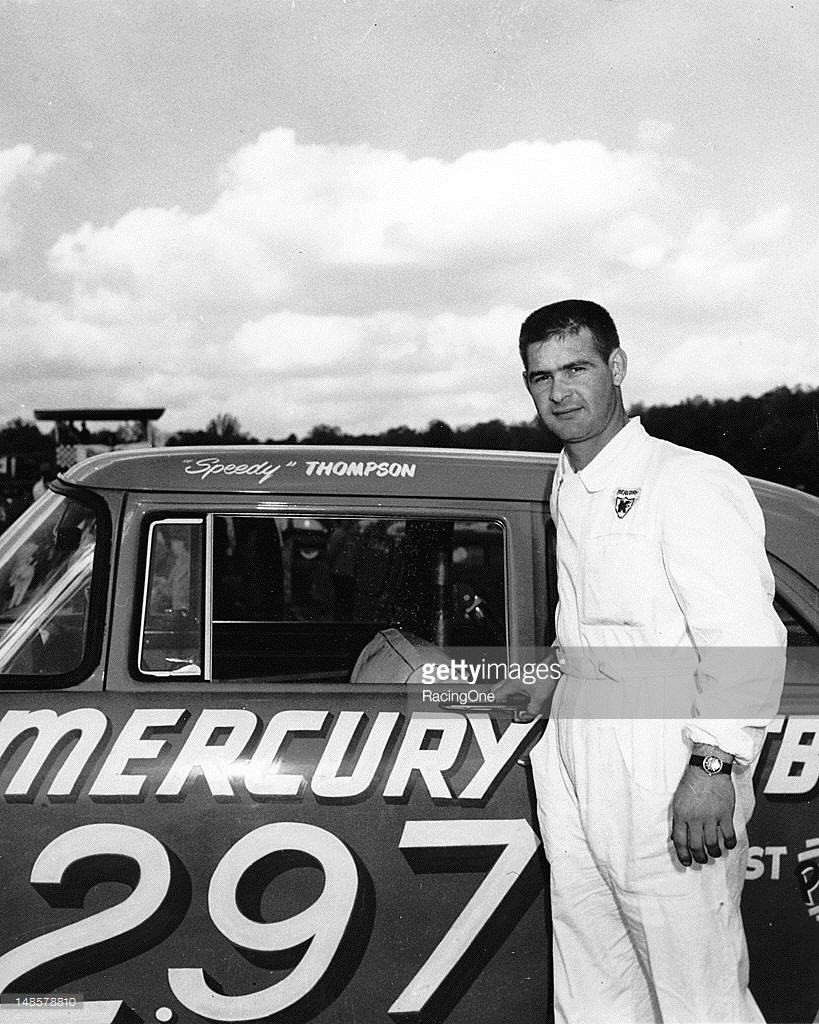 Getty Images
Here's a twist for you. Kiekhaefer obtained this Ford, from Ford,with which to have Speedy Thompson block for his Chryslers.
The car was run by Peter DePaolo, supposedly a Ford factory – supported rival. Kiekhaefer ended up winning a race with Speedy"
and this Ford when the rival Fords all broke down and the heavy Chryslers couldn't keep up.

Dan Elliott cites a former Kiekhaefer team member as stating that, originally, Kiekhaefer had acquired the Ford straight from the factory with the understanding that Thompson would block for the Chyslers. He later found out the DePaolo Fords had special equipment Ford had withheld from him. When most of the Fords started falling out with some technical shortcoming, he urged Thompson to go head and win the race -to "show them all". That backfired as Ford still go all the credit for the win.
Terry Shea, in an article about Kiekhaefer for Hemming Motor News, described Carl as well as it could be stated: "He hired the best drivers. He used enclosed transporters. His crew wore matching uniforms. And his cars featured big – lettered sponsorship markings from bumper to bumper. But, most importantly, his teams showed up with the best prepared cars. In just two years – 1955 and 1956 - Kiekhaefer's drivers won 52 races and two NASCAR Grand National Championships. Overall, his drivers scored 116 top fives and 139 top 10's out of 190 total race entries."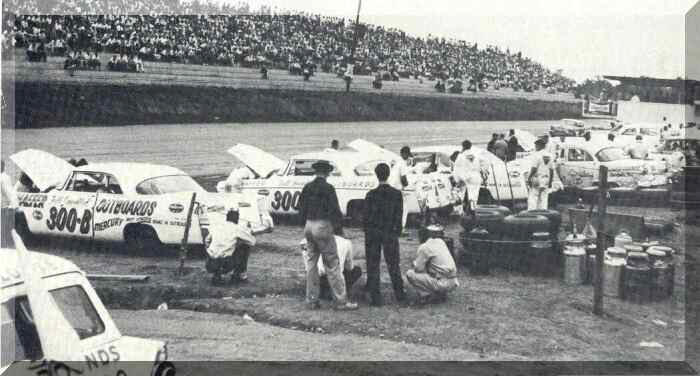 Source Unknown
An impressive lineup of Kiekhaefer cars at some Grand National race.
Below – There was never a shortage of powerful hemis at Kiekhaefer headquarters.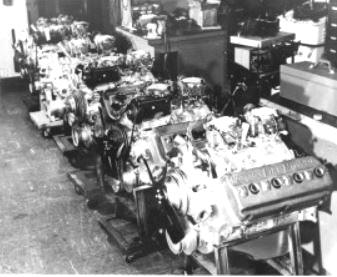 Kiekhaefer Memories Section Old Cars Weekly

The five – car Kiekhaefer operation used top notch drivers such as Tim Flock, Buck Baker, Speedy Thompson, Frank "Rebel" Mundy,and Herb Thomas. During his two – year tenure in NASCAR, Kiekhaefer's team dominated the Grand Nationals in an era before most superspeedways were even conceived of. It is debatable whether his operation, using Chryslers, would have fared well a little later because the large, bulky Chryslers might not have performed too well on the super tracks that were to come. He also fielded an occasional sports car, as well; NASCAR was allowing some of them in its earlier races. Kiekhaefer cars started out with numerals that centered around their model name, the Chrysler 300. The cars were variously identified as 300, 300 – A, 300 – B, 301, and 30, that first year. There was even a Chrysler convertible stock car numbered 503.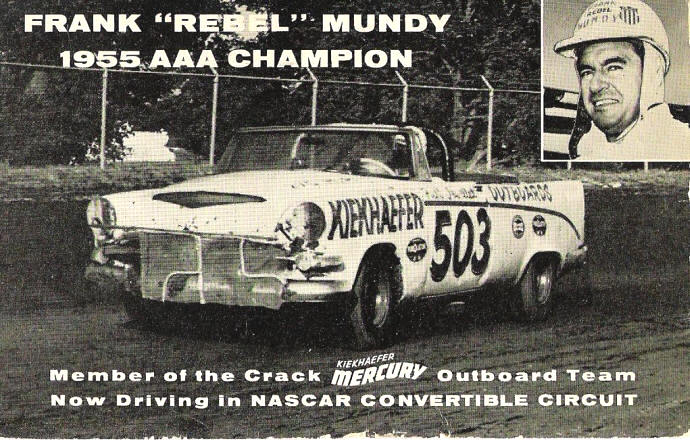 Legends of NASCAR Site
Yup, they even had a convertible – usually driven by Rebel Mundy. Below – employees hard at work in the engine room Most teams
didn't have a separate room for motors, let alone this many workers.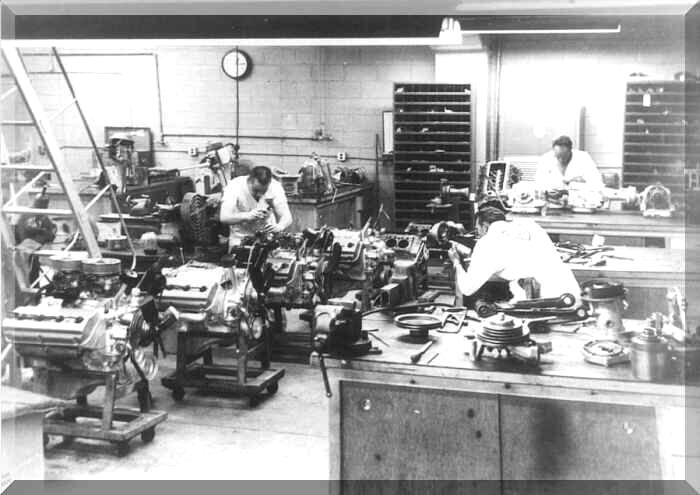 }
Source Unknown

Kiekhaefer [apparently pronounced "kee – kay – fer"] was a brilliant mechanical thinker and an aggravating perfectionist. He may have introduced today's common practice of cycling tires. Pat Olk, a former employee writes: "Kiekhaefer was a fanatic about tires. I think that, up to that time, nobody thought of wide rims. He would cut rims and weld the two wider portions together. The tires were never raced until they had 500 miles on them. To do this, his personal New Yorker and Imperial and other company cars all had racing tires on them. Office personnel would spend their days driving around, putting miles on the tires. After dismounting the tires, Kiekhaefer would personally examine them. Then, they would be balanced and stockpiled for racing. In those days, there were both dirt and asphalt tracks so there were different tires."
Today, we hire out a track to do testing, and our shops can handle almost all the racing prep. Not then. Kiekhaefer used local alignment services and local body shops for some of his needed work. And, he used Osh Kosh as his personal testing ground. Olk went on to state "Compared to today, in 1955 and 1956, the police were pretty lax.......In January 1956, Kiekhaefer acquired a maroon 1956 300-B to race in the Daytona Flying Mile. This was before radar, so to test the speed, they made a speed check unit using two hoses so many feet apart. It was similar to what police used in those days. The research plant was situated on an approximate two-mile stretch of road on the northern Oshkosh city limits. One Saturday afternoon, the hoses were set up in front of the building and spotters were placed at each end of the road. When the traffic was clear, the spotters would signal and the car would take off from one end of the road, accelerating as hard and fast as it could reaching speeds over 100 mph as it passed the facility. All this on a city street!"

Kiekhaefer Memories Section Old Cars Weekly
The Mercedes Gull Wing sits behind the haulers at Kiekhaefer racing headquarters in Wisconsin. Below - Brewster Shaw, a Florida Chrysler dealer, used this car to promote his brand and the Kiekhaefer effort. It was Shaw who put Tim Flock together with "Carl Kiekhaefer.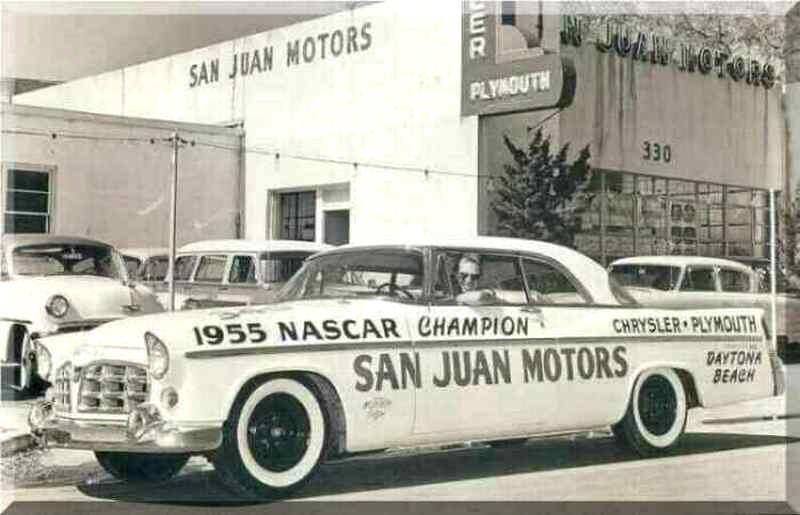 Kiekhaefer Memories Section Old Cars Weekly



Tim Flock had been the standard bearer for the team, having the highest degree of success in a group that smacked of success. He generally ran the #300 or the 300-A. But, Kiekhaefer would also get into numbers like 99, 16, and 36 – for whatever reason. A very colorful personality from a Southern family of three racing brother and a racing sister, Flock – at one point – walked around the pits and even drove some with a pet monkey named "Jokko Flocko". Photos of his and the other team cars show a number of interesting graphics all over the body. His brother, Fonty, had often teamed up with Tim and worked together in NASCAR races that season.
The white Chryslers bore their numbers, huge Mercury Outboard ads stating "Kiekhaefer Fully Jeweled" Mercury Outboards, bold numbers stating the power of the hemis [340 H.P.], and a mention of Ray Fox on every car. The full team did not appear at any except the biggest races but even many of the low – priority races such as those on the Northern Tour could expect at least two Chryslers. Bad track conditions led to the failure of the Chryslers from making it to Airborne, according to the Fonda history book.

Kiekhaefer Memories Section Old Cars Weekly
Two Kiekhaefer cars get by as cars on the old Beach Course spin out of control.
Below - Tim Flock in his familiar place – leading – in turn one of the beach course.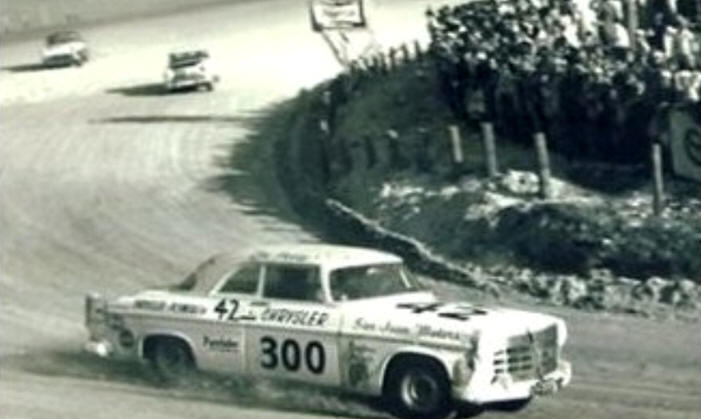 Forum – Auto.Com
The Kiekhafer cars were something to behold. Under the leadership of prominent mechanic, Ray Fox, the big, white Chrysler 300's were outfitted with state – of – the – art Chrysler Fire Power hemi engines. The extremely particular Kiekhaefer micro – managed every detail which,it appears , turned out well as the big white 300's were impeccably prepared. The cars debuted on the beach course during the 1955 Speed Weeks, and competed in most of the Grand National shows, eschewing occasional obscure races such as the 1955 race at Airborne Park Speedway, in Plattsburgh, NY.
The Kiekhaefer cars were the hottest thing going during that season, and were expected at tracks in the North during that unpopular [with teams] Northern Tour. The Kiekhaefer team appeared at Fonda the night before. Disappointed northern New York fans watched as some of the Kiekhaefer drivers showed up for the Airborne race and sought out borrowed rides for the night as the Chrysler 300's headed south in their fancy haulers. So bad had been track conditions at the Montgomery County fairgrounds track known as Fonda Speedway, that the Chryslers were unable to answer the bell the next night.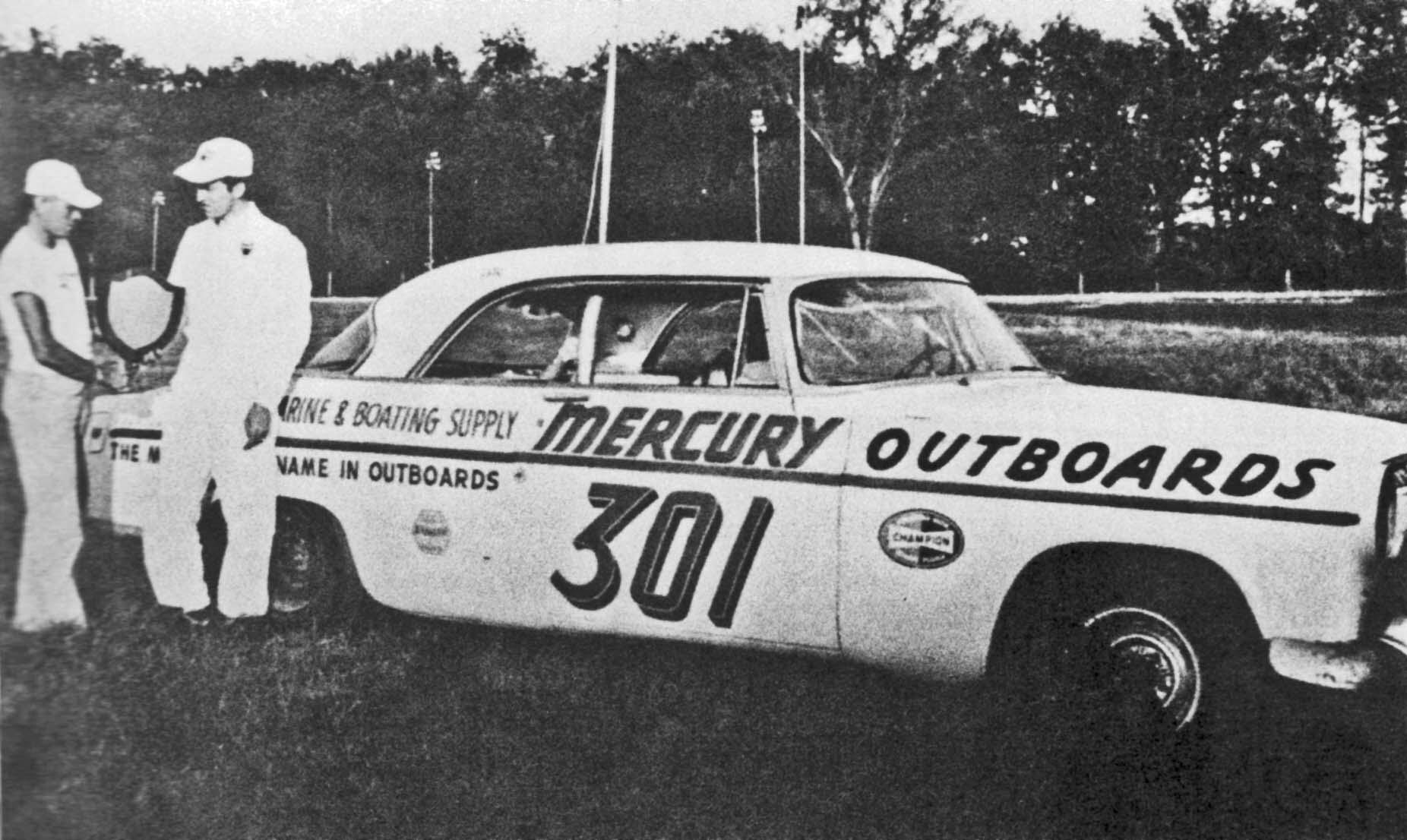 Mike Valchovic Collection via John Valchovic
Although Fonty had time – trialed the car, Tim would take it over for the Fonda race. So, he is seen accepting the pole award from
John Valchovic of Schehectady Marine. Below- Junior Johnson incurred the wrath of Kiekhaefer by daring to win the Fonda race.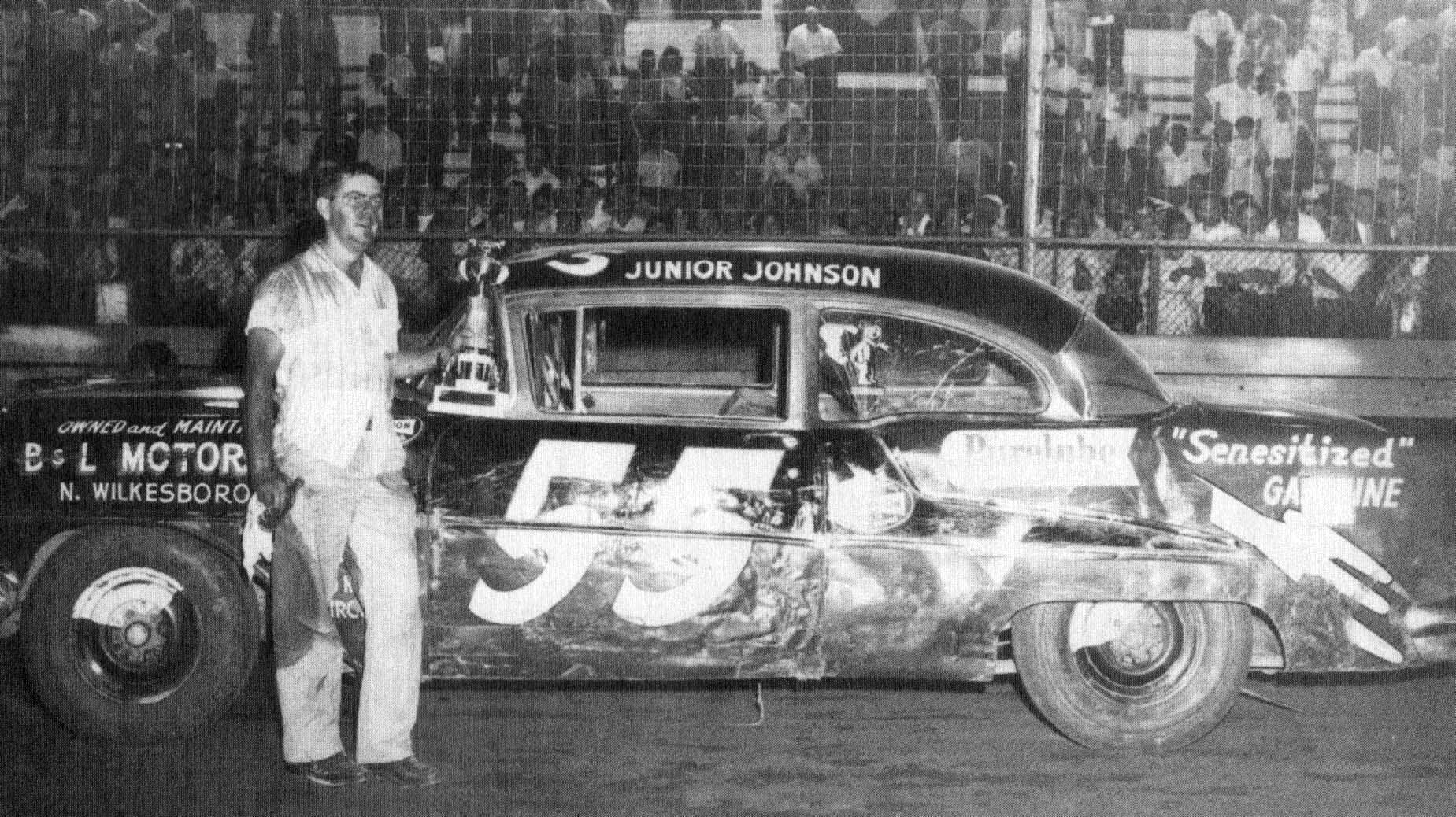 Ed Feuz Collection
In a strange twist at Fonda, Tim Flock's brother, Fonty, time trialed the primary car, the #300 with the fastest time. Tim had the 301. Tim took over the 300 and started on the pole before eventually losing by a lap to Junior Johnson in a Chevy. Apparently the paranoid and ultra – competitive Kiekhaefer usually protested anyone who had the nerve to beat his cars. Officials were paid to tear the winning Johnson #55 car apart. Junior said it was impossible to get it back together for Plattsburgh, the next night. That, coupled with the Kiekhaefer cars being too beat up from rough track conditions to run, made for a disappointing show at Airborne Park Speedway the next night. Actually, none of the tracks in that portion of the tour [Monroe County, Richfield Springs, Fonda or Airborne] ended up requesting the Grand Nationals the following year. It is thought that the local tracks had not been prepared correctly for the heavier Grand National cars.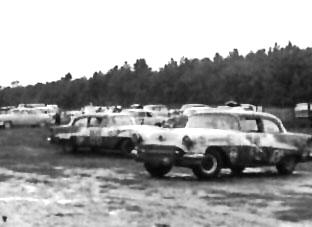 Bob Mackey Photo Courtesy of John Rock
The two Helzafire Oldsmobiles did survive Fonda and showed up at Airborne the next night. However, they sat
there all night and regular driver Jim Paschal [below] never got to run.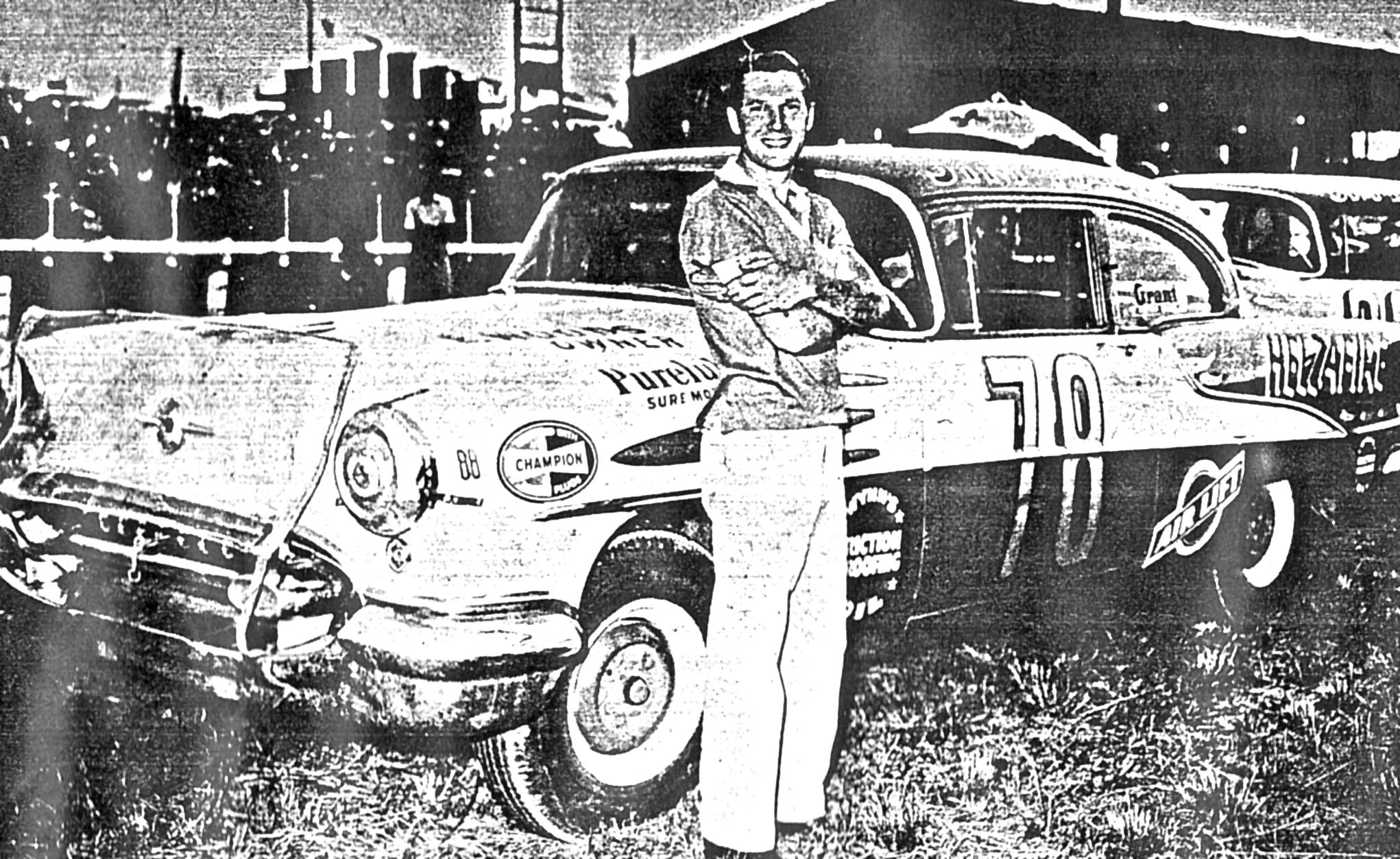 Taylor Warren Photo via Tom Neff
Mercedes Benz SL Gull Wing car with which Tim Flock won the race. Not much more was heard of that car after. The Sports Car Owners and Drivers Association later, while not very prominent, would later supply SCODA regular Steve Krisiloff to Indy racing.
The 1955 season ended in a championship for Carl and the team. He had run most of the NASCAR races and several of the AAA races run in the Midwest. In fact Frank Mundy was listed as the AAA champion for that year. Kiekhaefer had fielded at least seven Chryslers,, and even one Chevrolet. Most people who knew him believed he ran the Chevy just to show it couldn't beat the Mopars. AAA would disband its involvement in staging races in 1956; so, Kiekhaefer would turn his full attentions to NASCAR and repeating his championship.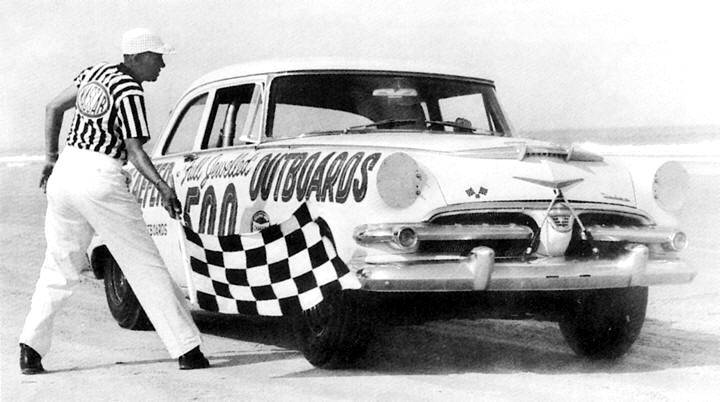 Mercury Racing Site
One of the new Dodge D-500's finishes a race in 1956. Below – A classic Kiekhaefer
confrontation: One of his Dodges runs outside one of the Chrysler 300's.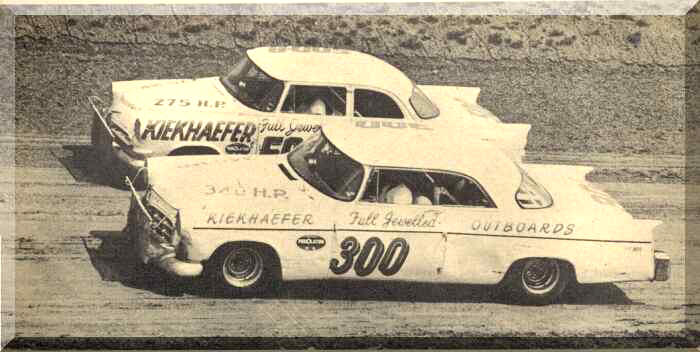 Kiekhaefer Memories Section Old Cars Weekly
Carl Kiekhaefer had no delusions that his behemoth Chrysler 300's could, alone, win another NASCAR GN title. They were powerful and well – prepared, but too heavy. He had his eye on the upcoming Dodge models, as well – the D-500 and the D-500-1. Fonty was sometimes gone, but Tim Flock was back joining Buck Baker and driving last year's '55 300's. Buck had already won the Phoenix race in January with Fonty's old #301.
The Dodge was to be a smaller version of the Chrysler, with less weight and less corresponding horsepower. Kiekhaefer, himself, became involved developing a special exhaust manifold and having input on m improving the car's intake manifold as well. The Kiekhaefer Daytona Speed Weeks effort was huge, with both Flocks, Mundy, Baker, Thompson, and a pioneering African – American driver named Charlie Scott [no relation to Wendell apparently]. Tim won; the returning Fonty placed 10th in one of the new Dodges.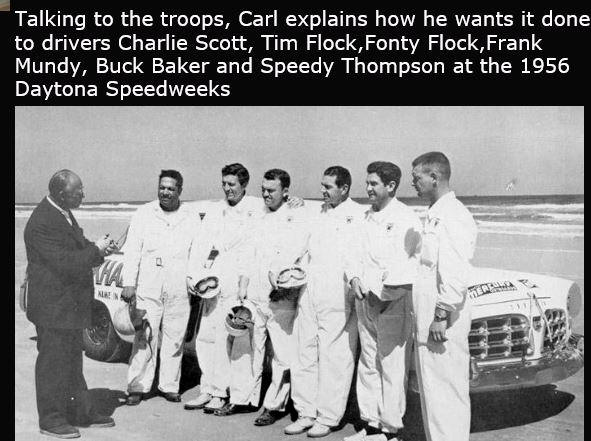 Kiekhaefer History Section of Stock Car Racers' Reunion
Carl lines up his 1956 drivers for instructions on EXACTLY how he wanted everything done. Charlie Scott, Tim Flock, Fonty Flock,
Frank Mundy, Buck Baker, and Speedy Thompson. Tim had about had it by then. Below – Kiekhaefer trusted Ray Fox to know
more about the racing in NASCAR than he did.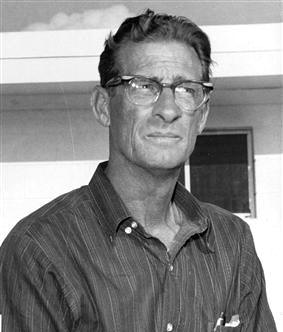 Auto Channel. Com Photo
Carl underscored his determination to win in NASCAR again by setting up a headquarters in Charlotte, NC to help handle the comings and goings of six race car haulers and 10 stock cars. The enclosed haulers had always been a real curiosity, as the huge 300's would ride in them hanging out the back due to their sheer length. A special setup had to be put in place to avoid damage to the drive trains as the cars hung out the rear. Tim Flock won his final race with with Kiekhaefer at North Wilkesboro about a month or so after Daytona and left the team. He could no longer tolerate Kiekhaefer's overbearing management nor did he like belonging to a huge team that was becoming increasing disliked by most of the NASCAR community.
Kiekhaefer drivers Baker, Thompson, and Herb Thomas would continue the juggernaut throughout the 1956 season, winning at least sixteen in a row at one stretch. This was not good for the fans or for the competitive appeal of NASCAR GN racing. By July 4th, fans were hurling boos and insults at Kiekhaefer drivers before races even began. In the July 4th race at Rahleigh, Fireball Roberts, driving a DePaolo Ford, finally broke the Kiekhaefer string. Naturally, Carl was incensed and protested the car to no avail. He may have been a little more sensitive than usual given NASCAR had gotten down on the team about using components Chrysler only made available to police cars.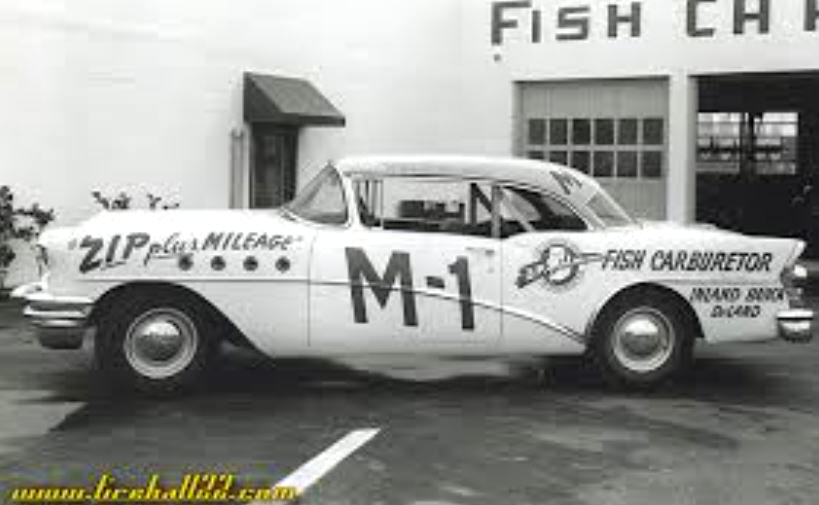 Fireball22.Com Photo
Fireball Roberts lost a race to Kiekhaefer due to disqualification in this Fish Carburetors M1 Buick Century in 1955. But, in 1956, it
was he who benfited from a Kiekhaefer DQ when driving for Peter DePaolo. Below – Fords like this one had less power than the Kiekhaefer
cars but weighed less.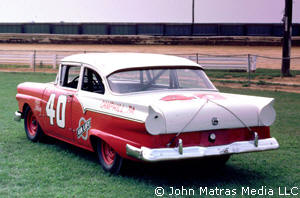 John Matras Photo
The protest of Roberts' Ford and subsequent inspections had gone on all night, prompting local police to stand guard over the heated situation. At this point, remarkably, Kiekhaefer actually considered himself as an independent champion, bucking the huge factories when it was he, who was spending the most money and flooding Grand National fields with his cars. Following the loss to Roberts, the team went through a period of much poorer finishes and less success. Herb Thomas quit the team, feeling that his cars were not being given the preparation priority as were Flock's and Baker's.
The team got back on track, including a victory over a mixed field of Grand National cars and lighter convertibles in North Carolina. Kiekhaefer had been wise enough to take on noted driver and mechanic Red Vogt, who convinced him to try Jack Smith as a driver. Smith, a part - time team member, responded with a win for Carl at Martinsville. The ensuing race would show the lengths to which Kiekhaefer would go to get what he wanted.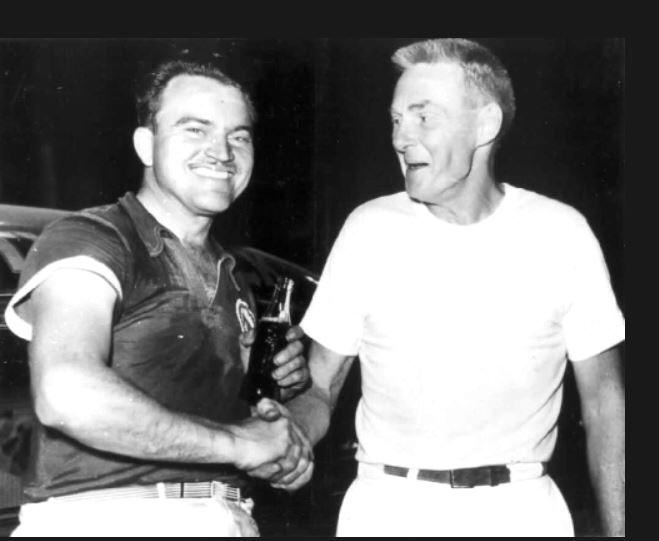 Red Vogt Section Stock Car Racers Reunion
Mechanic Red Vogt [right] and Fonty Flock would both find themselves working for Carl Kiekhaefer at the same time in 1956 for a while.
Below – This great model shows Buck Baker's winning 1956 season car. The hauler would not be accurate.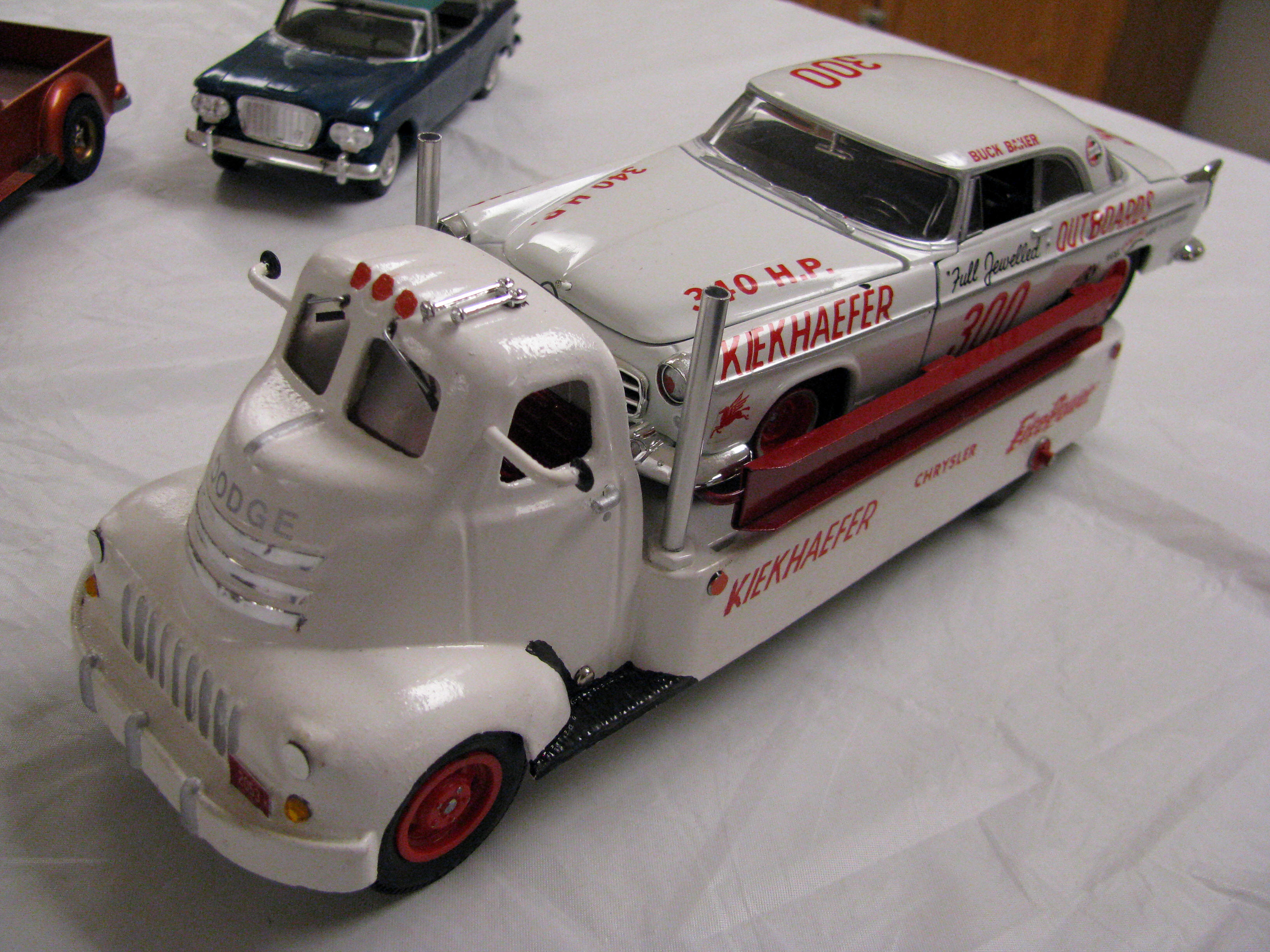 Cars and Racing Stuff Site Photo
There was an open date in the busy NASCAR schedule, and Carl was worried that Buck Baker was not going to win the 1956 GN title. Herb Thomas, who had accrued some serious points while in Kiekhaefer cars, was still the points leader. Carl petitioned NASCAR to let him promote a race on that open date at Shelby, NC. Herb was flying in the race and , as he was lapping a group of cars, Speed Thompson's Kiekhaefer Dodge hooked his rear bumper, spinning him to be t-boned by oncoming cars. Thomas, who went into a coma, nearly died. The uproar was considerable. Baker considered quitting. No one ever substantiated if the incident was planned or accidental. Kiekhaefer sent the recovering Thompson a new Chrysler later.
The 1956 season wore on. Even as the season ended in November at Wilson, NC the team could not stay out of turmoil. Joe Weatherly, driving a rival Ford, appeared to win the race, running out of gas and coasting across the line just ahead of the closing Baker. Kiekhaefer threw his usual fit and actually got Baker declared the winner because of the placement of some official scoring clock. Baker would have been champion no matter what; but Kiekhaefer, perhaps sensing this might his last hurrah, wanted to end with a victory [no matter how he got it].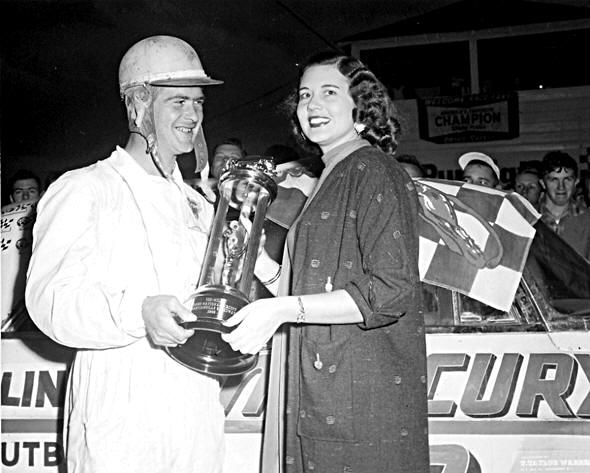 Notinthehalloffame.com
Speedy Thompson takes a win for Kiekhaefer. No one knows if the wreck with Thomas was intentional.
Below – Herb Thomas barely survived the Wilson race wreck.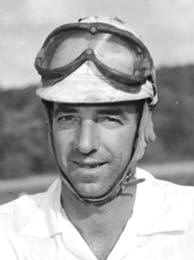 img.com
After the tumultuous 1956 season Kiekhaefer faced decisions. His Mercury outboard business was not benefiting from all the notoriety for his controversial racing efforts. He had made proposals to NASCAR for tech changes for the 1957 season that were rejected. NASCAR made a number of decisions that directly left Kiekhaefer and the big teams at a disadvantage. Multi – carburetor cars would no longer be involved. The number of participating car makes shrank dramatically, essentially leaving the Ford and Chevy teams to run the show. Probably, the Pettys had their own deal going, as well.
Kiekhaefer had left an indelible mark on the history of NASCAR racing. The multi – car team – which is so much the norm today, sort of began with him. So, too, did the concept of a large team indirectly influencing cars on smaller teams [much like all those cars running Hendrick motors today].
Having top professional mechanics, working with a large inventory of top shelf motors came from him, as did hauling the cars around in enclosed haulers. Team members in clean, well – appearing uniforms also broke some old norms.


Mercury Racing.Com
One indelible mark Kiekhaefer left was those haulers with the cars dangling out the back. Below – The team had
already begun work on he 1957 cars before they realized they weren't going to run.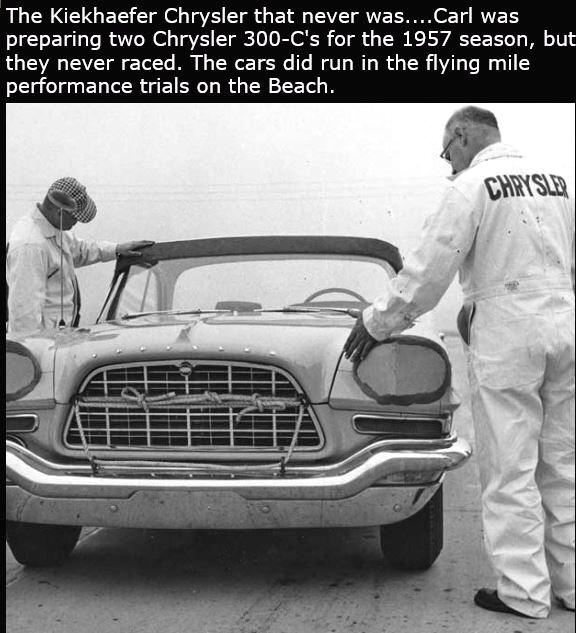 Bill Rankin Photo
Carl Kiekhaefer, in his frenetic quest for dominance and perfection, even developed an organized system for pits stops – something pretty much unheard of until the era that preceded today's full – time "rainbow warrior" type of tire changing crew. Carl was a hands – on owner, participating in development of better components - not just in hanging over his charges like a hyperactive cloud. He not only established a working headquarters away from his Wisconsin base near Charlotte [sound familiar today?] but he would, without hesitation, fly employees all over the country to be available to whatever race effort was happening next.
If I had written most of these last few paragraphs without the rest of the article, today's reader would yawn and say, "Yeah ? So what?" But this was about a guy who was doing this in 1955 and 1956 ! Just wasn't done then. That last phrase probably best sums up the enigma that was Carl Kiekhaefer.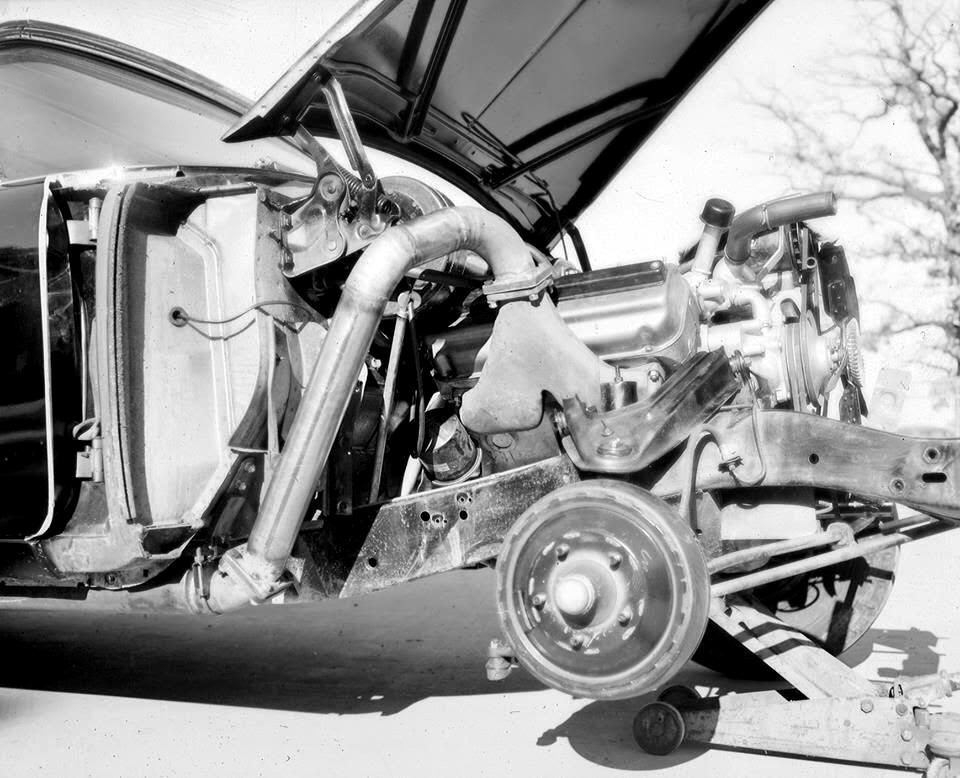 Blogspot Photo
Carl was an active participant in design. This was his idea for exhaust manifold and header design. Below – Carl made the organization dig out almost every trophy they won for this shot with 1955 champ Flock and 1956 titlist Baker.

Russ Hamilton Photo


I must offer thanks to Dan Elliott. Pat Olk, Terry Shea, and some other writers whose names did not appear with the information I borrowed from. You did a fantastic job covering this amazing man.

Please email me if you have any photos to lend me or information and corrections I could benefit from. Please do not submit anything you are not willing to allow me to use on my website - and thanks. Email is: wladabou@comcast.net . For those who still don't like computers - my regular address is: Bill Ladabouche, 23 York Street, Swanton, Vermont 05488.
AS ALWAYS, DON'T FORGET TO CHECK OUT MY WEBSITE [If you haven't noticed, you're on it now :)]
www.catamountstadium.com
Return to the Main Page
Return to the Main News Page
Return to the All Links Page
Return to the Weekly Blog Links Page