THE BILL'S BACK IN TIME COLUMN PAGE
Copies of my column in Mark Thomas' "Racin' Paper"
Column #22 from Column 34
BILL'S BACK IN TIME
By Bill Ladabouche
THE NEW HAMPSHIRE INVASION OF THE EARLY '60's
By 1962, I hadn't been to many races for many, many years. The old Fairmont Motor Park Speedway had closed, Pico Raceway was a faded memory, Stateline was too far away for anyone to bring me, as was Malletts Bay – to the North. I had finally gotten a respite from that imposed exile from racing in 1961 when the Otter Creek Speedway opened in Vergennes. But, being NASCAR, the drivers there were primarily from Northern Vermont or from New York.
It was a whole different matter, in 1962, when C.J. Richards re-opened the Fairmont track, in Fair Haven, Vermont. The opening show featured essentially two contingents: the New Yorkers and the New Hampshirites. The Vermonters were few and far between, in the early days of the Champlain Valley Racing Association. So, it came down to one camp or the other to claim dominance of the new/old track in Western Vermont.
The New Hampshire boys struck first. Keene's Buddy Bardwell, driving a flathead Ford coupe #13 took the opening feature victory of CVRA's long history. Bardwell, not even one of the heralded stars Richards had advertised, neatly wound up the feature, handling the rest of his fellow Granite Staters, as well as the bunch from the Empire State.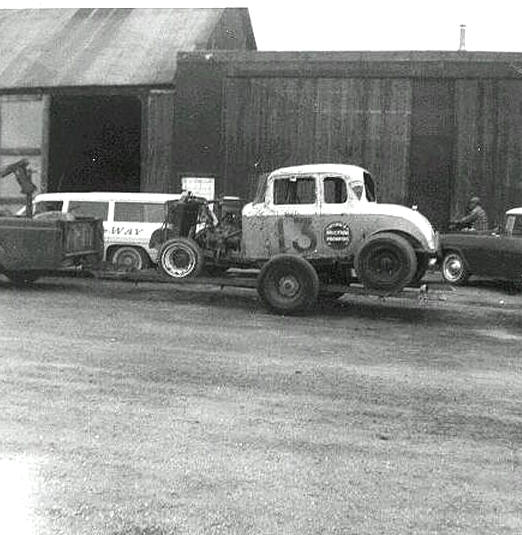 Ladabouche Photo
Buddy Bardwell hardly remembers the #13 car in which he won the first Fairmont feature.
He ordinarily ran different graphics and usually ran a Hudson.
The second week, it looked like the New Yorkers were the ones to beat. A sharp white Ford appeared, out of West Glens Falls, that had not showed up the first week at Fairmont. Bill Threw, whose #7A was supposedly a team car to brother, Richard's A7, came in with a roaring white Ford and blew away the competition. Threw would appear sporadically that year, before having a flare-up with track officials and leaving in a huff at year's end.
After that, it seemed the New Hampshire side got stronger, while the New Yorkers started to miss races [perhaps because of Whites Beach, Empire, Warrensburg, and other tracks whose schedules offered competition]. Soon drivers like Art Cody, Keene and Moran "Sonny" Rabideau, A Brattleboro, Vermont driver who ran mostly in New Hampshire were dominating the shows. Add to them Keene's "One Eye" Ted Brown, Walt Brown, Jr., and Leo Howland, and you had a formidable contingent arriving every week from the East, walking off with the lion's share of the prize money.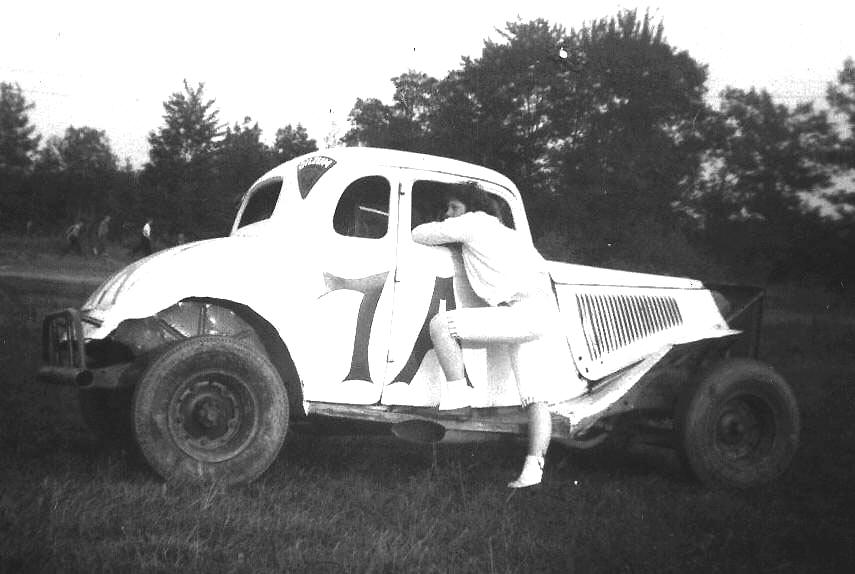 Ladabouche Photo
This photo of Bill Threw tells a story. Threw has just been thrown out of Fairmont, and it took his wife to
calm him down and get him to load up that day. Too bad – what a great car !
The Granite State bunch had a rich history of racing to fall back on. Claremont Speedway, having started from the Claremont Jalopy Association, was now in full flower in their sandpit – like facility in Claremont. The Cheshire County Fairgrounds in Keene had been the center of racing for several years, when Fairmont opened up, but it was in its swan song by then. A strong drivers' association, headed by prominent names like Roy "Pappy" Forsythe had been running racing in the region since the '50's. There was a lot of experience with the Keene boys.

Photographer Unknown, Might be From Phil Chastenay
Ted Brown had started at places like Claremont with this jalopy, in the 1950's.
He was also a frequent competitor at Cheshire Fairgrounds.
Rabideau came to be considered the most successful of the bunch. His car owner, Stoker Smith, had purchased one of the famous Northern Massachusetts cutdowns, spiffed and buttressed it up a bit and fielded it around Claremont and Fairmont as the black and white #311. Rabideau, being a good machinist at Angell Automotive in Brattleboro, could help produce some ungodly flathead power. Those flatheads were still potent in the advent of the V-8 era at Fairmont, frequently beating out the sportsman cars [or blowing up].
Rabideau would endure the longest in the CVRA, finally hooking up with former New Hampshire racing figure Leo Vallaincourt of Rutland, Vermont, running the #333's after the departure of Howard Stevens, another Granite State driver. Sonny, now a member of the NEAR Hall of Fame, was still driving into the 1970's. He had begun with an interesting and rare Chrysler – at West Brattleboro and Cheshire.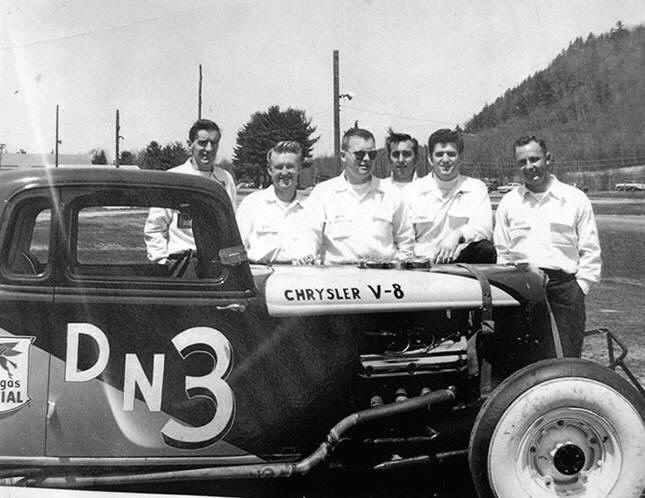 Courtesy of Lew Boyd
Sonny Rabideau [2nd from right] and this snappy – looking crew were
prominent runners at Cheshire in the late '50's.
A fourth name to come out of the Keene area was Art Cody, brother to Mike Cody who ended up running North, at Thunder Road. Art, whose little yellow #33 Ford coupe might have actually won more races than the others; but, he missed out on points titles and the championship races. I had first seen him in 195, when he stiff-hitched all the way to the Malletts Bay Speedway near Burlington, Vermont, only to run into the NASCAR tech Nazis and not allowed to run. I noticed him then because they towed up US Route 7 right ahead of us, most of the way from Rutland.
So, when Art appeared at the grand opening of Fairmont on Memorial Day, 1962, I already had a car I knew. Cody and car owner Henry Merrill kept that same car for all the time I ever saw him race. He won almost untold numbers of races, but his best stroke of luck came after retirement, when he won the Tri – State Megabucks. Probably more guys built models of the Art Cody 33 than any other Fairmont racer. I still have mine.

Bob Frazier Photo Ladabouche Collection
Art Cody, getting the checkers from Fairmont starter Danny Rumpf around 1962. Note
the intense safety precautions for the fans in those days.
There were a number of other New Hampshire guys who had varying degrees of success at Fairmont and Otter Creek. Leo Howland, who often drove the Curt Dragon #31 started out pretty strong in 1962 and 1963 before fading out. Walt Brown, Jr., who just died recently, had some very unique – looking rides both at Claremont and Fairmont. Add to these, Dick Gerard, Henry Abbott, Howard Stevens [who nearly won the Fairmont title in 1965], Donnie Miller, who drove out of Woodstock, Vt. and many others – and you have the New Hampshire Invasion.
It needs to be kept in mind that this was going on while an extremely strong contingent of Granite Staters was raising hell in Northern Vermont, at Northeastern Speedway in Lower Waterford, Vt. and at Thunder Road. This included the Ingerson bothers, Pappy Forsythe, Ronnie Marvin, and Freddy Mills – just to name a few. But that is a totally different story, in a totally different atmosphere – asphalt racing.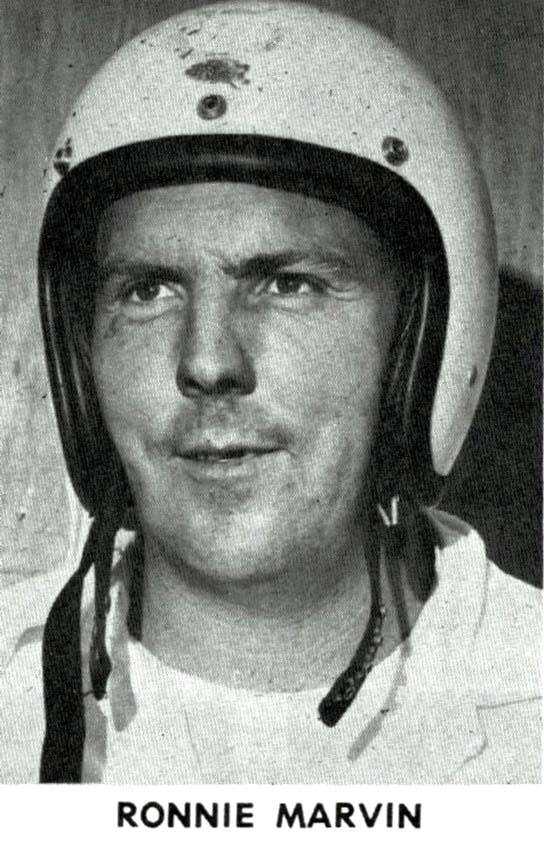 Cavalcade of Racing Photo
Huge and intimidating, Ronnie Marvin represented the darker side of the New Hampshire brigade for years, up North.
Catamount Stadium would go on to have its own New Hampshire bunch, headed up by the enormously popular Stanly "Stub" Fadden of North Haverhill; and the CVRA's Devil's Bowl would experience its second NH Invasion in the late 1960's with another host of competitive cars like Albro's 9NH and the 8NH of Canfield. All the notwithstanding, the way the Easterners dominated Fairmont in the earlier years remains almost without parallel in racing in my region.
Return to the Main Page
Return to the Columns Link Page
Return to the Main News Page