SOMETIMES, IT'S THE UNDERCARD WE ARE LOOKING AT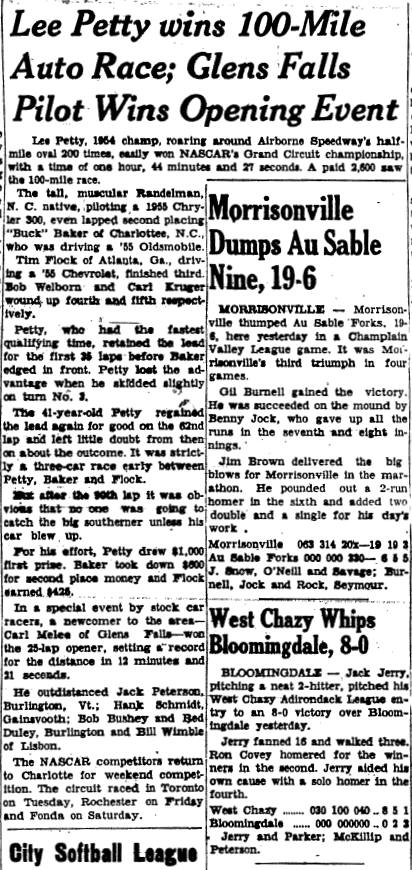 When you look at any big staged event that has as "opener" or and undercard, we are sometimes, in hindsight, more focused on that event than we are on the main featured event. I am sure that undercards featuring a young Mike Tyson, for instance, wee scrutinzied more, later, than what might have been a rojutine title defense. Sometimes, too, an up and coming young driver [or drivers] will attract more attention than the advertised feature race.
In 1955, Plattsburgh, NY's newborn Airborne Park Speedway, still dirt - surfaced - had landed a race on NASCAR's Grand National Northern Tour. The race, itself, won by Lee Petty, was a disappointment, with many expected stars and cars having been sidelined from the previous night's race at Fonda, which ended up with horrendous track conditions that wreaked havoc on car and driver alike.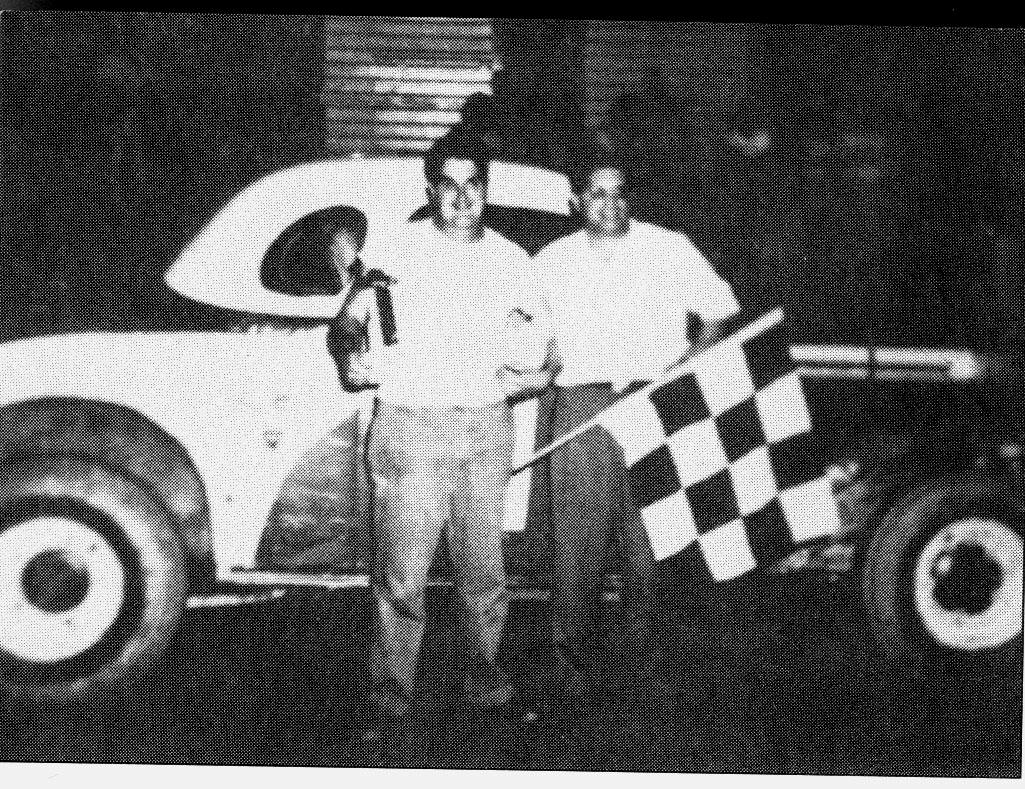 Bob Mackey Photo Courtesy of John Rock
It is unlikely this is the actual Maille victory lane pose because I don't think Caputo was fielding cars in 1955.
The next day's headline [shown above] gives evidence that there was a preminary race for local Airborne runners. Meant mainly to entertain the crowds after time trials while the NASCAR boys got ready for another tedious 100 - lap grind with the bulk of the field chasing the few with decent equipment, that race featured an amazing number of drivers who ended up making a successful or at least highly interesting mark on racing in my area.
The story read : "In a special event for stock car racers, a newcomer to the area - Carl Melee [sic] of Glens Falls - won the 25 - lap opener, setting a record for the distance in 12 minutes and 31 seconds. He outdistanced Jack Peterson, Burlington, VT; Hank Schmidt, Gainsvooth; Bob Bushey and Red Duley, Burlington and Bill Wimble, Lisbon." Apparent through the myriad misspellings was the fact that these top finishing locals were the top of a field that was really going to be important in Northeastern racing for years to come.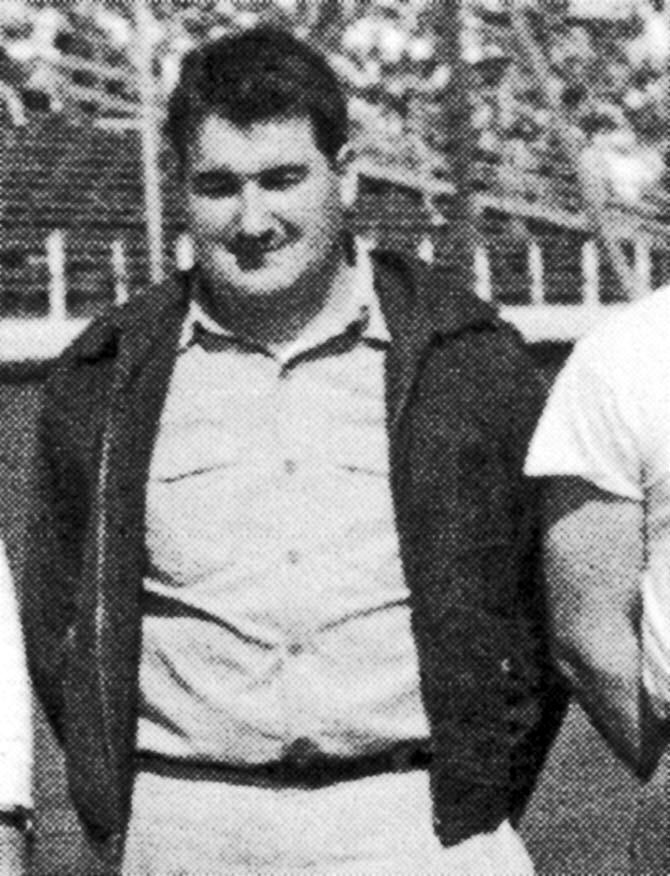 Ed Fuez Collection from the Fonda Book
Earl Maille, in a Fonda Speedway driver lineup.
Earl Maille, a hulking Gelns Falls driver, did not have a long career because of a serious accident at Warrensburgh, NY's Ashland Park Speedway. But, in his short time as a stock car driver, Maille made a lasting reputation and respect from other drivers and teams. Maille would usually drive at Airborne in one of Henry Caputo's red and white coupes out of Hudson Falls; I am not sure if Caputo was yet fielding cars in 1955. Maille did run a #444 sedan at Warrensburgh and he may have used that car in this race. Earl was mentioned in the Fonda Speedway history book as a winner there; that was no small feat.
Maille went on through around 1959 running primarily for Caputo, sharing driving duties with the likes of Jeep Herbert, George Baumgardner, and even Tiger Tom Kotary. When Caputo produced a particularly potent '36 Chevy coupe around 1959 and placed Ken Shoemaker at the controls, the team emphasis began to shift from other team drivers. This may be one of the reasons why Maille had gone away from the team. He did spend some time with that red 444 sedan, running places like Warrensburgh and the Whites Beach track near Saratoga. But he had purchased a car 14 [of which I know nothing] and that is what carried him off the Warrensburgh track to a broken back, finishing his career.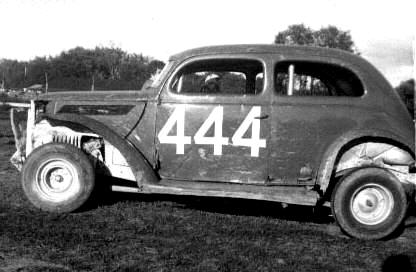 Ladabouche Photo
The 444 sedan, at Fairmont around 1964. Ralph Palmer, the driver at that time, tells me this was often a Maille car.
Actually Early was listed in a Fairmont program around that time that car, but I never saw him run. [Probably the
injury had struck by then].
Jackie Peterson, who originally hailed from South Burlington, VT before settling in Plattsburgh to work on construction for the Plattsburgh Air Force base and the St. Lawrence Seaway, had started out in 1948 as a young "big car" driver who had occasionally run in with the big boys like Tommy Hinnerschitz and Bill Holland. Jackie, still occasionally seen around the track at 90 years old, would be a Vermont state champion and would win track titles and features at many tracks for himself and various car owners.
Peterson won at least one title at the challenging Fort Covington Speedway with each of two different owners, George Palmetier [car 6 and 7/8] and with Jay, NY's effective, but low budget owner Shirley Wallace [1NY].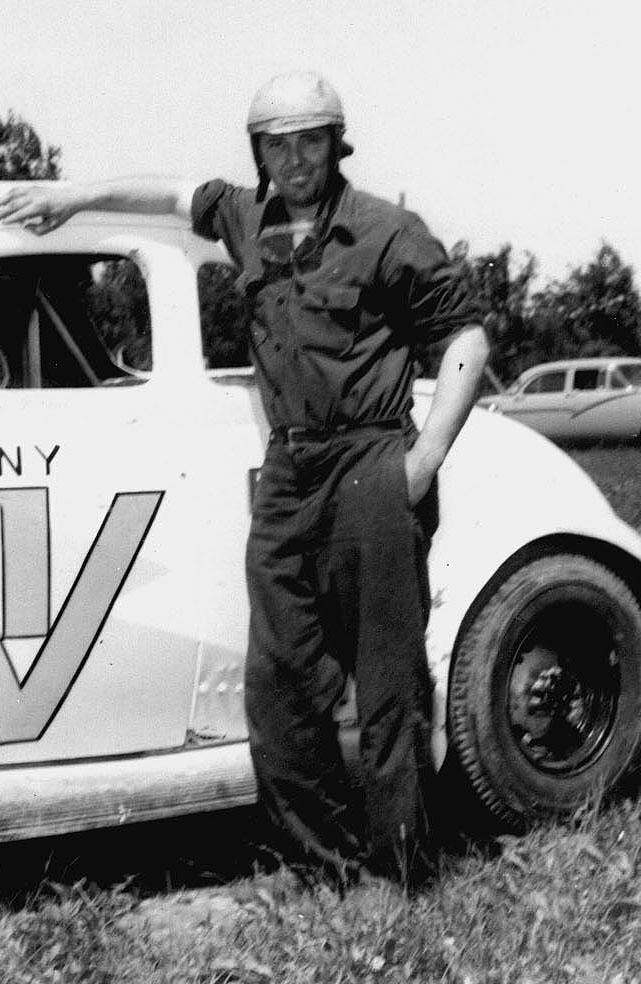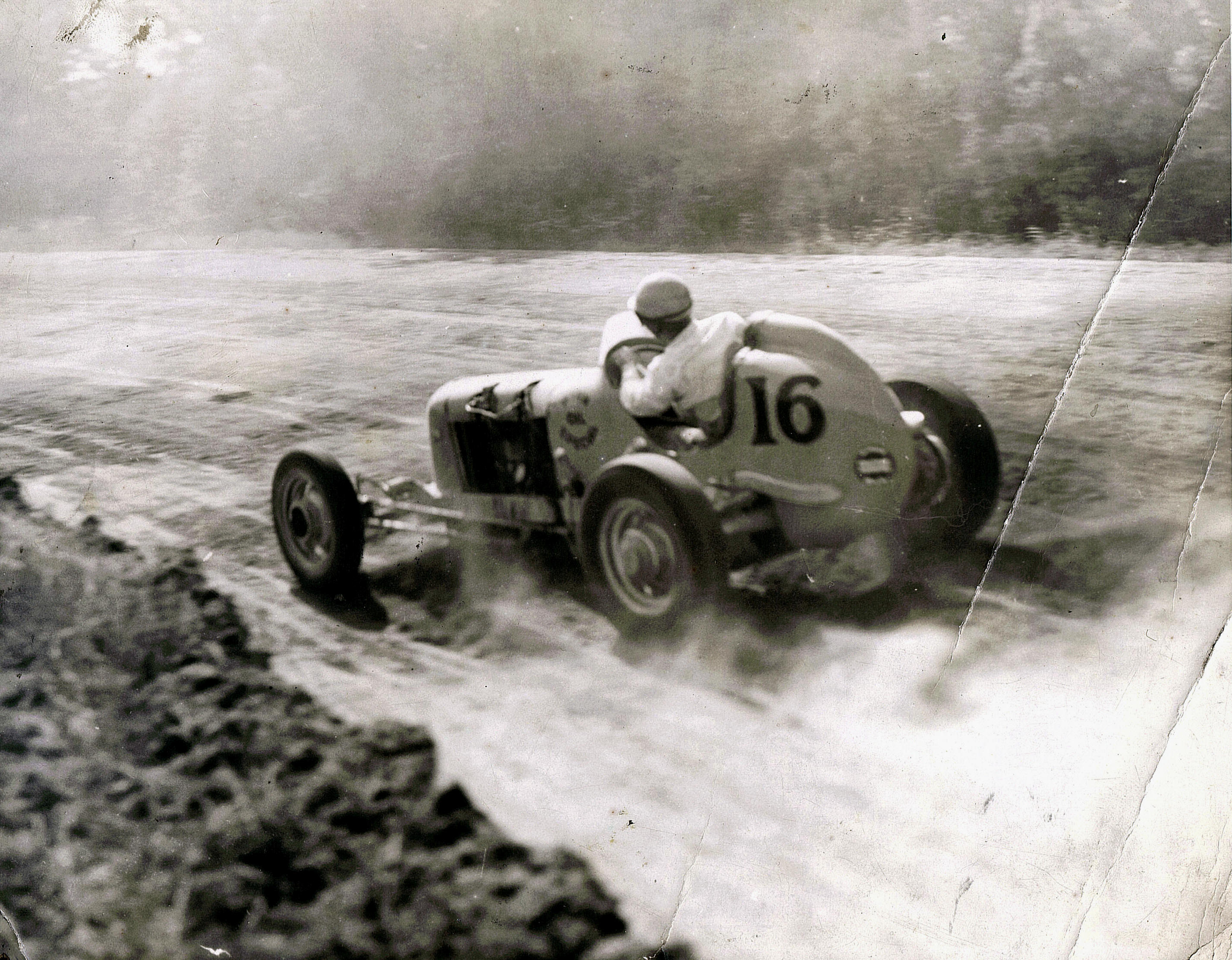 Peterson Collection Photos
Jackie Peterson with his own V-1 stock car. Right - Jackie, in 1949, at speed with the big car at Sheldon, VT's Green Mountain Speedway.
Much Like Steve Danish, Jim Luke, and Roy Forsyth [the former two of which ran with Peterson at Airborne that year], Peterson was already a bit up in age compared to may of his rivals. The tall, profoundly deaf driver could tune a car by just feeling of the engine. He won a Vermont State Championship at the old track in Northfield, VT with a borrowed car lent to him by its owner, a driver who knew Peterson could drive it better. One of Peterson's last feature wins was at Saranac Lake Speedway, n a Shirley Wallace car. He was an absolute scourge in Canada, where they were always pressing him to come up and race.
Hank Schmidt was from Gansevoort, NY. He was one of the earliest drivers and builders in the fertile bed of racing - Eastern New York. Starting at places like McGregor Speedway, Wilton; Hudson River Speedway, Schuylerville; Burden Lake Speedway, West Sand Lake; and Fairmont Motor Speedway, Fair Haven, VT - Schmidt drove cars numbered F40. He was a successful and respected driver for years, but he would make his mark as a race track official, particularly with C. J. Richards' Champlain Valley Racing Association.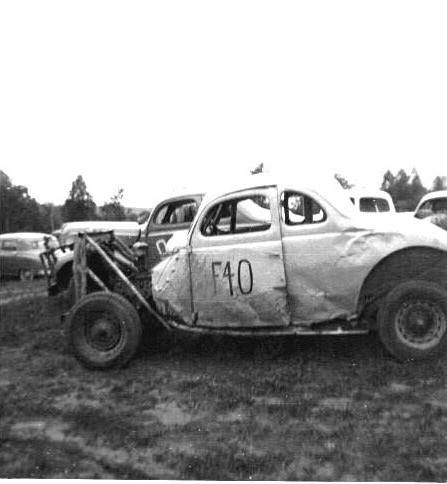 Left Photo Courtesy of Ron Hoffer Right - Ladabouche Photo
Hank Schmidt's familar F40 in the 1950's. Right - The 95, was a real upgrade as a hobby car that year.
Two years later, it would have been considered to be very crude.
What I recall about best about Schmidt was that, around 1963 when Richards decided to start a hobby class with later model cars at Fairmont, Schmidt was apparently taken by the crude quality of most of the early entries. He not only urged teams to refine their act a bit, but he came out, himself, with a 1955 Chevy hobby car that was, at that time, much better built than most of the others. He ran the car a year or two, and the class went on to build much nicer cars that evolved into the classic dirt late models of the latter 1960's and early 1970's. The class eventually produced names like Dexter Dorr, the Unbeatable Lennie Wood, Tim Baker, Johnny Bruno, Graham Trudo, and more. I am not sure, but OI don't think Schmidt remained after Richards moved the operation to Devil's Bowl.
Bob Bushey was a diminutive, intense driver from Burlington, VT. He drove like a demon for Ralph Bushey, a wholesale potato dearler who was absolutely no relation to him at all. Having stepped into a potent '34 Ford that Ralph had gotten, Bushey went over to Airborne and set a featjure wins record in 1954 that is yet to be eclipsed. Much like Steve Danish at Fonda, Bushey had the advantage of more experience than the New Yorkers at Airborne as well as a light, powerful car that had been been by Erwin Bettis of Middlesex, VT and all tuned in by previous drivers Allen Maskell and Gordy Owen.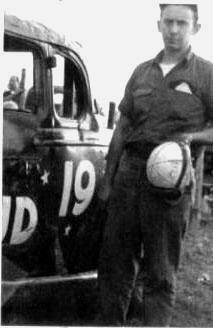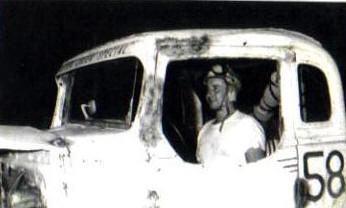 Both Bob Mackey Photos Courtesy of John Rock
Bob Bushey, with the record - setting Bushey SPUD 19 and with the #586 La Salle.
Future NASCAR National Sportsman Champion, Bill Wimble [who finished two placed behind Bushey that day] wrote of Bob in his autobiography: "The alpha dog was Bob Bushey. He was a Vermonter, king of the cutdowns, but a true woodchuck with a chew of tobacco in his cheek at all times. He would sidle over to me at the pit meeting and whisper in my ear, "I'm gonna roll you over." Wimble went on to say how hard Bushey would work at the wheel, haiving a big weight advantage over the New York cars. New Yorkers eventually picked up on experience and built faster cars. Bushey went on to the Bull / Sullivan La Salle #586, which was good; but, the sport was starting to pass hm by. He had disappeared, pretty much, by the end of the 1950's.
Harlan "Red " Dooley, another Burlington boy, didn't really belong in the same class as Bushey or Wimble. Like Maille, he had his moments at loca tracks such as Malletts Bay Raceway, Colchester, VT; Colchester raceway, Colchester, VT; Airborne; and - lastly - at Otter Creek Speedway near Vergennes, VT; but he was never much of a star. Dooley was an integral part of that strong corps of Colchester - centered drivers that included Peterson, Bushey, Owen, the Trayahs, the Farnsworths, and Wayne Chandler - to name a few. He pretty much stopped racing after 1961.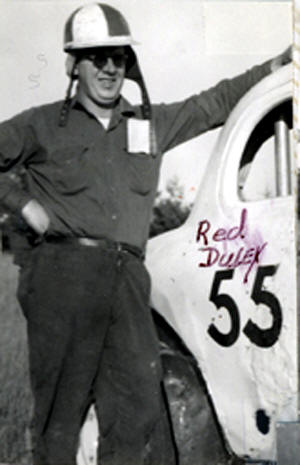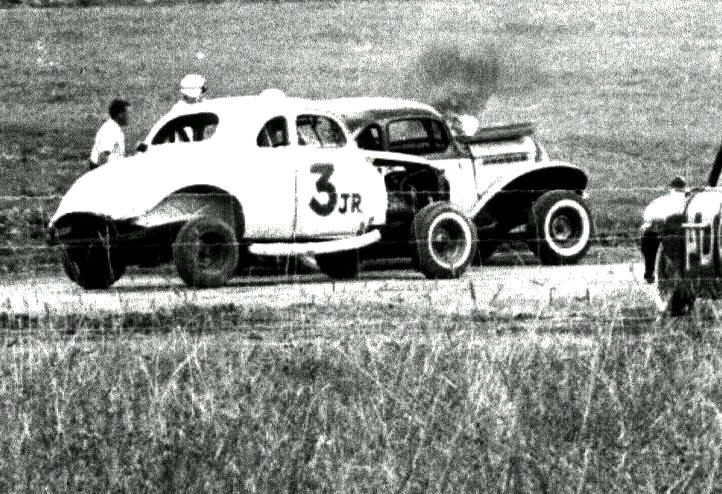 Left - Bob Mackey Photo Courtesy of John Rock Right - Bob Doyle Photo Courtesy of Cho Lee
Bob Mackey never could spell "Dooley". That's Red in 1955 at Airborne. Right - Red's last ride - at Otter Creek. Yes, his team mate is on fire.
Bill Wimble is not someone who needs much explaining. After modest beginnings at the St. Lawrence Valley Speedway in Canton, he did move down to run cars at Airborne for Ellenburgh Dept Ford dealer Gaylord Rowe, Sr. Rowe's hole - ridden 1941 Ford, the T-800 won the 1955 Airborne track title with Wimble at the wheel. The team gave Bill the team car, the #26 in 1956 and he never liked it. Wimble would move on to fame at the Fonda Speedway, long hours away from his Lisbon dairy farm. he would run first for Hal Kempeny and, later, hook upo with Sherburne, NY dealer Dave McCready. In McCready 33's, Wimble would win national titles, track titles, and dozens and dozens of features at all over the East.
Wimble would end up winning the track title after that Grand National premininary race; Maille would stick around and drive somebody's cars to a 10th place points finish. Fellow Caputo drivers George Baumgardner and Jeep Herbert would finish 9th and 19th respectively, with Herbert really taking off in 1956. Hank Schmidt drove the whole year there, making the trip north up US 9 and finishing in a sixth place tie with rising star Ernie Ried. Bob Bushey, the previous year's champ, finished the points in third - right ahead of Dooley. For Dooley, that was a career high point. Jackie Peterson, driving one of the Dutcher Construction cars, finished 11th. [Dutcher was the company building the air base for which the track was named].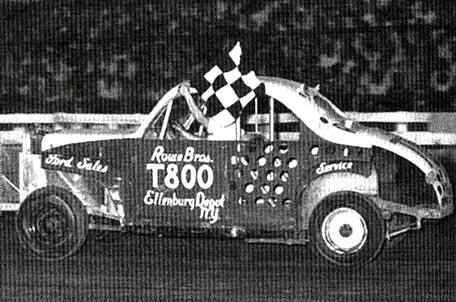 From the Fonda Book Wimble Collection
Bill Wimble, with the car that took him to the 1955 Airborne title.
That field for that prelim, in 1955 was a remarkable collection. It included Sterling "Buck" Holliday, whose skill with the Floyd Geary C-38 meant he could have finished as high in the standings as he wanted; but he didn't attend many races there in 1955. Veteran Jim Luke, of Utica, was driving occasionally at Plattsburgh with Hal Kempeny's 113 which Wimble would soon be taking over. This was the beginning of the career of Whitehall, NY's Kenny Shoemaker, who was a few years away from that fateful and successful Caputo #111 ride. Developing locals included Reid, Bud Besor, and a high - finishing man named Al Plummer, of whom I cannot learn a single thing so far.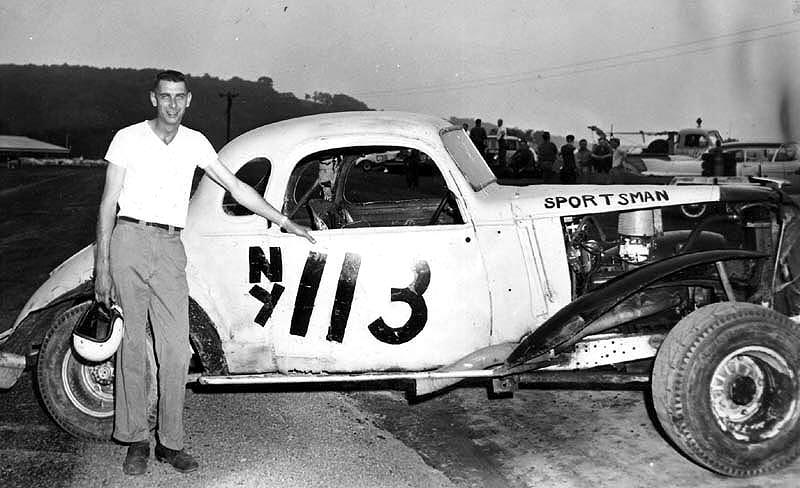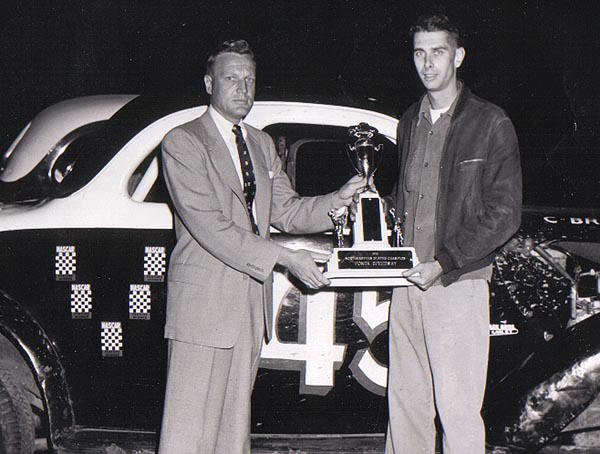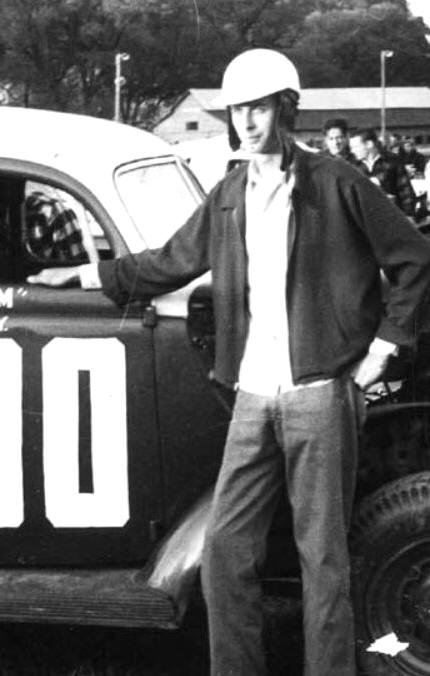 Photos Courtesy of Rick Luke and Jo Towns
Jim Luke could have driven any of thse at Airborne in '55: Hal Kempeny's 113, Bill and Dick Clark's 45, or the Burns & Wilson 100.

One thing is sure: you cannot simply overlook these undercards.
Return to the Main Page
Return to the Main News Page
Return to the All Links Page