BILL'S [Somewhat] WEEKLY COLUMN/BLOG PAGE

BILL'S BACK IN TIME
By Bill Ladabouche
YOU'D SEE SOME OF THE DAMNEDEST CARS !
STUFF WE'D SELDOM SEE TODAY

I happened to catch site of a freeze frame from one of Danny Ody's Old Speedways 8 MM films and it made me think about some of the things that used to pass as race cars back in the day. With today's emphasis on uniformity and the leveling of playing fields, it is not very possible to create a unique car within most divisions. And, what's more, cars that might be any too safe would never get past the liability – conscious track managements any more.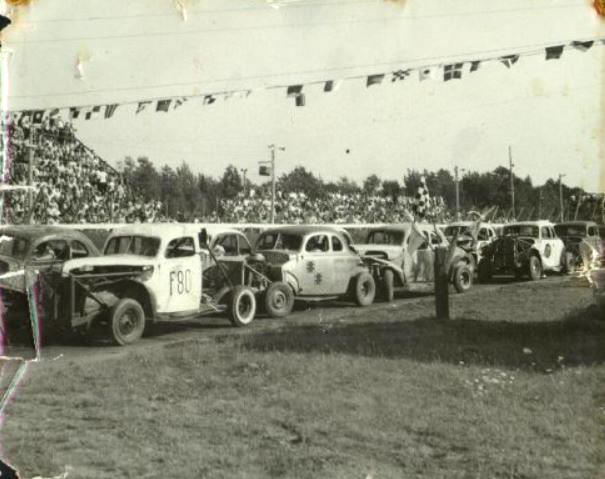 Courtesy of MVRCA Site
How would this ever get past tech ? In fact, what is it? Below – Walt Brown's stock
car [?] at Claremont Speedway, late 1950's Hmmmm Looks very similar to above.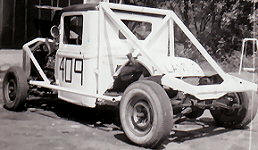 Brown Family Photo
But, back in the day, there has been some real beauties that got passed off as stock cars. I don't know how anyone could have survived in some of them; and it doesn't seem that a lot of them could have been much fun to try and get handling. Oftentim3es, you did well if you could even tell what kind of car it used to be. The car that inspired this particular blog was seen the first time my uncle and I went up to that new track outside Vergennes, VT – Otter Creek Speedway. You had to sit, up on a hill, well away from the rambling half – mile race track below. What I came to know as the hobby cars were scarcely audible as they passed around the track, while the overhead V-8 sportsman cars had that distinct sound that came from a 327 Chevy motor.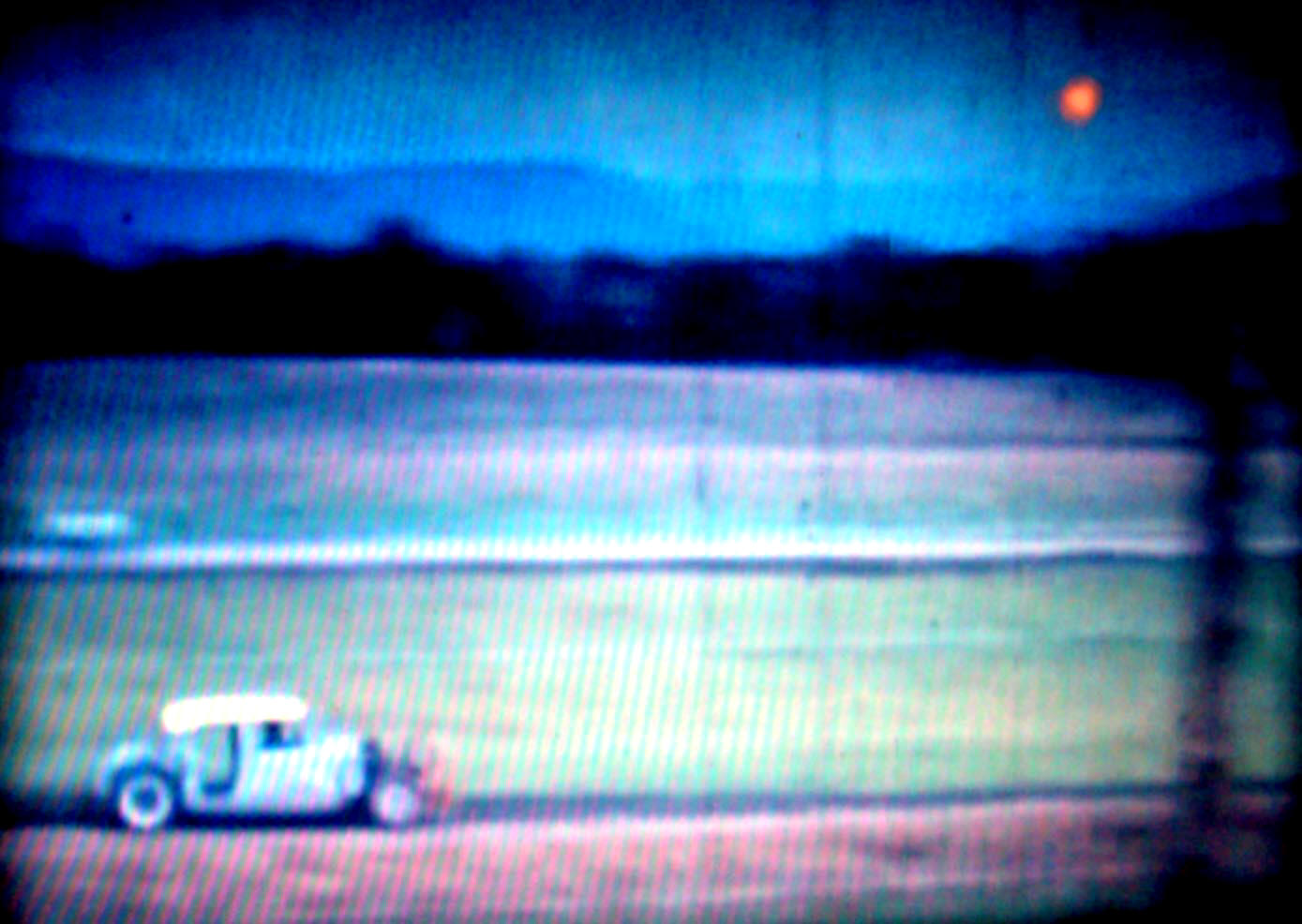 From Dan Ody's 8MM Old Speedways DVD's
Finally a car lumbered out of the pits. Don Smith Citroen – looking thing
on the track at Otter Creek Speedway. It could ghave once been a '54 Chevy or something like that.
Below – Another hobby class car fairly flies by the Smith F80 here.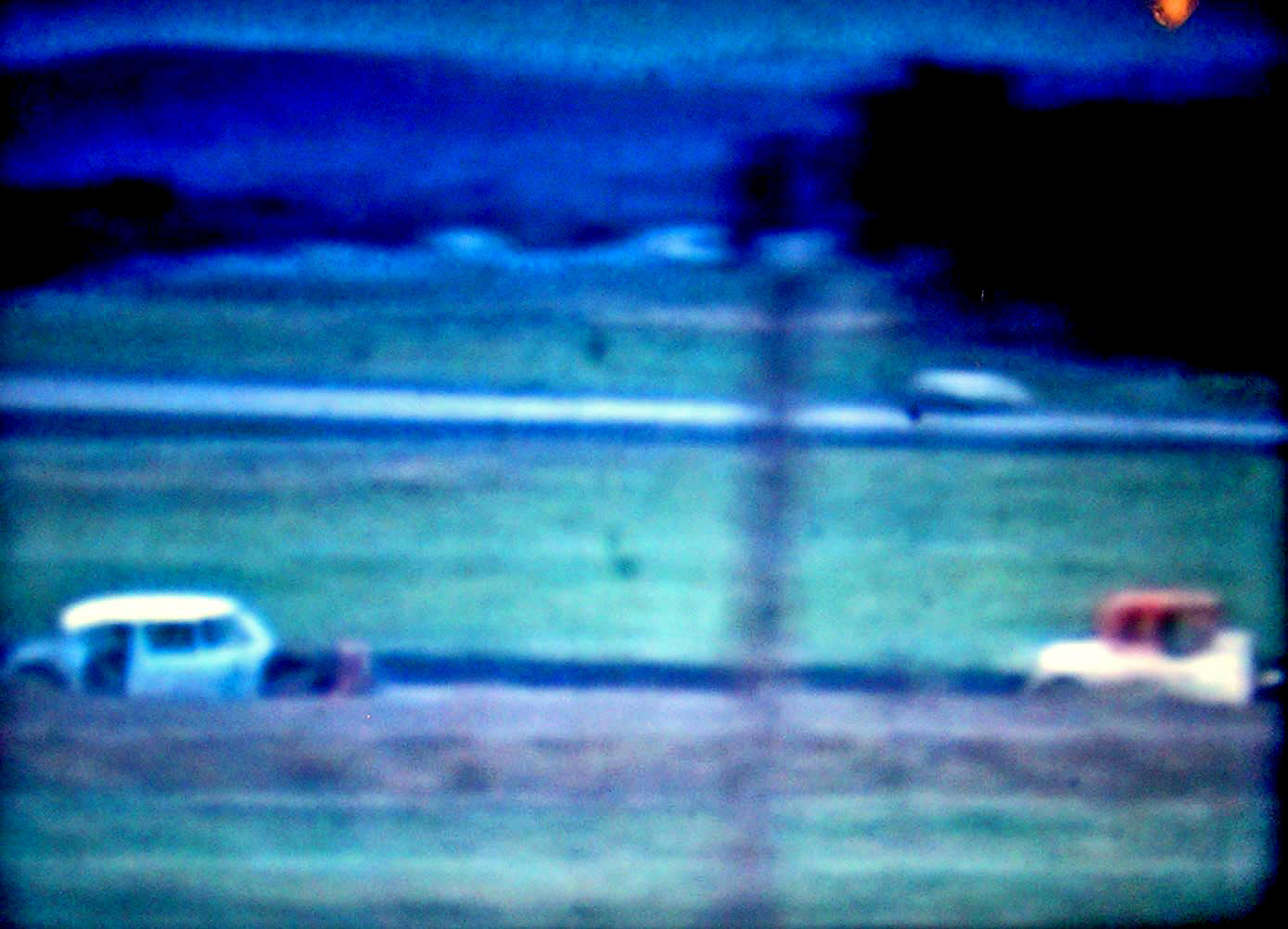 From Dan Ody's 8MM Old Speedways DVD's
At any rate, as we sat there for a long time, a car finally lumbered out of the pits [not visible from the stands] and onto the bumpy, dusty track in Hi Monroe's east pasture. The announcer let us in on the fact that was Don Smith, from Winooski. I could make out a number F80 on the side of whatever the hell it was he was driving. I never saw [and never seen since] anything like it. I had to guess the thing had once been one of those French Citroens, like Patrick Jayne drove in that now – defunct detective show.
Not only was it totally unfamiliar looking, but it was missing both rear doors entirely. So visualize a car with absolutely no rear doors, no sheet metal on the front beyond the windshield, no real metal behind the roof – and you go this thing that was the first [and for a long time the only] car to come out on the track. My uncle gave one of his nervous giggles that he did instead of saying. "Jeez ! What the hell kind race is this gonna be ?"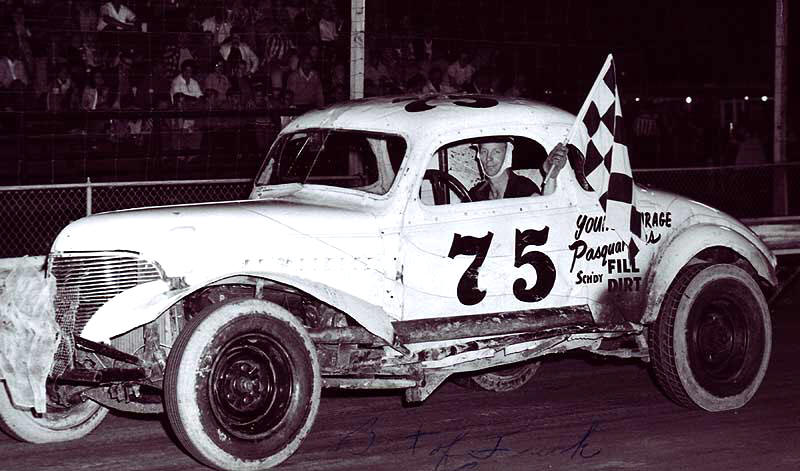 Russ Bergh Photo Courtesy of Russo|
Luckily a few NY sportsman cars like George Baumgardner in
Ray Vine's 75 would show up at Otter Creek for easy NASCAR
points. In this particular shot, the car is sportoing oversized wheel to make up for the
lack of gear at Fonda. Below – Bill Stevens, who would qualify as a hobby car,
added a little class to a pretty basic bunch.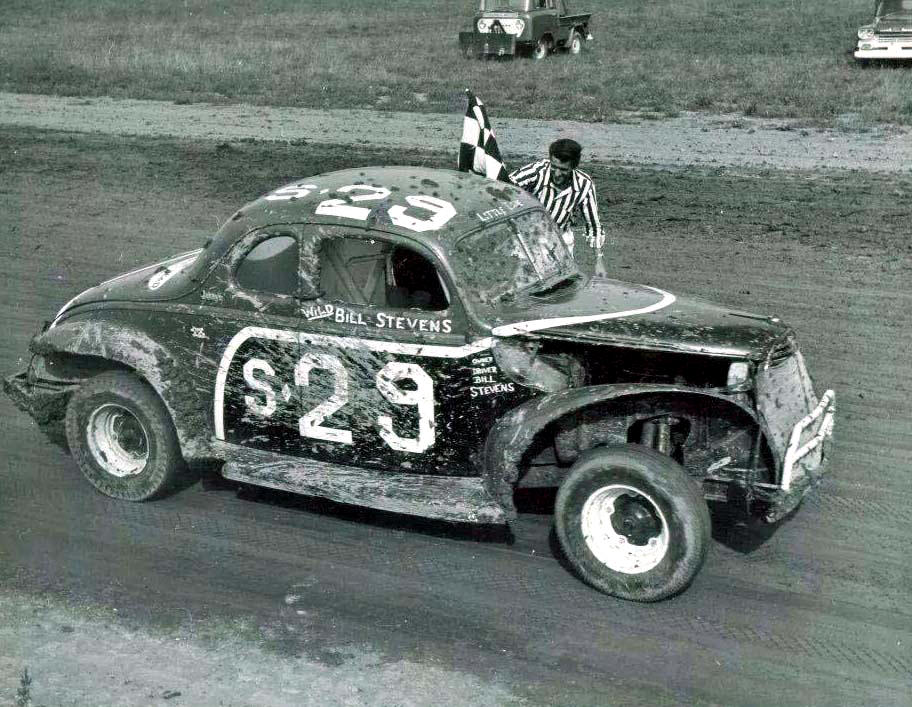 Courtesy of Connie Stevens Sanders

Eventually, some other cars came out, including the robins egg blue and white 75NY of George Baumgarner, a sportsman car. Baumie's Ray Vine – owned coupe gave hope that perhaps there would be some actual race cars in attendance. As it turned out, Otter Creek Speedway was an easy eway for some of the New York sportsman teams to get easy NASCAR national points; so, we got to see around eight or ten of them mixed in with some of the most horrible – looking local hobby cars you could imagine.
The local cars, a few of which were actually from the immediate area, were likely a few stragglers from the year – old Thunder Road, as well as leftovers from the recently – deceased Colchester – Bayview Speedway in Malletts Bay [Colchester] Vermont. There was a mixture of pre – '36 flat top coupes, mixed in with a few 1937 through 40 Fords. And then, of course, there was Don Smith. Smith's father, the flamboyant Ivanhoe "Smitty" Smith, had promoted races at his own track, Colchester Raceway, and had always fielded a number of battered field fillers – often manned by his sons like Don.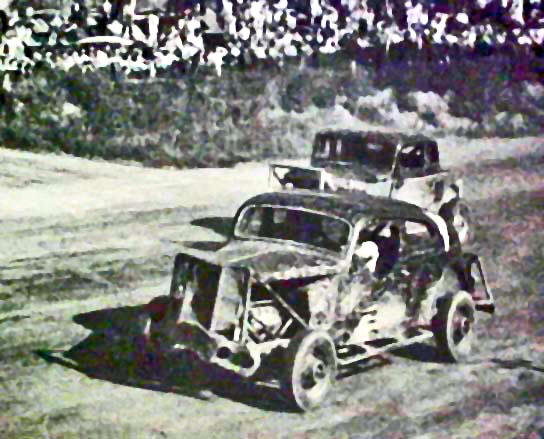 Courtesy of Red Dooley Family
One of the Smith boys [maybe Don] wheels a more respectable
looking F80 around Red Dooley's strange car around 1957 at
Malletts bay Raceway. Below - Bud Poirier, once listed as
being from Buffalo, NY, would drive cars for the Smiths.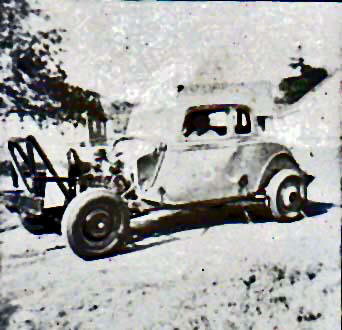 Courtesy of Gary Poirier
The feature that first time fleshed out about like you would expect. By the second lap, the sportsman cars had all left the back rows and were running, among themselves, ahead of the pack of hobbies. Smith ? He didn't keep up with anyone, puttering around in that thing, being lapped about every third. The hobbies did have some quality people hidden in there: Harmon "Beaver" Dragon, future NASCAR late model sportsman star; Harlan "Red" Dooley, a 1950's star at Colchester tracks and at Airborne Park Speedway; Ed "Peanut" Foley, a Devil's Bowl star and a pretty fair Valley driver, as well; Bob Russell, a fast former Malletts bay runner; Rex Shattuck, a 1950's legend; and many others.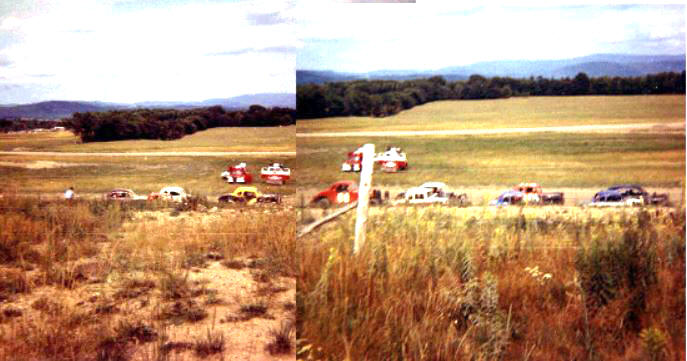 Ladabouche Photos
This half-baked attempt at joining two photos of the same feature lineup gives an idea of the disparate hobby class there.
The first row has two absolute heaps, including Bill Bigelow's black #409; the red and black 115 in row 2 is Bob Russell's fast Ford;
3rd row is Fairmont rookie Kenny Martin and Otter Creek 1961 hobby champ Keith Ballard; next is future superstar Vince
Quenneville, Sr ahead of Phil Russell's yellow and black Hudson; Rex Shattuck's red roof is barely perceptible,
and the maroon car is future track promoter Little Joe D'Avignon.
Smith, Ollie "Beatnik" Wescott, Fireball Notte, and a few other of the track field fillers made no real effort – often actually leaving their poor cars at the track during the week. The track, itself, would play a role in that melodramatic 1961 season in which Dick Nephew, of Mooers Forks, NY and Bill Wimble, from Lisbon NY [not more than hour from each other] would tie for the NASCAR National Sportsman Championship. Each would tell me, in later years, that NASCAR manipulated the points to help the other. But, no one – I mean NO ONE – would wrest the weirdest car title away from Don Smith.
I have to take this moment to apologize because the first two cars had pictures only available as freeze frames on old 8MM films. The quality is pretty poor, but historically significant. The second "car" is known to most in northern New York only as "Moody's Goose". When the Hoyt family started up Saranac Lake Speedway, their son Jimmy and his friend Wes "Slugger" Moody got the racing bug. Hoyt had a few more financial resources at his disposal than his tough buddy.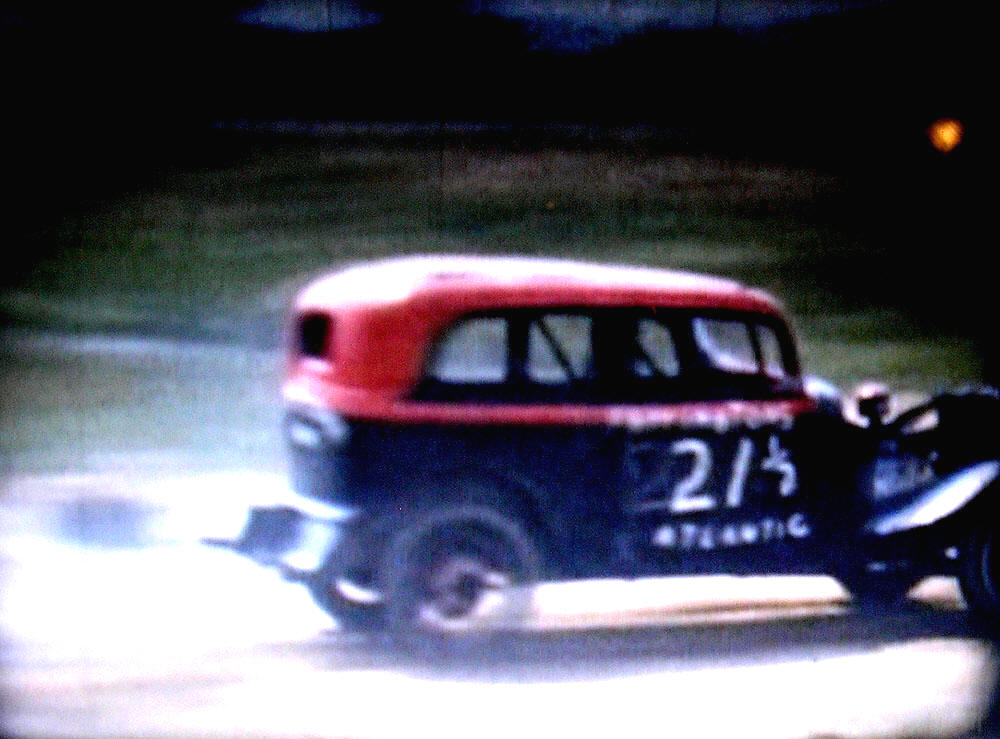 From Dan Ody's 8MM Old Speedways DVD's
Moody's Goose eases by the camera at one of the first races
for Saranac Lake Speedway around 1959ish. Below – Moody's next car
was a lot more like a regular stock car.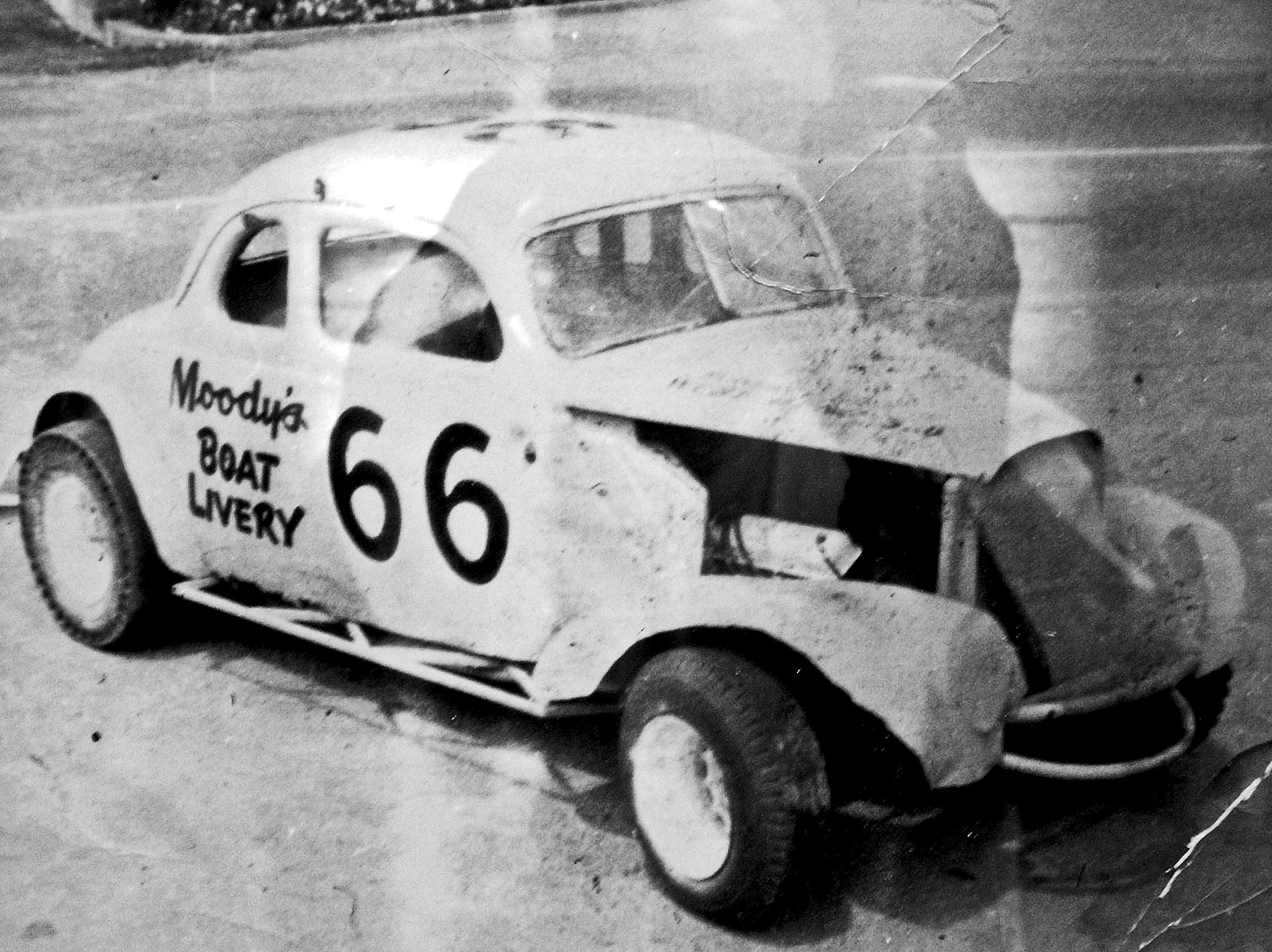 Moody Family Photo by Bob Mackey
Undeterred, Moody managed to trade a sled dog harness set to an old man in the community get an ancient Ford or Chevy sedan. No one can recall which it was, but it was likely a Ford. Wes soon had the car as stripped out as possible, a few hasty bars welded in, and a number – 21 ½ spray painted on it. The car was a smoking wonder, helping the bucolic backwoods oval keep its mosquito count down. Wes gave it his best against actual stock car racers with good GMC six motors and more than a feew overhead V-8 sportsman coupes.
The old black sedan would struggle around in the midst of the cars until it would usually slip back and finally give up the ghost. So determined was Moody that, when the original motor seized, he got some help from Ben Keys, a big guy who ran Airborne and over at Malletts Bay in Vermont with an underfunded white #8Ball. With no hoist or other equipment, Moody tipped the Goose over on its side, removed the offending engine, and replaced it with one given to him by Keys. He never did have any luck with the Goose and ended up, soon after, with a more normal '37 Ford coupe.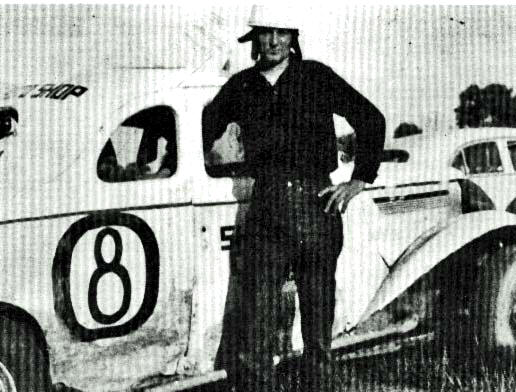 Bob Mackey Photo
Big Ben Keys offered a young Wes Moody a helping hand. Below - Wes got that number from Sonny Sawyer's 21, one of his local heroes.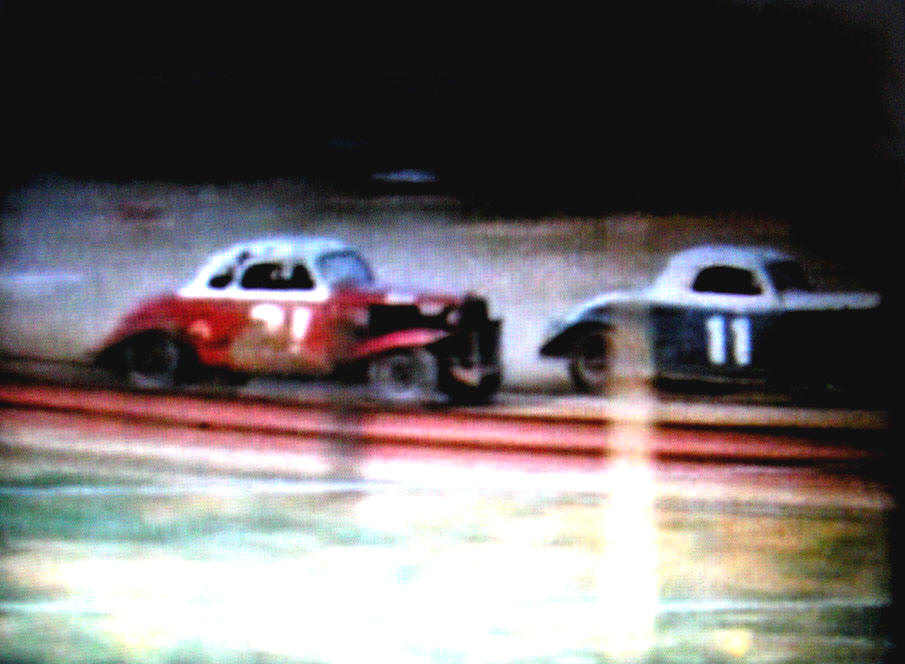 From Dan Odys's 8MM Old Speedways DVD's
It wasn't a very big deal in the early 1950's to see stock cars with the roll cage on the exterior. As a matter of fact, whether they knew it or not, some of the forward bars acted much like the setups on USAC Silver Crown cars in stabilizing the cars in making them handle a little better. But, still, there were exo cars and then there were EXO CARS ! One of the worst ones I ever saw ran at the informal track near Lyndonville, Vermont, called Webster Flats. The driver was Jackie Coolbeth, who would go one to a decent career at Northeastern Speedway and Thunder Road International Speedbowl.
The Coolbeth coupe was a little special to begin with because a big majority of the exo cars were sedans. Racers from the Northeastern part of Vermont treated racing as they do in Australia and New Zealand: can anyone say roller derby ? Smashing into opponents and dumping them off the track was what you did, not what you protested. So, the cars were built accordingly. In fact, when the faster, lighter and more normal Chittenden County racers came up into this atmosphere, the northern style often ended up in some sort of riot.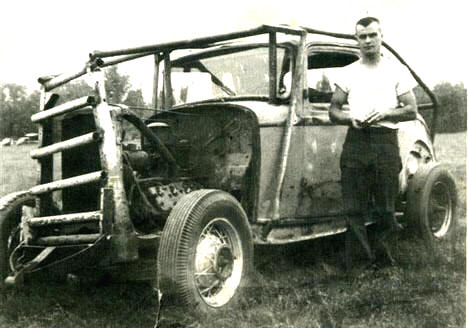 Courtesy of Paul Bellefeuille
Jackie Coolbeth and the wondrous exo car, at Webster Flats.
Below – This color shot of Webster Flats aka Ray Nadeau's Speedway
shows that not all the cars there were as scary as Jackie's. Also,
notice the total lack of spectator safety and amenities.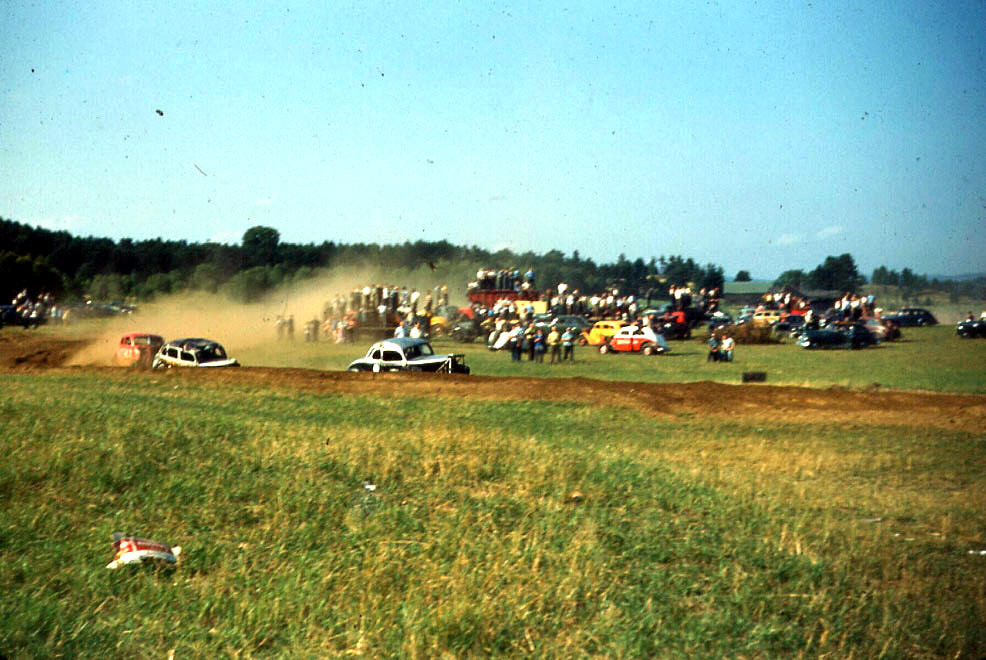 Courtesy of Biggy Bigelow
At any rate, Jackie's exo cage defied description. I have only seen the one photo of it, but it seemed to have bars and supports everywhere. The thing looked like he could have rolled around in it like one of those circus vehicles with the vehicles inside a round, cagelike structure. Without the cage, it would have looked like your typical flathead, flat top Ford coupe that was used well into the 1960's. However, glancing at how the cage was built and what it was resting upon, I am not sure Jackie would have come out of a rollover in very good shape.
There are not many records as to how he did with the exo cage coupe. I know Webster Flat stars included Gerald Bigelow, Coolbeth, Pete Racine, Ned Lemieux, Perley Densmore, and many others who went on the establish good racing at Northeastern Speedway, a fifth mile, highly organized track outside of St. Johnsbury, VT. One of the men beginning to run in that region then was the huge Ronnie Marvin, of Bethlehem, NH who would manage to finish in the top ten in the NASCAR National Sportsman standings in 1965 with a flathead car. Coolbeth was certainly competing with the likes of Marvin until the latter came out with a high dollar, tricked out flathead for the 1965 points run.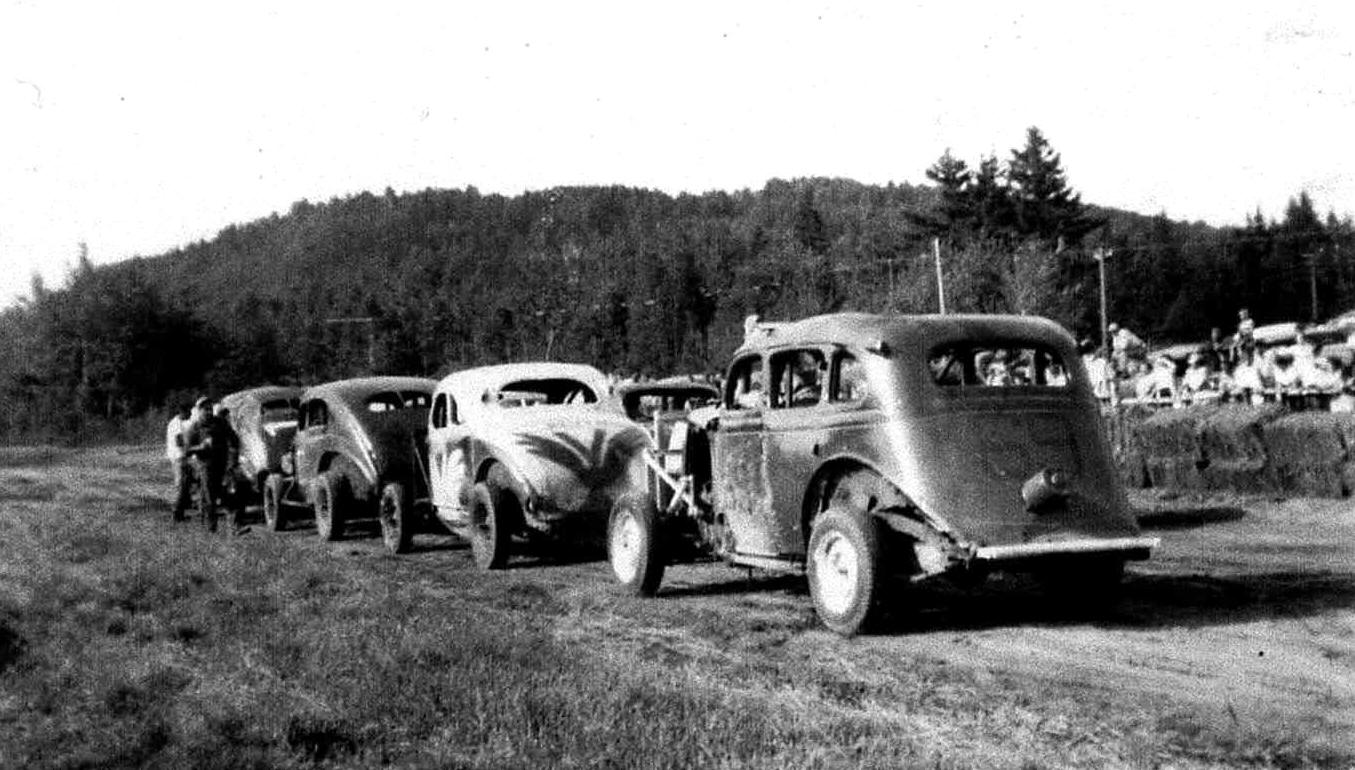 Courtesy of R. Scott Haskell
This lineup at Webster Flats is noticeably devoid of exo cars.
Below – Ron Marvin, with an earlier version of his famed #13,
lines up at Northeastern Speedway around 1962.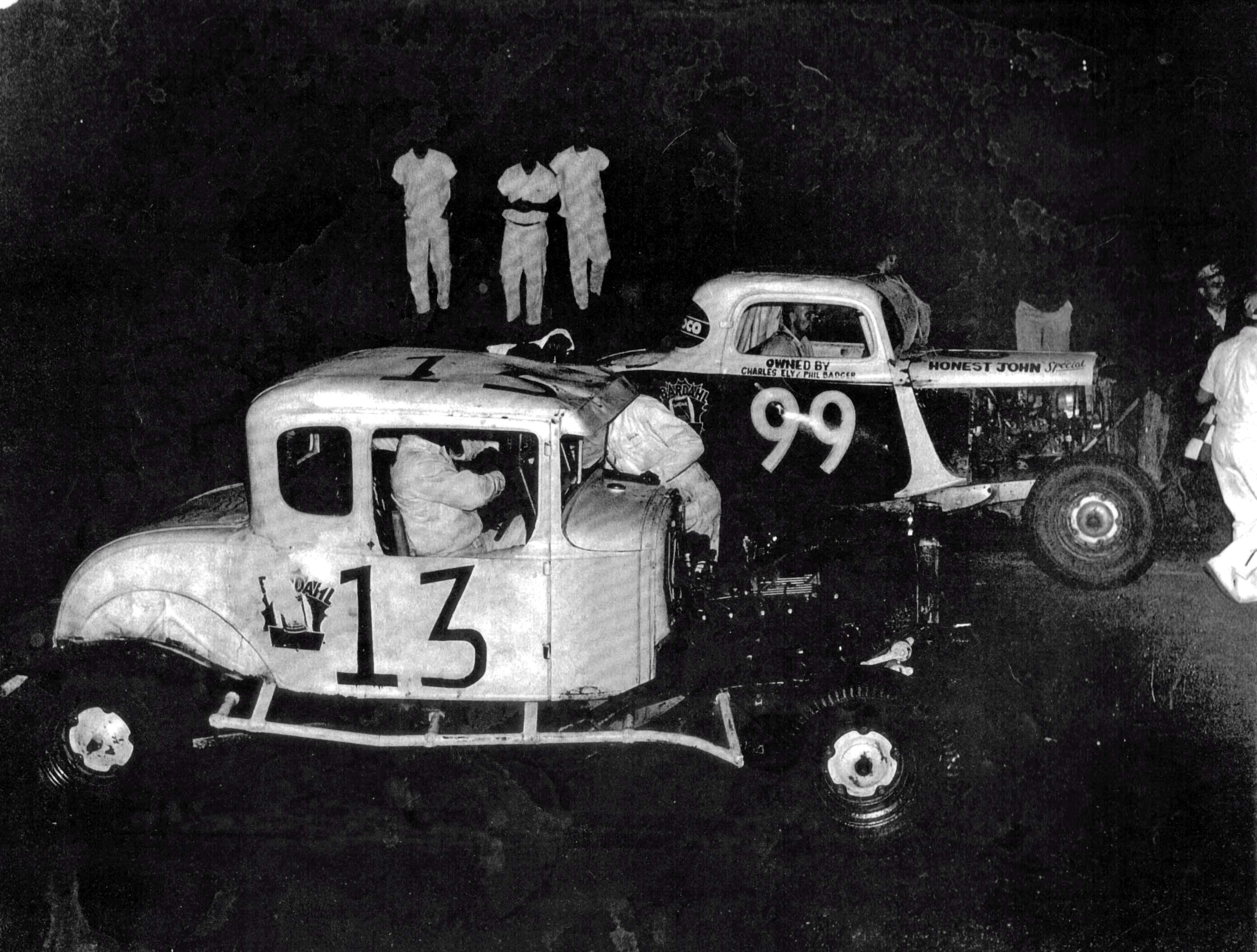 Courtesy of Mark Austin
The next two cars ran directly against each other [at least in as far as they were in attendance at the same track at the same time]. It is doubtful either could sustain a full race at time. In the early days at C.J. Richards' version of Fairmont Speedway in the early 1960's, the cars came from two basic areas: New Hampshire, near Claremont Speedway, and eastern New York, above Albany. Ken Guilder, from Corinth, NY, came from one of the birth places of stock car racing. Corinth had a track that featured roadster racing at first and the town offered arguably the best NY roadster driver ever – Art Pratt.
The roadsters would be forced out of business by the state of New York after Pratt left for USCA and his replacement was almost immediately killed in a roadster racing accident. The town did seem to have its share of second tier drivers and teams who frequented tracks like Warrensburgh, Whites Beach, West Glens Falls, and so forth. When Richards re-opened the long dormant Fairmont in 1962, it gave drivers like them a place to race, seeing as many of their old tracks were closed and places like Fonda were too hard to compete at.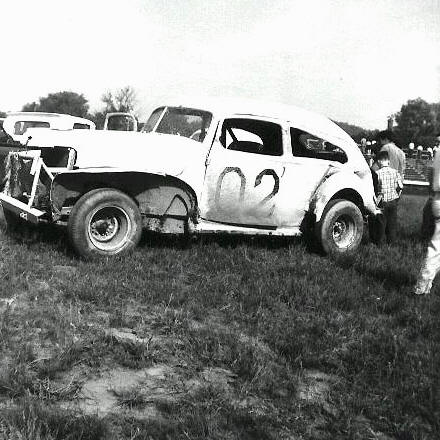 Ladabouche Photo
The Guilder sedan rests gratefully in the Fairmont pits. Below-
Coincidentally, Ken's 02 sits in the background as Bob Boyd's
beautiful new coupe makes its debut.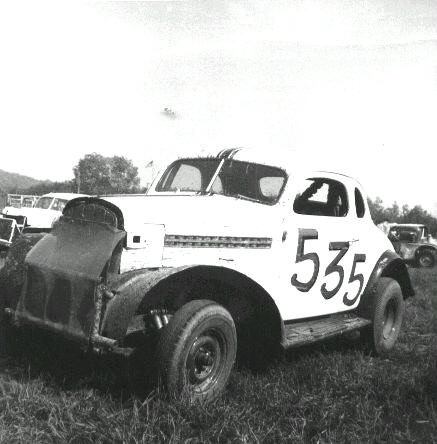 Ladabouche Photo
Two such guys from Corinth were Ken and Harold Guilder. I don't remember seeing Harold much, but Ken came quite a few times with this behemoth yellow 1940 Ford numbered 02. Battered and dinged up, the 02 seldom ran right and it always sat like half of the suspension looked like it was broken. Guilder would get out for a qualifier and the big yellow sedan would groan and sputter around a few laps usually and then either expire on the track or pull off back into the pits. After a few parts of the 1962 and 1963 seasons, we never saw the 02 again. It sat behind some barn, somewhere, probably sighing gratefully at the respite.
I can't even say who the other car belonged to. It was probably a 1936 or '37 Ford coupe to begin with. Somebody figured that the more they could cut off it, the lighter and better it would be. Well, maybe – but not in this case. The car would not run, so I doubt anyone ever got around to trying to assess anything like handling. It seemed like, every time the thing showed up [seemingly often with totally different personnel] the K7 would have less body.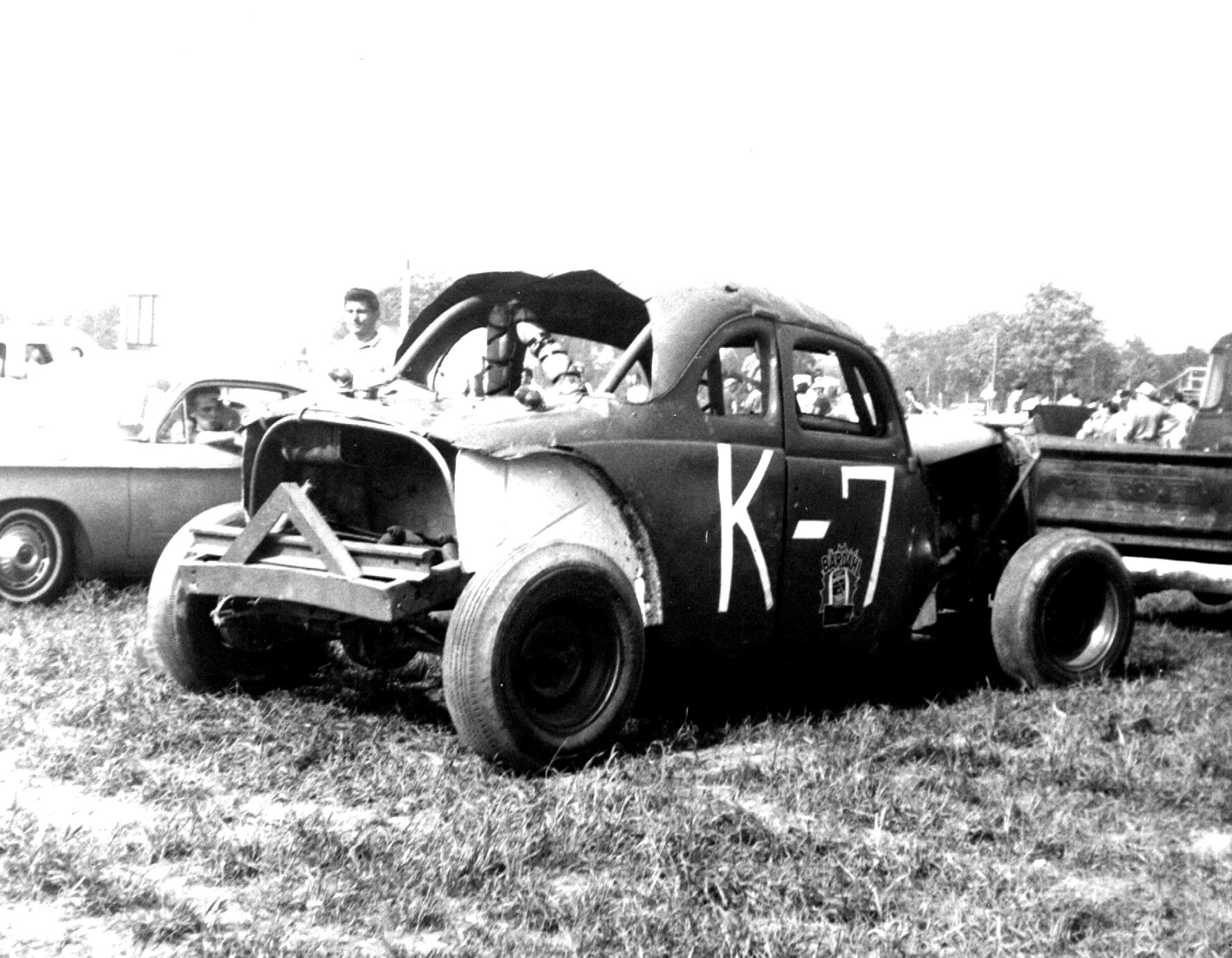 Ladabouche Photo
It is thought that the abbreviated K-7 may have been brought
to Fairmont in 1963 by Ronnie Wood, whose career spanned around
ten years. Below – Ronnie would once be in a car with even less
body than the K-7, after this bad crash at Devil's Bowl.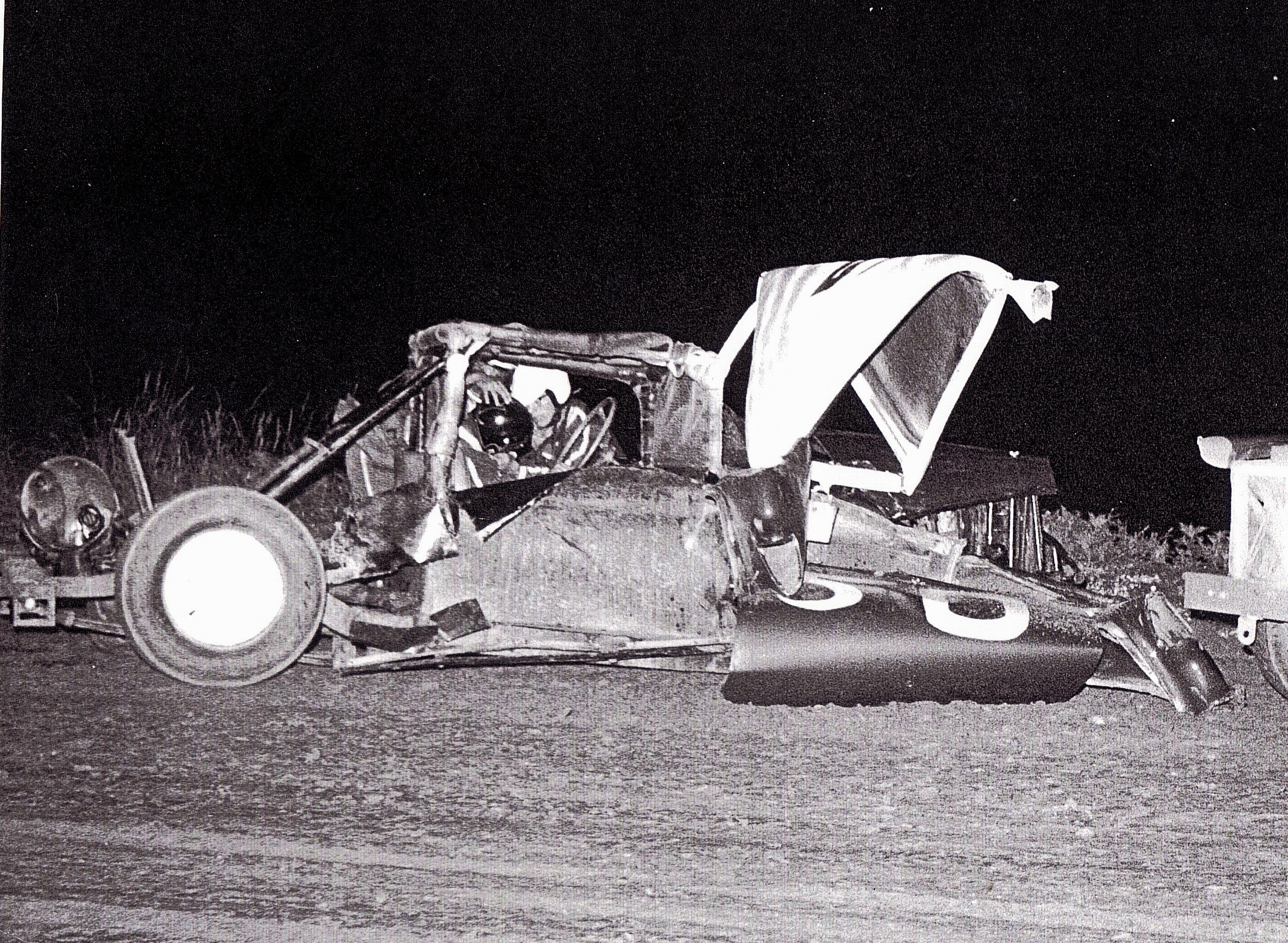 Courtesy of Shawn Byrne


Towards the end of its wretched existence, it appeared at the track as the OK71, someone having gotten creative in changing the number. The different numeral system was the only improvement and I am not sure it even made it into a race. Dirt racing was no different then than today – tracks offered practice laps as liberally as they offered to give up digits off their own feet or hands. So, I don't think we even saw the car get on the track at all as OK71. At any rate, the chances of it and the Ken Guilder car ever even running by one another were slim. And that wasn't a big loss to the Fairmont racing audience.

Wicked Good Racing Photo
My good lord ! This passed tech ?

I'm sure readers can come with a ton other equally strange race cars that they are familiar with. The point is, we just don't get to see the Don Smith, Moody's Goose, Ken Guilder kind of cars any more. I kinda miss that.

Please email me if you have any photos to lend me or information and corrections I could benefit from. Please do not submit anything you are not willing to allow me to use on my website - and thanks. Email is: wladabou@comcast.net . For those who still don't like computers - my regular address is: Bill Ladabouche, 23 York Street, Swanton, Vermont 05488.
AS ALWAYS, DON'T FORGET TO CHECK OUT THE REST OF MY WEBSITE
www.catamountstadium.com
Return to the Main Page
Return to the Main News Page
Return to the All Links Page
Return to the Weekly Blog Links Page