GEORGE MAY FAMILY PHOTOS
For those who are clueless, like I was, Skip May's real name is George, making him George May, Jr. and his son - who races the Tiger Sportsman cars at Thunder Road - George III.

George III, [left]in the 1990's
at Thunder Road. That is
a young Hammer Barnier at
right.

George III, in Victory Lane
with Skip [2nd top left].

Skip, at Catamount
around 1986 with
a nice-looking
Camaro New Tiger.

Ladabouche Photo
Skip working on the
New Tiger at Catamount.
The #37 was in honor of
the late George Delmar.


A New Tigers win for Skip at
at Thunder Road.
VIRGIL RENDEL

Courtesy of Dan Nolin
Dave Lind with
Virgil's '68 Chevelle.

Ladabouche Photo
SKIP'S BRO-IN_LAW

Ladabouche Photo
Skip May drove
Virgil's '64 Chevelle.

Skip, with
Virgil's '64 Chevelle
at Norwood Arena.

CHEVELLE OWNER

May FamilyPhoto
Skip May in action
at Norwood in the
Rendel car.
OUT OF NORWOOD

May FamilyPhoto
Skip May with a
T Road win in the
23 Chevelle.

May FamilyPhoto
Skip's "next thing to
a modified" car.


May FamilyPhoto
Skip and an early
hobby car. He didn't
have many Fords.

Skip and George, Sr.
work on the Super Ford.

May FamilyPhoto
The "Super Ford"
on the track at
Norwood.

Maybe Mrs. Skip .

May FamilyPhoto
The '57 Chevy is
showing signs of a long
Norwood season.

Maybe this is
George III.


Skip May poses with the
57 Chevy.

Chasing Bobby Glass.

Norwood hobby action
was, at best, harrowing.

THOMPSON SPDWY

Over the sand banks
at Thompson.

Running his 4 door
Chevy at Thompson.


BALSER PHOTOS

Balser Photo
The most popular
Skip May photo - the
four- door Chevy
replacement car at
Norwood.

Jerry Driscoll and
Skip chase George
Delmar.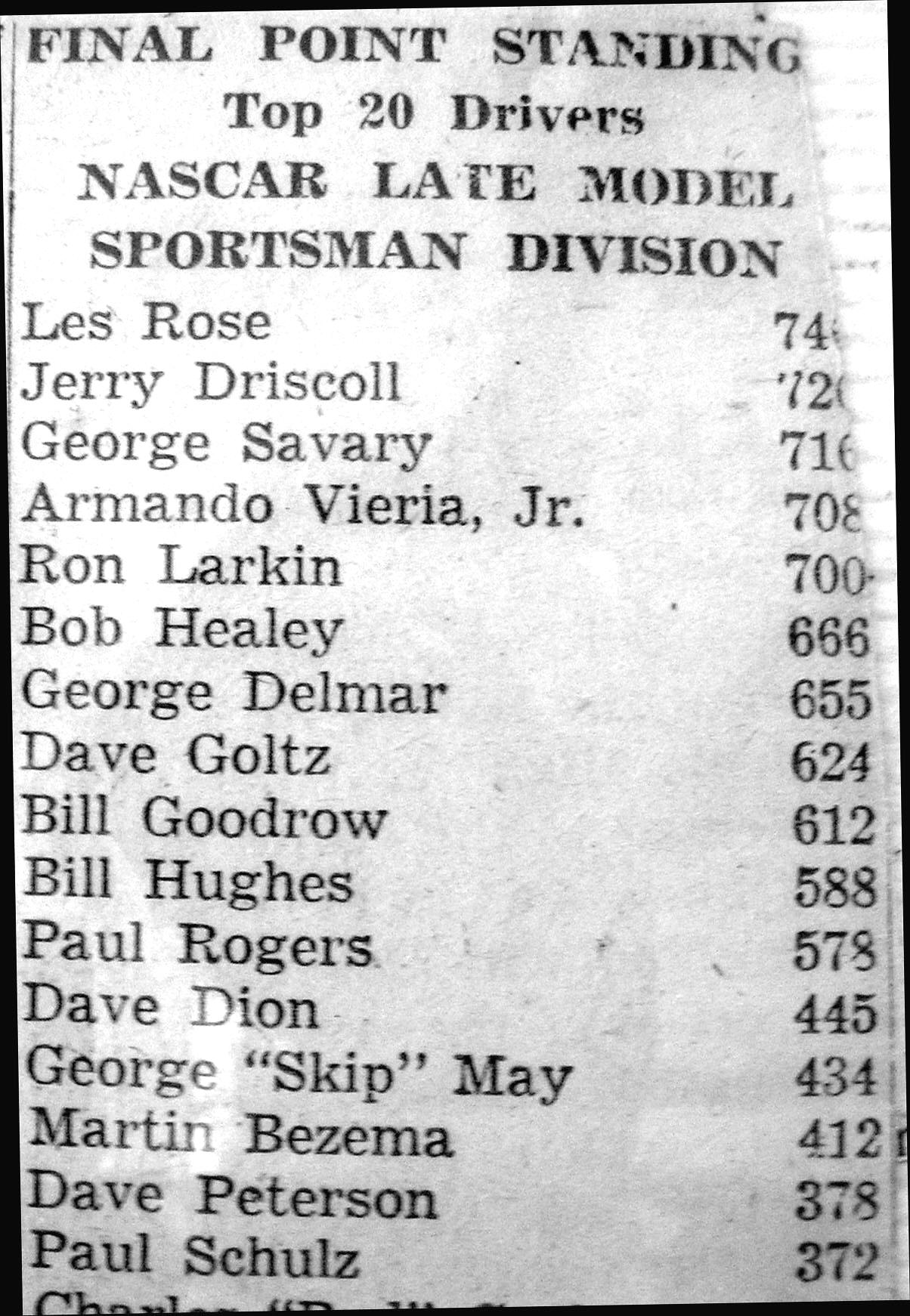 May Collection
Norwood Arena late model standings from 1970ish. Check out some of those names.
Return to the Main Page
Return to the All Links Page
Return to the Main News Page
Return to the Norwood Drivers at Catamount Page