BILL'S [Somewhat] WEEKLY COLUMN/BLOG PAGE

BILL'S BACK IN TIME
By Bill Ladabouche
LITTLE KNOWN GRANITE STATE BULLRINGS
Note: This is one of those topics I wanted to cover – but I had to do the best I could with limited knowledge and few resources. I did my darnedest to give the topic some coverage. I hope I did it justice.
The race tracks in New Hampshire are varied in their degrees of notoriety. Contrast the highly – visible Bahre – created New Hampshire superspeedway with somewhere like the nearly – unknown Hurricane Road track in Franklin – and you can see what I mean. Two of the tracks that didn't get much attention and have – therefore – very little background information about them – are 106 Midway Raceway [named for the route it was located upon] and the Manchester Motordrome, of Londonderry, NH.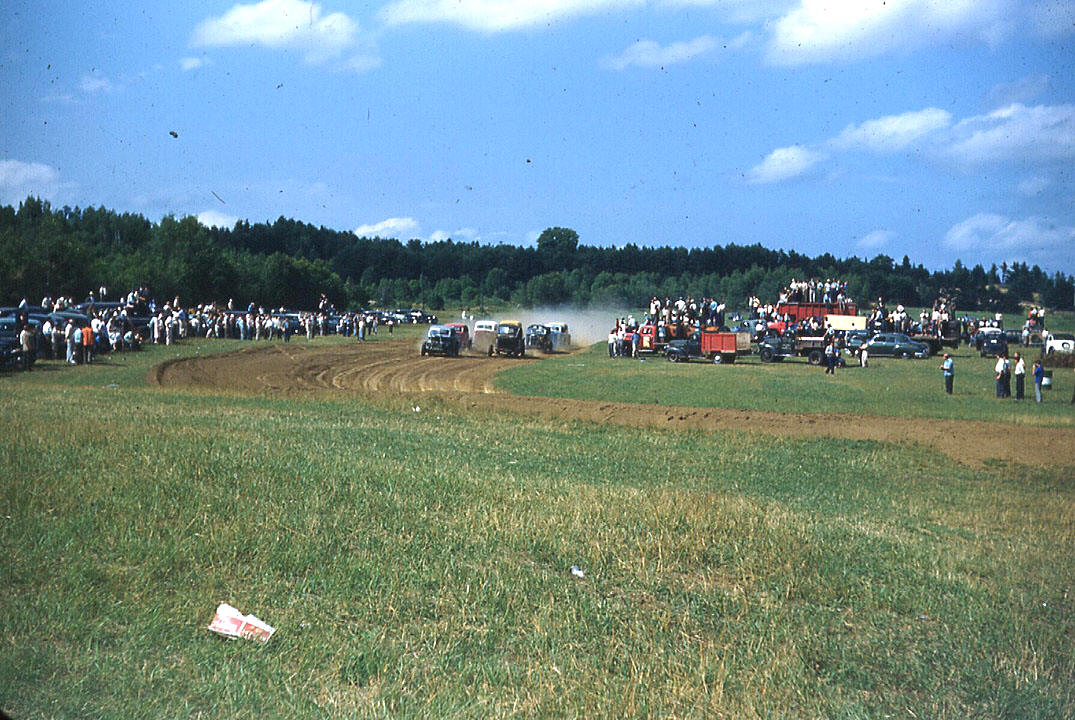 Courtesy of Biggie Bigelow
Typically crude earlier tracks near 106 Midway Raceway were Ray Nadeau's Speedway, on the Webster Flats near
Lyndonville, VT and [below] the incredibly rustic Ge-Jo-Clin Speedway in Boltonville, VT.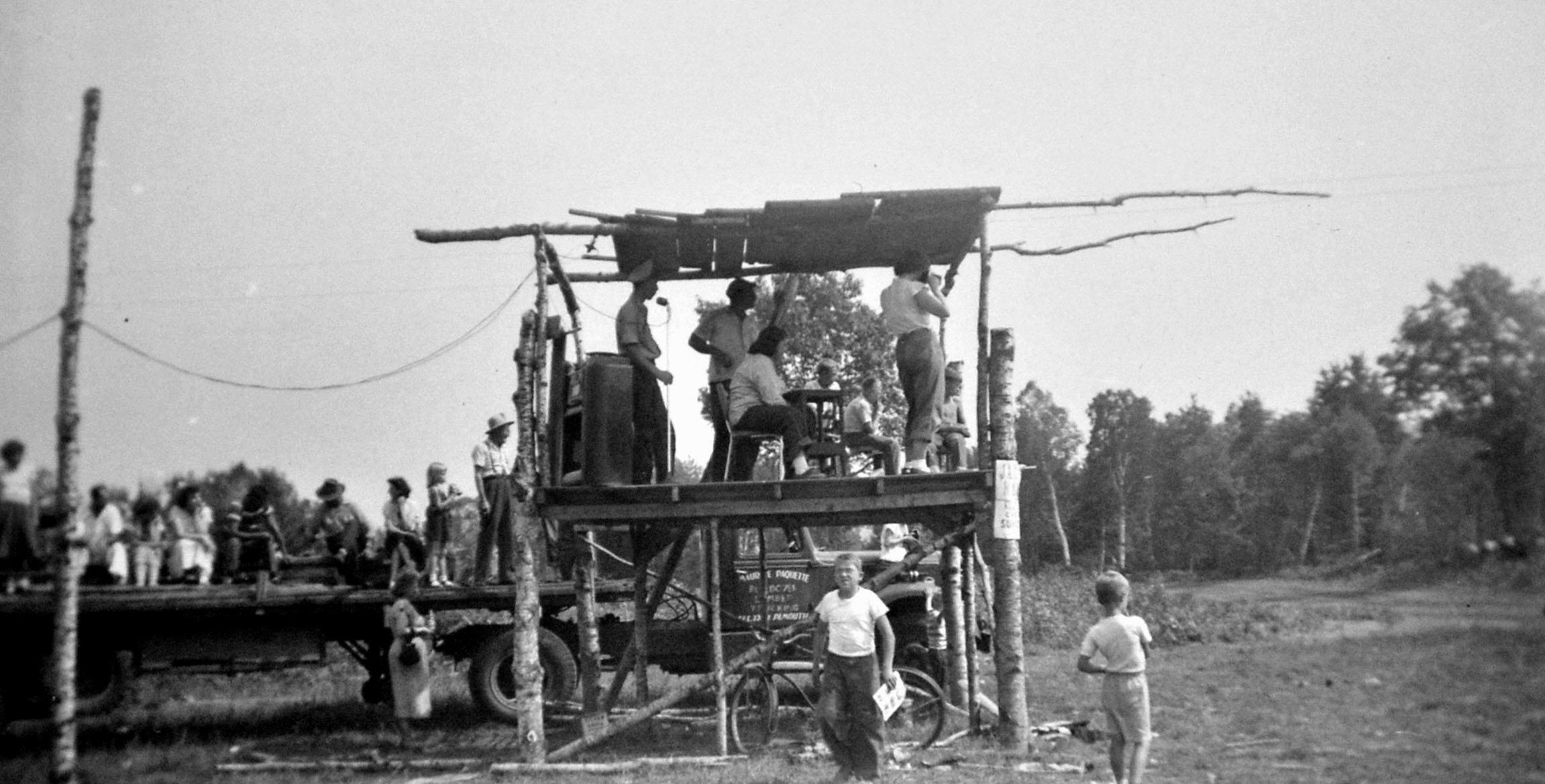 Courtesy of Ed Gould
106 Midway Raceway was built just about exactly where the Bryar family later made their road course, Bryar Motorsports Park. The track was established in the early 1960's by Keith Bryar. Rick Clogston wrote: "Keith's greatest strength was knowing what he DIDN'T know, which was most everything about running a race track. He hired a flagman, a pit steward, a tech man, and checkers who knew what they were doing and stayed out of their way." The chief pit steward turned out be be Clogston's father.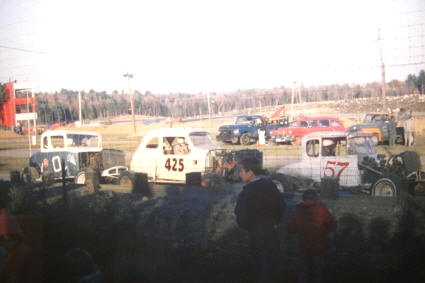 Courtesy of David Hoyt
This grainy old shot of a race lining up at 106 Midway Raceway in Louden shows that they at
least had a catch fence, RR tie barriers, and some lighting.
The track ran along with regulars like Reggie Caldwell, who managed to have a car burn to the ground at the Hurricane Road race track. Caldwell [of Belmont, NH] and others like Cy Colby, Bristol, NH; Lee Whiting, Meredith, NH; Whitey Hoyt, Concord, NH; Tony Marden, Concord; Bob Snow, Belmont; and Bob Bake, all the way from Kennebunkport, ME bravely struggled to compete against the track hot shoe, Jim Martell, of Rochester, NH.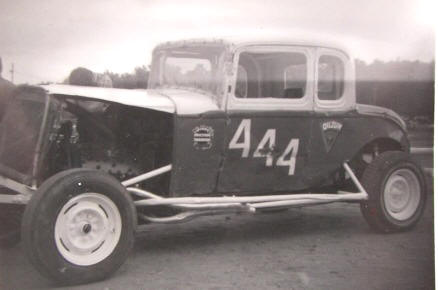 Courtesy of Eddie Puffinberger via George Hill

The Thurber –owned 444 of Jim Martell was the car to beat for quite some time at 106 Midway. Below – Bill
George was likely some stout competition for Martell. George ran all over the area with crewmen George Burdick and Ray Herbert.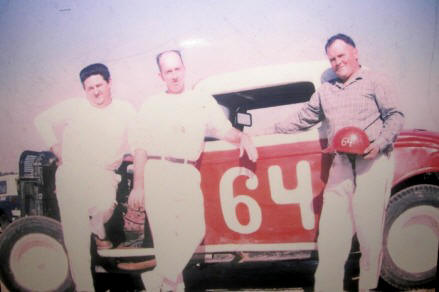 Courtesy of David Hoyt via George Hill


At one point it became evident that the Martell car had an illegal frame and he was banned for two weeks, despite the track owner's misgivings that the popular Martell's hiatus would mean loss of fans; but, he trusted in his steward and went along with the sanctions. Clogston points out that an early track owner had to worry about the whole picture, given that crowds in those days were not very large due to the newness of the sport, as well as the limited seating at most tracks. So, the Martell suspension could affect attendance and hot dog sales, could alienate a car owner who was otherwise a strong track supporter, or anger the businessman who just paid well to have his billboard beside the track.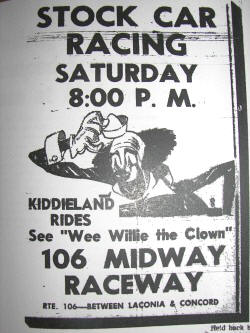 Courtesy of Reggie Caldwell
Bryar, like most other promoters, had little but newspaper or radio to promote his programs.
Martell's Thurber – owned 444 would return to continue thrilling the throngs and all was well. Andover, NH's Bill George, a man prominent at several New Hampshire tracks, would soon move in and offer Martell a run for his money. Bryar did the usual advertising in newspaper and tried features like Wee Willie the Clown to draw in more families. His ads also mentioned Kiddieland Rides, but it not clear if he had midway rides or just playground equipment.
Several 106 Midway drivers developed into regional superstars. Martell, who drove at a number of tracks for legendary owners such as Marty Harty apparently began there. Whitey Hoyt and Buck Moses were also very prominent in early racing, as was Bill George. The facility seemed to be a step up from any tracks nearby that had begun and ended before its time. The oval was paved, there was an announcer's stand that looked to be better than the most of rickety structures that used to look over these tracks, and the track seemed to have considerable catch fencing.
At some point, the Bryars decided to upgrade to the motorsports park concept, which involved creating a road course. From the appearances of one particular photo, some of the flathead, early 1930's coupes which ran at such venues as 106 Midway, Claremont, and the like may have been tried out on the new road course around 1965. From the notable lack of information and photos on this type of racing, it must be assumed that the coupes did not last long on the tricky road course.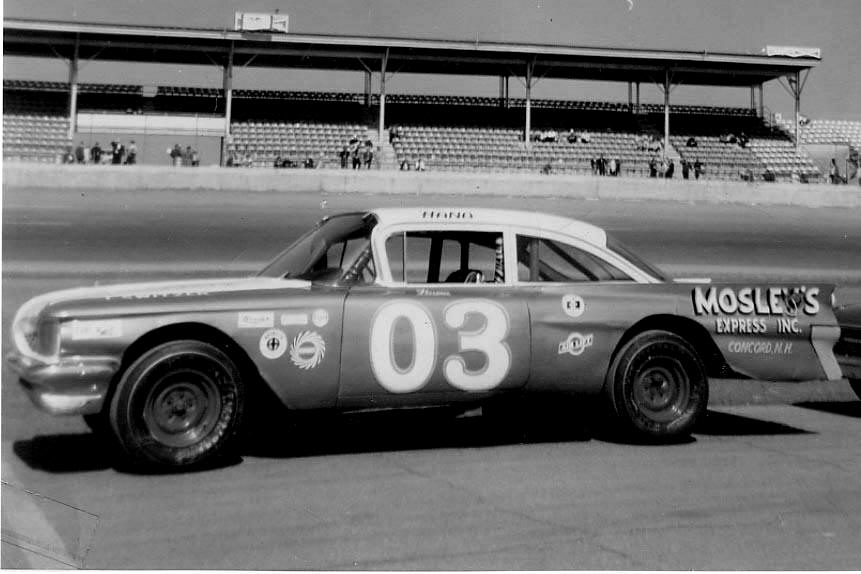 Courtesy of Ken Paulsen
Harold Hanaford, at the Daytona Permatex race, with the former Elmo Langley Grand National car – now third hand as a northeast – based Permatex sportsman. Below - Harold, at Thunder Road. Two of the feared Havelock boys are at his side [center of photo].

Courtesy of Cho Lee

Plymouth's Harold Hanaford, one of the best drivers to ever come out of the state of New Hampshire, recalls taking a Pontiac to a race on the road course in the very early 1970's. The Pontiac, itself, was a story, having been built by Elmo Langley, raced at Daytona Permatex races by the likes of Jean – Paul Cabana, Black Jack Dubrul, and Hanaford [once it had been purchased by Plymouth trucking mogul, Mosely. Later, the rig had been tried out at Catamount and found to be too heavy. So, there the Mosely's Express bunch was trying it on the road course.
As Hanaford relates it, the heavy old 1959 Pontiac was in with a real polyglot mixture of any cars they could get to enter the race, including a Studebaker Lark. He says he won the race because "almost every other car in the race either broke their rear end or ruined the tranny". The Bryars had a son in the race and he had the best equipment, as well as a hometown advantage in track experience; but, his transmission went along with al most everyone else's.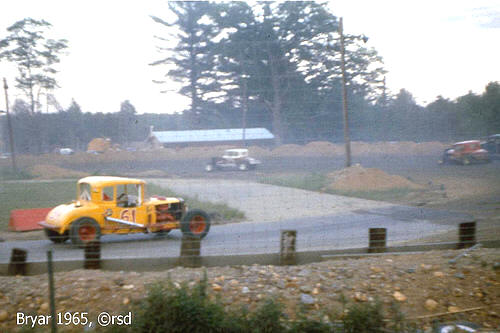 R. Dawes Photo
Vintage coupes race around the new Bryar Motorsports Park in 1965. Below - Harold Hanaford's more
powerful Pontiac is going by somebody's unusual Studebaker Lark on the road course.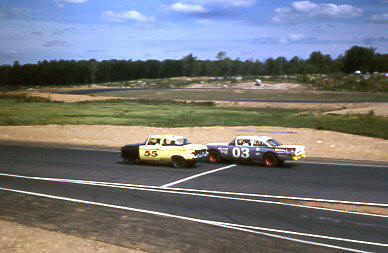 Topaz Photo

The track owners were incensed, and told Hanaford he had cheated and wasn't going to get the winning purse. Well, the much –traveled Harold had been through this before and he had one of the toughest pits crews in the game, the rough Havelock brothers. The boys didn't offer much to the argument between Hana and the Bryars, they just seemed to wander off. When Hanaford was looking like he had no chance to get his prize, they all heard a yell from over near some of the grandstands. There, the Havelocks had hitched a chain from their big wrecker to the stands. Nothing more was said and money was counted out.
Of course, Bryar Motorsports park gave way to the superspeedway and the Bryar's passed on ownership to the famous Bob Bahre. And that was that.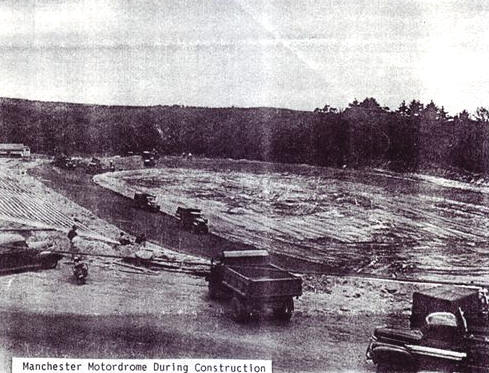 From the LondonderryNH.net Site
Construction progresses with the new Manchester Motordrome site in 1974. Below - This 1962 aerial
shot shows the track at the end of the time it was still racing some sort of cars.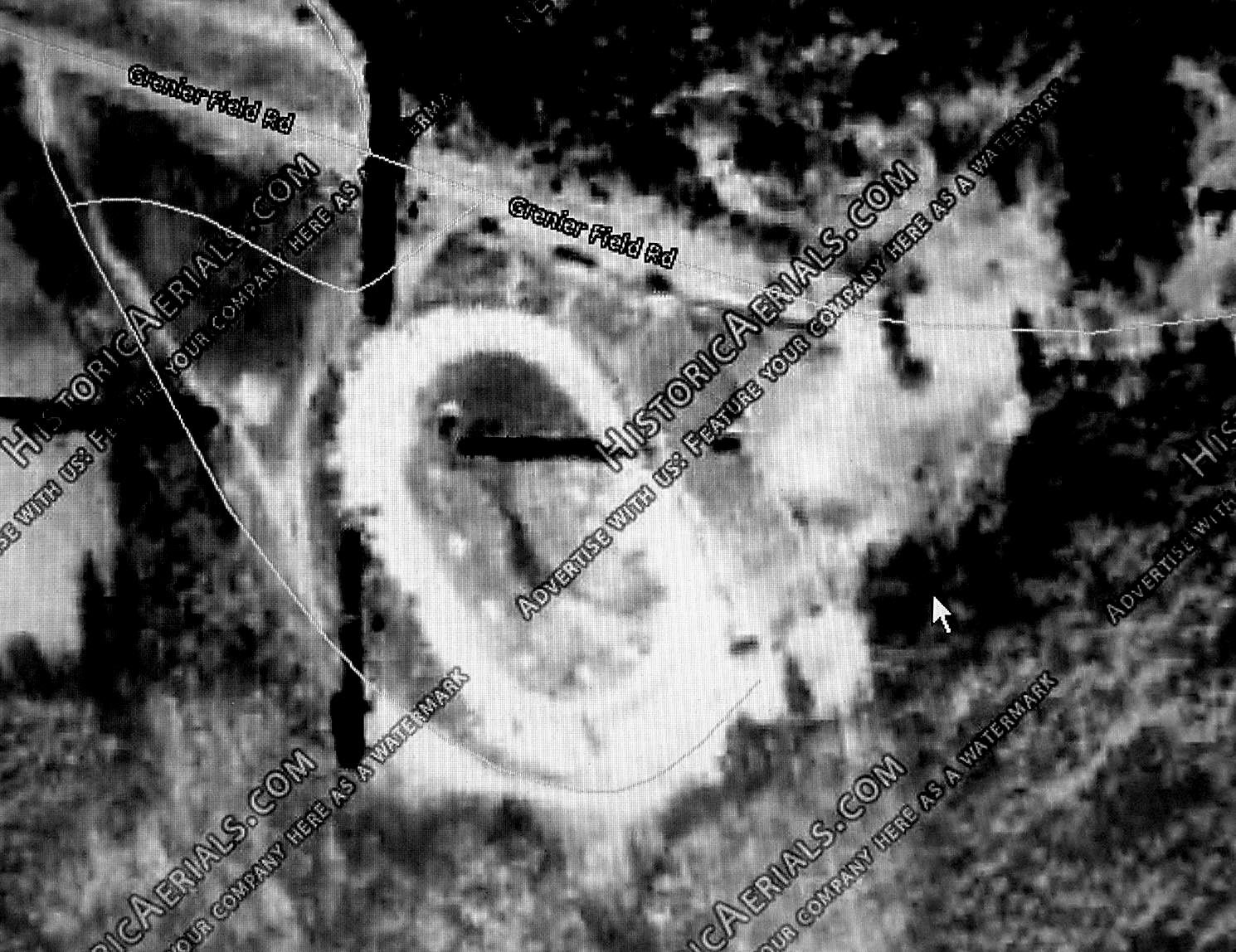 From the Historic Aerials Site

Down near Manchester, was where you'd find the Motordrome. Built as far back as the late 1940's, the track which was first known as the Manchester Motordrome was a far more thorough and professional venue than 106 Midway. Creators Walter Hart and Robert Early spent nearly $70,000 on the facility that had a quarter mile track, parking enough for 2,000 cars, and bleacher capacity of up to 10,000. It appears that the oval was paved.
Given the 1940's and all – when stock car racing was in a crude infancy, the first racing there was open wheel midgets. The big star was Bob Blair and another top runner was New England Champion Joe Sostilio. An excited Manchester Union Leader, taking tie away from its nationally – famous political commentary, said in an article by Walter Healy : "One of America's most thrilling sports - Midget Automobile Racing – is attracting thousands of fans to the Manchester Motordrome these summer Sunday evenings for the trill of seeing 'Doodlebugs' go round and round the new racing oval. Only last Sunday, 5,000 spectators witnessed the racing program, many for the first time."


From the LondonderryNH.net Site
Bob Blair was apparently the winningest driver in track history. Below- A view of the track in 1962.


Dave Dykes Photo From the LondonderryNH.net Site Images14




The term doodlebug is interestingly used here because, at the same time elsewhere in the state, drivers like Charlie Elliott were whizzing around dirt ovals in dangerous, unbraced roadster cars called "mud buggies". It is likely that Healy, like most American newspaper writers of the time, simply lacked any usable car racing vocabulary with which to write his article.


Courtesy of Lew Boyd via Scott Haskell

While Walter Healey described midgets as doodlebugs, this "mud buggy" roadster of future promoter and track builder Charlie Elliott more aptly fits the description.


It is not clear from the Jacklynn Weeks article or from any other sources how long the track ran as an auto racing track or whether or not stock cars spent much time on it. The midgets are thought to have run until 1962. At least one of the midget drivers was also a standout in northeastern stock car racing around northern Massacusetts, southern Vermont, and southern New Hampshire : Art Rousseau. By 1996, Jeffrey Coventry had re-opened the long – dormant facility and more accurately named it the Londonderry Raceway. The track featured safer forms of racing like Go-karts, Dwarfs, Mini-sprints, Micro-mods, 1/4 Midgets Mini-cups and Champ cars.
Finally, after another period of closure and inactivity, the site became an important venue for bicycle racing. It then became the Northeast Velodrome and Cycling Park. Although our purposes do not really go into that form of racing, one could arguable say that the track has a 60+ year history. Essentially, both 106 Midway and the Motordrome are gone.


From the LondonderryNH.net Site
A view of part of the bicycle circuit now at the site.


Without research work already done by Rick Clogston, George Hill, Jacklynn Weeks, Scott Haskell, the late Cho Lee, Ken Paulsen, and other racing historians who toil without much recognition, I couldn't have put this one together; because I know little about either track.

Please email me if you have any photos to lend me or information and corrections I could benefit from. Please do not submit anything you are not willing to allow me to use on my website - and thanks. Email is: wladabou@comcast.net . For those who still don't like computers - my regular address is: Bill Ladabouche, 23 York Street, Swanton, Vermont 05488.
AS ALWAYS, DON'T FORGET TO CHECK OUT MY WEBSITE
www.catamountstadium.com
Return to the Main Page
Return to the Main News Page
Return to the All Links Page
Return to the Weekly Blog Links Page