BILL'S [Somewhat] WEEKLY COLUMN/BLOG PAGE

BILL'S BACK IN TIME
By Bill Ladabouche
The Best Performances in a Forgotten League
Usually, with a title like this in a sports environment, the writer is talking about something like Herschel Walker in the United States Football League, Monte Irvin in the Negro Leagues, or maybe Dr. J in the American Basketball Association. However, this particular topic centers around the seven - year lifetime of the All Star Stock Car Racing League.
The All Star League, as we familiarly call it, was a wonderful idea that came from two New York City area sports promoters, Larry Mendelsohn [famous in the country for his demo derbies on the Wild World of Sports] and Lou Figari, who worked with a number of sports teams and ventures.
With the idea being that top drivers from both paved and dirt track environments would compete against one another on tracks of both surfaces and of various lengths, the most versatile and persistent drivers would persevere. The idea was timely and very exciting. Figari, Mendelsohn, along with promoter Jerry Fried, racing manger Bob O'Rourke, and publicity man Tim Sullivan ran the series very effectively for seven years.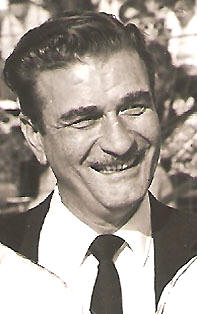 empaonline Site Photo
Jerry Fried appeared in the officials' list early in the League history. Perhaps this one reason his track, Nazareth,
stayed the course and committed so strongly to excellence, It didn't hurt, either, to have Cagle and Schneider.
Unfortunately, the protagonists could not foresee the energy crisis of 1973, the premature deaths of three of the League's prime movers and shakers, nor the problem of having some of the League members show much more devotion to making the mid – week shows than others. The opening, hopeful season of 1967 saw races at all eight team venues with widely varying rates of race attendance among the teams. Pennsylvania's Tiopet Racing Oil and McHal [makers of the signature All Star League helmets] offered strong support. 81 different drivers participated in at least one race.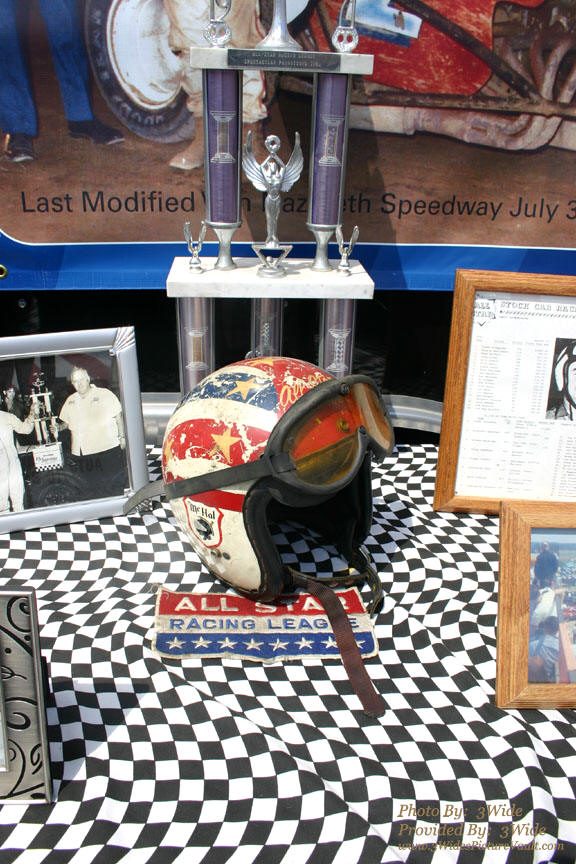 Flemington History Site
Frankie Schneider's League Helmet shows evidence he wore it long after he wasn't in the League. The old silk screen process
McHal would have used meant the graphics would wear off. Below – Gil Hearne, [father of Beett] an original League member, models his McHal.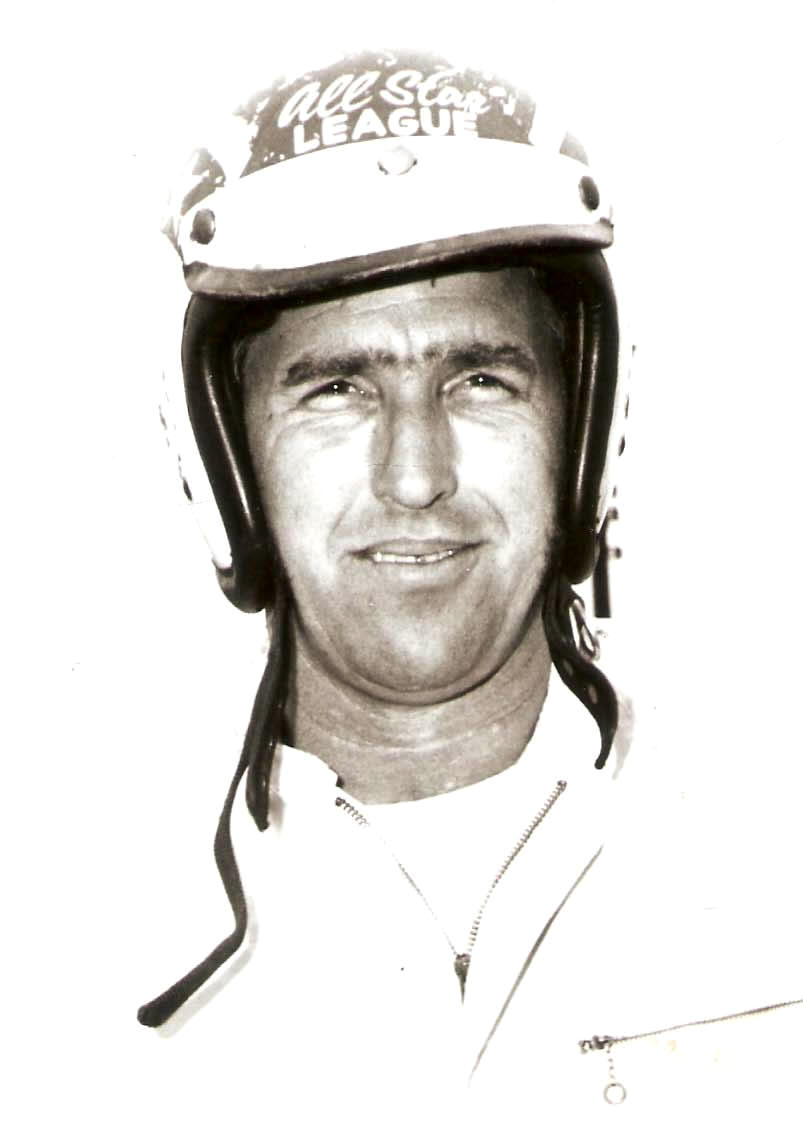 Source Unknown

After a season or two, Fried's name disappeared from the officials' list, and a few tracks stayed the course while numerous others came and went. Towards the end, the League was much larger, although the number of team drivers was not. Teams eventually pared down to two drivers each. Also, the last seasons of the League showed a decisive advantage towards the asphalt specialists. But, the challenge remained strong: only Lou Lazzaro won two titles and only he and Buzzie Reutimann won on both surfaces [once ,each]. The last season was 1973.
If I had to anoint one driver as "Mr. All Star League", it would have to be Buzzie Reutimann, who belonged to the Orange County Speedway team from Middletown, NY for all seven years. Reutimann's average finish for the entirety of the League's existence was 4.14, and that included 1968, when he did not appear in the top ten. For Buzzie, who won on both surfaces and had a victory total of 7, winning the League title in 1973 and finishing second in four different other seasons was unimaginably difficult to do.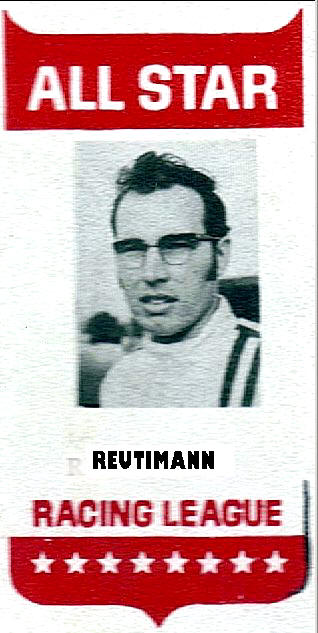 From a Program Donated by Wes Moody
Buzzie Reutimann proved to be the best of the League crop in skill and longevity. [Below] – Ron Narducci could
also have been called the spirit of the All Star League, as well.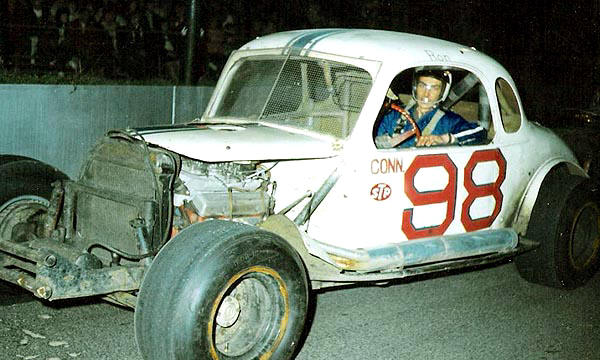 Ladabouche Collection
Reutimann's average is almost a full position better than that of the highly – talented and versatile Lazzaro, who did not belong to the League in 1967. According to Gary London, a close student of the League, Reutimann was the only driver to participate in every All Star League race throughout the seven year life span of the organization. What is more remarkable is that Buzzie at least started out as a dirt track specialist but then seemed to end the seven years proficient at both surfaces.
Lazzaro, who missed a season, and Ron Narducci, who missed none, both averaged a little over a fifth place finish in points for the seven – year span. Narducci was, in many ways, the face of the All Star League, making a strong effort to support it every week and every year. Perhaps the proudest League member was four- time NASCAR National Sportsman Champion, Rene Charland, who wore his All Star Helmet as long as he could.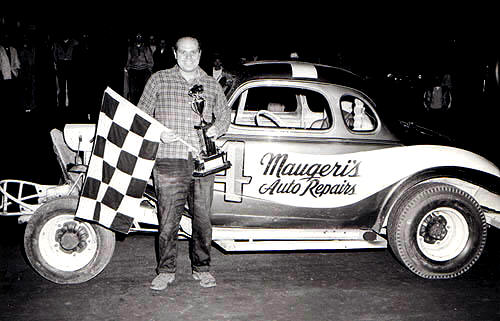 Courtesy of Bill Fifield
Lou Lazzaro was reknowned in our region as a guy who was staunch on both surfaces.
Nazareth, Islip, Wall, and Orange County are the only teams to see all seven years of the All Star League. Albany – Saratoga was a loyal and successful member, but the track missed out in the final season. There is no logical explanation for this except that it must have been experiencing ownership or promotional changes. The track did get sold to C.J. Richards in 1977, and became a dirt track for years.
It is very hard to judge overall team success for the League. The points a team could earn varied widely from season to season, making just pure average seasonal points averages ineffective as the basis for judgment. Also, the League varied from 8 teams to as many as 12, making the use of the average finish position inaccurate as the sole criterion. If you look at both together, Albany – Saratoga looks the best. Dirt – oriented Nazareth, a team that participated all seven years, had a bad 1973 season, finishing 10th; Albany – Saratoga avoided this problem by missing 1973. Nazareth, in fifth, is the best finisher for the seven – year teams.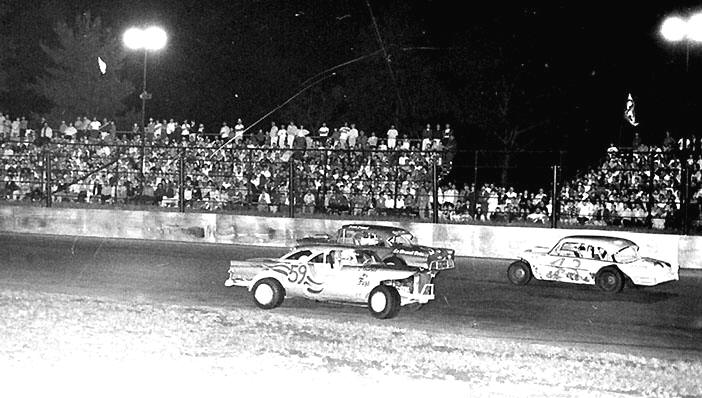 Ladabouche Collection
Albany – Saratoga Speedway, then a paved track as shown here, could have been the best track in the League series had it stayed
the course. Below – Orange County probably ends up deserving the Best Track in the Series award.

Middletown Site Photo
Orange County, a dirt team, had the best seasonal points average while running all seven years. It also managed a sixth place finish in the "average finish" department. This makes an argument for it being the best team ever. Fonda, which only ran in four of the seven years, finished light years ahead of anyone else in the "Average Finish" department, at 1.75; that's better than a 2nd place average finish ! The final noteworthy fact about all of this is that Fonda, Nazareth, and Orange County were all dirt tracks. Only Albany – Saratoga was a paved track then. I'm not sure what that suggests unless it was harder for pavement guys to get the hang of dirt.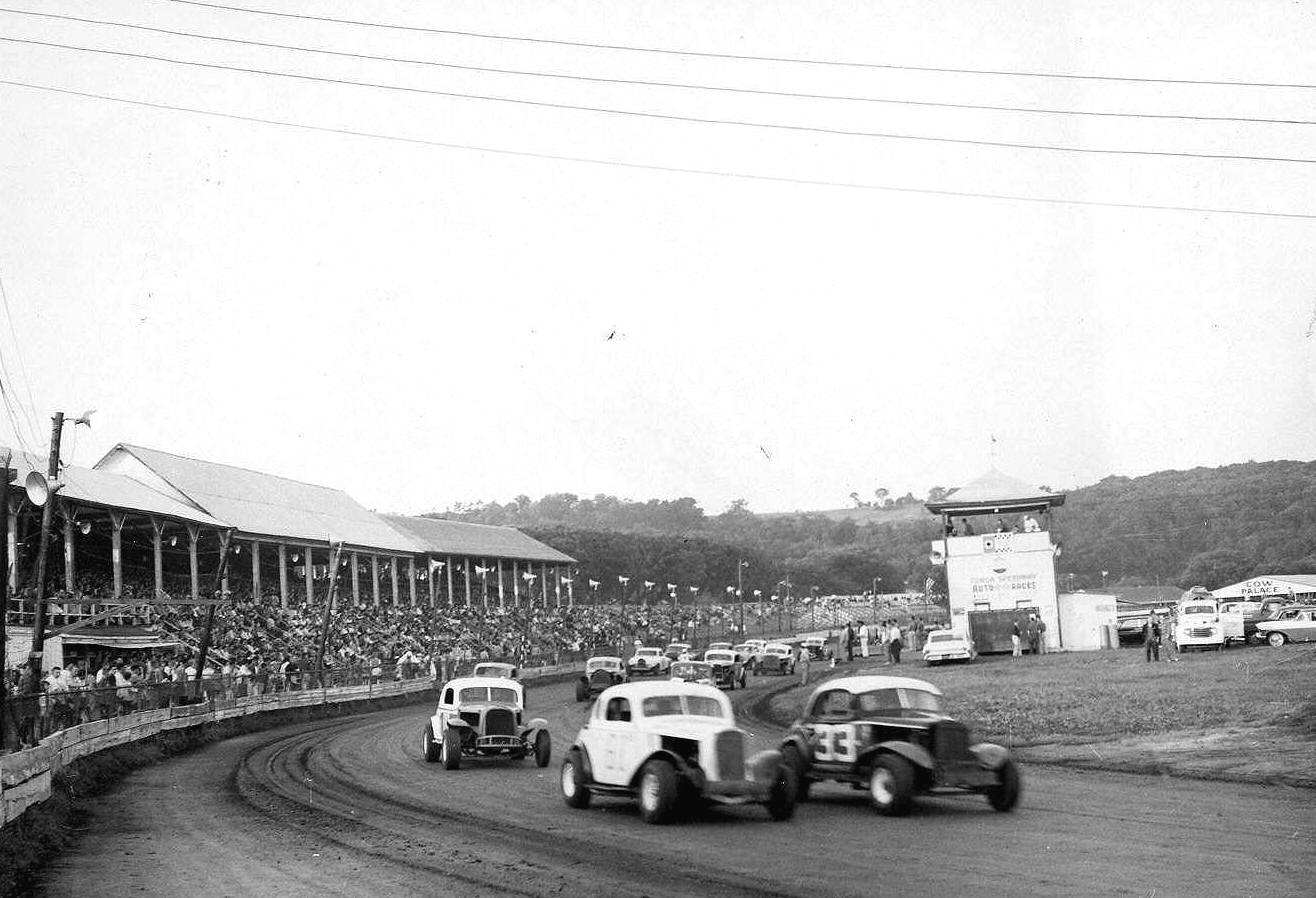 Bergh Photo via Dave Dykes
Fonda may have not been dethroned for years had it not left on its own in 1969. With names like Wimble, Narducci, and Lazzaro available,
it had a great chance. Oddly, Steve Danish [61 here] was largely out of the scene by the time the League came. The highly – conservative
Danish may not have chose to join anyway.
One thing is for sure in the dirt versus pavement argument: pavement teams are used to having almost limitless time to practice and dial in their cars. True, some of that is the all – important "cycling in" in of new tires; but, in the late 1960's I don't know if that was as much of a factor. It must have been disconcerting to go to a dirt track and be given something like ten laps total practice to prepare for a League race against the best dirt had to offer.
Arguably, Frankie Schneider may have the most impressive finish average at 8+. This is sixth best out of the hundreds of drivers who participated over the years. And, with the way I calculated his average, the fact that Frankie was not in the League at all for the last four years significantly affected his average. If one considers just his three years, he'd be at least fourth overall. Only Nazareth, for whom Schneider drove, supplied two drivers in the final top six of all - time points finish averages – himself and Will Cagle.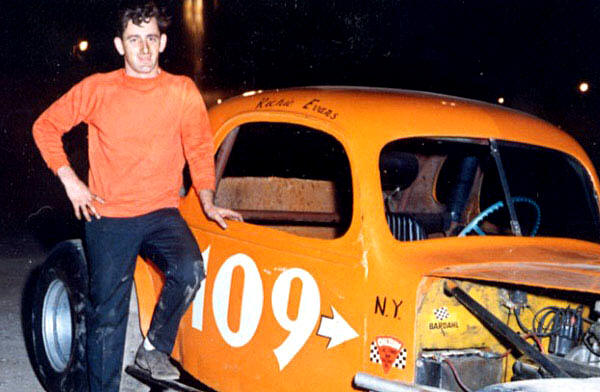 Courtesy of Otto Graham
As the League got into its final years, the asphalt drivers like the exceptional Richie Evans seemed to have the edge.
Old School drivers like Ernie Gahan [below] and Frankie Schneider fell out.
That top six included the fact that an 11th place was charged to them if they did not appear in the top ten on any given year. Reutimann's average was 41.4. Lazzaro's 5.17 was next, with Narducci third at 5.71. Jerry Cook, who like Lazzaro missed 1967, was fourth with an average of 6.29 with Cagle averaging 6.71. Charland was 5th at 7.57 and Schneider was 8.86. Most of these drivers were very effective in most of the season in which they participated in the League.
My other final thought has to go with Fonda Speedway. It won the first two years of the All Star League handily – with two almost – entirely – different teams. After Ernie Gahan and Bill Wimble seemed to distance themselves from the League after the '67 season, the extremely versatile Lazzaro and Cook took their places with Ron Narducci. Arguably, the only thing that broke Fonda's domination was the fact it dropped out in 1969 for whatever reason. When the team re-appeared, it still had Lazzaro, but the complementary driver was never as strong as the Fonda team members of the first two years [and he League no longer had three members on a team].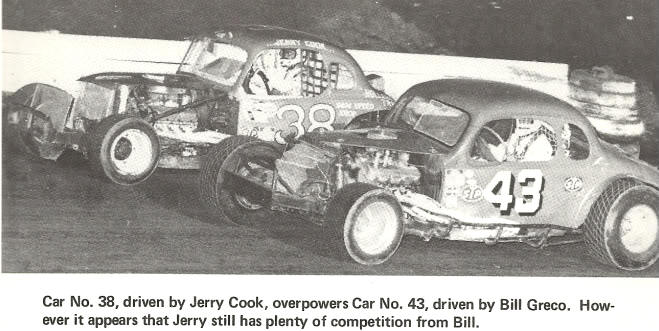 Source Unknown
Jerry Cook, who started as a driver on both surfaces, passes Billy Greco, a pavement specialist. Don Wayman, a one – year
Fonda team driver who was good on both surfaces, dices with Bob Malzahn, a dirt specialist.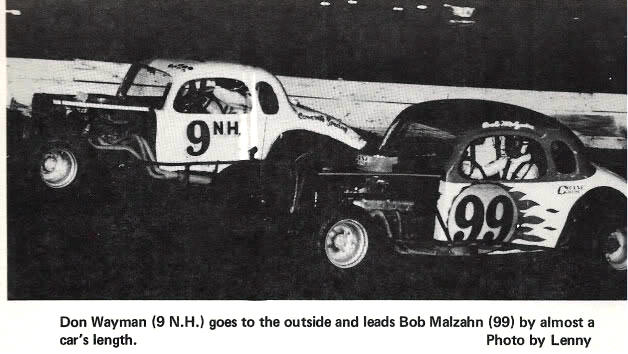 Photo by Lenny
Decisions on which driver or which team was best in the All Star Stock Car Racing League will likely never be settled. You can skew data and arguments too many different ways. But one thing is sure – there may never be anything that exciting again in Northeast stock car racing. [Too bad an economy, too much parity and homogenized divisions, and the fact that the sport is more of a big dollar derby now among a few huge budget teams].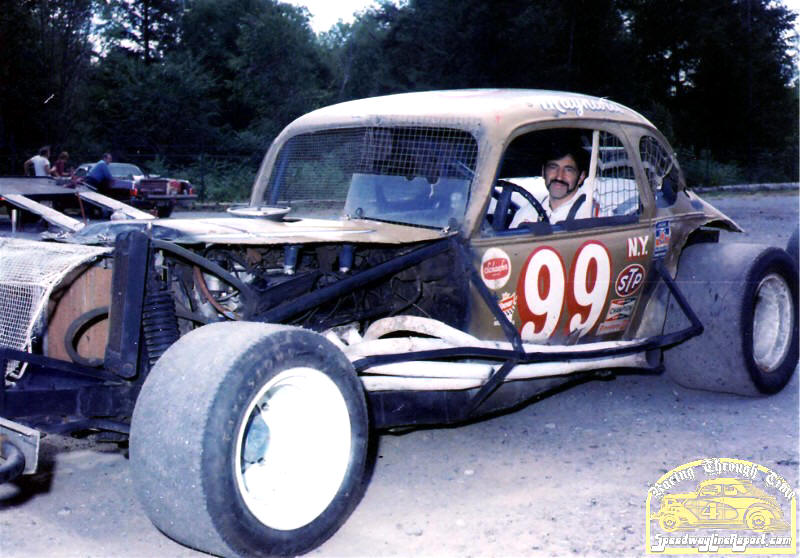 Courtesy of Dave Dykes
Ol' Cyclone Forrette spent a season or two in the League. A vast majority of the guys didn't race for the entire lifetime of the League.

Please email me if you have any photos to lend me or information and corrections I could benefit from. Please do not submit anything you are not willing to allow me to use on my website - and thanks. Email is: wladabou@comcast.net . For those who still don't like computers - my regular address is: Bill Ladabouche, 23 York Street, Swanton, Vermont 05488.
AS ALWAYS, DON'T FORGET TO CHECK OUT MY WEBSITE
www.catamountstadium.com
Return to the Main Page
Return to the Main News Page
Return to the All Links Page
Return to the Weekly Blog Links Page