THE BIG, BRUISIN' CHARGERS OF 1972
After the success enjoyed by the Mopar cars in 1971, certain teams scrambled - over the winter of 1971 - 72, to come up with even better machinery, based on what they had seen in the NASCAR big leagues. Two outfits decided to go with the 1967, fast-back Dodge Charger. In the 1970 and 1971 seasons, drivers like Maurice "Little Mo" Dubois, Stanley "Stub" Fadden, Dick Nephew, Bernie Griffith, Chester T. Wood, Jerry Driscoll, and others had taken the place of the man who used to - almost single-handedly - carry the Chrysler banner prior to that time - Larry Parsons, of Fairfax.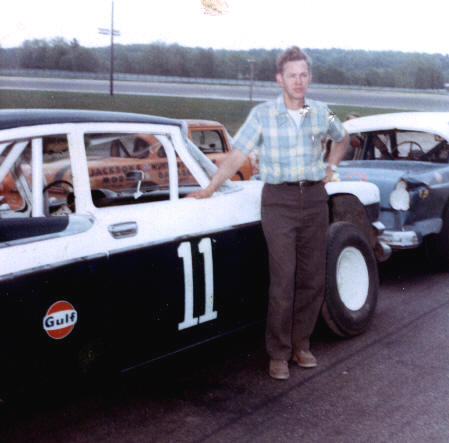 Courtesy of Rich Palmer
Larry Parsons kept the Mopar banner going until the big Mopar craze of the early '70's.
Some might say he was plum crazy to do it.

Dubois, who had narrowly lost the 1970 Vermont State points title to Ron Barcomb while driving a Dodge at least part - time, had come out with a '67 Charger. Also, former Flying Tiger driver Gil Rhoades, who had engineered Don Bevins' breathtaking purple Dodge #29, had built another '67 Charger for Bevins' brother, Norm.As it turned out, the cars were quite heavy - particularly the Rhoades entry, but Dubois battled through the 1972 season with the Charger, picking up a big Pepsi sponsorship previously had by Fadden, who had gone back to GM.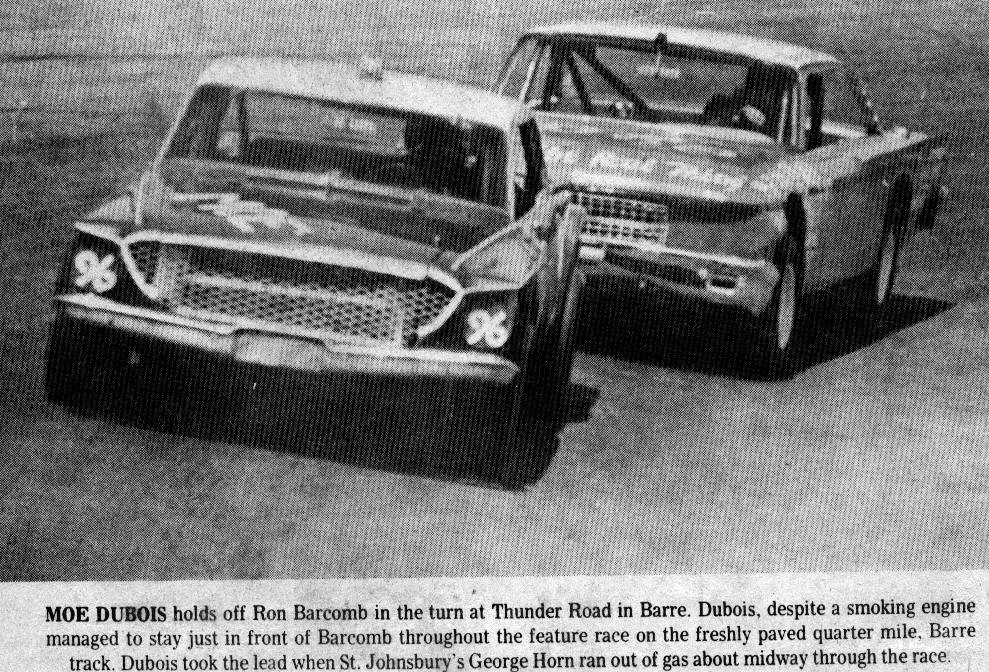 Free Press Photo Courtesy of Rich Palmer
Dubois [96]came very close to bringing a state title to Mopar in 1970.

Courtesy Rich Palmer
Dubois giving kiddie rides in the
1962 Dodge he used in '70.

Courtesy Cho Lee
Dubois at speed at Catamount
in the 1970 season.

Source Unknown
Dubois with the '67
Charger, in 1973.

Courtesy Rich Palmer
The '67Charger in the
1972 season, brand new.
The Rhoades car would se three driver changes before being relegated to his controversial salvage yard: Bevins, Russ Waite, and Gentleman Jim Gallison. No matter the car color or the driver, the Rhoades car was just too heavy. Dubois went to the newer Charger body the following year, before beginning to fade from the scene.

Courtesy Cho Lee
Russ Waite, the 2nd driver,
awaits action in the orange
Rhoades #42 Charger.

Ladabouche Photo
The blue #25 version of the
Rhoades Charger leaves
fro Spring Green practice
in 1973.

Ladabouche Photo
Gallison and Rhoades
contemplate how to get more
power or less weight.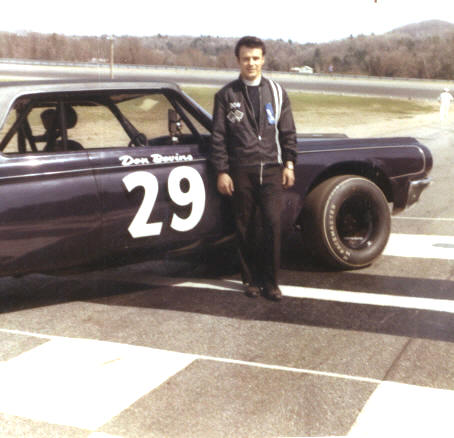 Courtesy of Lonnie Terry
Don Bevins may have had the best-looking Mopar ever in the '70's.
Return to the Main Page
Return to the Main News Page
Return to the All Links Page