BILL'S [Somewhat] WEEKLY COLUMN/BLOG PAGE
TED TAPPETT: A POST WWII AMERICAN SUCCESS STORY
A few after the cessation of World War II ["double ya double ya two – the big one", to all those Archie Bunkers out there], there developed a number of areas throughout the U.S. wherein stock car racing began to take root as an alternative to the seemingly too – expensive open wheel racing that had gone on for years. Even if I had been older than four at the time, I still could not have intelligently discussed most of these growth areas as I never lived anywhere near them.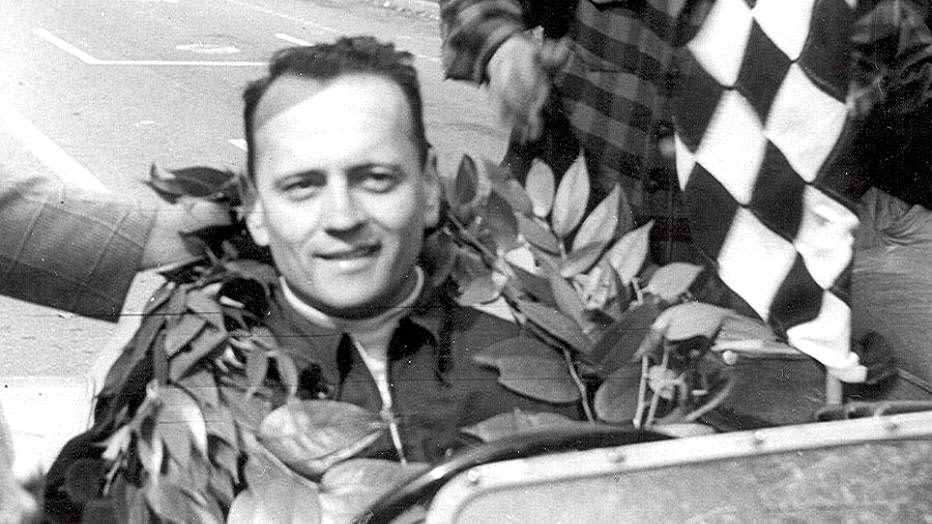 William Green Motor Racing Library
Phil Walters, aka Ted Tappetts being recognized as Watkins Glen's
Driver of the Decade. Below – He may have nicknamed himself
after a part from his motors.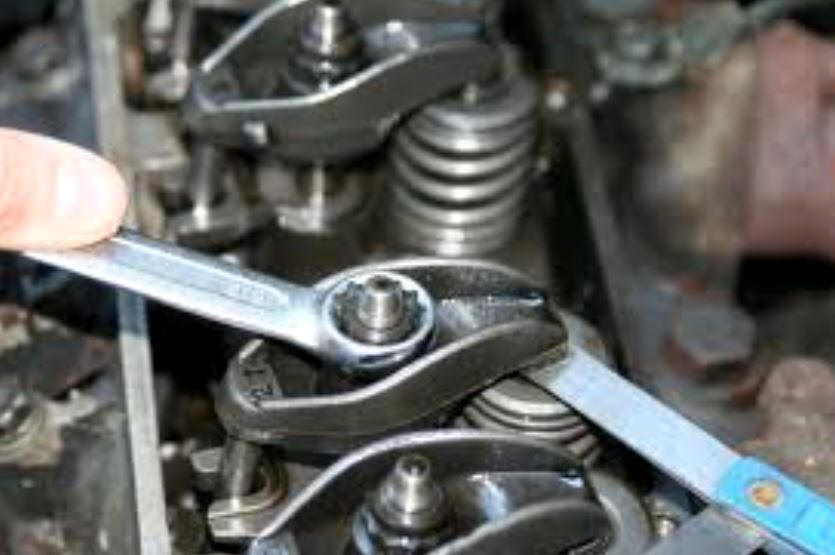 Scimitar Web Photo

But one such enclave of stock car racing birth and growth was that region of New York and Southern New England that encompassed tracks like Empire Raceway, Menands, NY; Riverside Park Speedway, Agawam, MA; The Pine Bowl, Snyders Corners, NY; Rhinebeck Speedway, Rhinebeck, NY; and Stateline Speedway, North Bennington, VT. Couple these with some other venues like Brattleboro,Speedway, West Brattleboro, VT; Rhythm Inn Speedway, Millers Falls, MA; Cheshire Fairgrounds, Keene, NH; and numerous other tracks on the periphery of this enclave, and you had an impressive array of stock car drivers, some of whom would outgrow the narrow confines of these small tracks.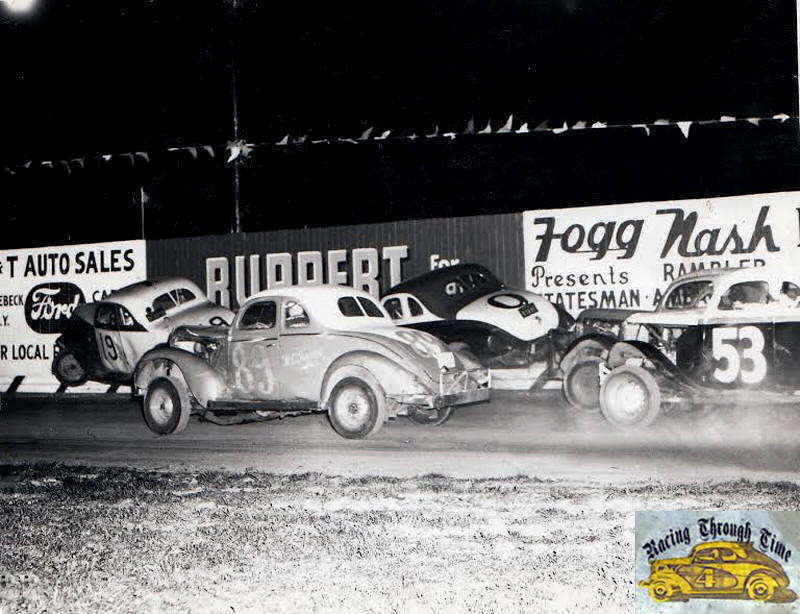 Ross Family Collection Courtesy of Roger Liller
Rhinebeck Speedway feature frenetic action and very prominent drivers. Bob Tator struggles to control Gordon Ross's legendary
19 while he is borne down upon by the likes of Ray "Zero" Brown [0], Al Keller[89], and Russ Truelove [53].
Keller and Brown drove open wheel cars with Tappett, who was also in the race shown here.
Below – Empire Raceway was squeezed in between a bridge, a drive – in, and a power grid.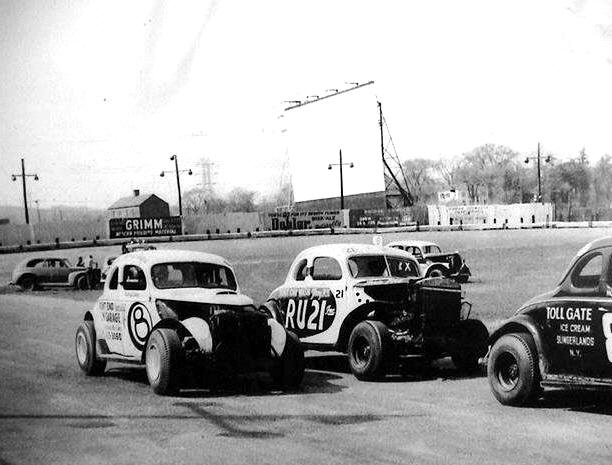 Courtesy of Joe Grossetti
Names such as four – time NASCAR National Sportsman Champion, Rene Charland come to mind. With him one could include Russ Truelove, who [along with Jim Reed from roughly the same area] would go on to make a name in NASCAR Short Track Division. Steady Eddie Flemke, the head of the infamous Eastern Bandits modified group, and NASCAR executive Al Keller came from these same arena of local racing. Reed, in fact, may have been the most dominant driver in the Short Track program before it was discontinued.
But, perhaps the most amazing figure to emerge and rise from this excellent racing region was a New York City native and WWII vet named Phil Walters. Walters would quickly take on the racing moniker of Ted Tappett to keep disapproving parents off his case. What those parents may have never realized is that his racing probably saved his life. He had been racing in midgets before the outbreak of the war or before U.S. involvement came about after Pearl Harbor.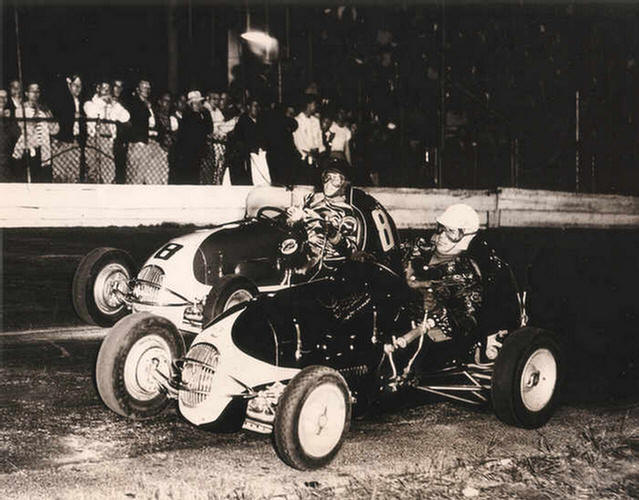 Race Report Photo
Ted Tappett, in the Curtiss Offy midget, runs outside of the great Bill Schindler. Below – Tappett flies checkers after an
indoor midget win against Russ Klar.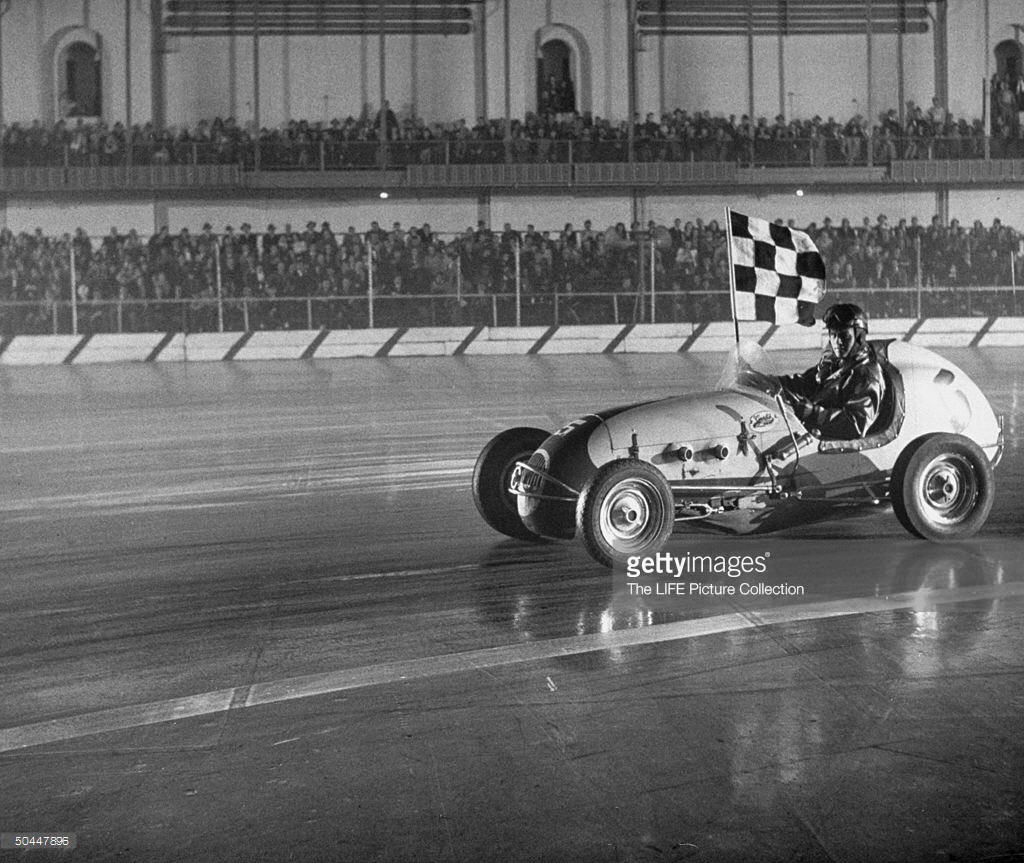 Ralph Morse Photo - Getty Images

Les Ashburn, of Indianapolis wrote: Ted Tappet served in the Army in WWII. It is worth recalling that when he was injured in combat his life was saved by a German doctor who had been a midget auto racing fan. He recognized Tappet when he was brought into the German hospital. It is remarkable because Tappett was his racing appelation. His real name was Phil Walters." That German surgeon had had to take a lung and a kidney in the life saving process. That left Walters/Tappett a 130 – lb shell of his former self upon returning home from service.
Tappett would have to change his driving style to from one of a manhandler/roughneck style to one of much finesse, as hi simply did not have the strength or physical reserves to to the latter anymore. He credited that change in style as the key to his success as a driver. He found he was going far faster than before and with far less of a toll on his equipment. He would be active almost immediately in racing upon his return. Having driven at Freeport before the war, he went back there by 1946 and was having good results.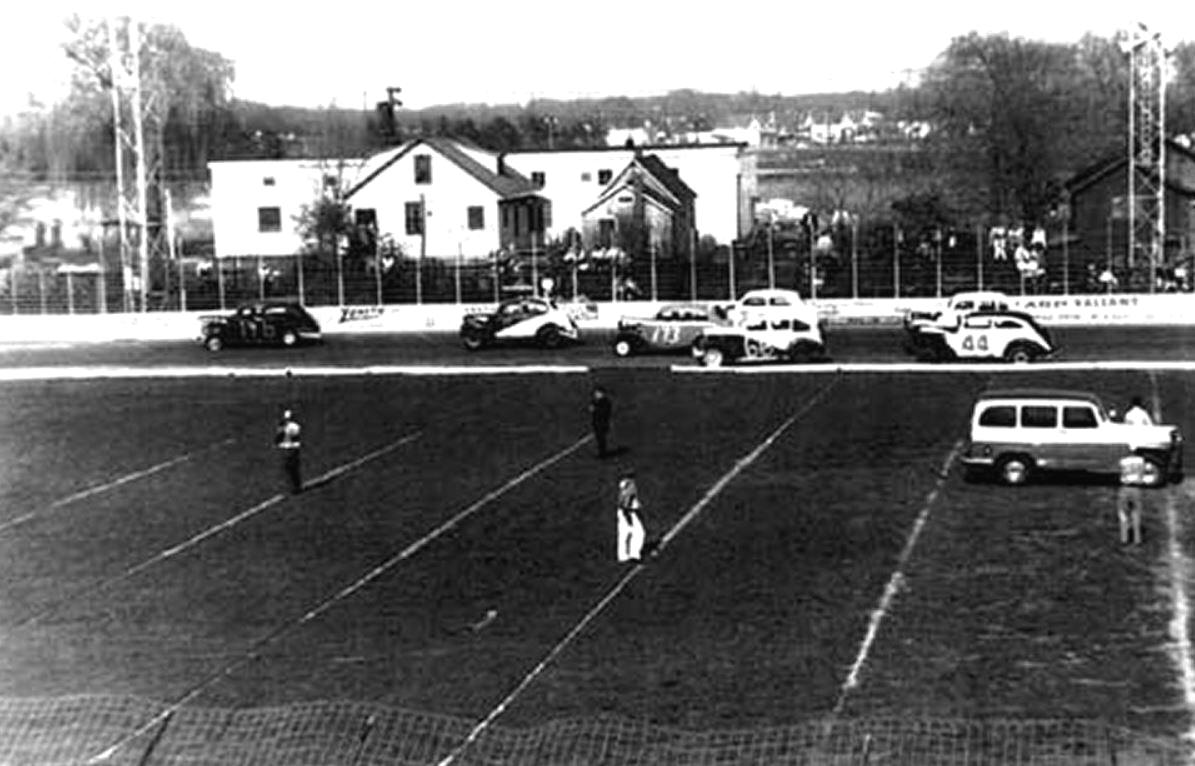 Toccaracing Photo
Newly – arrived stock cars perform at Freeport Stadium, on a track that surrounded a regulation football field. Tappett
would have run here, on the flat track, in both"a midget and a stock car. Below – The car of Tony Romit, another Tappett midget racing rival.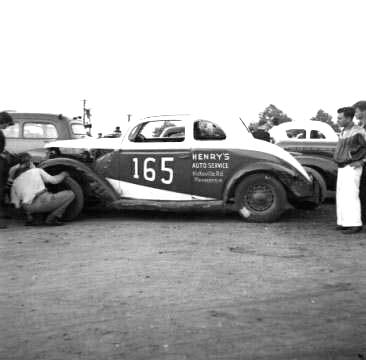 William E. Stock Photo
Ashburn recalls one night when Tappett, the points leader at Freeport at the time, had equipment failure and had to seek about to find a ride to maintain his standing. Ashburn wrote: "The only thing he could get was a rail frame car owned by Dessler, powered by a Universal Marine four-cylinder, a flathead of about 130 cu in. It had never won anything, though was a pretty sanitary car, certainly not a junkheap like some of the non-Offys that ran at Freeport in 1946 and 1947." Tappett and his mechanic gradually tuned in the car, and ended up taking the car to victory that night [probably the only time it ever won].
Another late 1940's accomplishment would center around the newly – opened Riverside Park Speedway, by the well – known amusement park in Agawam, Massachusetts. Riverside Park owner Edward J. Carroll demolished an open air dance pavilion in 1948 and built a flat 1/5 mile oval track, pit area and grandstand. The first full season of "modified" stock car racing was 1949. Tappett drove both in the midgets and in the newly – arrived modified stock car classes, becoming the first track champion in the storied history of the now – defunct venue.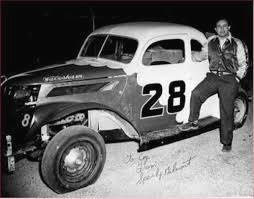 From Jalopy Journal
Sparky Belmont and legions of other top notch stock car drivers came
after Ted Tappett helped establish them at Riverside Park. Below – While
The Park is noted for stockers, but Dick Shuebruk won its first race
in a midget.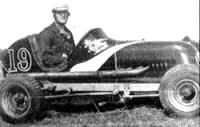 Vintage Modifieds Site
While not abandoning the midgets, Tappett became a very active stock car driver for a season or two, running Agawam as well as Empire Raceway and Rhinebeck Speedway in New York. How this may have come about is explained in a Stock Car Racing magazine article about the history of Freeport Stadium: " Racing legend Johnny Coy remembers it well. Jake Kedenberg, the promoter of Freeport Stadium, asked Coy to ride with him to Yellow Jacket Speedway in Philadelphia. When we got there, the place was packed and it was midweek, Coy recalls. On the way home, at a diner, Jake asked me what I thought about him bringing in stock cars. I said, "Jake, if you do, you won't have an empty seat in the place." And so, in 1949, Johnny Coy, Ted Tappett, and several other Long Island legends found themselves cab - driving big American iron on a newly - paved flat track at Freeport Stadium."
Fielding a well - prepared - looking #23 coupe, Ted took the Riverside Park Speedway track title in 1949, while appearing at the other venues, as well. Tappett showed support ot he fledgling NASCAR organization that same year, showing up to run the races on the beach course at Daytona in February. Ted had found a partner in Bill Frick, a driver with a knack for innovation. he and Frick would have a car dealership in Freeport, NY while building their trademark "Fordillacs" on the side.
.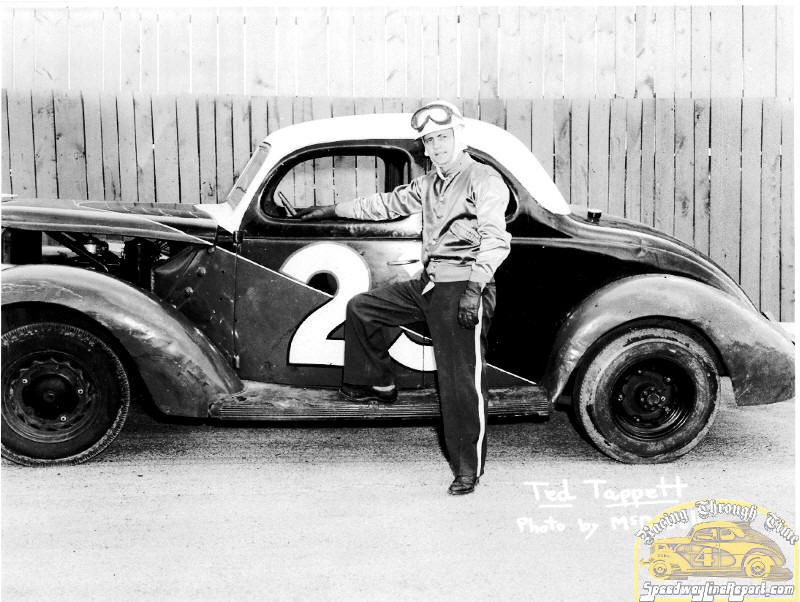 McDowell Photo Courtesy of Roger Liller
Ted Tappett, with his clean 23 coupe, at Rhinebeck. Below - Tappett, installing a Caddy motor in a future Fordillac at the Frick/Tappett garage.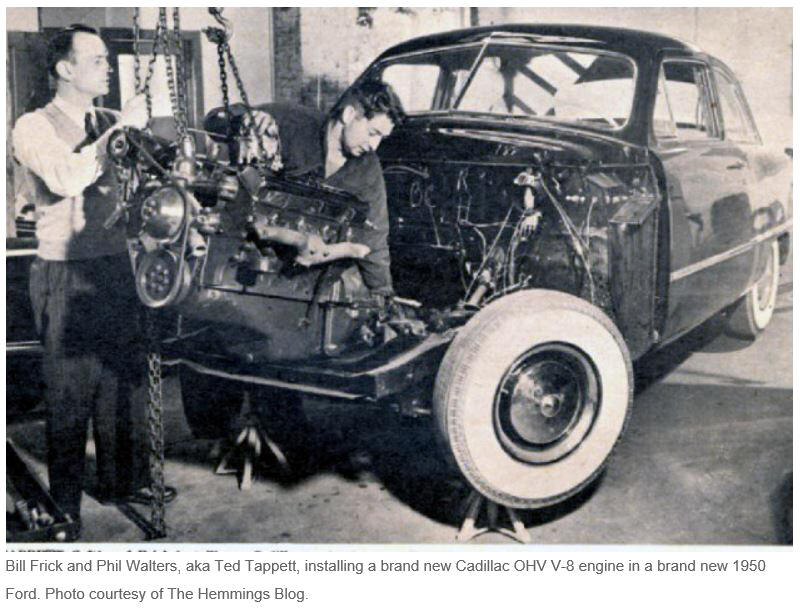 Race Report


The Frick/Tappett Fordillacs were lightweight Ford cars which were outfitted with Cadiallac V-8 motors. It is not clear what most of these cars were used, but it seems as though they were sold as some sort of muscle cars for recreational road use. Some of that technology must have been used in that successful #23 stock car coupe. Tappett had several midget racing competitors in the stockers. These included Rex Records, an absolute terror in open wheel cars, and Al Keller, who would event
go on to important positions with NASCAR. Jim Reed, from Peekskill, was one of Tappett's most formidable rivals.
At the height of his brief involvement with stock cars, Tappett was seen at Riverside, Empire, Rhinebeck, and Freeport regularly. He also put in appearances at such long – forgotten places as Deer Park Speeddrome on the Island, Hinchcliff Stadium in New Jersey, the Pine Bowl in rural New York, and Arlington Speedway near Poughkeepsie. The stock car years were short probably because of his rise to sports car racing and flirtation with international stardom.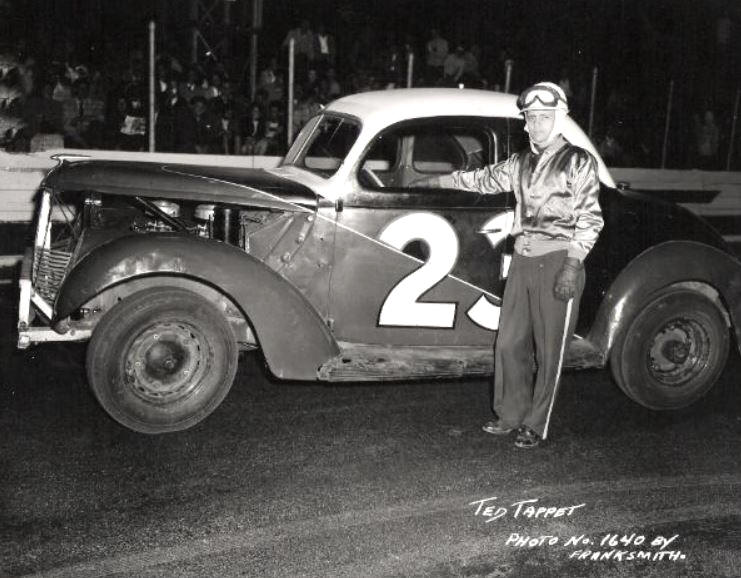 Frank Smith Photo via John Grady anda Midstate Club
Another of the few shots we have of Ted with his stock car. Below – Al Keller, future NASCAR VIP and frequent stock car rival of Tappett.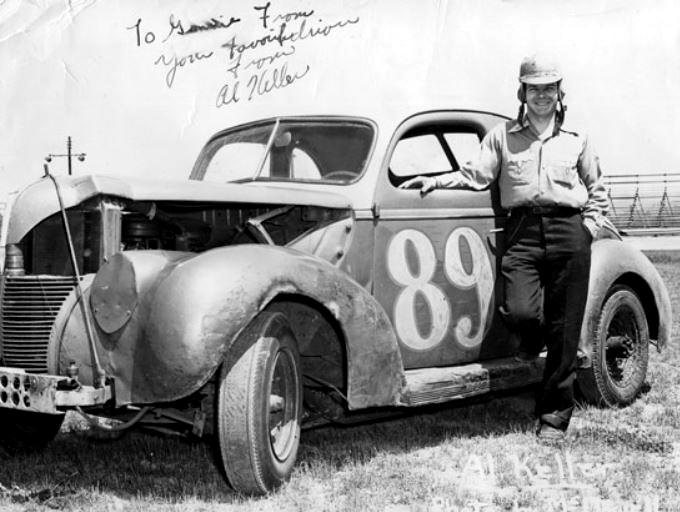 McDowell Photo Courtesy of Lew Boyd


In 1949, Tappett had made the acquaintance of wealthy Connecticut sports car owner Briggs Cunningham. Cunningham was a customer for one of the Frick/Tappett Fordillacs, and took a lengthy time to discuss his type of racing with an interested Tappett. Ted and Briggs actually ran as a team in the next race at LeMans and finished very respectably. This set the stage for a relationship between Tappett and the Cunningham organization.
Ted would eventually be teamed up with Bill Fitch, running in numerous races on both sides of the Atlantic Ocean. Records show that the team never won a race in Europe, but were very dominant in the U.S.. Tappett had driven well enough to capture the attention of Enzio Ferrari and his vast racing organization. Tappett was running in a Le Mans race after having held talks with Ferrari to begin driving for them in the future.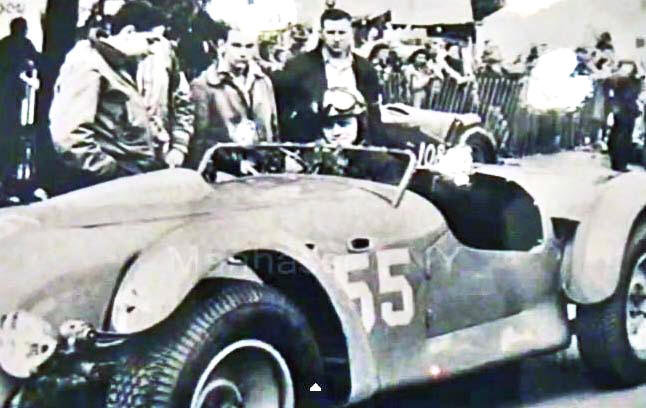 Source Unidentified
Ted, in one of the Cunningham cars. Below- Tappett, at speed in a Cunningham sports car.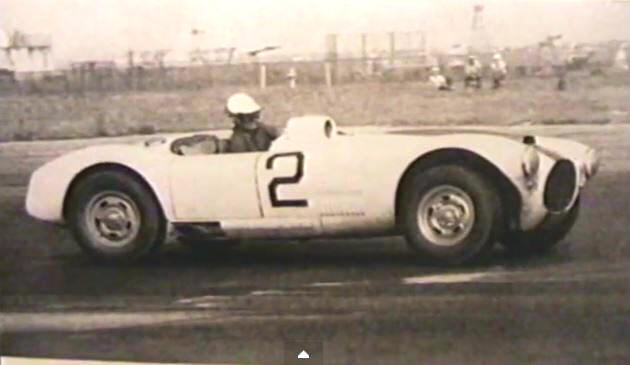 Source Unidentified
At that particular Le Mans race in 1955, there was a horrible accident. Two drivers miscommunicated over switching lanes to enter the pits, resulting in flying parts and a great deal of smoke and dust being kicked up. A higher – class, faster car driven by Poerre LeVegh, who plowed into the rear of one of the cars.
This uncredited account best describes the carnage:"When Levegh's 300 SLR hit Macklin's Austin-Healey from behind, his car became airborne, soaring towards the left side of the track, where it landed atop the earthen embankment separating spectators from the track itself. The car struck the mound at such speed and angle that it was launched into a somersault, which caused some parts of the car, already damaged and loosened by the collision, to be flung from the vehicle at very great speeds. This included the bonnet and the front axle , both of which separated from the frame and flew through the crowd.
The bonnet decapitated tightly jammed spectators like a guillotine.[With the front of the spaceframe chassis—and thus crucial engine mounts—destroyed, the car's heavy engine block also broke free and hurtled into the crowd. Spectators who had climbed onto trestle tables to get a better view of the track found themselves in the direct path of the lethal debris. Levegh was thrown free of the tumbling car, and his skull was fatally crushed when he landed.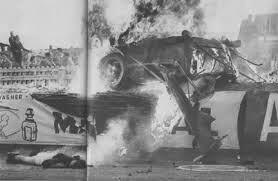 PopperPhoto via Getty Images
The Pierre LeVegh Mercedes burns on the wall by the body of one of the people killed in the devastating crash. Below – Stunned people walk among the bodies of some of the 80+ viictims of the crash [which included LeVegh].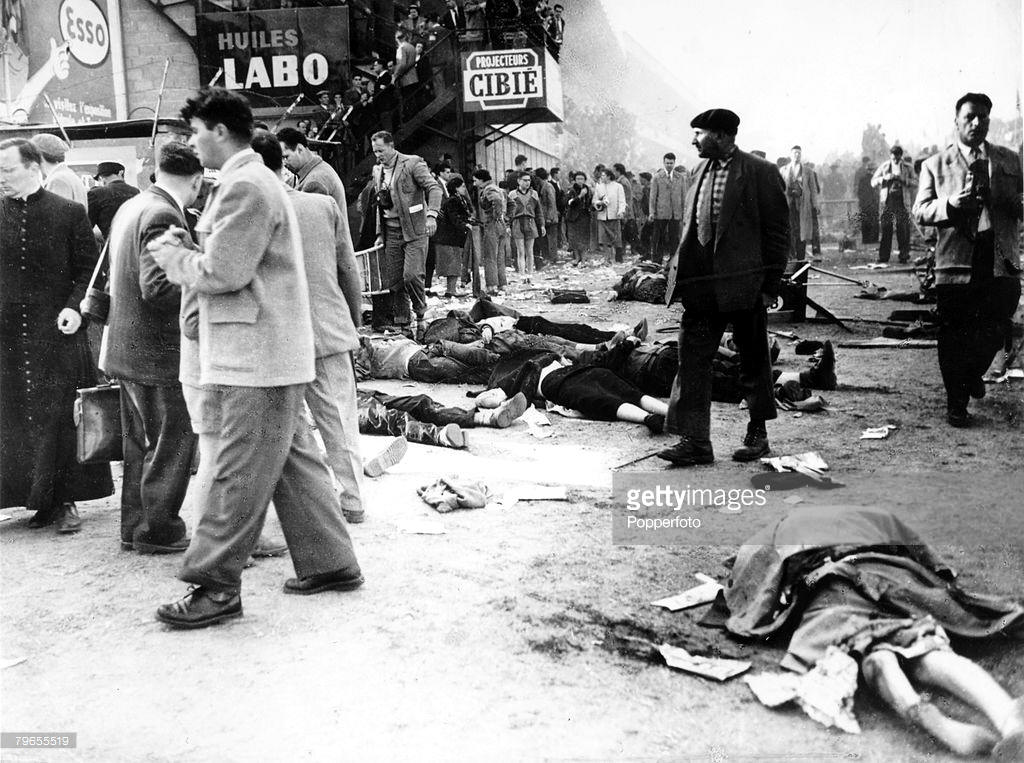 PopperPhoto via Getty Images
As the somersaulting remains of the 300 SLR decelerated, the rear-mounted fuel tank ruptured. The ensuing fuel fire raised the temperature of the remaining Elektron Bodywork past its ignition temperature, which was lower than other metal alloys due to its high magnesium content. The alloy burst into white-hot flames, sending searing embers onto the track and into the crowd. Rescue workers, totally unfamiliar with magnesium fires, poured water on the inferno, greatly intensifying the fire. As a result, the car burned for several hours. Official accounts put the death total at 84 (83 spectators plus Levegh), either by flying debris or from the fire, with a further 120 injured. Other observers estimated the toll to be much higher.
A horrified Tappett witnessed most of this unfortunate event. He decided on the spot that he would no longer be involved in auto racing – and never did again. When he informed Ferrari of his decision, the Italian assumed this was just part of a ploy to gain more salary and to solidify his position, much like he had to constantly endure from his emotional, prima donna European drivers. But Phil Walters, aka Ted Tappett meant it, and he went on to other pursuits, never again fielding a race car. Most people in the know about his era of racing agree that, had he continued on to Ferrari, the United States may well have had its first world champion.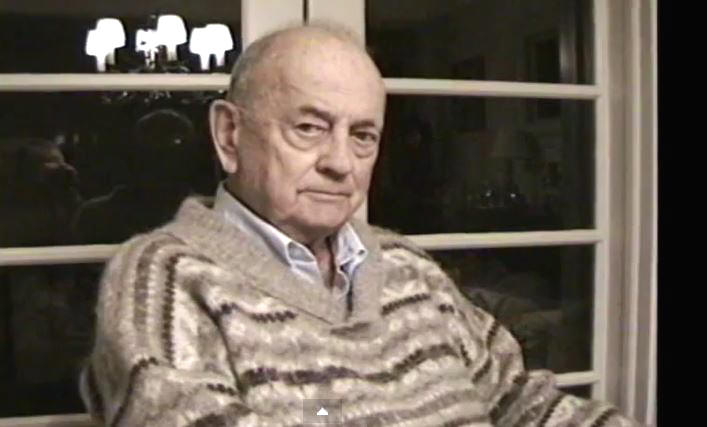 Rick Grimes, on You Tube
Ted Tappett / Phil Walters, at an interview with Rick Grimes late in his life. Few average stock car fans have any idea what Tappett accomplished
in the history of racing.

Please email me if you have any photos to lend me or information and corrections I could benefit from. Please do not submit anything you are not willing to allow me to use on my website - and thanks. Email is: wladabou@comcast.net . For those who still don't like computers - my regular address is: Bill Ladabouche, 23 York Street, Swanton, Vermont 05488.
AS ALWAYS, DON'T FORGET TO CHECK OUT MY WEBSITE [If you haven't noticed, you're on it now :)]
www.catamountstadium.com
Return to the Main Page
Return to the Main News Page
Return to the All Links Page
Return to the Weekly Blog Links Page