The Many Cars of Bob Brunell
N. J. Brunelle Paving
Peru, New York
Bob Brunell started running late models at Plattsburgh, New York's Airborne Speedway in the mid 1960's. He was a very competitive rival against the likes of Norm Burl, Jim LaFountain, Bill Branham, Roger Guynup, Beaver Dragon, and many more. Over the years, with the benefits of considerable financial resources from the paving company that belonged to his family, Bob ran in an amazing number and variety of different divisions in Northern New York, Central New York, Northern Vermont, and Southern Quebec.
The Brunell cars were usually numbered 17 in the latter years, and were consistently attractive and often very competitive. Bob now lives out of state, but he was one of the most loyal supporters of the sometimes - financially troubled Airborne track. One cannot think of racing in our region without giving credence to Bob.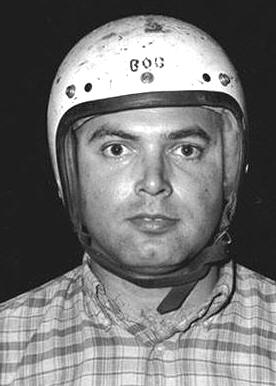 McIver Photo Courtesy of Cho Lee
A very early portrait, probably from his association with Thunder Road.

Courtesy of Cho Lee

Bob's first car, at Catamount. [The white Ford in last row].


Mike Watts Photo
An early coupe with the
trend of the day - a GMC truck hood.

Mike Watts Photo
Another coupe - at Malta before it went to dirt.

Bob Mackey Photo via Mike Watts
The M17 in a lineup at Airborne.

Michaud Photo
Courtesy of Ti-Gaz Genest
The M17 coupe. having a problem.

Bob Mackey Photo Courtesy
John Rock
The M17 coming down to take the green.

Bob Mackey Photo Ladabouche Collection
The coupe. looking
very sharp.

John Bisci Photo
Turn Five Site
This Richie Evans photo shows the Brunell Pontiac coupe modified in the background.

Courtesy of the LaFond Family

Getting results at
Devil's Bowl

Courtesy of Phil Butler

The Pontiac in color.

Norman Morley Photo

The Pontiac coupe. having a problem in turn 1 at Airborne..


Pascal Magnum Website
The Mustang modified he ran in Canada

Bob Mackey Photo Courtesy of Gary Nephew

Bob, with the Mustang

Bob Mackey Photo Courtesy
John Rock
Lining the Mustang up.

Mike Watts Photo
The Mustang, in color.

Ladabouche
Collection

The Gremlin

Bob Mackey Photo Courtesy
John Rock

Early Portait


Bill Ladabouche Photo
The 1964 Chevelle when it first came out in 1972. Same scheme as the Gremlin.

Bill Ladabouche Photo
The 1964 Chevelle run in the 1972-3 Seasons

Denis LaChance Photo
A 1972 Nova, seen at Autodrome Val Belaire

Courtesy of Andy Boright
Another Chevelle - probably in Quebec

Charles Casavant Photo
The Pontiac, at a Church Street show.

Denis LaChance Photo
A Canadian-sponsored Pontiac

Courtesy of Jim Watson
The 1972 Chevelle run around 1975

Unknown Photo Source
The 1972 Chevelle run around 1975

Courtesy
Andy Boright

The Chevelle entering Catamount.

Photo Courtesy
Rich Palmer
The Nova at Catamount - opening day. Steve Frennier is with Bob.




Steve McKnight Photo


Brunell and Me at Airborne 2012.

Ladabouche
Collection

Bob Talks to southern star Jimmy Hensley at NHIS
MORE TO COME AS PEOPLE SEND THEM