---
---


51



The Cars of Ed Pelletier and Doug Falzarano
---
---
Ed Pelletier, a White River Junction, VT Sunoco dealer, could build a mean race car. Starting in the flathead Ford era, at tracks in New Hampshire - and at Thunder Road and Dog River speedways in Vermont, he put quality drivers in quality cars; and he came out with the expected results. In 1970, when Catamount and T Road went in for the NASCAR limited sportsman cars. Somewhere before this time, he teamed up with Doug Falzarano, a local major league baseball prospect.

The pair fielded a gorgeous 1957 Chevrolet hardtop convertible for Russ "The Wild Child" Ingerson, of Littleton, NH - a former driver of Pelletier's. Soon thereafter, when the circuit went to full - blown late model sportsman cars, the duo created an equally - impressive 1964 Chevelle. I don't know a lot more about Pelletier's Falzarano's, or the pair's other projects. Hopefully, Doug will offer some more data. Below is every photo I have been able to scrounge up on their cars.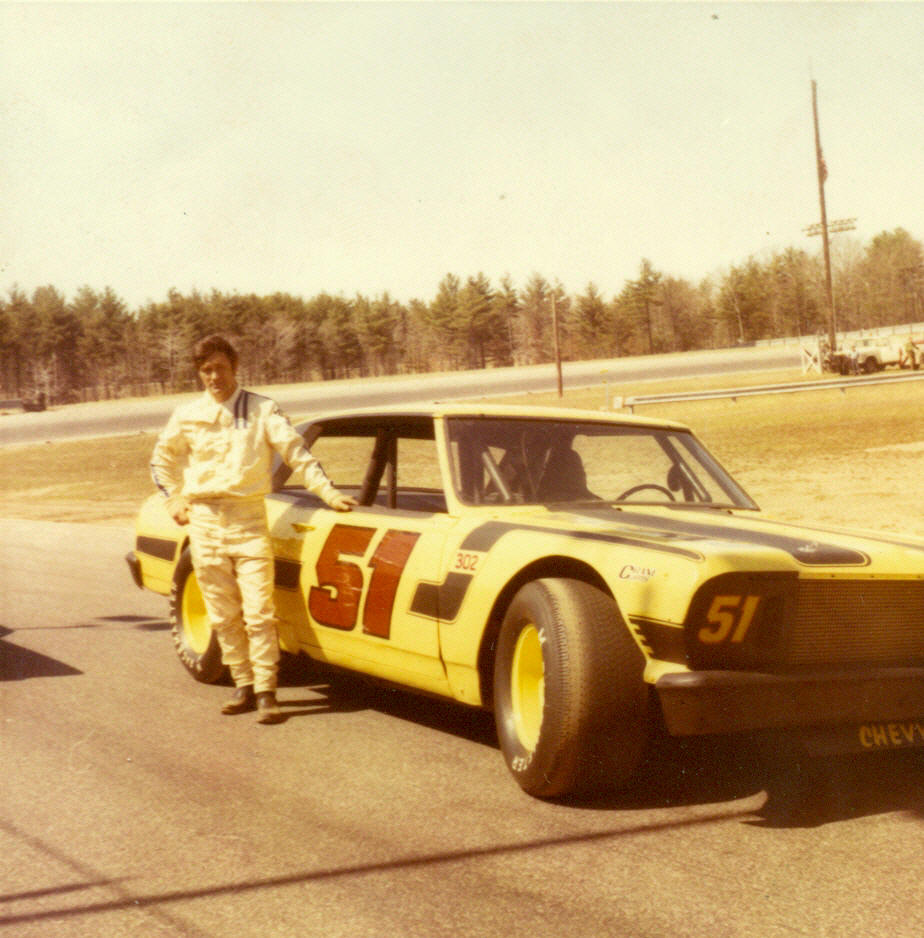 Courtesy of Steve Pecor
Russ, at Catamount with the Chevelle
The Flathead Era

Courtesy of Cho Lee
Russ, in the Pelletier
flathead, at Barre.


Courtesy of Cho Lee
After a victory at Barre.
Ed, at far left, and Doug
second from left. Russ
looks like he just got
goosed.



Cavalcade of Auto
Racing Photo
Russ beats both
his brothers at
Thunder Road.


Courtesy of Cho Lee
The 51 coupe
on Dog River
Speedway with
some sort of
hobby car. Sorry -
it is blurry.


Courtesy of Mike Gilbert
Ed Pelletier [looking
at camera] talks to
Emilio Girelli at
Dog River Speedway.
That might be Doug,
at right.


Courtesy of 176 Racing.Com
Russ, in a slightly
different photo than
the one at far left.


Courtesy of Cho Lee
The Ingerson boys
ham it up and pose
in front of the 51, at
Thunder Road.

The Late Model Era

Courtesy of Rich Palmer
Russ, with the Pelletier
/ Falzarano Chevy @
Catamount in 1970.





Burlington Free Press Photo
Courtesy of Rich Palmer
Russ was photographed
by the local paper
during practice for
the Spring Green.

Courtesy of Steve McKnight
The Chevy arriving in
the Catamount pits in
1970 - the glance anyone
got of it.



Courtesy of Cho Lee
Russ, with an
obviously new
car [although they
always kept it up]


Courtesy of Cho Lee
Russ, with the
traditional pose
for Bob Doyle in
front of the old
Catamount tower.


Courtesy of Cho Lee
The 51 gang, in
front of the '57
Chevy.

Ladabouche Photo
The newly - arrived
Chevelle made a
major splash at
Catamount upon
arrival.

From Outside Groove
Another shot of
the Chevelle, at
rest.


Courtesy of Chris Companion
OOPS !

Courtesy of Cho Lee
The 51 gang, joins
the Rosatis at
T Road around
1971 to celebrate
qualifying on the
pole.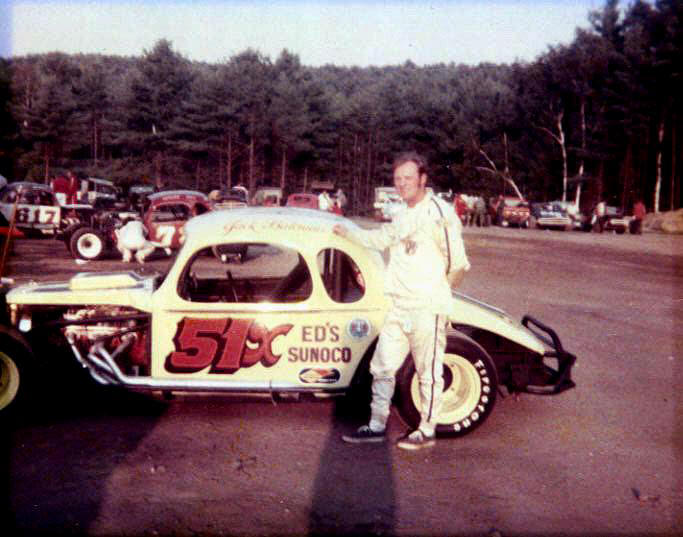 Photo Source Unknown
Jack Bateman, with the last team project I am aware of.