BILL'S [Somewhat] WEEKLY COLUMN/BLOG PAGE

BILL'S BACK IN TIME
By Bill Ladabouche
HOLEY CARS, BATMAN !
Throughout the many eras of stock car racing, people have always strived to lighten their race cars any way they could – legal or otherwise. My most recent clear memory of such "lightening" came around the heyday of the NASCAR late sportsman era around Catamount, when Ron Barcomb and crew chief Steve Hibbard had a Le Mans with holes drilled about everywhere anyone would dare to drill them. The idea, in their case, was to be able to make weight by putting it where they wanted it. It must have had some merit, as Barcomb was ridiculously fast with that car.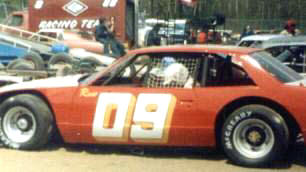 Courtesy of T. LaFerriere
The Barcomb Le Mans sure was fast, for whatever reason.
Today, Barcomb has long since retired. Hibbard runs a high – level K & N Series team in a division whose parameters are so narrow that he must really have to reach to get the kind of advantages that were slightly more possible in the 1970's. But, the two were just following a long line of lighteners and hole drillers from racing's past.
One of the most hole – ridden cars I ever saw was a car run by "Suicide Al" Sanders at an early Syracuse race. I believe the car had been originally built and fielded by the Clark team, which usually used Jim Luke of Utica as their driver. Bill and Dick Clark, of Ilion, NY, had a good measure of success with the car. The #45 was eventually wadded up a bit by Steve Danish, a man known for keeping equipment intact.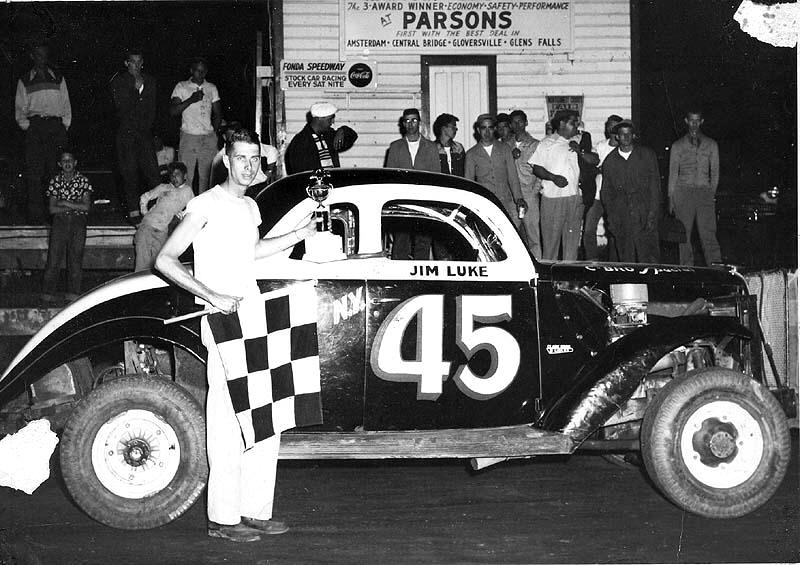 Courtesy of Rick Luke
Tall Jim Luke had some success with the Clark brothers' 45, at Fonda and elsewhere. Below –
Al Sanders had some ideas to lighten it up a but for Syracuse.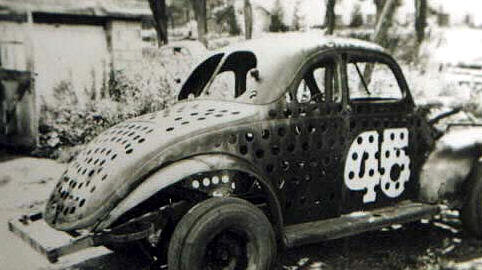 Source Unknown

If I am not totally ill – informed, the wrecked 1937 Ford coupe made its way into the hands of Sanders, a man not known for his concern for his own safety as evidenced by some of the ungodly rigs he drove at places like Midstate Speedway, at the Morris, NY fairgrounds. If it is the same car, Sanders must have spent hours drilling holes all over the Ford body, leaving the car more holey than Swiss cheese.
Already a veteran of wrecks at Syracuse, Sanders found himself in the middle of a good – sized pileup, and the lightened – up Ford just crumpled up like a cardboard replica. Sanders was relatively unhurt, but one of the other competitors in the wreck received grave head injuries. Sanders did run a few other cars, one being the A3, which seemed safer than most. It was even allowed at the fussy Fonda track. Remarkably, Al has survived to this day, but not as a testament to his roll cages – that is for damned sure.

Courtesy of the Starin Family
The Sanders Swiss Cheese car sits crumpled on the Syracuse mile. Below – They only made one Suicide Sanders.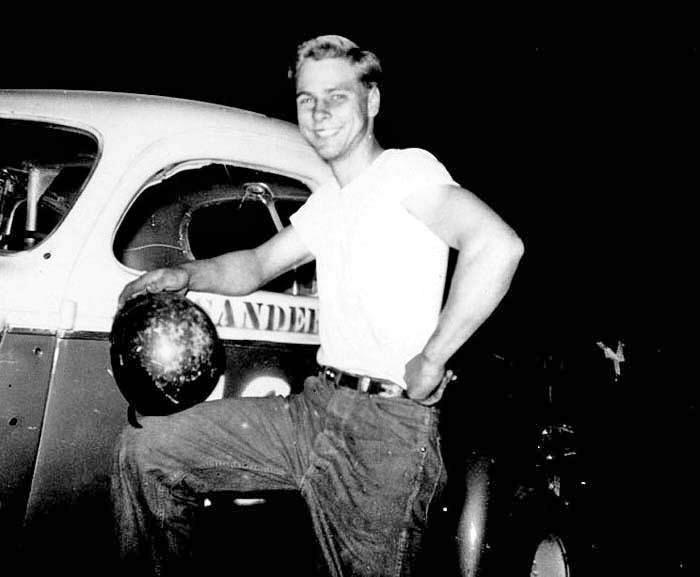 Courtesy of Otto Graham via DTD

Another holey marvel was the first of the legendary Gaylord Rowe cars that ran and dominated at a number of tracks in the northern New York / southern Canada region. A Ford dealer, Rowe and his compatriots put together a 1941 or 1946 Ford coupe [not sure which]. Aware of the potential of the powerful engine made available in that heavy car, they cast about to find ways to lighten the car up before putting promising young Lisbon, NY dairy farmer Bill Wimble at the wheel.
The resulting car # T-800 [apparently named after a Ford tractor model] was nearly as full of large holes as the Sanders #45. The door posts were removed as well – making the car similar to the "cutdowns" of southern New England in that same time period of the mid 1950's. Bill Wimble went on to win the Airborne Speedway track championship in 1954, and he would have placed high in the national standings had Airborne been NASCAR sanctioned then, as it would be later, after his departure for Fonda.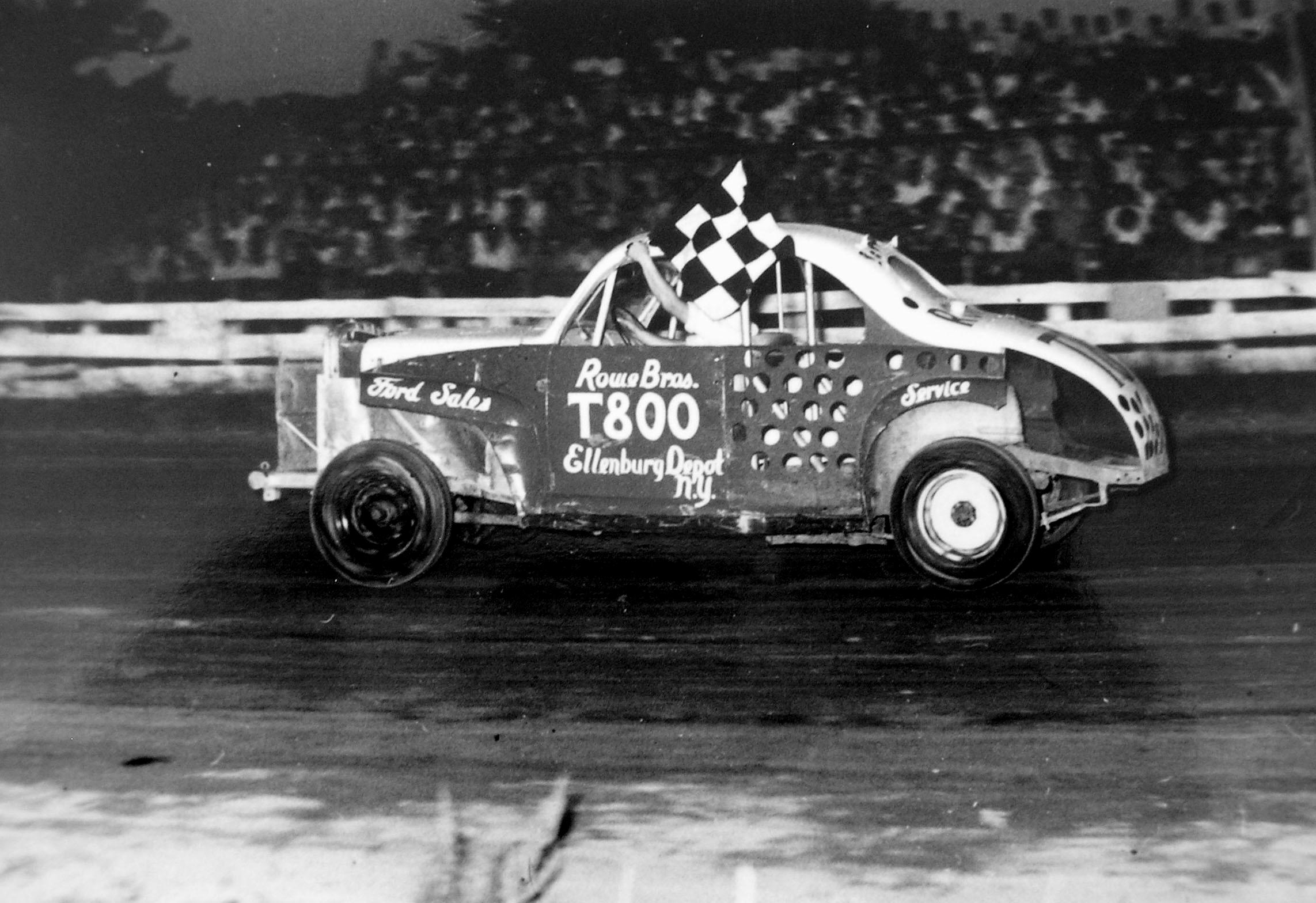 Bob Mackey Photo Courtesy of Gaylord Rowe, Jr.
Wimble takes a victory lap in the T-800. Notice all the holes and other body work removed, such as door posts and much of the trunk work. Below – Dick Goodelle, with the second version that had the side panels and door posts re-included.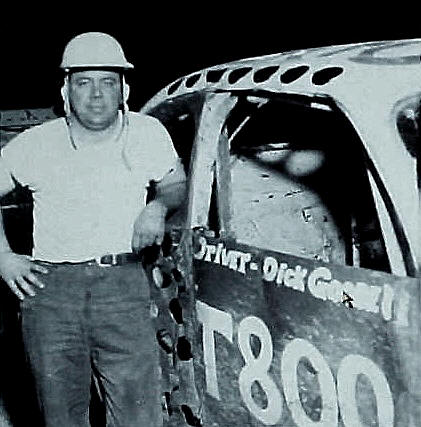 Bob Mackey Photo Courtesy of John Rock
When Wimble moved over, the next year, to Rowe's similar – looking #26, he hated the ill – handling rig and soon moved his racing efforts to central New York and to Dave McCready's S-33 team. The T-800 went to Dick Goodelle, a Mooers Forks, NY neighbor of Wimble's main rival, Dick Nephew. Goodelle gave the car a good run at Airborne and at several tracks in Quebec. Having been made to add some body panels onto the T-800, Rowe and Goodelle found it was good, but not as dominant as when Wimble had driven it. Rowe eventually put both the T-800 and the 26 out to pasture in a little junkyard outside Ellenburg Depot [the home of such luminaries as Billy Taylor and Maynard Forrette].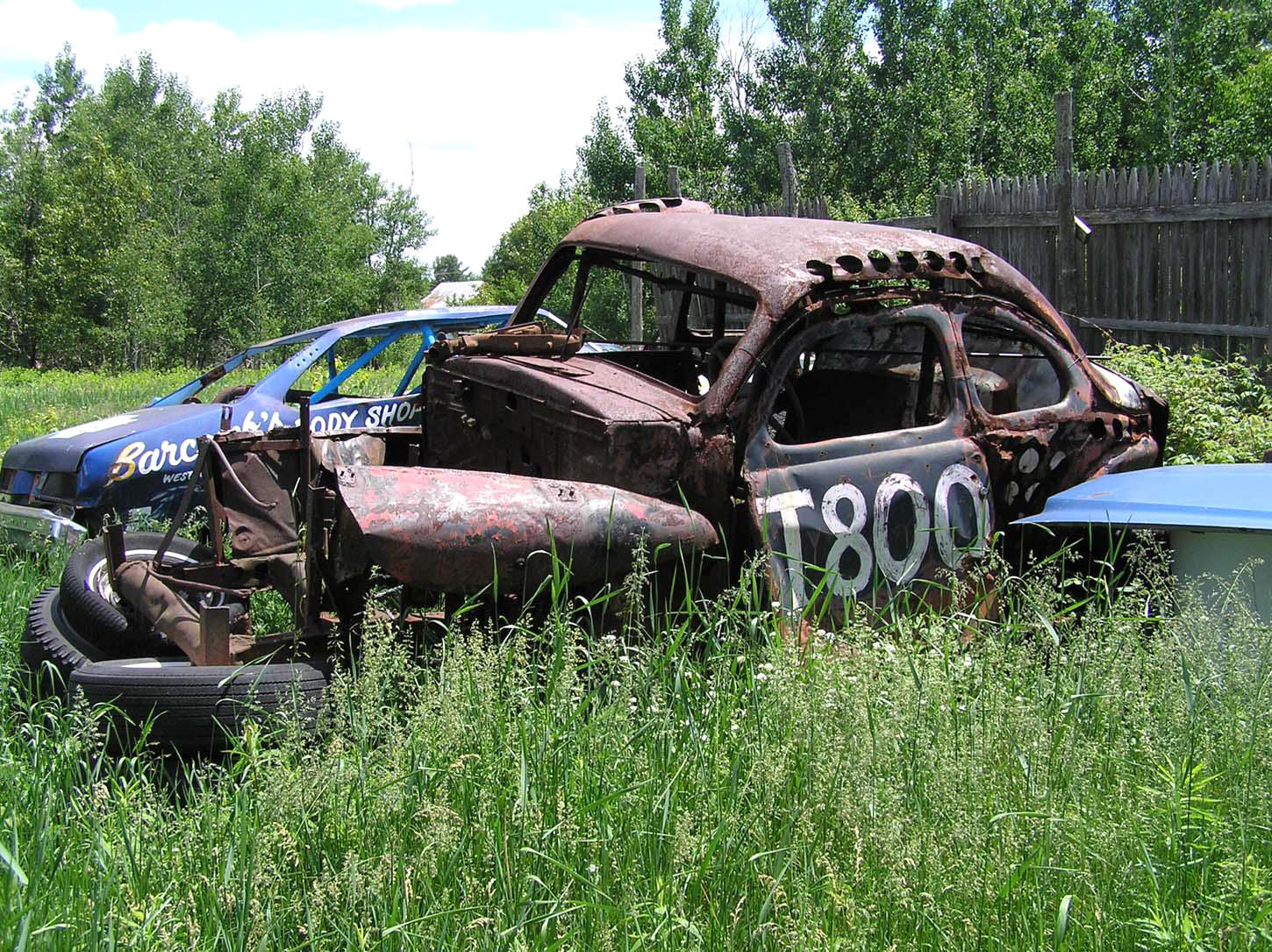 Ladabouche Photo
The Goodelle version of the T-800, having met its end at the Bouvrette Speedwayin St. Jerome, QC sits in its permanent resting place at Gene Bushey's. Below – Wimble, also at Bouvrette with the Rowe 26. Clearly a more conventional rig, no one could
make it handle.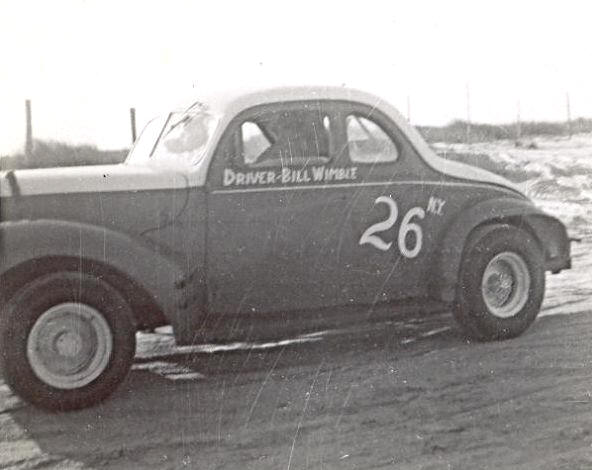 Obtained off the Midstate Site - Maybe from Craig Revelle
I first spotted the rusting T-800 in that spot in 1984, when I was going over to Mooers Forks to interview former National Sportsman Co-Champion Dick Nephew. My younger son wondered out loud what that thing full of holes was. When I went to find it again in 2006, now working as a historian, we found it gone, as was the whole little junkyard. It resurfaced in Gene Bushey's salvage yard nearby. He has immortalized it by building a replica that he displays at shows. This was the most successful hole – ridden car of them all.
I have already covered both the T-800 and this next car in some parts of other columns; but, the Jerry Jerome 550 Jr., holder of the distinction of being in the worst wreck in the history of Fonda Speedway, deserves space in this column, as well. Originally built by legendary car builder Bob Whitbeck for Pete Corey, the then – numbered 37NY had its share of holes – especially in the 1937 Ford body. [I don't know – were Fords just heavier ?] The temperamental Lebanese speedster, Corey, hated the way the car handled and Whitebck summarily dispatched it off to George Emden, who knew Whitbeck as a fellow roadster racing promoter. Emden, using the pseudonym of Jerry Jerome, would now try racing himself. He would re-number the car as #777.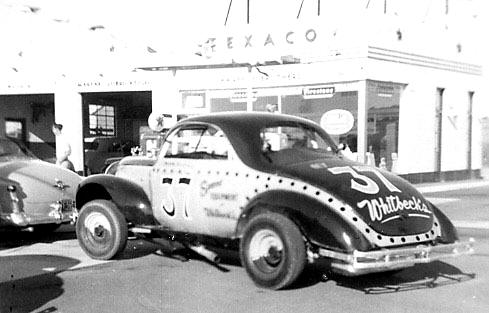 From the Herbert Family Collection
The Bob Whitbeck creation for Pete Corey sits at Whitbeck's garage in Canajoharie, NY before races
at Fonda. Corey couldn't make it handle. Below – Jerome has the same car at
Ed Abel's gas station prior to wrecking it at Fonda that night.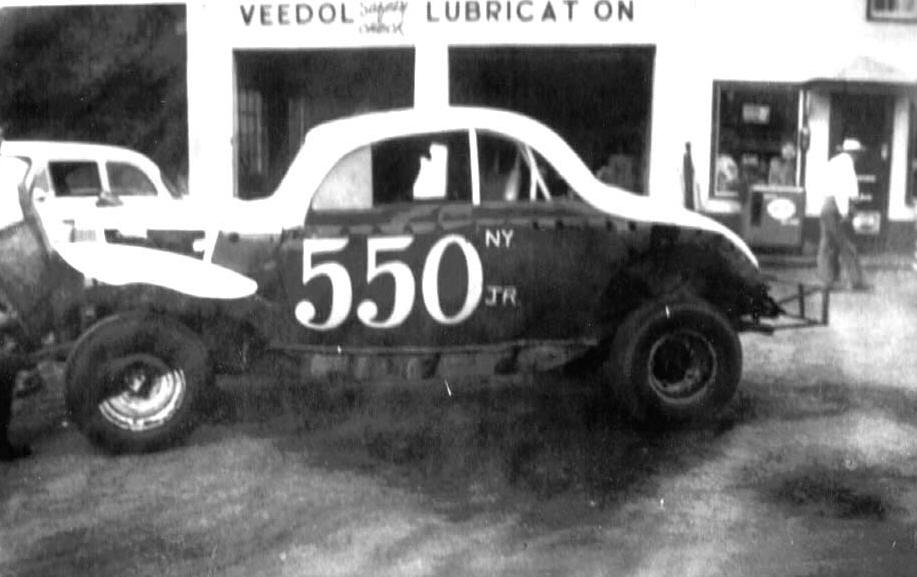 Courtesy of the Starin Family
Jerome knocked around Stateline Speedway, Fonda, and probably Victoria, among other venues, but never got too far with the car. At some point, he became involved with the Sonny Starin bunch, who fielded cars for guys like Stan Burroughs, Jack Harris, and Herb Dunleavy. The Starins did run Fonda, but they seemed more financially suited for Whites Beach Speedway. Jerome would repaint the 777 in the two – tone Starin color scheme and re-number it as 550Jr. Fonda, know well into the beginnings of its overhead V-8 sportsman era, did make distinctions for the first place flathead finisher and occasionally ran special flathead races.
Late in the 1958 season, Jerome was savoring the satisfaction of winning a 15 – lap flatheads only race at Fonda when he chanced to hear a snotty comment made about his flathead engine by cocky New Jersey invader Don Stumpf. Enraged, Jerry promised he would run that guy down if it took all night. To make a long story short, the angry Jerome was doing just that, flying up through th3e field from the rear. Stumpf was in sight as Jerome sought to move around Don Wayman.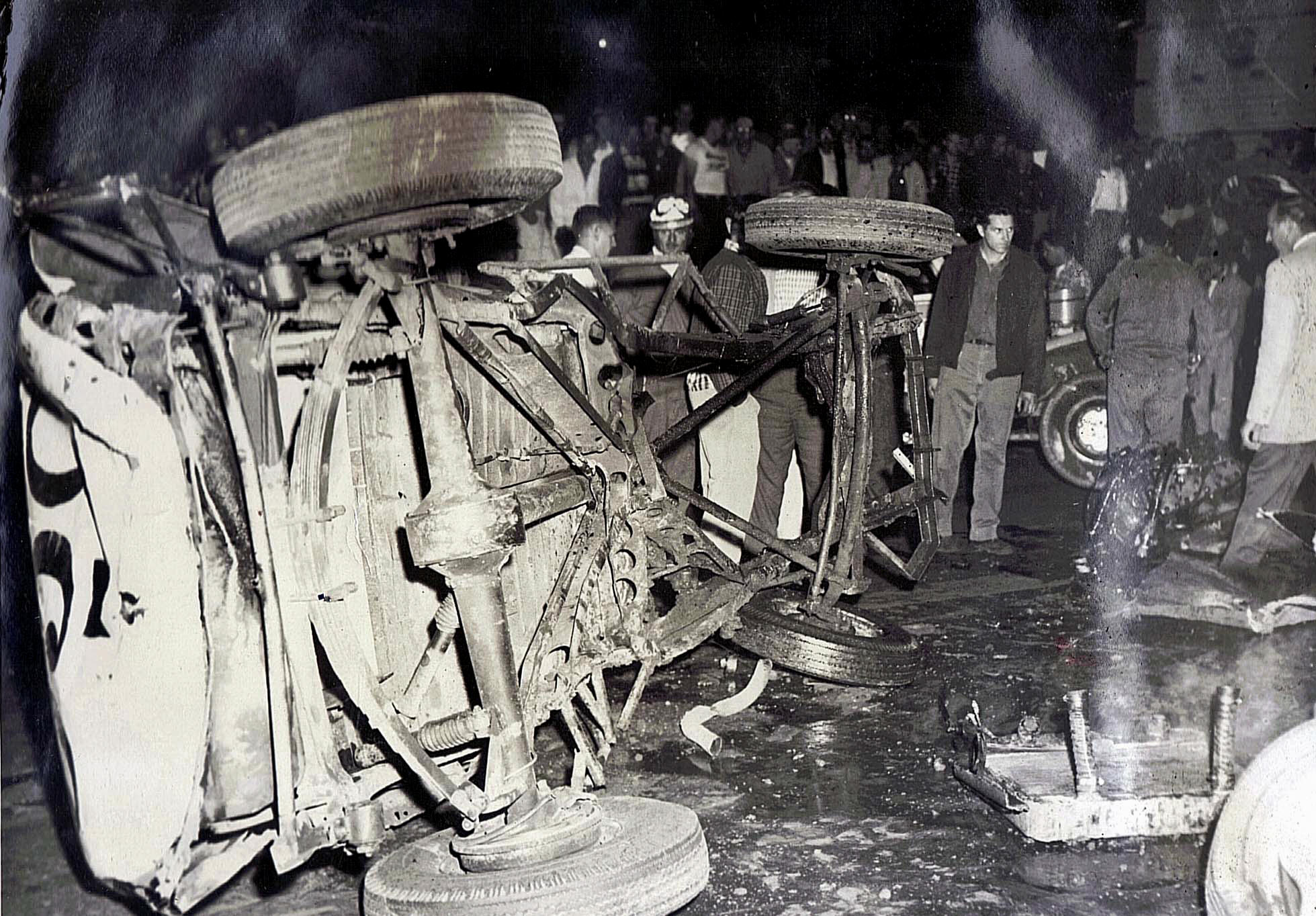 Courtesy of the Starin Family
Ed Abel looks away in disgust to the right of the wrecked Jerome 550 Jr, after a stunned Jerry Jerome had been
helped down from the car. This was his last ride. Below – The Don Wayman car at least stayed in one piece.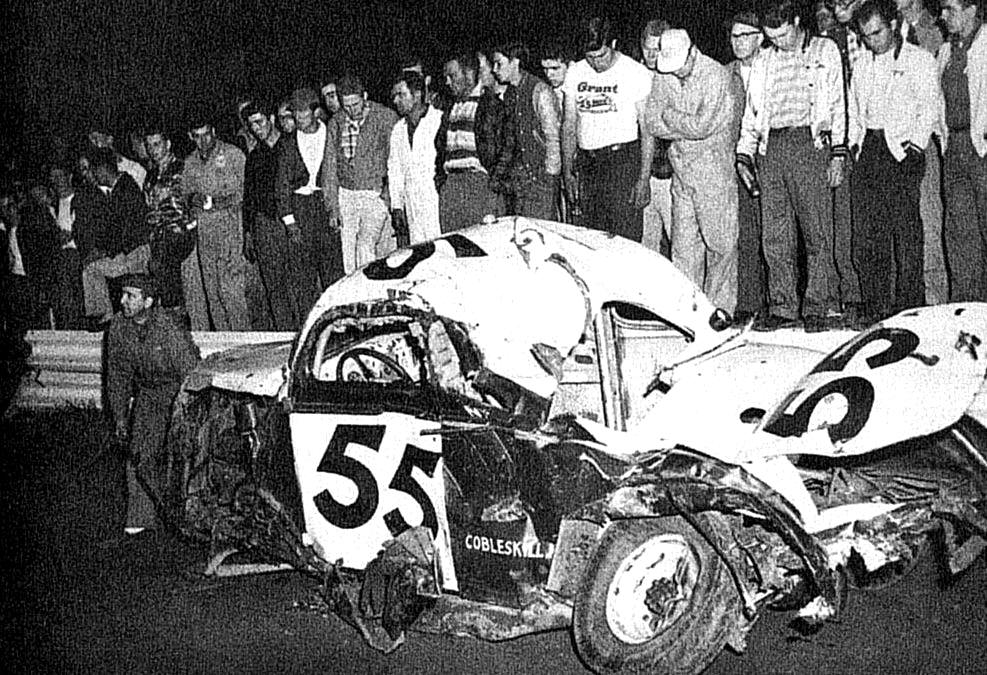 From the Ed Fuez Collection via The Fonda Book
Jerome passed Wayman's 55 on the outside, only to have Wayman try to re-pass coming onto the front stretch out of four. The cars collided and both began a wicked series of flips and barrel rolls. Jerome's hole – riddled and aging coupe flew apart, with the radiator ending up through the windshield of Doc Blanchard, making his first run in the H2 of Herb Roots. Wayman's car was intact, but the Cobleskill driver was hanging out the window, unconscious. There was carnage everywhere. Whitbeck [then a track official], surveyed what was left of his creation with a somewhat bemused look on his face. Jerry Jerome's career was over.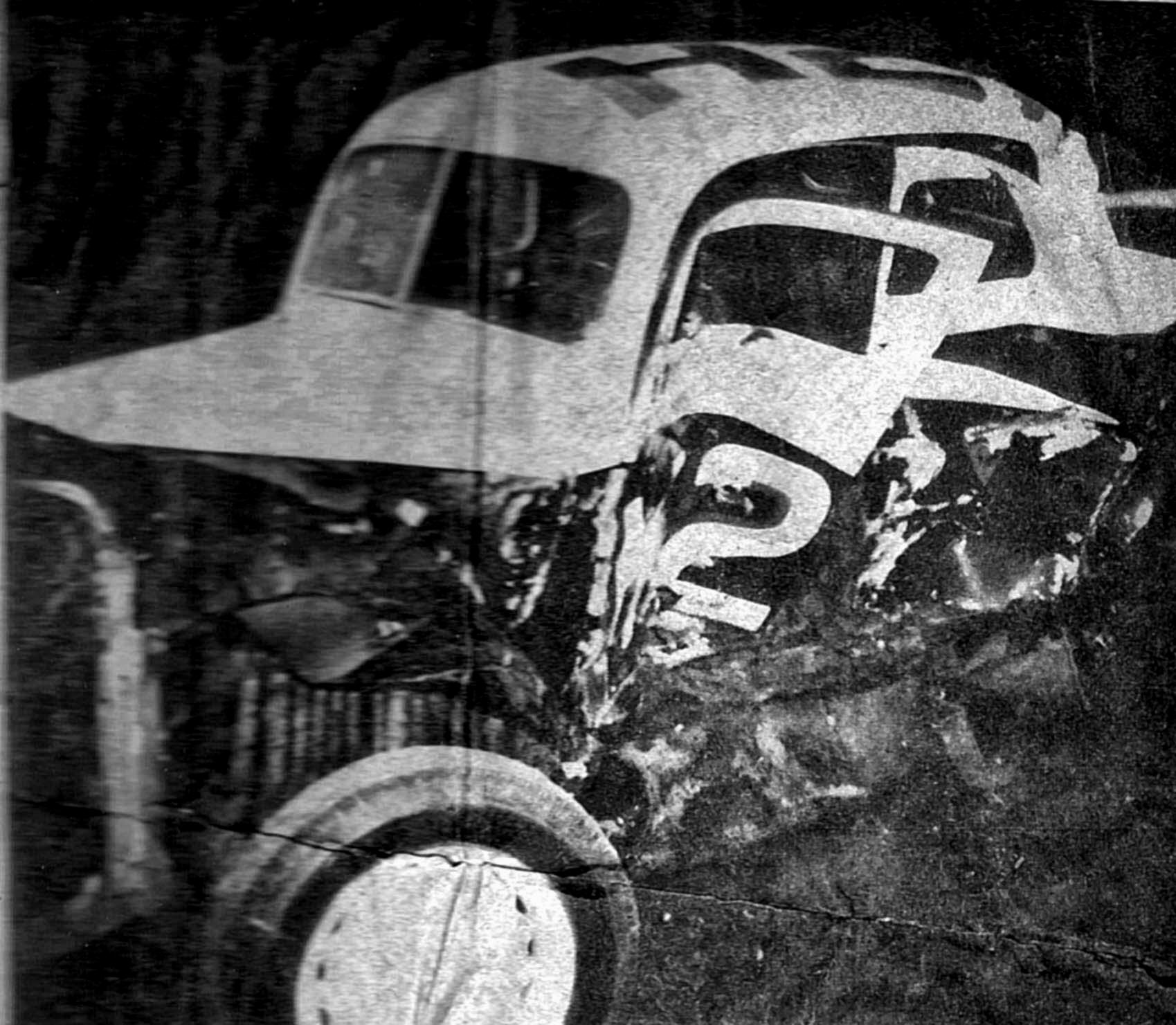 Courtesy of the Starin Family
This is supposedly the Herb Roots H2 of Doc Blanchard. It looks like he driver side windshield in missing entirely.
Below – Bob Whitbeck, then a Fonda track official, reaches for the Jerome radiator to take it back to the wreck.

Courtesy of the Starin Family
One final Swiss cheese car comes to mind. In 1962, Fairmont Speedway was enjoying a successful re-opening season under the promotion of C.J. Richards and his Champlain Valley Racing Association. While there was strong presence of New York cars, many of which had run with the Starin cars on tracks near the Capital District, the clearly dominant group at Fairmont was the New Hampshire cars - particularly from Claremont Speedway. Fairmont was already marveling to the exploits of Buddy Bardwell, Art Cody, Sonny Rabideau, Cecil Bosworth, and Leo Howland when another Granite Stater showed up at midseason.
Ted Brown arrived at Fairmont with a silver and blue sedan – bodied flathead Ford, the rear half of which was absolutely riddled with drilled holes to reduce weight. Brown was fairly flying that afternoon, having won a qualifier, when he encountered some sort of problem in the feature. I do not recall what caused the accident, but the Brown car hurtled off the track and crashed heavily. The flimsy, lightened body was absolutely destroyed, while Ted appeared to escape injury.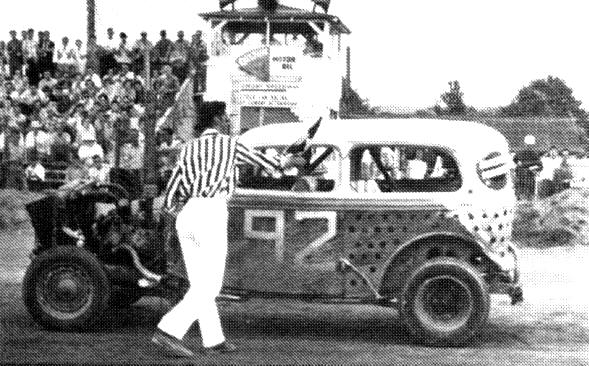 Courtesy of Norm Vadnais
The Ted Brown sedan was fast, if not flimsy before the wreck. Below – It looks a lot flimsier after the wreck.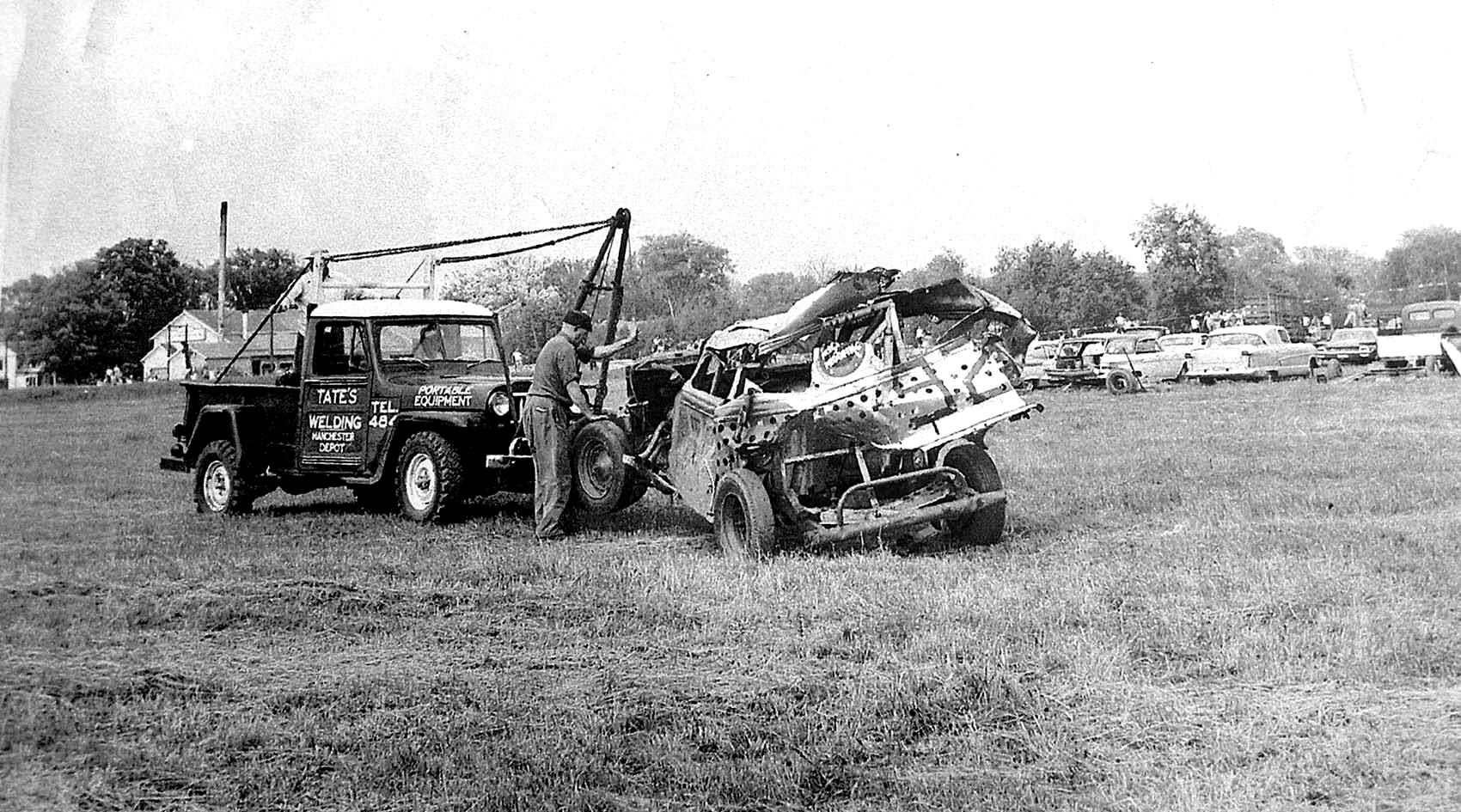 Courtesy of Neal Davis
We would never see the holey sedan again, but Brown would return almost immediately with a coupe – bodied replacement under the sponsorship of Lash Texaco. Brown would go on to win races and perform some of the damnedest racing moves the CVRA crowds had ever seen. He did, however, avoid Swiss cheesing any more of his cars. Today, stringent rules simply make it nearly impossible to have cars of the uniqueness that were possible in the past. Likely – no more holey cars are on the racing horizon.
Please email me if you have any photos to lend me or information and corrections I could benefit from. Please do not submit anything you are not willing to allow me to use on my website - and thanks. Email is: wladabou@comcast.net . For those who still don't like computers - my regular address is: Bill Ladabouche, 23 York Street, Swanton, Vermont 05488.
AS ALWAYS, DON'T FORGET TO CHECK OUT MY WEBSITE
www.catamountstadium.com
Return to the Main Page
Return to the Main News Page
Return to the All Links Page
Return to the Weekly Blog Links Page