Jean Guy Chartrand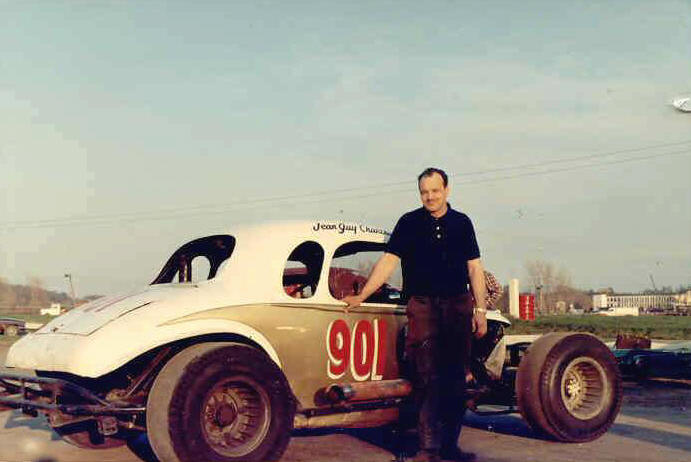 Courtesy of the Mr. Chevy Black Website for Model Cars
Chartrand in my favorite of his cars, at Fonda - in the mid 1960's.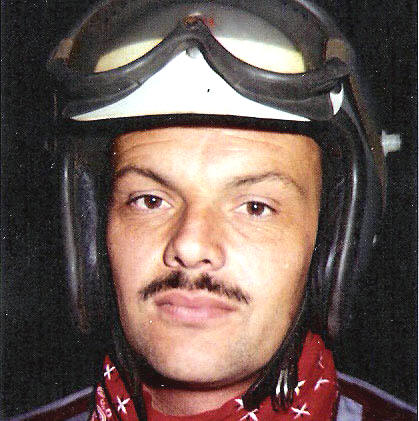 Courtesy of Otto Graham
Guy Chartrand in the 901 days.
One disappointing Saturday night in the summer of 1963, my uncle and I had traveled all the way to Fonda Speedway, from Rutland, VT, under cloudy enough skies to where I guess we should have known enough to turn around and go back home. The speedway was deserted, the races apparently having been called hours before. As we were sitting by the closed ticket booth in the front entrance of the track, a car hauler pulled up to the site, paused briefly, and rolled away, back where it came from [but not before I got a shot of it with my trusty Kodak Brownie box camera]. It turned out to be my first and only glimpse of Guy Chartrand for many years thereafter. Thanks to some photos of my own, sites on the internet, and a collection from Richard Chartand [courtesy of Neal Davis], I have enough for a page on the man most famous for driving the Ed Cloce Hemi -Cuda #69 out of Potsdam, NY.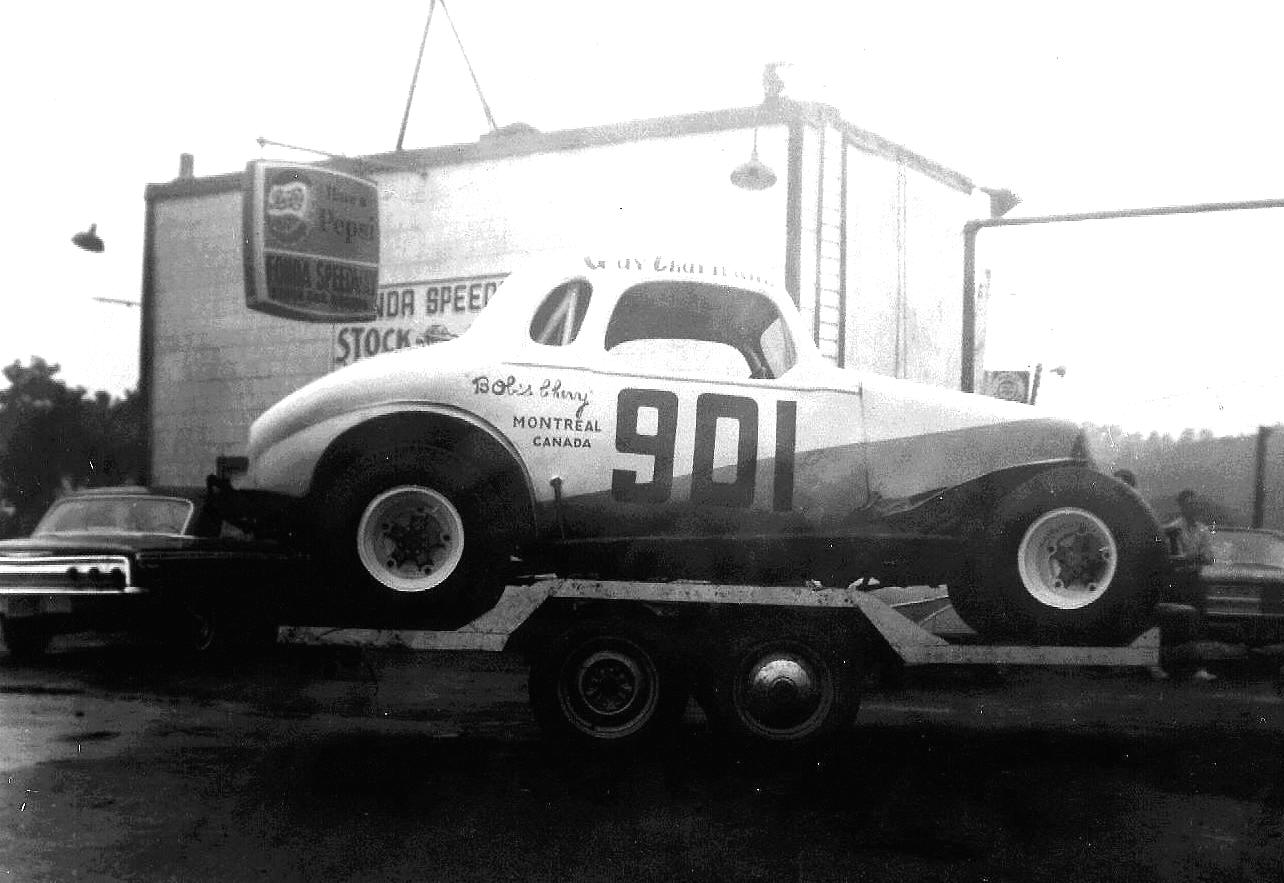 Ladabouche Photo
I wonder if Bob, of Bob's Chevy, is Chartrand's relative - Bob Chartrand. Notice the other disappointed people standing around
in the background. Fog is rising off the warm ground. This is when the cars went in a different gate than today.
THE REMAINING SHOTS ARE IN APPROXIMATE CHRONOLOGICAL ORDER
A Few Photos Are of Older Chartrands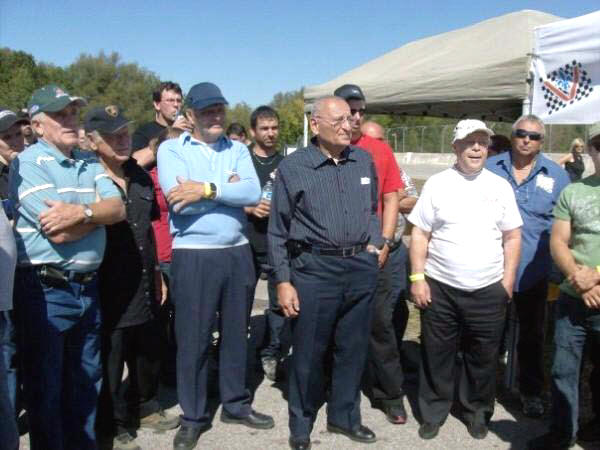 From the Pascal Cote Website
Guy Chartrand [second from left - blue sweater] at a Quebec old timers' reunion.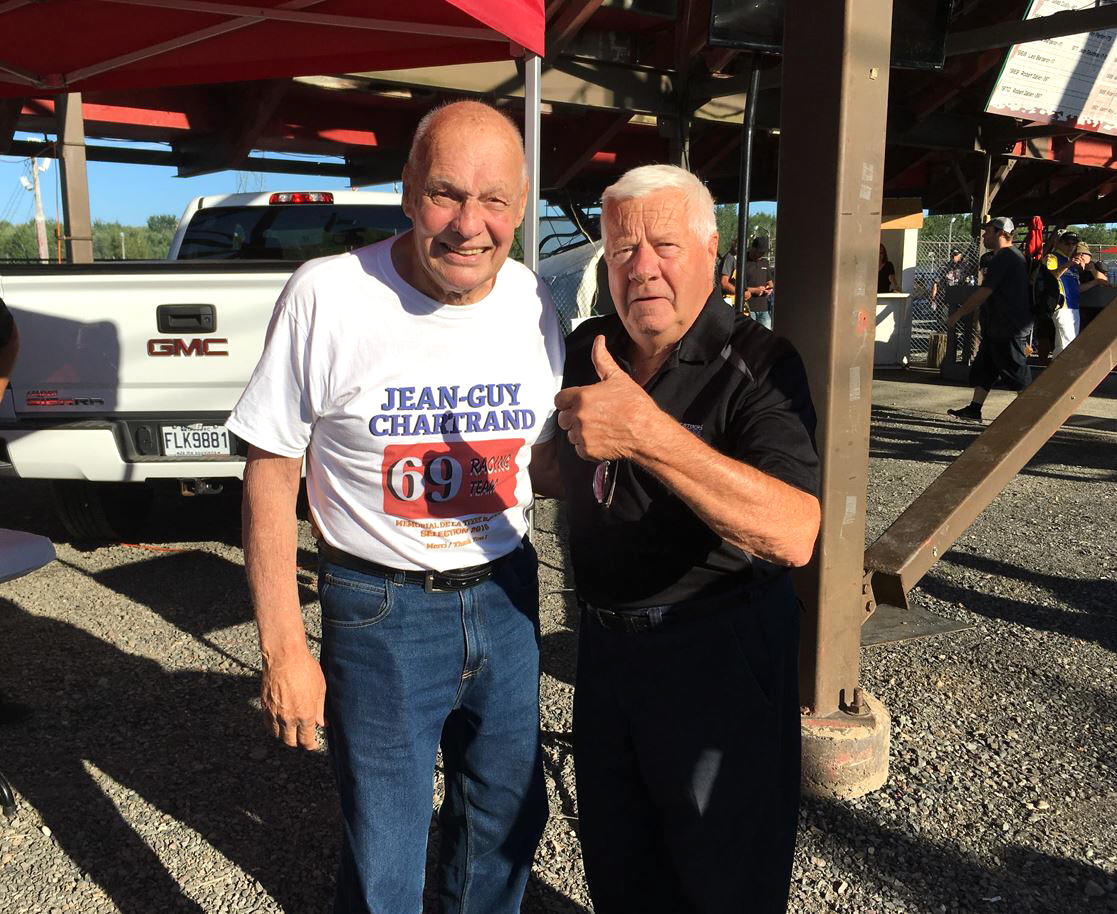 Courtesy of Flemke.,com
A meeting with Jean - Paul Cabana In later years.
THE HEMI CUDA WRECK THAT FINISHED A CAREER
All Courtesy of Richard Chartrand via Neal Davis
HEMI CUDA PHOTOS FROM THOMAS McCARTNEY
All Courtesy of Tom
SOME LATER ADDITIONS FROM VARIOUS TIMES AND PLACES
Not in any Order
Return to the Main Page
Return to the Main News Page
Return to the All Links Page
Return to the Canadian Drivers Link Page