THE ORANGE 333
---
---
When we got to the 1964 season at Fairmont, a new team took to the track with obvious Claremont Speedway connections. Rutland tree expert Leo Vallaincourt had come with a Claremont - looking Ford coupe #333, and he come up with veteran Claremont driver Howard Stevens as the driver.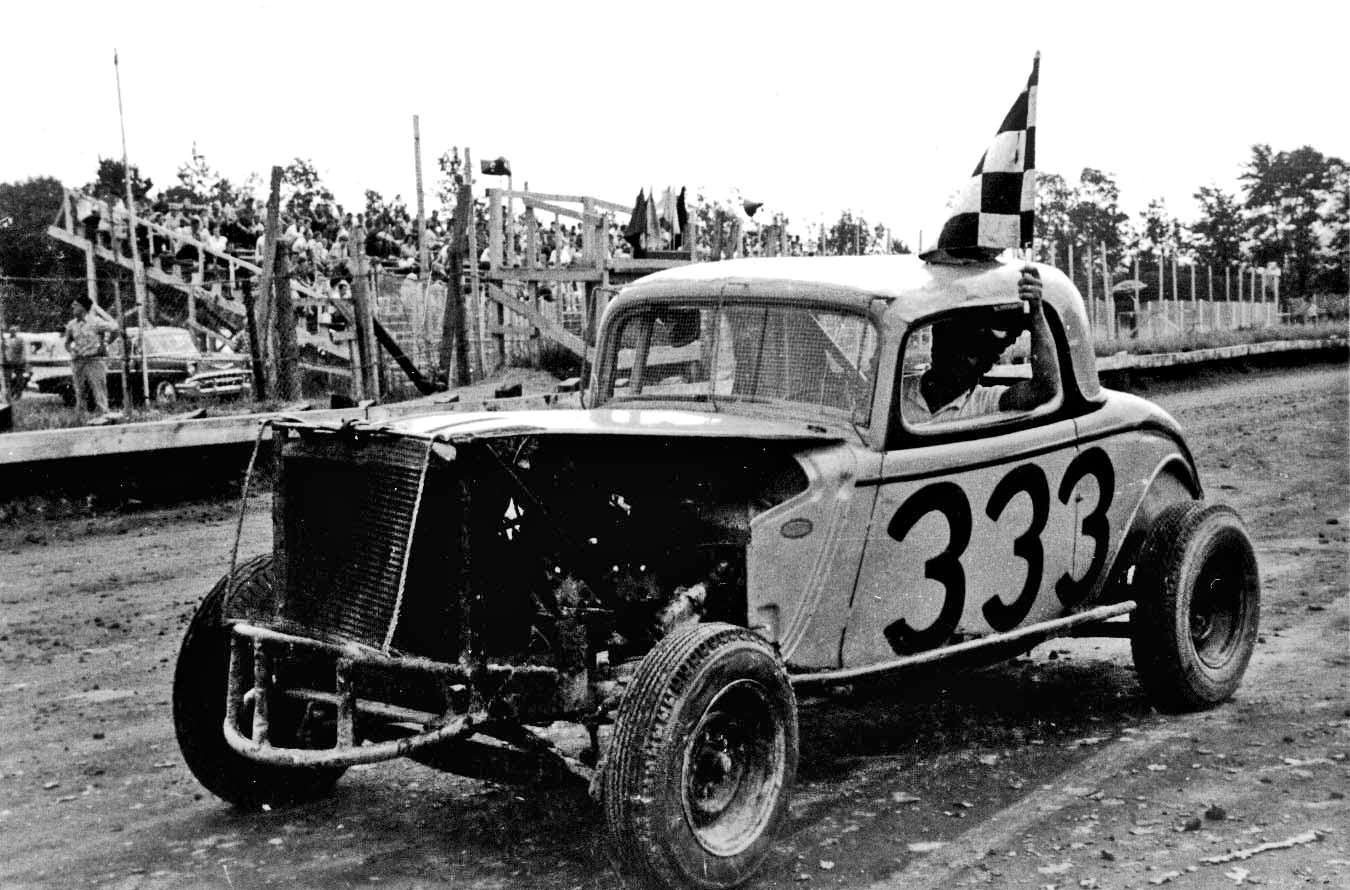 Photo Courtesy of C.J. Richards
Howard and the 1964 version of the car in Victory Lane.

I became a big fan of the orange and black coupe, and followed its progress closely. Howard ended my season on a high note at the Rutland Fairgrounds when - after the races there - he signed the back of my Cavalcade of Auto Racing. I had come up with an old white T_shirt which my mother had dyed orange. I had crudely lettered "333" on the back to state my support.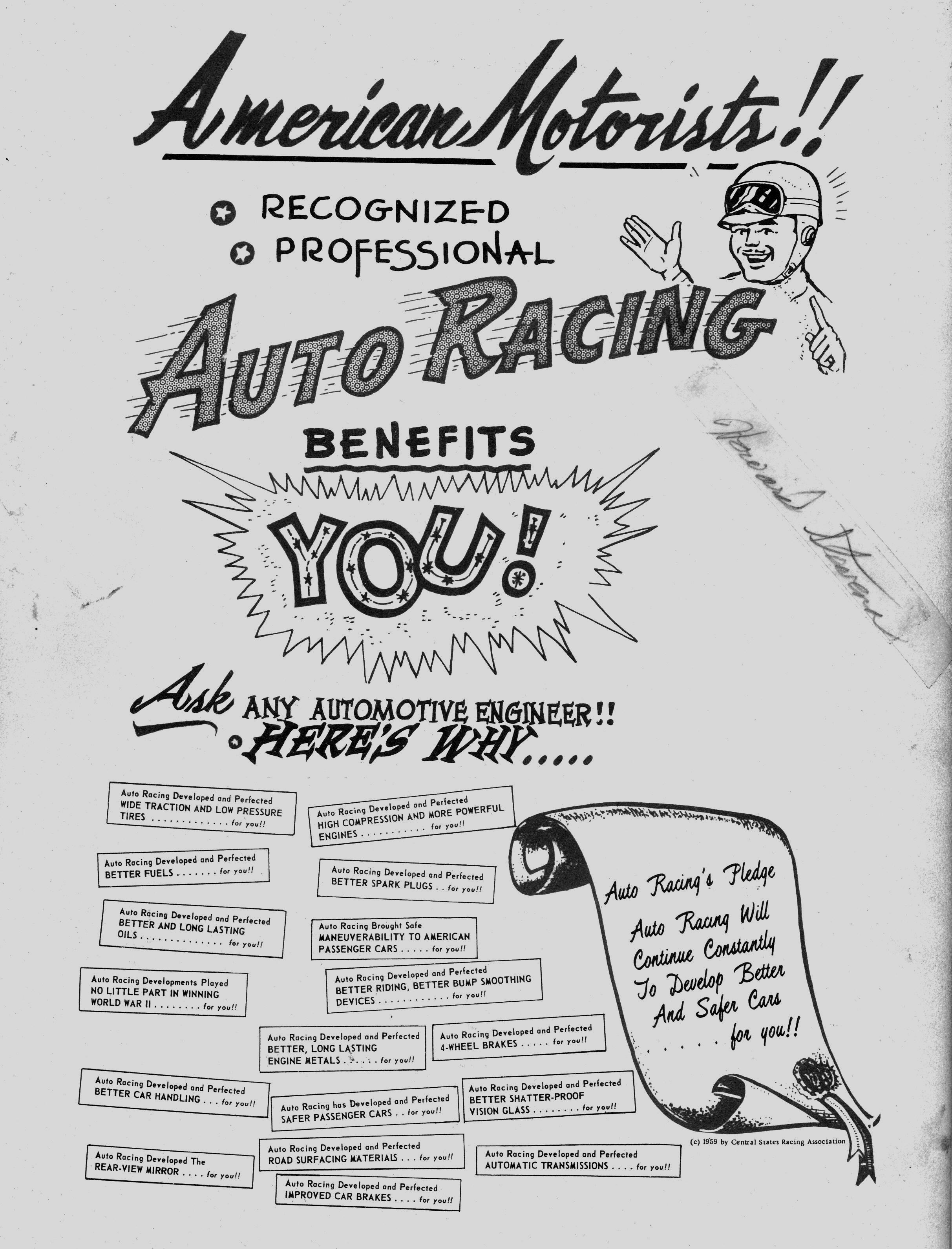 Bill Ladabouche Photos
The autograph on the back of an old Cavalcade.

The following year, the team had lowered the body, exchanged the flathead motor for a V-8, put larger tires on, and entered the ranks of the CVRA sportsman cars. I found an orange golf shirt similar to theirs and had a much more professional - looking lettering job ironed on the back, with my name over the front - just like theirs. They actually ,let me help out a little in the 333 pit area - NIRVANA !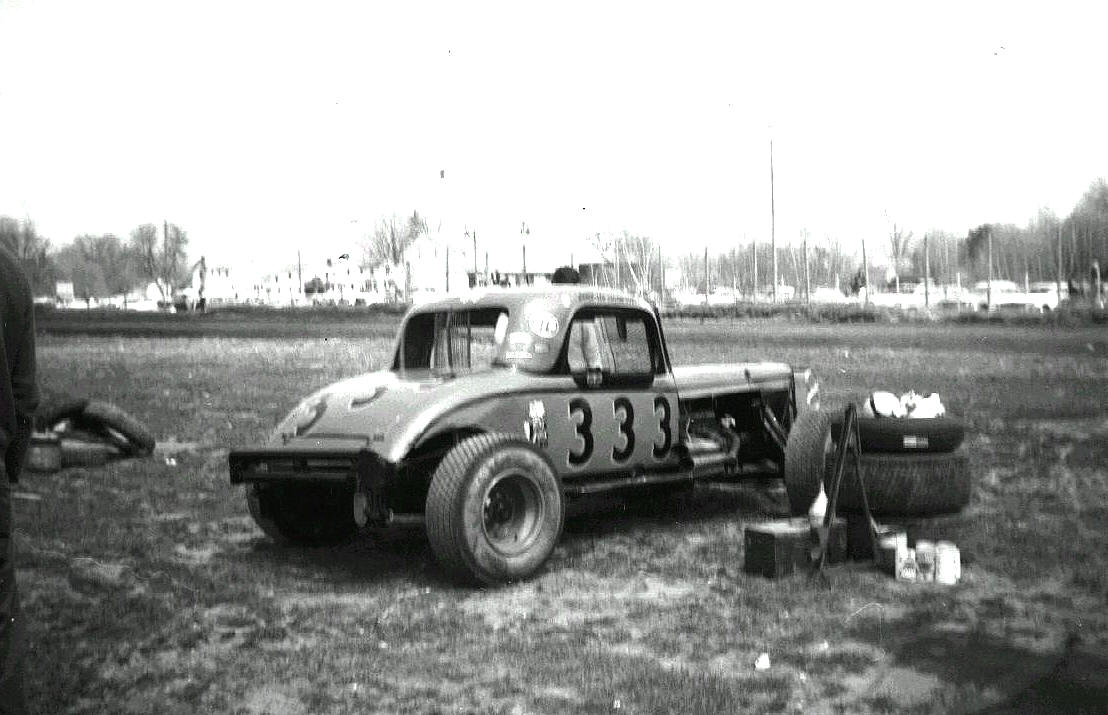 Bill Ladabouche Photos
The sportsman version of the car in the pit
area in 1965.

Howard ended up to be having the season of his life, leading the points chase by mid-season. Then, for reasons I will never know, Vallaincourt sold the car to Sonny Rabidea, who brought it back as a cream yellow #301 - and that was that. I never saw Howard again, although he re-appeared at Devil's Bowl briefly with a car #32. Leo ran a car for years thereafter, always with Rabideau.

Cavalcade of Racing Photo
Rabideau with our purloined coupe.

Photo Courtesy of Neal Davis
The original car, in the pits,
in 1964. Crewman unknown

Bill Ladabouche Photos
The sportsman version of
the car, trailered, in 1965.

John Grady Photo
The post-Stevens
Vallaincourt car
with Rabideau.


Bill Ladabouche Photos
A NEAR replica of the
1965 car, at T Road.

Courtesy of C.J. Richards
The sportsman car in
Victory Lane with
Howard in 1965.

Cavalcade Photo
Howard poses in
1965.


Cavalcade Photo
Owner Leo Vallaincourt
as driver, himself - at
Devils Bowl.

Courtesy of C.J. Richards
Howard's Devils Bowl
car, around 1967. Some
people think it is the
old 333. It really could be.

Devils Bowl Program Photo
Rabideau at Devils
bowl with a later 333.


Rutland Herald Photo
Stevens and the original 333 in action at the Rutland Fair [2nd from right].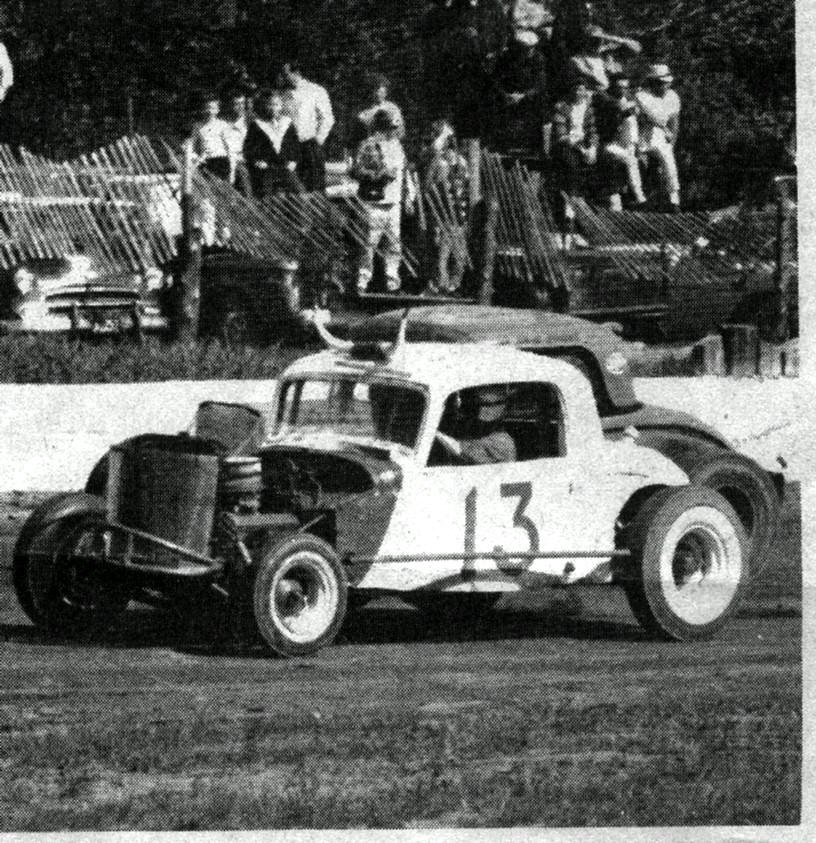 Bob Frazier Photo Courtesy of C.J. Richards
Stevens runs on the outside of Buddy Bardwell at Fairmont in 1964.
Return to the Main Page
Return to the Main News Page
Return to the New Hampshire Drivers' Page