BILL'S WEEKLY COLUMN/BLOG PAGE

BILL'S BACK IN TIME
By Bill Ladabouche
RACE AND RACING: A SMALL STORY IN THE NORTH COUNTRY
Whenever even a casual race fan hears the topic of race, in regards to stock cars, they probably will bring up the name of Wendell Scott. And well they should ! His harrowing and steady rise through the ranks of a sport that did not want him around is well documented, if not somewhat polished up, in the Richard Pryor movie "Greased Lightning", as well as numerous other pieces.

While there are not a lot of photos of Wendell's earliest cars, one can usually see his early NASCAR modified coupes, his early late models, and lots and lots of blue – colored, low – budget Grand National Fords. My fondest recollections of Wendell are from one of the times the GN Northern tour hit Fonda Speedway [probably around 1965].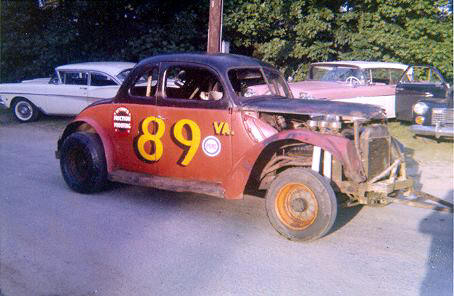 David Bentley Photo
Some of Wendell Scott's earlier NASCAR equipment.
Wendell showed up with a limited number of GN regulars, several fringe teams, and a few northern entries. The Scott tour de force was best described as tired. The hauler looked tired; the sagging '65 Ford looked tired; and the crew looked positively exhausted. As is always the case, the cars had to go out and time trial for position in the 100 lapper.

Wendell came and for his run and proceeded to push the dented light blue #34 around the tricky, irregular Fonda oval. Kaboom ! Right into the front stretch barrier ! The car was towed in and we watched. Pretty soon you could see black guys [the only ones in the pits, no doubt] running all over the place, trying to get help and borrow parts. To someone's credit, they found them. Wendell started the race in the rear and finished up a ways into the field by race's end.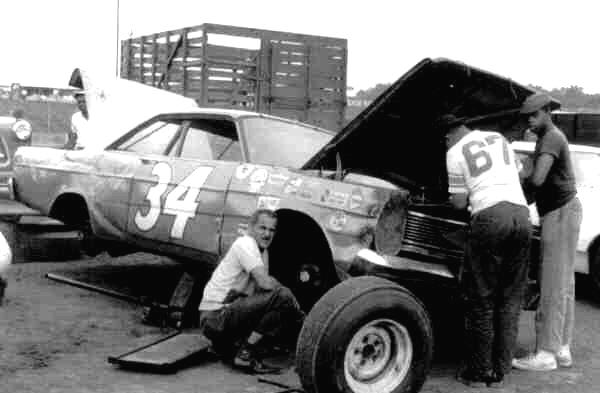 Courtesy of Andy Towler
Vermont ? What state is that in ? [This looks like the Fonda car]
After the race we ventured into the pits and – seeing the mobs around Lund, Petty, and Pearson, headed over to the almost – deserted Scott pits. I was struck by how old, how tired, and how small he seemed. He wearily but nicely paid attention to us.

"Wendell", we said dutifully, "nice race, considering all your damage." He thanked us and said he could do better without a bent up car.

"We're from Vermont", we announced proudly.

"Oh yeah ?", came the response, "What state is that in ?" We loved him even more after that and followed his results for months.


Thunderplex.com Photo
Tired equipment – tired guys.

But, Wendell was doing his thing around the northern part of the deep South – and we don't live there. Who were the ice breakers up here in the North Country ? One uch man was a Beech Ridge Speedway runner named Benny Myers. I don't much about Benny, except he raced in an era with the greats of that track: the Libbys, Dick Wolstenhume, Russ Nutting, Ralph Cusack, and more. It appeared, from a photo in the Cavalacade of Auto Racing, that Benny managed with one black crew member and one white guy. The cigar – smoking Myers had to be a man, as he was the only one of his race anywhere in the state - as far as racing goes.



Cavalcade of Auto Racing Photo
Benny Myers [center] looks almost amused that someone is snapping him.

Another black racing pioneer was Johnny Kettel, a runner at Poestenkill, NY's Route 66 Speedway. Again I do not know much about Johnny, who drove his 102 Jr with a big American flag on it. Maybe he was reminding the others about the values under which he should be allowed to join the racing. It is not mentioned, but – if he ran Route 66 – he may have also appeared at such places as The Pine Bowl or maybe Burden Lake Speedway.



Courtesy of Ken Gypson
Patriotic Johnny Kettel, at Route 66 Speedway in 1955.

The fellow I know a little more about is one Bo Green, who ran at a lot of venues including the big one in the area: Lebanon Valley Speedway. Green's story is proudly related by friend and former driver Russ Blake, then from Pittsfield, MA. A young Blake learned from running with the likes of Green, Henri Bouchard, Bob Kudlate, and Dan Dudley. Racing such places as Route 66, Pine Bowl, Whites Beach, Burden Lake, and Greenport, drivers honed their skills for the huge Lebanon Valley, that was developoing into a major venue by the end of the 1950's.

According to Blake, Green was quite a man, not letting anything as inconsequential as missing one eye discourage him from competing in stock cars. He was just one of the boys, in most places he worked or raced, seeming to gain acceptance despite his color. With over twelve cars coming out of Pittsfield, alone and dozens more coming from the immediate Berkshire County, he was among home folks most of the time.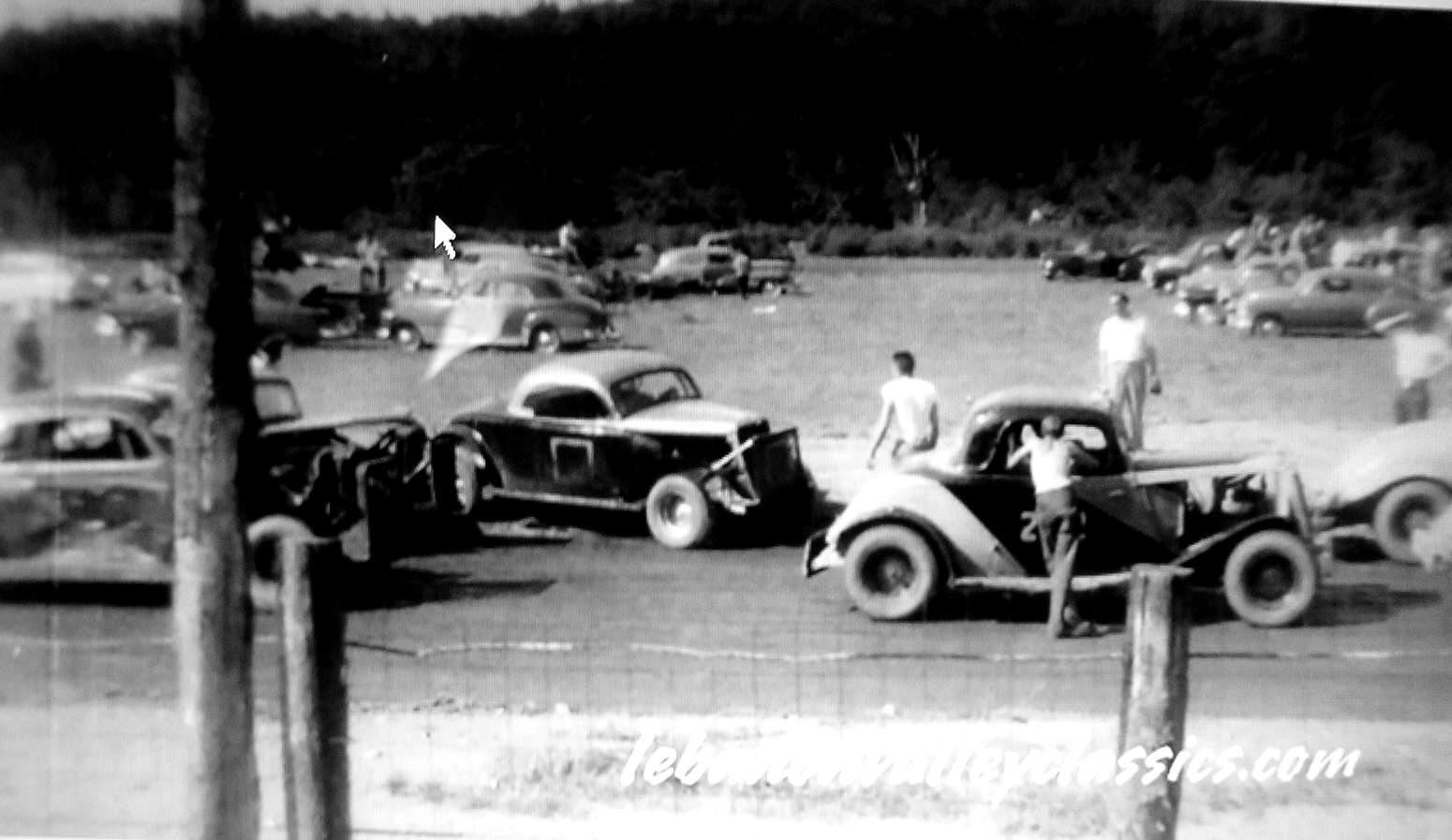 Lebanon Valley Classics Photo
Bo Green sneaks into his starting spot in the car 0. Below – The end of the Square Zero.
<![if !supportLineBreakNewLine]>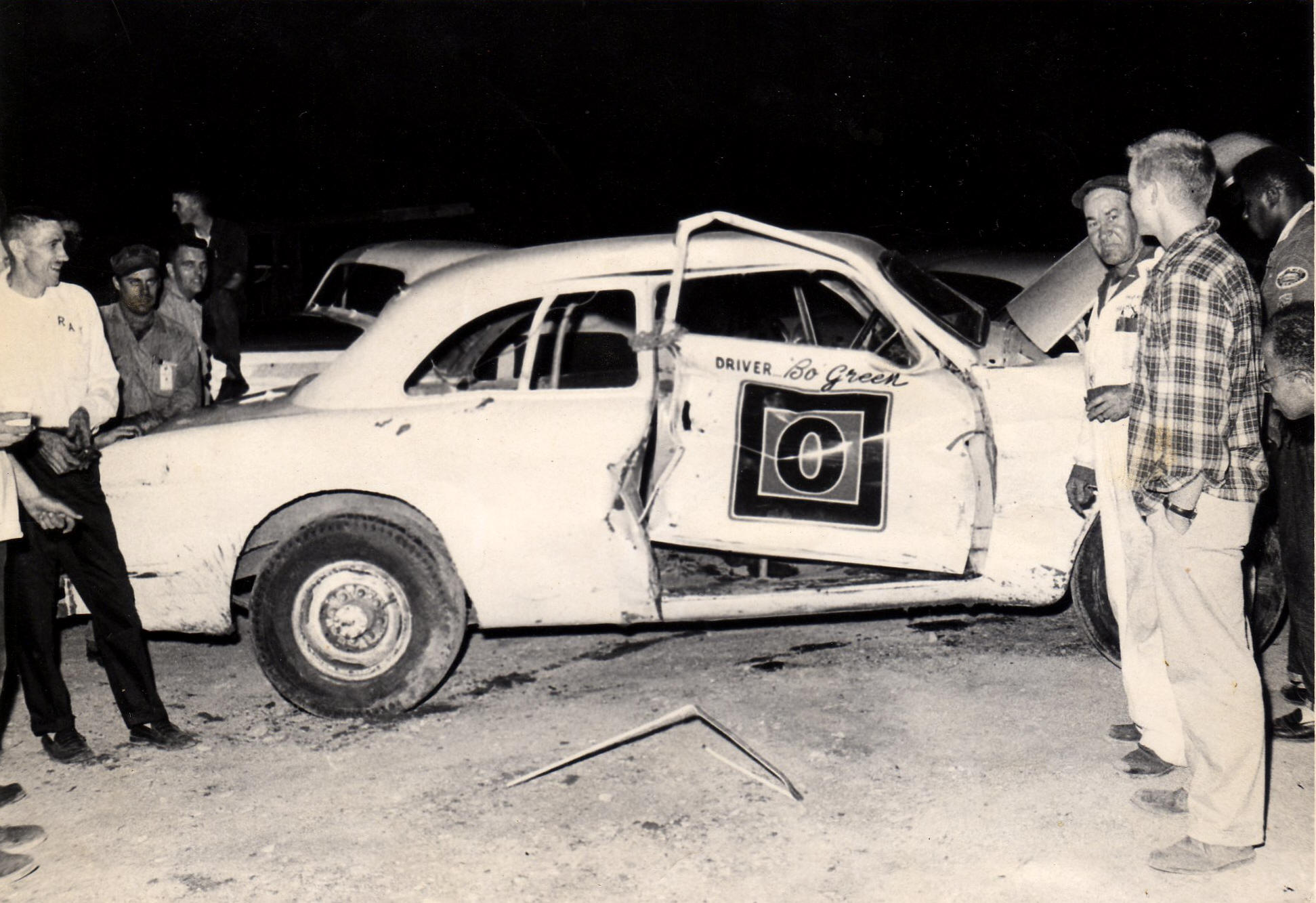 <![endif]>Courtesy of Russ Blake
Wanting to get in one the trend of going to late models at the Valley, Green built as 1950 Ford to house his potent 6 cylinder engine he had used in an earlier three window at the Valley. In the first night of competition, he wiped out the '50 Ford, and built a replacement; but, according to Russ, he never raced it again. He did travel some with Blake, and actually was with Russ the first time he appeared at the old Fairmont Speedway. Russ said that the Pine Bowl had expired in mid – season and they needed someplace to run. Going from the paved Bowl to the clay Fairmont was quite a trial for them.

Perhaps the most prominent name in this collection of pioneering African – American stock car drivers in the North Country is a little hard to come up with when researching on the internet. The problem is that Booker T. Jones also happened to be the name of the front man in the chart – topping 1960's group Booker T. and the MG's. But, with a little tenacity and a few tricks for the old Google search engine, one comes up with the only Booker T. we care about, the one from Springfield, MA who raced modifieds.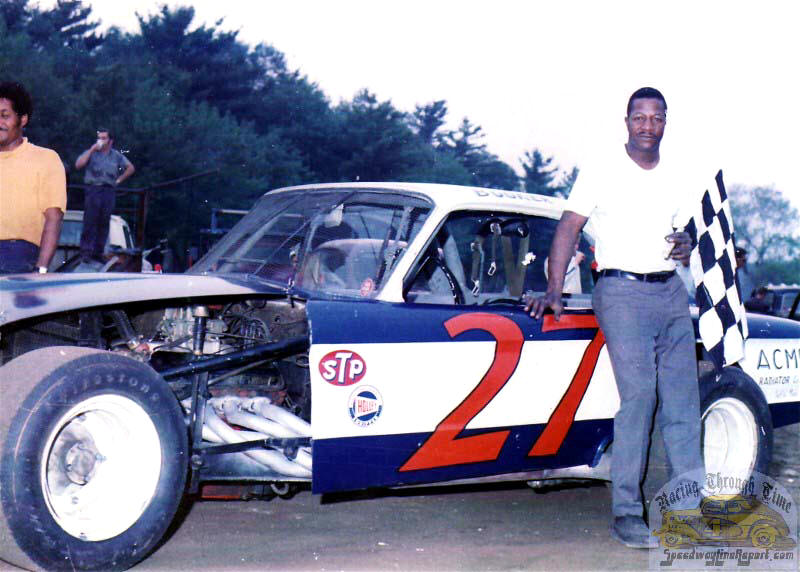 John Grady Photo via Dave Dykes
A big dude who would help anyone, Booker T. Jones is most often associated with this Falcon modified.
Booker T. Jones first tried racing at the old Rhythm Inn Speedway, outside of Millers Falls, MA; and, despite a modest beginning there, came away determined that this racing thing is what he wanted to do. His bio says that he went through the early period, not unlike Scott [his hero] where guys just wanted to wreck him on purpose. When Jones, a pretty sizeable man, pushed them back, he gradually gained respect and acceptance.
Most photos show Booker T. Jones with a red, white, and blue #27 Falcon. He ran at places like Riverside, and was able to hold his own against much better – financed and more crew – intensive competition. He ran his team out of his shop in Springfield and did well enough to earn induction into the New England Antique Racers hall of fame. Jones cites one of the biggest disappointments in his life as the time he missed connections with Wendell Scott at Utica – Rome Speedway, when Scott wanted to set him up to warm up the Scott Grand National car that weekend.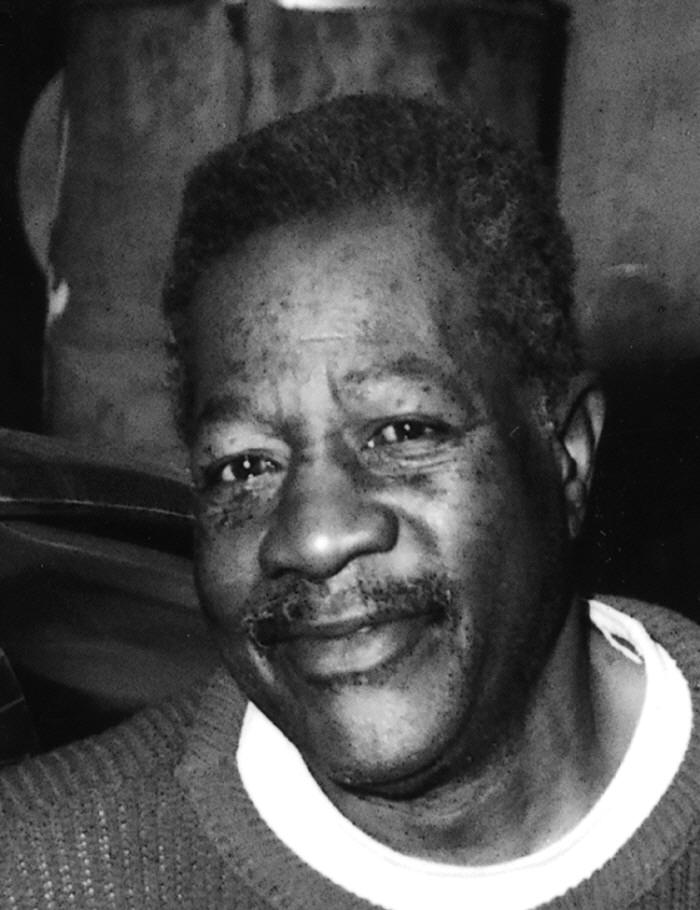 NEAR HOF Photo
Booker's Hall of Fame photo
Myers, Green, Jones, and Kettel are not household names, nor did they endure what Wendell Scott did. But, they were groundbreakers, just the same.

Please email me at wladabou@comcast.net if you have any photos to lend me or information and corrections I could benefit from. Please do not submit anything you are not willing to allow me to use on my website - and thanks. For those who still don't like computers - my regular address is: Bill Ladabouche, 23 York Street, Swanton, Vermont 05488.
AS ALWAYS, DON'T FORGET TO CHECK OUT MY WEBSITE
www.catamountstadium.com
Return to the Main Page
Return to the Main News Page
Return to the All Links Page
Return to the Weekly Blogs Link Page