---
---
NEWS & UPDATES
May 3 - Right about the time I got off for Spring Break and could work on the site again, I started experiencing serious issues with my access to the program that allows me to upgrade. I couldn't even get on long enough to warn everyone I was having trouble. Hopefully, it is rectified for a while now. There are some pages that were worked on during this dry spell, and I hope to get them on site if the repair continues to hold. [Bernie's 71, Catamount Hurricane Competitors, and Phun Photos]. I didn't get any help until nearly 11 PM, so I can't do much more tonight. Thanks for your patience. Bill
May 5 - If I am able to update the news to the April 2009 News and Updates Archive, we may have some hope this thing is going to stay fixed for a while. I added three Cavalcade of Auto Racing photos to the Lebanon Valley page, courtesy of Joe Grossetti. a steady friend of the website. One of my most important columns in "Racin' Paper" ever appears on the site tonight. It is currently also running in "Sam's Good News" in Rutland. Check out Column 26.
May 8 - While waiting for my Comcast connection to be upgraded, I prepared Column 27, which features Chittenden County's own Caron brothers. I also started a page on Riverside Speedway, Groveton, NH - but it doesn't offer much. I need some help getting any beginning to 1987 photos from there.
NOTE: I CONTINUE TO HAVE ISSUES WITH FILEZILLA. IT WENT OFF AGAIN. IF I DISAPPEAR FOR DAYS AT A TIME, THAT IS PROBABLY WHAT'S GOING ON.
While things are actually working, I finished up this fun little page, Evolution of the Race Car.

May 11 - I prepared the beginning of a page on Jeep Herbert, one of the all - time best guys in the sport.
NOTE: I CONTINUE TO HAVE ISSUES WITH FILEZILLA. IT WENT OFF AGAIN. IF I DISAPPEAR FOR DAYS AT A TIME, THAT IS PROBABLY WHAT'S GOING ON.
May 14 - After seeing what a mess the links were in, I redid the page called Vermonters Who Tried the Big Time. I also added the very deserving [and very overlooked] Paul Connors to that page. Remember, if I disappear - it's probably that faulty program again.
May 17 - I may have figured out what keeps knocking me offline when upgrading. Filezilla seems to be on a new kick, limiting the number of transactions you can do in one day. If anyone knows how do deal with these people, drop me a line. If it will allow, I'll try a few upgrades today as my racing has been rained out at Airborne and Devil's Bowl is too far to go on a school night. I added another written portion to the page on Rhythm Inn Speedway's Airplane Car. I also added some photos to the Vince Quenneville page and added a couple of Steve Jangraw's shots to the Limited Sportsman Competitors' page. As soon as Filezilla lets me, I will update them. Hopefully, the links for Evolution of the Race Car page now works.
May 20 - I added six photos to the Pete Corey page. I have tons more, but little time until school lets out.
May 23 - Paul Belfeuille continues to work on Northeastern Speedway. Below is a what apparently has become a regular meeting he and others like Johnny Gammell have to get activities planned for the big July 18 reunion at the restored track site. I also added pix to the Northeastern Speedway. page, at the bottom. If Filezilla allows. I will have a page started called Who Dem ?, in which I put out photos containing people I need help identifying.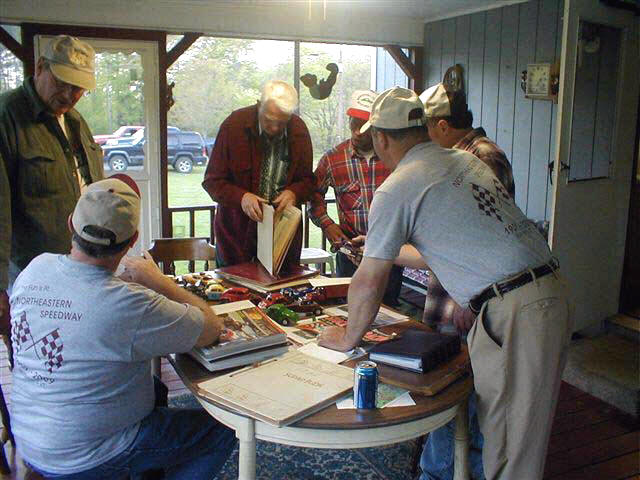 Belfeuille Photo
Johnny Gammell [center] examines an envelope of materials at a recent meeting. Notice the Northeastern shirts.

May 25 - I added four photos and made some grammar corrections to the George Barber page. It has been brought to my attention that some people sent me material that hasn't appeared in the web site. Please understand - a lot of stuff was lost when I suffered the computer crash. Anything that was waiting to be backed up went. If you have the email archived, send it again.
BIG NEWS FLASH
The book about Beaver Dragon, written by yours truly, is almost ready to go on sale.
Should be starting to be sold in June !
I wish I had more details, but Beaver and Jane Dragon are handling the sales end of it. When I have a copy, I will scan the cover for this site and offer more details, such as price, etc.
May 31 - I am working on a page that will be called New Hampshire Coupes. This time of year is two-edged sword: I am almost out of school, but I also will be loaded with final grades, etc. until then. Thanks for your patience. I am getting more material from Jackie Peterson, who may know more about Northern Vermont racing than anyone else left living.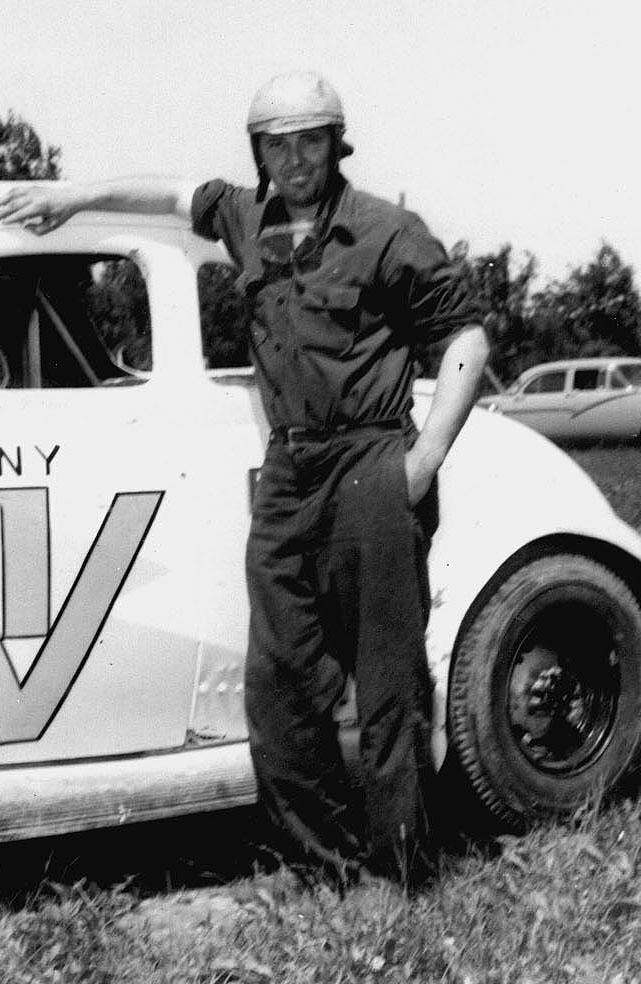 Courtesy of C. J. Richards
Jackie with [by his own admission] one of his few attractive cars.
June 3 - Fixed the Racing at the Fair link on the All Links page - and re-installed a link to that same page from the Fairmont Speedway page. I also put up a partially - finished page called New Hampshire Coupes.

June 4 - Added the page called Kalamity Jane - the 685, a page I thought I had done ages ago.
For all 2005 News and Updates Archives - Click Here
For all 2006 News and Updates Archives - Click Here
For all 2007 News and Updates Archives - Click Here
For all 2008 News and Updates Archives - Click Here
For all 2009 News and Updates Archives - Click Here