---
---
NEWS & UPDATES
August 2007
August 1 I am celebrating twenty years of wedded bliss with the fair Roxanne today, so there may not be a whole lotta additions. Below is my bride at the 2005 Rotterdam Mall show, gracing Rick Parry's refurbished Villano Falcon. I notice that, when I search using the term "Vintage Stock car" my site doesn't come up; so, I may experiment with placing that phrase above the header on my new Main Page layout that is coming soon. The site is so large that people aren't seeing a lot of the stuff, so I am trying to make the Main Page more all-inclusive.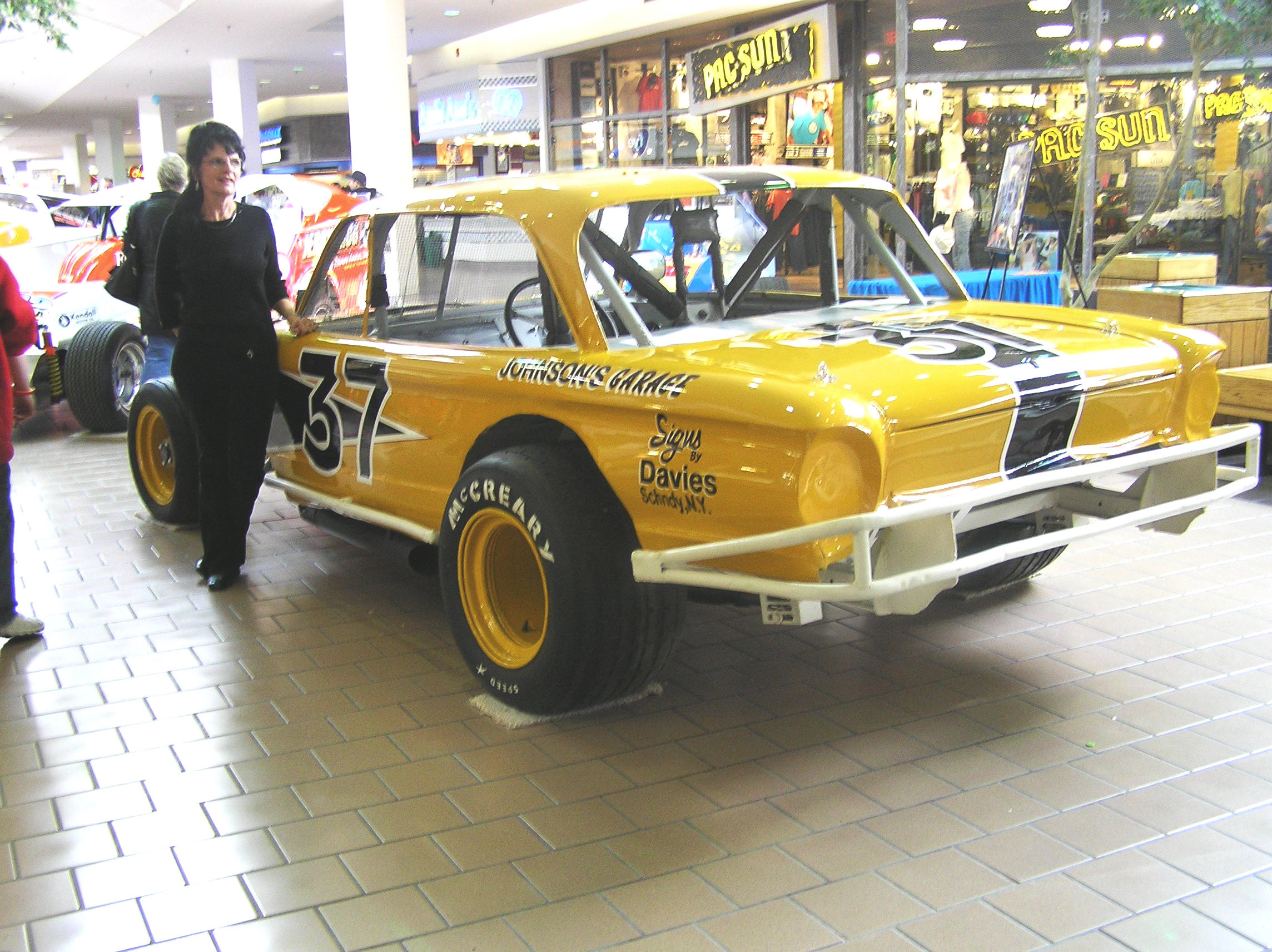 I linked the Fairmont Speedway page to the recently - begun Norm Vadnais Photo Page.
August 3 I found this photo of Lee Delphia and I promised I would put it up for the Brian Delphia team.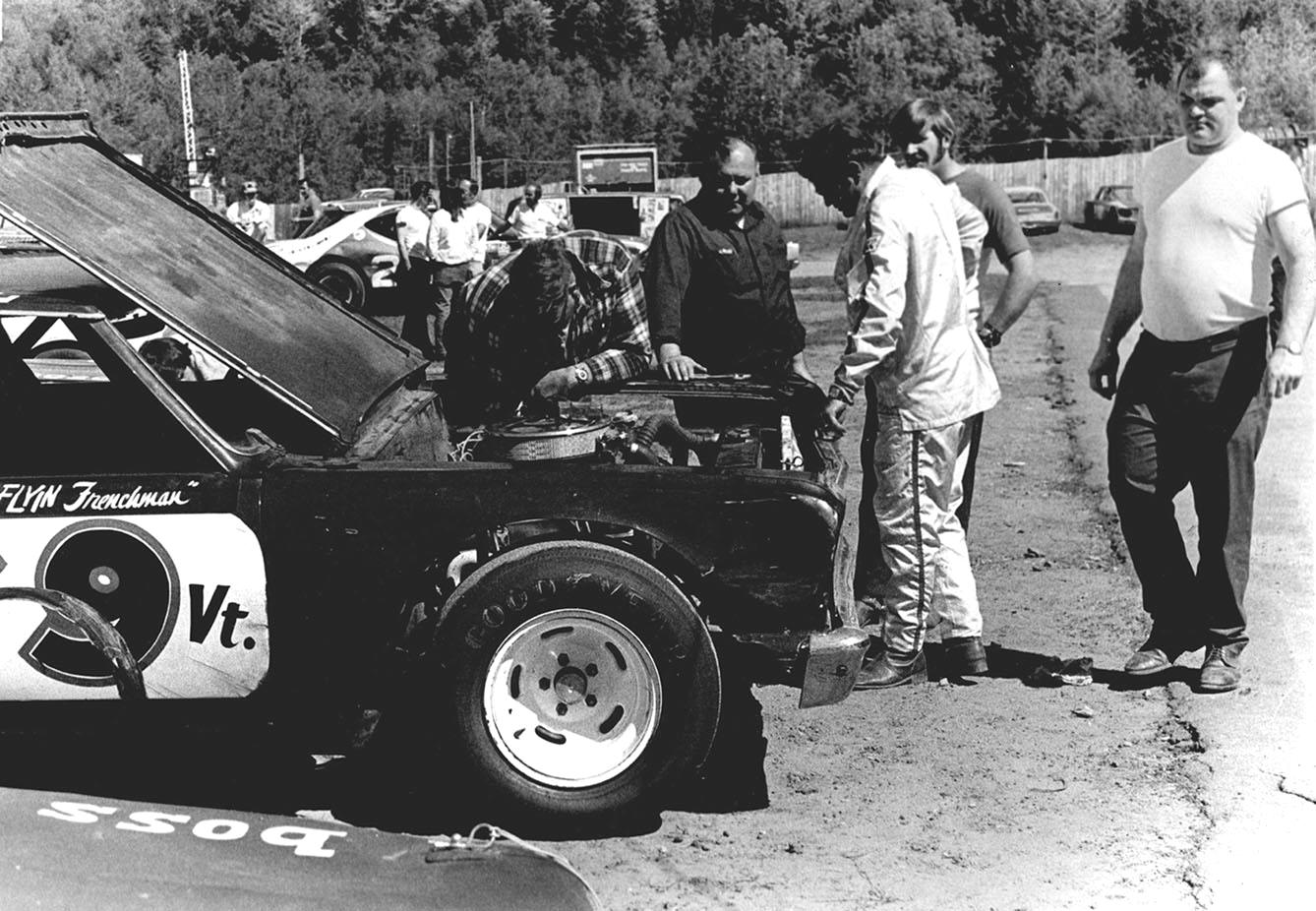 ACT Archive Photo Courtesy of Cho Lee
This is quite the group around Vince Quenneville's car in 1973: [from left] Norm Scarborough, Al Ryan, Quenneville, Lyle Yantz, and Lee Delphia, future Catamount Official.
August 8 I think I must lead an evil life. About in the same minute as my scanner began to go into death throes, We got a call that my daughter has been in an accident. At any rate, things may be even slower unless it turns out that the scanner will just need rebooting and Miranda didn't do herself much harm. Let us pray on that second one.
I had a great visit with Jack Anderson [finally] and borrowed some of the best early Colchester race track material I could have ever hoped for. To let people see a sample, I will put on a photo from each of the three tracks - at least as far as I, Jack, and donor Bob [Spud 19] Bushey can ascertain. More to come if things ever calm down around here. There are a few of Malletts bay, a few of Smitty's track, and actually several of the little-known Harvey Moody track on Brigante's land on Williams Road. I will probably start out with a Bushey Family Photo page, until I can triage where the pictures best fit in.
While waiting up to get word that my daughter is OK, but well banged - up, I added a few photos to the Malletts Bay page, and I added names and links to the list of possible drivers.

Bushey Family Photo
Thanks to Jack Anderson
Bob Bushey and the
Spud 19 on Smitty's
Green Mountain Speedway

Bushey Family Photo
Thanks to Jack Anderson
Action at Harvey
Moody's Colchester
5/8 Mile Speedway
Extremely rare photo

Bushey Family Photo
Thanks to Jack Anderson
The grandstands at
Walter Barcomb's
Colchester-Bayview
Speedway [Malletts
Bay]
August 10 I put some of the exciting old Colchester photos on the Bushey Family page, sometimes called SPUD 19ville. Get excited - get VERY excited. I am.
August 13 I found myself unable to back up this website on any disk due to the sheer size of the images folder. I got the bright idea of breaking the images down into four different folders. It took over three hours. What I didn't know was this would screw up over half the pictures on the site. It looks like I was able to recover what could have been an absolute catastrophe, but I'll have to come up with another way to back up the site.
I was so relieved to clear up the disaster I stayed up late and put on a few more items for y'all. I've added six more of those delicious photos to the Bushey Family page, called Spud 19ville.
I found out from Andre Chausse, son of the late Quebec legend Francois Chausse, that my unknown Canadian modified coupe [below] was his Dad's. It doesn't look much like Francois, but I guess Andre ought to know better than I.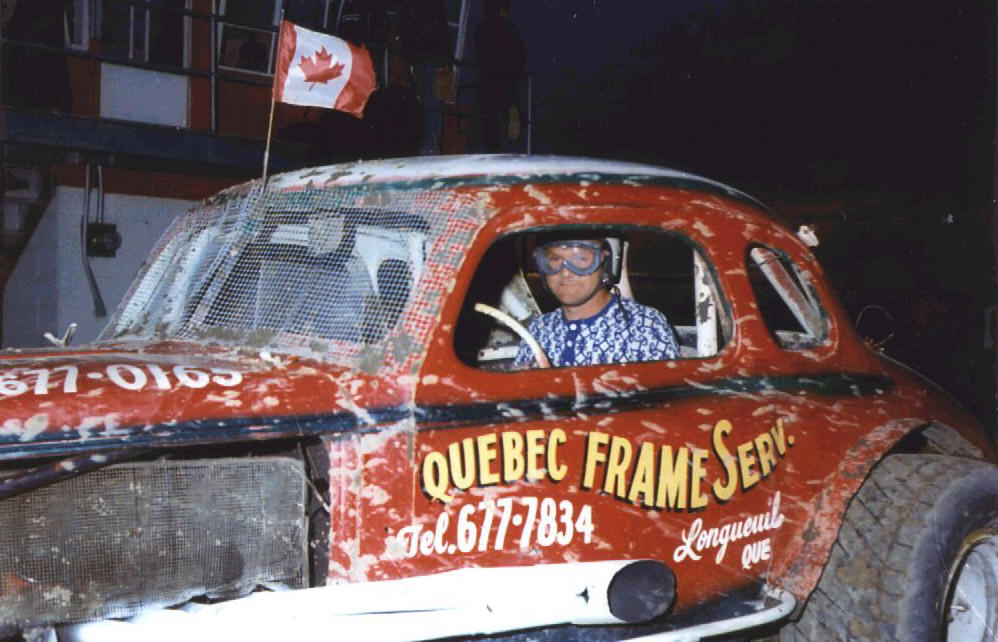 John Grady Photo

Hey Ben Gurney, look where I was this past week. For those who are clueless, this is Ashe's Hotel, Warrensburg, New York's local tavern. Back in the 1950's, it sat at the gateway to the old fairgrounds, the site of Ashland Park Speedway. I took three pictures, including this one. Check them out on the Ashland Park page.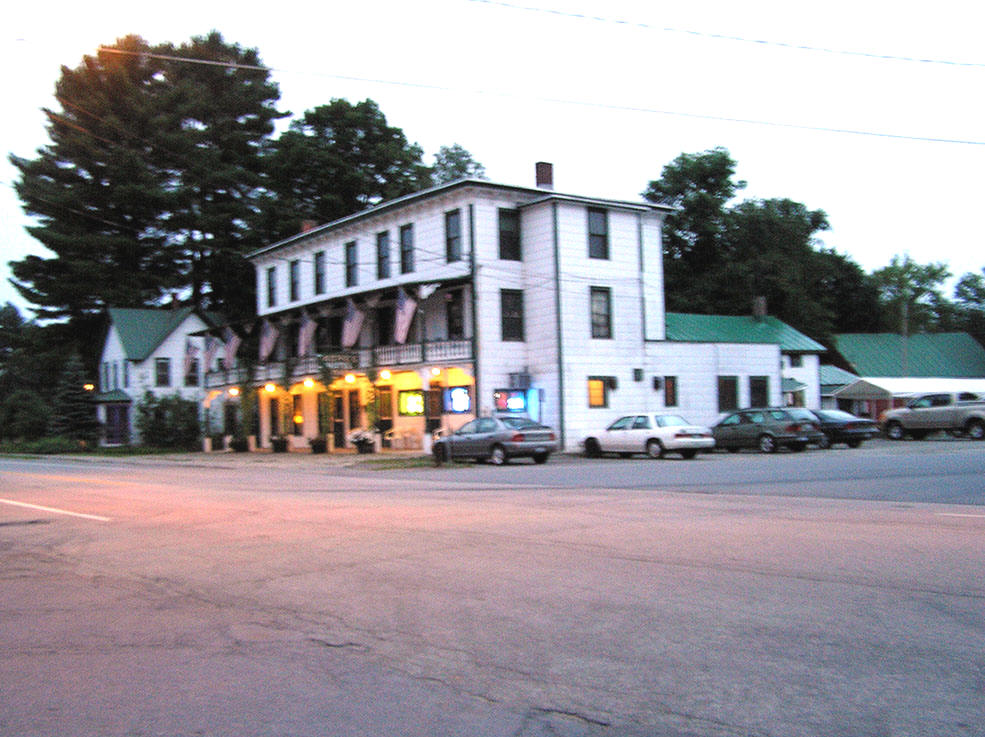 August 14 In putting a few Arnie Ainsworth photos [thanks Arnie] on the Lebanon Valley page, I found myself having to make a page for the Ridge Runner Racing Team of Fred Searing.
August 15 I put a copy of the 1962 program on the Fairmont Speedway page.
August 16 Before leaving to waste my time getting rained out at Barre, I stuck a few more photos on the Vince Quenneville page. I thought I had already put more photos on there than what I finally discovered. I have also put a link on the Main Catamount Competitors page to get to the Individual Driver Pages access page. Added a few onto the Ashland Park page.
August 18 l found a nice piece Big Bigelow had written on Catamount, so I am putting it on a page for those who don't usually get to see his column up in the Northeast Kingdom. I also added a link to Kilbey's, a huge Alabama website with a lot of great old photos. See the Links page. I also added a few photos to the Bob Brunell page. I heard Bob was feeling very well these days. I hope he can make it back up to Airborne some time when I'm there.
August 20 Many thanks to Bill Hoffnagle for sending me photos of the present sites of Fort Covington Speedway, North Ridge Speedway in Argyle, NY, and the Malone Speedway which is rumored to be re-opening. While none play much of a role in Vermont racing, they will be welcome additions to whatever sort of dead race tracks page I may have some day. I have been back working in the classroom these past few days, so work on the site will be pretty slow.
Congratulations to faithful site visitor Mike Visconti, who took his under-financed CVRA budget modified to a third place finish in that division's biggest race of the year. [And that, against some much wealthier teams]. I added some photos to my Reunions page.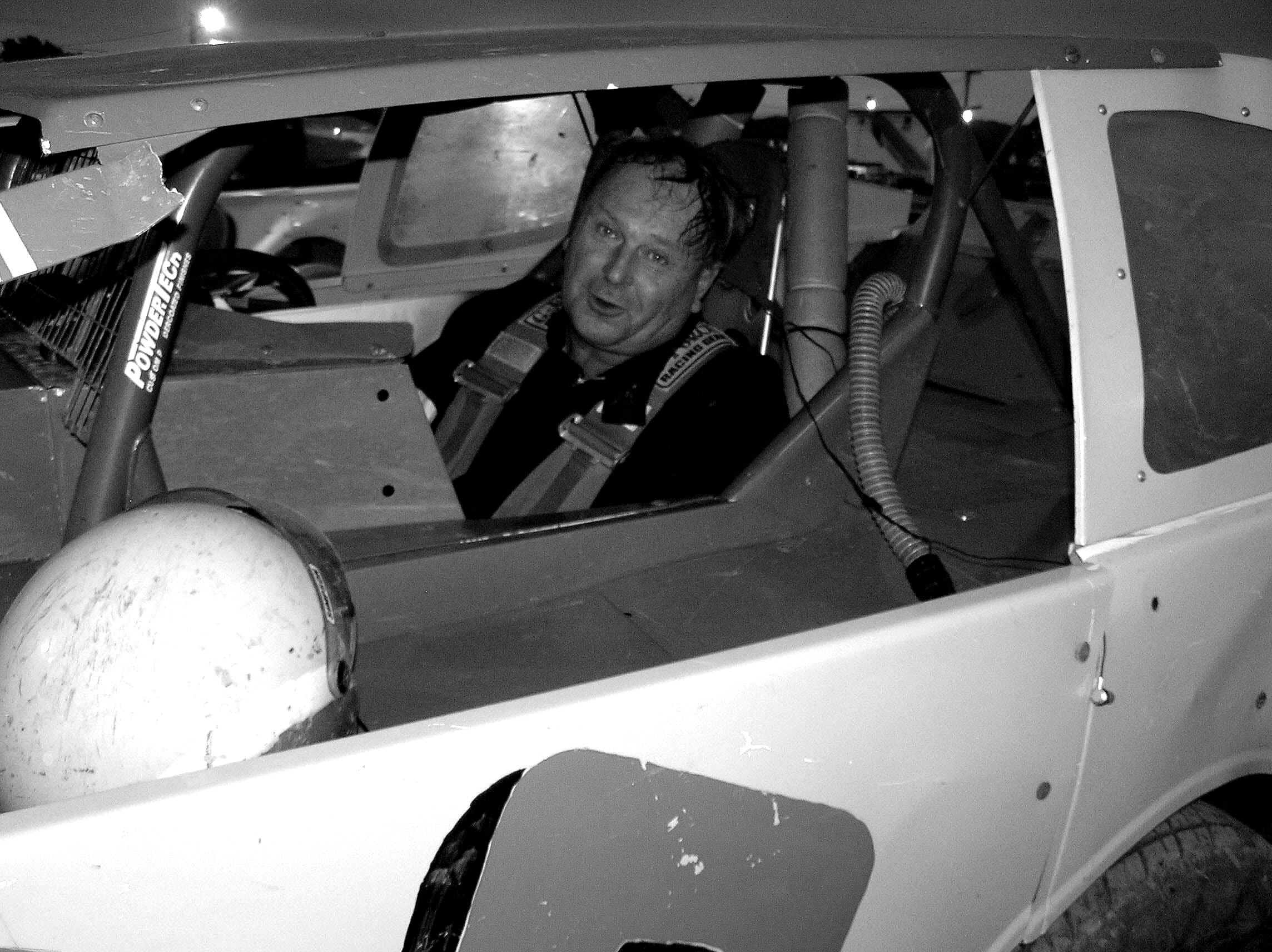 Bill Ladabouche Photo
Mike, in the #100
August 22 School meetings began today. I could probably work, non-stop, until the 29th and still not feel ready to teach. Today's teaching is so complicated. The days of just getting your lessons together and meeting the kids at the door on the first day are over. Like everything else, it has become needlessly complicated and no more effective. I will try [thanks to higher speed internet] to throw in a regular addition to the site until things calm down a bit. Today, I will add pictures of the Bear Ridge Speedway 40th anniversary meeting of area vintage legends to the Reunions page.
August 25 I took a break from School meetings to have lunch and put some photos on the Devil's Bowl page.
August 26 I went to the fair today instead of doing this. I did make a small correction on the Lebanon Valley page, correcting the spelling of Bob Kudlate's name. I got some great photos from Bill Hoffnagle. He actually traveled around to Fort Covington, Argyle, and Malone, NY track sites and took a few shots,. What dedication ! Thanks Bill. Below is a sample of what will be going onto the Fort Covington page soon.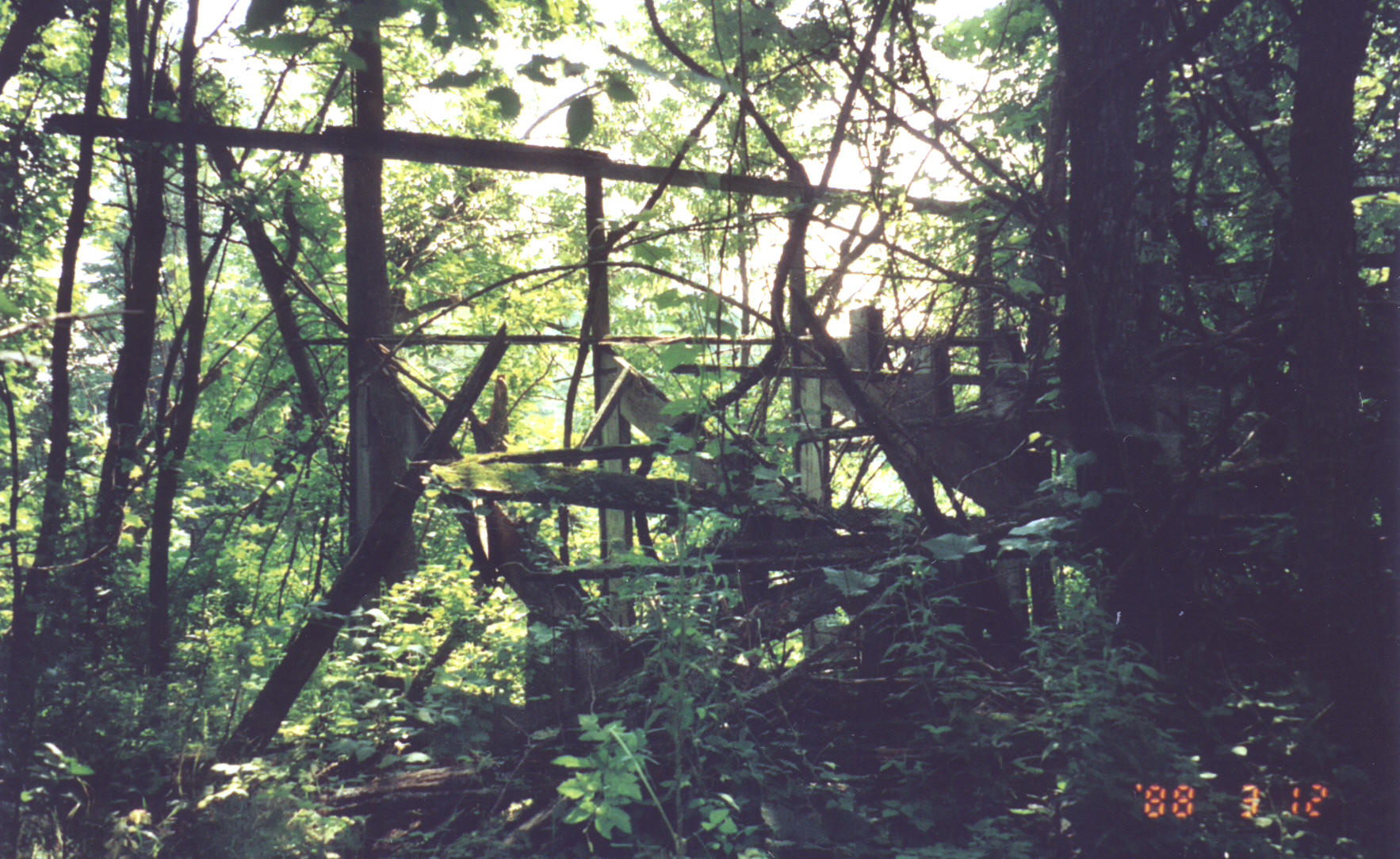 Bill Hoffnagle Photo
Remnants of the grandstands still remain on the Fort Covington Speedway site.
August 28 I have received some interesting emails and another small collection of 1950's Colchester, VT area photos from Cliff Owen, son of Gordy Owen who is seen in some of the Bushey Family page photos. Walt Ryan has informed me that, in at least one of the West Brattleboro Speedway photos [on the Cheshire Fairgrounds page], his father is shown in a car numbered X. Sorry stuff is coming slowly. I started school today and I have a ton of work to be done this year.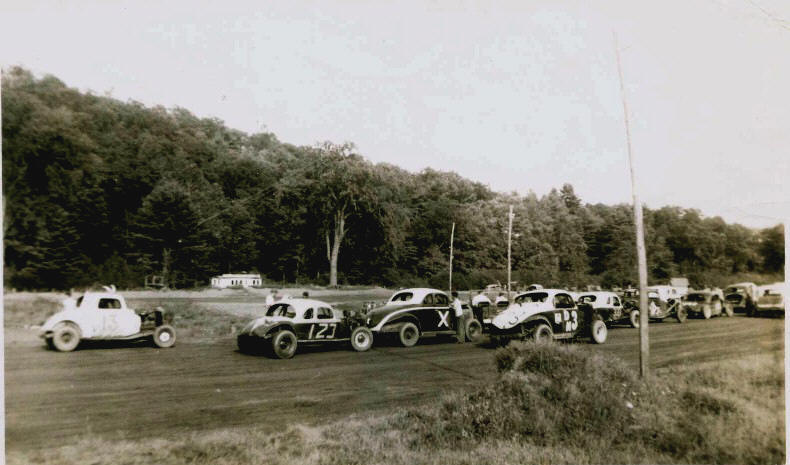 Courtesy of Lew Boyd
This West Brattleboro shot shows Joe Ryan, X, lined with others including
Buddy Bardwell [13] and DN3, Sonny Rabideau.
September 1 We are lucky enough to have hooked up with another possessor of a large vintage photo collection - John Rock, of Morrisonville, NY. Below is a sample of his photos from former Airborne and area photographer Bob Mackey. Also, congratulations to Jimmy Bushey, of Mooers Forks, on winning his first Tiger feature at Airborne.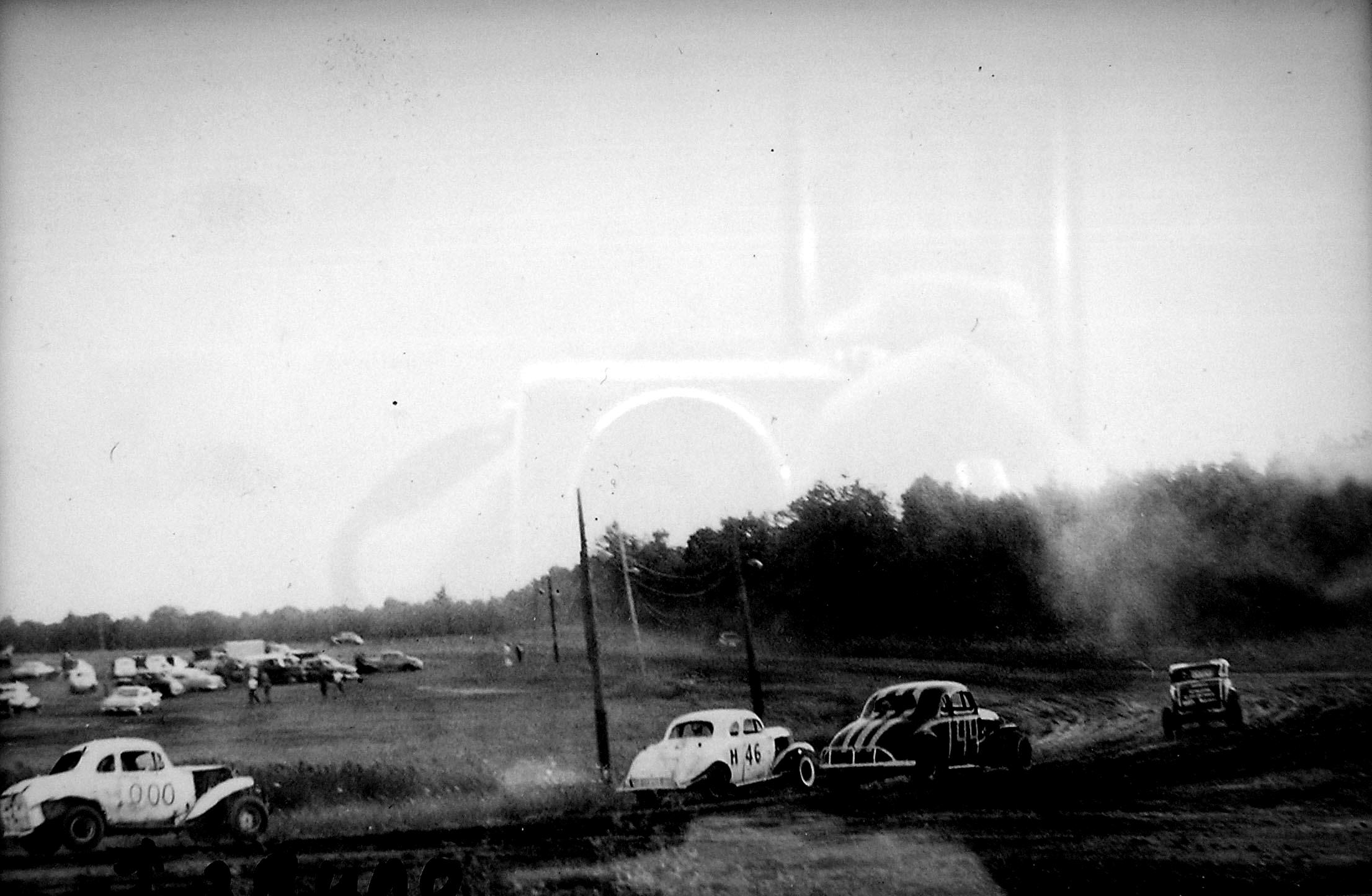 Bob Mackey Photo Courtesy of John Rock
An early Bob Bruno car 000 trails the pack at the original Airborne dirt track.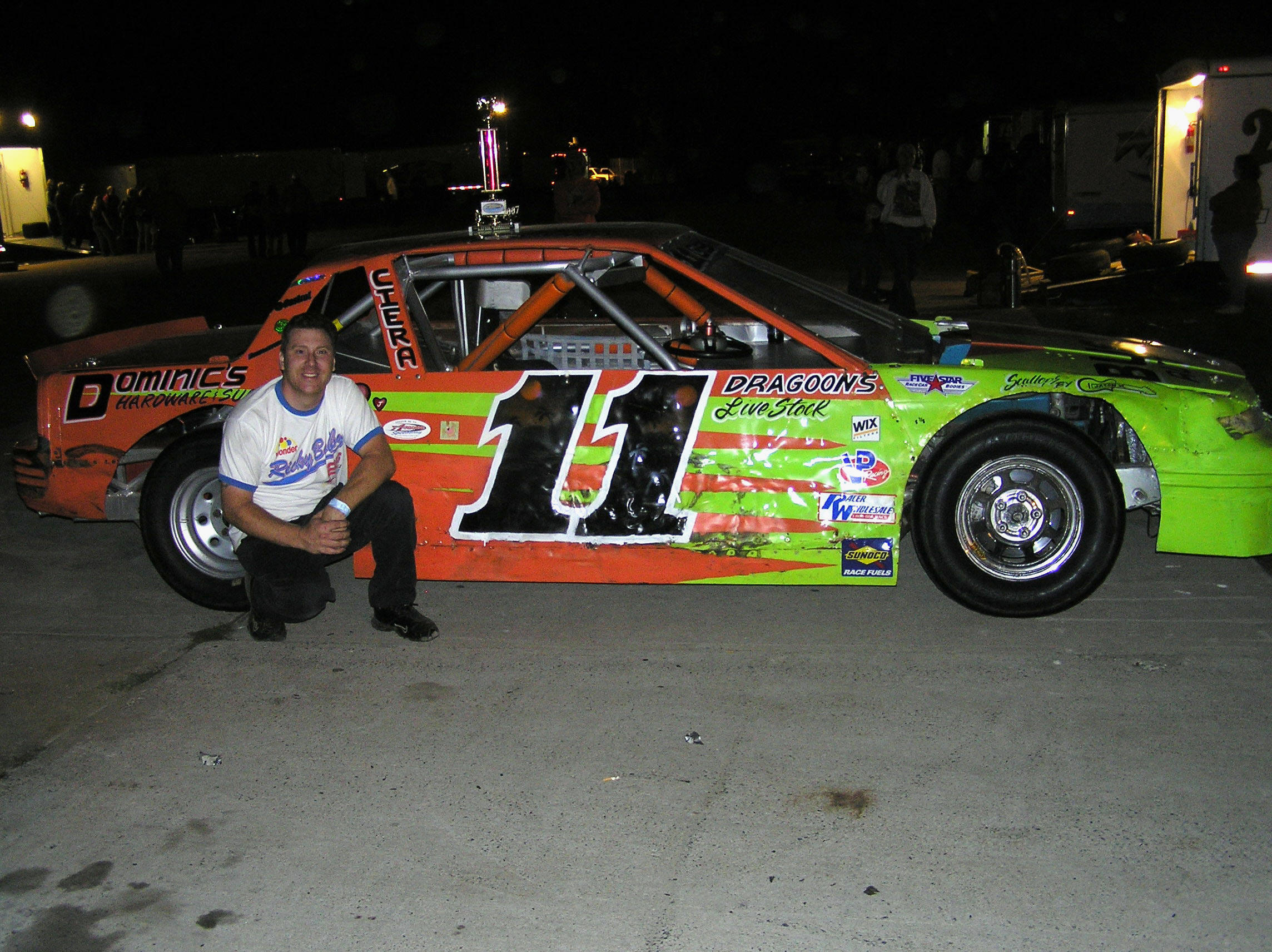 Ladabouche Photo
An utterly delighted Jimmy Bushey, enjoying his first win in the Tiger
Sportsman division at Airborne. It proves nice guys with low budgets can still do it.
September 4 Pausing from about ten thousand things I gotta do for school, I have put a couple of John Rock photos, by Bob Mackey, on the Airborne Speedway page.
September 5 I received a nice selection of Bruno family photos from Dan Bruno, who I assume is cousin to Mike Bruno, the Devils Bowl and Airborne modified pilot. Below is a sample, for now. I also added a photo of Joe Goddeau and Junior Vorce to the late model section of Airborne Speedway's page. Added 3 Joe Ryan photos to the Cheshire Fairgrounds page.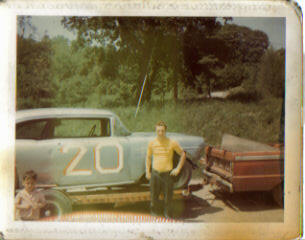 Bruno Family Photo
Ralph Bruno with a very early late model - maybe even Fairmont era.
September 10 I know this stuff should be archived for August. I'll get to it someday. I have added the Racing Bruno Family page. Made small improvements to the Fonda Speedway and Prehistory pages.
For all 2005 News and Updates Archives - Click Here
For all 2006 News and Updates Archives - Click Here
For all 2007 News and Updates Archives - Click Here
Go to the Site Navigation Aid Page