---
---
NEWS & UPDATES
January 2008
January 1 - Thanks to a nice letter from Gaylord G. Rowe, of Florida, I made a small correction on the Airborne Speedway page concerning the #26 driven by Bill Wimble. Sorry it took so long, Gaylord. I also put on a group of C. J. Richards' shots of earlier Airborne.
January 2 - I put pictures of John DeGraff on the Pico Raceway page and I moved a photo from the Fairmont page to the Pico page, as well.
January 7 - Hi peoples! Not much of an update. I just wanted to warn you that I cannot seem to access any email right now in the wladabou@adelphia.net address. You better use the wladabou@comcast,net address. Thanks to Dan Kearney, Frank Hanley, Arnie Ainsworth, Joe Grossetti, Russ Farr, Rick Sorenson, and Nick Teto for recent emails and contributions.
I have also added a little more information to the Welch's #77 page.
January 9 - I must assume that, since Adelphia no longer exists, they have finally stopped any further access to my old wladabou@adelphia.net address. Please use only wladabou@comcast.net for further email contacts with me. If you sent anything to Adelphia in the last week, I may never be able access it.
I have begun work on a page for Pete Corey, the Crescent Hillbilly. Check out the part I've completed.
January 12 - I have added photos on a page for Pete Corey, the Crescent Hillbilly. I also put in my third column on the site. See 3rd columnA .
January 15 - I have added a page on Quebec driver Frank Hodge. It amazes me how many important cars this little-known driver had at his disposal. He is well-known north of the border; maybe now more of us down here can appreciate his career.
January 17 - Some minor changes were made to the Otter Creek Speedway page. A better photo was installed of C.J. Richard's 1963 All - Star sportsman race. Also, I changed some information about the 1959 Pontiac driven there in 1962. I added two photos of Walt Brown, Jr. to the Cheshire Fairgrounds page.
An important new source of photos has been opened to me. Bobby Castine has let me use some early Airborne Speedway - mostly the work of Bob Mackey. I will put them on the Airborne page.
January 19 - Thanks to info from Neal Davis, I have made some changes on the Bushey Family page. Also, additional thanks to Bobby Castine for a great shot at the old Colchester-Bayview track in Malletts Bay, Vt. I could use help in id'ing those cars. I also fixed some broken picture links in the Fort Covington section of Northern New York Drivers and Race Tracks. There is now a fourth column available to read - another from May of 2006.
January 20 - I added a couple of guys to the Whites Beach page who probably ran there, at least a little. I also updated the All Links page, adding the new columns and the Bobby Castine page.
January 21 - I am not sure if I already activated this page or not. Can't find it anywhere - let's put it that way. This is a page about my friend Al Fini and the semi late model cars of the 1960's. I called it The Remarkable Story of NEAR President Al Fini page.
January 22 - I just found out that the racing community lost George Janoski on Jan. 12. Sorry to hear that; I never got to meet the man. Below is a shot of George.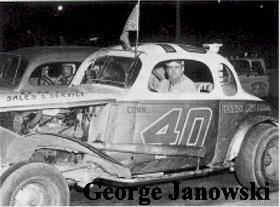 Courtesy of 3 Wide Racing Site
George and his familiar coupe.
January 23 - I added a small page on Lee Carpenter and his Studebaker Lark, one of the most popular cars in the history of Catamount Stadium.
January 24 - We are losing guys, left and right lately. Bob Copeland emailed to inform of the passing of Red Fisk, from Northfield, who drove in the Flying Tigers and limited late models at Catamount and T Road. Reginald Fisk was a familiar figure around the tracks, along with sidekick Merlin Griffin. He was also good friends with Lennie Stockwell. He'll be missed.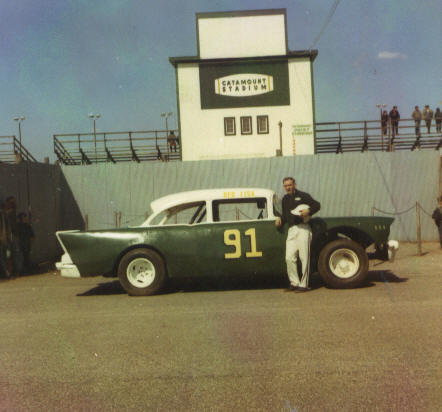 Courtesy of Rich Palmer
Ol' Red

I also added an early photo of Frank Hatch at Stateline Speedway in the mid 1950's.
January 25 - An exciting lot of photos came in from Phil Chastenay II. Thanks, Phil. I put a small section on Dynamite Al Sanville on the Claremont Speedway page. Check it out. More Chastenays to come.
January 26 - I put more Phil Chastenay photos on the Claremont Speedway page. Thanks, Phil. I also started a page for Tom Tiller.
January 27- I put more photos on the page for Tom Tiller.
January 28- I have credited a photo on The Pontiac page to Robert Dawes, of Epping, NH, who took it in 1966.
For all 2005 News and Updates Archives - Click Here
For all 2006 News and Updates Archives - Click Here
For all 2007 News and Updates Archives - Click Here
For all 2008 News and Updates Archives - Click Here