---
---
NEWS & UPDATES
February, 2007
February 4 I added a page on one of my favorite cars of all time - Bill Welch's #77. I also added a line of photos to the page called "It's What is in the Background". I will get around to archiving the news pages later, when schoolwork is not beckoning.
February 7 I received some pictures from Steve Blow today. I will get them up ASAP. I know a lot of you have sent in stuff that has not made it up yet; but it takes an ungodly amount of time to put pictures on. So, please be patient.
February 8 The long - awaited Malletts Bay photos from Red Dooley are here ! [Courtesy of Steve and Sharon Blow]. These are rare, highly -significant historical items. Thanks guys ! I have thrown together a quick page for most of the shots Steve sent - so people can see them right away. They should be integrated into other pages later. Click on the Red Dooley Photo page.

Dooley Family Photo Courtesy of Steve and Sharon Blow
Red Dooley leads F80 Don Smith out of Turn 4 at Malletts Bay in the mid 1950's.
February 14 Happy Valentines Day. I am using the school closing brought on by the big storm to put up a page on Al Fini, the former President of NEAR and his car restoration project.
I have begin to construct a driver's links system so people can find the individual pages of some of the drivers without going back through news and update archives to find them. This will take some time to actually complete.
February 15 Since there is mounting information on the race tracks in Colchester, Vermont, I have made a separate page for the most prominent track - Malletts Bay Speedway.
February 17 With sincere apologies for the long delay, I have added a page on nine photos sent to me from "Rockin' Ron" Klein, who ran Airborne for a number of years. Thanks Ron. I take particular note that his photos include a few of that 1984 season when I worked for Airborne as the publicist for Wes Moody and C.J. Richards. Click Here to see the page.
February 19 I added some photos to the Jean-Paul Cabana page, having also repaired a couple of bad links. I will add a link to make the page on that 1959 Pontiac that Cabana, DuBrul, Hanaford, and others ran from the mid '60's to around 1975. It will be linked from both the DuBrul page and from the Limited Sportsman Competitors page. I added a photo to the Northern New York Drivers and Tracks page. It is Vince Quenneville, Sr. at Saranac Lake, courtesy of Mike Watts. First photo of that track.
February 21 I want to thank Steve Blow, Ken Paulsen, and Mike Watts for recent pictures sent to me. I have corrected the Andre Manny photo in the Northern New York Tracks and Drivers page. Below is a prime example of the new Watts photos.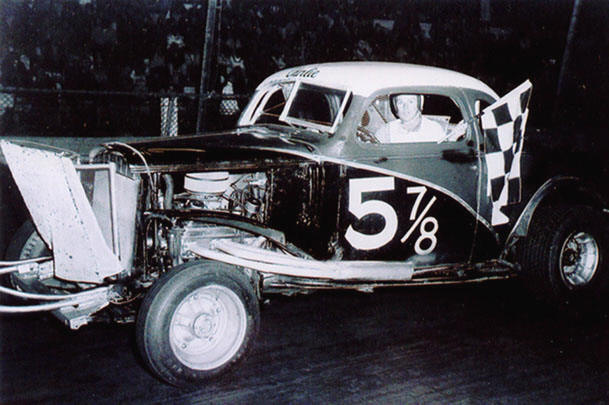 Mike Watts Photo
Charlie Trombley, at Fonda during the early to mid 1960's.
February 22 I added another row of photos to the Early Late Model Sportsman Competitors page, including Johnny Bruno, the late Devil's Bowl driver and father of present day driver Mike Bruno.
February 22 I added a photo of Winston Machia to the Limited Sportsman Competitors page, along with a link from the Don Bevins photo to his own page. I also added a couple shots of a Jay Yantz crash to to limited page, as well as one of Jay on the Hurricane Competitors page. A added a photo of Perry Poquette's Hurricane car to the one with his own photo.
February 25 I added photos of Kenny King, Don MacTavish, and Ray Forte to the Catamount Coupe Era page. David Turner was added to the Turner Boys page. Ricky Crouch was placed on the Catamount Bits in Time page. I finally started the page on the New Flying Tigers, although I am not overloaded with photos.
For all 2005 News and Updates Archives - Click Here
For all 2006 News and Updates Archives - Click Here
For all 2007 News and Updates Archives - Click Here
Go to the Site Navigation Aid Page