---
---
NEWS & UPDATES
January 1 - I thought I would just modernize the Catamount Late Model Sportsman Competitors page, changing the letter style and correcting a couple of addresses. It took in excess of two hours. As soon as I do anything to a page that wasn't changed AFTER the new computer came online, about 60% of that page will not link up properly and I have to do most of it over. This is going to be exhaustive and will limit how fast I can change things.
Being both foolish and stubborn, I continue to battle through the problems. I like my new scanner so much that I tried in on some horrible, after dark photos I took at Catamount's 1972 special modified show. Check it out [if the page behaves].
January 2 - I made the mistake of looking at the page on Uncle Art Stuart's Book - from Lebanon Valley. Not only did I notice it doesn't have much to link to, but about 25% of it disappeared. God I love computers. The quality of some of the photos from the Uncle Art book are poor because I didn't have this new scanner then. Mike Visconti, if you're out there. I'm still fightin' the fight with your book. It's safe , barring house fires or Hurricane Katrina II. Happy New Year everybody.
January 3 - I have archived the December News and Updates page. I will also have to start a 2009 News and Updates page, but that won't appear until the end of January. For quite some while, every page I update that was not worked on prior to the computer crash, is going to have to be about 50% re-done, so things will be slow. I have discovered three versions of the main page, alone - floating around in this system. I am, with heart in throat, going to re-introduce the first of the big pages - Stateline Speedway. It is so large , it may take more than a week to repair the mess this will probably cause. Wish me luck.
January 4 - After hearing from Phil Wagner, I want to amend the info on this photo to read:

Courtesy of Ron Blake
Maybe a Chuck Ely Photo
Bobby Joe Zimmerman, Jefferson, NY
I worked on another small page last night called The Big, Bruisin' Chargers of 1972. This was inspired by my finding a few photos from Catamount that I didn't know I had. The Stateline page did have problems when updated, but not as bad as I thought.
January 5 - Added Column #19 page tonight. Something I must have written around 2006.
January 6 - Enjoying the new scanner. I added a small temporary page with some early seventies cars. Better quality pictures than the old scanner. Click here for A Few Good Photos.
January 7 - Today, some great photos came in from Bob LaLancette of Fairfax. Thanks Bob. I'll eventually get them scanned, in between schoolwork, snowstorms, and contending with grandchildren. They'll, most likely, end up on the A Few Good Photos page. Take a look at the photo pairs below and tell me Bob and I weren't at the same car at almost the same instant.
January 10 - Perhaps inspired by a photo from Bob LaLancette, I built a small page called Bob Pratt's Chevelle. This was not a big factor in the history of Catamount, but I always liked the way it looked.
January 11 - I am displaying a photo from my infamous Kodak Brownie box camera. It's Bob Harrison's first car. Does anyone recognize it from the older days of Fairmont ?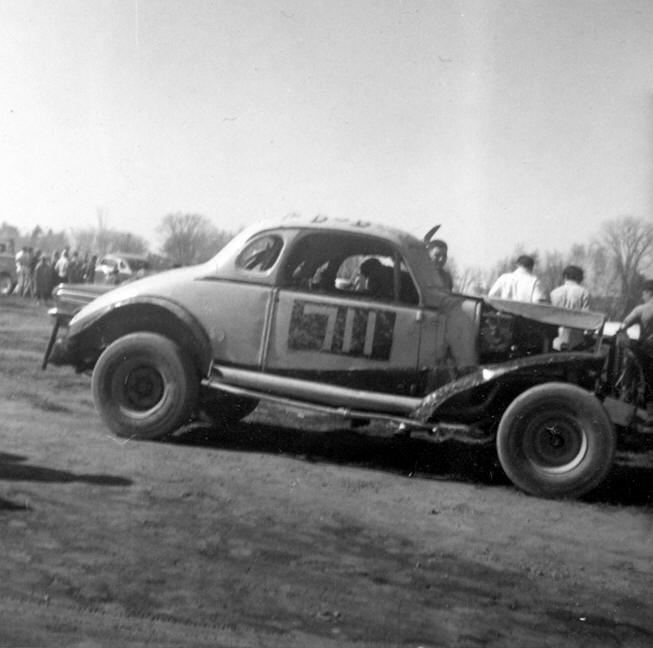 January 17 - I received an entire envelope full of photos from old friend Steve Pecor. Steve was one of the guys, along with Brad Wright, Ed Companion, and others, that I hung out with at Catamount in the days of the Hurricane division. Right now, I have prepared a page called Steve Pecor's Final Days Photo Page. Hopefully, it's not about Steve's final days, but rather those of Catamount Stadium. A lot more Pecor photos to come later. Steve, if you see this, thanks and remember - this is going to take quite a while for me to scan and use.
I had been working on a page for reknowned New York car owner Ted Vogel, and - although it is not done - check it out.
January 18 - A whole weekend of quiet. No grandchildren and we didn't have to take of anyone else either. There could be no better time to do a Chester T. Wood page. So I did. Made small improvements and updates to the Fairmont and Otter Creek pages. I was relieved to see they didn't suffer the severe disruption to kinks as some of their counterparts because those are two huge pages !
January 19 - I took advantage of Martin Luther King, Jr. Day lull to add eight photos to the Fonda Speedway page.
January 23 - I received an entire envelope full of photos from old friend Steve Pecor. I am putting some of them on a temp page called Steve Pecor's Temporary Picture Page, until such a time as I can get them onto the correct pages [and that could take forever].
January 26 - I added a page on the beloved Archie Blackadar, former NASCAR flagger and Chief Pit Steward.
January 28 - I noticed a page on the unidentified Chris Companion and Cho Lee photos. I know that Cho Lee and some other people sent me information on some of these photos either in December or January. I have to apologize because I have managed to lose some of this information when I switched over to the new computer. Cho, I have the email on #1 Mass., but I lost the info on the other peoples' contributions. Sorry guys. I added 8 more photos to the Bob Mackey / John Rock / Bobby Castine Photo page.
January 29 - A page on Claremont Speedway's inimitable Ted Brown was built tonight, when I should be doing homework.
January 30 - A page on the remarkable 1950 Ford - bodied Graham Trudo car of 1965.
For all 2005 News and Updates Archives - Click Here
For all 2006 News and Updates Archives - Click Here
For all 2007 News and Updates Archives - Click Here
For all 2008 News and Updates Archives - Click Here