<![if !vml]>
<![endif]><![if !vml]>
<![endif]>
Around 1976, Bob Pratt,a figure from the oldest days of stock car racing in Chittenden County, Vermont, had decided to get into the prestigious late model sportsman scene in Northern NASCAR. He built a 1964 Chevelle for former Flying Tiger driver Clem "Desperate" Despault of Waterbury, a big name in racing who had sort of slipped in obscurity by the early '70's.
The Pratt car, while beautiful, looked like it might have had too much emphasis on the body. The flared fenders around the rear wheels invited being banged into in the close racing at Catamount and Thunder Road. The car sported a bold blue color scheme with lettering by Irving Steckler, the best brush man around at the time.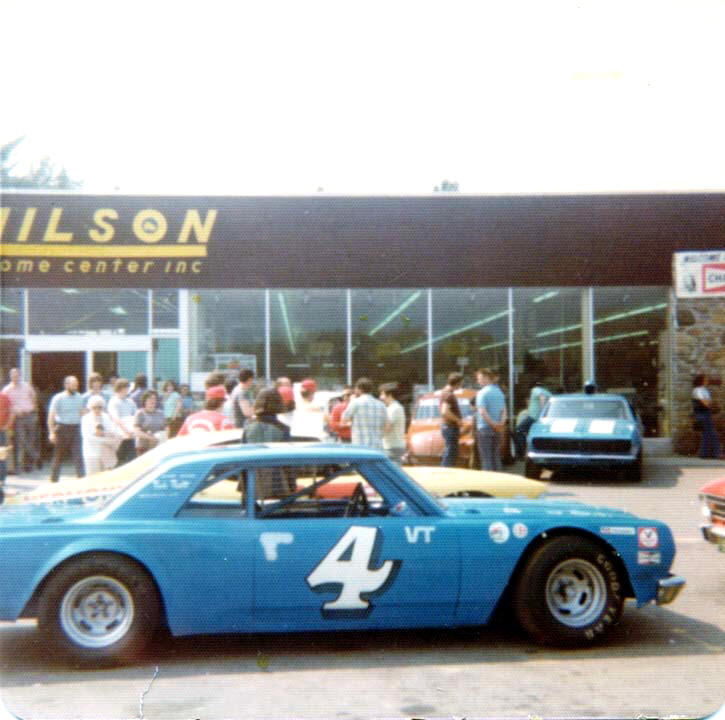 Photo Courtesy of Bob LaLancette
The fancy Chevelle drew more than a few stares at the 1976 Zayre car show.
It could hold its own with its next door neighbor, the beautiful Beaver
Dragon Vermont Mack car, one of the show winners that year.
Despault, usually a pretty rough-looking character when he drove, appeared the Spring Green practice at Catamount with a snazzy new driver's suit and goggles - both of which he never had used before. The Pratt crew was new, but it included a mix of young guys and some of the old hands from the Malletts Bay Speedway days. It promised to be interesting. The Pratt/Despault pairing did not produce results, andthe team acutally stopped showing up much after the middle of the 1976 season.
The following year, Pratt returned with family friend and second generation driver Cliff Owen, the young son of former Malletts Bay and Airborne great Gordie Owen. Owen did not have much more luck with the obviously - heavy Chevelle; and eventually the team sold the car to up and coming Hurricane star Mike Barry.
Barry, with his diminutive crew chief Randy Chapin, began carving weight off the car, and returned with a bright red paint scheme and the number 8. Barry, who was destined to be a n Oxford 250 winner later in his career, had a respectable season with the car before eventually upgrading.
The Bob Pratt Chevelle always had a soft spot in my heart. While sluggish, it was at least very good to look at. Being a sign man, myself, I always loved the look. I don't know what happened to it after Barry first upgraded to a later body Chevelle and ultimately went on to drive for big dollar operations like Remo Pizzagalli and Phil Gerbode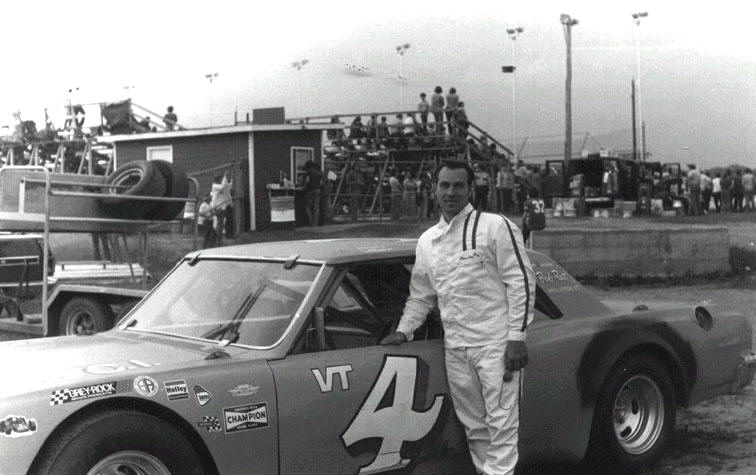 Ladabouche Collection
A snappy - looking Clem Despault at Catamount. Obviously the fender flares
were already catching hell. This is a great view of the pit
snackbar, loading ramp, and older pit bleachers.

Courtesy of Andy Boright
Despault enters the
Catamount racing surface

Denis LaChance Photo
Barry, in about the
same spot, two years later.

Source Unknown
Barry in action
Return to the Main Page
Return to the Main News Page
Return to the All Links Page