---
---
NEWS & UPDATES
December 1 - Another small update snuck in there, among the hours of schoolwork to be caught up. I thought these two were fun.

Arnie Ainsworth Photo
A young Bruce Carman, at the Valley around 1965.

Ladabouche Photo
Bruce Carman, at Swanzey in 2006, talking
to Jean Michaud.
December 8 - I got the last two months archived finally. I also added Column 17 to the site. It goes back to a January 2007 column I did on the Valley.
December 10 - I received a great email from Ron Blake, son of Russ Blake - who sent me some of Chuck Ely's work from Lebanon Valley. Chuck was of particular interest for me for a number of reasons: he was active in racing while being a sign painter; he was brother-in-law to Butch Jelley, and I also liked his photos. These few are courtesy of Bobby Ely, a son, and I understand the family is not too crazy about these ending up taken off my site and sold. To be honest, if I can figure out how to lock them, I will to respect their wishes. I have had people take my stuff and put it up for sale. The recently - donated photos are on the Lebanon Valley page.
December 12 - I'm 62 today, and I got the nice present of having a snow day from work. I was lucky to get a new contact person, Scott Nichols, who sent a photo of the remnants of one of the Bob Hoffer X9's. Thanks, Scott.

Ladabouche Photo
The car, in 1964, at Fairmont Speedway

Ladabouche Photo
The car, in 2008, in a gravel bed at the Hoffer Farm


December 13 - I took some time off from holiday decorating to create a page on Thunder Road flathead era driver Larry Granger. More will be added to the page very soon, as I just found I had more shots than I originally thought. Actually, I just put 'em on.
December 14 - As promised to friends and family, I added a Chuck Ely page, which has photos of him and by him.
December 18 - I added to the Chuck Ely page, which has photos of him and by him. Also, one of my students this year is related to former Northern NASCAR and Busch Series driver Joey Kourafas. So, Taylor, below is a good photo of what Joey looked like in his younger Mod Squad days. This photo is him receiving the important Governor's Cup trophy from Gov. Thomas Salmon.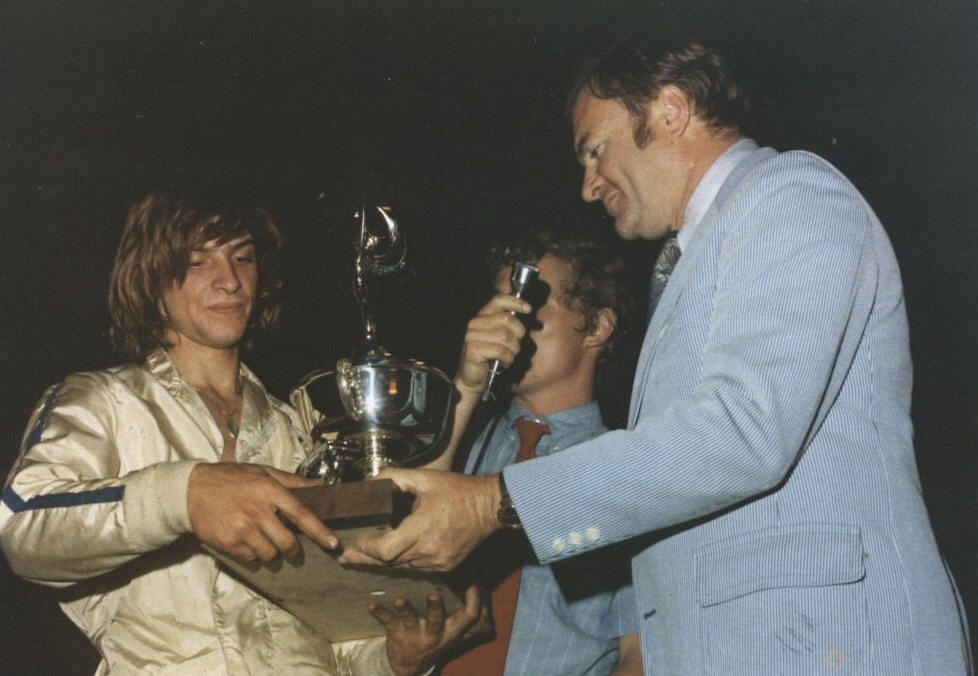 Photographer probably Bob Doyle or Earl Vierling
Joey receives the Governor's Cup from Gov. Tom Salmon.
December 20 - I upgraded a photo on the Pico Raceway page - the one of either Junior Bianco or Johnny Velletto with a win in the Utica -based #4 which would become Lou Lazarro's car. I received three photos from Ron Blake that have turned out to be Midstate/Morris Fairgrounds cars. Maybe someone like Otto Graham or Rick Parry can id them. I think one is Dick Turner. I am still hoping that someone knows something about Steve Hibbard's mystery ticket, as well.

Courtesy of Ron Blake
Maybe a Chuck Ely Photo
This might be Don Freidenberg, Oneonta, NY

Courtesy of Ron Blake
Maybe a Chuck Ely Photo
Bobby Joe Zimmermen, Sloansburg, NY

Courtesy of Ron Blake
Maybe a Chuck Ely Photo
Loren Holland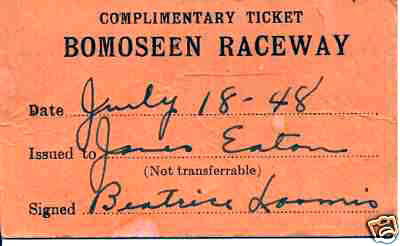 Courtesy of Steve Hibbard
More December 20 - I added another Dickie Larkin photo to the Lebanon Valley page. I can't find you who sent it - so let me know. I also added another page called Ghosts of Race Cars Past.
December 21 - On this, the shortest daylight hours of the year [ick!] I have put off package wrapping to add to one of the oldest pages on the entire site - Catamount Views. There are links at the top of the page to direct to the new additions. If every link does not work, bear with me. Ever since I got the new computer, some of the files become confused as to which pathway they should be taking - the new computer or my external hard drive from the original system. That's happening today.
December 22 - I added the Column #18 page, whose topics were Whites Beach Speedway and Bud Messier's #50.
December 23 - I added a photo of Marcel Godard to one of the oldest pages on the site - the Catamount Coupe Competitors. I also spruced up a bit and corrected some info. I put a photo of Catamount's first mini stock winner, Monique Proulx, on the Mini Stock Competitors' page.
December 28 - I had a comment from Clayton Grover, conjecturing that maybe Bomoseen Raceway could have been ice racing. I dunno. It's the first comment I've received on that intriguing ticker stub. I will also have completed a page on the Bethlehem Bombshell, Ronnie Marvin. You may still see some pages come up on the site that are missing all or most of their pictures. I continue to struggle with the transferral of files from the external hard drive to the new computer. Right now, the files I have on the computer aren't working right, so We are still operating off the hard drive.
December 31 - I have started a long - overdue Albany Saratoga Speedway page. I have my usual recent luck, about thalf the photos won't link. Let's hope - I don't have all day to mess with this. The last item I will be doing this year is displaying a new scan I made. The old scanner was terrible, but at least I knew how it worked. This one does a nice job but I can't master it. Here's a good old color of George Rogers at Fairmont, circa 1964.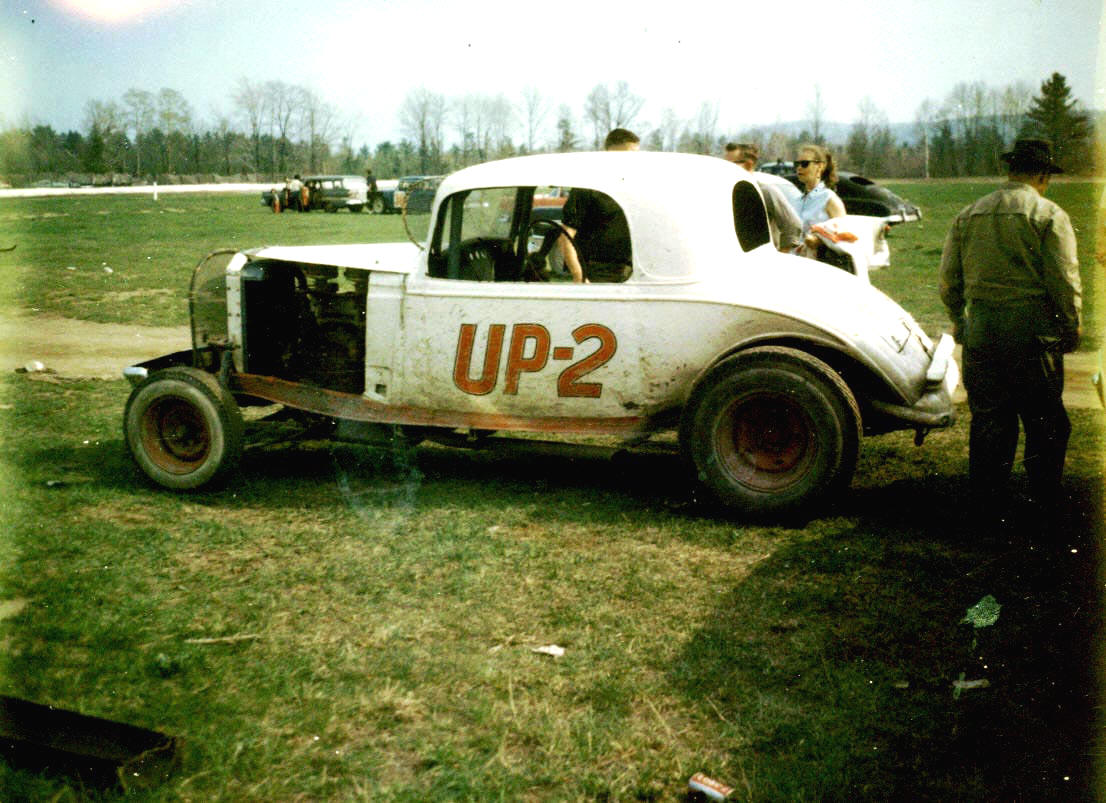 For all 2005 News and Updates Archives - Click Here
For all 2006 News and Updates Archives - Click Here
For all 2007 News and Updates Archives - Click Here
For all 2008 News and Updates Archives - Click Here