---
---
NEWS & UPDATES
February, 2008
February 4 - I have created a news archive page for all the 2008 monthly archives. With help from friends, I found a fantastic trove of old Airborne Speedway photos. If I am getting this correct, they are Bob Mackey photos, made available by John Rock, and being organized for Airborne by Bobby Castine. The site is http://s119.photobucket.com/albums/o139/the shooter666/Airborne, and I think it is Castine's. I did find some of my stuff on there, too, but that is fine. Later, I will put some more of that material on some of my pages.
I have made other recent acquisitions, as well. As soon as time [and school work] allows, I'll put as much of it on as I can.

February 6 - I will be adding to a page on the photo collection mentioned above. I will refer to it as the Mackey Photo page. Thanks to Ed Atwood for some good info over the phone. As promised, click here to see some Dooger Jones - owned car pictures.

February 7 - I have added to the Mackey Photo page.

February 8 - I have added to the Mackey Photo page again. There will be more added to the Airborne Ice Races page, as well. I have added the sixth column, from my not-so-weekly effort in Racin' Paper.

February 10 - I want to thank those guys at Racers Bored.com for what they have posted on the lost tracks section. I can barely get into the area because I don't really get how these chat lines work. If they can tell me who they are [either through email to me wladabou@comcast.net or through fellow member Neal Davis] I'll see that you are personally credited for your photos. With these new Rhythm Inn materials, I will start a page on t hat track. It definitely affected Vermont racing. I added an old flyer to the Claremont page.

February 16 - Now, I want to also thank Mark Tucker for sending a lot of useful information on his father, Royce and his uncle, Lee. I also added information from Chip Cormie. They were prominent car builders and owners in the 1960's. I have added three photos, three - to the Rhythm Inn page and one to Buddy Bardwell's page. I also added some shots to the Vintage Lineups page.

February 17 - With apologies to Arnie Ainsworth, I have added some of his donated photos to the Arnie Ainsworth page. More to come.
February 19 - Starting to act upon some information sent to me by Mark Tucker, I have made some additions and amendments to the page on the famous Pontiac that ran up here in the 1960's. I also did some correction and links work with the pre-history page, the single most useful page for those looking for the old days. Before having to head out for school and conferences, I put a few more on the Arnie Ainsworth page.
February 22 - There is now a page on the Gaylord Rowe T-800, an ancient stock car from the North Country of New York whose remains I located last year. Thanks to all who helped with the photos, like Bobby Castine, John Rock, Chris Companion, and especially Eugene Bushey and the boys. I found some more fantastic photos on the racersbored.com site. Thanks to contributors like mod134 and Phillie. That's a great site, if you aren't familiar with it.
February 23 - There is another photo added to the Black Jack DuBrul page.
February 25 - While away from any web access, I created a new page on the Young and Vine #75, an old-guard sportsman team from New York. I have wanted to do a page on George Baumgardner for ages - so, here it is.
February 26 - While experimenting with layout, I created a page for the NASCAR points for the Otter Creek Speedway's earliest year. Whoever it is who is after Butch Lindley pictures - try http://www.racinpaper.com/racersvoice/viewtopic.php?p=71185&sid=9c835fa77b297e2c058ec40f07dc2eb9. I added a Charlie LaDuc photo to the Hillside Raceway part of the Otter Creek page.
I have gotten some amazing and totally original photos from the LeFrancois Family, courtesy of Ed Fabian. They offer some of the first actual photos of the old Fairmont Park Motor Speedway of the young Family, in Fair Haven. Vt. Below is a sample of one of the many pictures I will need help identifying.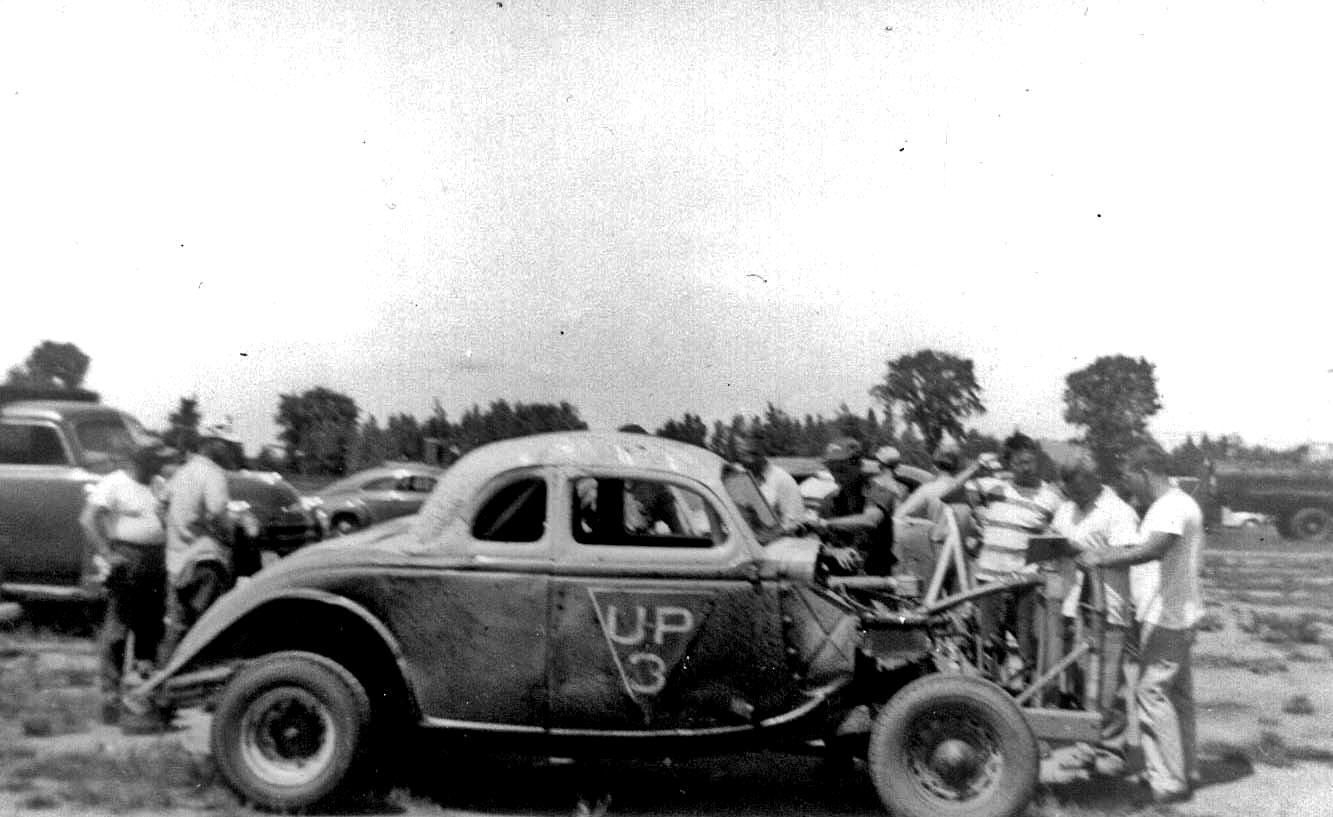 Courtesy of Mark LeFrancois
This is probably connected with George Rogers. I think the number was a take-off
on his UP2 number that he used for many years. Taken at Fairmont .
How about this beauty from John Rock and Bobby Castine [photo by Bob Mackey] ? It's supposedly the Malletts Bay or Colchester-Bayview track. There is now another controversy over the names of the tracks in Colchester during the 1950's. Ronnie Barcomb now says his uncle Walter's track was never called Colchester-Bayview, and that Harvey Moody's track [which I thought was Green Mountain] was Colchester-Bayview. Does anyone out there acutally freakin' Know ??!!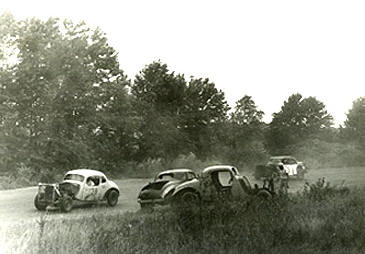 Bob Mackey Photo, thru efforts of John Rock and Bobby Castine
Does anyone recognize any of these finely - honed racing beauties ?
February 27 - I'll be adding photos, here and there, as I process them from three separate sources. I'll try to apprise of what and where the changes are made. 1. Allie Swears, car owner, on his own page. 2. Jim "Sapphire" LeClaire on the Airborne page. The Airborne page is very disjointed, so I spent considerable time starting to put photos into separate eras - for the coupes and the late models.
February 29 - After digging around in one of my temporary folders, I found some more photos; so, I put a few more on the Arnie Ainsworth page. Also check out some Ainsworth stuff on the Lebanon Valley page. I am making a calculated guess that a recent photo from Al and Andy Ward is from the the ancient Morrisville track, so I will be adding it there. I also stuck a few more shots on Butch Jelley's page. Go Clarence !
March 3 - In response to a question from Paul Belfay, I added photos of the vestiges of Northeastern Speedway from me and from Justin St. Louis. Thanks Justin !I am going to have an upcoming features page that previews upcoming projects, like new drivers' pages, for instance. I have tried putting a few more photos on the Thunder Road page. I'm having a very bad time with the tables on that page, so I can't guarantee what it's going to look like.
March 4 - I made a few updates to the Malletts Bay Speedway and Race Tracks in Colchester pages. The waters continue to be muddied, in the case of getting straight facts on the five race tracks in the town of Colchester, Vt. Now Ron Barcomb [former driver and nephew of track owner Walter Barcomb] has insisted that the main track, usually referred to by most as "Malletts Bay", is not Colchester-Bayview and never was. He claims the Harvey Moody track, which I have been calling Green Mountain Raceway is actually Colchester-Bayview. Who knows !? It's very exasperating.
For all 2005 News and Updates Archives - Click Here
For all 2006 News and Updates Archives - Click Here
For all 2007 News and Updates Archives - Click Here
For all 2008 News and Updates Archives - Click Here