---
---
NEWS & UPDATES
December 2 I have archived the November News and Updates page. Ye Gods ! 2007 is almost over !
You will also find a new page on Buddy Bardwell, which can accessed from here, from the New Hampshire Drivers Link Page, or from the New Hampshire Boys page.
Later, I started the links page that links up to various columns I have written in Racin' Paper. I know that most of you can't get that paper. Unfortunately, columns previous to March, 2006 seem to have disappeared when My son had to re-program my computer.
December 6 I have received two nice emails. From Sharon Dooley Blow, I have gotten a couple of corrections on Red Dooley, who appears on the page for the Malletts Bay [or Colchester-Bayview] Speedway. Other corrections are on the Red Dooley photo page. Also, New York historian, web master, and preservationist Rick Parry has pointed out that one [just one] of the Frank Trinkhaus 62's was not built by Frank - it was a former Drellos 111.
RACE CAR RECYCLING

Photo Courtesy of Conde & Parry Site
Irv Taylor with the coupe purported to be
the former Drellos 111.

Photo Courtesy of Conde & Parry Site
This Drellos car, seen here at Otter Creek Speedway, is supposedly later sold to Frank Trinkhaus and driven by Shoemaker again.
December 8 I have begun a page showing the [somewhat damaged] photos that were given to Jim LeClaire. There will be more put on later.
December 9 Mike Watts sent me a couple of photos and some helpful info. So, check the Airborne Speedway page for Dec. 9 additions. I will be including more of my former columns soon, but putting just one on is a surprisingly involved task. Consequently, I won't be whipping them on as fast as I had first envisioned. I made some corrections to the Vince Quenneville page - nothing too exciting.
December 11 Given the fact that this IS the Catamount Website, I thought I'd better a few Catamount pictures tonight, as the freakin' storm of the year creeps towards Vermont. The additions are in the Later Late Model Competitors. Thanks to info from Mark Yantz about his cousin, Jay - I have made some small information adjustments to Jay on the Hurricanes page and Early Flying Tigers page.
December 12 Thanks to some effort from Justin St. Louis, I have had a record of feature finish and payoff from the Colchester Bayview Speedway [or what most people call "Malletts Bay"]. I thought it would be nice if I finally got it on the page and saw if anyone can help with comments or with some of the missing names and numbers. I have made a correction on the Ricky Crouch section of Catamount Bits in Time.
December 16 I added a couple of pictures to the Catamount Hurricane Competitors page. Big storm - not much time right now. I have begun a long-needed Claremont page, which will have much more later.
December 17 In keeping with the recent New Hampshire emphasis, I built a page on one of favorite teams of all time - the Orange 333, of Leo Vallaincourt and driver Howard Stevens.
December 19 I have added 2 photos to the Orange 333 page.
December 22 I received a great photo from Ardyce Blohm, daughter of Northern New York driver Rod Ritchie, who is still well and living in Texas. I posted it, for now on the Airborne page. I learned, last night of the death of three important members of the Quebec [and our] racing community: Andre Manny, an early modified, sportsman, and late model superstar; George Loiselle, an important Quebec driver of many divisions; and Emile Grenier, an important member of Jean-Paul Cabana's inner circle. I saw Emile for years and never knew who he was. Aux tout le province du Quebec: J'offre mes sincères condoléances à toute la famille et aux proches d'Émile.


Emile

Courtesy of Jim Watson
Andre with the Gaston Ethier 27A

Courtesy of Lorraine LaBelle
Georges with Andre Beaudry
December 23 I may not be on to work on this again until after Christmas, so let me take this opportunity to wish everyone a very Merry Christmas.
December 26 I added another newly-acquired photo from C. J. Richards to the Fairmont Speedway web page. I had begun a page on Don Bevins, a 1970's Catamount driver and his memorable visit to my school with his attractive late model sportsman Dodge around 1972ish. I have the strangest feeling I did a page on Bevins before, but I can't any trace of it on the site.
December 27 I added another column to the Bill's Back in Time link page. They take an unbelievably long time to enter. Sorry about the wait. I also put more jalopies on the Claremont page. I placed two new photos on the page It's What Is In the Background.
December 30 I added some more photos to the Claremont page. I have also added some to the page on racing shows at Vermont fairgrounds, putting on material from Rutland and Essex. The photo below was so poor that Vermont Prints would not develop it back in 1963. I had to do some real phenagling to get it even into the condition you see it here. It was apparently a New York sportsman coupe #52 that came in for C.J. Richards' special sportsman show at Otter Creek Speedway in 1963. Does anyone know anything about it ? My theory is that it wasn't a prominent Fonda car - and it may have even been driven by an unknown named Bill Chepulis [who, for all I know was someone's crewman].
I don't know when I'll have this much free time again, so I will add a few more photos here and there.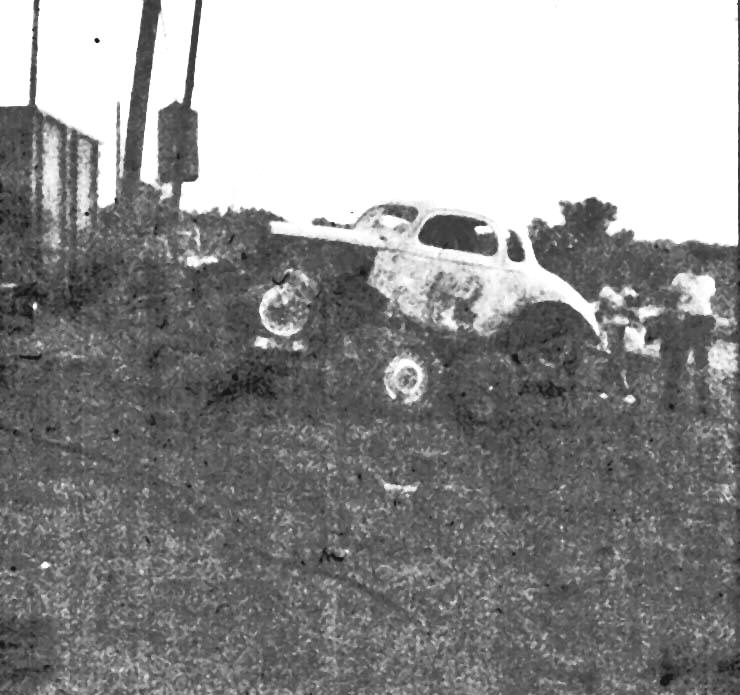 Photo by Bill Ladabouche
Here is the unknown NY sportsman being hauled out of Otter Creek,
late in the day, in poor light.
For all 2005 News and Updates Archives - Click Here
For all 2006 News and Updates Archives - Click Here
For all 2007 News and Updates Archives - Click Here