---
---
NEWS & UPDATES
April, 2007
April 9 I am temporarily up again. This computer has some serious issues, so I don't know for how long. Received a nice email from Jack Anderson with info. So, I have updated some of the captions on his page. I have also tried to fix that g----- !#@%$$ photo on Bob Brunell's page.
April 12 I know, I know, I gotta archive before April is over with. I added a few pictures to the New Flying Tigers page.
April 15 Despite almost getting killed traveling home, the conference at Saratoga on lost race tracks was an interesting experience. I had good talks with Brian Ross, Les King, the Proctors, Ron Hedger, and a number of other attendees [attenders, whatever]. Most of the tracks mentioned were not within the realm of what my website covers - ie, tracks that affect Vermont racing history. But it is evident that many New Yorkers are very conversant on Vermont tracks like Stateline, Otter Creek, Fairmont, and Pico.
I saw fellow web master Otto Graham, as well as photographer and historian John Grady. Rick Parry, another prominent New York racing historian presented with Graham. The list of presenters included a number of ex-drivers, including Ross. The museum, through Ron Hedger, plans to have another conference in November - hopefully with better weather. People with info on Mettawee, Stateline, Airborne, and other tracks within my sphere of interest are encouraged to get that info to me - if they so desire.

Bill Ladabouche Photo
This little remnant was the Whites Beach Speedway ticket booth. The sign
on the right side says "Thank You Come Again".

I returned to the site of the old White's Beach track and, although I couldn't get onto the private property on which the remains sit, I got a couple of photos, including the old ticket booth that these people keep in their front yard, for some unexplained reason.
In keeping with the frequent mention of Dick Nephew's name at the conference, I am working on a page for him.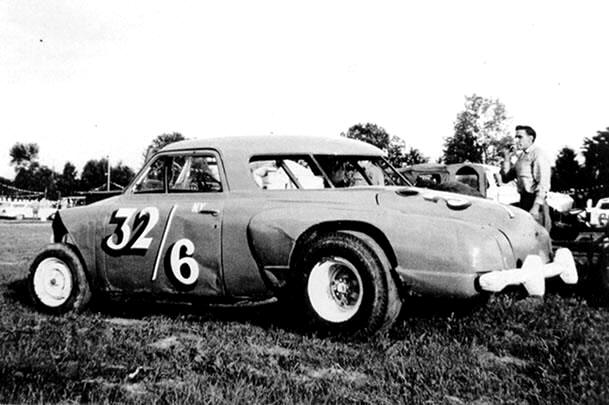 Courtesy of the Nephew Family
This oddball is a Studebaker shared by Dick Nephew and Rod Ritchie [hence
both their numbers on the car]. Both men's names came up in conversations at
the Saratoga conference.
April 17 I got the March News and Updates page archived finally [about in time to archive April :) ] I tried putting a huge Dick Nephew page up. I hope it works.
April 18 I added some links to the Entire Drivers' Link Page, adding such names as Dick Nephew and J.P. Cabana.
April 19 I added some photos tonight. Ernie Ried in an early car #99, at Airborne; Buck Holliday in the Geary C38; early Airborne action with Ried, Nephew, and more; Dick Nephew, with sons, in Canada; early Jean-Paul Cabana shot, with the Mohawk Chief; Cabana, winning the New Yorker 300 race at Utica-Rome; veteran NASCAR Pit Steward, Kay Hanson, who served at Otter Creek, and probably Malletts Bay - as well as numerous other tracks; and a hobby car from Saranac Lake Speedway [we don't have much on this track, where Brian Ross got his start].
April 21 I found out the identity of one of the cars in my Vermont State Fairgrounds pileup photo, from a 1963 Rutland Herald issue. It is apparently the #586 [it looks more like 58b], owned by Fred and Lee Bull, who had an Amoco gas station on the Panton Road near Vergennes. Bob Bushey, famous Malletts Bay driver, supposedly drove for the team. The photo sure looks like Bushey triggered the crash.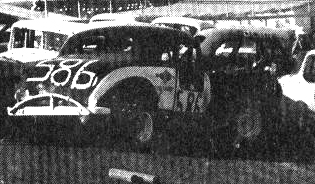 Courtesy of Ed Fabian
April 23 I am on a brief vacation, but I am going to try and put up a few additions, nonetheless. Check out the Whites Beach page. I added Link Pettit to the Pico Raceway page, after having acquired it from Les King, the Pico photographer. I added Jim Duell and Larry Caron to the Catamount Hurricane Competitors page; and Jean-Paul Cabana has a rare late model photo on his page.
April 25 I received two great emails lately but I am on the road and cannot respond back. Joe Grosetti, thanks for the photo. The problem on the Pico page is fixed, I think. Dave Brown, thanks for the aerial photo. I have BEGUN a page on Vince Quenneville, Sr., one of Vermont's legends. I have also made an Allie Swears page while on this trip. Thanks to Gary Nephew, I have enough photos now to make it worthwhile. Ed Ortiz has been added to the What is in The Background page because, in the background, is Tom Douglas, one of Jack Johnson's first car owners.
April 26 Before leaving this hotel with the high-speed wireless, I fixed links on the Pre - History page, to Ashland Park and to Whites Beach Speedway.
April 27 I added Ken Delong to the Whites Beach Speedway page. He deserves it - he ran the place, at one point. Thanks to the Otto Graham web site for the photo.
April 28 Please note the addition of a Drivers' Pages Link in the "The Competitors" section of my Main Page. I have gone through and straightened up all the links to driver and owners pages and link pages. It should be easier to find your driver now. I'd like to do that with the tracks soon.
For all 2005 News and Updates Archives - Click Here
For all 2006 News and Updates Archives - Click Here
For all 2007 News and Updates Archives - Click Here
Go to the Site Navigation Aid Page