---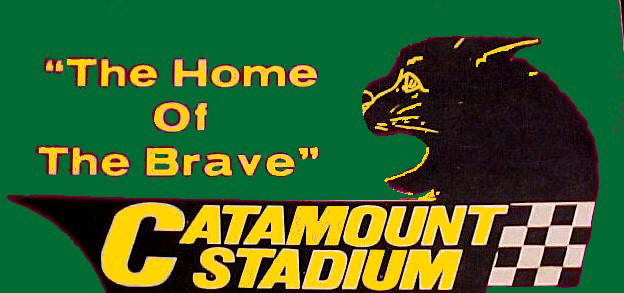 ---
NEWS & UPDATES
August 3 - I wanted to put out four photos that may not be historically significant, but are fun ones. I am also reasonably sure I have located the former Manchester, Vt. fairgrounds track that hosted some of the very first stock car races in the state.

Evelyn Elms Photo
Bob Dragon trying out a Bear Ridge modified.



Evelyn Elms Photo
Beaver Dragon trying out a Bear Ridge modified.

Source Unknown
Mike Perrotte looks amazed at how he got Tony Stewart to his
track without much media knowing.

Ladabouche Photo
Here you go, Rich. That's Rich Palmer with Robbie Loomis [lft]
and Dale Inman, at Thunder Road.
August 5 - I put another photo on the Art Rousseau page. Some fantastic, never-before-seen photos have just come into my possession, from the generosity of Rick Reome. They involve the Dutcher Construction racing team. The Dutcher company built Plattsburgh Air Force Base. These shots will be on the Airborne page and later, on Jackie Peterson's page. I am unbelievably psyched by these shots !
August 8 - Below is a shot given by Mark Radzyminski that typifies this season. It is Lebanon Valley after a terrific rainstorm. ThanksMark.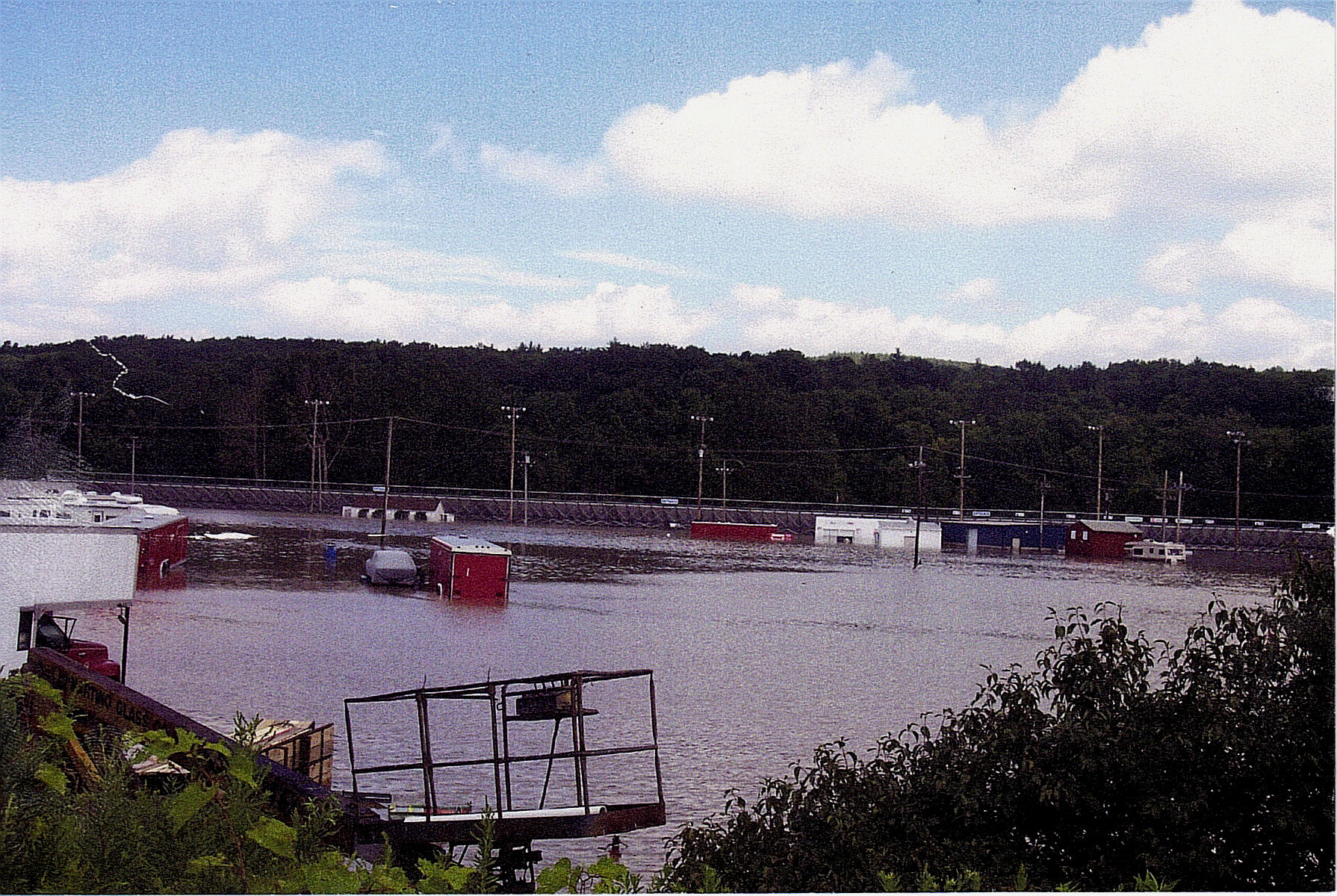 August 10 - This week past was a very productive one. Thursday night - T Road; Friday - book signing at St. Albans Beverage Mart; Saturday - wonderful book signing at Four Seasons Real Estate in Milton [pictures to come later] and then Airborne; Sunday - Devils Bowl. This week, I will be tied up a lot helping the oldest daughter get a house ready to rent out, so the site may not update much for a few days. I appreciate all you who visit regularly.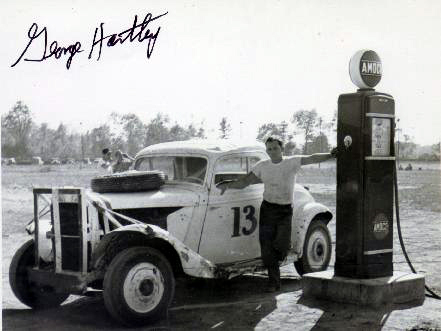 Frank Moses Photo
A neat photo from the Maine Vintage Racing Website. Nice site, if you haven't checked it out.
August 12 - I need to make a clarification. The recent Shaney Lorenzent photo in the column I had out last week is from the collection of Scott Haag. Thanks Scott. Below is another shot Scott sent: Hank Stevens, Rocky Hill, CT on the Stafford dirt. I also have been cleaning out old photos and came upon 2007 Ron Bouchard Vintage Meet photos. Check them out on the Reunions Page.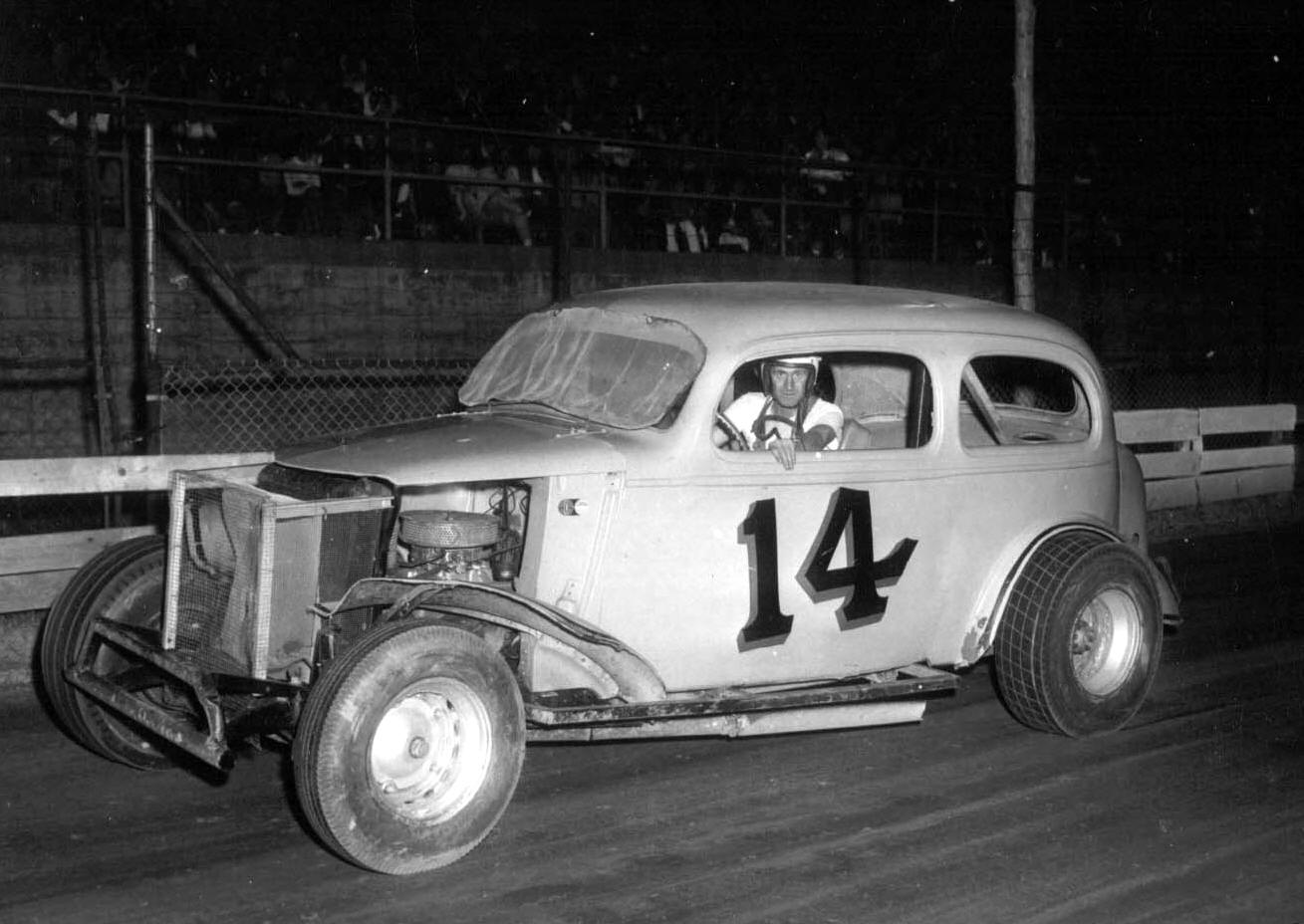 Shaney Lorenzent Photo Courtesy of Scott Haag
August 14 - I have added a photo of a mid 1960's program to the Lebanon Valley page, thanks to Joe Grossetti, a loyal and frequent helper to this site. I met Steve Leavitt [chassis builder and son of Gardiner Leavitt] and Jerry Donahue, from North Carolina last night at Thunder Road. Steve is into the vintage racing preservation and has built an accurate replica of one of his father's early coupes. I'll have that one here later on.
August 17 - The book signing made possible by Greg and Lloyd Gilbert, at Four Seasons Real Estate, was one of the high points of the summer for me. They went to great lengths to make sure Beaver's book signing in our home town was the best it could be. Besides around two hundred attendees, we had present-day and vintage race cars on hand, as well as a concession stand. My thanks to the Gilberts. Check out the event off the Four Seasons page.
August 18 - One of the delightful surprises at the August 8 book signing in Milton was seeing Lorraine Parsons, the Racing Grandmother, again. Below is a photo of Lorraine with the car she had converted from a Catamount Street Stock to one of the New Flying Tigers, around 1981ish. I am still looking for more photos of the original street stocks - people like Ray Sweeter, Don King, and the rest from that first year. I also have nothing much from Year Two, when you started getting John Clark, Cooper McRitchie, McAskill, and Flipper Erwin. I also added an Alan Ward photo of a late model heat at Devil's Bowl around 1981 or so.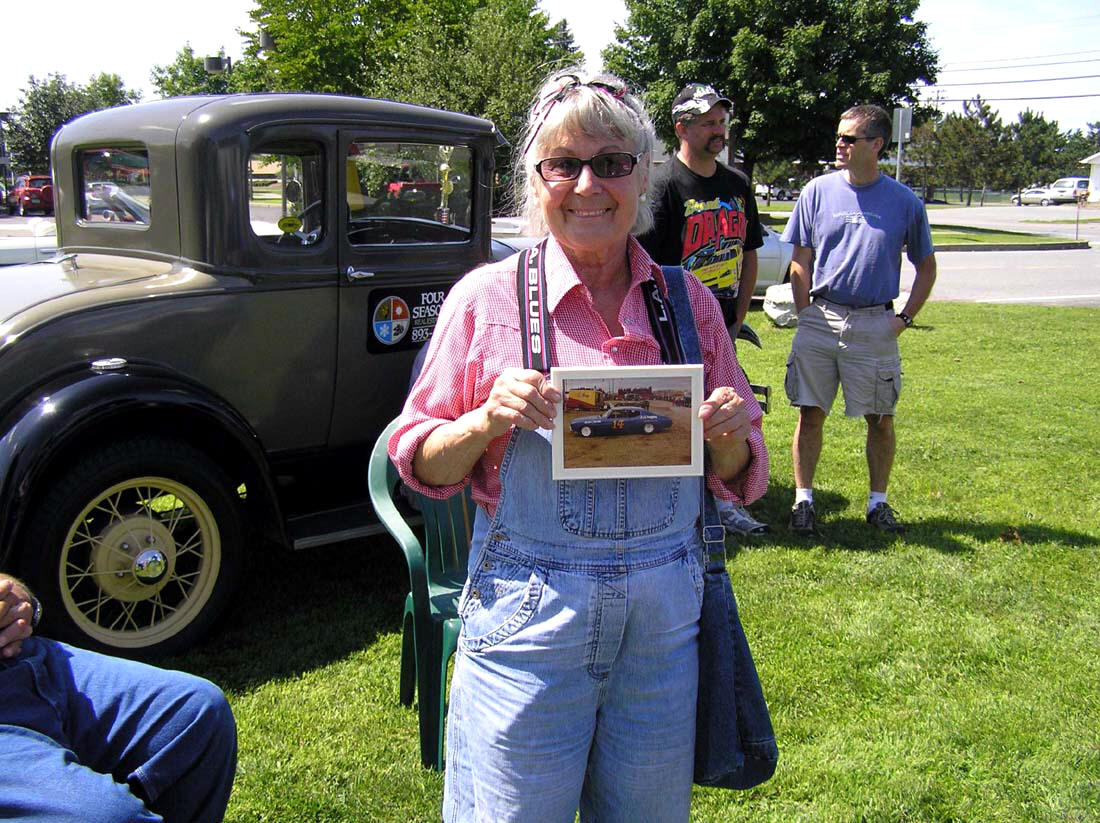 Also, I realize I have photos of most of the notorious journalists Lew Boyd [Finch Fenton, to some] hangs out with. Besides Finch, I have Jim Rigney, who co-authored the Fonda book and who works for the Coastal 181 publishing firm. I also have Dr. Dick Berggren [sp?], noted TV commentator and former driver. Now I need Bruce Cohen.

Source Unknown
Boyd [Finch] at Meservey's Lakeville Speedway.

HAMB Site Photo
This photo is identified as Jim Rigney. I don't
know if the kids is Jim or it is Jim's kid,
by Jim's car. The year is 1950, so probably
the kid is Jim.

HAMB Site Photo
Berggren, with his super, somewhere.
August 21 - Last night at Thunder Road, I received a windfall of photos from both the F.E. Hart family [thanks to Arnie Hill] and from Ray Lasnier. The Hart photos are a rare glimpse into the 1950's era. Lasnier's when I finish scanning them, will be 1970's. I have decided to do a Frank Hart page for the older shots.
August 25 - I still have a bunch of photos that are, as yet unidentified. Come on, folks - step up and help. Here are a few of the oldest ones. I may occasionally put one up about which someone already emailed me; but I lost a lot of emails in Nov. and Dec. of 2008 - sorry.

Courtesy of Wes Moody
Unknown heat winner
at Rutland Fair

Courtesy of Wes Moody
Unknown wrecked class B
car at Thunder Road.

Ladabouche Photo
Unknown flat head car
at Fairmont, 1963.

Source Unknown
Unknown late model
at Devil's Bowl, 1967.

Courtesy of Ted Vogel
Unknown sedan
at Fonda.
August 28 - I made a few minor corrections on the Frank Hart Photos page, and there are more shots to come later [from what I hear]. I attended the John Casey oldtimers' party at Thunder Road yesterday. Many thanks to John and everyone who put the affair on. I got to talk to dozens of interesting people, some of whom I had never really talked to before. It was a special treat to meet Tiger Tom Pistone, a legend in earlier NASCAR racing. Tom knew Paul Connors well, having raced in the same circles with the Danby, VT native who went on to a great [but anonymous in Vermont] career. This has made me realize that - while I did a two-column series on Connors - there is no page for him on the site. I'll have to rectify that. The Twenty-Sixth Column page on the site shows the Connors article.
August 29 - I was about to leave for Airborne. Good thing I checked their website because the races are scrubbed. This has been quite a month for me. I got to talk to a number of people I always wanted to meet. In addition to the shots below, I got to meet Richard Petty, Tony Stewart, Kevin Lepage, Jessica Zemkin, Steve Park, Kenny Schrader, and Bobby Allison.

Me and Tiger Tom Pistone.
This was a totally unexpected
pleasure. I always liked the way
he could pass the factory teams.

Me with Robbie Loomis
and Dale Inman. These
guys made Petty fly.

Me and chassis wizard
Steve Leavitt, son of
Gardiner Leavitt. Steve
is devoted to vintage
racing, like me.

Me and 1961 NASCAR
National Sportsman Co-
Champion Bill Wimble, a
fellow recent author.
I was able to add some photos and information to the Pine Bowl Speedway page from an excellent article that Ken Gypson wrote in Eastern Hot Rodder magazine. Thanks to Ken and to Joe Grossetti for sending it to me. I am asking for prayers for Tom Pistone's wife, who just learned is very ill.
For all 2005 News and Updates Archives - Click Here
For all 2006 News and Updates Archives - Click Here
For all 2007 News and Updates Archives - Click Here
For all 2008 News and Updates Archives - Click Here
For all 2009 News and Updates Archives - Click Here