---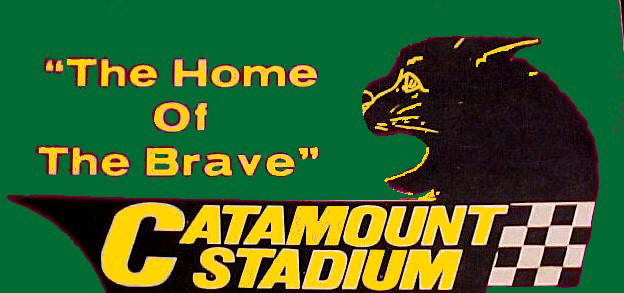 ---
NEWS & UPDATES
September 1 - Hopefully, the Pine Bowl page is corrected. I had to leave it pretty fouled up over the weekend because I ran out of allotted Filezilla time. I did a quick count of the All- Links page. There are over two hundred pages on this site now. Croiky, I thought I had around 35. I did a Casey's Party addition to my Reunions Page, but again, I ran out of out Fillezilla time halfway through. So it'll show up on the 2nd.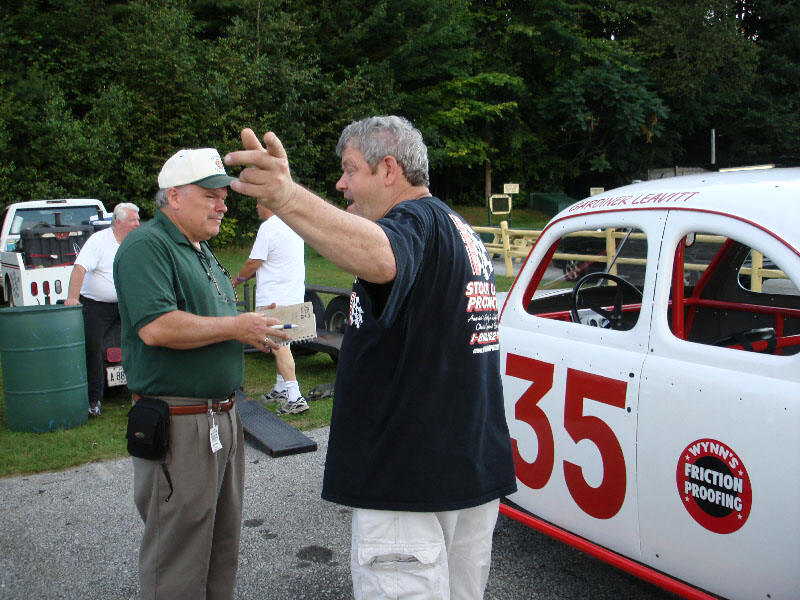 Steve McKnight Photo
It looks like like I have asked Steve Leavitt one too many questions, but we were actually having a great conversation.
In the background is Steve's friend Jerry Donahue and Cho Lee. The car, by the way is a replica of one of Gardiner Leavitt's cars.
September 3 - I added a comment from Len West on the Checkmates page, clarifying some info on those two old cars from Addison County Vermont.
September 4 - I added a photo of Butch Rogers in the late model section of Devil's Bowl, sent in by son, Tim. Sorry about the mess the bowl page is in. I won't be able to fix it in the next couple of days because of the heavy Labor Day race schedule and the problems I have with Filezilla.
September 5 - I added photo of the 2009 John Casey party on the Reunions page. These were from R. Scott Haskell, a nephew of Harold Hanaford. More to come later from Tim Brisson and his wife.
September 9 - Steve McKnight took the photo below. It begs for a caption. I also added two photos to the 2009 John Casey party on the Reunions page. I added links at the top of the Reunions page. I ahvce made small additions to the Dead Race Tracks page. I also started a page called Me and... that shows people I met this year.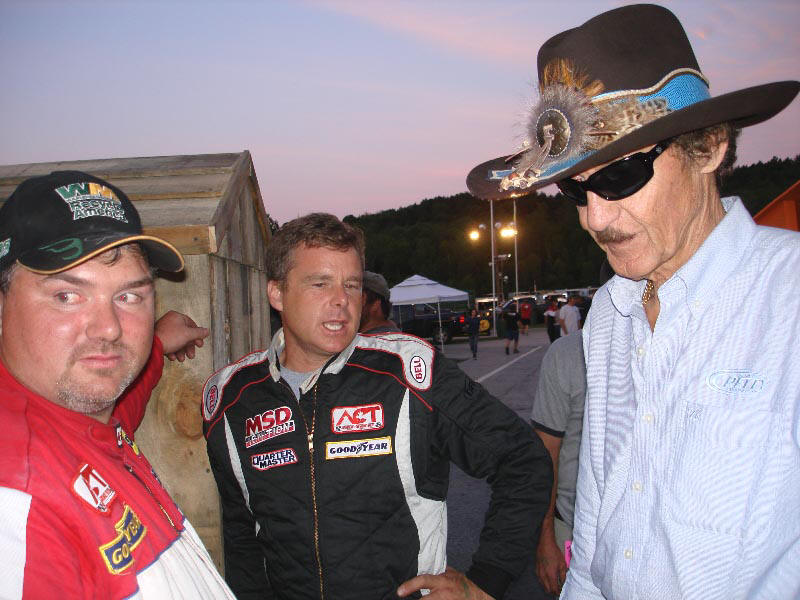 Steve McKnight Photo
....and that's why Tony here and me wouldda kicked your butt if we was drivin' back in the old days......
September 21 - Sorry about the long delay. I have been out of state - to Maine, with my mother and to Cleveland for one of my sons. Missed one of the last shows at Airborne. That blows. I got two great shots of Paul Martell's 3J from Scott Haskell and a bunch of wonderful site shots from Bob Grover. Below is a sample of the old West Brattleboro site. The rest [and any significant site additions] will have to come on the next rainy day.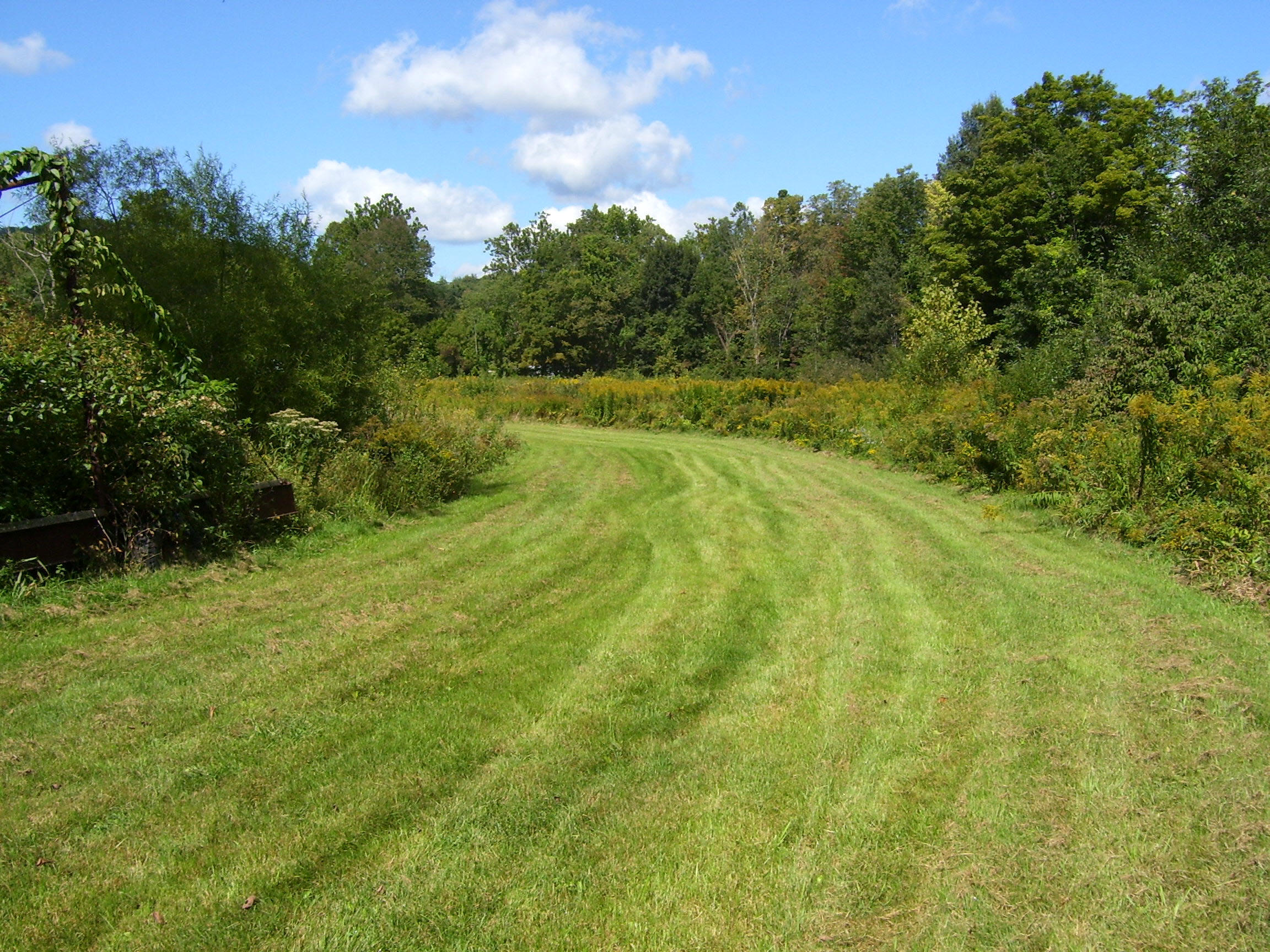 Bob Grover Photo
The backstretch at West Brattleboro, which appears in other shots to be near an old camping site or camper sales.
September 23 - I have some of the West Brattleboro Speedway [or whatever it was actually named] completed. There will be more photos from Bob and myself of the site, as ti is today, later on.
September 24 - There was a link in a photo caption on the West Brattleboro Speedway page. I would never install such a link in the middle of a caption. I am not sure how it got there and I didn't like the way it acted when I was looking at my site from someone else's laptop. If you ever encounter one of these, and it doesn't look like anything I would ordinarily install, do not click on it. I hope it has been removed. -Bill A wonderful photo has emerged from the Pine Bowl Speedway. Dan Ody has apparently not only rescued the car from its 40 year resting place, but he has had contact with children of the driver. Nice story.
If anyone knows about any of these men [presumably who ran at the old West Lebanon, NH race track] let me know: Maurice Condon, Billy Byers, Eddie Sharon, Charlie Jemery, Reggie Brown, Knobby Morrill, Warren Randlett, Rodney Herring, Warren LeRoux, Bud White, Hotrod Henerford, Bill Waterman, Leslie Manger, Bob Olden, Maurice Gilman, Carroll Weeks, Billy Morrison, Babe Mosher, Dick Hazen, as well as the family members of mine, whom I think all drove at one time or another: Johnny Downing, Bridgie Downing, Pop Goodwin, and Peanie Goodwin.
September 28 - There was some fantastic sharing at the qualifying day for the rain-delayed Milk Bowl at Thunder Road. Old friend Kevin Scott lent me a notebook that some unnamed woman used to keep track of almost every race that happened at T Road in its inaugural season. Someday, I hope to have most of it on some page. Problem is - it's 158 pages. I got some good Catamount shots from Mark Austin, as well as two photos from Kevin. Ronnie Bonnette lent a notebook his mother had used to record her sons' race progress at Catamount, mostly, in 1967. Again, it's a large notebook; so I may have to be selective. The names in all these contributions are great ! I did find out from another very helpful guy, Gary Clay, that Peanie Goodwin, mentioned in the September 24 notes, became a successful businessman and constructed the famous Timer Village attraction located near Quechee Gorge, in Vermont. Below, is one page from each of the donated notebooks, for a taste:

Courtesy of Ron Bonnette
This page includes Sonny [Fred Bonnette, Jr.], Homer Durkee, and John Clark. 55 is probably Bill Branham and 88 could be Red Roberts. Blake and Devarney owned the car - later numbered 63. Don Bushey became a Catamount tech inspector. Could Renaudette be Steve's dad ? Ray Manny was partners with Catamount Tiger champ Art Taylor.

Courtesy of Kevin Scott
Too much here to even comment on. I was particularly excited to see that
"2+1" car mentioned. I saw that at Otter Creek the following year, but not with
Dick Hawkins driving.
September 28 - I received three photos from Christian "Ti-Gaz" Genest, a friend from Quebec. They show what I expected to see after signing to teach in Milton, VT in 1968. The three are modified photos from earlier in the 1968 season, before the mods departed from Catamount, more or less permanently. See the Catamount Early Coupes page.
For all 2005 News and Updates Archives - Click Here
For all 2006 News and Updates Archives - Click Here
For all 2007 News and Updates Archives - Click Here
For all 2008 News and Updates Archives - Click Here
For all 2009 News and Updates Archives - Click Here