---
---
NEWS & UPDATES
July 1 - I have done the usual first-of-the-month archiving. I added a photo of Lionel Arel to the Rhythm Inn Speedway page.
July 5 - I am sorry things have been a little slow on here lately. We have a bunch of company, and I have been putting more time in on the book lately. I took a very timely photo last night at Devils Bowl. It's tells a great second generation story about Eastern NY racing. Check out the two shots below. There, Mike, something got added.

Courtesy of Mike Visconti
Art Visconti [lft] and George Cambrellis,
at Fairmont Speedway around 1963.

Bill Ladabouche Photo
Mike Visconti [right] and Tony Cambrellis,
at Devils Bowl, 2008. 2nd generation.
I am working on a new Thunder Road page. A good web page depends heavily on the use of what are called "tables";, and I have screwed the tables on the original page up so badly, I can't even control what they do anymore. So, a new page with pretty much the same material will appear sometime in the near future. Below is one new addition I will have for it .

Courtesy of Cho Lee
Norwood arena sent a lot of competitors to Vermont in the 1970's. Low budget runner Frankie Kuhlman, shown here with his wife or girl friend, could run well due to the shortness of the Thunder Road track. He actually won a feature off the pole at Barre one night around 1975.
July 6 - I put two photos on the Northern New York Drivers and Teams page, after having talked to Wes Moody and Jim Hoyt. I also fixed the captions under the two Visconti photos, as I had the directions reversed.
July 7 - I have added the 13th column and 14th column pages to the site.
July 9 - Check out this dream team from the 1950's at Airborne. I also added a row to the Early Pit Crews page.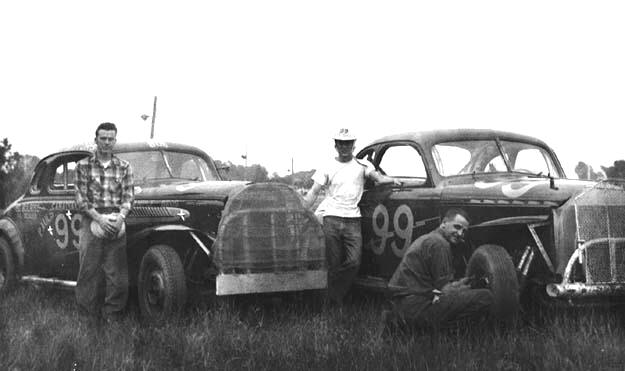 Bob Mackey Photo Courtesy of John Rock and Bobby Castine
Mose Surprenant poses with his two drivers, Charlie Trombley
[left] and Ernie Reid.
Do any of you Pico experts out there know of a Rutland native, whose last name was Goodrich, who drove at the track?
July 10 - I have made corrections to the Fairmont Speedway page and to the Column 14 page, thanks to information from Russ Blake. He also sent a dynamite photo of him at Otter Creek Speedway , which I'll try to insert. The correction is concerning a #39 car that ran a couple of times at Fairmont, incorrectly identified as driven by Butch Jelley. I also fixed another error on Column 14. I added another row of photos to the Early Pit Crews Page.
July 12 - I have made a correction to the Catamount Hurricane Competitors page, identifying Rex Shattuck. Thanks to Chip Letter, and sorry I forgot to do it before. I also added some drivers to the Malletts Bay [Colchester-Bayview] Speedway page.
July 14 - Thanks to a contribution from Deborah [Provencher] Danforth, I have added two photos of Steady Tony Provencher to the Pico Raceway page. I also put one in that shows the earlier version of the GE plant that sits on the Pico site.
July 15 - A personal note to Russ Farr. I got your recent email -can't seem to respond. My email system is moody [as is the whole computer]. I have added a little information on the Checkmate page, about that yellow and black Hudson race car. This is thanks to Don Tupper, who sponsors Gene Munger.
July 16 - I have begun a Charlie Laduc page, which is in its early stages. I will be probably getting a lot more on Charlie later this week.
July 17 - Wow ! How about those thunderstorms ?! I woke up to a huge [the first of four] storm and no electricity. It forced me to cancel my trip to Orwell to meet Barb Laduc. I promise to get that re-scheduled ASAP. At Thunder Road last night, Cho Lee was there with Lloyd Hutchins rolling tribute, the Bob Doyle Museum. A great idea. It's a rolling replica of Doyle's Bardahl truck which served the pits at several local tracks for years, while Bob also took thousands of photographs. Lee, the historian, has it full of old photos - mostly from T Road and Northeastern [which turned 49 today].

Ladabouche Photo
The Doyle Museum from the front.

Ladabouche Photo
The Doyle Museum from the rear, showing
the neat entrance ramp.

Ladabouche Photo
Local journalist [he actually rates credentials, folks] Dave Morse
visits the museum and compliments Cho on how good it looks.
I got several more photos out of the museum from the flathead era of Thunder Road and Northeastern. I will get them on the T Road site, as soon as possible. Here's a sample:

Courtesy of Cho Lee and the Bob Doyle Museum
Paul Martell takes a win with the 3J
July 21 - Having met with Barb LaDuc today, I now have about a zillion more photos of Charlie LaDuc and racing around Fairmont and Devils Bowl. I will add something to his page tonight, despite the lateness of the hour after I finished scanning it all.
July 22 - I will try to add some more neat things to the Charlie LaDuc page. Also, a few of their photos are appropriate on other pages. I'll do what I can. I added two new photos from Russ Blake to the Lebanon Valley page. From Barb LaDuc's generosity, I have four early Fairmont Speedway items to look at, including a ticket stub.
July 24 - I added a few of the LaDuc family photos to the Fairmont Speedway page.
July 25 - I worked with the Fairmont Speedway page, mostly nearer the bottom in the hobby division and the section on the Bob Hoffer car. The changes are too many and too scattered for me to link to from the top of the page.
July 28 - I am going to have to be in Cleveland for a while, so I am warning folks not to look for updates until a few days into August. I have had to put almost 12 computer hours into correcting a glitch foisted upon me by some unnamed bureaucrats in the state government. So, that's about all I have been doing lately. I think I fixed now what the a--holes did to us. Here's one more new photo to enjoy until then. Sorry.

Courtesy of Barb LaDuc
Gene Tetrault leads a 1965 field of sportsman cars out of turn 4 at Fairmont. We can recognize him, Quenneville [2nd place] Rabideau [far left], Charlie LaDuc [as marked], Louie Searing [behind Charlie, to right], Roger Gauthier [2nd from right] and George Rogers [right]. Can't tell who's behind Quenneville, but I bet the car behind and to the left of Charlie is Howard Stevens.
I started a Ward Brothers Photos page. Alan [the only one I really know] has been such a help and I have made him wait too long to get his stuff on the site. Thanks to both of you. There's a lot more photos to put on at a later date. Check out this Alan Ward photo of Red Mead's attractive Mustang from 1984. Check out the painted numbers on the pit fence. There is some real history there : I recognize Fast Eddie Ruggieri's 93, Jimmy Duell's 70, Charlie Benoit's 74, Dion's 27, Dave Green's 12, Jerry Driscoll's 90, Gary Bevins' 9, and maybe Mike Barry's 8.
I also stuck a couple of Ward pix on the New Flying Tigers page before my computer started acting up.

Red Mead talks to Owen Wimble as Alan Ward photographs his new car. Look at the numbers painted on the pit fence. They go back to at least 1970, when that practice began.[A and A Ward Photo]
July 30 - Last thing for a while. I found a 1949 Rutland Fair program, whose cover features Indy driver Bill Holland, who would be racing at the fair. Neat item. Click on the Racing at the Fairgrounds Page.
For all 2005 News and Updates Archives - Click Here
For all 2006 News and Updates Archives - Click Here
For all 2007 News and Updates Archives - Click Here
For all 2008 News and Updates Archives - Click Here