---
---
FEBRUARY 2009 NEWS & UPDATES
February 3 - Added Charlie Benoit to the Hurricane Competitors' page. I have a bad feeling I will have to re-link half this page.
February 4 - Altered the Ted Brown page to delete the nickname "One Eye" My friend, Neal, a real Ted Brown fan, says he cannot find any basis in fact that this is an accurate nickname. I am not here to demean or insult anyone, so I feel comfortable in getting rid of that name from his page. I also added these two photos below because I found the old one and got a kick out of how smoothly Skip was aging from Skippy into Skip. I also discovered I haven't used several Link Petit photos, so I put a couple on his page.

Courtesy of Justin St. Louis
"Skippy" May in the Norwood Arena pits
around 1967 or so.

Ladabouche Photo
"Skip" May in the Catamount pits
around 1986.

February 4 - Added the above Skip May photo and one of Paul Donahue to the New Flying Tigers page. Also added Dave Whitcomb and Mike Prescott, thanx to Steve Pecor. I need an address on Prescott. While at it, I added three Caron Brothers cars to the same page.
February 7 - A bit of a warning. I awoke this morning to my Microsoft Front Page program not letting me work with photos. I hate computers. Thanks to Arnie Ainsworth for recent additions to his contributions. I will see if this can be easily rectified. I have begun a small page on Little John Rosati, as an experiment to see if the problem is that my images folder is too large. This is going to be a nightmare if this is the case, necessitating considerable moving of files and possibly a lot of temporary links breaks. Bear with me. I have also completely redone the page on Ted Vogel, using the new system. This might cause temporary links breaks elsewhere - where there were Ted Vogel pictures in the near future. Let me know if you see one.
February 8 - Added two pix to the Cliff Wright's Cars page, using the new system.
February 16 - I haven't died. I just have too many family and school demands right now. Thanks to Tom Fish for some great Whites Beach photos, and hello to Rene LaBerge, whose marriage I apparently prematurely discontinued, Apologies to him and Linda. The Front Page program continues to be a pain in the butt, however I will get some more pictures on ASAP.
February 17 - I found that I had some broken links on the Cliff Wright page. The system continues to be troublesome. Hopefully they are fixed. By the way, if you in the Rutland area - in the circulation region of Sam's Good News that little shoppers' paper is publishing my two columns on Paul Connors, the best kept secret in Vermont racing history.
February 19 - Can anyone tell me where this shot was taken ? It's Tony Provencher, and I didn't think he raced anywhere except Pico Raceway; but; I didn't think a building like the one in the background was located anywhere near the Pico grounds. Provencher absolutely would not have raced anywhere further than Pico or Fairmont because he didn't have the money. I also added four Fish Family photos to the Whites Beach Speedway page, on behalf of former competitor Bob Fish of Saratoga Springs..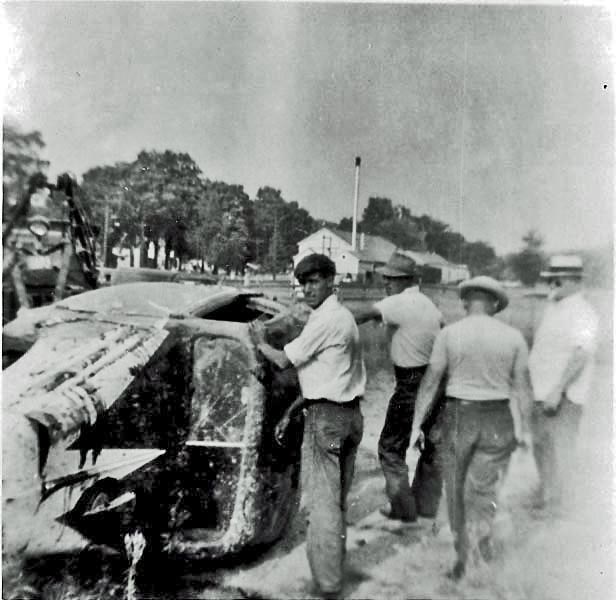 Courtesy of the Provencher Family
February 23 - I added a page on Steady Eddie Flemke.
February 27 - Here it is vacation and I should be adding tons of stuff to the site. Instead, the photo folder's being too full continues to be a problem. Last night, I was scanning some more great stuff from my friend, Cho Lee, when I discovered each new photo going in was REPLACING one already in there. So, I've been spending the day trying to save the lost ones. Anyway, I need opinions. Is this #49 not the same car in both shots ? One's at T Road and one is at Otter Creek. Anyone know the car ?

Courtesy of Cho Lee


Courtesy of Norm Vadnais

This is a car I though was driven by an
Ed Magoon of Middlebury. It looks like the
same cat at T Road behind the DuBrul car.
In some other news from Otter Creek Speedway, I now know a little more about the mystery Ford shown in some of Norm Vadnais' fair photos. It probably is Charlotte's Ansel Quintin, who is related to the Pete Quintin who raced at Catamount briefly and who runs dragsters now out of Georgia, VT. There is also a new page called Phun Photos to start watching.
February 28 - I added three more photos of United Racing Club Grand American series cars that may have run at the 1960 Rutland Fair show. I have more, for later. I also put three more great photos on the Cheshire Fairgrounds page. All of these, and more to come, are courtesy of Cho Lee, who received a great batch of shots from some man who used to run at Riverside in Agawam. A also added one to the Archie Blackadar page.
For all 2005 News and Updates Archives - Click Here
For all 2006 News and Updates Archives - Click Here
For all 2007 News and Updates Archives - Click Here
For all 2008 News and Updates Archives - Click Here