---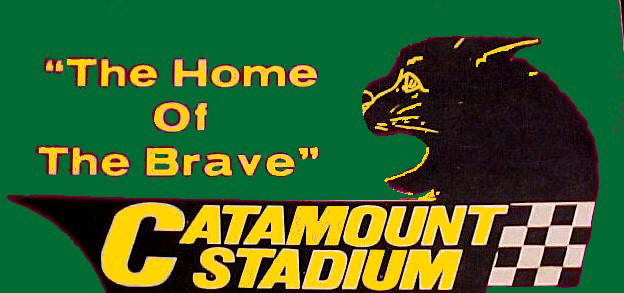 ---
NEWS & UPDATES
December 5 - I continue to try and salvage decent photos from that CD of old 8mm footage purchased from Dan Ody. below, are a few of the attempts. While the quality is terrible and would not print up well at all, the historical importance far outweighs those quality concerns. The greatly - reduced thumbnails look better than the photos opened fully. I suggest looking at them zoomed down a lot.

This rare shot shows Rod Ritchie [32], an unidentified car 21, and the Sullivan 586 of Vermont's Bob Bushey, all at Saranac Lake.

The Loomis brothers' P.61,
out of Granville, NY - at
Fairmont Speedway.

Jeep Herbert removing his bandana after a win at Stateline Speedway near Bennington, VT.

Bob Bruno [6] and Jim "Sapphire" LeClaire, at Otter Creek
Speedway in Waltham, VT.
December 7 - I got a blurry but historically important photo from Don Rounds, Jr. It shows two of his dad's cars pitted together at Cheshire, NH. Also, check out Bob Novak's Black Jack DuBrul jacket on the page of that driver. I also added the 35th Column page to the site. It is on Buddy Bardwell and it goes back to December of 2007.
December 9 - Check out the time lapse between these two photos of Northeastern Speedway regular Pete Racine. I added onto the Webster Flats page, as well.

Courtesy of R. Scott Haskell
Pete, at Lyndonville's Webster Flats
track around 1951.

Ladabouche Photo
Pete, at the Northeastern reunion - 2009.
December 11 - Added a number of photos to the Whites Beach page. I could use some help with who some of these drivers and cars are.
December 16 - I added the 36th Column page to the site. It is on the first program of CJ Richards' Fairmont Speedway.
December 21 - To help distract you from the shortest day of the whole year, I added the 37th Column page to the site. It is on photos that have a big story behind them.
December 22 - To help distract me from the fact I'm stuck home with no car, I added the 38th Column page to the site. It is mostly on the purple Teresco and Mancini #685 from the 1960's.
December 28 - After a helpful email from Bob Cook, I changed one Early Flying Tigers photo from Johnny Malone to Webster Krupp.
December 29 - I added a few more photos to the Ward Brothers Photography page. About time, eh Alan ? Sorry.
For all 2005 News and Updates Archives - Click Here
For all 2006 News and Updates Archives - Click Here
For all 2007 News and Updates Archives - Click Here
For all 2008 News and Updates Archives - Click Here
For all 2009 News and Updates Archives - Click Here