---
---
MARCH 2009 NEWS & UPDATES
March 3 - I archived the February 2009 News and Updates page. I received a number of exciting family photos from Ron Hoffer, so of Bob Hoffer, Sr. whose Argyle Racing Team was an important part of the eastern NY/ Western VT racing scene for many of the early years. Below, is Bob with his first car.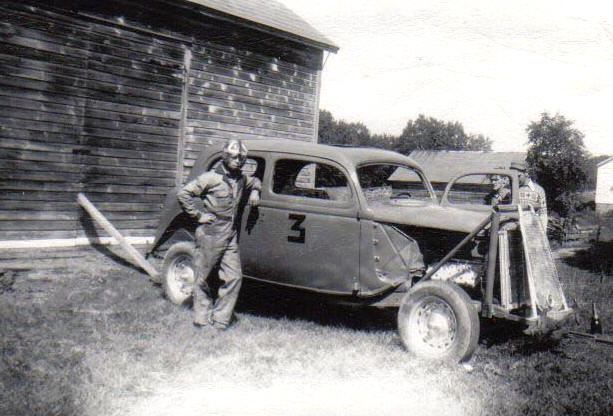 Courtesy of Ron Hoffer
Bob Hoffer stands with his first car - a scantily - braced beauty. This seems to be at the Hoffer Farm in Argyle, NY. Check
out the old football helmet. These were not the days of excessive safety efforts.
March 9 - I hate putting up an update notice and then have nothing to offer. Right now, it is report card time , which is high pressure for me and no spare time. I will put out one photo sent to me of an old Northeastern Speedway car. More details at a later date.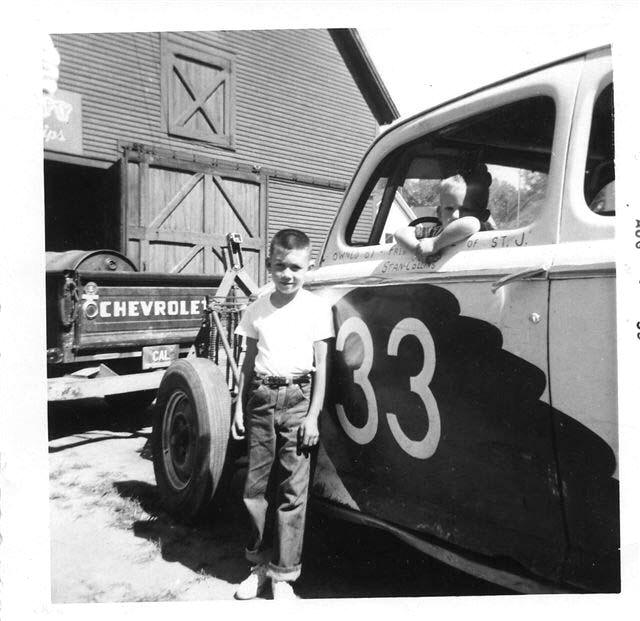 Courtesy of Mrs. Fred Daniells
Fred Daniells' sedan at home with his boys.
March 11 - I added the two Stan Collins photos to the Northeastern Speedway page. I also put a newly-donated photo of Don Rounds on his page.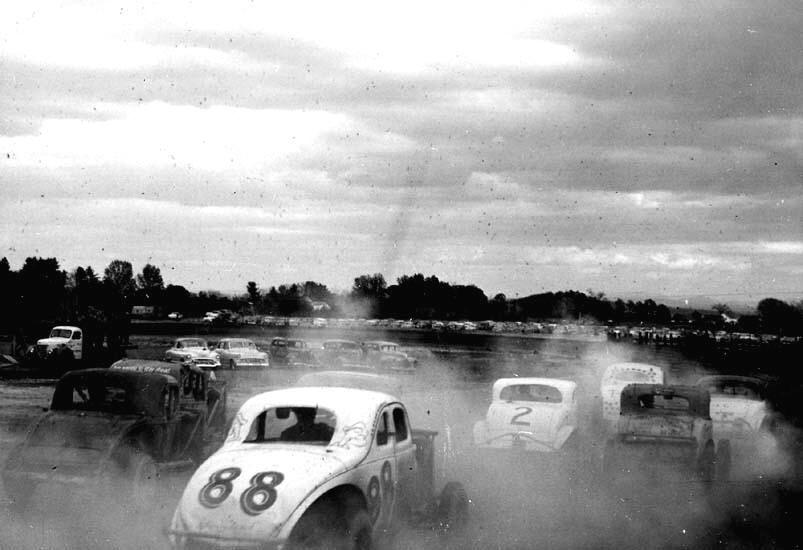 Bob Mackey Photo Courtesy of John Rock and Bobby Castine
Check out this great view of an early stock car at Airborne, with the T-800
of either Bill Wimble or Dick Goodelle in the lead.
March 15 - I attended the show at the Diamond Run Mall in Rutland for racing in that area. The big topic all weekend was the CVRA Budget Modified division. Apparently a few guys are preparing these cars for grandchildren. I am pretty sure Ted Vogel, Jr. and Butch Jelley are busy doing just that for grand kids or the grand kids of someone near them.
I have sadly received the news that Stanley "Stub" Fadden has passed. There may have never been a nicer man ever in this sport. We will miss him. My condolences to Charlotte and the whole family. Check out the Stub Fadden page.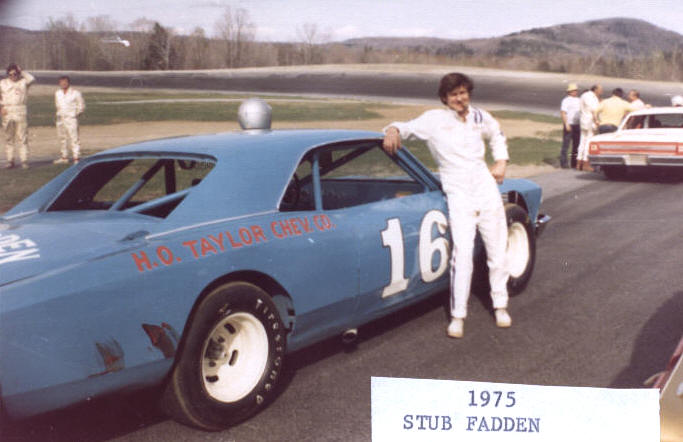 Courtesy of Jim Watson
Good Bye, Stubbie
Watch for Scott Richner and the Patriot Pub/ Busheys Car Repair / catamountstadium.com # 21B at Airborne this year. I hear the track has been redone, with higher banks - all the faster for Scott to go !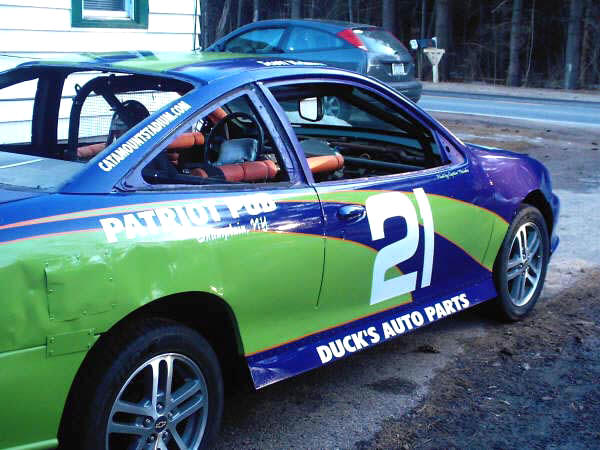 Richner Photo
March 16 - I added in the page I started on Rene Charland. Check it out. It's nowhere near done.
March 20 - Happy first day of Spring. I have been home for days with a strep-like infection. I hope the nurse I married lets me make an appearance at Crete this weekend. I am no longer contagious, but I still don't feel at all well. Thanks to comments from Bart Strack, I made a couple informational corrections on the Mackey/Rock/Castine Photo page.
March 21 - Good day at the Crete Civic Center in Plattsburgh. Spent a lot of time with Jackie Peterson, probably the greatest source of info on early Vermont racing still left around these parts. I have produced the Argyle Racing Team page, after receiving great photos from Ron Hoffer.
March 26 - I received an exciting loan from Steve Jangraw - two 1950 pictures of the fightin' Trayah brothers, Herb and Carl. One is apparently the 5/8 mile Brigante track and the other, from Smitty's Colchester Raceway. Below are smaller peeks at these beauties. Thanks to Jodie Trayah for sharing these family photos.

Courtesy of Jodie Trayah, via Steve Jangraw
The Trayah brothers, along with Ed Charbonneau and
flagger Ira Farnsworth at Colchester Raceway in 1950.

Courtesy of Jodie Trayah, via Steve Jangraw
The Trayah brothers, along with the Charbonneaus and
Herb Cobb at the Brigante track in 1950. That is likely
Norm Chaloux sitting on the car behind.
March 27 - I added two photos of Bob Dragon to the Dragon Brothers Photo Page.
March 29 - Hi everyone, Big night for lesson plans for me. I have gotten a bunch of emails from the family of former NH driver Ted Brown. They are looking for good photos of him. I can post them if anyone has more. After a while, I will have separate pages for the Colchester Raceway, the Brigante track, and of course the main Malletts Bay track. I am thrilled with all the folks who look at this site. I can't seem to find anyone who will help me get the guest book page working, so I have no idea who all of you are. Sorry.
For all 2005 News and Updates Archives - Click Here
For all 2006 News and Updates Archives - Click Here
For all 2007 News and Updates Archives - Click Here
For all 2008 News and Updates Archives - Click Here
For all 2009 News and Updates Archives - Click Here