---
---
NEWS & UPDATES
September 1 We are lucky enough to have hooked up with another possessor of a large vintage photo collection - John Rock, of Morrisonville, NY. Below is a sample of his photos from former Airborne and area photographer Bob Mackey. Also, congratulations to Jimmy Bushey, of Mooers Forks, on winning his first Tiger feature at Airborne.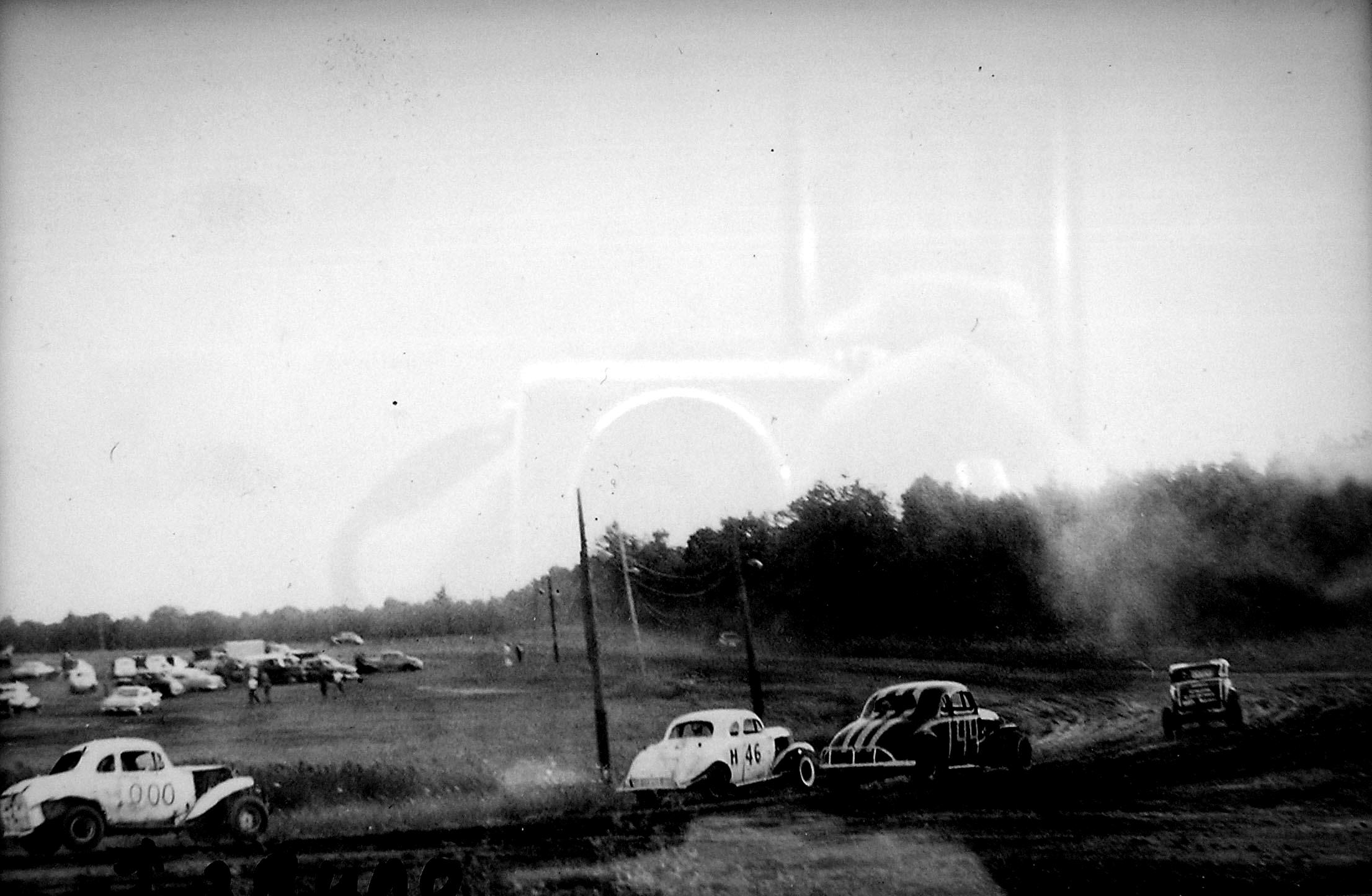 Bob Mackey Photo Courtesy of John Rock
An early Bob Bruno car 000 trails the pack at the original Airborne dirt track.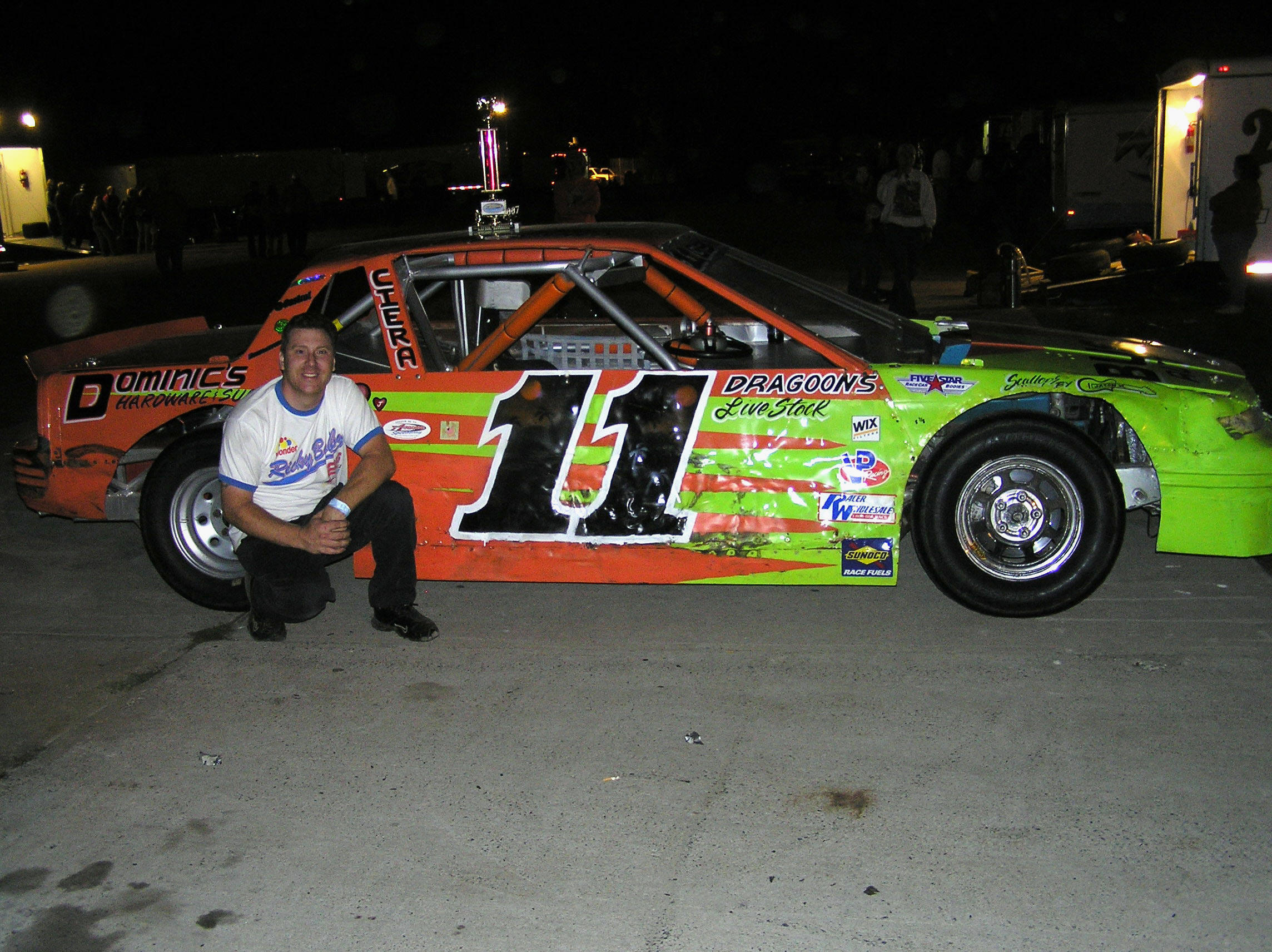 Ladabouche Photo
An utterly delighted Jimmy Bushey, enjoying his first win in the Tiger
Sportsman division at Airborne. It proves nice guys with low budgets can still do it.
September 4 Pausing from about ten thousand things I gotta do for school, I have put a couple of John Rock photos, by Bob Mackey, on the Airborne Speedway page.
September 5 I received a nice selection of Bruno family photos from Dan Bruno, who I assume is cousin to Mike Bruno, the Devils Bowl and Airborne modified pilot. Below is a sample, for now. I also added a photo of Joe Goddeau and Junior Vorce to the late model section of Airborne Speedway's page. Added 3 Joe Ryan photos to the Cheshire Fairgrounds page.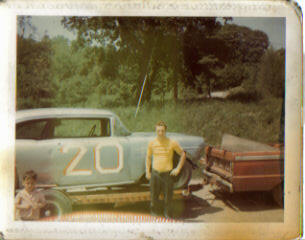 Bruno Family Photo
Ralph Bruno with a very early late model - maybe even Fairmont era.
September 10 I know this stuff should be archived for August. I'll get to it someday. I have added the Racing Bruno Family page. Made small improvements to the Fonda Speedway and Prehistory pages.
September 13 Filezilla, the service I use to get on the internet and upgrade, has been a little hinky lately. I couldn't get on at all for a couple of days. Let's hope that clears up. I thank the following fo recent information or photographic contributions: Joe Grossetti, Andy Boright, Steve McKnight, Mark Osborne, Russ Farr, Kevin French, cousin Walter Ladabouche, Walt Ryan, Neal Davis, Dan Bruno, and my brother, Jim. If I missed anyone it's only because there are many to thank !
I changed the early action photo on the Lebanon Valley page to a color one, thanks to Andy Boright, but I cannot id any of the cars. How about some of you Valley experts step in here and help ? I also added a picture to Ron Barcomb's page.
September 14 The Thunder Road page, which has been not updated in quite a spell, has a few new photos. I have also started a Gordy Owen page, with much more to come on that one.
September 19 The Fonda Speedway page now has a photo of Victory Lane after its first race ever - in 1953. Check that John Grady item out. I also added a few more early Fonda photos from the so-called "Schenectady Collection" on Otto Graham's website - and from John Grady's collection.
September 20 I put a few more photos on the Fonda Speedway page.
September 21 I added Bob Bushey and Gordy Owen to the Early Vermont Region Drivers' link page. I also put two more shots on the page of Butch Jelley. I placed three more unknowns on the Chris Companion Photo page. I made some corrections to the wording on the Race Tracks in Malletts Bay page.
September 22 After my first face-to-face meeting with Urban, Illinois racing historian John Nelson, I now realized some of the information I have on the Race Tracks in Colchester page is erroneous. Whereas I respect the memories of the guys who are telling me their recollections of 50 years ago, when I see information in ads straight from the Burlington Free Press of that era - I tend to believe the newsprint. Check for the latest on which tracks were where on that page.
September 25 This weekend bring the infamous San Diego wedding, in which my war hero son is getting married. Congratulations to Seth and Greta. That being said, when I get back, things should free up a little. Until then, there won't be much in the way of website or column action.
This past weekend was my last race weekend of the year [sob]. I make connections with Midwest race historian John Nelson at Airborne on Saturday and got some exciting information. On Sunday I got a batch of old photos from Jim LeClaire. Some are usuable, although most have pretty severe moisture damage.
I also ran into old friend John Neveu, who is almost done having most of his body replaced. We plan on getting together before the year is out and looking at some more pictures. Below is one of Jim's more salvageable shots - a very young rookie Bucko Branham, at Airborne, in 1984 [when I worked for the track].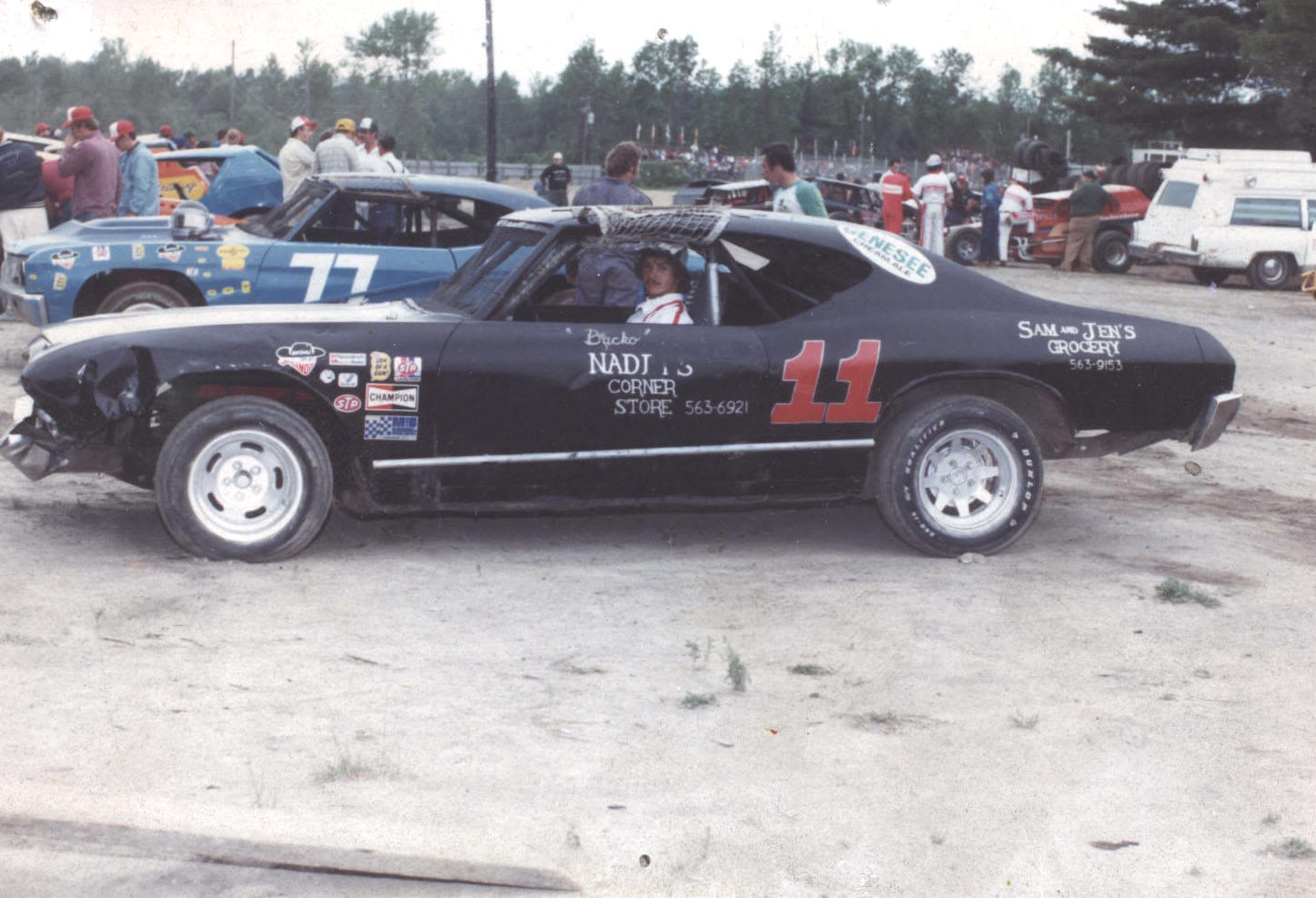 Courtesy of Jim LeClaire
Bucko Branham's first car, with Wild Bill Fountain in the background.
September 26 I stuck a few of Twelve Port's photos on the Airborne Speedway page. Keep in mind, most were already damaged when Jimmy got them.
October 8 Hi folks, I haven't died. Schoolwork is just too much right now, and I had that wedding last weekend. I did attend a round table discussion at the Rutland Historical Society on Pico Raceway. I found the society has a few good photos to offer. In attendance were myself, Dan Kearney, C.J. Richards, Jerry King, Ed Fabian, Tom Haley of the Rutland Herald, and various members of the local society. Below is one example of the newly-discovered photos. Kearney graciously lent the museum an original Pico poster.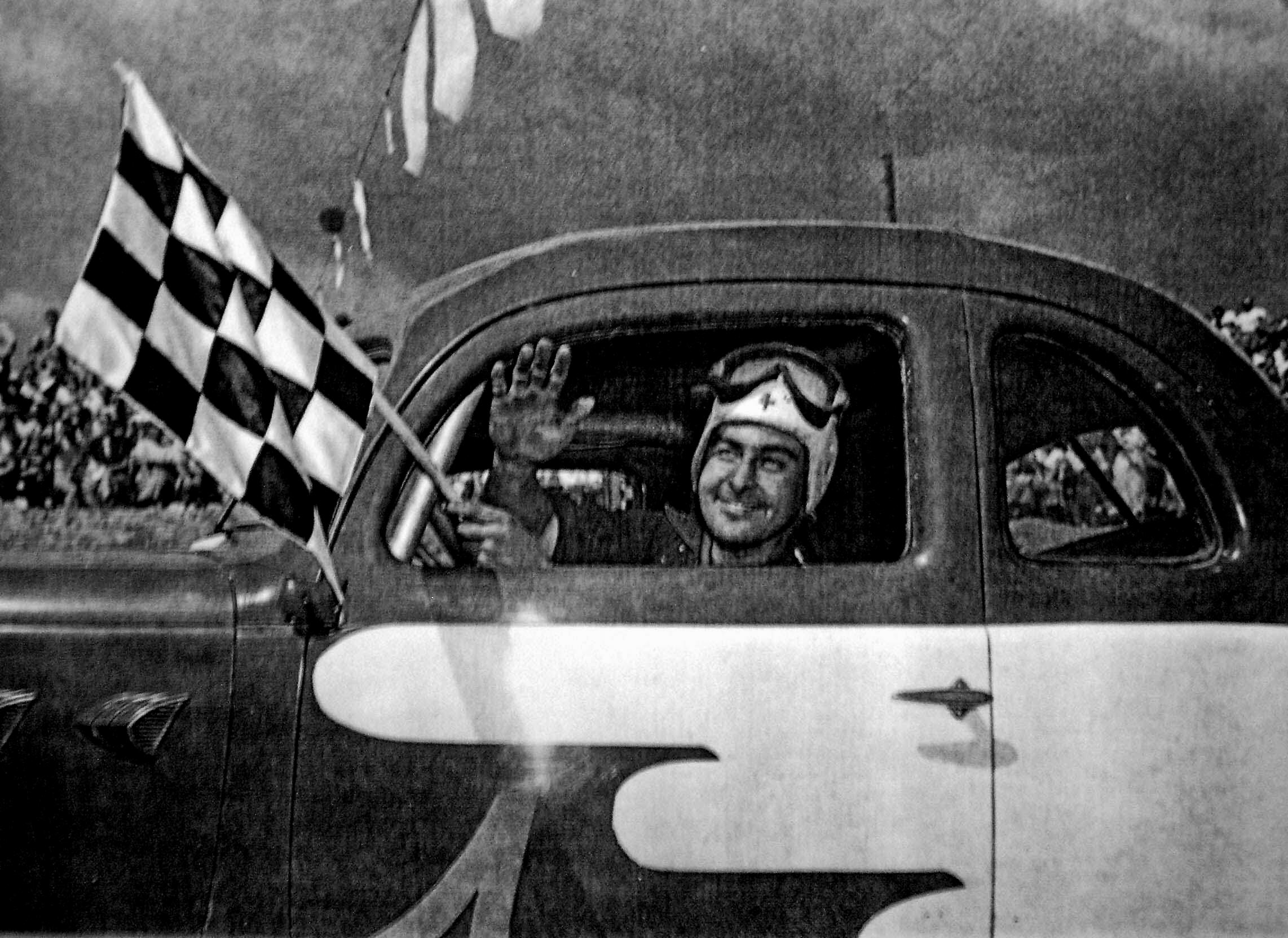 Aldo Merusi Photo
This a Pico feature winner. I believe this is a Utica car, either driven by Johnny Velletto or Junior Bianco. The team became legendary when Lou Lazzaro took over driving.
October 11 I have put a few more photos, courtesy of the Rutland Historical Society, on the Pico Raceway page.
October 14 I have made a few corrections and improvements to: The Overall Drivers' Links Page, the Dick Nephew Page, and the Northern New York Drivers and Teams page. Nothing huge. No new photos. I will archive the September news, finally, as well before going back to school work.
For all 2005 News and Updates Archives - Click Here
For all 2006 News and Updates Archives - Click Here
For all 2007 News and Updates Archives - Click Here
Go to the Site Navigation Aid Page