THE RACE TRACKS IN COLCHESTER, VT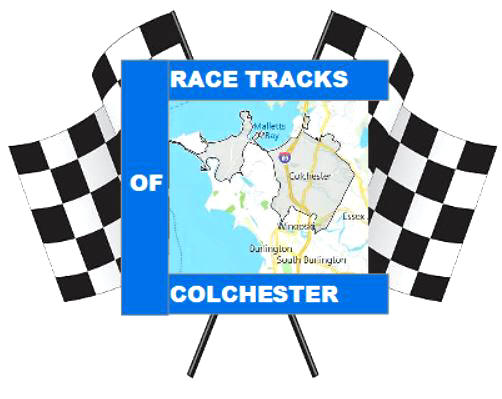 Close together, but not all simultaneously the Chittenden County town of Colchester had five different stock car tracks between the years 1950 and 1959. While one track [the longest - tenured] is, by far the best - known of these facilities, there were five. Ranging from the oldest Sunset Speedway, of which I have found out nothing other than it existed, to Bayview track on Route 127 which has the most fame - I will try to show everything I have on these places, information which has improved greatly in 2021 since I was able to get into hundreds of old newspapers.
Each track [except for Sunset] will have it own page, however empty or full it may be. Click on the clipping that advertises the track to go to its page. I will try to rework pages for those tracks which already had one. More and more, it appears that there was no Sunset Speedway. A couple of older guys insist they attencded races there, but others just as old maintain they cannot recall such a place. Michigan, Nebraska, and Illinois all had a Sunset Speedway, however.
SUNSET
SPEEDWAY
[Still waiting for material]

Burlington Free Press via John Nelson

Burlington Free Press via John Nelson

Burlington Free Press

Burlington Free Press