---
---
NEWS & UPDATES
November, 2007
November 1 When I was little, and my family took me to my first stock car race, one of neighbors was a driver there. The track was Pico Raceway, and the driver was "Steady Tony" Provencher, from Proctor, Vt. He wasn't too fast, but he left a legacy in that his son, Dale drove at Devil's Bowl and a grandson takes part now. His daughter sent me a great shot of Tony, with a flag at Pico.

Les King Photo Courtesy of the Provencher Family
Steady Tony
November 2 I added a couple of pictures of Buddy Bardwell to his spot on the New Hampshire Boys page. Eventually, they should go on the Fairmont page, as well, because they show him winning C.J. 's first program, on Memorial Day, 1962.
November 4 I added a great photo from Arnie Ainsworth, showing some great drivers at the Pine Bowl, a track I haven't spent much time talking. But, it's close proximity to Stateline suggests the Pine Bowl had a direct effect on some Vermont racing. Then, realizing the photo is already on the site, I added a link to Arnie Ainsworth's page from the New York Drivers' Link Page. See the photo below:

Arnie Ainsworth Photo
Pine Bowl action sees 5, Chuck Erving leading the famous Brush Radio 27 of
Link Pettit and 38, Stretch VanSteenberg.
November 5 I added a couple of Otter Creek Speedway drivers whom I cropped out of photos from the races at the Rutland fairgrounds. Look for Ansel Quintin and Ed Magoon, both local Addison County drivers at the track in its early years.
November 7 I received an interesting email from Tim Rogers, grandson of the great George Rogers and son of racer and car builder Butch Rogers. In this, he identifies several men in one of the Norm Vadnais photos. See below.


Norm Vadnais Photo Identification from the Rogers Family
I had to thumbnail this photo so you can make out the words Tim put on it.
November 8 I created a page for the unusual - looking 657 of Roger Dutton. Check it out.
November 9 I found a George McRae photo that hadn't been put on the Hurricane Competitors page. I also put Gary Bevins on the Limited Sportsman page.
November 14 I am giving some thought to making a page that contains links to some of my columns that have appeared in Racin' Paper - because so many people can't obtain the paper. Drop me emails and let me know if you think that is worth the effort. I wouldn't step on the editor's toes. The columns would be a certain number of weeks old.
November 16 This is going to be a hectic couple of weeks now, concluding with the second loat race tracks conference in Saratoga where - God willing - I will be presenting [without this computer acting up]. I want to thank Denis "Le Boy" LaChance for sending a large group of Catamount shots to me recently. Below, is an example of these. Everyone have a nice Thanksgiving, as I will not be updating again for a while. I also put a few of them on the Catamount Early Late Model Sportsman Competitors page.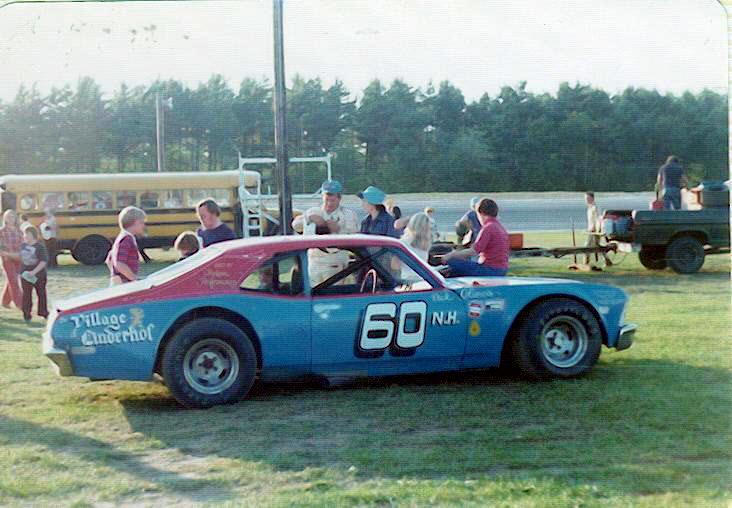 Photo by Denis "Le Boy" LaChance
Dick Glines sets up a pit in the infield at Catamount around 1975 or 76.
November 22 We just got back from Puerto Rico, where one son got married. I have only tomorrow before heading out for Saratoga [weather willing], and that same son needs some time on the computer. So, I doubt much will get down to the site for a while. Happy holidays. I snuck in the opportunity to do a small page called The Great Ice Race, a 1958 event staged by Airborne Speedway. I also added some written material to the Roger Dutton 657 page.
Half awake after Thanksgiving, I decided to keep myself awake by creating a page on some of the most interesting cars of the Golden Era of NY racing - those red and white 111's, 11's, and the 111A. We'll call the page Elevens Wild.
November 23 I added a couple more pictures to the page called Elevens Wild, on the Caputo/Drellos cars. I also updated the New Hampshire Drivers link page a bit.
November 28 I put a few photos on the Chris Companion Photos page, which is also serving as an
"unidentified photos" page. My apologies for not more timely additions. I returned from the Saratoga conference on lost race tracks to find a broken furnace. We haven't been able to be in the house much until today.
For all 2005 News and Updates Archives - Click Here
For all 2006 News and Updates Archives - Click Here
For all 2007 News and Updates Archives - Click Here
Go to the Site Navigation Aid Page