---
---
NEWS & UPDATES
October 2008
October 1 - I am home today with stomach problems. Seeing as some jackass telemarketer woke me up and I can't get back to sleep, I have archived the September 2008 News and Updates page. I also began a page called Uncle Art Stuart's Book, thanks to help from Mike Visconti.
October 5 - Bad news from loyal site viewer Russ Farr. Apparently the Fairmont Speedway land has been sold to the Hubbardton Forge, a company which will doubtless develop the site and wipe out all traces. Damn ! Speaking of speedway remains, I got four neat 1989 photos of the Catamount site from Pascal, a Quebec webmaster. The photos are from Gerry Bergeron. Below is one, for a taste. Dave Lesslie, if you are out there, sorry we didn't make connections. Cho didn't seem to think you were at TRoad.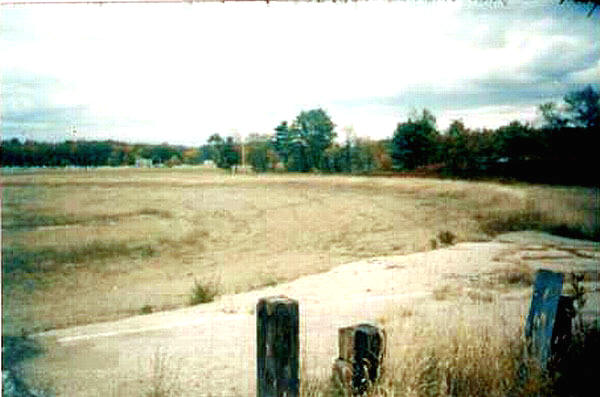 Gerry Bergeron Photo
A 1989 view from what used to be Catamount's Turn One stands. Note the vestiges
of fence supports and the contouring of turns one and two. Sad isn't it ?
October 6 - I had a serious computer failure tonight. The system completely took a dump. I am only running , after five hours of pure stress, by running it directly off the Windows XP disk. Don't expect much happening on here until the situation is rectified. Our whole lives are on this computer, and the website is pretty small potatoes, in comparison. Thanks for your patience.
November 29 - After the failure of October, I had enough brains to buy an external hard drive and further back up my stuff. On November 4, the hard drive on my computer failed, and I have been without a computer until this week. We are still not really up and running, but I thought my regulars would want to know what is going on. I hope to resume my schedule of updates [much slower this difficult school year] some time in December. Hopefully a few columns in Racin' Paper will follow. Sorry, Bill.
November 30 - Remember when the Southern New England boys came into Catamount and gave us our first looks [other than Cabana] how to spend real bucks with a multi-car team ? It seems to good to be able to update again. I'll do it when I can. There is a lot to recover from - being totally without a computer for weeks.

Courtesy of Cho Lee
Randy LaJoie came in with a fancy hauler, Bob Johnson, and immediate talent. Little did he know he'd make his biggest splash designing seats.


Ladabouche Photo
Little John Rosati had the first big operation,
1971.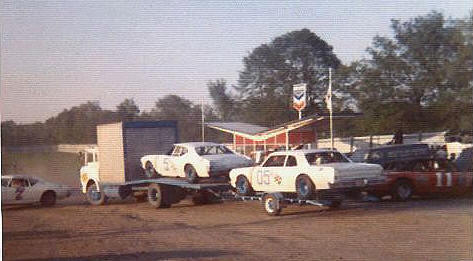 Ladabouche Photo
Cabana arrived with this, soon after Rosati had, in 1971.

November 30 again - This photo came from Steve Hibbard. He hasn't told me yet where he got it from. What the heck do you suppose that was ? I have to assume it was over near Lake Bomoseen somewhere, which would have been in Fairmont Speedway territory, except earlier. Thanks, Steve.

Courtesy of Steve Hibbard
December 1 - Another small update snuck in there, among the hours of schoolwork to be caught up. I thought these two were fun.

Arnie Ainsworth Photo
A young Bruce Carman, at the Valley around 1965.

Ladabouche Photo
Bruce Carman, at Swanzey in 2006, talking
to Jean Michaud.
For all 2005 News and Updates Archives - Click Here
For all 2006 News and Updates Archives - Click Here
For all 2007 News and Updates Archives - Click Here
For all 2008 News and Updates Archives - Click Here