---
---
NEWS & UPDATES
June, 2007
June 1 I added 2 photos from the Chris Companion collection to the Jean-Paul Cabana page.
June 2 May 2007 News page is now archived. I have scanned a lot more of the Chris Companion collection from Catamount. Many seem to be photos that appeared in early 1970's Catamount programs, which leads me to believe program editor Rene LaBerge or former wife, Linda must have left the photos in the tower. Below is a sample.

Courtesy of Chris Companion
Remember when the hauler of Ron Barcomb's Coke - sponsored
Torino had its own Coke machine ?
June 5 My sincerest thanks to Lloyd and Greg Gilbert of Four Seasons Real Estate for their continued support of the website through advertising. The site does not pay for itself. If it wasn't for the Gilberts, I would be carrying this site all on my own. If people enjoy it, perhaps a few more may step forward and offer to help with expenses. I would give them good ad coverage.
I had a wonderful chance meeting with Carl Fink, a former Fonda driver, at Airborne this past weekend. I found out some very good information about the cars he drove and some insights into the older tracks that preceded Fonda. I intend to get with Carl and some of his breakfast mates this summer - as they meet weekly in Watervliet.

Ladabouche Collection Russ Bergh Photo
Carl Fink, with his beautiful Bob Zimmerman coupe at Fonda.
June 6 I added a few photos to the Life at Catamount page: John Rosati and Bernie Griffith-from the early 1970's era.
June 8 A while ago, I put up the Chris Companion photo page to find out the identity of some mystery photo subjects. We aren't getting very far with these, people. I can't believe people like Arnie Ainsworth and Joe Grossetti don't know who some of them are. They look like New York area drivers.
June 9 Very slight additions and modifications to the Chris Companion photo page . I'm having to work on the site via dial-up, a webmaster's worst nightmare - so it'll be slow for a while.
June 11 I have had some pretty good stuff happening around me lately. First, I finally located the site of the Gaylord Rowe T-800 remains, at Ernest Bushey's garage near Ellenburgh Depot, NY. I will show a quick photo of that below. Secondly, Carl Fink sent me a letter with an autographed list of some of the many vintage race people who attend a monthly breakfast down his way in the Capital District. It's like a who's who of Golden Era New York racing. Thanks, Carl. I have made slight changes to the captions on a couple of photos on the Chris Companion photo page .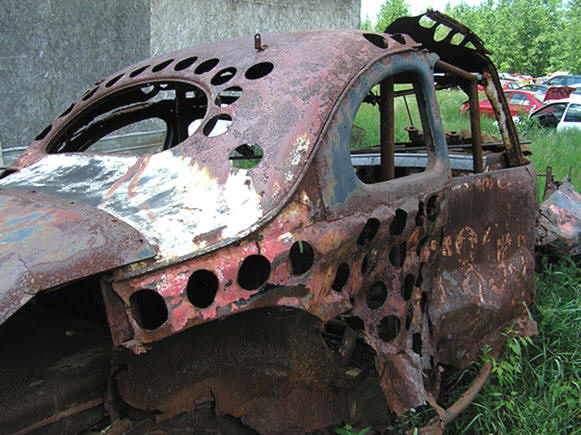 Ain't she a beauty ? More on the car in later months. Check the next column of mine in Racin' Paper. Photo on right - mine; other one is from Pascal Magnum's website.
June 16 I met Ron Barcomb at Thunder Road on the first night of the summer Thursday night series. He is looking to find someone who kept issues of Speedway Scene, from 1981. Please contact me if you have any. Ron would really appreciate help finding a particular article or series of articles about him in the year he considers [ arguably ] his best.
June 19 I will take some time out from cleaning my classroom to put something on the site for those who faithfully check every day. I just received some nice material from Arnie Ainsworth, and so I think it would work best to just start up an Arnie Ainsworth page. The process of putting things on the site from dial-up is excruciatingly slow, so I can only do a little at a time. Sorry. The modem I need is too expensive for the Ladabouche budget. I have also just received a tremendous amount of info from Ben Gurney about the track in Warrensburg; and I heard from my friend historian John Nelson.
June 20 A few more Arnie Ainsworth photos are added to his page.
June 22 After a night of nearly freezing to death at Thunder Road, I had a few minutes ot put the last of Arnie Ainsworth's newly-sent photos onto his page. Arnie's [maybe] long-lost relative Pete Ainsworth had a tough night in the Tiger Sportsman ranks at T Road. Pete is usually smooth; but luck was not with him last night.
June 25 I want to take this chance to thank all the people who visit this site regularly [some daily, right Mike Visconti ?] It is not being upgraded and added to as fast as I would like, but the issues of working with only dial-up are very real. I got hold of some wonderful new information in the past week or so and a lot of it will come out both in my column and on the site here. My best recent conversation was with former Vermont resident Paul Connors, who became a highly-successful race driver down South. There will be a number of items coming out concerning Paul soon, I hope.

Connors Collection
Paul stands with a trophy and his car, adorned with the stickers from five straight victories against the likes of Wendell Scott, Bobby Allison, Tiny Lund, and Tom Pistone.

Speaking of Mike Visconti, I saw the man get more out of substandard equipment at Devils Bowl. Sunday night than more anyone I could name. Most of Mike's competition had twice as much in their engines as he has in his whole car, and he finished 5th in CVRA's budget modified division.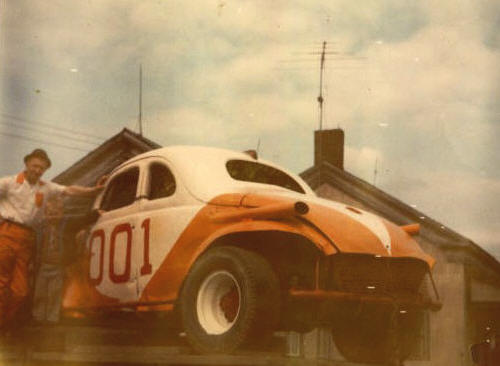 Visconti Family Collection
Mike with father, Art, back around 1964 in Granville, NY
June 26 I spent considerable time scanning Chris Companion photos [ones he shot himself], and I added some photos to the Catamount Guest and Distinguished Visitor page. Big breakthrough ! This is what it's all about. Three years ago, I bought a picture of an unidentified car from Dan Ody's booth in Camelot Antique Center near Bennington. The car was an oddly-configured number 33 and 1/3. Now, having just seen a Dave Brooks car from Stateline, I realize the mystery car is also Brooks, a guy I actually recall from Pico Raceway. This mystery car was probably the Pico vintage car. This is a very exciting discovery for nut cases like me.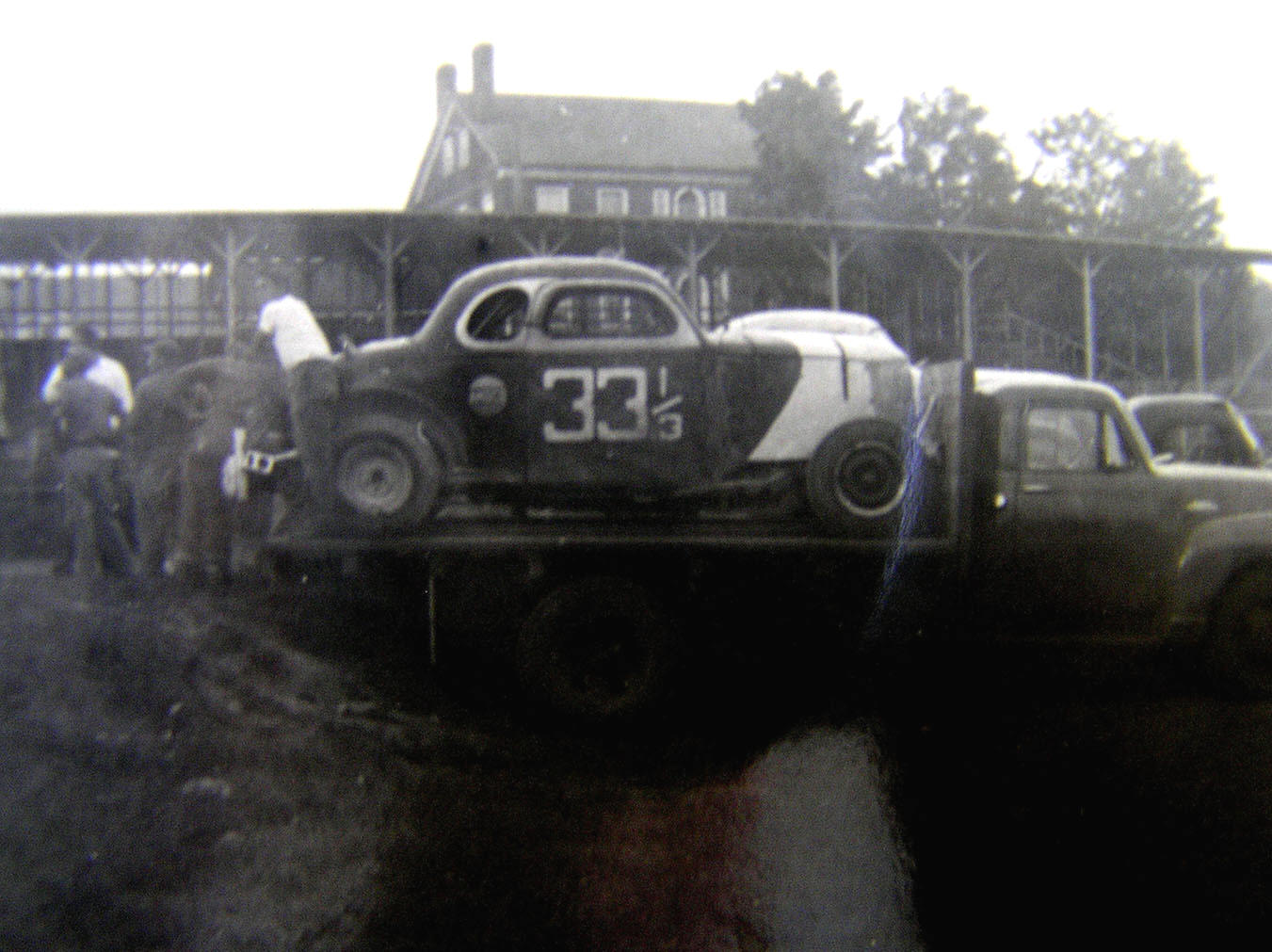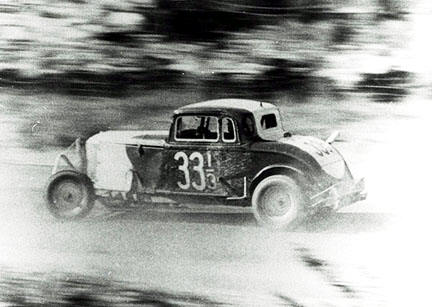 The car on the left is Brooks, quite likely at Pico, judging from the background and the photo style. The right hand shot is from Paul Connors, and shows Brooks unloading at Stateline in front of the distinctive covered stands they had toward the end of the track's life.
June 29 Great talking with so many people at Thunder Road last night [Kenny Wallace night brings people out of the woodwork]. I enjoyed conversing with Gregg Lyman, Sr. whom I haven't talked to since the days of the Grand Americans at Catamount. Gregg, myself, and a number of other crazies took part in the infamous Southern Tour of two late, beloved characters on the Catamount scene: Jim Barton and Harry Rathburn. We took one of Harry's brown and yellow Camaros and Barton's blue #57 Camaro and headed for the unsuspecting Monadnock Speedway near Winchester, NH. I don't think they ever recovered from us.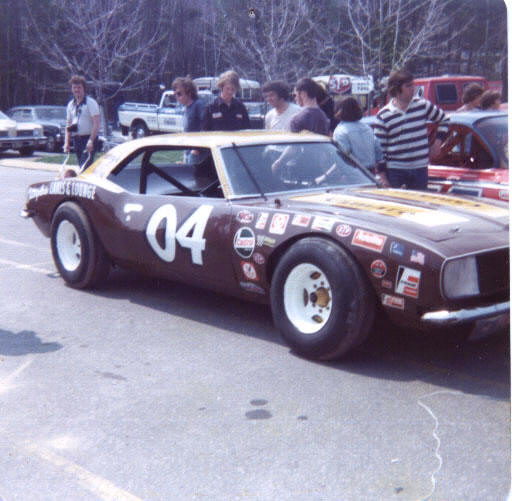 Bill Ladabouche Photo
The Harry Rathburn 04 hides, behind it, a cast of characters including Brad Wright [3rd from left], Gregg Lyman, Sr. [afro], Randy Chapin [2nd from right] and Joe Myers [right]. Those of us who hung around the Hurricanes and later, the Grand Americans were a close-knit [although crazy] bunch. Lyman went with the 04 to Monadnock, but he thinks Kevin Boutin, Sr. drove it. This was one of the pioneering Grand Americans, as you can see Charlie Benoit's full-sized Hurricanes at right. For one year, the Hurcs and the GA's ran together before the former were phased out.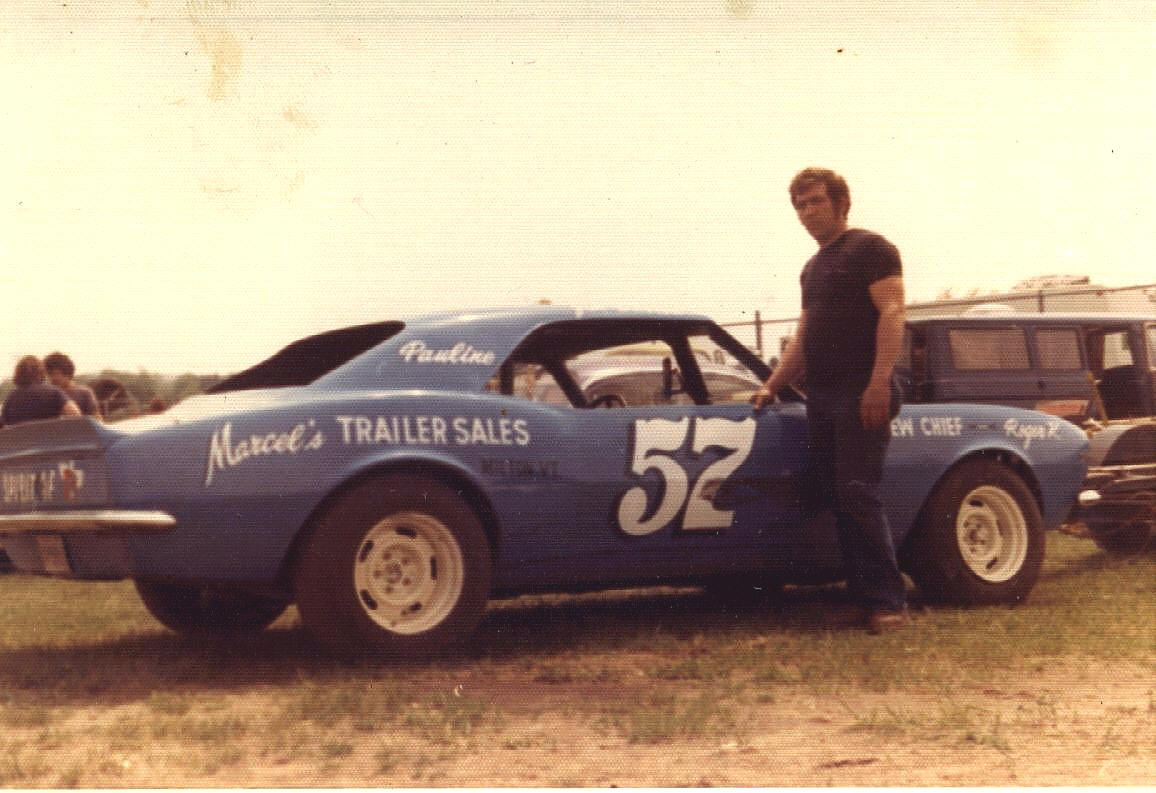 Courtesy of Dan Nolin
Jim, with the car he took to Monadnock.
Also, after a request from Joe Grossetti, I have added a link [no pun intended] for Link Pettit on the New York Drivers Linkpage. I took a few of the hurricane pictures from the Chris Companion collection and added them to the Hurricane Competitors page: Bev Stearns, Bert Thornton, and Leo Bushey. There are also four new Canadian photos on the Catamount Early Late Model Sportsman page.
I have been trying to get some of Paul Connors' old Kodak box camera photos to spruce up a bit, without much success. Does anyone recognize this #12 Jr. from Stateline Speedway ? More Connors photos are now on the Stateline page. Last, but certainly not least, I added a Francois Chausse page for my good friend Andre.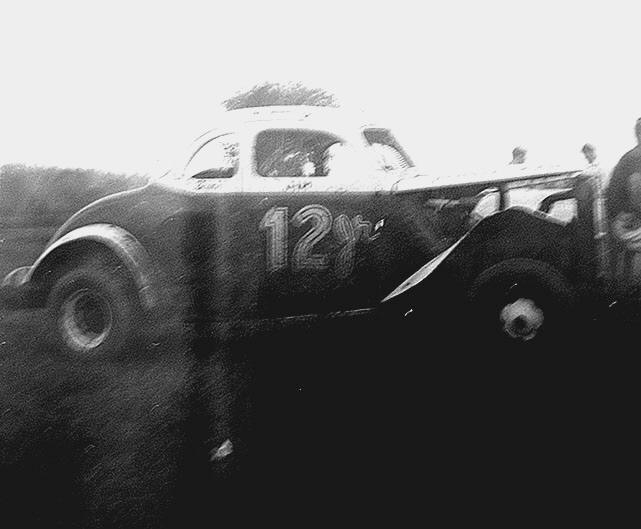 Paul Connors Photo
July 1 I added a few more photos to the Fonda Speedway page.
July 2 I added a few more photos to the Early Flying Tigers page, thanks to Andy Boright.
For all 2005 News and Updates Archives - Click Here
For all 2006 News and Updates Archives - Click Here
For all 2007 News and Updates Archives - Click Here
Go to the Site Navigation Aid Page