---
---
NEWS & UPDATES
June 3 - Fixed the Racing at the Fair link on the All Links page - and re-installed a link to that same page from the Fairmont Speedway page. I also put up a partially - finished page called New Hampshire Coupes.

June 4 - Added the page called Kalamity Jane - the 685, a page I thought I had done ages ago.
June 14 - Added photos to the page on Don Rounds. I also archived the May 2009 news updates [finally]. Additions to the Bear Ridge page, thanks to George Hill.

June 16 - Added the 28th Column page to the site.
June 18 - I have added the link to the website 4 Wheels Online . com. It is on the Links to Related Sites page.
June 19 - I have added the link to this article of note in the Milton Independent: http://www.miltonindy.com/06.11.09teach.html
June 23 - Added the 29th Column page to the site.
June 26 - I have added a couple of items from Arnie Trudeau about the 1982 season on the Airborne Speedway page.
June 30 - The Beaver book can now be ordered online. See the top of my main page for the URL. The Northeastern racing community lost an important member recently with the death of Johnny Bourgeois. Bourgeois was a car owner and track official at Catamount Stadium. He was also a sort of surrogate father to Beaver and Bob Dragon when they were growing up. I counted him, as well as his family, as a good friend.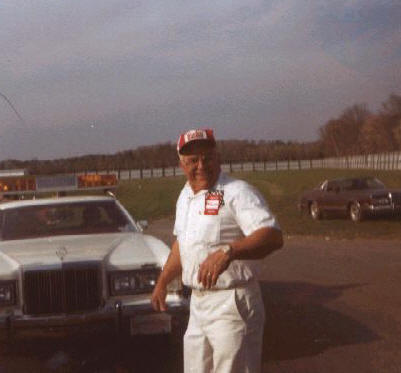 Johnny
For all 2005 News and Updates Archives - Click Here
For all 2006 News and Updates Archives - Click Here
For all 2007 News and Updates Archives - Click Here
For all 2008 News and Updates Archives - Click Here
For all 2009 News and Updates Archives - Click Here