---
---
NEWS & UPDATES
May 1 - A special date for this website. It would have been my uncle's birthday today - his 100th. This is the uncle to whom I dedicated the site. Without him, I may have been interested in something else instead of racing. The April 2008 news updates have been archived.
At the recent conference in Saratoga, I found out some good information about some of my many mystery photos. I now know that Doc Blanchard was the mystery driver on the Young/Vine #75 page. On the Fairmont Speedway page, I have discovered that a mysterious #P.38 was driven by Nelson Moore. It probably belonged to the Loomis family, which liked those WWII fighter numbers.
Below is a sample of some of the great shots I have gotten to use. I have added some photos to the Mettawee Speedway page, and one group shot to the Stateline Speedway page.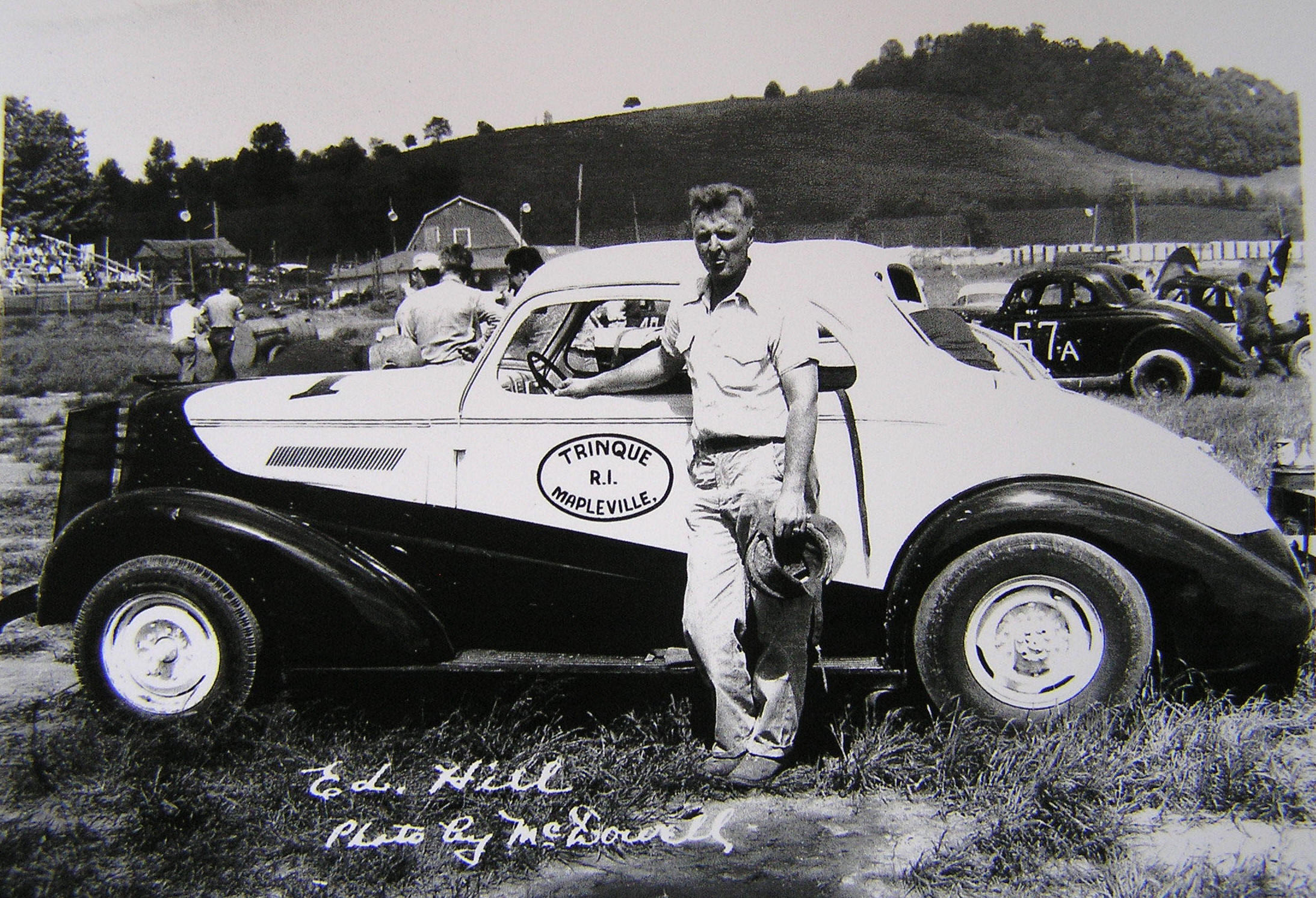 McDowell Photo Courtesy of Ken Gypson
Rhode Island's Ed Hill poses in the pits at Stateline Speedway.
Note the familiar barn across the road.
May 3 - Well, those expecting to see me at Thunder Road this year probably will not. I was told Saturday, by a member of the ACT staff, that I would not be given press credentials this year at TR. Apparently doing incessant work to preserve the history of racing in the state, and writing a column frequently in a racing paper is not enough to be considered press. It is very deeply hurtful to think that is all ACT thinks of the work some of us do.
May 4 - I will be adding some photos to the Ashland Park page. Several of the photos I got from the album of Bob Hackel, Sr. [courtesy of Jr.] were from Warrensburg, I was delighted to discover.
May 6 - I will be adding some photos to the Stateline Speedway page.
May 7 - I received a great photo from the April Saratoga lost race tracks conference from Joe Grossetti. It shows Joe's hero, Link Pettit, with George Proctor and Dick Hansen. Proctor actually raced at Airborne in the last two years. Amazing man.

Joe Grossetti Photo
Link Pettit [left], George Proctor, and Dick Hansen


Pettit Collection
Link

Ladabouche Photo
George

Cavalcade of Racing
Dick
May 11 - After trying, unsuccessfully for more than a year, I figured out one of my mystery photos on my own. The first two shots show this #6 that I noticed showed up both at Stateline [left picture] and Pico [lineup]. Then I noticed the drivers' name in the Pico ad. Finally, I saw on the middle shot that the #6 appears to have "J" on one side of the 6 and "B" on the other. Good enough for me to assume this is Jack Barney. When I am not doing lesson plans I will add individual shots of Jack on both tracks' pages.
I did some upgrades to a couple of track pages this weekend, but I had not internet access where I was. I'll get them up ASAP.
May 12 - I have put up the upgrades to the Mettawee Speedway page that I worked on over the weekend. I also will upload the changes to the Ashland Park page. I also added some information about the Gaylord Rowe #26 car on the Airborne Speedway page. I have put the aforementioned Jack Barney onto the Pico Raceway page.
May 13 - In looking at a couple of files before I started school work for the night, I stumbled across one of the best discoveries of the year - two rare shots from Otter Creek Speedway. One is the track pace car. Someone who knows Darryl Tucker should let him know. He loved that car. The other is an action shot I never saw before [and there aren't many].
May 16 - Updates to Vince Quenneville page.
May 17 - It was good to see several old friends I hadn't run into since early September because I had to miss the Milk Bowl last year, and T Road is - well... the way things are. I have to say I am impressed with the efforts that New Yorkers make to stay in touch with their racing roots. There are so many people attending conferences, participating in message boards, tramping through the wilderness to old track sites, and preserving old materials - that it is an inspiration to me. One such tireless worker is Bill Hoffnagle. Good to see him at Airborne.We try to do the same across Lake Champlain, but there are not as many of us. It was also good to meet fellow journalist Cindy Weed for the first time.
Sitting here, sunburned from yesterday at Airborne, I am trying to figure what I can update or add to in the little while I have this morning. I can add four shots from Paul Belfray, who is working to improve the long-abandoned Northeastern Speedway site in Lower Waterford, Vermont. I am not sure what he intends to do with it, as it would be easier install a local chapter of Al-Quaida than it would to get a new track running in this state, but I wish him well.
May 19 - I added the ninth page to my Racin Paper columns. See Ninth Column.
May 20 - I added the ninth page to my Racin Paper columns. Sorry I can't get more on at a time, but this page, alone. took 40 minutes to create. See Tenth Column. I also brought the Main Column Link page up to date.
May 24 - I added the Pine Bowl to the Upcoming Features page because I intend to work on it during this brief Memorial Day break, when my wife and I are not enjoying Maine.
May 25 - I added to the Pine Bowl page, using a new technique [for me] called hot spots. You can click on certain names on a photo of the Pine Bowl program driver roster and go right down to the driver's photo.
May 31 - Taking advantage of a rainy day to BEGIN a page on the racing Bridges Family, of Airborne Speedway. This is only a beginning.
For all 2005 News and Updates Archives - Click Here
For all 2006 News and Updates Archives - Click Here
For all 2007 News and Updates Archives - Click Here
For all 2008 News and Updates Archives - Click Here