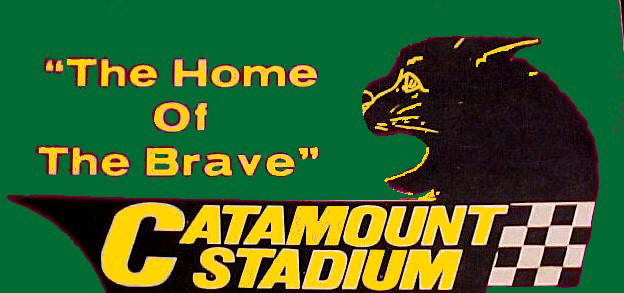 wladabou@comcast.net
January 1 - HAPPY NEW YEAR. I would like to take this time to thank all of you who generously share your photo collections on the various vintage racing Facebook pages. I do get occasional private donations from individuals, but a vast bulk of my new photos come from these Facebook pages. I try to find good times to use them either to make new pages, add to old pages, or use them in blogs. I sometimes get facts mixed up and I regret that. Nothing intentional - just sheer volume of material coming in. Again, thanks. I'm doing considerable and time - consuming work on the Albany - Saratoga Speedway page, expanding to two pages. Hope to have something out soon. Check out the beginning of Albany - Saratoga Speedway - Dirt Era I.
January 8 - I added Vince Quenneville, Sr. to the page called Hired Guns.
January 10 - I added more East Greenbush Speed Bowl material to the page called Busy Rensselaer County. I added some materials to the Maine Race Tracks page. I am sorry for having all my Maine eggs in one basket here, but to do a number of individual pages right now wouild be a staggering project, and I don't need any more of those. It is becoming pretty hard to work with this page because of its sheer size, so that'll happen some day. Finally, I thought I had better get out another blog. Weekly Blog January 10, 2020 - about the crazy Northern NASCAR schedule of 1973.
January 11 - After hearing sad new from Lou Modestino, I add the name of Bob Ailes to the page Racing People We Have Lost Since the 2016 Season.
January 16 - I have added a page called Rosati Tour de Force, about when John and Tom had their times running up here with us in Northern NASCAR.
January 26 - I have added a photo with Carleton Hughes to the Me_and page. I know the site is pretty quiet right now. I am working on other racing stuff enough hours to cause a sore elbow - just not site pages. I hope to make small additons to several pages soon. I have added Weekly Blog January 26, 2019 - A High Water Mark [about a top notch late model series].
January 27 - Odds n' ends today, as long as I have time. Added two shots to the Joe and Andy Romano Page, a shot to Those Perilous Roadsters page, and a Charger photo to the Albany - Saratoga Pavement Era I page. Added three more items to the All Star League page. I may have to rework this page soon; the sheer size and memory required is beginning to overwhelm my computer [and it is damned near new]. I have added a ton of photos to the Fonda Speedway page. More to come.
January 28 - I added considerable material to the Albany-Saratoga Speedway Pavement Era I page.
January 29 - I added another "class" to the page Little Guys in the Racing World. I just had a discovery moment. Someone was showing photos of Stretch Van Steenberg, trying to figure out if there was a race track in Saugerties, NY where SVS was from. They showed this photo. Now look at the photo below. I could never tell who the guy on the far left was. Doesn't it look like Stretch ? I have had this mystery since 2006. For those who care, the photo shows Van Steenberg, Lee Palmer, Ollie Palmer, Lou Hacker, Bob Kudlate, and Henry Bouchard.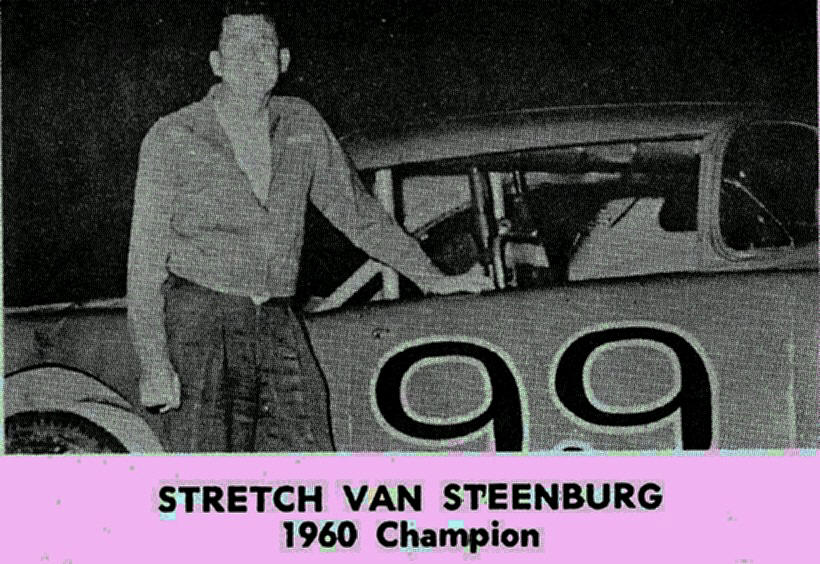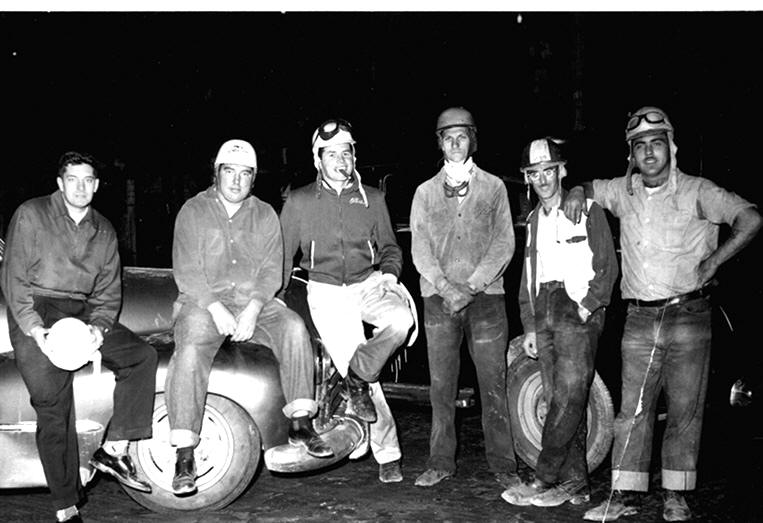 January 31 - I added another page to top off the month. It's called Racing Fires [an unfortunate part of our sport].
For all 2005 News and Updates Archives - Click Here
For all 2006 News and Updates Archives - Click Here
For all 2007 News and Updates Archives - Click Here
For all 2008 News and Updates Archives - Click Here
For all 2009 News and Updates Archives - Click Here
For all 2010 News and Updates Archives - Click Here.
For all 2011 News and Updates Archives - Click Here

For all 2012 News and Updates Archives - Click Here
For all 2013 News and Updates Archives - Click Here
For all 2014 News and Updates Archives - Click Here
For all 2015 News and Updates Archives - Click Here
For all 2016 News and Updates Archives - Click Here
For all 2017 News and Updates Archives - Click Here
For all 2018 News and Updates Archives - Click Here