<![if !vml]>
<![endif]><![if !vml]>
<![endif]>
When I first saw Bill Wimble, I was at Fonda for my first visit. I had already read about him several times, and I was aware he was the reigning 1961 NASCAR National Sportsman Co-Champion. Announcer Mike Valchovic introduced him, during warm-ups, as "The Racing Dairy Farmer, Bill Wimble - of Lisbon". Wimble, that evening, was driving the Dave McCready #33 [often referred to by the old-timers as the S33]. The coupe was a distinctive red, black, and white paint scheme. I would see Wimble in Vermont, the following year, when he was attracted to the Otter Creek Speedway near Vergennes, in quest of points.

Audette Photo
Wimble, in a later version of a McCready car - beside Bob Emsminger
at Albany-Saratoga Speedway. This is the familiar "S33" paint scheme.

In looking at Wimble, I could never quite visualize him as a racing farmer. He was a little too polished and nothing like many other drivers I knew who were farmers. It turns out Wimble WAS a farmer, albeit a highly-educated operator of an Upstate New York farm. I got to meet him briefly, at Airborne Speedway, in 2005. I got to talk to him with Charlie Trombley, the driver of another red, black, and white sportsman coupe. I found Wimble to be impressive and personable.

Otto Graham Website Photo
Wimble, with one of his earlier rides, Hal Kempeny's 113.
Bill Wimble started out in various cars in Upstate New York, soon arriving at Fonda Speedway, where he would earn much of his notoriety. Towards the end, Wimble had made several changes in his life. He apparently got divorced and began living in Rome, NY. He stayed with McCready for most of his career, although he eventually left Fonda for Lebanon Valley - when many other big-name drivers did. He also began to run, more and more on pavement. Wimble's last real race was in a modern - style Champ Car chassis, provided by David Lape. Amazingly, despite a long layoff, he won.

Courtesy of Chris Companion Probably a Bob Mackey Photo
Wimble, with his favorite of the two Gaylord Rowe cars, which he ran at Airborne.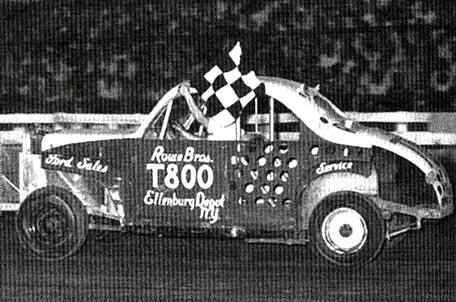 From the Fonda History Book
Bill, in the other Gaylord Rowe car, supposedly with which he won
an Airborne title. At right, is that same car today.
All Bob Mackey Photos Are Courtesy of John Rock and Bobby Castine

Bob Mackey Photo
Bill, in the McCready
Car. Note the earlier
s33 denotation.


Bob Mackey Photo
Putting the Rowe
through its paces
at Airborne.

Bob Mackey Photo
Bill leads a race at
Airborne in the T-800.

NEAR site Photo
Bill with the hardware
with the Kempeny 113
at Fonda in the '50's.

CJ Richards Photo
Bill, with major
rival Steve Danish.


Wes Moody Photo
A feature win
at an unknown track.

Photo Source Unknown
Bill, with Ron Narducci
and Ernie Gahan in a
recent shot.


Photo Source Unknown
Bill, with one of his
Daytona rides.

Pascal "Magnum" Photo
A McCready car that
might have run the beach
at Daytona.

Schenectady Collection
Otto Graham Site
Bill, winning in an early
McCready car.

John Grady Photo
Good color shot of
car and driver.

NASCAR Record Book
Portrait, from 1962
NASCAR book.
<![if !vml]>
<![endif]>

Ed Baccei Photo
The Wimble/McCready car leaving
Otter Creek Speedway behind Dave's
famous Cadillac tow car.

Ladabouche Photo
Bill's car leaves Otter Creek
after my first time watching him race.

Photo Courtesy of C.J. Richards
Bill, at a rare Devil's Bowl visit.

Courtesy of Norm Vadnais
Bill, at Malta.

Bob Mackey Photo Courtesy of
John Rock and Bobby Castine
Bill meets fans in the pits at
Airborne in the 1950's.

Bob Mackey Photo Courtesy of
John Rock and Bobby Castine
Congratulated after an
Airborne victory.

Bob Mackey Photo Courtesy of
John Rock and Bobby Castine
Article about the two drivers tying for the national championship.

Bob Mackey Photo Courtesy of
John Rock and Bobby Castine
A Permatex car.
Return to the Main Page
Return to the Main News Page
Return to New York Drivers' Link Page