BILL'S [Somewhat] WEEKLY COLUMN/BLOG PAGE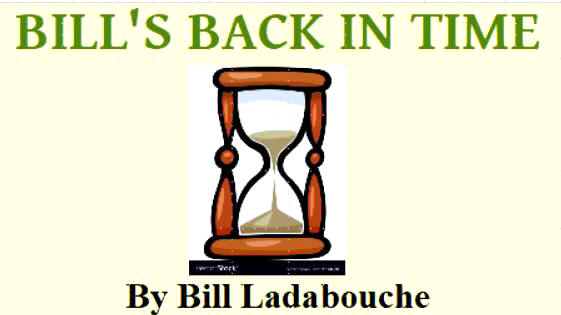 SNAKEBITE SPEEDWAYS
Tracks Which Have Had More Than Their Fair Share
of Crap to Put Up With [Deserved or Undeserved]

When you look at the history of many tracks – whether closed or still operating – you don't see all that much controversy, bad fortune, or an inordinate amount of struggle. Then, there are some which seem to have had little else. Some of these tracks have had short [understandably] lives and a few have persevered on through the decades.
In the Postwar stock racing history of Vermont, there have arisen two particular tracks which, by the problems each experienced in one to two – year stretches entitles them to feel like they were snakebitten by fate. Just like the unfortunate story of Dunnsville, NY's Victoria Speedway, a nice track which was essentially ruined by an unbelievable number of rainouts, Vermont has had some race tracks which – while perhaps not being rained to death – had so many other misfortunes that their chances of being long – lasted venues were just about nil.
Our first such track was the one which almost certainly can lay claim to having staged the first stock car races in Vermont. Built from the old fairgrounds above the town of Northfield, the track had not only seen service as a fair horse track, but it had also served as a Civilian Conservation Corps camp during the Great Depression. Apparently the fact that the Dog River flowed very nearby, the track is best remembered as Dog River Speedway; however, it also was referred at time simply at 'the Northfield Fairgrounds track", Central Vermont Raceway and lastly, as Northfield Speedway. The original group to open the venue was headed by local construction company owner Ruloef "Ruie" Dubois.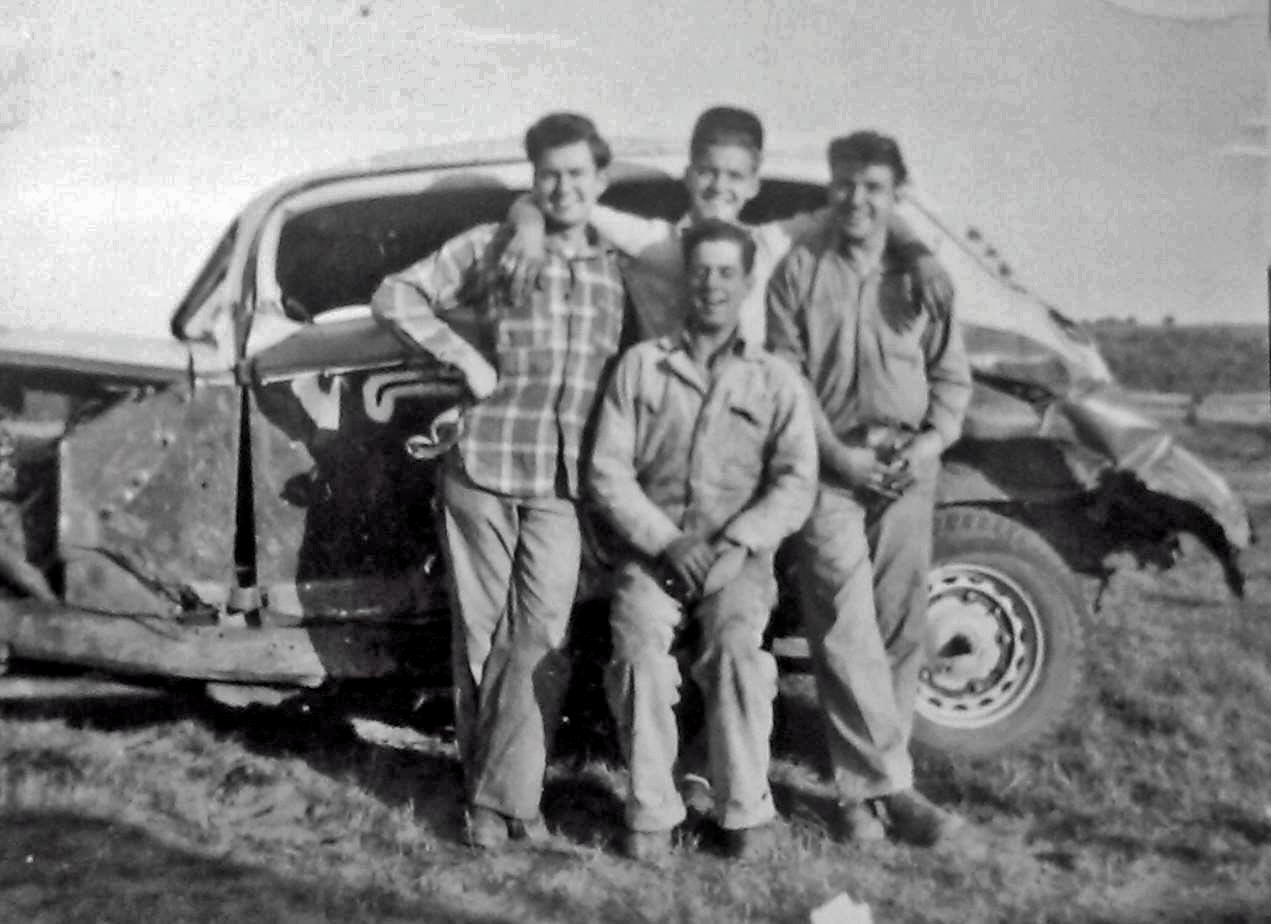 Courtesy of Mike Gilbert
This rowdy crew of Bucky Walbridge, Henry LaPerle, future track champ Larry Granger and future
engine building star Al Whitcomb [front] are seen at Northfield in 1950. Below -
Pop Goodwin of West Lebanon, NH [shown at left with his brother]
was one of the few stock cars to run at Northfield in those 1949 exhibitions.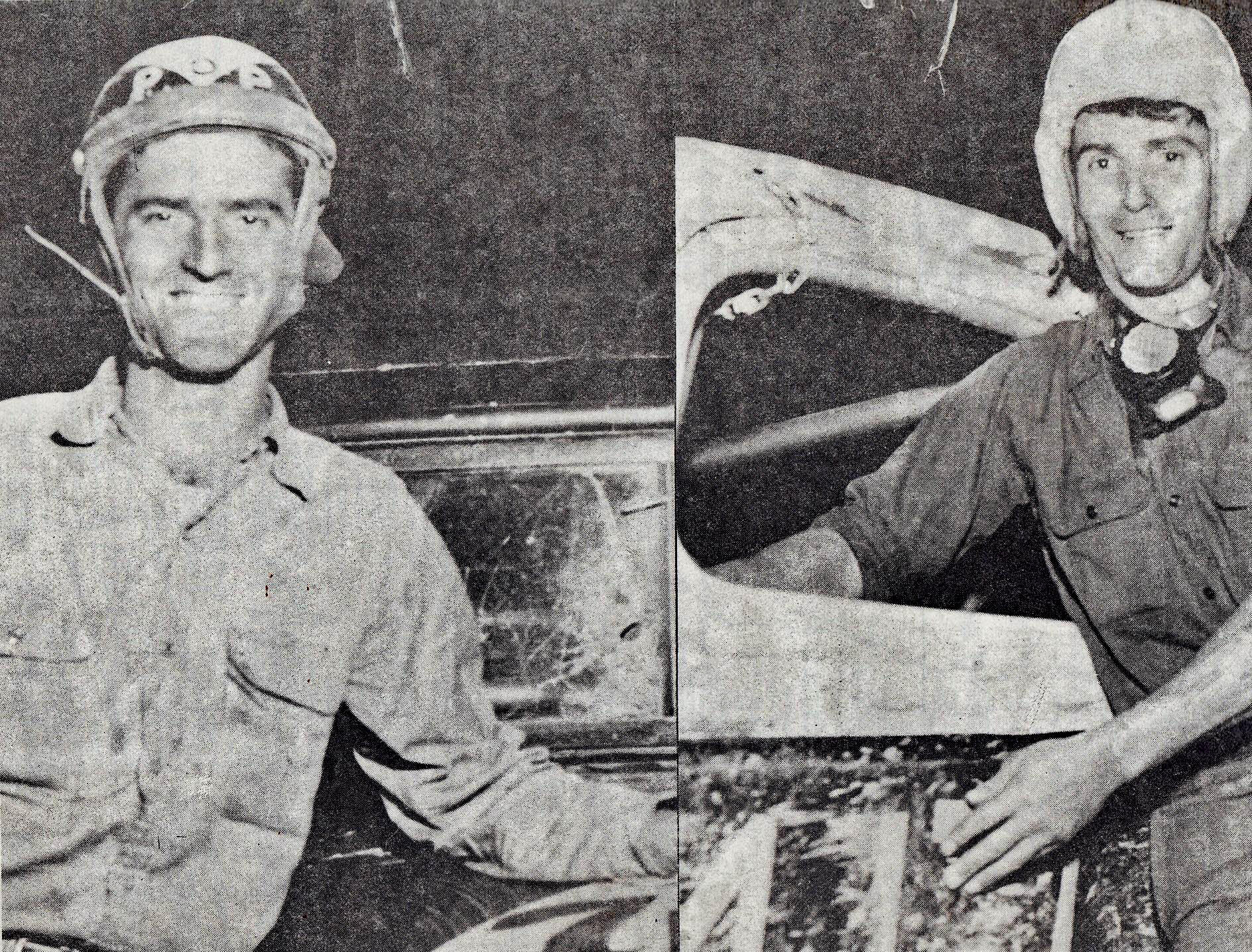 Courtesy of Sandra Goodwin Fontana
It was the latter title, Northfield Speedway, where most of the hell broke loose the most often. During the first year, 1949, both names Dog River Speedway and Northfield Fairgrounds seemed to be used. In 1951, have associated with the Central Vermont Stock Car Owners and Drivers' Association, the track was often mentioned in ads as Central Vermont Raceway. Thjere was a considerable lull in use of the grounds until 1961, when the final group decided to revive racing there.
As Dog River Speedway, in the very early 1950's, the track had first staged a few open wheel races. It was during one of these events that some stock cars were invited and – on May 29, 1950 that some stock cars driven by Everett Ladd, Bert Colgan, Mike Bussino, Dale Gilbert, Keith Warner and Bob Brayton were allowed for two races to help pave the way for stock cars to have their program soon after. Bussino is believed to have been the first formal stock car winner in Vermont. This, however, was preceded by some sort of exhibition – type performance of stock cars there in October of 1949 in which Ladd won.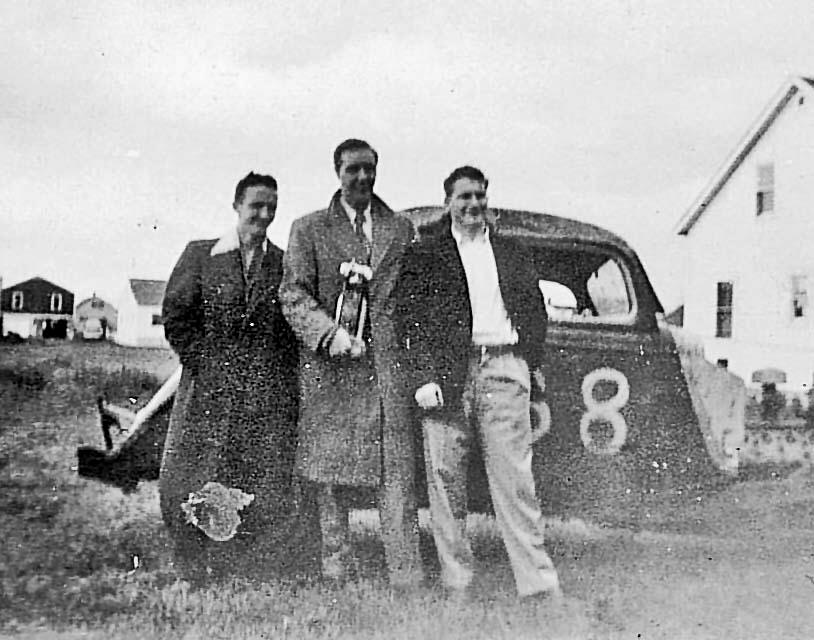 Courtesy of Jack Peterson

1950 state champion Jackie Peterson [center] with Eddie Reynolds
owner of the car and an unidentified man. Below - This Northfield article lists a few
early competitors.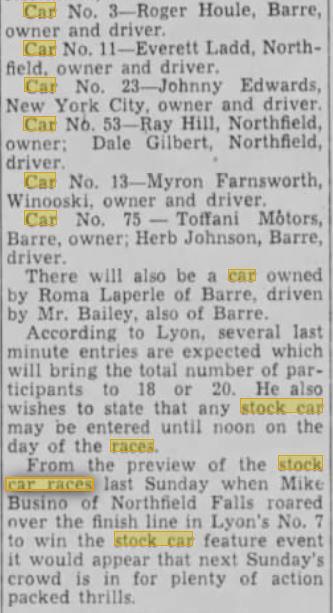 Barre Daily Times
The following year, the track operated in loose cooperation with one at a former air field in East Montpelier. It was in that year that the track, having a virtual monopoly on stock car racing in the area, managed to stage a Vermont State Championship race in the Fall that garnered it much attention. Jack Peterson, who had first raced there with the sprint cars which performed before the advent of stock cars, won the 1950 version of the Vermont State Championship race with a car he says was borrowed from Eddie Reynolds, another driver.
Even in 1951, with the popularity of stock car racing on the rise, the town of Northfield had to have two separate votes before the people could be convinced to approve racing there. Many people disliked the dust and noise that came with it. 1952 ads showed many of the same names that had starred in 1951, including one of the Barre native Cooley brothers who was now coming in from Connecticut and Dick Stone, a driver from Claremont, NH better known as a regular at such places as Rhythm Inn Speedway, Millers Falls, MA, the West Brattleboro Speedway, and Claremont Speedway. While advertising aslo for both "ladies' races" and motorcycle races, the track also saw more of an incursion from northern tracks like Newport and Lyndonville. This brought about that explosive mixture of the larger, rough driving northerners against the lighter, more finesse – oriented cars from Chittenden County and from the area immediately around Northfield.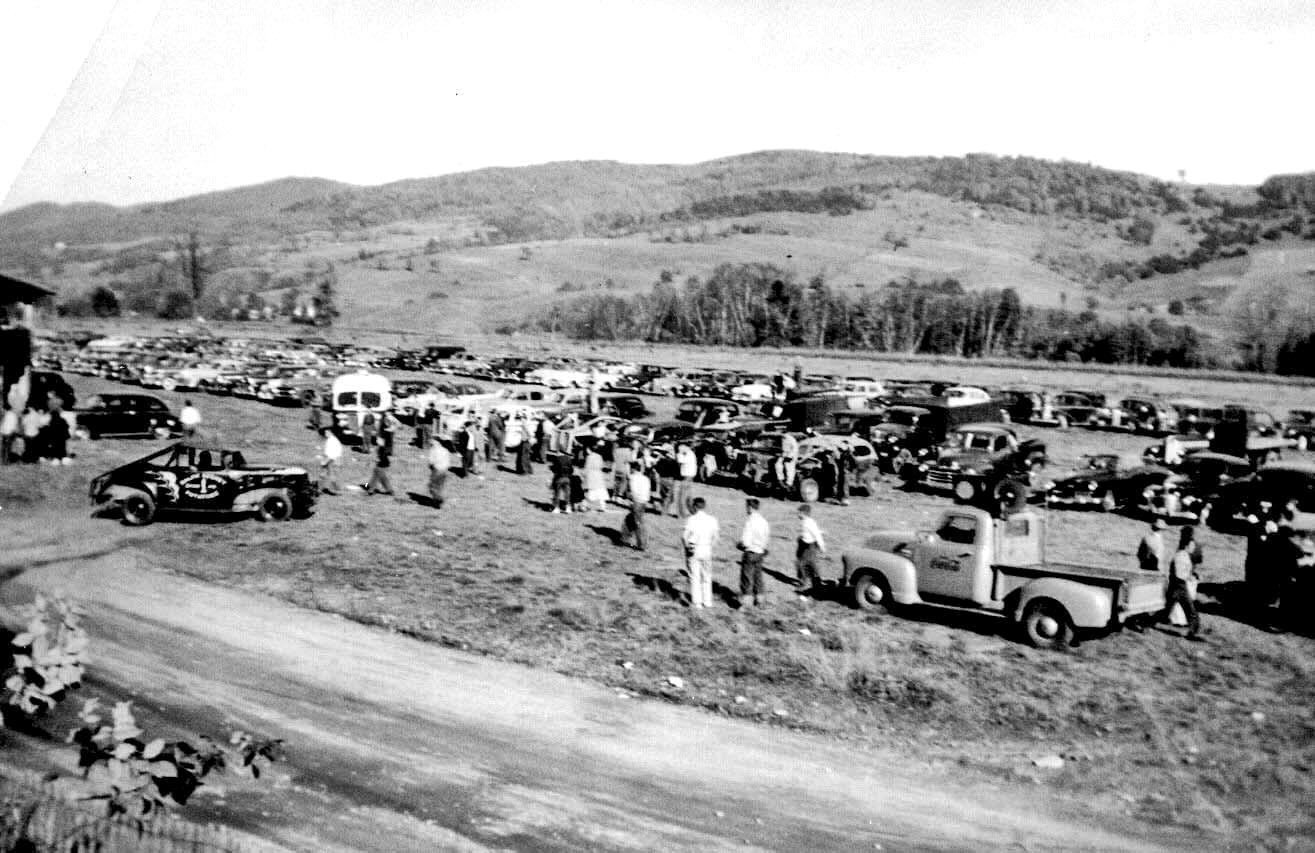 Bob Bushey Family Photo via Jack Anderson
This high view shows the paper clip shape of the track, the infield
pits with a PA system mounted on a Coke truck, Bob Doyle's
Bardahl truck, and the Ralph Bushey car 1 from Burlington. Below - l
ick Stone was a regualr competitor at West Brattleboro Speedway,
another earlier track in Vermont.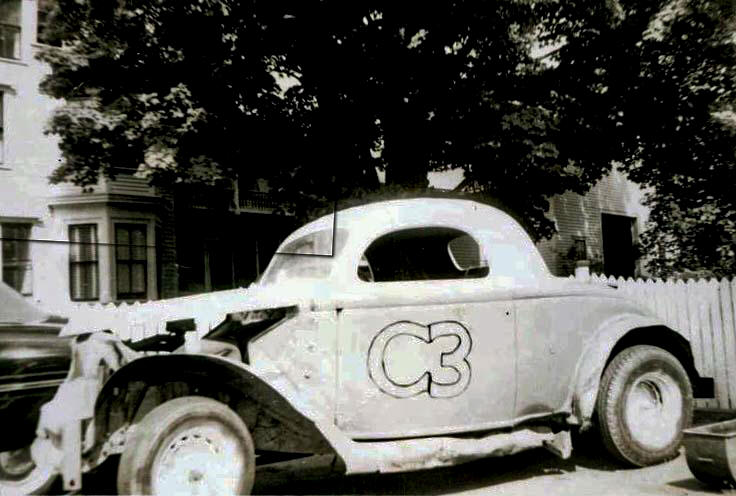 DT Collection
The biggest state championship race for Northfield, which was held in October of 1951, was won by Carl Trayah of Burlington, with fellow Burlingtonian Bob Bushey second. Ron Cooley, then from Montpelier, would race home third. Ironically, It was Ron and brothers Ray and "Spade" who would join together with Northfield's announcer Ken Squier to establish Thunder Road International Speedbowl, a track whose immense popularity would finally spell the end for both Northfield and Northeastern Speedways. Racing would continue into 1952 and even 1953, although with not as much fanfare.
After a period of several years' dormancy, the track was to reopen in August of 1960 under the promotion of Lucien Houle and Dewey McGoff. The track opened to an immediate accident that hospitalized a local driver and , the following week, after extra chloride was added to the track for dust- their water truck broke down. Eventually that year the track atttracted many of the same teams which ran at Thunder Road and even Northeastern; others came from Malletts Bay Speedway, Chittenden County's last remaining race track. Towards the end of the season, the track could crow that it had the famed Roy "Pappy" Forsyth running there. A first – time winner was young Ed Pelletier, from the White River Junction area. Wearing only an old football helmet for protection that day, Pelleier would soon graduate to building potent, well – handling coupes for drivers like Russ Ingerson to drive in 1961.

From the Northeastern Speedway Website


Two views of the track before it was paved in the 1960's. Above -
a peek at the covered grandstands and the announcer's tower.
Below – The announcer's tower and a very crowded infield.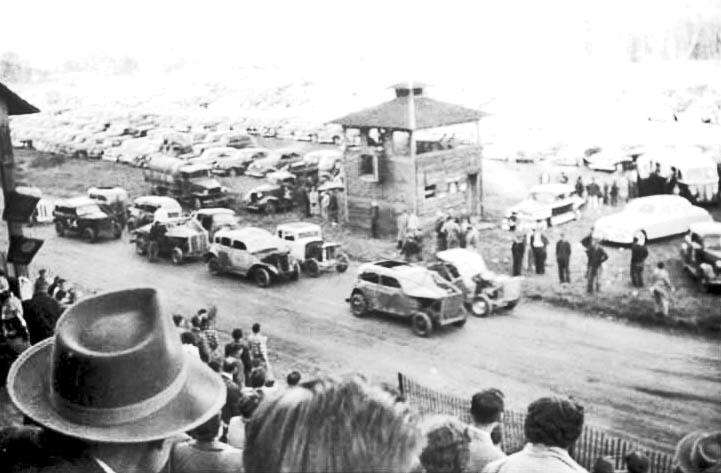 From the Northeastern Speedway Website
1961 would be the lightning rod year. The track, which was paved during the season had its ups and downs all season long. During the course of the racing season, the local fire department had to respond to fires on the track site three times [all happening about a day after race day]. Also, an extremely high profile accident happened in August 13, when a car driven by Howard LaCaillade of Montpelier lost control and struck some retaining fencing. The blow dislodged a pole holding PA speakers which fell and seriously injured a young woman and a boy. There was huge coverage of the accident, including photos of the youngsters. Their recovery and return to school was closely followed, as well.
A few clustered articles around this time chronicled a series of legal issues in court, wherein the paving contractor, Lord and Co. had bring suit to try and get paid for the job that had been done earlier. Some old hands who actually were around at that time insist it wasn't a very ghood paved surface, but the court fouond in favor of the paver. Iti s not clear if they ever got paid before the track closed forever.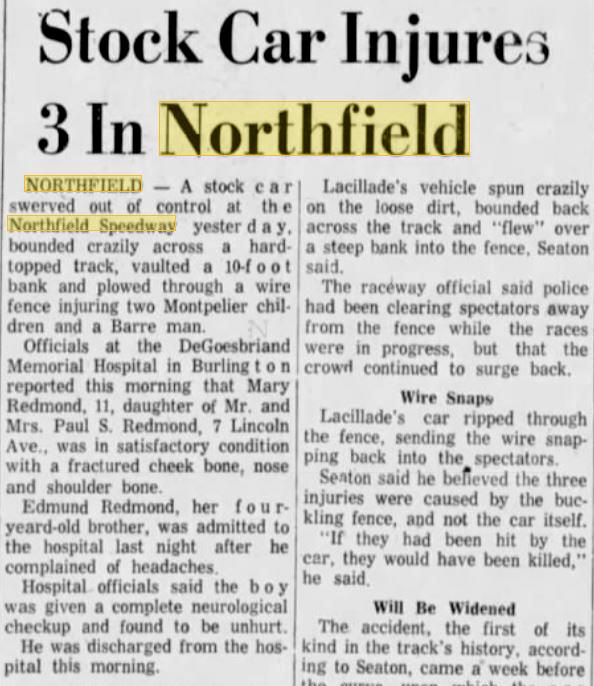 Barre_Montpelier Times Argus
As this clipping shows, there was a high profile accident
involving spectators in 1961. Newspapers even published big
photos of the victims. Below – The most high profile
driver injury [in a long line of those at the track] was that of
Norm Chaloux, the racing granite cutter. He is shown with
his injury at races in Colchester that year [1952].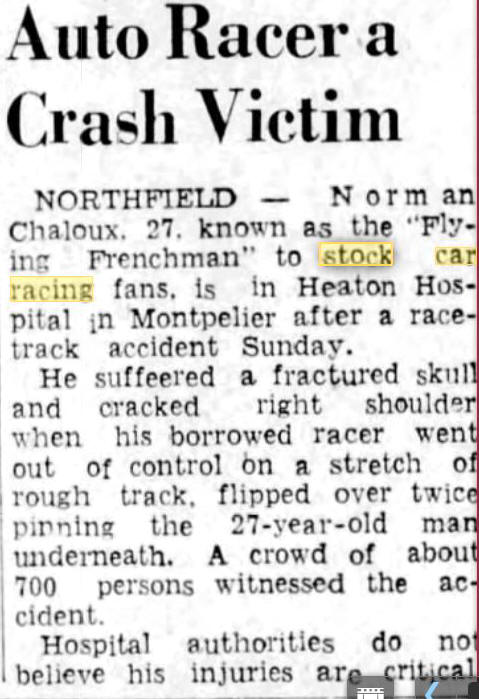 Burlington Daily News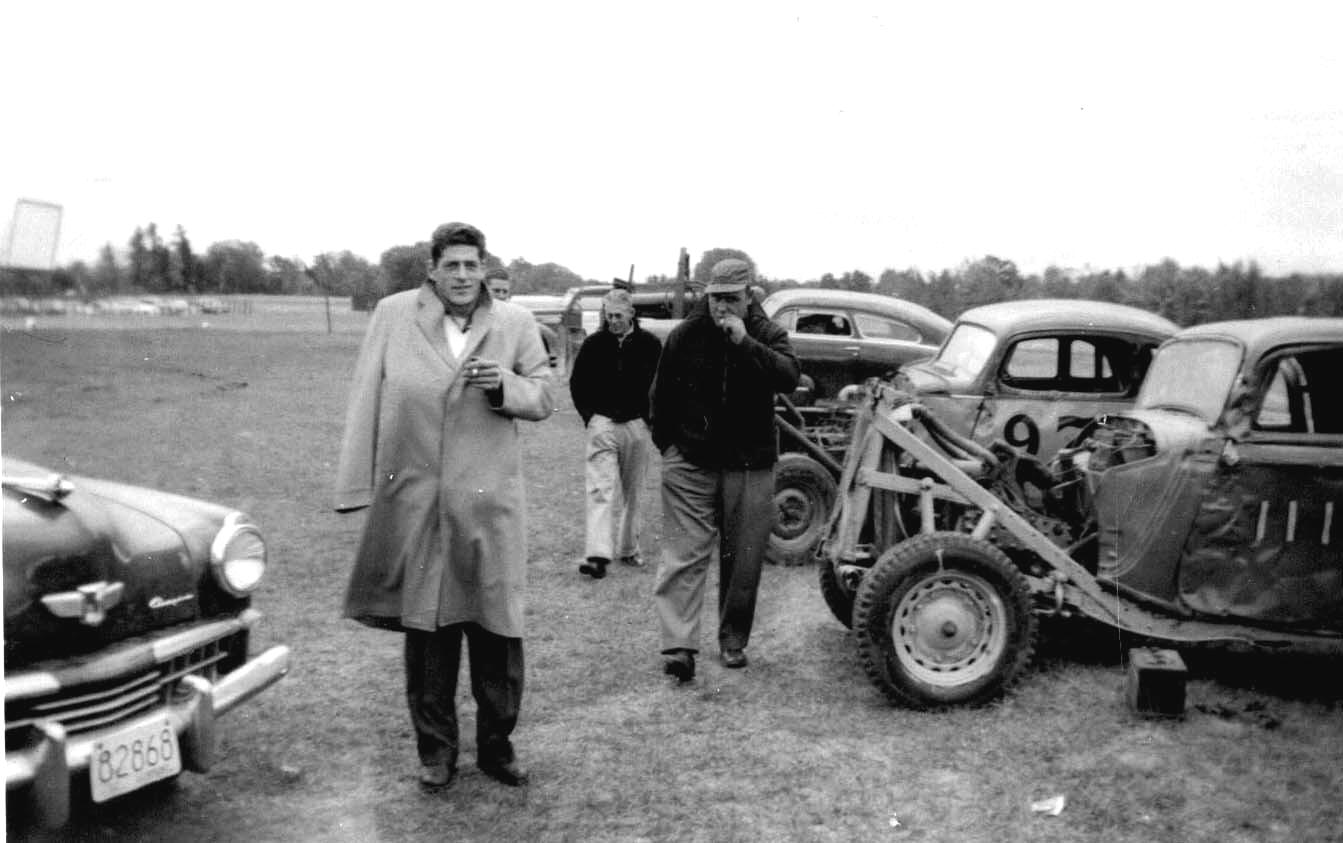 Bushey Family Photo via Jack Anderson
Northfield Speedway forged on, ignoring another brief controversy when letters to the editor complained about uncouth persons drinking beer in the stands, in full view of children. The track chose a Miss 1961 Northfield Speedway – Liz Barry, who had won an essay contest. Ads now featured her, as well as photos of Forsyth, eventual champ Larry Granger, and Ray Stygles. Advertisements for the 1961 championship race crowned there would be 100 cars there at the race won by Larry Granger with the 93 of Libero Buzzi. That young football helmet – wearing Ed Pelleier had fielded top machinery for Russ Ingerson and Forsyth was a top performer in George Barber's 46.
Ads and a few articles would suggest there was some racing at the venue in 1962 and 1963. The track, which has always been remembered for having nearby embankments for errant race cars to tumble down remained just that. In one or two spots, going down the embankments meant landing on active railroad tracks. Local lore also holds that Thunder Road [in particular the Cooleys] grew tired of the Northfield venue adding wear and tear to their beloved, money – making flathead cars. According to that unproven but insistent lore, Cooleys purchased a property supposedly for sand and gravel, which allowed them to block access to the Northfield track. At any rate, not much was ever heard of Northfield Fairgrounds/ Dog River/ Central Vermont Raceway. People who went up for a look around the old venue were often met by a gun – wielding landowner.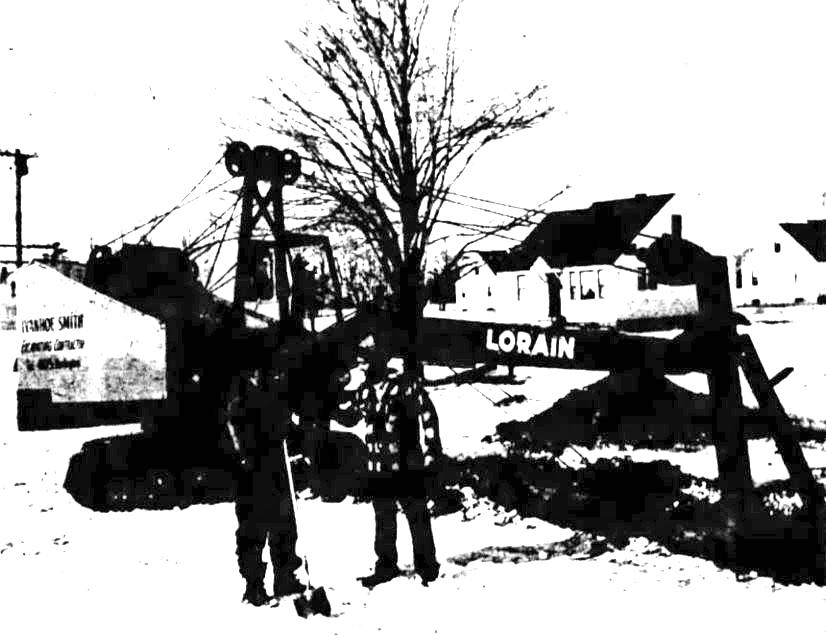 Burlington Free Press
Flamboyant Ivanhoe Smith, shown poorly at right in this old
newspaper photo, put no small amount of effort into his pet project –
Colchester Raceway. Below - A heat prepares to roll off at
Colchester Raceway. The light colored car in the back row is
Jackie Peterson, one of the men who helped Smith protest the racing ban later.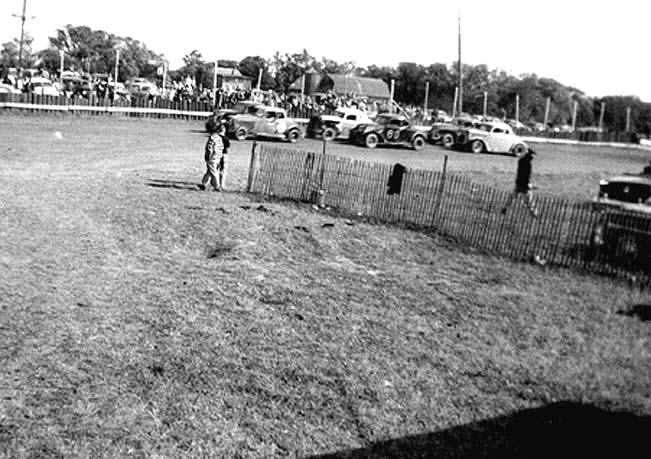 Owens Family Collection via Cliff Owens
Our second snakebite track was sometimes tied in with the aforementioed Northfield track. This story is more about the promoter t han the track itself. When stock car racing began to burgeon in populous Chittenden County, Vermont, 1950 saw the creation of Malletts Bay Raceway off Church Road, South Burlington Raceway, off Dorset Street, possibly a track called Sunset Speedway in Malletts Bay [for which there is still no documentation], and – towards the end of the season Colchester Raceway off Route 2 in Colchester. Operated by bombastic excavation contractor and used car dealer Ivanhoe "Smitty" Smith, the track was somehat more organized a venue than the others despite the fact it was not located on a former fairgrounds.
Colchester Raceway would be the third of a possible six tracks to operate near the Queen City of Burlington, and – while short – lived – it would be the second longest lasting of these tracks. The flamboyant Smith, a pioneer of using the new medium of television for advertising, would not have to contend long with South Burlington or the first Malletts Bay Raceway. While Bayview Speedway [which would become the longest – running and best known track] and Green Mountain Raceway would be opening soon, Smith had a headstart on racing in the area. That headstart would come with some considerable headaches.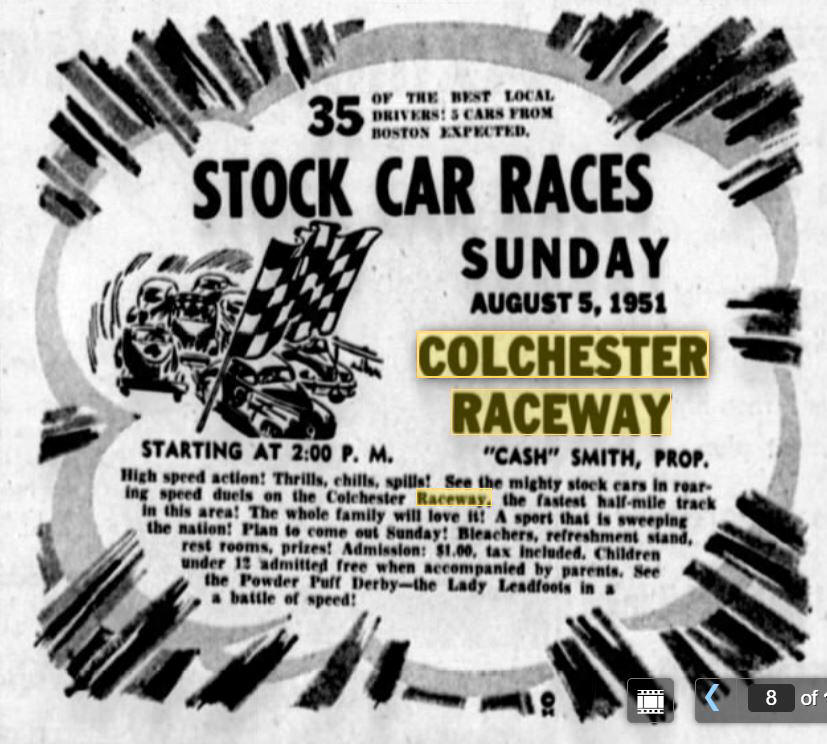 Burlington Free Press
A hopeful ad from 1951, before all the problems started for
Smith's track, which became a lightning rod for all that could
cause problems for a 1950's stock car track that season. Below – This
beginning to a much larger article shows the accident that triggered
a lot of bad press and later legal issues for Smith and race
tracka all over Vermont.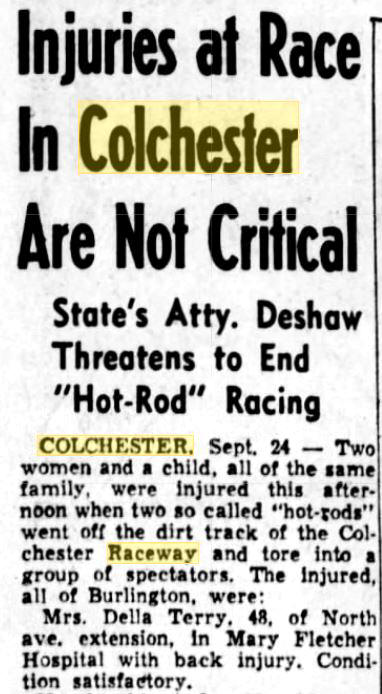 Burlington Free Press
Smith could not get his track going until September of 1950. Locals like to point out that driver Jack "Jackie" Peterson and another man laid the track out for Smith using bags of flour. Trouble began soon thereafter. On September 25th, spectators were injured when cars driven by Ronnie Farnsworth and Frank Hart locked wheels and crashed into the retaining fencing. Despite having been repeatedly told to remain away from the fence, Della Terry, Margaret Terry, and Marlene Dubuque had to be hospitalized after the wreck. With many people already bemoaning the rapid spread of stock car racing, States Attorney Lawrence Deshaw used the incident as well as the death of mechaninc Armand Gagnon at the Manchester, VT fairgrounds as an excuse to invoke archaic, long – dormant Sunday Blue Laws to stop racing on Sundays. Some tracks complied, and a few raced on Saturday, but the pugnacious Smith decided to protest and stage his races the next Sunday.
After some of the first racing held at the track was won by Bob Poirier on September 18, the accident with the spectators happened the next week. While local newspapers covered every minute of the unfolding racing ban drama and the very anti – racing Burlington Daily News editorialized against racing, Smith was busy upgrading his frontstretch retaining barriers and figuring out how to patrol his crowd better. Very early in October, he convinced drivers Carl Trayah, Jack Peterson, Richard Ruel, and Richard Morrison to race at the track in defiance. Peterson has often related how one of the Richards was "just some college kid".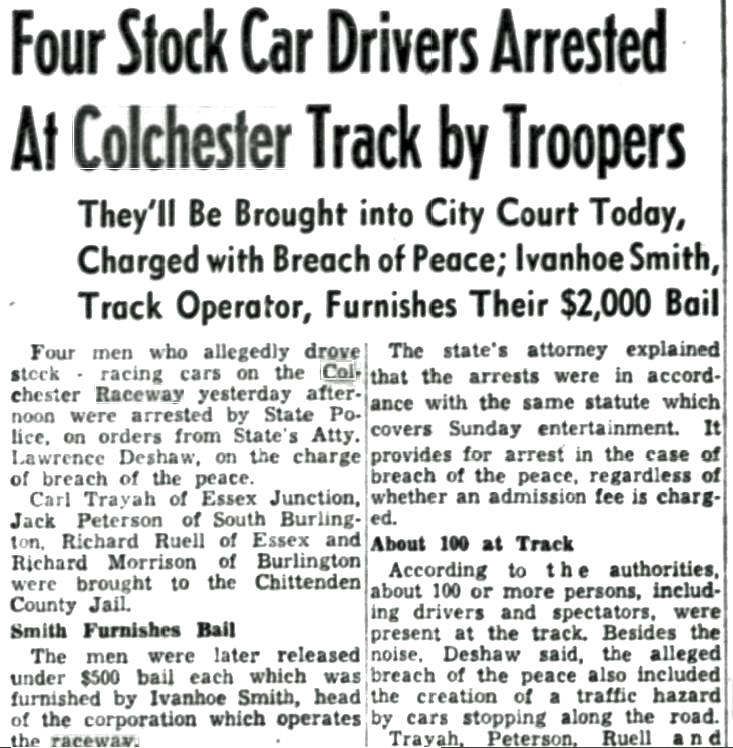 Burlington Free Press
This article made about every newspaper in the Northeast in October
of 1950. Smith still went to race that year and the next. Below -
States Attorned Lawrence Deshaw made the Smith track , in
particular, his personal target; but, ultimately he didn't win out.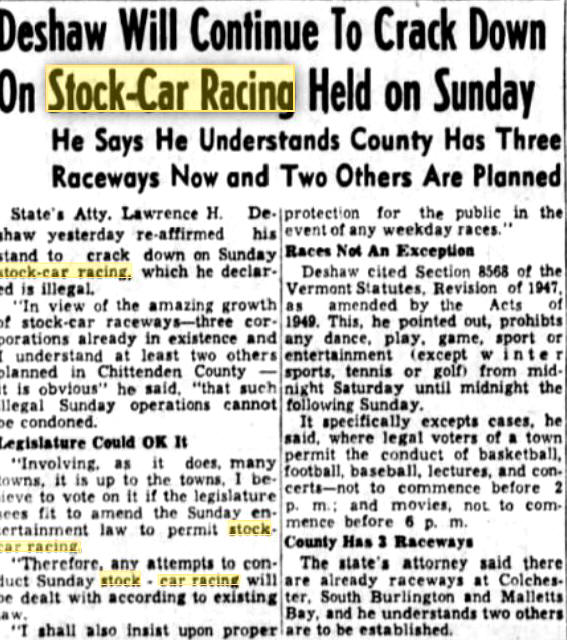 Burlington Free Press
Smith and the four drivers were arrested and summarily bailed out by the flamboyant Smith, with newspaper accountants happening all over the eastern part of the country. Eventually things began to blow over, and the track went on to have several races, even into November. The following year, the track would seem to be going along on a strong course, featuring some of the area's best drivers and sharing some of the action with the track in Northfield. In the midst of this seemingly successful run comes the next disaster. Even as his track had closed, Ivanhoe Smith had agreed to help the Champlain Valley Exposition [the local fairgrounds in Essex Junction that was only a mile or so as the crow flies from the now – closed Colchester Raceway] to stage stock car racing there in 1952. He was working with the Walter Barcomb track Bayview Speedway at the time. The Barcomb track was now called Colchester – Bayview Speedway, to include both promoters' interests.


Burlington Free Press
This article not only heralds the fateful fairgrounds race, but
it describes the track as the "Colchester and Bayview". Also
Walter Barcomb [of Colcheste Bayview Speedway is mentioned
here while Smith [who got all the flak for the Bessette accident]
is not. Below – This poor newspaper shot shows Clyde Yarnell,
who actually hit Bessette, being questioned by state troopers.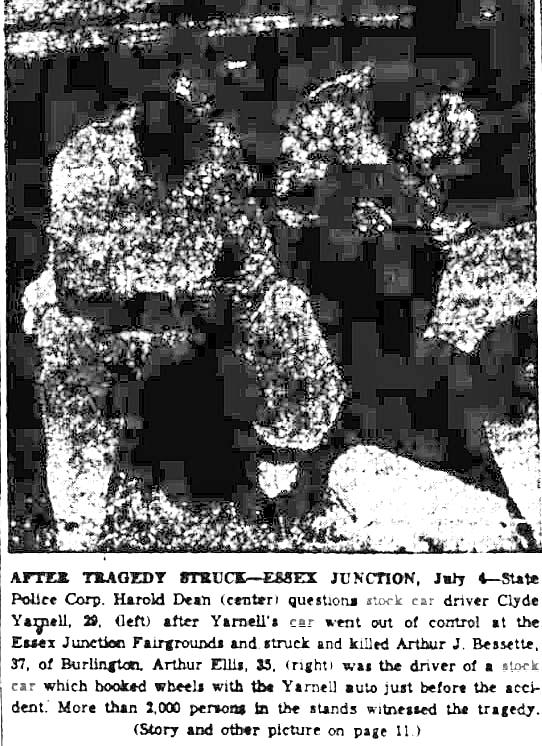 Burlington Free Press
The 1952 CVE show drew cars from all over, and the horse track, with its big grandstands seemed like the ideal venue for a great show. As the most popular version would have it, the races were going on with one particular "mechanic", one Art Bessette having been sent from the site for drunkeness. As that most popular version would have it, Bessette managed to sneak back into the fairgrounds and was standing, very close to the racing surface when cars driven by Clyde Yarnell and Arthur Ellis locked wheels and careened into the infield, the Yarnell car 29 plowing into Bessette. The big news version had a policeman valiantly trying to pull Bessette out of the way to no avail.
Yarnell, Ellis, and almost everybody else were grilled by state troopers as Bessette, pronounced dead, was kept covered up and out of the view of the crowd. The same Carl Trayah who had been arrested helping Smith during the racing ban the previous year ended up winning the race. Problems from that incident would drag on into 1953 when a court find against the suing Bessette family. All of t his was apparently quite enough for Ivanhoe Smith. Colchester Raceway was not heard from again after 1951; he would continue helping the Barcomb family run then – called Colchester – Bayview Speedway on Route 127.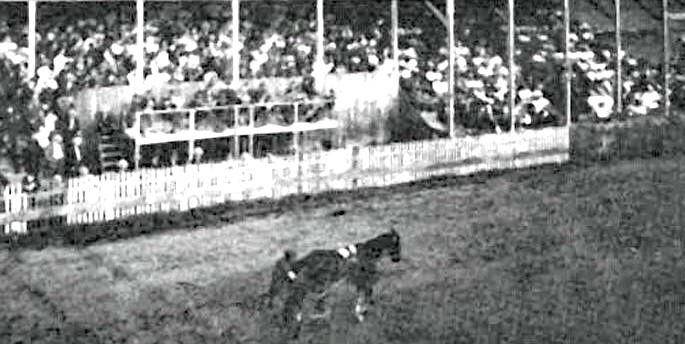 From Dorothy St, John via Russ Farr
Hugh Young took the old Fairmont Park horse track
[minus the nice covered stands] and started one of the state's
first stock car tracks.
Our third track could rival Northfield for which place staged the first stock car races in Vermont. Fairmont Raceway, on the site of the old Fairmont Park horse track and the former Fair Haven Fair was opened for some open wheel racing in the late 1940's. One unsubstantiated photo shows some jalopy - like racing machines supposedly there in 1947; but there is no way to verify the date or place. By 1950, the track was being run and promoted by Hugh Young., a farm equipment dealer whose business abutted the Fairmont locale. While later having a red hot rivalry with nearby Pico Raceway near Rutland, Young had a full year's headstart beginning in 1950 while Pico began into the 1951 season.
The first Fairmont Raceway ads in 1950 mention only "big car" racing. A July article in the nearby Rutland Daily Herald stated that "a trial run" woould be held by Young at the track. The track sending the cars, Champlain Speedway in Ticonderoga, NY, was running roadsters at the time. An article from the Glens Falls Post Star in August states that "local drivers" would compete at Fair Haven in stock cars. Fairmont Raceway seemed to enjoy good press support from the Rutland Daily Herald, the Glens Falls [NY] Post Star, and the Bennington [VT] Evening Banner. The track atttracted some of the developing local racing community with a vast majority of its better teams coming from racing – rich New York, where its drivers were contending with a Sunday Blue Laws crisis of their own by 1951. Young also occasionally drew cars out of Massachusetts and New Hampshire.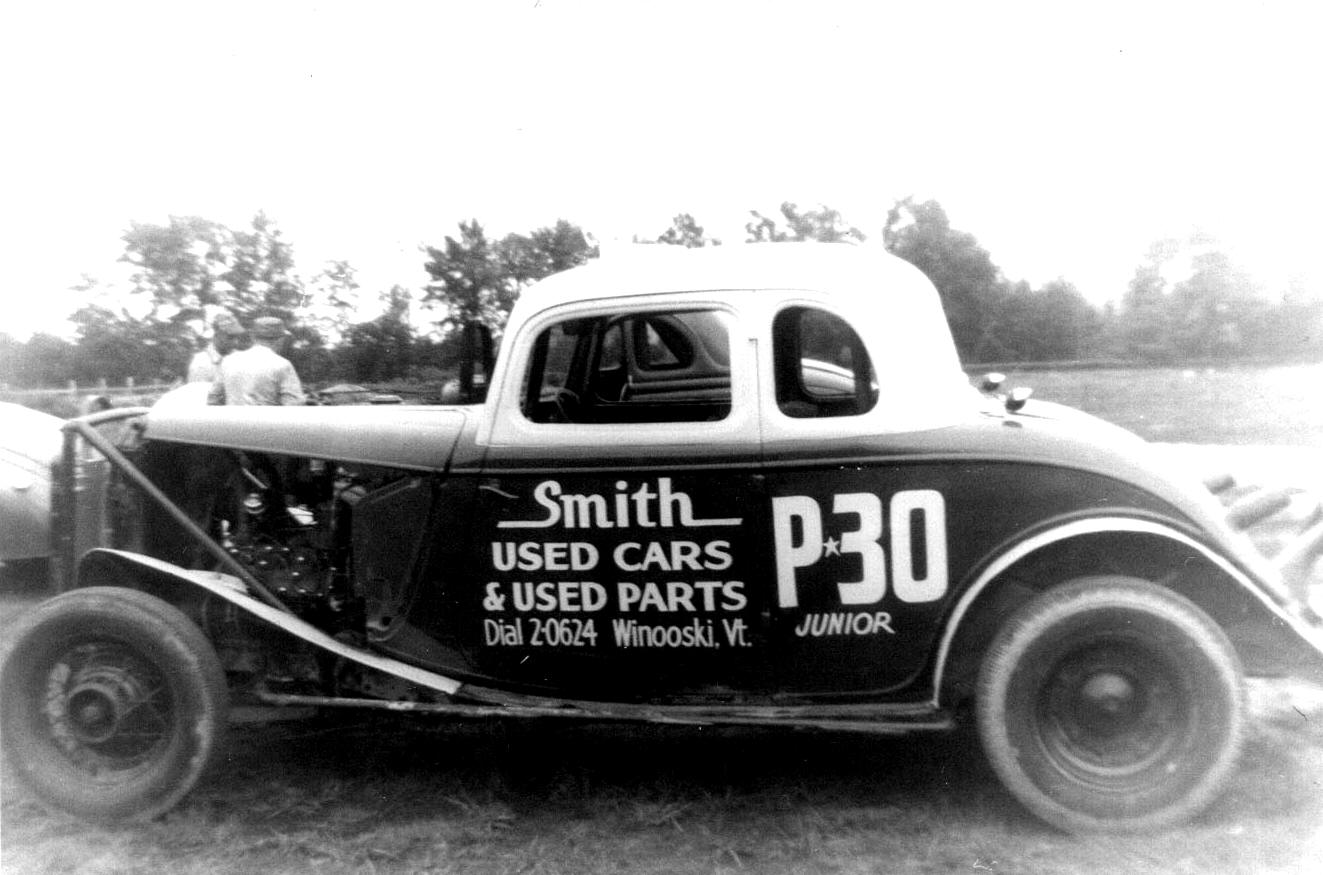 Courtesy of Mark LeFrancois
This ironic photo from an early Fairmont Raceway show
highlights a car owned by the aforementioned Ivanhoe Smith.
The team must have had to flat tow for over two hours to get
there. Below – The car 640 of Ray Sanborn towed even
farther – from Andover, NH.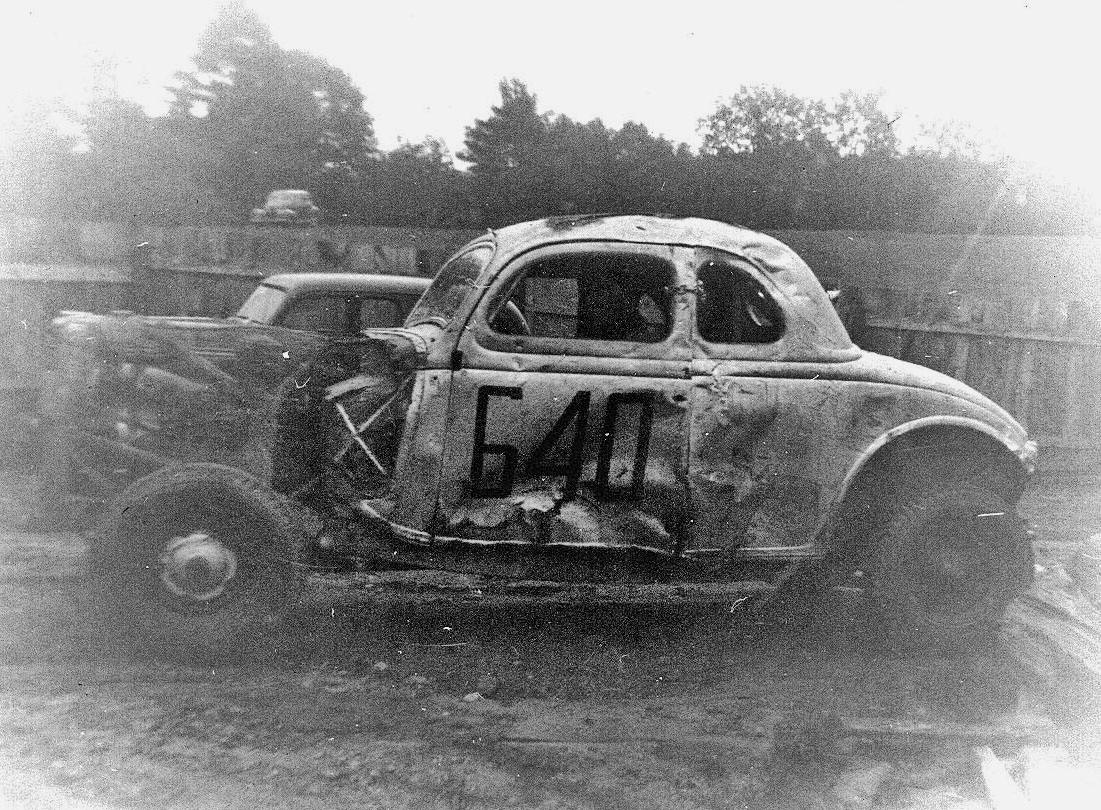 Courtesy of Mark LeFrancois
The 1951 season would see Fairmont and Pico running directly against one another, with Pico perhaps winning the publicity battle but no necessarily the business battle. While little is known about Young's business records, the flashier, more elaborate Pico venue was not meeting many of of it bills obligations. Racing at both tracks seemed to feature dominance by a few top teams such as Cropseyville, NY's Steve Danish, Massachusetts – based Charlie Morse, Saratoga Springs, NY's Spence Parkhurst, and the powerful, mysterious Mopar – powered 33 1/3 of Manchester, VT's Dave Brooks – to name a few. Fairmont enjoyed more teams from New York while Pico did get Empire State cars but also looked east to New Hampshire for cars.
1951 had started off well enough with the track being issued a new charter in June and then the town voting to OK "jalopy racing" in July.Rocks began to appear in Fair Haven's road in 1951 in September when an extremely well – publicized accident happened on September 15. A young Fair Haven man, Marty Vinci was truck and killed by wheel coming off a race car. Local legend has always held that Vinci was not parked on track property when the wheel went through the windsheild of his truck , barely missing his wife. Lore always had it that Vinci was in some tree, watching the race for free, but absolutely no news accounts state this or mention where his truck was sitting. The track got a lot of bad publicity from this accident.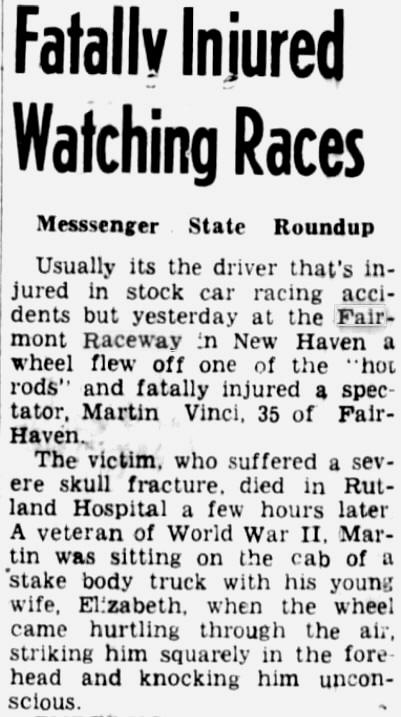 St. Albans Daily Messenger
This article from the reasonably faraway St. Albans Messenger
gives evidence to how widespread the Marty Vinci accident
was reported. Below - This Rutland Herald clipping shows
the earliest mention of stock car racing at Fairmont. The
cars from Ticonderoga were mostly roadsters at that time.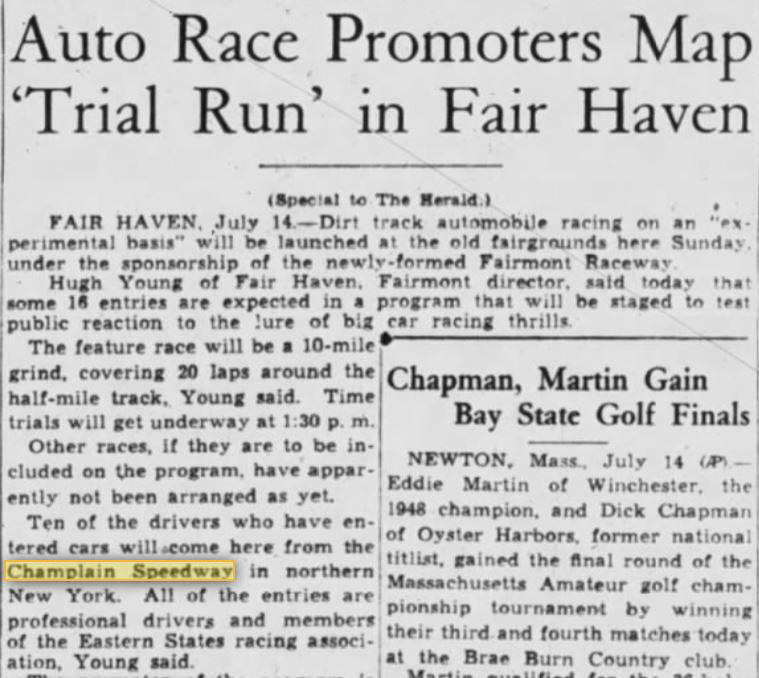 Rutland Daily Herald
While immensely disheartened by the Vinci death, Hugh Young had already planned a big late season race and determined to go with his state championship as planned.Later, Pico track manager Mike Romano issued a protest over Fair Haven calling its big race a "Vermont championship". Romano claimed [with considerable merit] that many of the Pico regulars were as good or better than Fairmont's best. Nothing discernable came from the flap. 1951 ended for both tracks with degrees of success and failure. Hugh Young would go on to his next season, and so would Pico Raceway [not knowing it would be its last].
The 1952 season, in doubt for a while as Young considered whether or not he had recovered enough from the Vinci matter to continue, went on to its conclusion on September 12. In between the opener and the finale, there was some more controversy. Young would as one article put it use the "Veeck touch" [in deference to major league baseball's master showman Bill Veeck] in staging a Miss Fairmont Raceway" contest that year. He also improved concessions, strengthened retaining walls, and upgraded the handicapping system. Driver names in the winner's circle incuded Steve Danish, George Dalby, Rod Therrien, Dave Brooks, Gene Tetreault, Spence Parkhurst, and many more big names. He would stage an earlier – than – usual championship year – ender because he said the track surface needed major upgrades and the Spring weather had not allowed that to happen.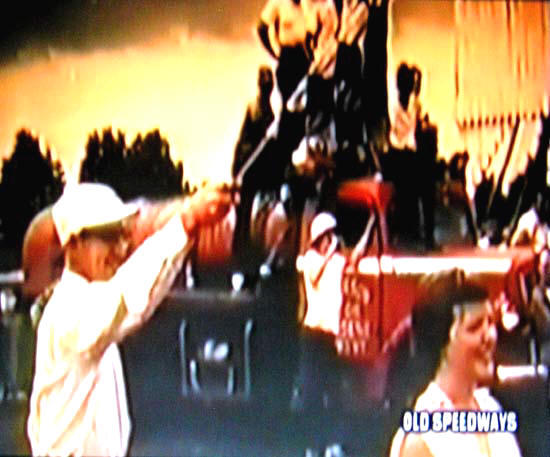 From Dan Ody's 8MM Old Speedways DVD's
Hugh Young stepped up the pace in the two – track race with
such things as a Miss Fairmont contest [above] and
a Fall championship race.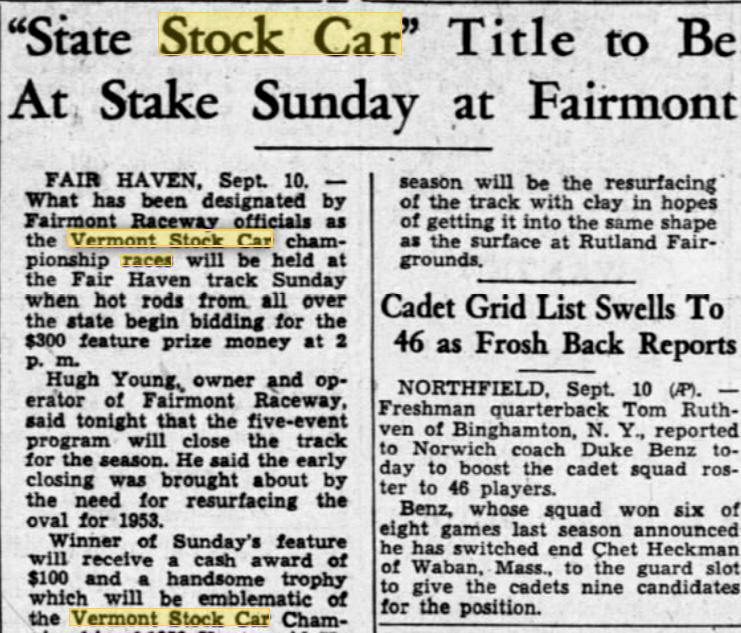 Rutland Daily Herald
From both of their openers in May, throughout the season, Pico and Fairmont had competed closely for fans dollars. While Fairmont had Miss Fairmont and country music shows, Pico would have girl wrestling shows and other attractions. Finally, in mid season, Pico sought to buy lights and the two tracks were no longer butting heads every Sunday aftenoon. To add to the new concrete retaining wall, the improved bleachers, and now the lights, Pico had put itself into a financial hole it wouold not dig out of.
In the midst of the season, the Dave Brooks controversy came up. Brooks, from Manchester, had a powerful Mopar coupe whose engine compartment was always 100% covered., In addition, the car had a very wide wheel base. In July, officals at Pico [perhaps responding to complaints from competitors who coouldn't beat hime] had disqualified the 33 1/3 from further competition in Rutland stating the car was too wide to be legal. Fairmont, of course welcomed Brooks, who already raced there often. As if to add fuel to the fire, somewhere before the disqualification, Brooks had issued a friendly challenge to Steve Danish for some sort of match race. Danish then running mostly at Fair Haven, was accused of snubbing the challenge. Danish would later write a long letter to one of the local papers explaining no such challenge had reached him and, therefore no snub was done.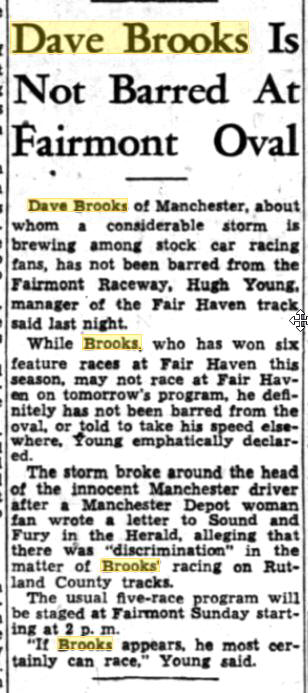 Rutland Daily Herald
Fairmont seized the opportunity to offer Dave Brooks safe
haven after he was tossed from Pico Raceway. Brooks would
win several more times, and the whole flap cooled down.
Below – This small article shows how hot the feud was
getting – even as early as 1951.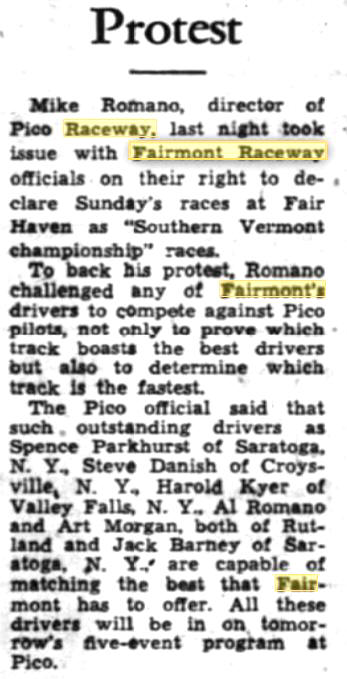 Rutland Daily Herald
Fairmont raceway would go on into the 1953 season. Pico Raceway was done, sinking in a sea of red ink and with its three original partners at each others' throats legally. Fairmont would be the site of some harness racing in the later 1950's and would be re-opened as Fairmont Speedway in 1962 by C.J. Richards. The Tri- City Racing Association of New York would try twice to restore racing at Pico, using other names; but nothing really happened.
I was tempted to keep the focus in Vermont on this one until I ran across the short – lived Noel Raceway, in LaPrairie, Quebec. Built in 1953 and lasting only through 1954, the track had a good location on Taschereau Boulevard. Owner and promoter Roger Noel had been listed in an article of another speedway as an "officiel", but I can't locate that now. In the short life of the track, he would not only manage to attract some good Canadian drivers, but also a few from Vermont – particularly Williston's Gordy Owens.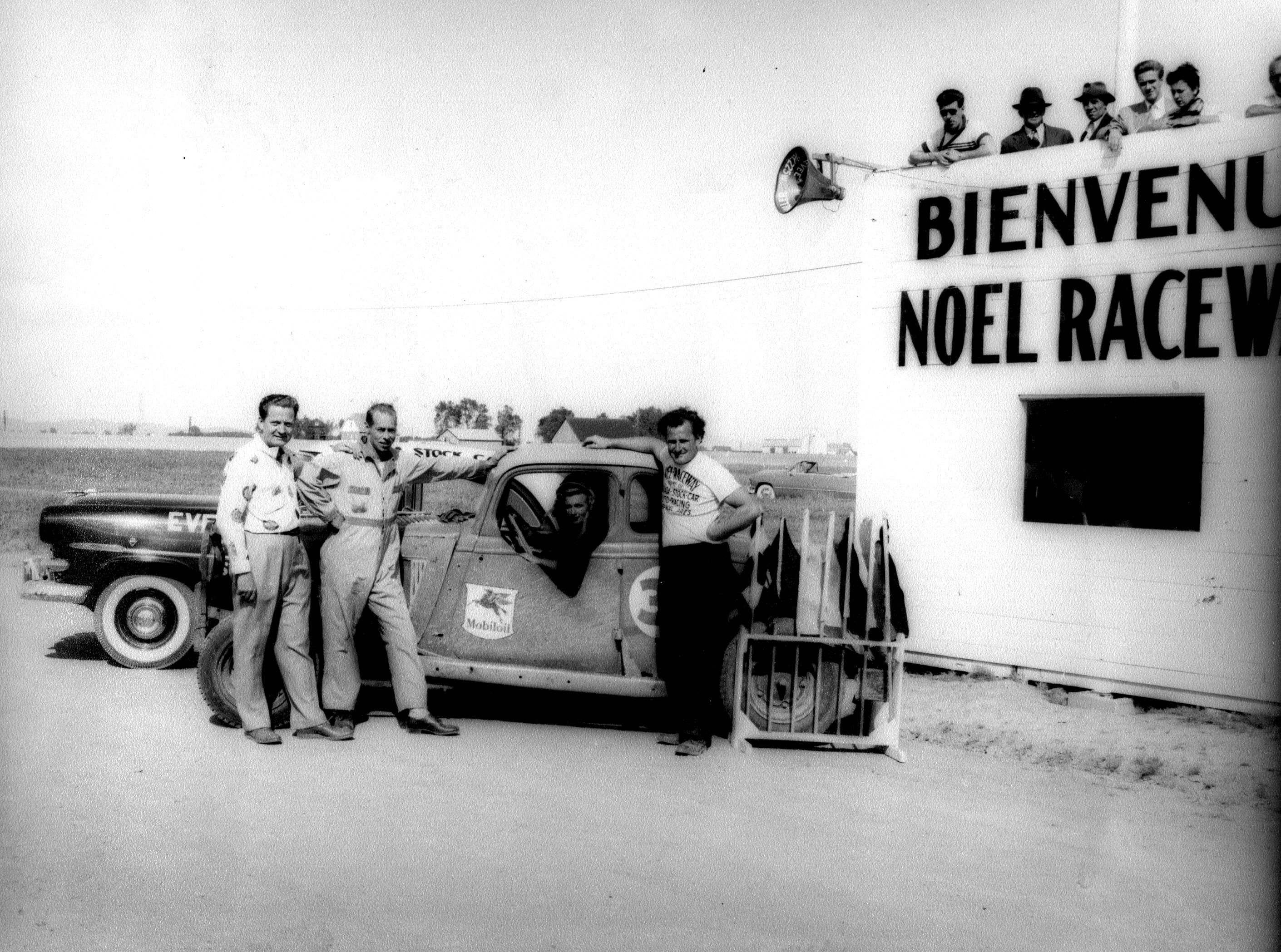 Studio Jean Photo Owens Family Collection via Cliff Owens
As he did with every noteworthy driver, Roger Noel is photographed
with Vermont driver Gordy Owens in front of the building with
the best signage. Owens is 2nd from left; Noel is at right, and
Mrs. Owens is in the car. Below - Roy Forsythe is weariug the
proof that he must have tried Noel at least once. The shirt would
have to have been three years old in that shot.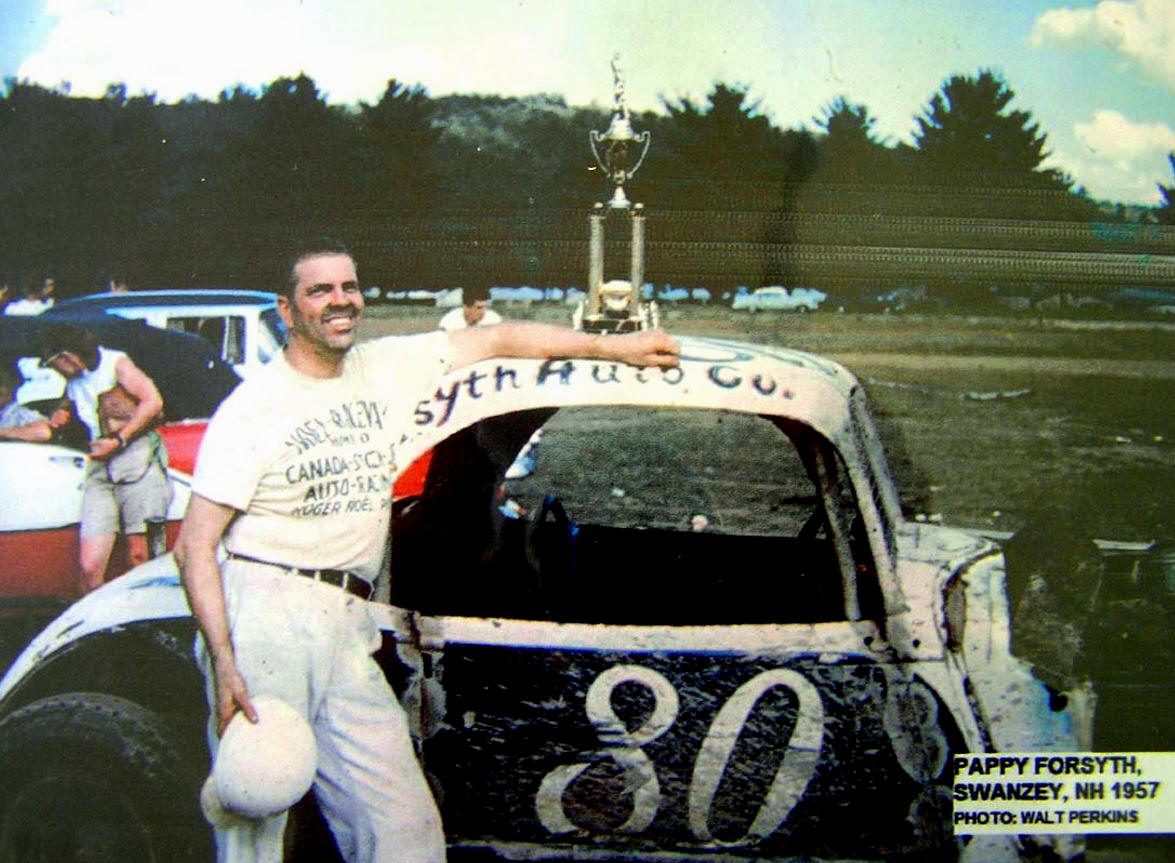 Courtesy of Walt Perkins via Neal Davis
Much like most race tracks, Noel Raceway was constructed in a relatively – short amount of time. It's first [and nearly only] consistent star was Fernand Gendron. George Griffiths and the very famed [in Canada] Lucky 7 car were mentioned in an article on the sedond – ever program at Noel but there is no indication he raced that day. Alburgh, Vermont's L.J. Westover does appear in race results. Roger had a strange way of doing publicity releases. While going into ridiculous detail and naming people like trophy presenters and the ambulance owner, he almost never listed his drivers – something that might have actually excited some interest.
The first disaster struck in July of 1953 when Gerard Pilon died while mowing grass at the track. The tractor he was using overturned and trapped him in water underneath. The following month, on the third of August a car #41 [driver never identified] lost control, hopped a flimsy metal fence, and injured up to thrity specators. One report states that the whipping motion of the fence, when struck, did far more damage to people than car 41. Eighteen out of the thirty injured had to be hospitalized.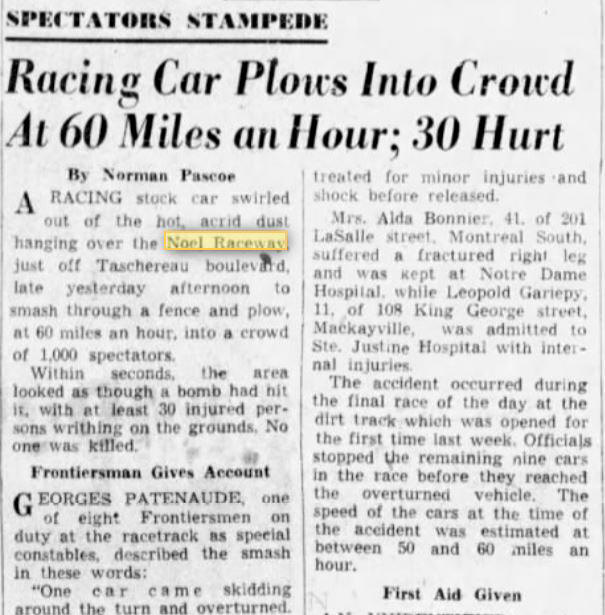 Montreal Star Photo
This busy photo cluster tries to show what happened at the
August 3, 1953 Noel Raceway accident. Below – In happier times,
Ronald Premont wins a "free-for-all" race at Noel in 1954.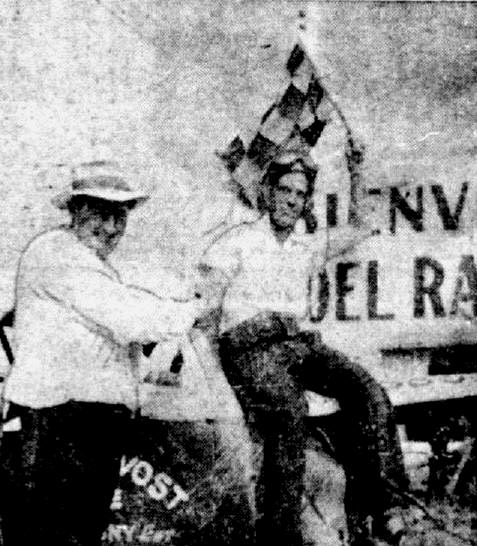 Peitit Journal de Quebec
Noel never missed a beat, advertising the following week with a disclaimer: "Pas responsible des accidents". I felt certain the track would fold after that first try, but it reopened in 1954 and seemed to run something near a full schedule. It is not clear when the much – ballyhooed Owens drove there, but he was heavily photographed with everyone having much to do with the track in on the photo op. The even – more – famous Roy "Pappy" Forsythe, operating his own car 80 out of Keene, NH, also probably tried a run at Noel. He is photographed with a track tee short.
One particularly interesting newspaper ad from 1954 announces greyhound racing at the track. I have no idea if these were interspersed duing times Noel was not have car races, and there were no more indicators of whether or not it continued. One thing is for sure – there are no signs that Noel Raceway survived into 1955. Vermont's legendary [particularly in Canada] Jackie "Speed" Peterson thinks he recalls racing at the track at least once [and he raced in Canada from about 1949 – managing to crash and hurt himself at numerous tracks there. Prominent Quebec driver Bob Chartrand appeared there, at some point as well.

Courtesy of Gerard Major
The "voiture officiel" at the new track. Below – Bob Chartrand
[I believe to be Jean-Guy's father] at the track around 1954.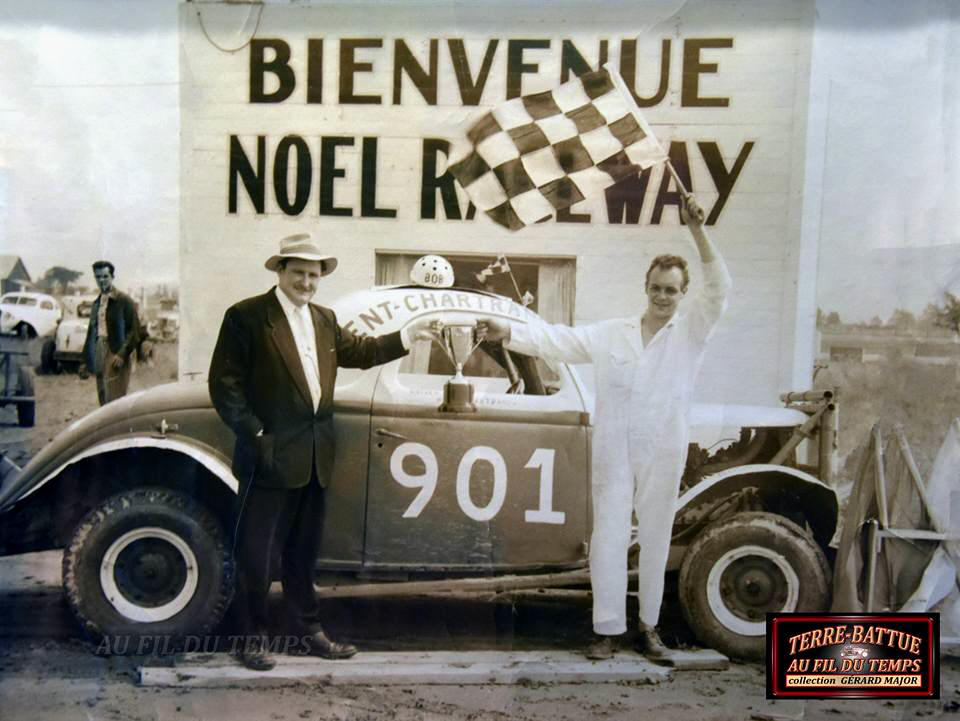 Courtesy of Gerard Major
Noel Raceway went the way of Northfield, Fairmont, and Colchester Raceway, lasting much less long than the first two and about the same as the last one. These tracks and many like them were typical of the ups and downs of stock car promotion in the early days of racing.
Please email me at wladabou@comcast.net if you have any photos to lend me or information and corrections I could benefit from. Please do not submit anything you are not willing to allow me to use on my website - and thanks. For those who still don't like computers - my regular address is: Bill Ladabouche, 23 York Street, Swanton, Vermont 05488.
AS ALWAYS, DON'T FORGET TO CHECK OUT THE REST OF MY WEBSITE:
www.catamountstadium.com
Return to the Main Page
Return to the Main News Page
Return to the All Links Page
Return to the Weekly Blog Links Page