BILL'S [Somewhat] WEEKLY COLUMN/BLOG PAGE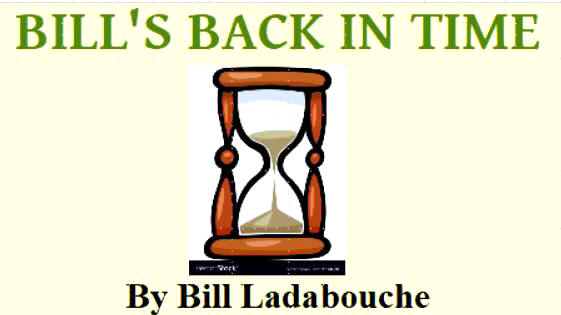 ALEXANDER'S RAGTIME BAND
I don't know all that much about Alex Alexander. He's a friend, and he has devoted a good part of his lifetime to the sport of racing. Actually, I knew his wife, Linda first; at least, I knew of her. Linda is a definite racing pioneer in the state of Vermont. She first appeared in my area asa Hurricane driver, along with the slightly better – know Barbara Jean "BJ" Willard, somewhere around 1971.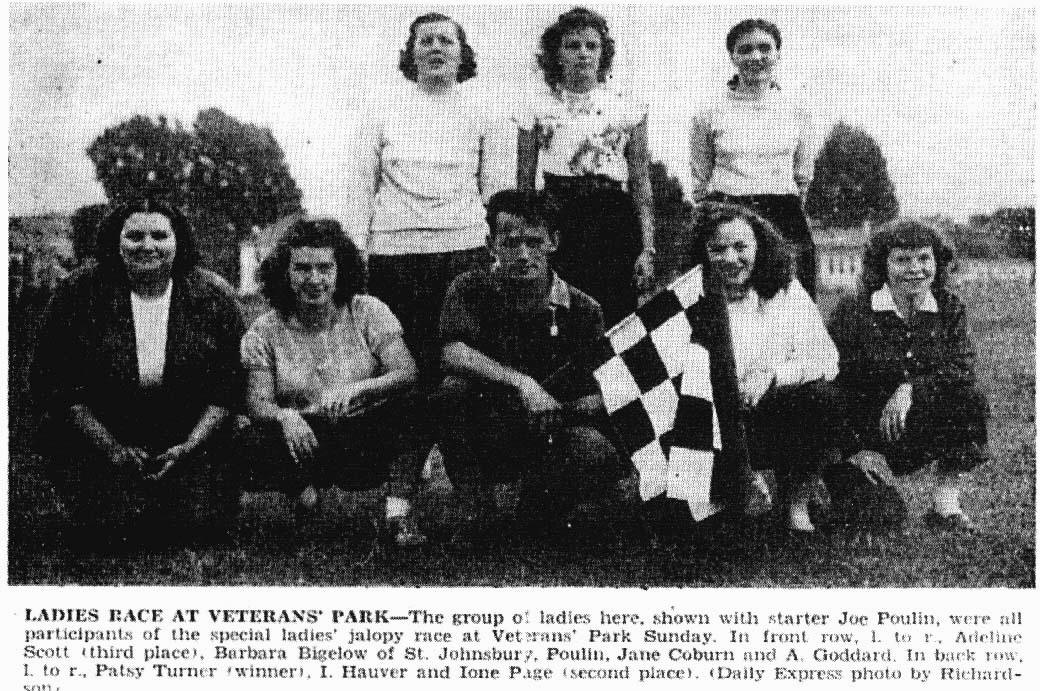 Courtesy of Ken Hitchcock via Scott Wheeler
This early shot at Veterans' Park, Newport, VT shows
a very serious group of powder puff drivers who raced weekly.
Barbara [Mrs Gerry] Bigelow , 2nd from left in front row,
was as serious as any man in the pits. Below – Jane Colburn
was one of Newport's lady drivers.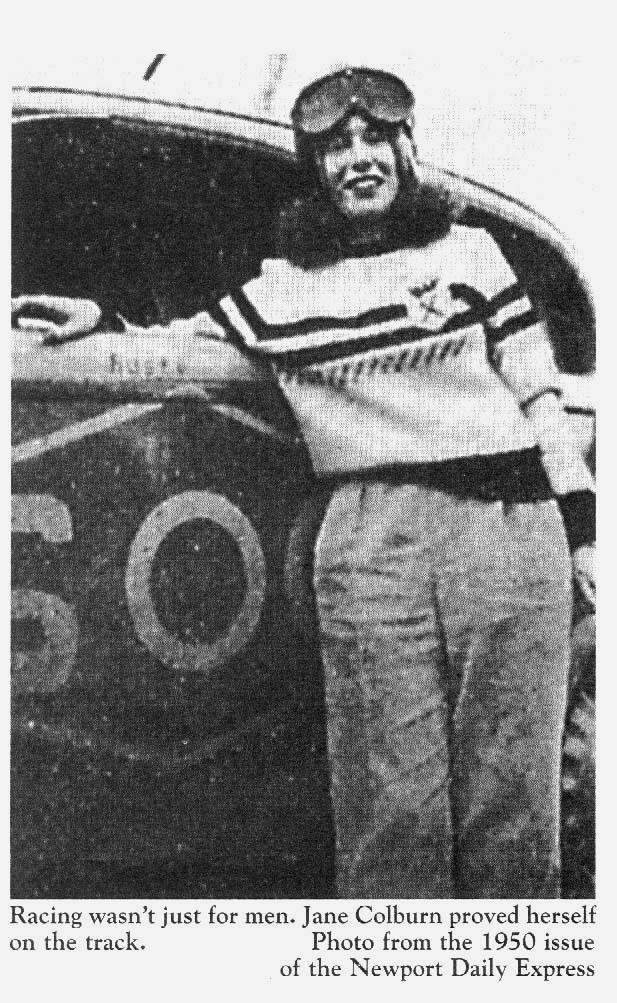 Courtesy of Scott Wheeler



Both women were certainly not the first of their gender to race, but they made more of a dent in notoriety than any predecessors such as Ma Begins, a Malletts Bay Raceway competitor or a few of the other women whose participation in stock car racing was not as Powder Puff drivers [a phenomenon very prevalent in the 1950s']. Actually Catamount ran a few Powder Puff events in its earlier years, letting the ladies run cars from its Flying Tiger class, but I know of none who went on to race much afte that.
Getting back to Alex, I don't know when he married Linda or if he had anything to do with racing before Linda. This blog is not an attempt to do a bio on their personal lives; It is, however a attempt to give some credit to a guy who touched a lot of lives in racing [and still is, for all I know].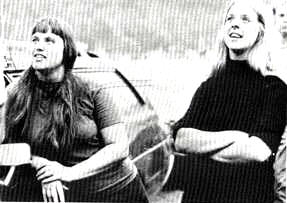 Source Unknown – Likely, the Catamount Program
Linda [right] stands with BJ Willard at a pit meeting
either at Catamount or Thunder Road. They both look a
little amused at the whole thing. Below – Bev Stearns
came first but did not race for very long.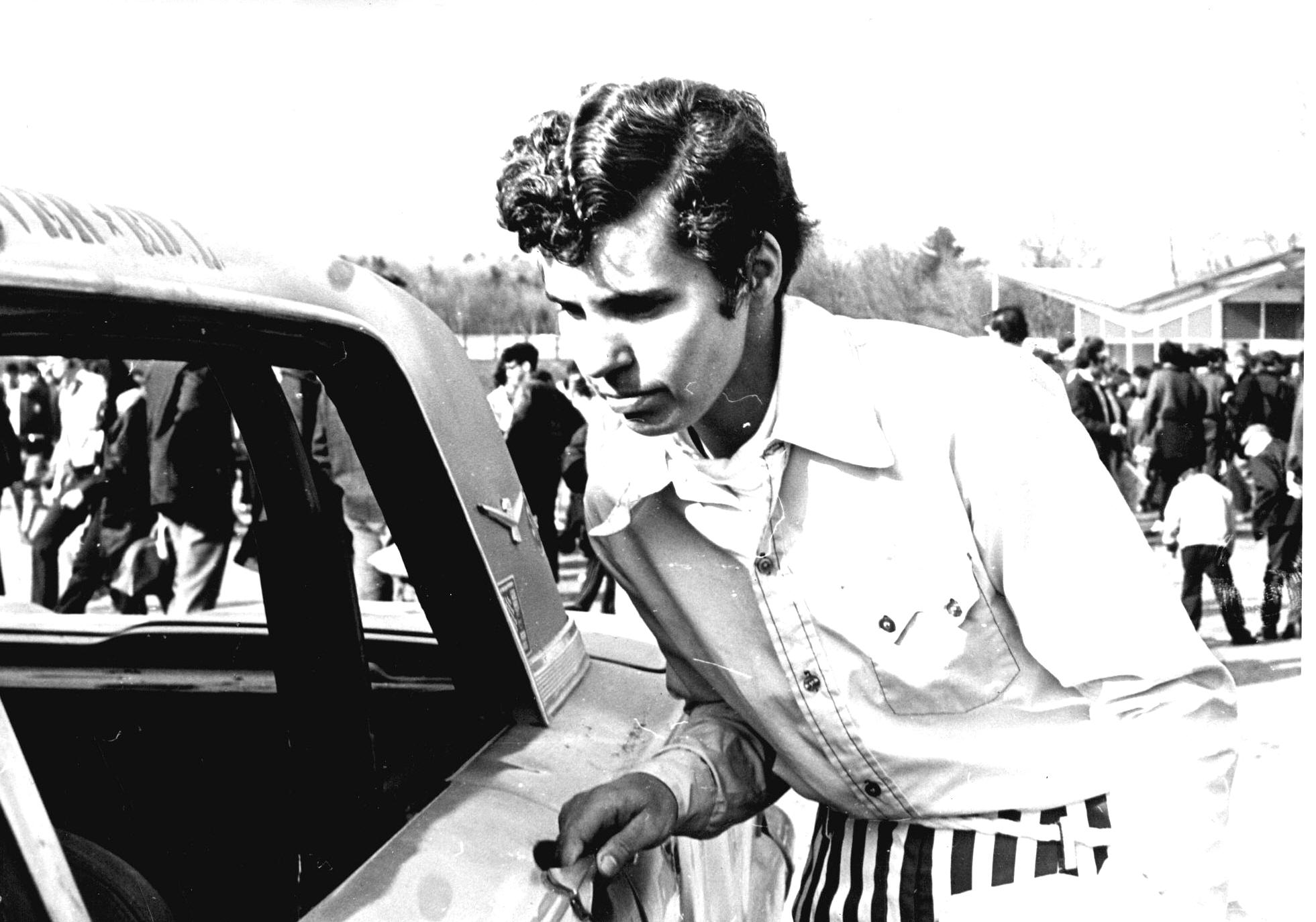 Courtesy of Chris Companion
I do know that she, BJ, and a woman named Bev Stearns had all cracked the ice in the Hurricane class before 1974. Stearns had been photographed looking over ta Hurricane Thunderbird at Catamount. When the photo made it into the Catamount program, I am not sure anyone knew she would actually be the first to hit the track. But she did not race for very long.
The class was a beast for uniniated men. Let alone women. The cars, especially at first, were giant automatic transmission monsters, not allowed to have many modification to allow better handling. Like t heir counterparts to the West and the South, the were automatics and served as pavement tracks support divisons. Tracks like Devil's Bowl, Albany – Saratoga Speedway, and Airborne Speedway called them Chargers. SO similar were they, that Catamount and Thunder Road Hurricane teams could go over to Airborne or down to Devil's Bowl to race without much or any adjustments.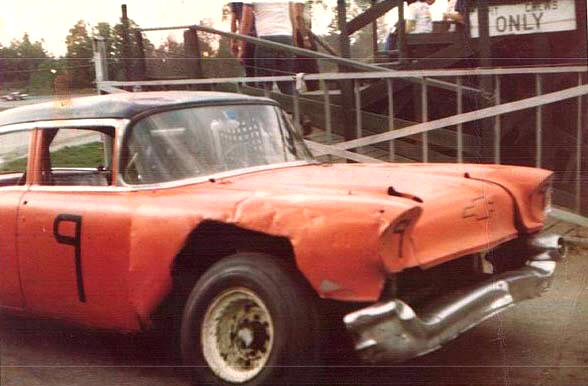 Courtesy of the Alexander Family
Linda's first Hurricane was apparently this '57 Chevy, seen here
Below - - Linda, heading in at T Road with the '62.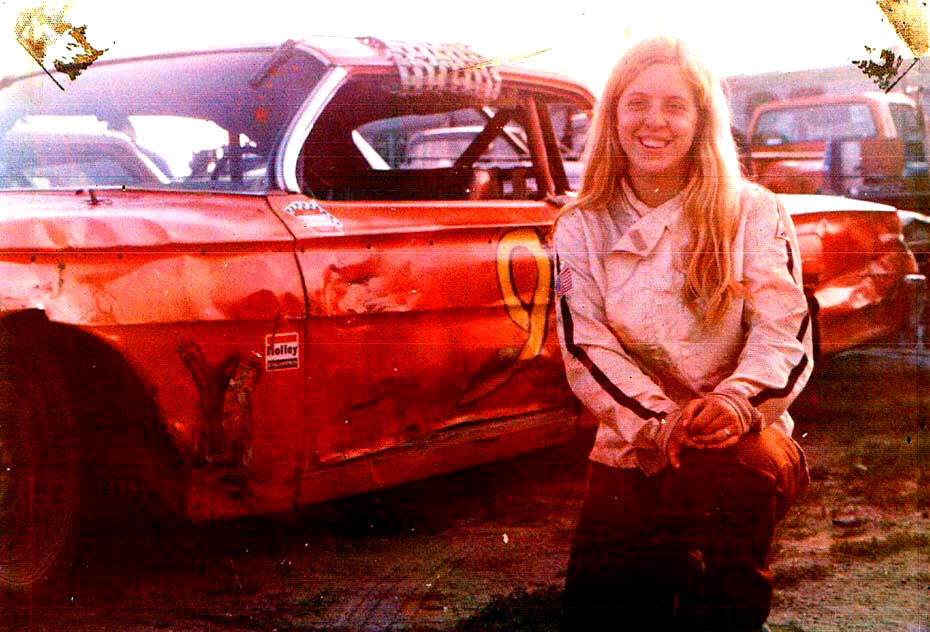 Courtesy of the Alexander Family


So it was that these entered the fray – Stearns and Willard more at Catamount and Linda Alexander tending to do a little more at Thunder Road. So, couple the innate difficulty of racing a Hurricane with the confining banked quarter mile that was T Road, and you had quite a challenge for Linda [and Alex]. Alex was already well on his way to developing a huge cadre of close friends, one of whom was someone I had known in my college days.
I am not exactly certain where the Alexanders lived then, but I would bet it was somewhere near Chelsea, VT, where my former college mate Steve Ladd had lived and moved back to after Castleton State College. I knew Ladd was an absolute Hudson fanatic, as we had discussed the Hudsons I so enjoyed watching at Fairmont Speedway, in my younger days. In particular, I would tell stories of Warrensburg, NY's Ed Baker, driving the #6PACK Hudson coupe of Vern Baker [no relation]. Steve had gotten to see that car a few times and loved it.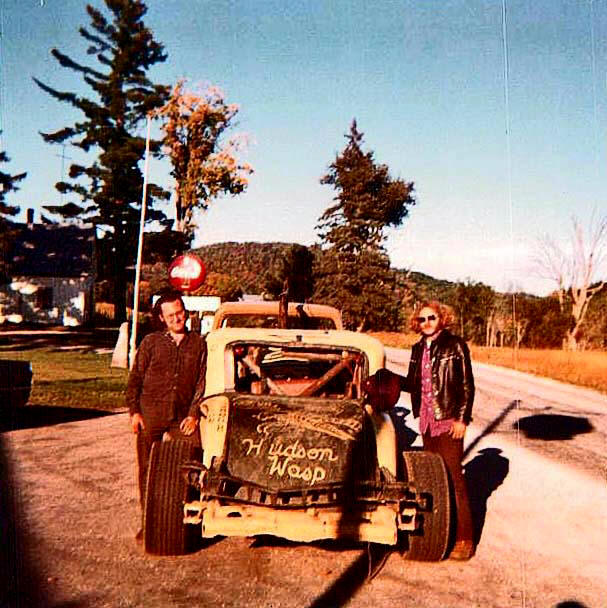 Courtesy of the Alexander Family
Steve [left] and Alex with Steve's 1930's Hudson Wasp, getting ready
to tow to Bear Ridge. Below – An other look at the Ladd pride and joy.
Further Below – Ed Baker's Hudson at Fairmont Speedway, perhaps
an inspiration for Steve.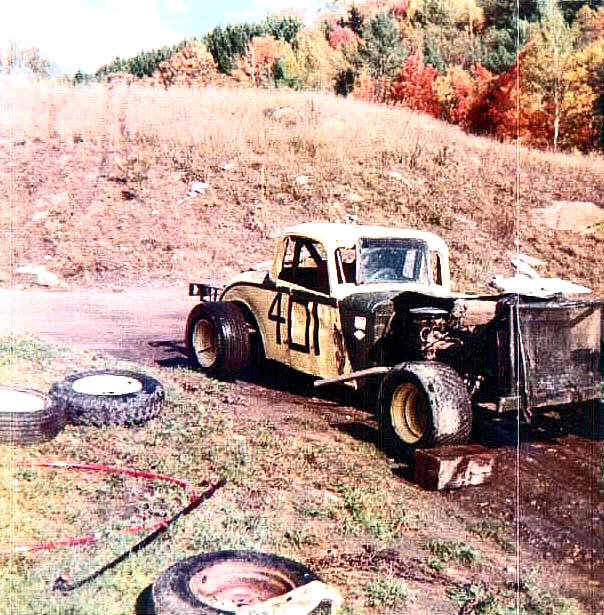 Courtesy of the Alexander Family
6PACK_FENDERS Images
Ladabouche Photo
I am not certain if Alex was a much of a Hudson nut as Steve, but I know they fielded a Hudson coupe at the Bear Ridge Speedway in Bradford, a track that was, at that time, only a couple of years in existence. Ladd loved the place because it was built by George Barber to be a haven for the mostly – dismissed flathead coupes that once were king at places like Thunder Road, Claremont Speedway, and Fairmont Speedway – to name a few tracks.
Not wanting this to become about Steve, I would just say that, one time, I bough a truck load of logs for firewood from Richard Pratt, a racing photographer from Chelsea. Unbeknownst to me, he brought Steve with him to deliver. Not knowing, I was gone – lettering somebody's pickup or stock car somewhere. Soon after, Steve died; I felt pretty bad. But the Aleanders forged on.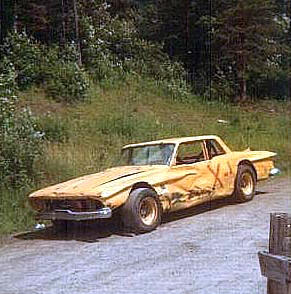 Courtesy of the Alexander Family
The old Chester T. Wood Plymouth, reposing on the Alexander
property before being painted pond scum green. Below -
The poor old car after it had come to a bad end.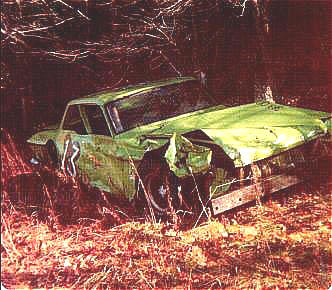 Courtesy of the Alexander Family
One of Alex's stories involved buying up the wrecky, low – dollar [but wicked fast] Chester T. Wood 1962 Plymouth in 1973, when Wood got into a much prettier Dodge [which didn't work nearly as well]. Alex eventually took the old Plymouth, dents and all, and painted it a kind of pond scum green, replaceing Wood's iconic #X1 with the number 13. [Nothing like bucking two of the biggest racing superstitions there were]. I am not sure if Alex raced the car, where he raced the car, or when- but it was soon retired, perhaps not in exactly improved condition.
The Alexanders had started Linda out either with a 1962 Chevy Hurricane car which I only saw at T Road; or, she began with a 1957 Chevy and then switched over. Later, I do believe it made its way to Catamount. Then, she was not running anywhere near as often as BJ Willard and was certainly not getting much publicity. At some not too much later, they would start fielding cars for her with their trademark brown color with orange highlights and mostly with the number 05.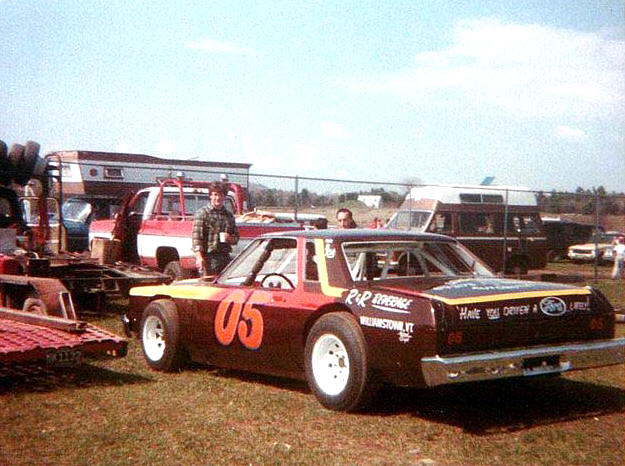 Courtesy of the Alexander Family
The gorgeoous Granada, complete with the now – familiar
Alexander color scheme and number 05. Below – Linda shows the
way at Can-Am Speedway in Newport around 1980.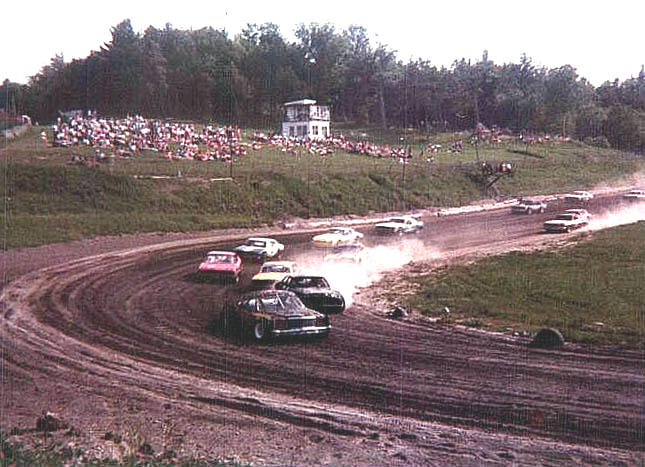 Courtesy of the Alexander Family
For a while, Linda stuck pretty much to Bear Ridge, where she seemed to earn a lot of respect and positive attention that she hadn't seen at Catamount. I don't have records of her racing, but I am pretty sure she saw some checkered flags in the division she was running. There are photos of her with some of the leading drivers in the headlining coupe class to prove she had carved a niche there. Like many of the Bear Ridge and also Riverside Speedway [Groveton, NH] teams, the Alexanders also did some racing at the short – lived Can-Am Speedway, built on a massive landfill in Coventry, near Newport.
One of the Alexander entries around this time was a Ford Granada. I always thought this was one of the neatest cars of that time. I am not sure if it ever ran on pavement anywhere, but there are shots of it on the rocky, bumpy, dusty Can-AM track. Linda was apparently quite a force with that car up there. I would have to assume it also must have run at Bear Ridge.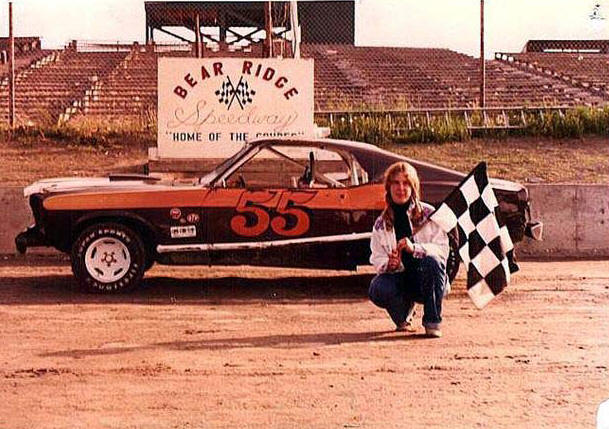 Courtesy of the Alexander Family
Linda, at Bear Ridge with the Mustang. I think she had won
the feature in her class there. Below – Linda obviously
used the Mustang in the New Tigers. Here she enters
Catamount in the 1980s.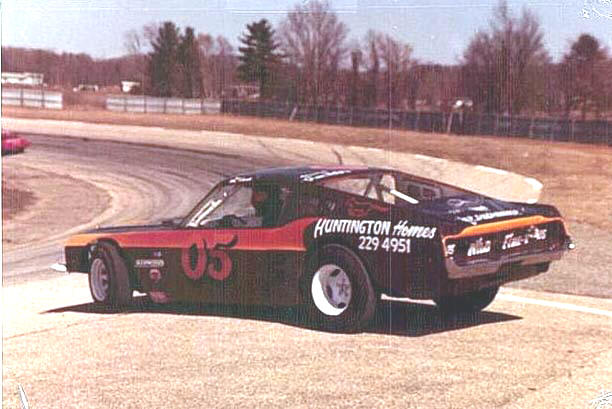 Courtesy of the Alexander Family
So, Linda had first stuck to paved tracks, but had blossomed later on the dirt at venues such as Bear Ridge and Can – Am. Eventually, Can-Am folded and – for whatever reason, the Alexanders had taken note of the new class at Catamount and T Road. The "New Flying Tigers grew out of the Hurricanes, the Grand American six cylinder class, and even the newer Street Stock class [that at first closely resembled the early Hurricanes]. At first, field would actually include former Hurricane cars, former Grand American six bangers, and even some upgraded Street Stocks; there were also cars being built specifically for the new class.
So it was that, a year or so after the New Tigers began, the Alexanders arrived with a very spiffy Mustang, of course brown, orange and numbered 05. This was beginning to be in the time period when I was missing a lot races due mostly to a deterioriating marriage. I simply cannot remember seeing Linda race the Mustang anywhere, but I feel as though I must have. Catamount Stadium bit the dust after 1987 and I stopped attedning races pretty much altogether for years. The Tigers developed ino such a good class, they still exist today.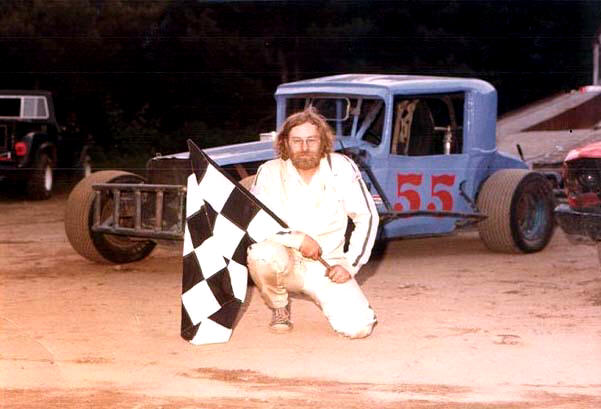 Courtesy of the Alexander Family
Alex, with an early coupe. I think he labeled it as a Hudson
in his notes. Below – Alex's Beede team car, a real beauty.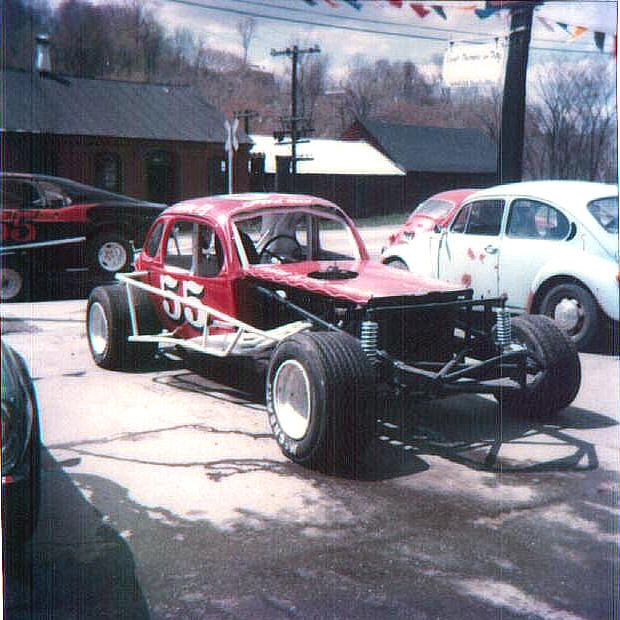 Courtesy of the Alexander Family
Up to this point, it appears as though Linda was the only driver in the family, but that is not quite true. Alex began in the earlier days of Bear Ridge Speedway, when they were running all those olf flathead coupes left over from all over the Northeast. I am not savvy wnough about old bodies to know if his early cars were Hudsons, like Ladds. One of his earlier cars would appear to have been a #55 coupe which looked like it certainly had enjoyed use before he got it.
Alex worked his way up at the Ridge and ended up with some pretty nice equipment, especially when he seems to have formed an association with the Beede brothers, who were both good drivers and great car builders. Alex, for a time, had a third coupe in the Beede stable of Bear Ridge coupes. I am not sure if he ever had anything to do with the old Chet Wood Plymouth, but I know he certainly owned it.

Courtesy of the Alexander Family
Linda, posing in near the famed Catamount handicapper's stand.
Below – Linda was well – repsected at Bear Ridge. Here she
poses with a trophy and Ridge standout Pete Dunn.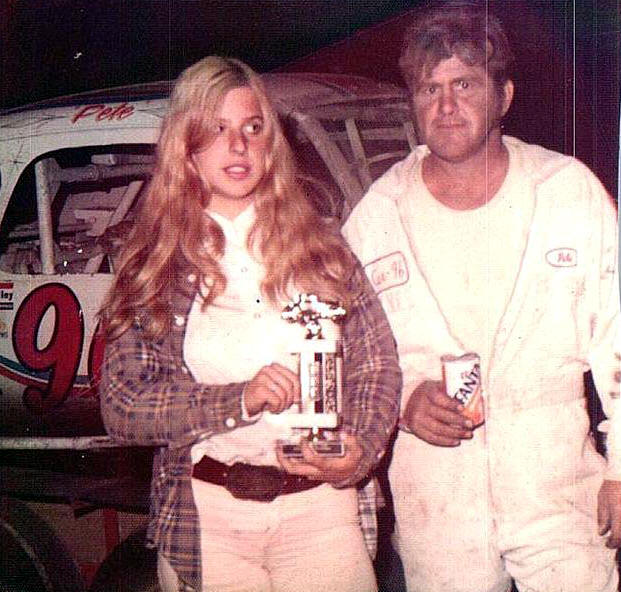 Courtesy of the Alexander Family
I really don't know how long Alex and Linda ran at Thunder Road. I do know they eventually moved to the Midwest, where Linda a pretty potent – looking dirt late model somewhere. From the photos they shared, she had a few of those and could really drive them. Alex has remained very active in areas like Facebook – particularly where it pretains to Bear Ridge. He has been very generous with family photos of him, Steve, and mostly Linda's racing. This blog is a textbook example of expounding out your behind when you really don't have a lot of facts – but I wanted the Alexanders to get some well – deserved ink.
Please email me if you have any photos to lend me or information and corrections I could benefit from. Please do not submit anything you are not willing to allow me to use on my website - and thanks. Email is: wladabou@comcast.net . For those who still don't like computers - my regular address is: Bill Ladabouche, 23 York Street,Swanton, Vermont 05488.
AS ALWAYS, DON'T FORGET TO CHECK OUT THE REST OF MY WEBSITE
www.catamountstadium.com
Return to the Main Page
Return to the Main News Page
Return to the All Links Page
Return to the Weekly Blog Links Page