BILL'S [Somewhat] WEEKLY COLUMN/BLOG PAGE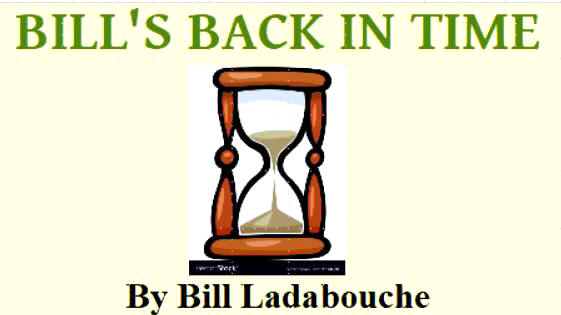 THERE WERE A TON OF GUYS JUST LIKE WOOSTER
I have always been one to seek out unusual and interesting racing names. Bung Farney, Chi Chi Dingwall, Sherby Dingley, Mooch Murch, Denzil Dillman and such are good examples of these names. I'm not making fun, but they are definitely not of the Joe Smith variety, that's for sure. When I first saw the name Wooster Eames, I thought that one belonged in with them.
It was initially hard to see that name pop up much unless you were somewhere around the southern part of Vermont. My last column [that I wrote] before this one featured the brief races at the Manchester, Vermont fairgrounds. One of the sparse news articles about Manchester listed Wooster Eames as having run there that day and – for all appearances – he did pretty well. The article had him coming from Brattleboro,VT; but, it looks like he actually came from nearby Marlboro.

Utica Daily Press
This photo is likely the first press Wooster Eames ever got
in terms of his racing; and, it was far, far from home.
I came to realize that there were a lot of guys like Wooster Eames. They maybe didn't race forever and they certainly were not the recipients of gallons of news ink – but they did OK in their time. I had not only seen Eames' name listed in a number of early Stateline Speedway [VT] articles in the local papers, but I had had brief correspondence with one Bob Elliot [also from Marlboro] who mentioned Wooster as being a team mate of sorts back in the day.
I had mislabeled a photo of Bob Elliot as being Dee Goodermote [definitely a better known name back in the day]. Both Bob and Dee were running the number 58. In the brief discussions I came to know that, while Bob was 58 Wooster was 59. That explained a few images I had of a car 59 in some grainy old 8MM film captures at Stateline Speeday and Fairmont Raceway, in Fair Haven. It was the somewhat well – traveled Wooster Eames.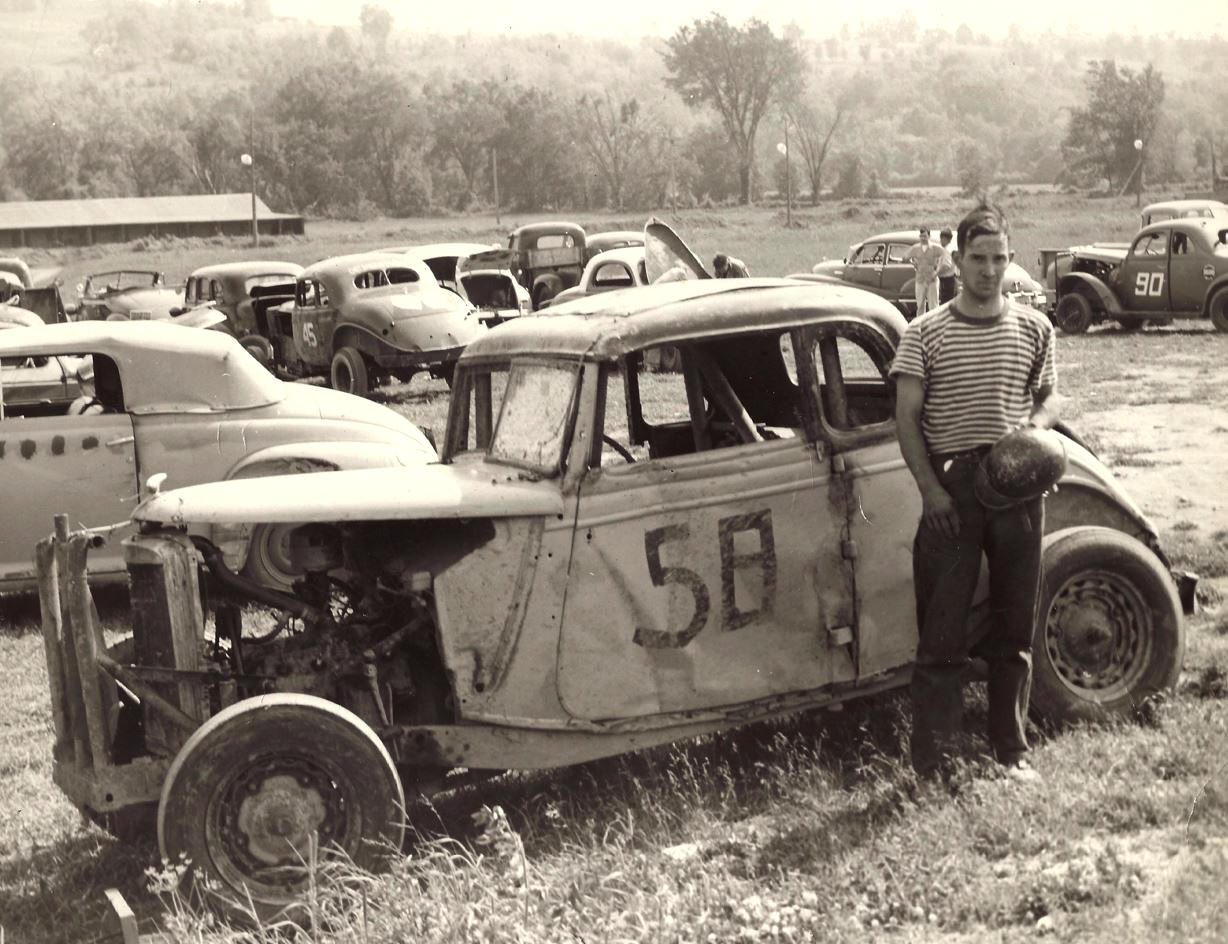 Courtesy of Bob Elliot
Bob Elliot was the first to tell me about Wooster. He proudly
was 58 to Eames' 59. Below - This happy – go – lucky
guy is Wooster Eames. He's having fun here, whatever the
year was.

From Dan Ody's 8MM Old Speedways DVD's
I can't go back to Wooster's childhood or anything like that, but if you can believe one early newspaper account some one of the many newspapers whose articles mentioned Eames had him coming from Hartford, CT. If this is at all true, he must have liked racing around the southern Vermont area and moved up to Brattleboro and later Marlboro. He would eventually establish the Marlboro Garage on VT Route 9 with partner Richard Warren. Route 9 would have been the artery right over to Stateline Speedway, but I am not sure he was racing by that time.
One of the earliest racing references to Wooster I have found is from all the way out in Utica, NY at the short – lived Bennett's Field Speedway. A photo in the Utica Daily Press shows him leading the pack at the track's first race program, which had to be called due to excessive dust. A May 18 ad for Stateline Speedway in North Bennington, VT promises him to be in the field. He seems at that time to be in a group called the Consolidated Racing Association. Many of the names in one detailed article about that first Stateline event of the year are not familiar names – by the time you get to the middle of the decade. Steve Danish is definitely the most familiar one.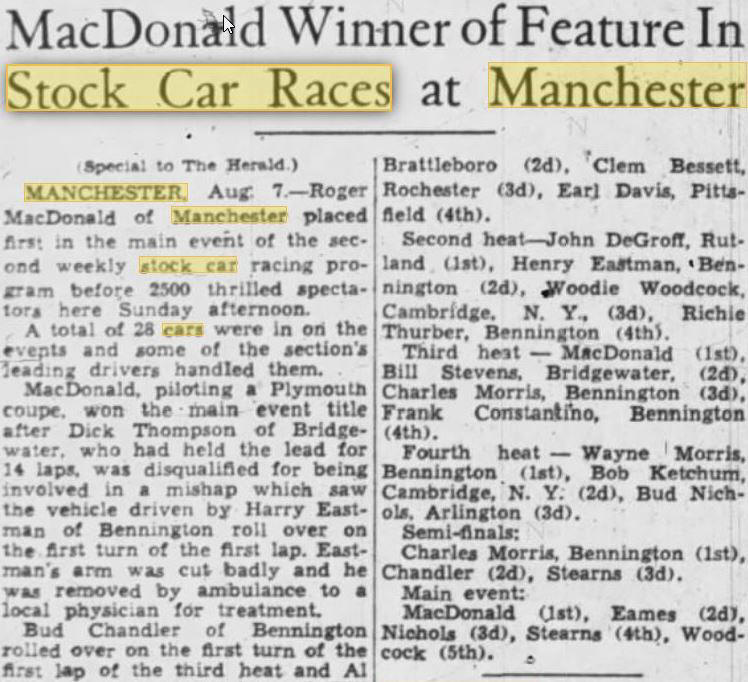 Rutland Daily Herald
Wooster chased eventual winner, the somewhat unheralded
Roger MacDonald across the finish line in better days
for the Manchester track. Below – Wooster checks something
in the engine compartment at Fairmont Raceway.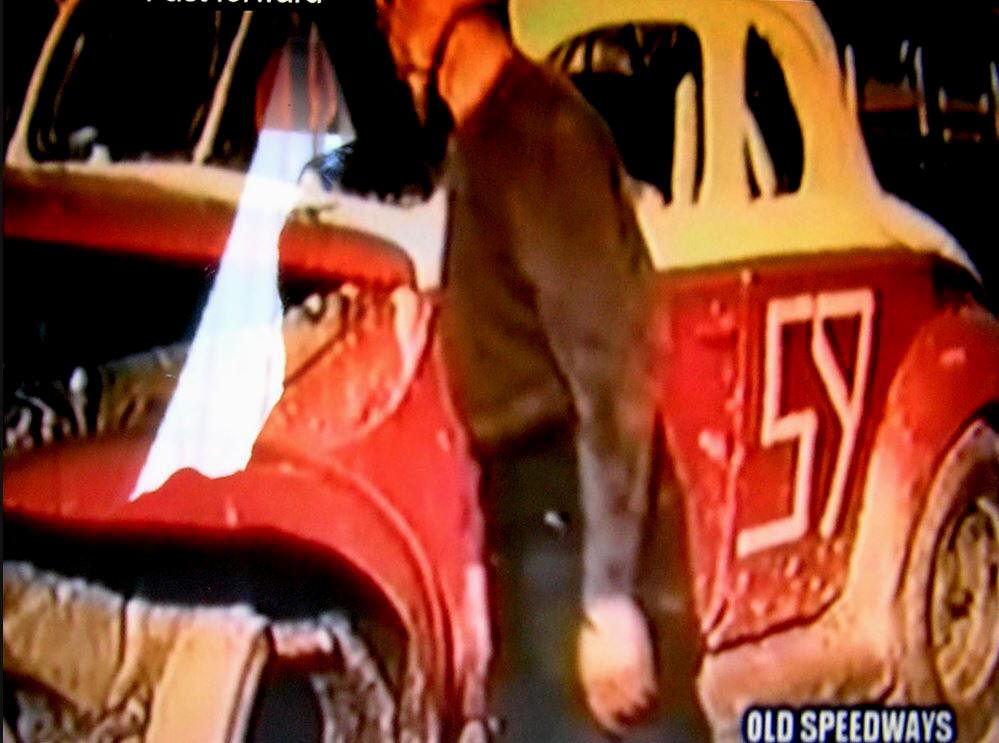 From Dan Ody's 8MM Old Speedways DVD's
At this time, the article, which was from the Bennington Evening Banner had Eames and fellow Brattleboro racer Don May as the "Brattleboro Express" and featured them as having run at some of the top tracks in the area. Their opinions on the quality of the Stateline track surface duly noted. A brief May 26, 1950 article in the Brattleboro Reformer pointed out that locals Eames, May and another driver, Bert Adams had competed at Stateline. That show had been largely dominated by Connecticut drivers and was won by a Poughkeepsie, NY racer.
The next reference to that early season makes clear that Fred Shepard a local runner who was hot all over the region was the man to beat at Stateline, defending the turf against a number of Putnam, CT teams. It also states that Wooster Eames was fourth in points, while adding it was from consistent attendance more than dominant performances. That would about sum up the way it would be at Stateline in 1950.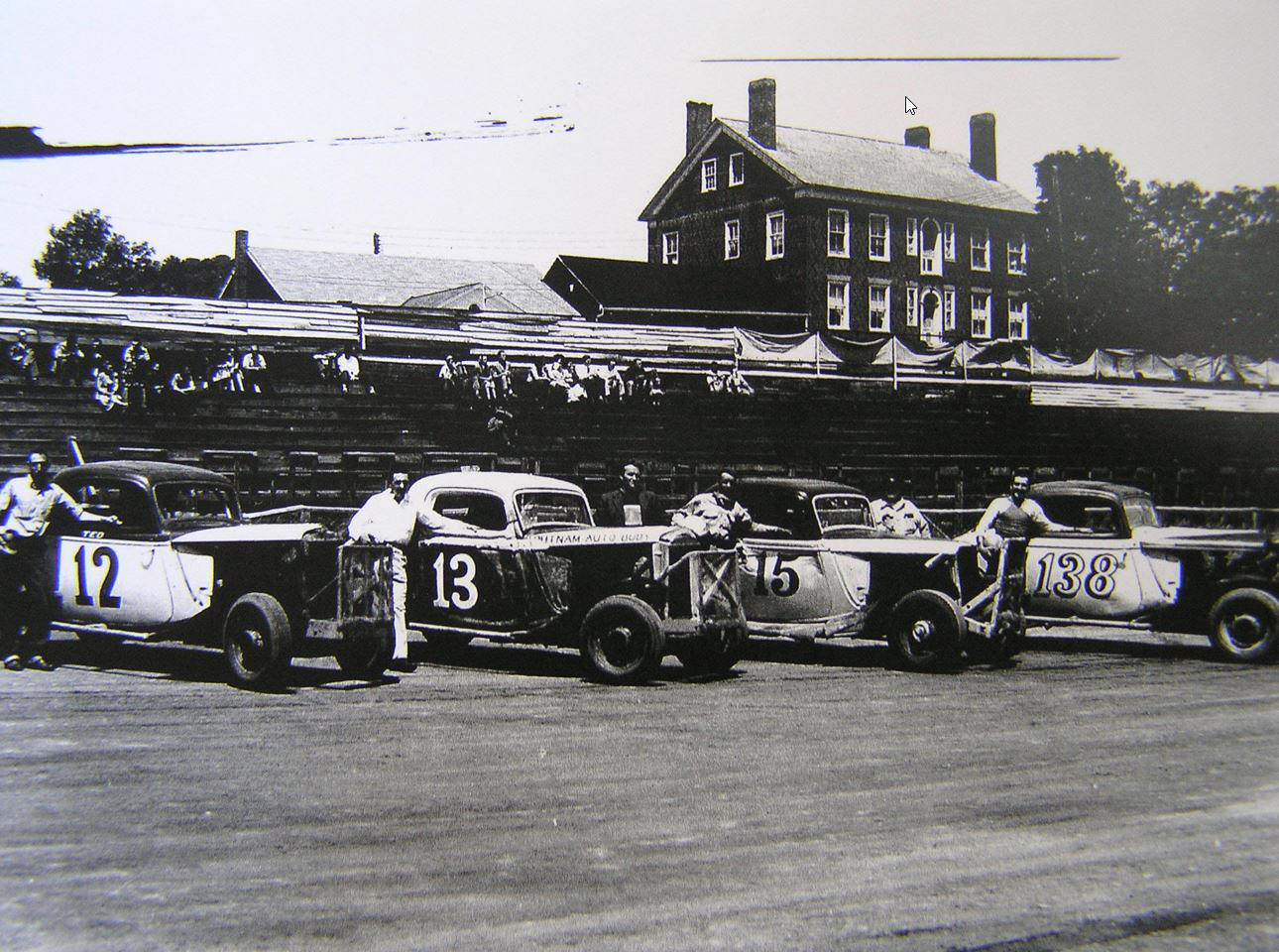 Ken Gypson Collection
Ted Langlois [12 far left] poses with three other Putnam, CT
drivers on the track at Stateline around 1951 or 2. Below -
This old newspaper photo and caption give evidence to
the importance of new drivers like Harold Kyer and his P61.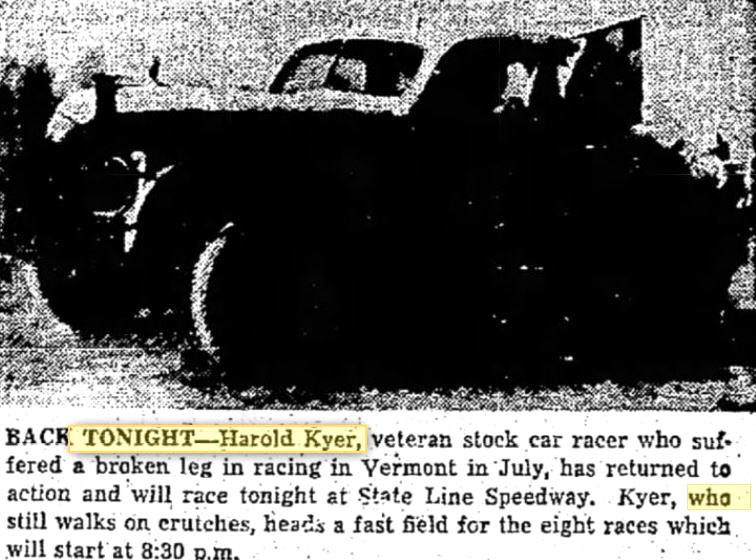 Troy Times Record
As mentioned, Wooster would run a race or two at the nearby Manchester, VT Fairgrounds before a disastrous racing fatality brought racing there to a halt. Coverage of racing at Stateline in 1951 is astonishingly sparse. I don't know if they were having a tiff with local papers or what, but it is almost impossible to find out what Wooster Eames was doing. As I mentioned above, some old 8MM footage shows his car both at Stateline and at Fairmont Raceway, but whether it is 1951 or 1952 is no clear.
As scanty as 1951 was, the 1952 coverage of Stateline was extensive. The track had been taken over by big names by then. Although Eames managed to appear in a lot of articles by managing a qualifier win here or there and some respectable finishes. The track was now the domain of Steve Danish, Jeep Herbert, Harold Kyer, Charlie Morse, and many other dominant drivers of the time. Some of these same people were appearing at Fairmont Raceway and Pico Raceway – those two battling Rutland County tracks. It is not clear if Wooster ever ran at Pico.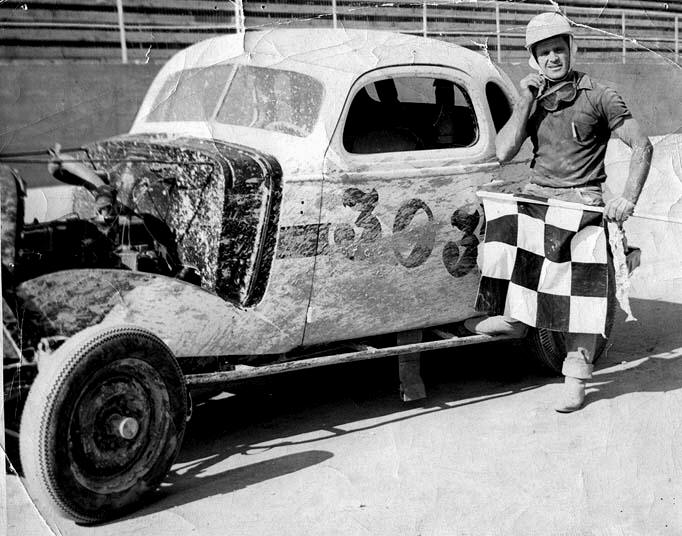 Aldo Merusi Photo Courtesy of Ed Fabian
Al Romano [shown at his home track of Pico] and
Manchester's Dave Brooks [Below] were among
the Vermonters who raised the level of competition
at Stateline to a point that made it harder for
guys like Wooster Eames.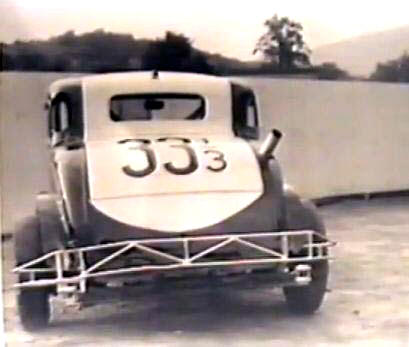 Courtesy of Bud Brooks


An article in April in the Bennington Evening Banner announced the coming of an expected banner year at Stateline. Wooster was included in a list of significant drivers, although it was clear the big three plus Harold McCarthy were much farther up the pecking order. A report of the opening program showed some names which were destined for prominence: Doug Garrison, Paul Brozyna, and Lee Armstrong were drivers who would go on – either at Fonda or Lebanon Valley to be frequently in the headlines. Danish, naturally, won.
The names of Danish, Kyer, Morse, Herbert, Garrison, Brozyna, Hank Schmidt, Fred Shepard and Wally LaBelle would be at the top week after week. The supporting cast of Wooster and others would get what was left. Still, he ran regularly. By August, these names were joined by Bernie Ingersoll, Dick Gaumond, Ed Coons, Al Perry, Leo Nadeau, Dave Brooks, Don Rounds and others. Stateline was the place to be – given the Valley and Fonda had not yet sprouted up. By September, the list of top runners had included Leon Goddard, Pete Corey, Walt Roberts, Ted Langlois and sometimes Hully Bunn. It was a tough place to run.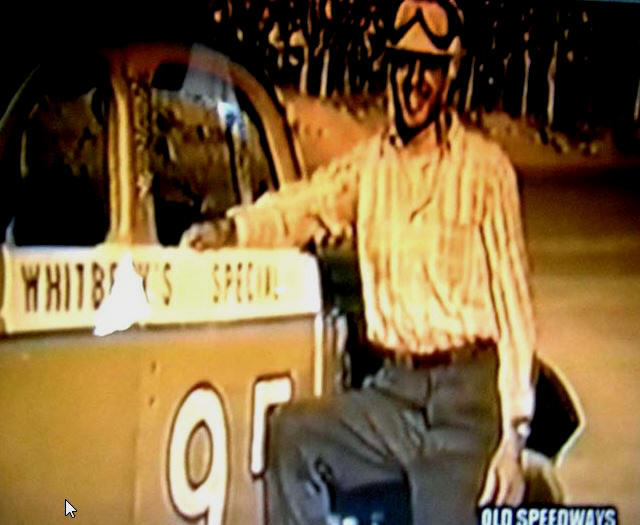 From Dan Ody's 8MM Old Speedways DVD's
The great car builder Bob Whitbeck of Canajoharie had first used
a young Pete Corey to drive his roadster hot rod. Now they were
invading Stateline with a Whitbeck – built stock car. Below -
The massive, muscular Don Hendenberg tools a car #1 around
ahead of the great Cliff Kotary Stateline. He would soon
be killed in a highway accident and the track's memorial program
was one of its most iconic.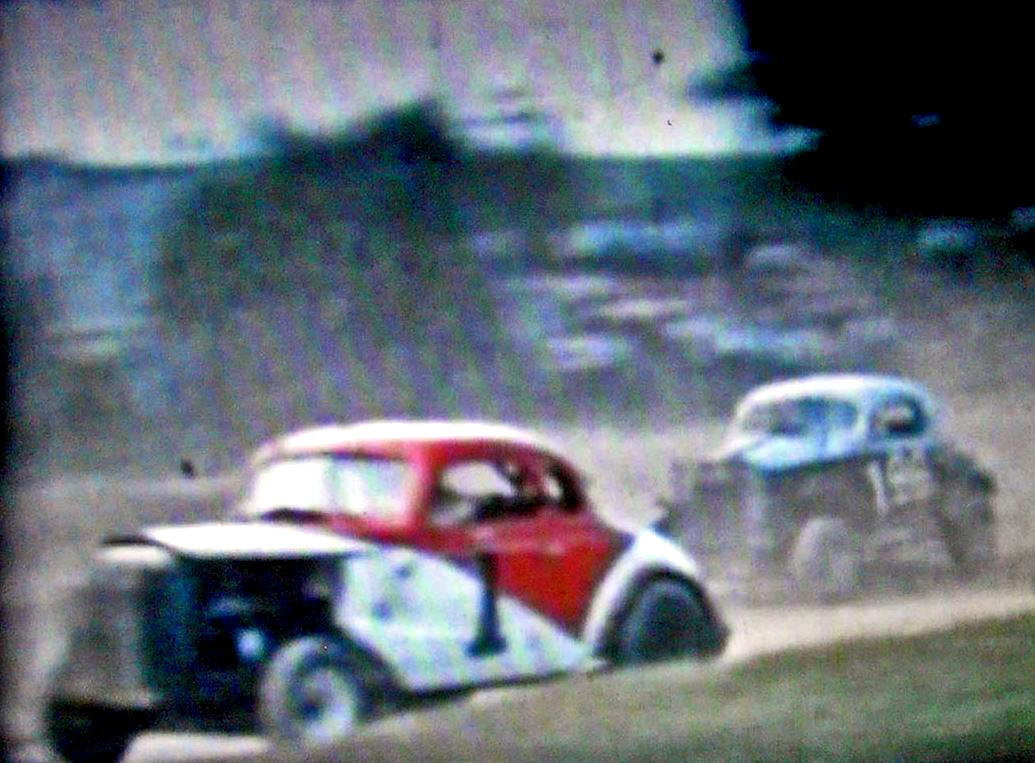 From Dan Ody's 8MM Old Speedways DVD's
There was a big championship race scheduled for October at Stateline in 1952. Take all the names I just listed and add the likes of Kenny Goodermotte, the terror of Empire Raceway, Don Hendenberg from central New York, and Jack Sweeney – ordinarily a Burden Lake guy and the chances of even making the race vastly decreased for local guys like Wooster Eames or Bob Elliot. They used to be concerned with where they'd finish in the feature; now, they would be lucky to MAKE the feature.
Apparently Wooster Eames was beginning to see the handwriting on the wall. He was running a garage, dealing in used cars, getting ready to be married, and he was a strong participant in the community of Marlboro – eventually becoming Fire Chief. In October of 1953 he wed Mary Anne Ramey of Fair Haven – possibly having met her when he raced there. While Wooster was going on to some importance in Marlboro, Mary Anne would eventually become Town Clerk, after having served the town in other capacities.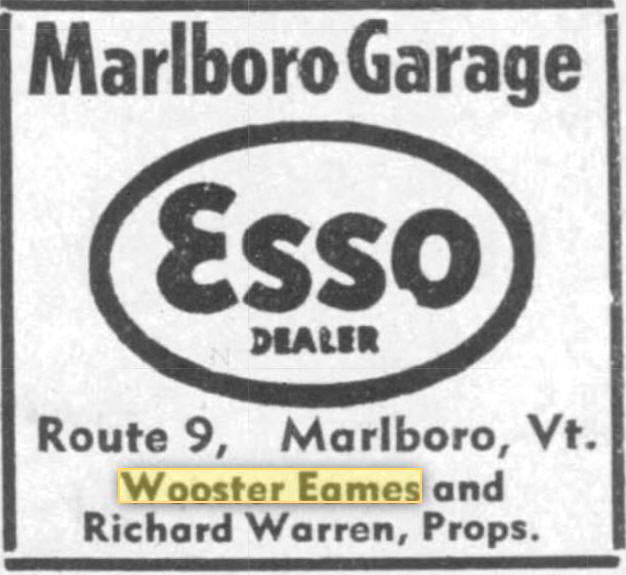 Brattleboro Reformer
Wooster had responsibilities to pull him away from racing. His
Marlboro Garage, the fire department, and his marriage in 1953.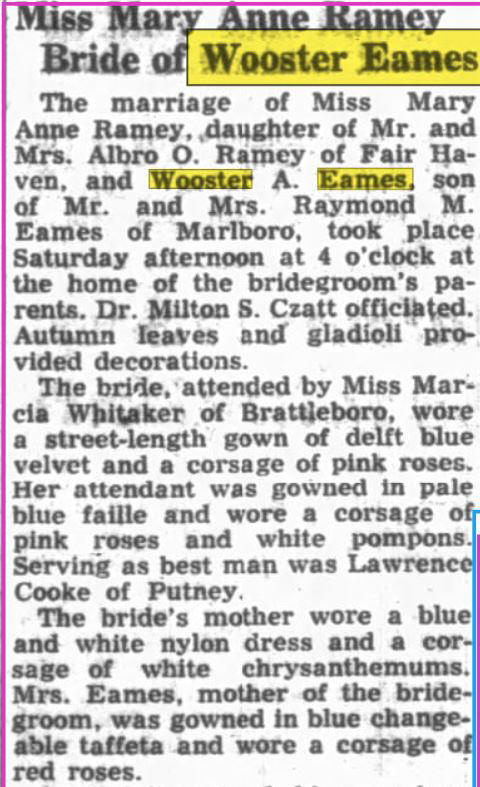 Brattleboro Reformer
Any headlines that mention Wooster Eames cease to mention racing after 1952. He was living proof that a guy who wasn't getting Steve Danish kind of racing publicity still had a story to tell and a fair deal of accomplishment in his own right. I hope to find more Woosters out there to study.
Please email me at wladabou@comcast.net if you have any photos to lend me or information and corrections I could benefit from. Please do not submit anything you are not willing to allow me to use on my website - and thanks. For those who still don't like computers - my regular address is: Bill Ladabouche, 23 York Street, Swanton, Vermont 05488.
AS ALWAYS, DON'T FORGET TO CHECK OUT THE REST OF MY WEBSITE:
www.catamountstadium.com
Return to the Main Page
Return to the Main News Page
Return to the All Links Page
Return to the Weekly Blog Links Page