BILL'S [Somewhat] WEEKLY COLUMN/BLOG PAGE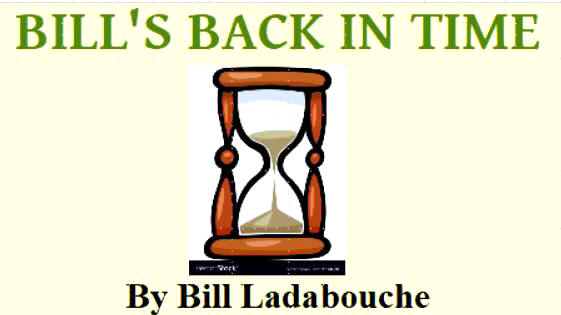 STUFF ABOUT BAUMIE
BAUMIE_FONDAPIN
Russ Bergh Photo

It was getting far into any semblance of racing season in 1961 when My Uncle and I heard about – and started going to – the new Otter Creek Speedway near Vergennes, Vermont in the sprawling town of Waltham. We had seen precious little racing in years: an unexpected visit to Weissglass Speedway on Staten Island in 1958; a SCODA racing show at the Vermont State fair that same year; one trip up to the Colchester – Bayview Speedway in Malletts Bay in 1959; and the 1961 exhibition staged at the fair by Lebanon Valley.
Then word got filtered down that they had opened a race track in Vergennes, and off we went. It was really different up there from the git go. You went through the track owner's yard and sat on bleachers that seemed to be a half mile away from the racing surface, way up on a hill. The first car we saw come out to practice did not even resemble a race car.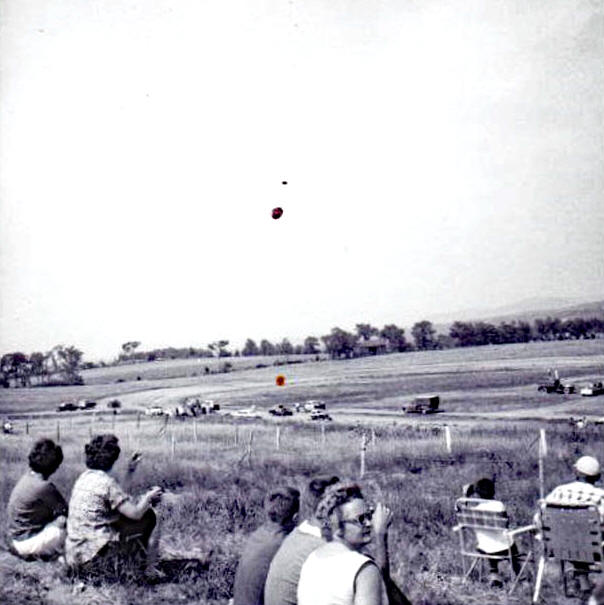 Courtesy of Marlene Thompson
People way up on the hill watch as a race lineup pokes its
way out onto the Otter Creek track in 1961. Below – The first car
we ever saw come out at Otter Creek was this, the Don Smith F80.}
It barely resembled a car at all. It looked a freaking Citroen.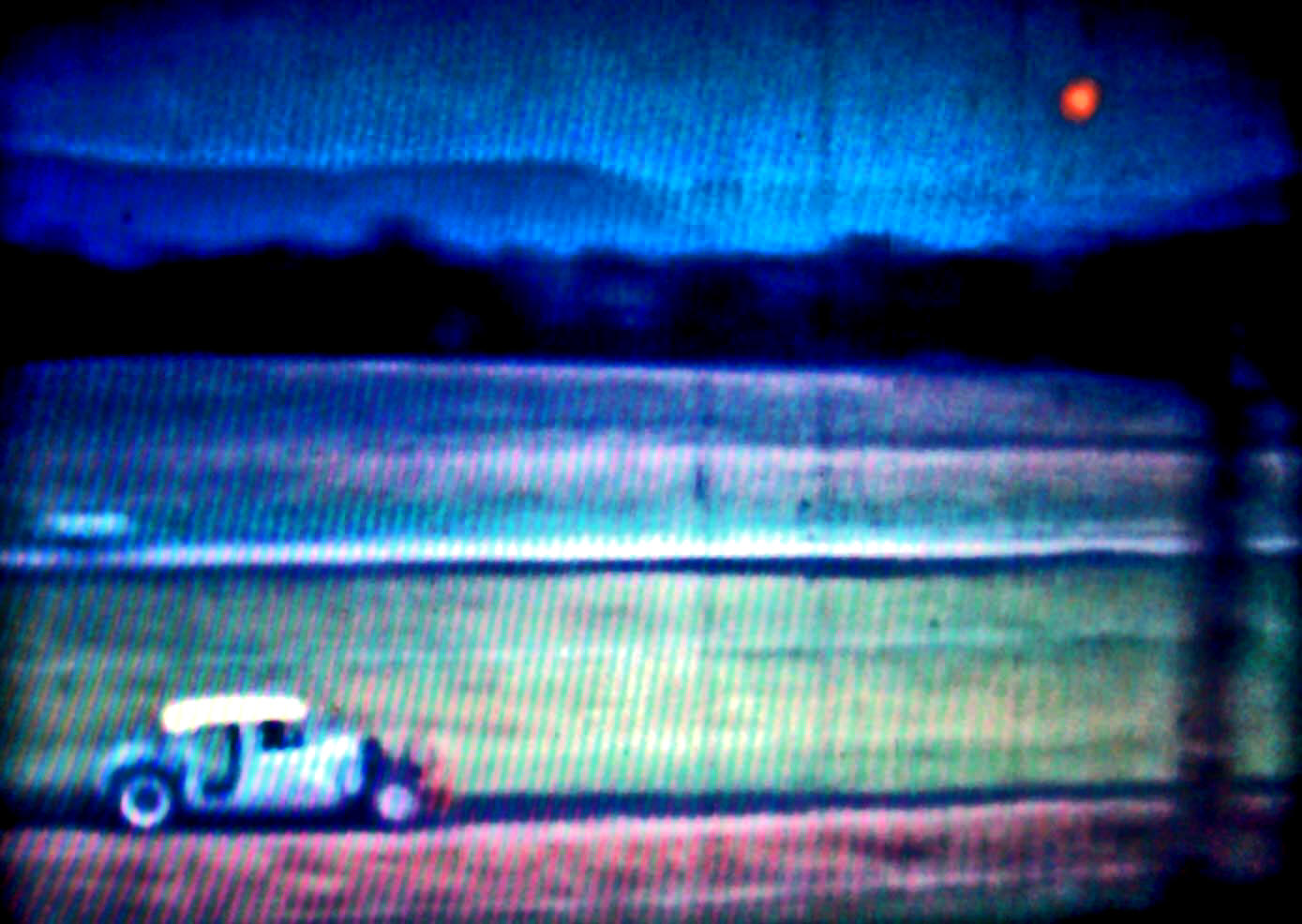 From Dan Ody's 8MM Old Speedways DVD's
The track was long, dusty, dusty, and bumpy – winding out the motors on most of the cars that went down the stretches. Nobody seemed geared for it. Things looked up when there were actual races. The track turned out to be a NASCAR sanction. Pit Steward Kay Hanson was sending cars out for heats according to what class they were in – sportsman or hobby. You got a long look at everything because they lined up the races on the frontstretch and it took forever.
The hobbies came out first and they included quite a variety of names and backgrounds: Homer Hamel, from hometown Vergennes; an unknown driver identified as Herman Dragon from Middlebury [he'd turn out the be Beaver Dragon from Milton]; Rex Shattuck, a flathead standout for years; Malletts Bay Raceway veterans Wayne Chandler and Red Dooley; Keith Ballard, a new driver from Hinesburg who would win the track's hobby points title; Vincent Quenneville [future Hall of Famer in his first real racing effort]; Jim Hampton, a transplanted Southerner; and many more.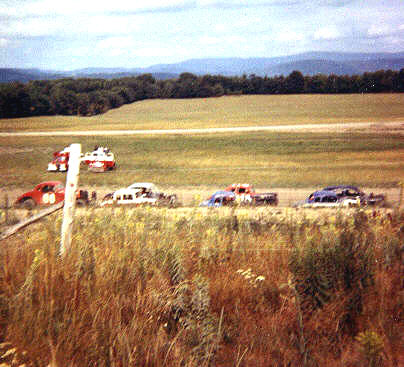 Ladabouche Photo
This shot, taken from way up on the hill, shows a hobby heat
at Otter Creek Speedway. The red 00 is Vince Quenneville, Sr,
the silver – roofed car in front of him was Vermont legend
Gene Tetreault in a borrowed car, and the red and white
car beside him is future track hobby champ Keith Ballard.
Below – George Baumgardner, at Fonda with the Ray Vine
75. Check out the wheel diameter.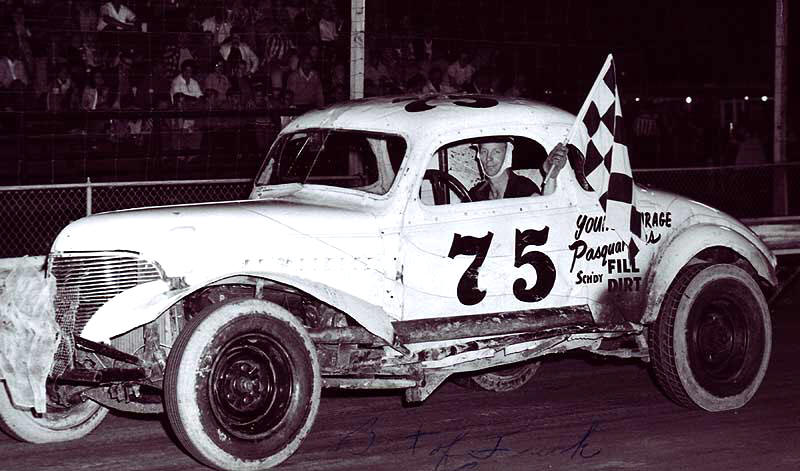 Russ Bergh Photo via Mike Russo
The sportsman races were where it got very interesting. A number of New York teams came I from Fonda to pick up easy NASCAR points [and this was the year of the great Nephew/Wimble race ending in a tie]. We recognized a few of these teams, such as Ken Shoemaker in the Chris Drellos 111, Wimble, and Nephew. A few Vermonters were trying out sportsman cars, as well. But, one of the better running sportsman cars that day was a pale blue and white 75NY driven by someone called Georgie Baumgardner.
The car turned out to be the Ray Vine entry, and – little known to us] Baumgardner had a long history of racing before he had ever ended up in Vine's car – generally considered at Fonda to be a second tier car. There is one photo of Baumie in the car at Fonda holding checkers for a qualifier and the car has obviously oversized wheels on it. Old hands told me this was to make up for the fact the car did not have the right gear for Fonda and they didn't have a quick change rear end.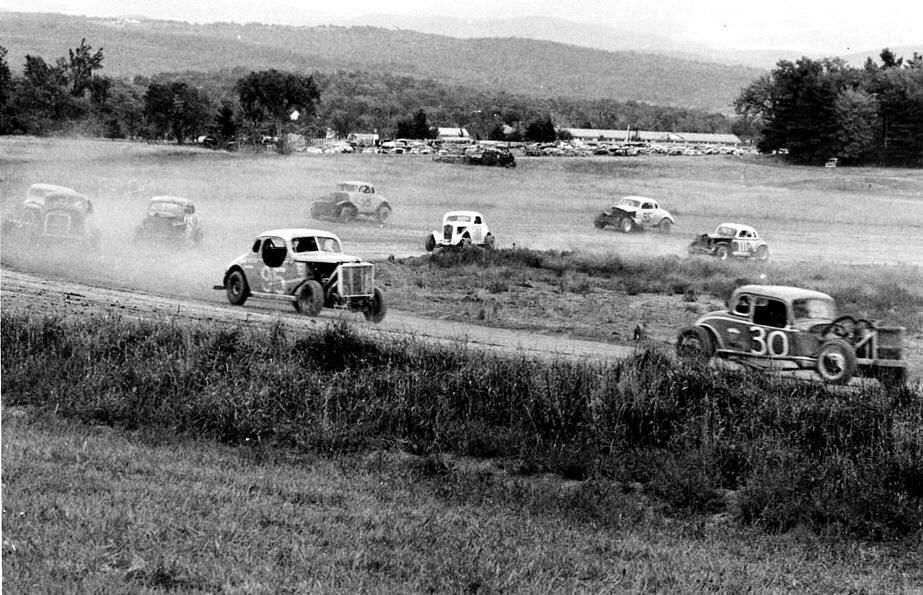 Bob Mackey Photo via John Rock
This photo shows the mix in an Otter Creek feature during the
NASCAR years there. Ed Foley [30] leads breifly in a hobby car as the
New York sportsman cars start coming up from their
rear starting positions. Below – Dutch Reed drives one of the
few Vermont -based sportsman cars in one of the
track's earlier shows. Where are the other cars ? That
inaugural show had only ten there.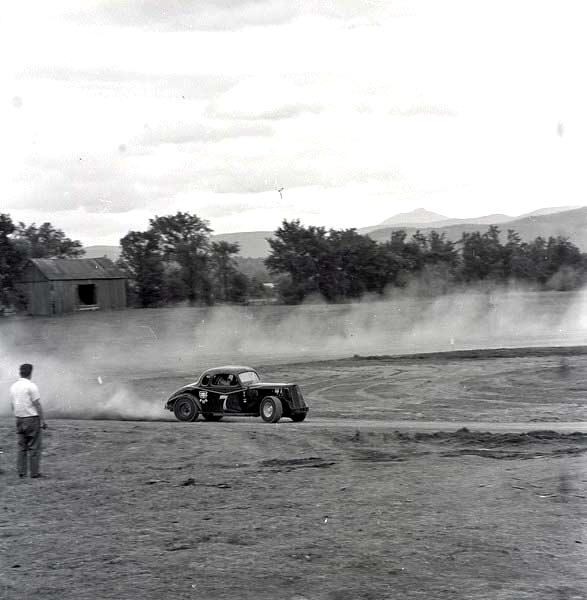 Courtesy of Cho Lee
So how did we get here with George "Baumie" Baumgardner ? He was, doubtless, already racing in open wheel cars when a huge bunch of his Saratoga Springs, NY racing buds got together and opened McGregor Speedway, just outside Saratoga in the town of Wilton. Some of the names that came out of that track included Spence Parkhurst, Chet Hames. Jack Barney, Danny Rumpf [a Hames protege], Harold Kyer, and – of course – Baumgardner.
I don't have a lot of information on George's pre- stock car racing career. He apparently wheeled sprint cars and possibly midgets. I suspect he raced with the local New York bunch that included Kenny Gallup and others. George had the misfortune of having the same name as a major league baseball player, and most of what comes up on that name is about the latter. It is very likely that Baumgardner switched over to stock cars as the local open wheel scene began to fade away as tracks that fostered it, such as Champlain Speedway, Ticonderoga, the Altamont fairgrounds, and others began to close.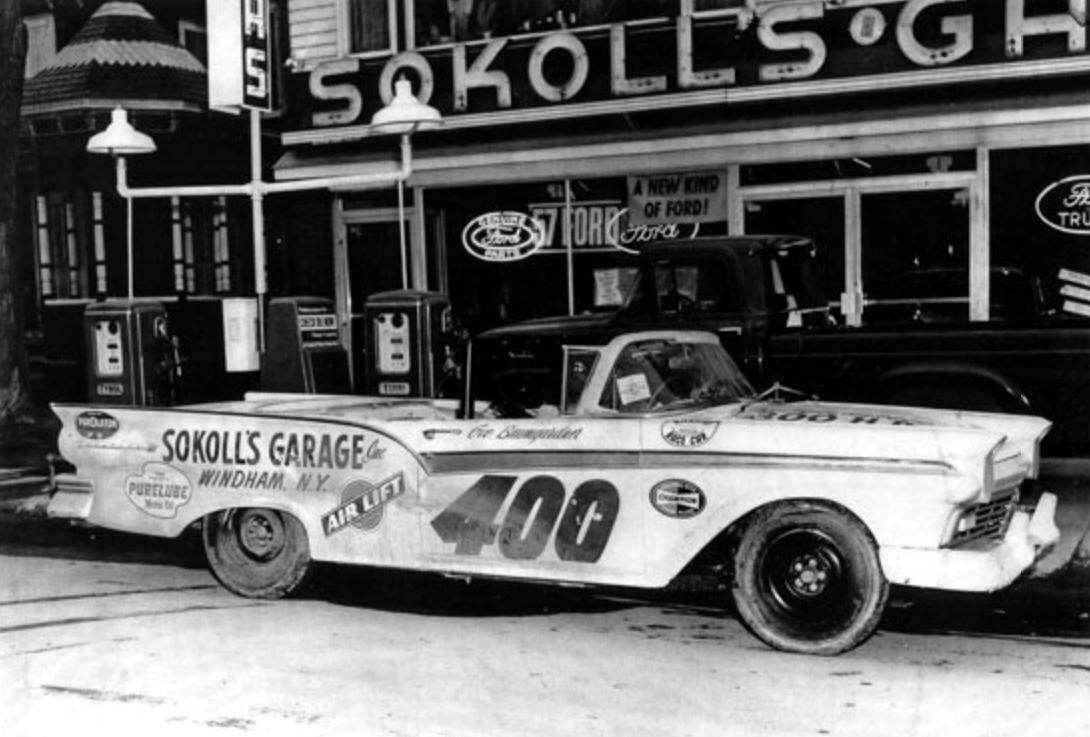 Unknown Source
The NASCAR Convertible Division car of Baumgardner
sits at the sponsoring Ford dealer and owner, Lyle Sokol.. We have
no record of how he finished in any race. Below – Baumie would
have had his hands full in any convertible race as all the big names had a
hand in that class – even the big – dollar Kiekhaeffer team.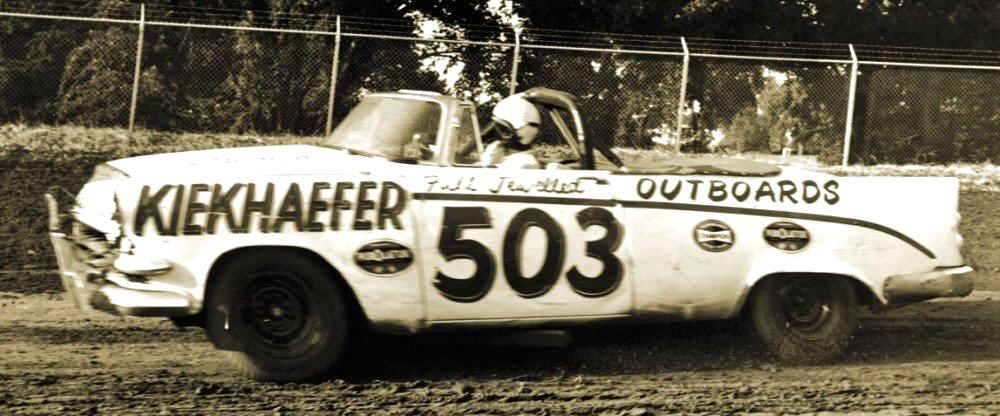 Hemmings Motor News Photo
It is not entirely clear when Baumie began running stock cars. One thing is certain: he had a ride in the NASCAR Convertible Series [a semil major league division] in 1957. The website Racing Reference has his name, but absolutely no performance or finishing information. I happened upon a photo of the car he had recently. It was a 1957 Ford [convertible of course] sponsored by the Sokoll Garage, a Ford dealer from Windham, NY. Seeing as there were a number of such NASCAR races in the Northeast at that time, he must have tried running some of them.
According to one information source [I take the info as not 100% sure] Baumgardner finished 8th in 1956 convertible race on the Daytona beach course; this, however, stated he was driving a 1954 Buick. This may have been for one of his many car owners, Henry Caputo. Another similar item claims he would run one of Caputo's coupes at Daytona and qualified 42nd among 64 cars that same year.

Silodrome,com
This brief shot of a Caputo car on the Daytona Beach Course would have
to be Baumie. Qualifying 42nd, we have no info of how he finished. Below -
Henry Caputo's NASCAR rule book and a small photo of that '54 Buick.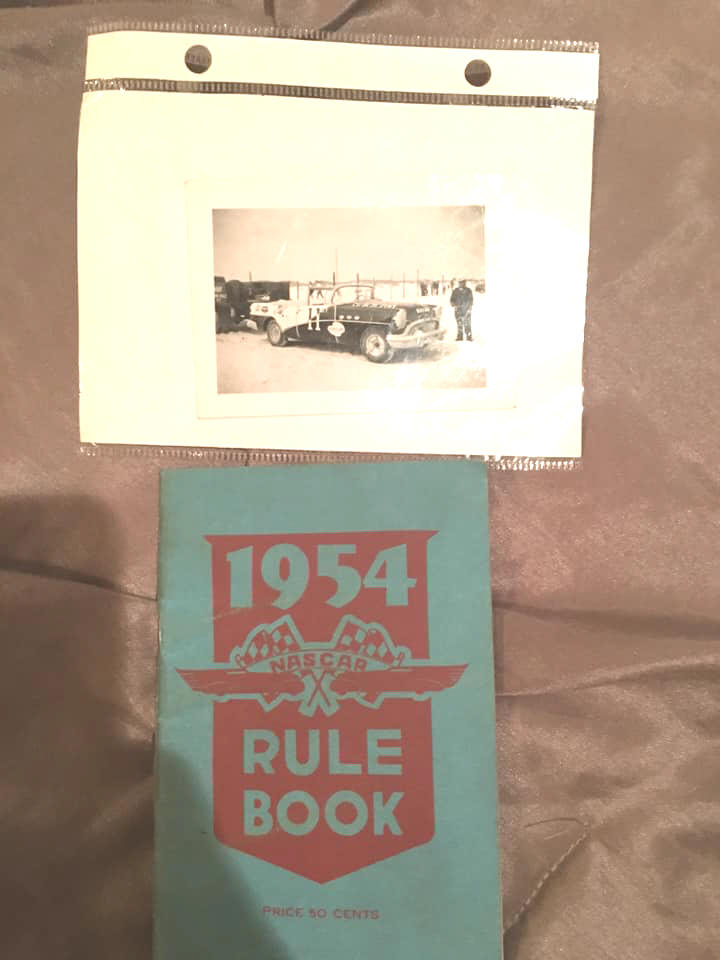 Courtesy of Mark Reynolds
In my opinion, the high water mark in his stock car racing career came in the 1950's, when he drove for Granville, NY car owner Ted Vogel. While Baumie drove more than one of the Vogel #95 cars, his best success , by far was with the #95 sedan at Stateline Speedway. That year, he won a number of races and I think he was track champion. Supposedly, that car went on to become one of the J.R. Earl sedans that Jeep Herbert drove for a while.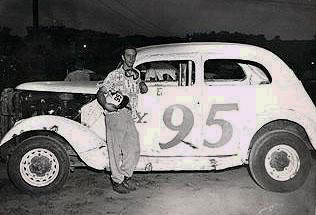 Vogel Photo Collection
Baumgardner, with his most successful ride,
the Ted Vogel 95 sedan – at Stateline Speedway.
Below – George winning yet another feature at
Stateline in his heyday there.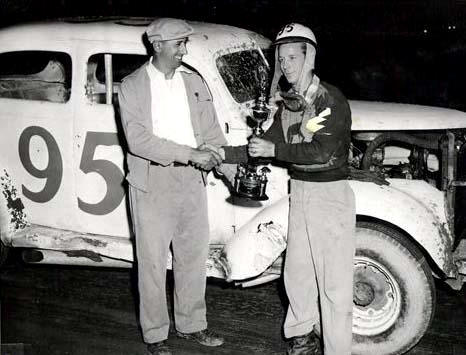 Vogel Photo Collection
Baumie would get to drive for Hudson Falls' innovative car owner Henry Caputo, famous for his red and white cars and numbers usually centered around the number 11. Caputo's first car was a Plymouth or De Soto coupe with an unbelievable Mopar power plant. He used Baumgardner, Jeep Herbert, Tom Kotary, and Earl Maille as drivers at this time. Later on, a 1936 Chevy appeared with the team, as well. Same drivers.
Caputo would finally have constructed another 1936 coupe, numbered 111, and put Ken Shoemaker behind the wheel. Baumgardner had gotten to drive all but the newest car. Some say he holds the "distinction" of putting the Plymouth out of its misery at Otter Creek. That track, among its other quirks, had a spring that allowed constant water flow across the track just out of turn four. It is said that Baumgardner somehow hit the water wrong, the resulting slide causing the nose of the coupe to "dig in" and Baumie went for ride end for end, destroying the oldest Caputo car.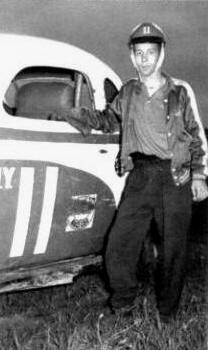 Bob Mackey Photo via John Rock
Baumie with the Henry Caputo Plymouth. Below – He did manage
a decent qualifying number at Daytona with that car before
eventually wrecking it at Otter Creek.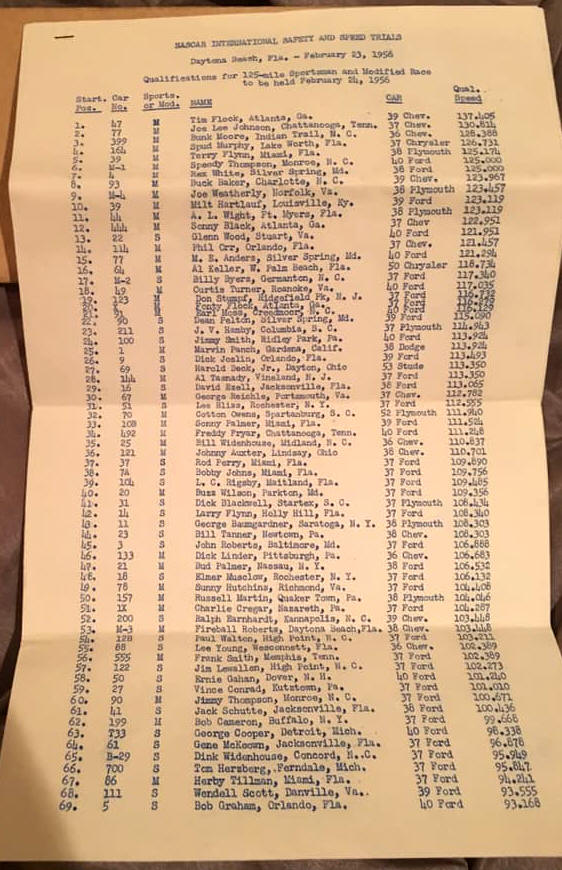 Courtesy of Mark Reynolds
So, when Baumie returned the following year driving for Vine, he would have that little bit of experience to help out. Somewhere in that time period he also drove briefly for Johnstown, NY garage operator Red Cromer. Cromer bought one of those heavy early fifties Chevies NASCAR was pushing with the incentive of being allowed to have more engine. The Valley had something similar but fair more successful.
Around 1964, George Baumgardner landed a solid ride with the Richard Welch 77 team, which was running Fonda and – along with several other Fonda teams – Stafford Springs, CT on a Friday night. The Welch car, a marvel of stamina, had been built and first run by Rollie Johnson, father of Jack and Joe. Rollie had such drivers as Irv Taylor and Eddie Pieniazek. Welch, of Schenectady, acquired the car around 1961, I would estimate. He would use a number of drivers including Pieniazek, Baumgardner, and Jeep Herbert.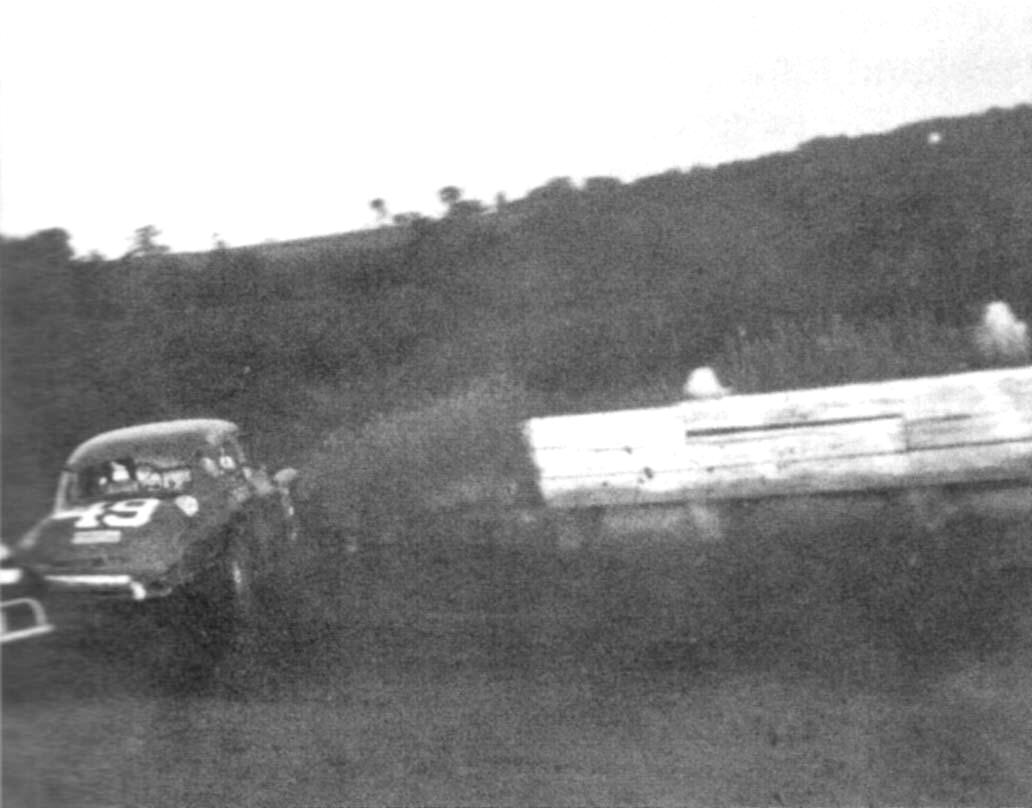 Russ Bergh Photo Feuz Collection
Baumie slides the Red Cromer 49 Chevy past Fonda's
infamous graveyard in the early 1960's. Below – George posing
with Richard Welch's 77 on a cold Spring night at Fonda.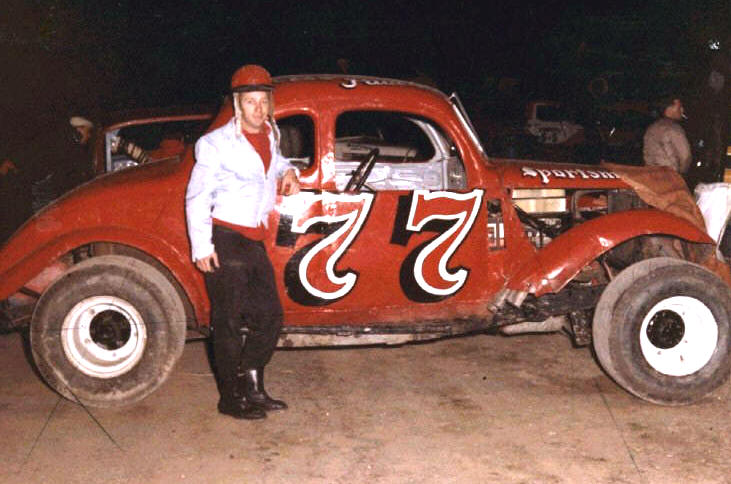 Russ Bergh Photo Ladabouche Collection
Baumie drove the red 1937 Ford coupe for Welch for at least part of the 1964 season, running both Fonda and Stafford Springs [part of the New York invasion that included Wimble, Shoemaker, Corey, and others]. He seemed to be replaced later that season by Jeep Herbert who, himself, was doing a lot of bouncing from car to car then. The remarkably long – lasting Welch coupe seemed to disappear sometime around that same season.
Not so much was going on for George Baumgardner after that stint with Welch. At one point in the 1964 season, he had the Welch car as high as 8th in the Fonda points; however, he only seemed to appear in one or two races with the car in 1965 and then both seem to fade off. I'm not sure why other than Baumie, by then, was getting a little old to race.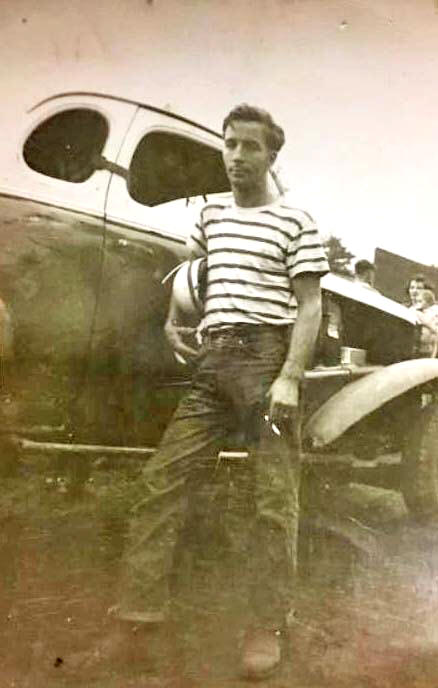 Courtesy of Dick Pennock
Baumgardner, with one of his earliest stock car rides -
the Elwin "Brick" Pennock Super 38, at Mettawee
Speedway, No. Granville, NY. Below – Baumie, in a
wreck at Victoria Speedway with Schooch Schoonmaker.
Here he had the Ray Vine 75.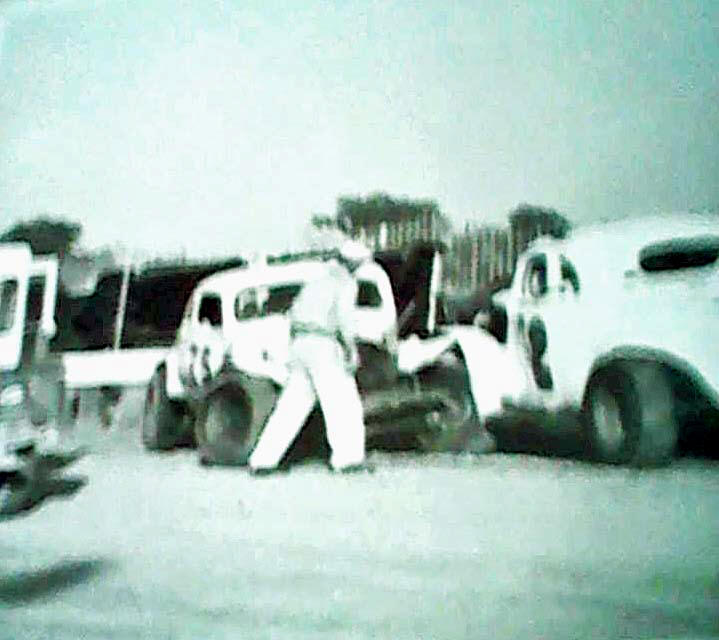 Russ Bergh Photo via Jim Kelly
I have great regard for him; the first and only racing pinback I ever bought at Fonda was of him. That Russ Bergh photo featured that sort of tired little half smile that you usually saw in any Baumie photo. In 1986, when I was working for C.J.Richards and the Champlain Valley Racing Association, I had the privilege to stay overnight at the home of CVRA official Jim Frye. Jim was going to arrange for me to meet both Baumie and legendary flagger Chet Hames. It would have been a thrill for me but it couldn't be arranged. Sadly, I never did have a chance to talk to George Baumgrdner.
Please email me at wladabou@comcast.net if you have any photos to lend me or information and corrections I could benefit from. Please do not submit anything you are not willing to allow me to use on my website - and thanks. For those who still don't like computers - my regular address is: Bill Ladabouche, 23 York Street, Swanton, Vermont 05488.
AS ALWAYS, DON'T FORGET TO CHECK OUT THE REST OF MY WEBSITE:
www.catamountstadium.com
Return to the Main Page
Return to the Main News Page
Return to the All Links Page
Return to the Weekly Blog Links Page