BILL'S [Somewhat] WEEKLY COLUMN/BLOG PAGE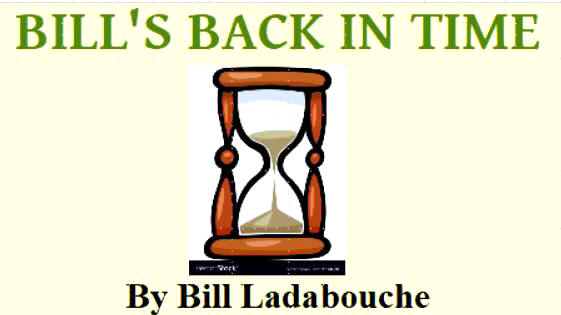 1976 HAD QUITE THE HURRICANE LINEUP
I was looking through a page of a Catamount or Thunder Road program from 1976, in which was a drivers' roster that likely showed every team which had made at least one appearance at either track durng that season. It was a trick that every promoter has used since Clavius Astronomicus promoted the Roman chariot races. Make your roster look bigger by using everyone, even if they signed up but never showed up.
Fonda and Victoria Speedways did it, Devil's Bowl did it [as did its predecessor Fairmont Speedway] – hell, Otter Creek once used anybody who had showed up in their late and very abbreviated 1961 season as their roster for 1962. [Wasn't even close]. So, nobody's blaming the Catamount/Thnnder Road programs for their rosters – jus' sayin' is all.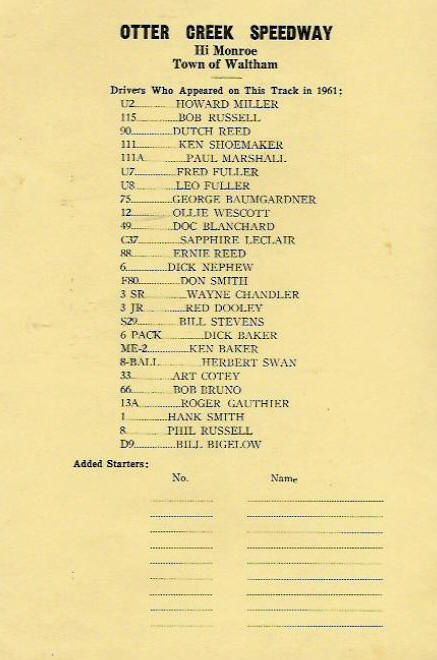 Ladabouche Collection
Not even half of the names on this 1962 program actually
showed up in 1962. Below - That amazing Hurricane roster.
Maybe fantastic is a better descriptor.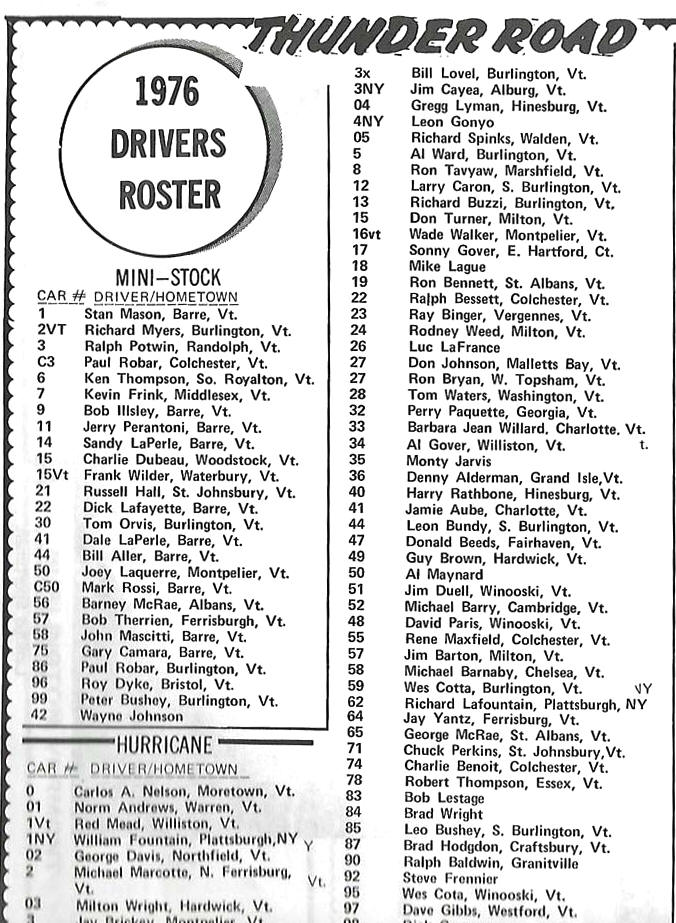 Courtesy of Chris Cardarelli
It appears that the late model sportsman class was well on its way to that lofty status it would achieve first as the Northern NASCAR Tour and later as NASCAR North. The mini stocks, while well on their way, had not yet reached the high water mark; but that Hurricane list was really something ! This was near the time when those automatic tranny hobby cars were about to be morphed into the "limited sportsman" class [throwing six bangers in with the behemoth and resentful hurricanes for one year] – just before the class went over to the all six cylinder Grand American class.
So it was that the class, as V-8 automatics was at its height. While NASCAR did not keep national standings for the limited sportsman class, you could figure out points among the drivers from Alabama, Florida, Georgia, both Carolinas, Tennessee, Maryland, Vermont, Virginia, and even a few in Quebec. By virtue of having more tracks to run, the Southerners would have taken up most of the top twenty places, but Catamount, Thunder Road, and Vermont champion Norm Andrews of Warren, VT would have placed in there with them. And – even more remarkably, Milton, VT's Jim Barton [with a six cylinder Camaro] would have come very close.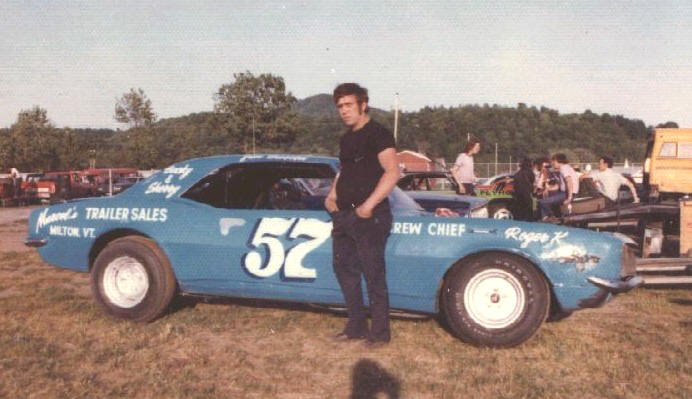 Ladabouche Collection
Jim Barton had taken on the mighty thundering Hurricanes
with his little six banger and nearly won the title. Below -
The established Hurricane stars were led by tough guy
Norm Andrews and his potent Mopar.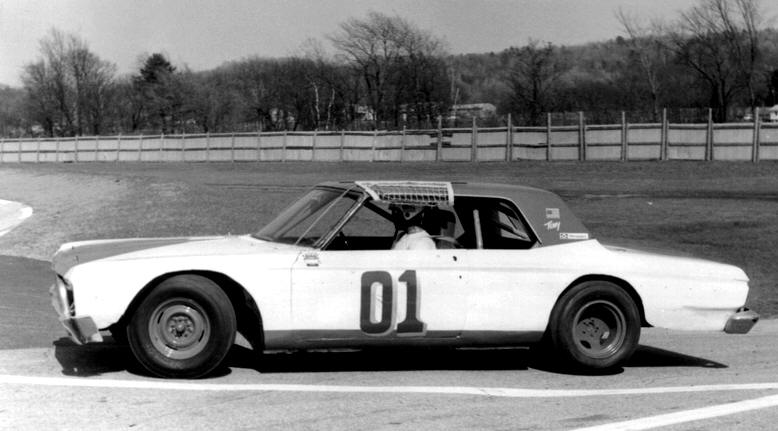 Courtesy of Andy Boright
Just as a little background, the established Hurricane stars were not particularly pleased to be in grandfathered status, as they would be phased out for 1977 – and they sometimes let the smaller pony cars know it. The hurricane/limited roster shows some pretty noteworthy names in that inflated list. Arguably, the biggest name would be that of North Ferrisburgh's Jamie Aube. Having briefly tried out he old Larry Warren '57 Chevy hurricane in 1975, Aube was now running along in full song with a former Harry Rathburn six cylinder Camaro numbered in his familiar 41.
Aube would go on to buy a Moe Dubois Chevelle and begin competition in the late model sportsman class, earning his way up the ladder to the reins of the well – backed Allen Avery team by the time NASCAR North went big time. Aube would go on the race for a bit in Tom Curley's ACT plastic bodied cars before switching to the rival Busch NASCAR North Tour, where he really excelled. Aube would also race in the NASCAR truck series later in his career. As of the 2010's he was still racing a limited schedule at the then – paved Devil's Bowl Speedway before the facility went back to dirt and he retired.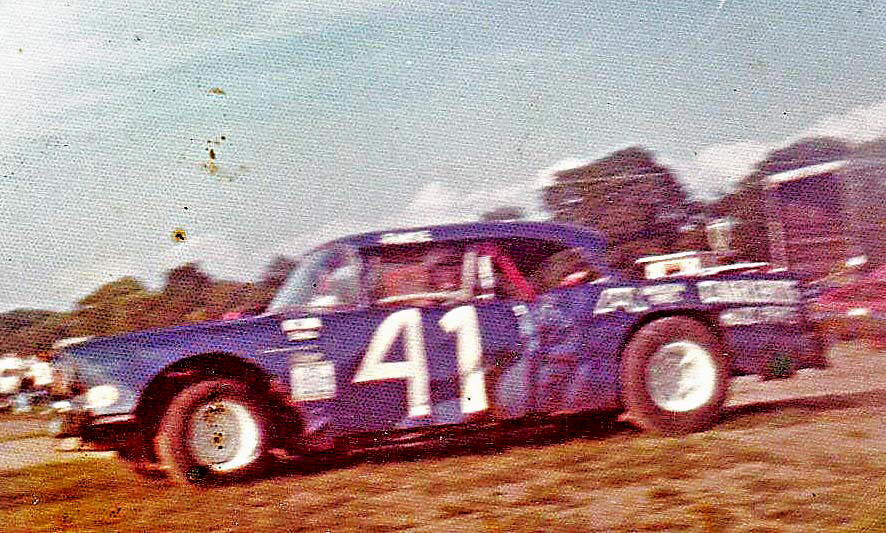 Courtesy of Ray Ringer
This somewhat blurry shot is all we have of Jamie Aube's
well – used, former Larry Warren Chevy hurricane. Soon,
he would buy up a Harry Rathburn Camaro [Below] and
really begin to blossom.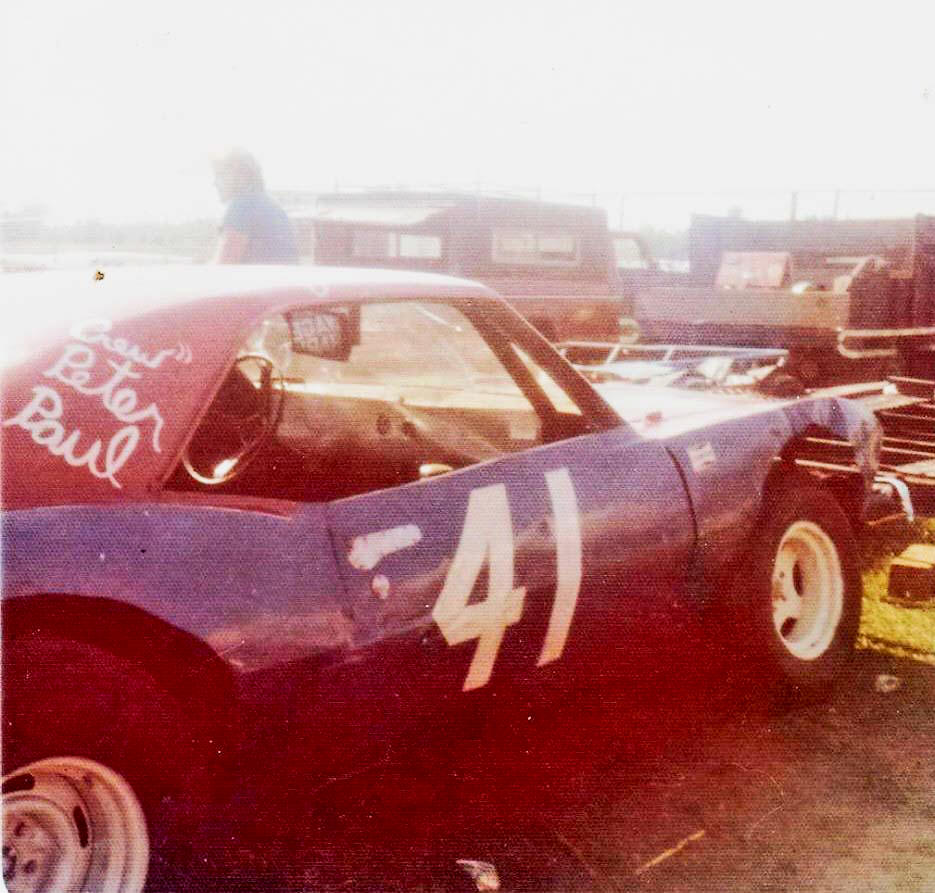 Courtesy of Ray Ringer
A second driver, who finished in the lower part of the top twenty was Bolton's Mike Barry. A young man with an engineering background and an employee of the large Pizzagalli Construction outfit, Barry would later drive the former Bob Pratt Chevelle in the late models before running at least one other of his cars. When Remo Pizzagalli established his own, well – financed team, Barry was made the principal driver. Later, when driving equipment for another former driver, Phil Gerbode, Barry would manage the big achievement of winning one of the Oxford 250's. He would decide to give up racing soon thereafter.
Looking over to New York, 1976 was the inaugural year in the career of the great Leon Gonyo of Chazy, NY. Driving a former Jim Cayea hurricane, he would run at Catamount a few times in 1976. Gonyo, a very talented wheel man, would move back over to New York and Airborne Speedway, where he would end up buying Jimmy Guynup's Mercury Cougar and distinguishing himself in the late models they were running over there by 1977. Gonyo, however, is best known for his exploits in modifieds. He had an exceptional career in the C.J. Richard's Champlain Valley Racing Association at Devil's Bowl, Alabany – Saratoga, and at Airborne. He ran the mods both on dirt and pavement, passing away at Devil's Bowl during a victory lap. He was a legend, for certain.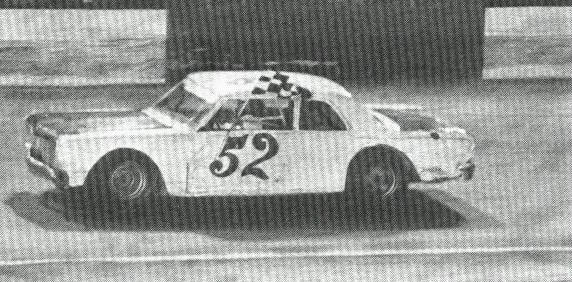 Source Unknown
Mike Barry had better luck with this second Hurricane than
he did with his first, a 61 Chevy. He would soon jump up to the
late models and never look back. Below – You can see this, the
only shot of Leon Gonyo's first race car at far right in this shot.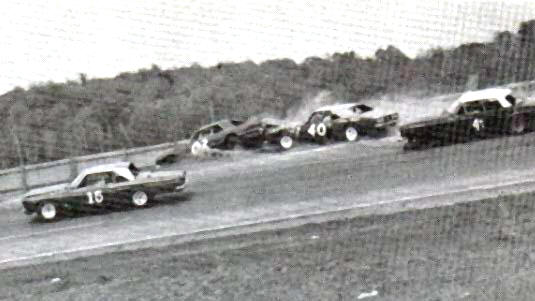 Courtesy of Chris Cardarelli
Larry Caron was also seen in that roster. Having run Hurricanes successfully, he had developed a competitive V6, running it against the big V8's in a Nova before anyone else dared do that. Caron would go to then field a fast Camaro with the standard allowable six cylinder in the limiteds. When Catamount tried to recapture the good old [weekly show] days, Caron brought a V6 Nova to run against the late model sportsman cars – mostly with 356's and such. He did well when it would stay together. It was the first of what would become a trend in NASCAR North by the mid '80's. Caron also went on to race successfully for years in BGNN and later in ACT.
Barney McRae, younger brother of driver George, started out with a few mini stocks of his own. When George fielded a very fast AMC Hornet that year, he actually had built two. Barney would end up, for a while, running the older one. He would go on to drive late models for friend, Henry Thibault. Barney bought one of the Camaro's from Beaver Dragon's impressive Pepsi 91 team and drove that in 1987, nearly beating Beaver at Catamount in one feature. He would run some in the BGNN series before having a second career fielding cars for some of the more promising NASCAR developmental drivers. He still helps teams out occastionally.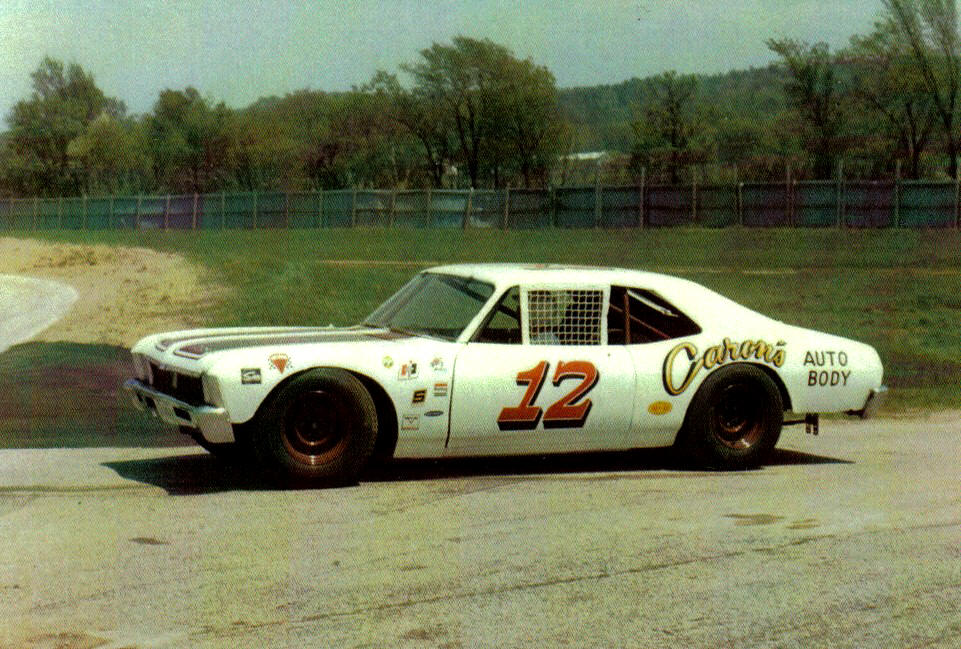 Courtesy of Andy Boright
The Larry Caron Nova was a real trend setter before he first
went to a potent Camaro and, later, to a V6 late model sportsman.
Below – One of the unique George McRae Javelins.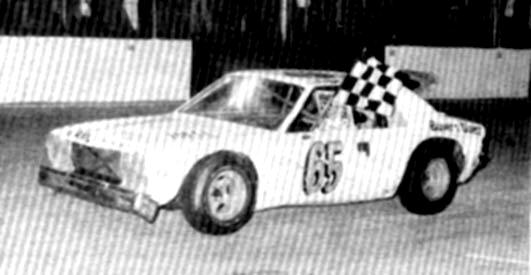 Source – Catamount Program
Besides those who went on to bigger stages, some of the more local stars to appear in that limited roster did join Barney McRae, Caron, Barry, and Aube in driving late model sportsman cars – at least to some extent at Catamount or Thunder Road. Andrews, the big champion of 1976, would buy a Darrel Owen Nova and try his luck for a while, as well as fielding a Chevelle of his own creation. Eventually, he would slide back into the Grand Americans, trading his Nova with Joe Myers for Myer's former Ray Lasnier Pontiac Firebird. Andrews raced for decades, still owning a LMS as late as 2019. Andrews' son, Tony, who may have had a hand in building his cars, would go on to be one of the area's premier race mechanics and car builders.
Others who at least tried sportsman cars were Ford man, Jay Yantz; Dave Gibbs, another AMC proponent; Guy Brown, who probably raced about every division the area had; George McRae raced for a number of years; Jim Barton tried various cars including Tigers and LMS before stopping racing in part for health reasons; and Milt Wright went on to race late models and Curley's ACT pony cars. Carl Nelson, Tom Waters, Richard Buzzi, and – for a while – Yanta would join Larry Caron in the Grand Americans for a spell before the class got eliminated in favor of street stocks.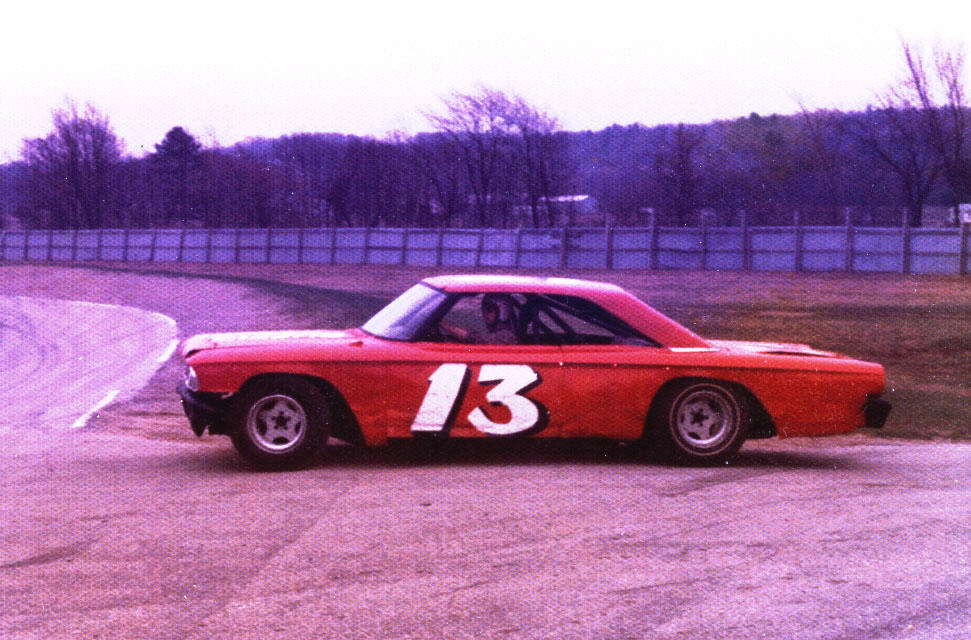 Courtesy of Cho Lee
Richard Buzzi ran both a Hurricane [above] and his much
More famous Camaro in the division.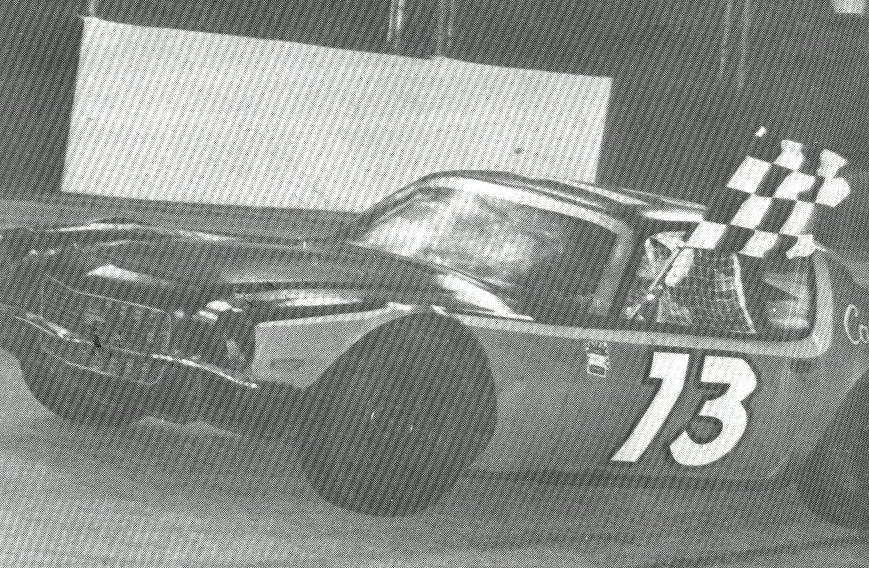 Courtesy of Andy Boright
One major player in the Hurricane and Limited class who did not wish to change and go into some other class was Georgia, VT''s Perry Paquette. One of the hardbitten Hurricane veterans like Nelson, Andrews, and Yantz, Paquette always had a big old Plymouth - purple and numbered 32. A real tough nut and a little bit hardheaded, Perry resented the elimination of his beloved class and chose to get out and concentrate on hnhis excavating business instead. Other than the other guys I mentioned in this paragraph, he was one of the only stalwarts of that class that started in 1970.
Not every reamarkable person in that list was a star of even successful at racing. David Paris, best known as a Northern NASCAR offical, tried his hand with the former Larry Caron / Milo Lockeby '62 Chevy for a few races that season. Rodney Weed, who would end up as Beaver Dragon's crew chief at times, ran the old Warren '57 Chevy he bought from Jamie Aube. Charlie Benoit, most decidedly a great driver, spent some of his on - and – off career running a Hurricane that season.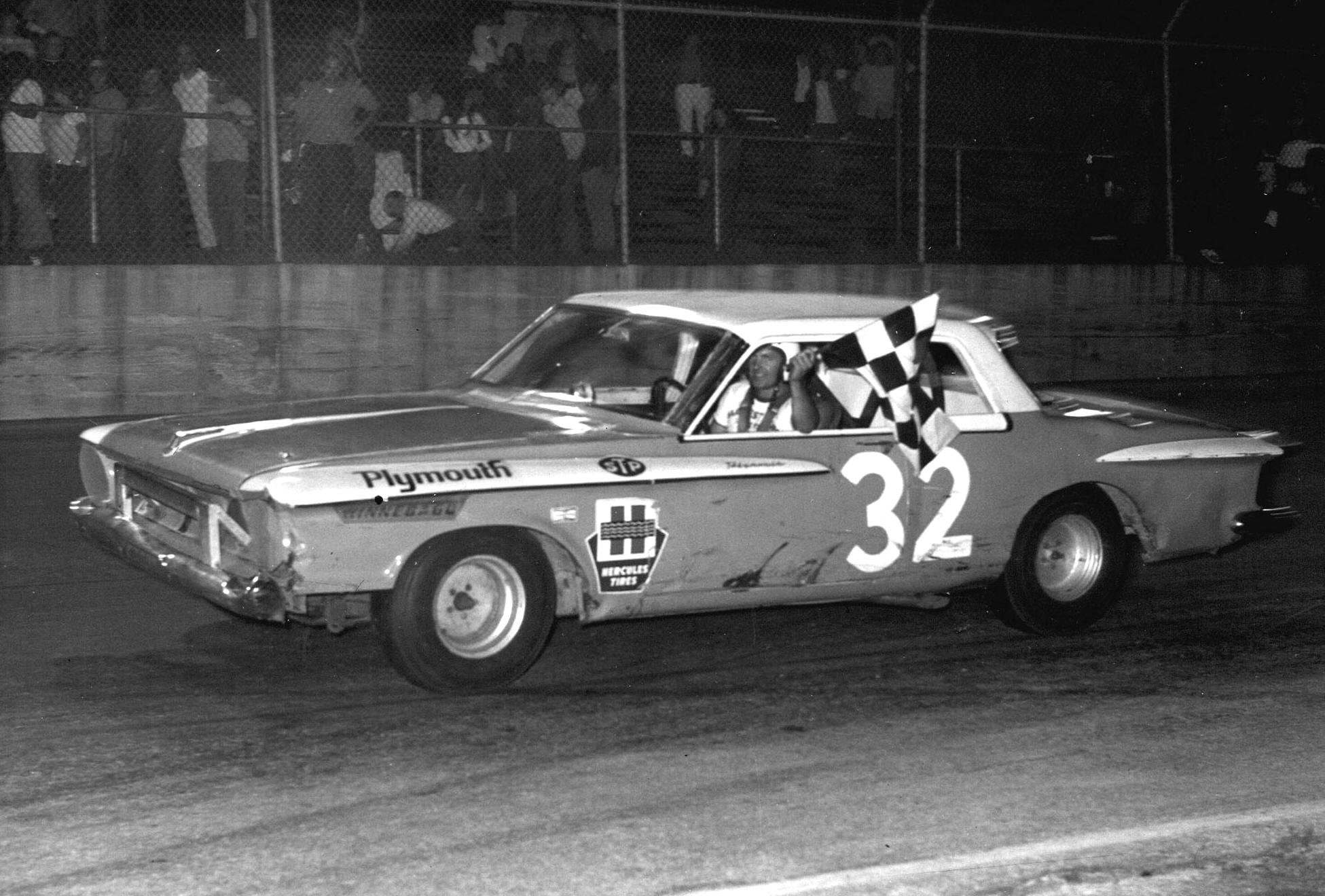 Courtesy of Chris Cardarelli
Perry Poquette wins with one of his familiar purple Mopars. He
would not cnvert to a six banger. Below – Jay Yantz ran several Hurricanes
but his GA Mustang was the one the fans remember.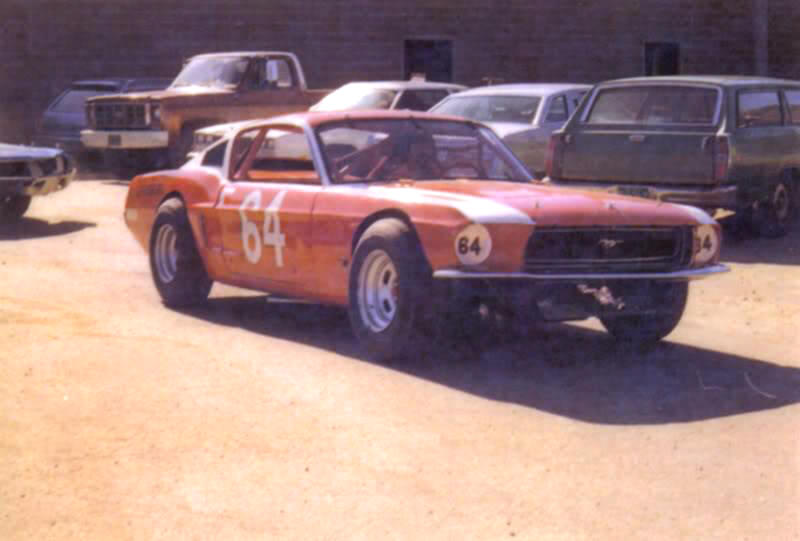 Courtesy of Andy Boright
Don Turner, Sr., a dear friend of mine, had run Catamount in a limited budget Flying Tiger, a Plymouth sportsman, and then – by this season – in that same old Plymouth, re-outfitted with a six cylinder. He wrestled that heavy monster of a car to a ninth place finish in the Vermont state standings that season. His son, Don, Jr. would race a bit in the old Dodge that Leon Gonyo had started out with before embarking on a political career that would, for a while, land him as the Vermont state minority leader in the state house.
Another noteworthy name on the roster is that of Barbara Jean "BJ" Willard of Charlotte. Along with Linda Alexander, Willard was the pioneer for women racing at Catamount and Thunder Road. She had run a big Mopar hurricane, but, by 1976, was working in a six banger Mustang. Drivers like Leo Bushey, Charlie Benoit, Jimmy Duell, Rapid Ralph Baldwin, and Ron Bonnette had all made real impacts in that support class. Benoit would not only excel himself, but son, Danny and even some grandkids became very good runners – always in support classes. Some would race again, perhaps in something like the street stocks; others never ran again. Red Meade, a Ford man to the end, would rise through the years – beginning in a Hurricane, running a Grand American, and later running Tiger Sportsman cars, had a long and popular career.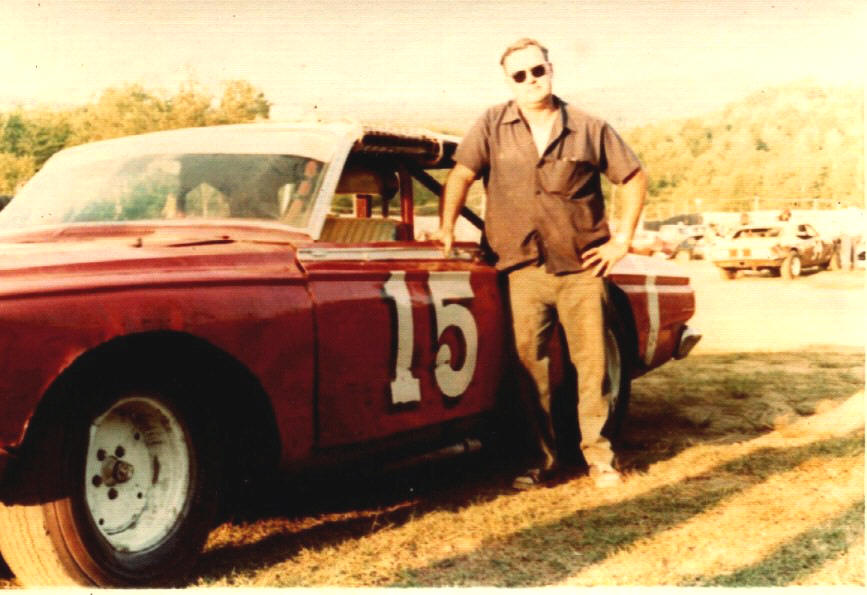 Ladabouche Collection
Don Turner, Sr. took his heavy tank of a late model and
somehow did better with it as an auto tranny Hurricane.
Below – Charlie Benoit was a good runner himself and left a legacy of
two more generations of successsful family drivers.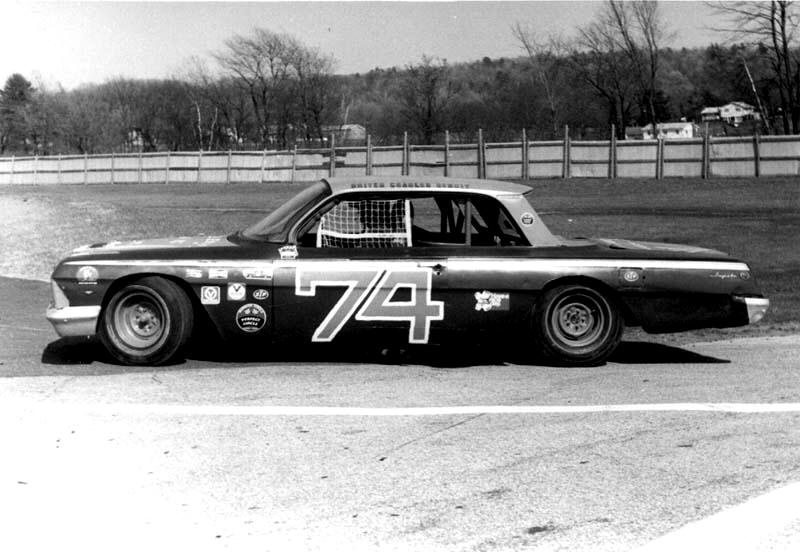 Courtesy of Cho Lee
Some of the people on the list were just lovable characters. Gentle George Davis would appear every decade or so – having a low buck Flying Tiger before ending up on this list with somebody's old Hurricane. Jim Cayea, who had a good driving career, was best known for building a mean Hurricane Mopar. Vergennes, VT's Ray Ringer, a refugee from Milton's dragstrip, drove a distinctive if low budget '63 Chevy with his long "hippie hair" in 1976. He would run a dirt late model at Devil's Bowl years later.
Brad Wright, one of my many sign painting customers in that class, ran a couple of years but had far more success in the marina business; Rick Gonyon made no dent in the limiteds but became a well – known crew chief for decades; Rene Maxfield was an old Flying Tiger driver from the 1960's; Monty Jarvis ran well with the Mustang he bought from Jay Yantz but couldn't stay out of trouble with track officials for his hard ass temper; Aimer "Sonny" Gover was a 1950's coupe driver at the oild Colchester tracks as well as at Otter Creek Speedway before running both hurricanes and a nifty – looking six cylinde Camaro; and Jimmy Duell had been a stalwart in the early Hurricane years.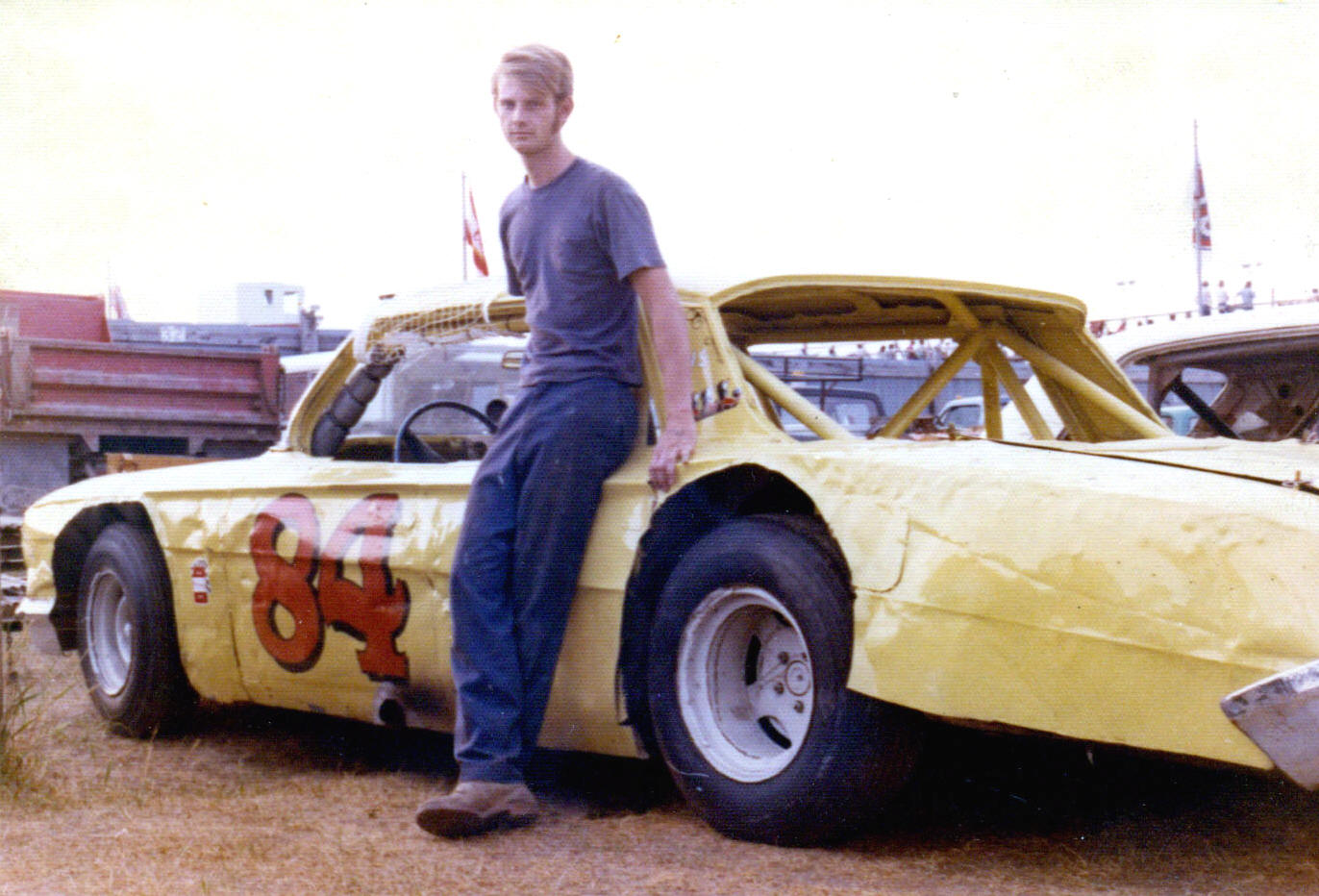 Courtesy of Steve Pecor
Brad Wright leans against his well - used, third - hand '62 Chevy Hurricane. Below -
Papa Leon Bundy with one of his cars.



Courtesy of Jim Watson
I'll close out with Grandpa Leon Bundy. Like his counterpart, Albert Luleck of Devil's Bowl, the older owner of a successful septic service, would race on the track with his early – 40's son. Bundy, who ran a big old Buick Hurricane, would droiver much longer than son, Dean. Like Luleck, he was one tough old bird who just raced for the fun of being out there on the track. Luleck did last a lot longer – racing until it seemed like he was about 150; but Leon Bundy was certainly one of those men who formed the backbone of one of Ken Squier's best and longest – lasting support classes.
Probably every roster from any track has similar great stories, but I happened to stumble upon this one.
Please email me at wladabou@comcast.net if you have any photos to lend me or information and corrections I could benefit from. Please do not submit anything you are not willing to allow me to use on my website - and thanks. For those who still don't like computers - my regular address is: Bill Ladabouche, 23 York Street, Swanton, Vermont 05488.
AS ALWAYS, DON'T FORGET TO CHECK OUT THE REST OF MY WEBSITE:
www.catamountstadium.com
Return to the Main Page
Return to the Main News Page
Return to the All Links Page
Return to the Weekly Blog Links Page