BILL'S [Somewhat] WEEKLY COLUMN/BLOG PAGE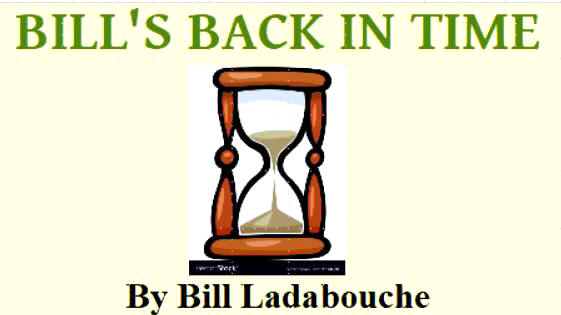 A MAN CALLED OTTO

It is early in the year 2023 and we see ads for the latest Tom Hanks movie, "A Man Called Otto". It seemed like a good time to write something about a real man called Otto – Otto Harwi of Easton, Pennsylvania. Coming out of a no – nonsense Pennsylvania community that also produced heavyweight boxing champion Larry Holmes. Appropriately for that image, Otto Harwi was a welder.
I had noticed the name of Otto Harwi many, many times over the years of my researching stock car racing history. It began to sink in – even though my area of expertise is nowhere near Easton, PA, that his was a highly – accomplished race driver; and, he was not a full – time professional driver like some of the men he raced against.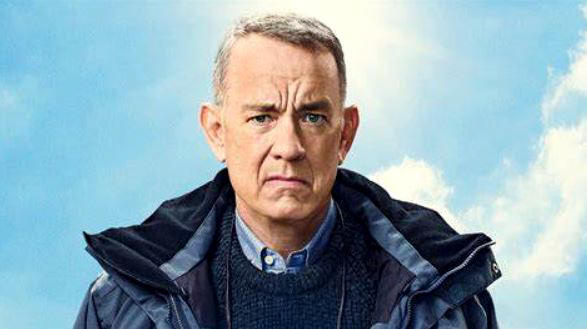 Showtime
Above - Wrong Otto. Below – Right Otto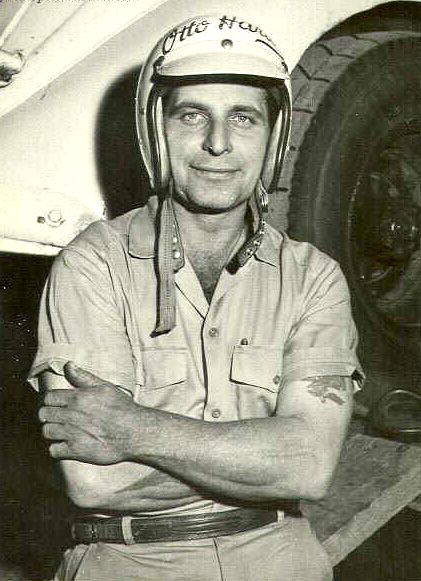 Pasquini Photo
I am doing my best to write this not having much previous knowledge on the man. That will explain the shorter length of the piece. It appears that he began racing in 1948. I find no article mentioning Harwi racing exploits any earlier than one in August that says he wrecked his car at a Mahanoy City, PA track. I am assuming he had a midget there because no other type of car is mentioned in the article from the Pottsville [PA] Republican and Herald. After a strong research effort, I could not dig up anything else on him prior to this.
By 1950, Otto Harwi pops up regularly as a winner, and it appears that - despite the fact he ran that welding business for a living, he raced at a number of venues. The two seemingly most frequent places were Nazareth Speedway at the fairgrounds and Dorney Park Speedway, a small track located by an amusement park in Pennsylvania.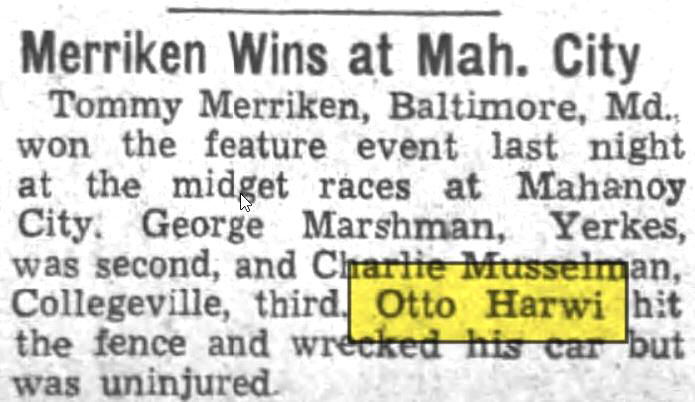 Pottsville Republican and Herald
Apparently his first racing effort was midgets. Doesn't
look like it was working very well. Below – Otto with
an earlier welding truck. It's hard to know if the
photographer George Fehr and Harwi rival Fred Fehr
were related.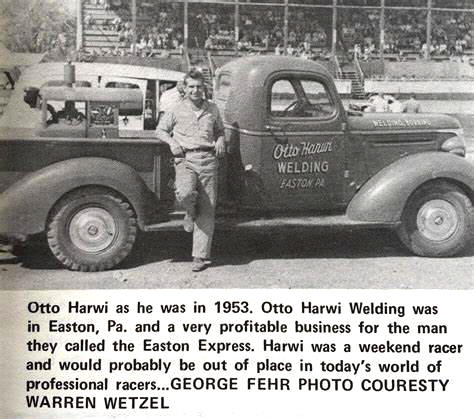 George Fehr Photo via Warren Wetzel
1949 looks to have been a full – season racing effort and – most likely – a learning experience In one article from Dorney Park, the list of competitors was pretty impressive: the great Wally Campbell, Lucky Loux, Lou Johnson [who could be a real nemesis to Harwi at times], and Tommy Coates with one of the famed W.O. Taylor cars. At least part of 1949, Harwi was driving a "hot rod", which seemed to be a roadster. He finished third in such a race at the big Dover, NJ track that year.
While running Dorney Park in 1949 and 1950, Harwi seems to have had a special knack for running the large Nazareth track. Articles, particularly in the Allentown Morning Call have him winning multiple features and being track champion at least two years running. He didn't always have an easy time at the small Dorney Park oval. One report mentions this: "Lou Johnson, the Newark driver who pushed Otto Harwi of Easton against the wall last Saturday night and then pushed him out in the infield and then out of the race as he went by him."
URC Sprint Racing Site Photo
Lou Johnson, whose career is best known in sprinters
was a complete pain in the a** to Otto in stockers. Below – Otto
actually raced against the great
Wally Campbell, at least once, at Dorney Park.
Future Harwi car owner Harold Cope was so
taken with Campbell that he changed his car
number to 1 – and it became more iconic than
Campbell's Wally Marks #1.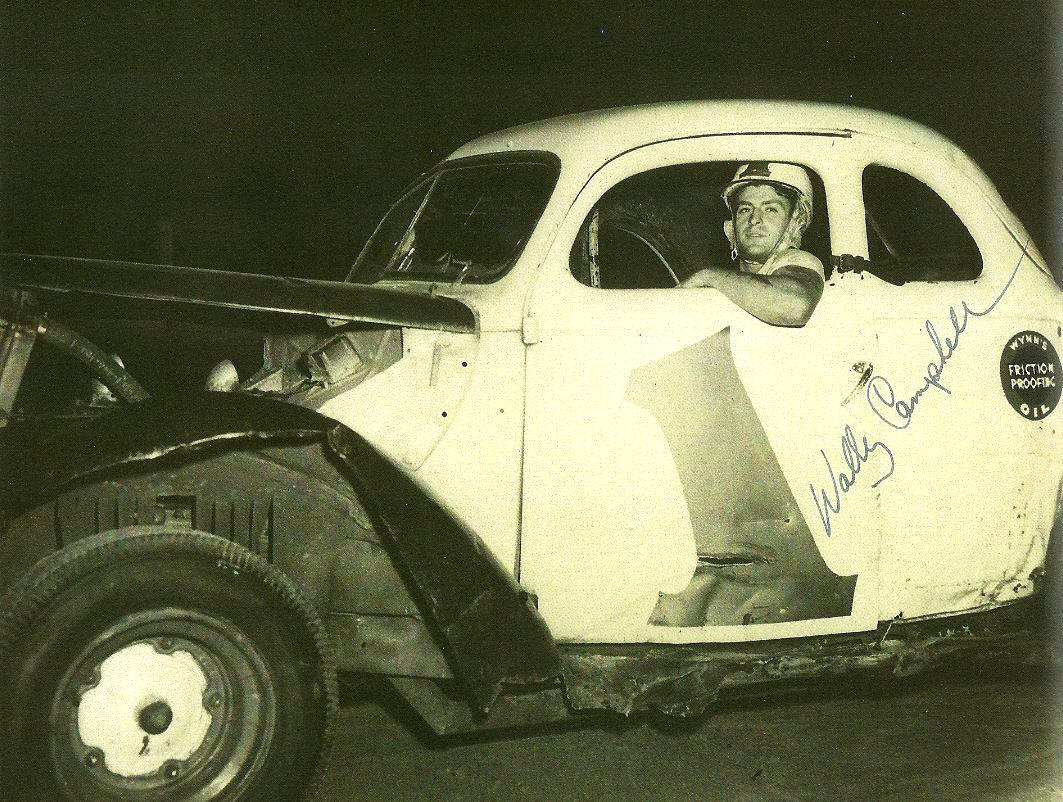 L Jendras Collection via Jeff Hardifer
Harwi won his first feature at Nazareth in June of 1950. he had gained experience running races such as a late season one at Alcyon Speedway in Pitman, NJ in September of 1949. Apparently now having a regular stock car, contending with such top names as Paul Barbiche, the Applegate brothers, the DiNatale brothers, and Jim Marks. He would ace at Alcyon as late as 1958 and would race at least at times at Nazareth into the early 1960's.
An article in the Allentown Morning Call in 1956 intimates that Otto Harwi was running hard for the Nazareth track championship and that he was the defending champion there. By now, his competitors were people like Fred Fehr, Danny Mitchell, Larry Shurter, and Ken Wismer. He became associated with two particular racing teams: Harold Cope's famed #1 and the Cramer #999. He continued to win frequently wherever he chose to run. A 1957 article offers that he was winning his second successive feature at Nazareth as early as May.
From the Jalopy Journal Site
Otto picks up a 1950's win at Alcyon Speedway with a
Harold Cope car. Below – In action at Nazareth, Otto
takes to the inside in a Cope 1.

Cope Collection via Fred Sabatino and Bill Cooper
Winning at Naz by that time was no easy thing. The May article lists such competition as Elton Hildreth, Budd Olsen,. Hoop Schaible, Wismer, Sonny Strupp, Ralph Smith and Ken Marriott. At Dorney Park, top runners waited for him such as Fred Fehr, Chick DiNatale, Don Stumpf, and Jackie McLaughlin. Needless to say, his strong accomplishments were not achieved in an area or time when competition for him was sparse or weak.
Harwi began to branch out in the late 1950's and into the 1960's. He remained effective at home, however. One article gives evidence that he was winning features at the highly – competitive Nazareth as late as 1961. He finished ahead of such as Freddy Adam, Bob Malzahn, George Sleight, and the great Al Tasnady. This was not an outlier or a rare event. He was, by that time points champion at Nazareth six times and had broken a Tasnady record for straight wins.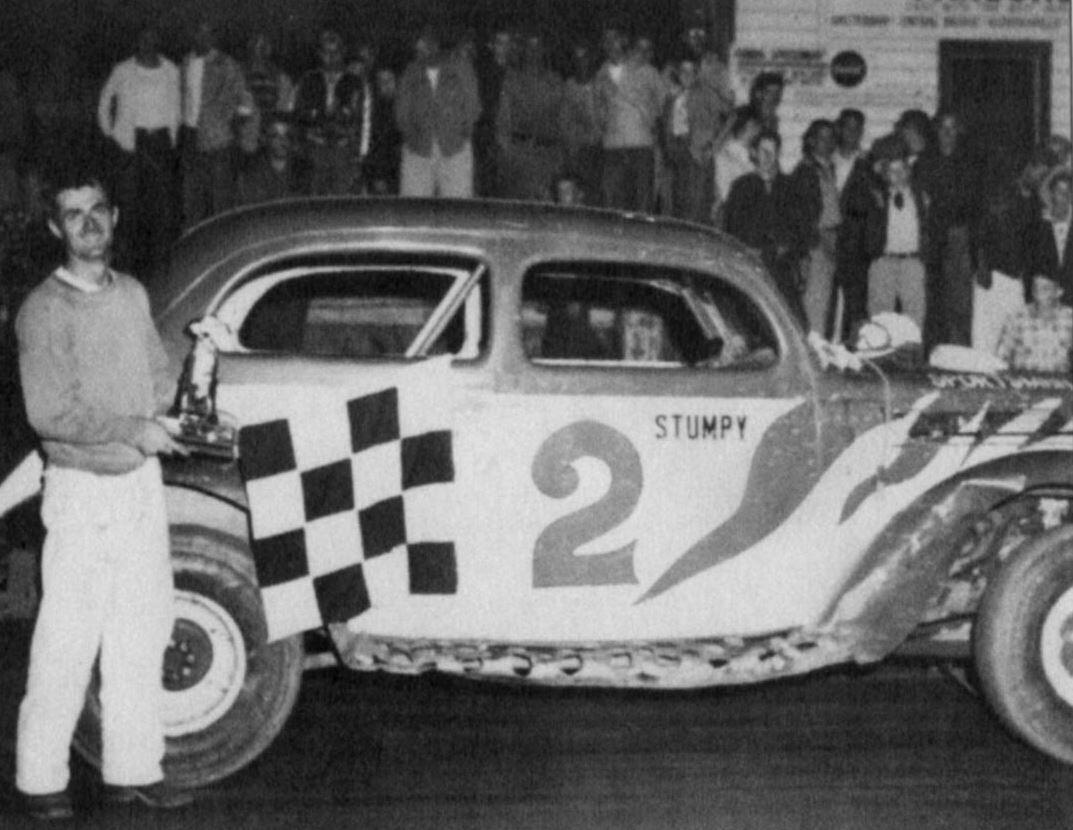 John Grady Photo From The Fonda Book
An occasional but effective competitor of Harwi was Don Stumpf.
Generally considered a pavement runner, Stumpf was good on dirt
as evidenced by this Fonda Speedway win in the '50's.
Below – Al Tasnady and Harwi's names were often
discussed together as major stars in the NJ/PA area.

Courtesy of Kevin Budden
But he also was now appearing at places like the Orange County fairgrounds in Middletown, NY and Evergreen Speedway in Pennsylvania. He even made the occasional trip to Flemington. In 1960, two articles seemed to suggest that Otto Harwi was not doing what he used to manage. One said Jackie McLaughlin was about to overtake Otto in Nazareth points; he didn't. The other, earlier in the season, pointed out how another trio of Nazareth drivers was now battling it out for supremacy there. Funny how Harwi seemed to end up on top again.
At the Victory Speedway [later Orange County Fair Speedway], it was clear that, while Otto was an important runner there, the place seemed to belong to Frankie Schneider at that time. Otto would continue to run well at a number of tracks in that region – and none of them were an easy break. He also was a track official at Dorney Park – at least in 1961.

Courtesy of Edward B. Brown III
By now, Otto was running the Cramer 999 cars at most places.
Below – Very high level competition at the Allentown
fairgrounds in better times. Otto, in the 999, leads his
former ride [the Cope 1]. Any track would be ecstatic
to have this field: the Lucky Jordan 2, Harwi,
Schneider, the Cope 1, and 707, Tasnady.


John Reilly Photo via Edward B. Brown III
Competing at the Orange County half mile, a track with unique clay which was very hard while remaining tacky, was exhilarating but also very fast and somewhat perilous at times. The Easton Flash, as Harwi had been called for years, was taking on Middletown's fabled "Hard Clay" in early 1964 when he was killed. One car had blown an engine and was rammed by a second car. Harwi could not avoid striking the second car. His car became airborne and it landed atop of a concrete wall very hard. He didn't stand much of chance.

Allentown Morning Call
The Allentown Morning Call, a very supportive paper of
stock car racing, had the sad duty of announcing the
fatal Middletown accident – as did dozens of other
papers. Below – An ad for a tribute night for Otto.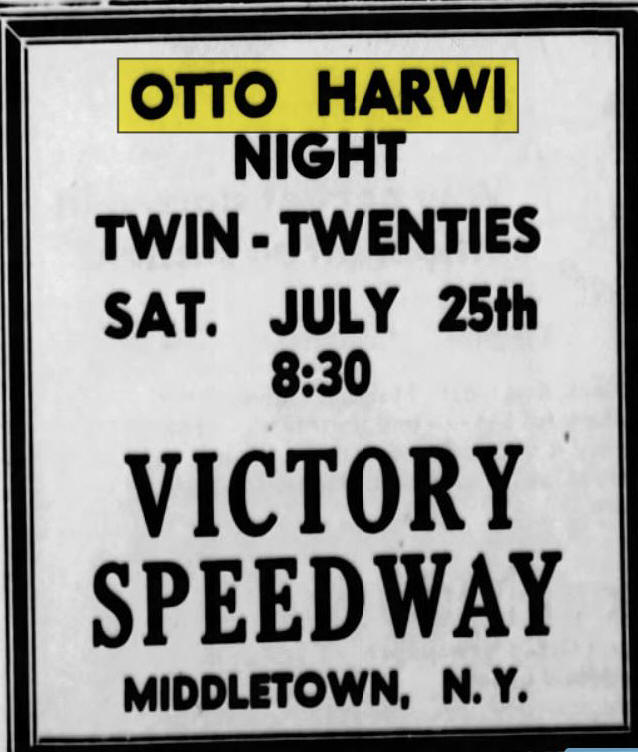 White Plains Journal
Otto Harwi was named by many newspapers as a champion, one of the leading drivers in the Atlantic Seaboard, one of the most memorable of the large list of departed race drivers in the East and about any other tribute you could expect. Tracks had Otto Harwi Memorial nights. He had left his little welding business and was about to get a big upper level job at a large welding firm. The Easton Flash may have been in the flash of welding, but was certainly no flash in the pan.
Please email me at wladabou@comcast.net if you have any photos to lend me or information and corrections I could benefit from. Please do not submit anything you are not willing to allow me to use on my website - and thanks. For those who still don't like computers - my regular address is: Bill Ladabouche, 23 York Street, Swanton, Vermont 05488.
AS ALWAYS, DON'T FORGET TO CHECK OUT THE REST OF MY WEBSITE:
www.catamountstadium.com
Return to the Main Page
Return to the Main News Page
Return to the All Links Page
Return to the Weekly Blog Links Page