BILL'S [Somewhat] WEEKLY COLUMN/BLOG PAGE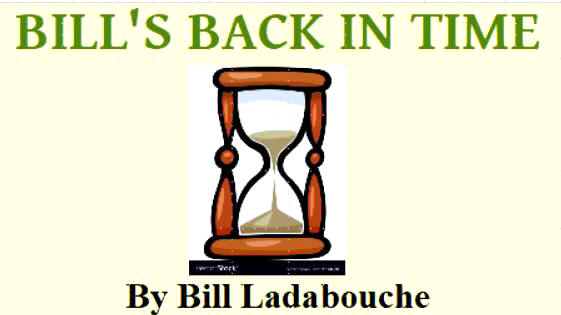 ONE OBSCURE RACE TRACK CLIPPING TURNED
OUT TO BE QUITE AN UNEXPECTED MOUTHFUL


Burlington Free Press
Not apparently having much of a life, I spend way too much time on the internet, harvesting old newspaper clippings about the tracks I study. Already having obtained easily 2,000 such clippings, I was still trolling for more when I came upon an August 6, 1962 article on the long – closed Otter Creek Speedway, in Waltham – outside of Vergennes.
The Burlington Free Press had not exactly outdone itself with the size of this article; but, likely it was still more elaborate coming from track promoter C.J. Richards in 1962 than it would have been with the 1961 promoter [and track owner] Hi Monroe. The track went through three phases before it died out in 1971: Otter Creek Speedway [1961 – 1963]; Hillside Raceway 1965; and Rainbow Ridge Raceway in 1971. For those of us who recall them all, the Otter Creek era was the best.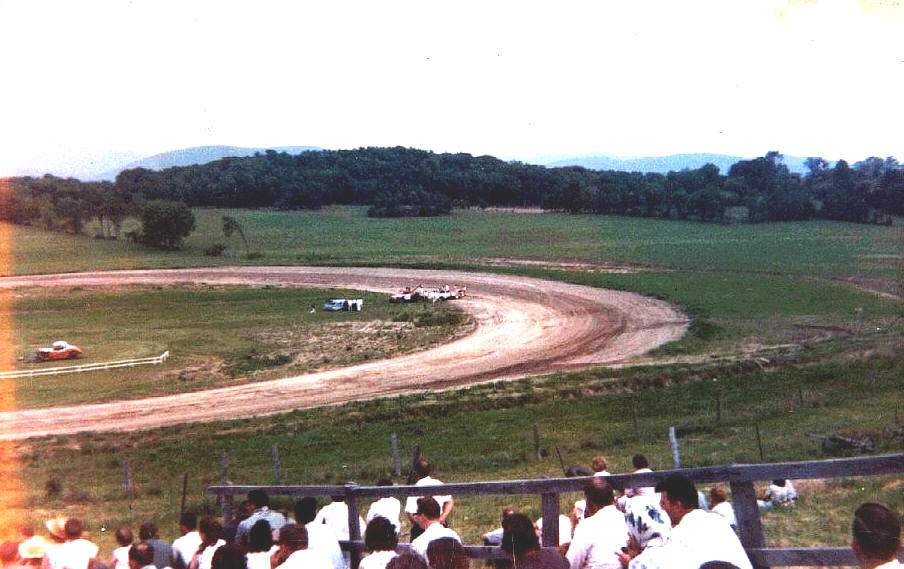 Val Blicarz Photo via Bob Allard
This photo taken from the distant spectator area shows two
phases of Otter Creek. The longer, older layout is still
evident at far right. Below – In 1965, for Hillside Raceway,
D'Avignon installed some cute fencing, but not much else changed.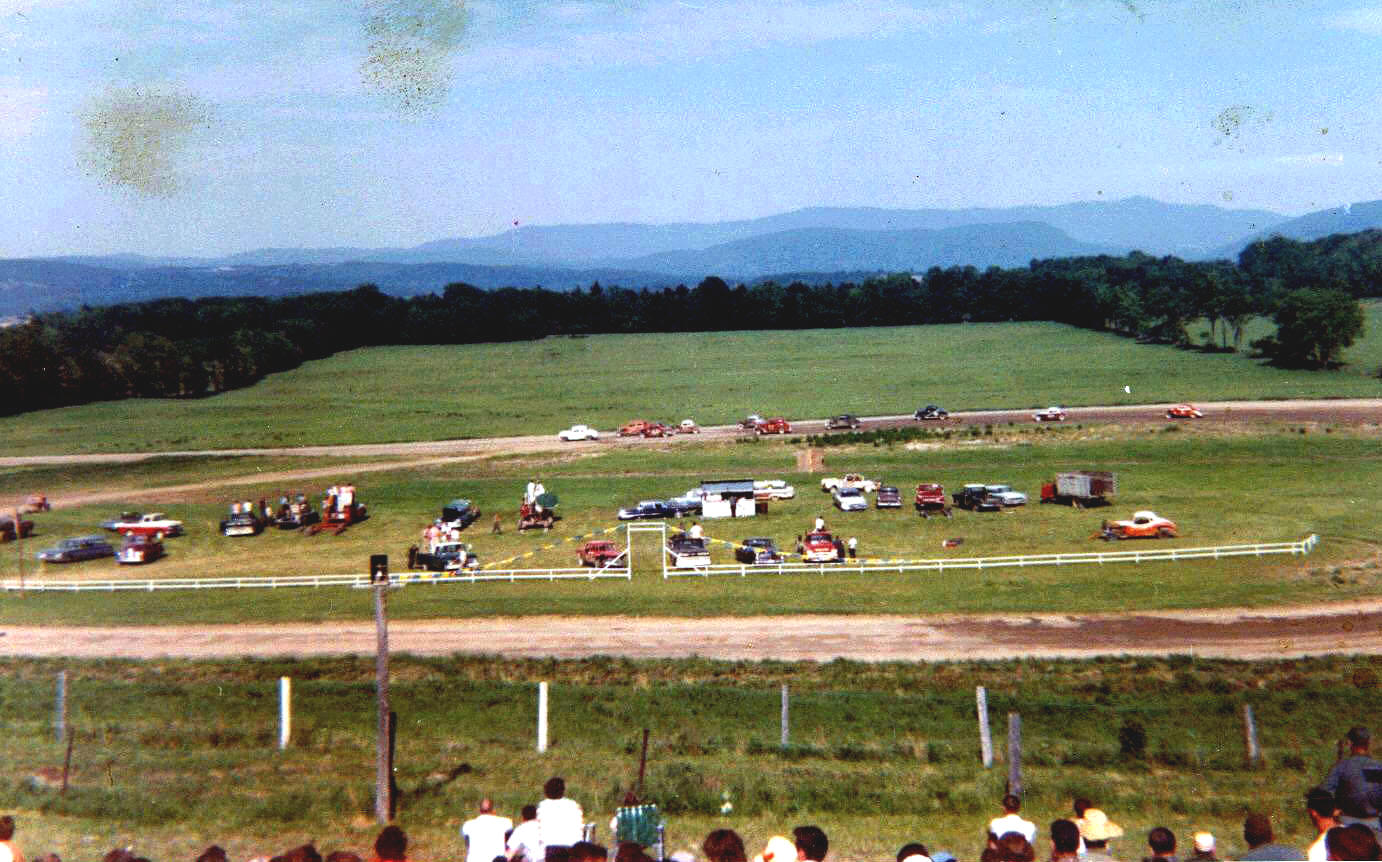 Courtesy of the Davis Family
The article identified the winner of that early August race as Leo "Holland", from Keene, NH. Leo Howland, as well as the great Ted Brown and Art Cody were among those attracted to Otter Creek when Fairmont Speedway promoter C.J. Richards started running the operation for Monroe in 1962. It was a reasonably brave move, in that Richards had only begun running a race track [Fairmont] in May of 1962. The young Rutland Coounty native, who grew up in farming, saw something in Otter Creek for his Fairmont Auto Racing Association [and he was willing to wait out NASCAR, which had the sanction throught he 1962 season].
As it turns out, taking over the 5/9 mile track and taking the time and money to shorten it was fortuitous. When Richards had his record – breaking show at the Vermont State Fair in Rutrland in September of 1962, many of the Otter Creek drivers participated. Richards would inherit, from that first year's venture, fuuture Hall of Famer Vince Quenneville, Sr. and top driver Ed Foley. He would end up running the track as Otter Creek through 1963 and would [in the background] run it as Hillside Raceway in 1965 and Rainbow Ridge Raceway in 1971, using promoters Little Joe D-Avignon and Louie Senecal respctively.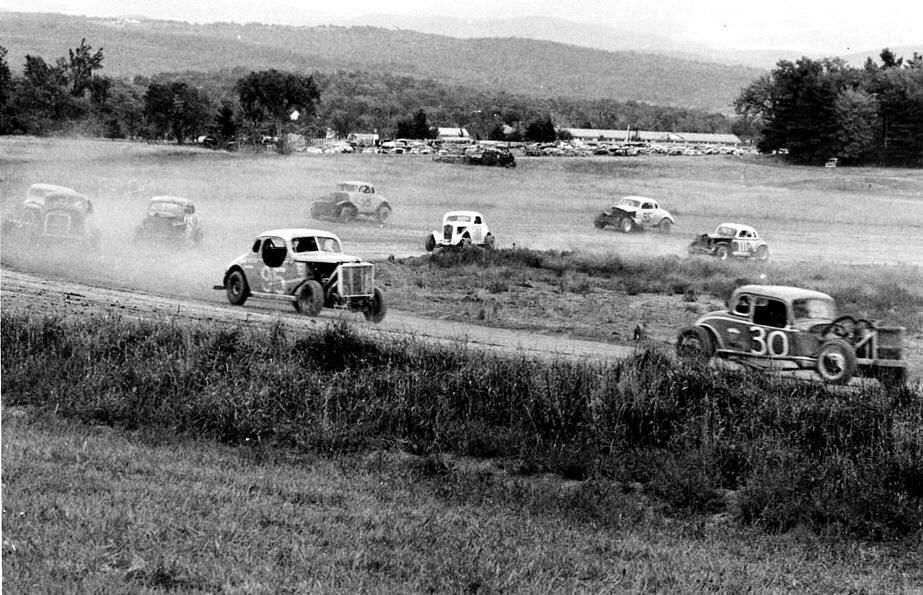 Bob Mackey Photo via John Rock
This is the best Otter Creek photo yet found. It speaks volumes that
it is by Airborne Park Speedway track photographer Bob Mackey.
It shows the mixture of classes earlier in 1962. Hobby star Ed Foley leads
the charge with the more powerful sportsman cars coming up from
the rear. Such luminaries as Foley, Vince Quenneville, Sr., Ken Meahl
[in Jerry Cook's car], Bob Bruno, and Ken Shoemaker are in this shot.
Below - The car Tom Bennett was most likely to have driven that day
is photographed at Fairmont Speedway, earlier that same year.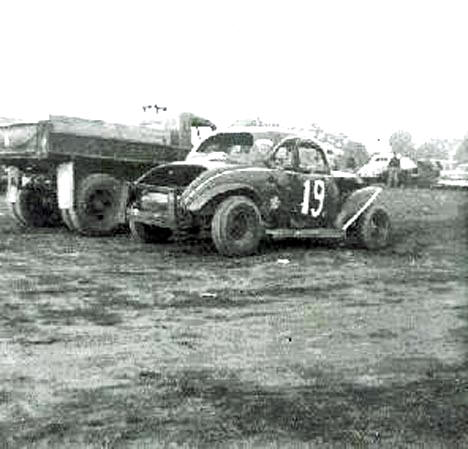 Ladabouche Photo

Returning to that August 1962 short article, the Otter Creek win was the only main event victory the sometimes quite dour Howland would ever have on a Richards track. Howland was, at that time, lucky enough to be at the controls of the highly – competitive Curt Dragon 31. He would show up at Otter Creek and at Fairmont Speedway in fast company from the sandy Claremont, NH track: Ted Brown, Art Cody, Sonny Rabideau, Walt Brown, Jr, and Cecil Bosworth were among the Granite Staters who oftentimes dominated Fairmont and the heavier New York and Vermont cars.
Curt Dragon would go on to have other drivers such as Brown and Art Johnson while Howland would show up with his car #22 in later seasons; but, neither one had all that much success in Vermont. Bosworth would go on in the George Ingalls 888, with various cars of t hat number, through Bear Ridge Speedway's inaugural season in 1968. Rabideau would the Stroker Smith 311, also driving numerous cars for Rutland, Vermont's Leo Vallaincourt. Art Cody, who had also won a race at Otter Creek, spent less and less time in Vermont after a while.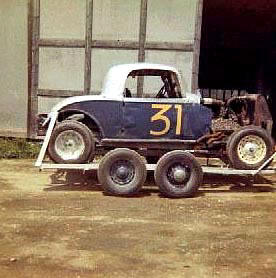 Ladabouche Photo
Leo Howland's silver 31 is seen, arriving at Otter Creek,
in 1962. I don't know if this is when he won; I doubt it.
Below – Ted Brown's team stops on the side of the road
in Middlebury on the way back from Otter Creek races.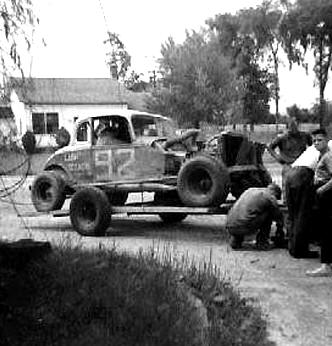 Ladabouche Photo
What is one of the factors that makes this particular article so interesting is the variety of drivers mentioned. Richards was attracting drivers and teams from Vermont, New York, New Hampshire, Massachusetts and beyond. The heat rundown included Howland, in the first qualifier, with Joe D'Avignon of Cornwall second. D'Avignon had purchased the purple car numbered "8 Ball" from Herbie Swan of Middlebury and actually began his career there at Otter Creek. He would also go on [with heavy assistance from Richards in the background] to operate the track in the 1965 season. That was a very pivotal season as most of the local tracks had gone over to the overhead V-8 sportsman as their headlining car that year.
The second heat was said to be won by Nick "Teahuson". Actually Nick Tigenson, a Thunder Road Speedbowl regular, his number 52 flat top coupe was featured in one particular photo from the early Thunder Road days as part of a massive pileup on the frontstretch. Otter Creek was actually enjoying quite a few entrants who had either come from Thunder Road or had avoided the place [after the closing of the Malletts Bay Speedway], hoping for another dirt track to emerge.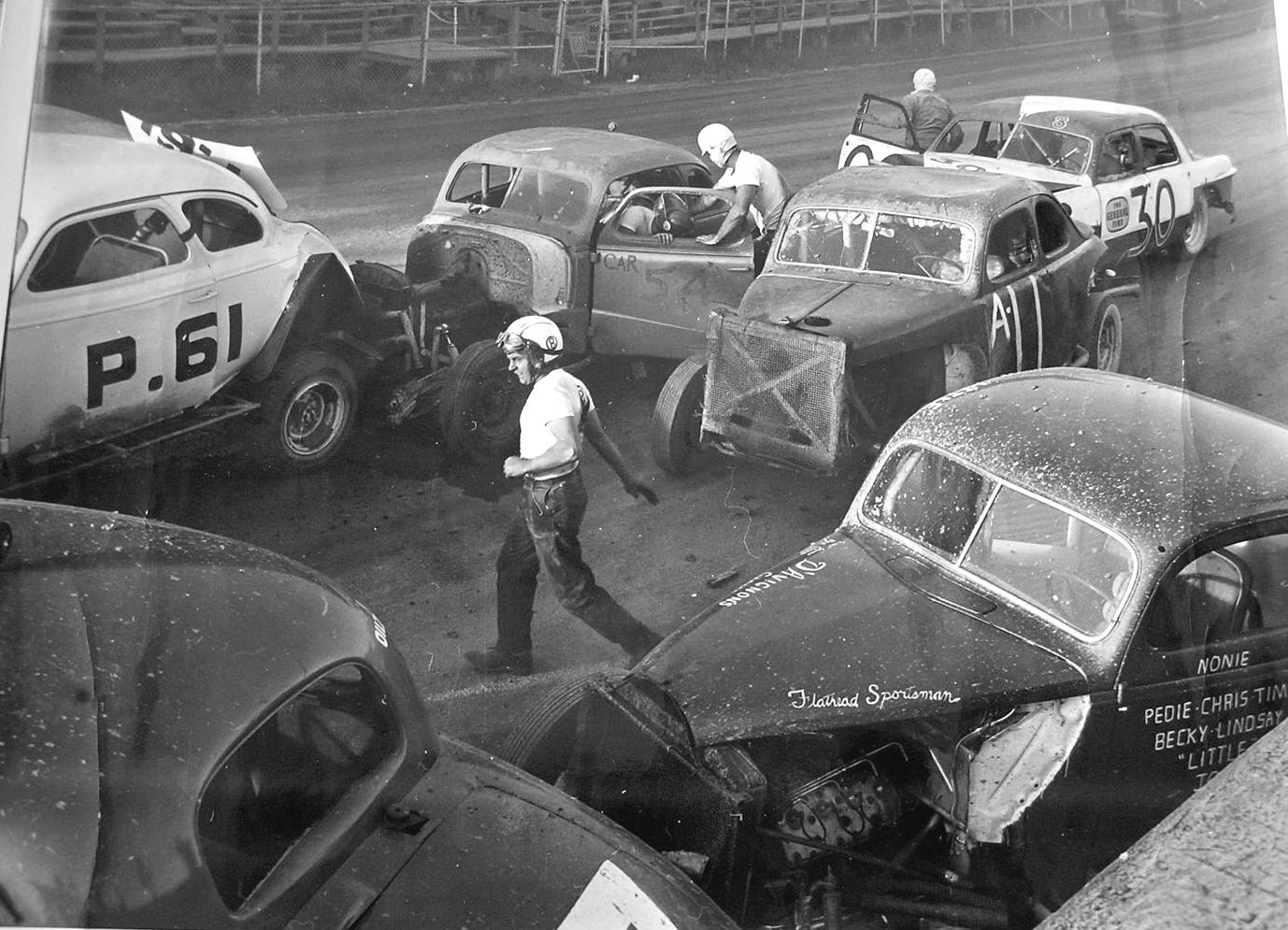 Bob Frazier Photo via the LaFond Family
"Little Joe" D'Avignon walks from his 8 Ball car, flexing a sore
arm after the first big pileup at the fair in 1962. He would build a
faster car, and finally settle down to run the Vergennes track in '65.
Below_ A very recently found photo shows Joe D'Avignon [2nd from right]with his
first car and probably his first crew - At Fairmont Speedway.
Farther Below – Tigenson's 52 is clearly seen in this T Road pileup in 1961.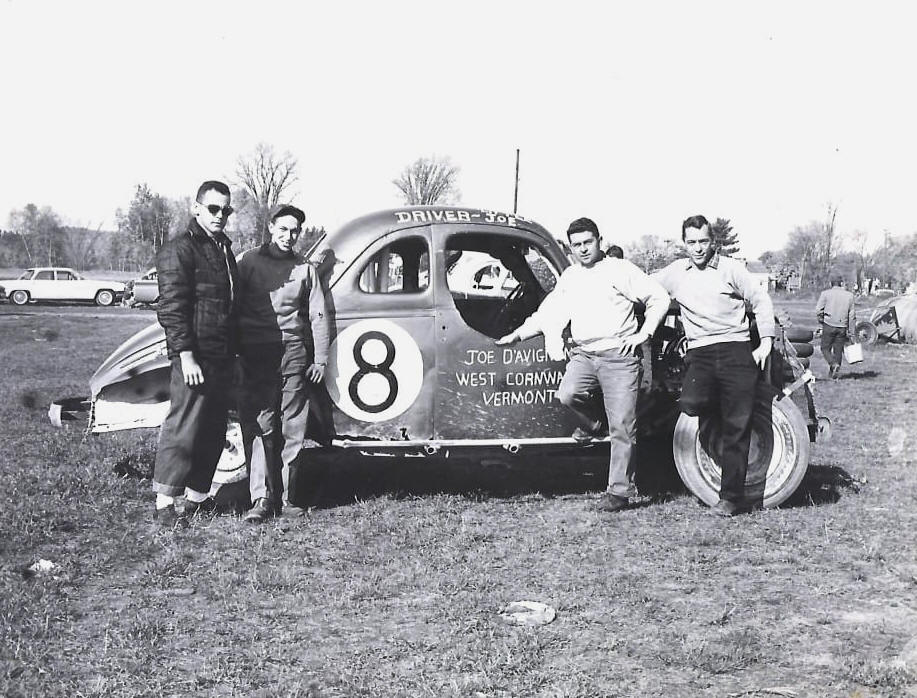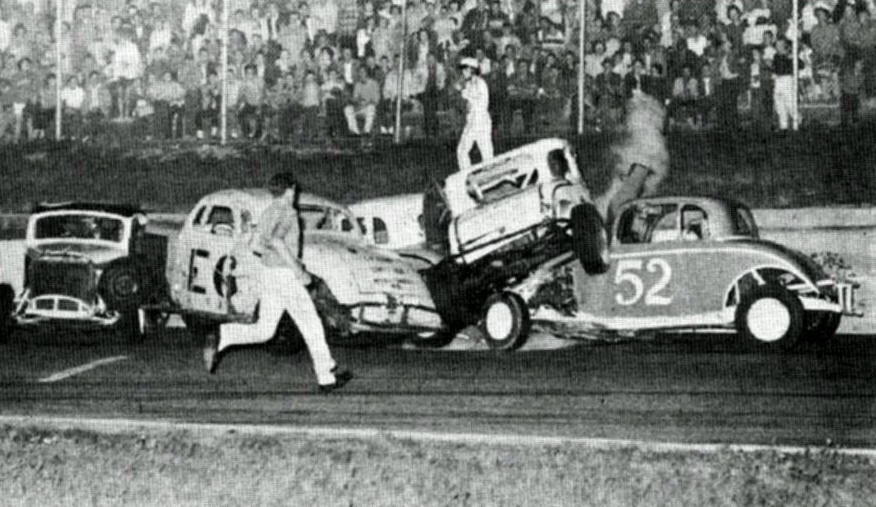 Courtesy of Cho Lee

The T Road cars were "hobby class" at Otter Creek [ a term which would have caused some confusion with Richards by 1963 had he not chosen to drop NASCAR at the end of the 1962 season. Most of these local cars were flathead – powered and also had pre – 1936 bodies that NASCAR had outlawed. The notable hobby teams included Rex Shattuck, Monkton; Harmon "Beaver "Dragon, Milton [often mis-named at the track as Hermon Dragon from Middlebury]; Red Dooley, Burlington; Wayne Chandler, Colchester; the 2+1 Hudson team, with various drivers; and Dick Hawkins, Ferrisburgh.
The third heat was said to be won by one Tom Bennett "from Fair Haven". A regular at the then – closed Warrensburg Speedway in New York, Bennett was actually from the Warrensburgh area and had also made a cameo appearance in a maroon car 19 he seldom actually drove at Fairmont that year. Actually, former Warrensburg teams had made an impression in 1961 at Otter Creek. Lennie Baker of Athol, NY, and Lee Rivers of Glens Falls had won features there in 1961. Joe Spellburgh of West Glens Falls and Ed Baker of Athol had also been running there.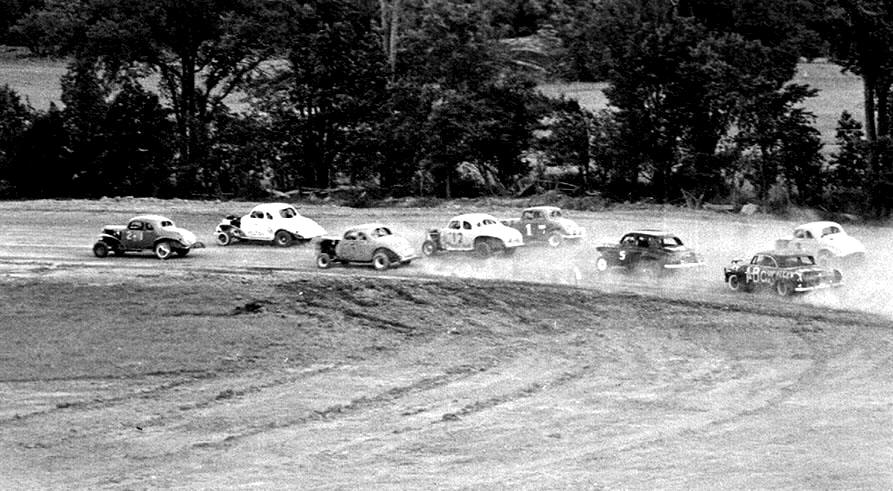 Courtesy of Darrell Tucker
This distant shot shows some of the 1961 hobby cars, along with
the lone sportsman [Jack Anderson's #5] in a very early 1961 heat.
From left: Jim Hampton 2+1; Beaver Dragon [white car]; Chet Streeter [3rd];
Ollie Wescott [12]; Jack Dubrul [1]; Jack Anderson [5]; and Red Dooley
[white coupe]. No idea who is driving the behemoth Buick. Below -
Russ Blake and his sedan, up for one race from Pittsfield, MA.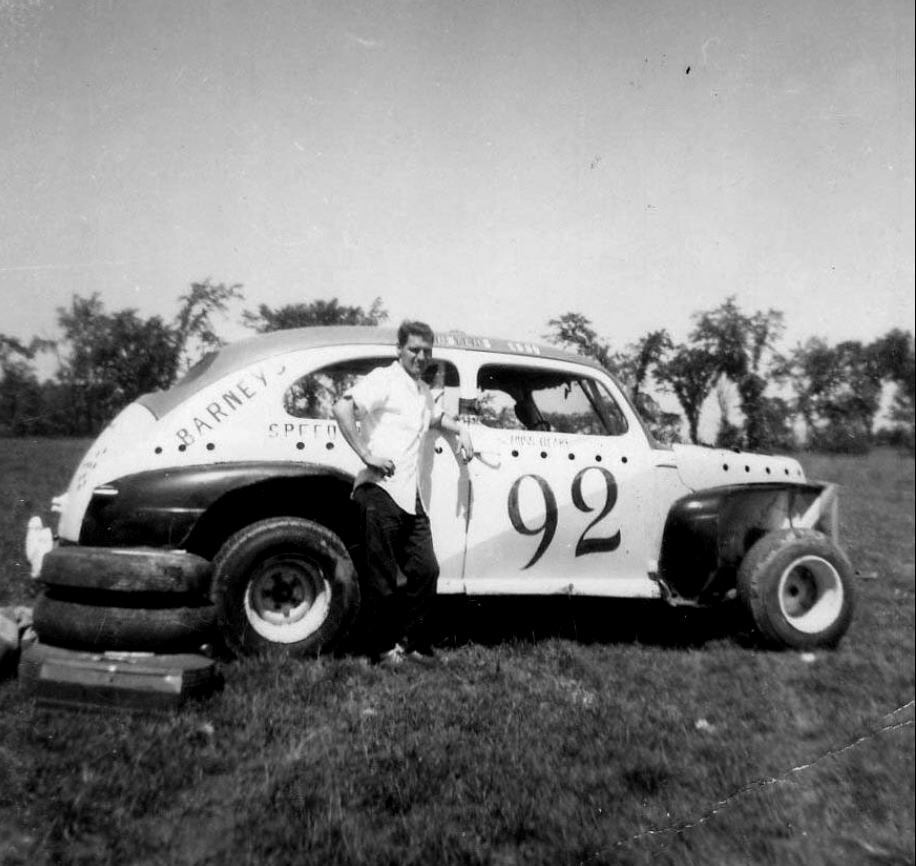 From Russ Blake
In addition to Warrensburg Speedway [which also meant Whites Beach Speedway as well], Claremont Speedway, Fonda Speedway, Thunder Road, and – of course – Fairmont Speedway, Richards would attract the occasional Lebanon Valley Speedway car. In another 1962 article, one Russ Blake of Pittsfield,. Massachusetts had been described as the third place finisher. Blake sent me a photo of his sedan, as it sat in the pit area, off to the side of turn four, at Otter Creek. He found the track [as did most everyone else] to be an ornery, bumpy, dusty pain in the butt to run – but strangely also fun.
The other thing mentioned by the brief Free Press article was the upcoming race program at the fair. Richards would get almost all of his Fairmont cars there, many of the Otter Creek cars who didn't usually run Fairmont, and a number of "extra" cars, many of whom it has taken years to identify. C. J. Richards told me the show broke all existing records for attendance at a sporting event in Vermont [somewhere between 10,000 and 15,000] and that record held up for decades. The [people filled all the grandstand space they were allowed to occupy, and lined the event along fences and up the outside stairs going up the south side of the Arts and Crafts building.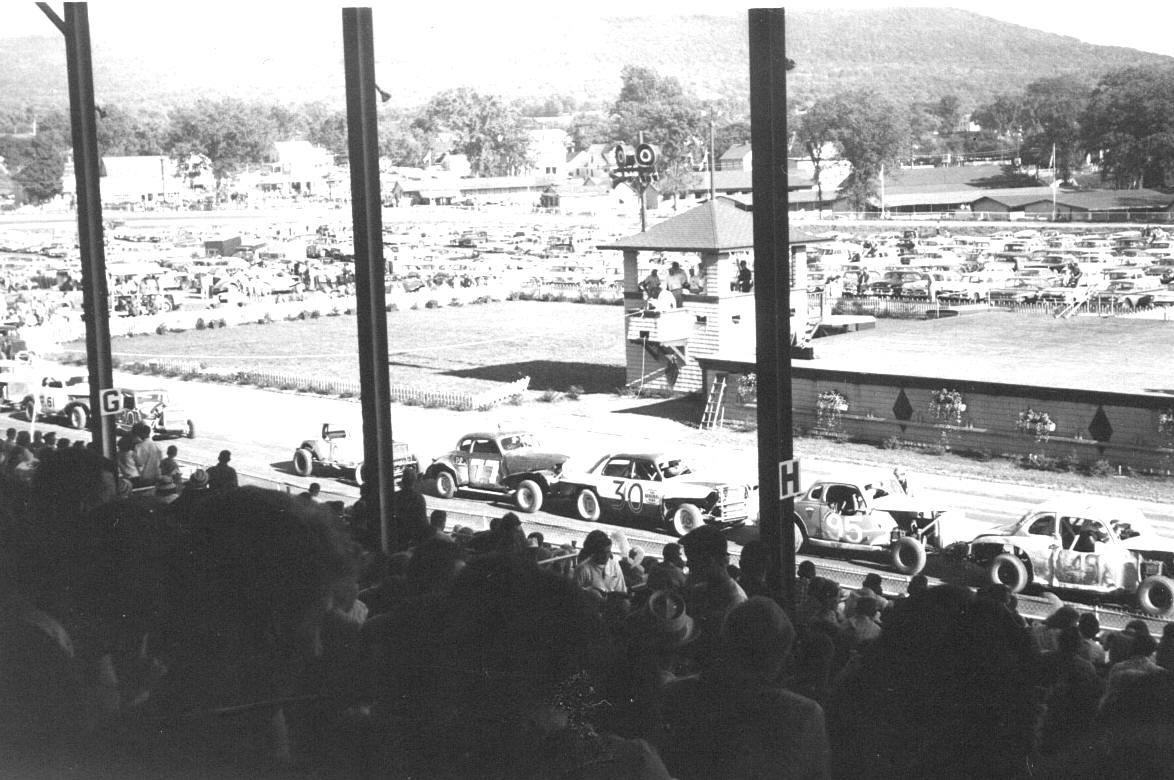 Both Norm Vadnais Photos Courtesy of N. Vadnais
These two photos taken from the stands at the 1962 fair
program show the presence of Otter Creek cars. Above -
Ed Foley [left in front of P61], Jack Cutter 95, and Ed Magoon
in 49. Below – Bob Russell [115] and Vince Quenneville [far right]
wait for a pileup to be cleared.


The Otter Creek contingent that day included Howland, Jack Cutter of Essex Junction; Bob Russell of Shelburne; Phil Russell of Sudbury; 1962 hobby champion Keith Ballard of Hinesburg; D'Avignon; Quenneville; Bob Bushey of Burlington with a #586 Hudson Terrplane from Vergennes; and Foley. Some of the earlier hobby cars from the northern track had fallen away in the 1962 season; Chandler, Dooley, and Shattuck were among those not in attendance. Also, the legendary Beaver Dragon had scrapped his Buick coupe, in favor of a 1954 Ford and was now running at the Airborne Park track in New York and at Thunder Road.
Richard went on to say running the show became a nightmare. The fairgrounds would not allow him to bring his own water truck; he had to use their tiny and ancient 1930's water truck. The blazing sun that day meant Richards' staff could not keep up with the dust despite constant, valiant efforts. Secondly, the sheer size of the field meant the program got behind schedule, and the racers were speeding through the dust into an increasingly lowering Fall sun. The result was two massive pileups.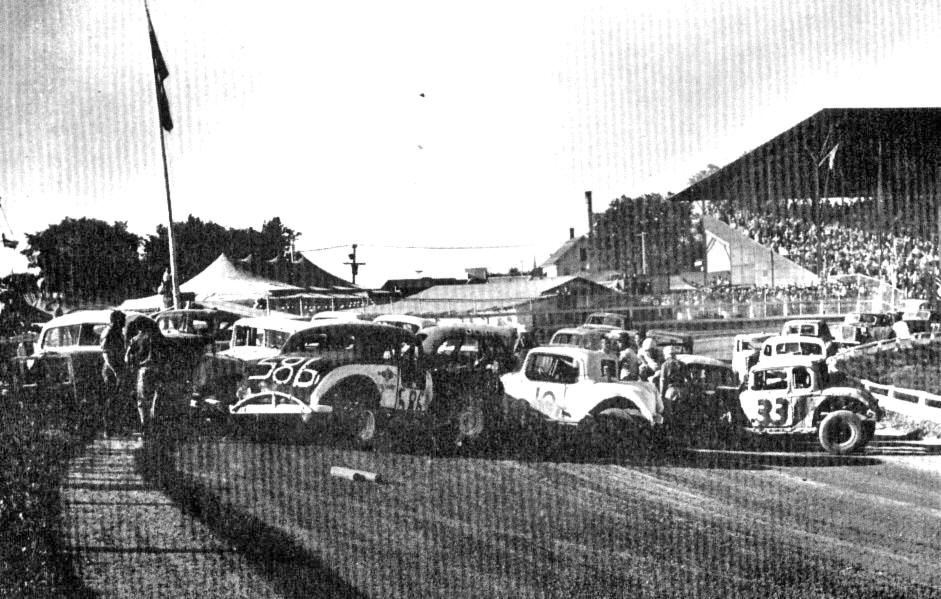 Bob Frazier Photo via Ed Fabian
The second big pileup in turn two. It appears that the
massive Hudson [586] of Bob Bushey hard a part in
triggering the sun – blinded crash. Other Otter Creek regulars
here include Quenneville, "John" on the roof] and Art Cody [33].
Below – An exhausted and relieved C.J. Richards awards Sonny
with the winner's trophy as part of the 10,000+ crowd spills out
towards them.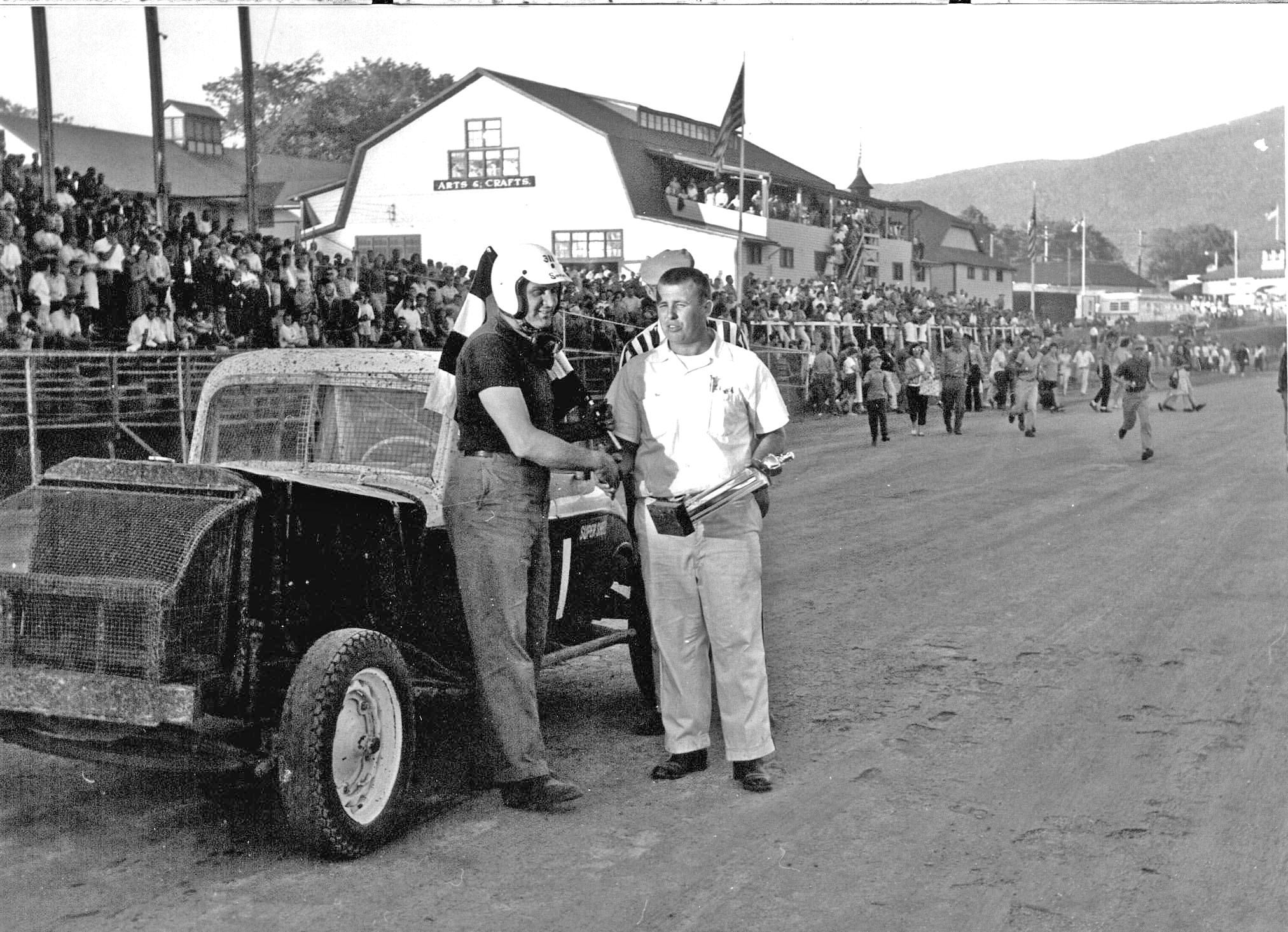 Bob Frazier Photo

When the Vermont State Police wanted to shut the program down after the second pileup, the young promoter slyly pointed out the massive crowd and asked how they were going to deal with ensuing riot if the race was called. Otter Creek cars had added some extra color to the event, especially when Phil Russell in his balck and yellow Hudson numbered as "Checkmate" checkmated Glens Falls driver Art Rivers over a flimsy white picket fence and almost into the stage in front of the judges' tower.
Running races at the balky Otter Creek Speedway track must have been child's play for Richards after the troublesome but hugely – success Rutland Fair show. His August 6th program, in which Leo Howland had apparently benefitted from not having any NASCAR sportsman cars there that day, was a quiet indicator of the even – more – successful 1963 season at "Vergennes" [as most people called Otter Creek Speedway. I would love to have seen some of the other names there that day.
Please email me at wladabou@comcast.net if you have any photos to lend me or information and corrections I could benefit from. Please do not submit anything you are not willing to allow me to use on my website - and thanks. For those who still don't like computers - my regular address is: Bill Ladabouche, 23 York Street, Swanton, Vermont 05488.
AS ALWAYS, DON'T FORGET TO CHECK OUT THE REST OF MY WEBSITE:
www.catamountstadium.com
Return to the Main Page
Return to the Main News Page
Return to the All Links Page
Return to the Weekly Blog Links Page