BILL'S [Somewhat] WEEKLY COLUMN/BLOG PAGE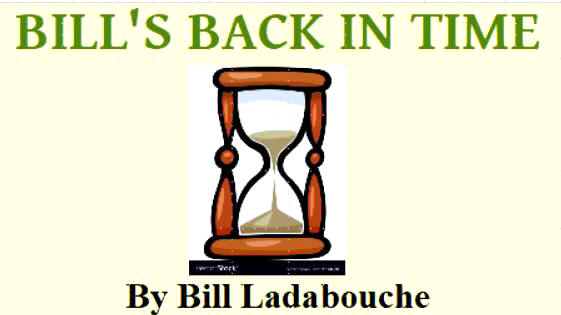 TRACKING NAMES DOWN
This is an old Racin' Paper column that needs some serious upgrading. Good subject, though and well worth re-visiting.
Sometimes, tracking down the true story of a particular car or driver from the past can be so close to impossible that it takes forty years [and a little coincidental luck] to unwrap the mystery. One such case rested with a nondescript maroon #19 coupe that happened to appear, unceremoniously, at Fairmont Speedway in 1963. Besides the regualrs we saw weekly at Fairmont Speedway in its inaugural 1962 season, the occasional odd car would show up - often left over from recently - closed tracks such as Warrensburgh [NY] Speedway, Colchester- Bayview [VT] Speedway, Stateline Speedway [VT], or Whites Beach Speedway [NY] - to name a few.
The car arrived, one late summer Sunday afternoon, in the body of an old Ford dump truck. Nothing much was said of the car during pre-race practice; although I was always fascinated and attentive to newcomers. The sometimes distorted public address system boomed out the lineup of the heat in which the new car was seated. It was said to be driven by Tom Bennett, from #$@@!** Bay. I couldn't make out what the first part of the address was through the feedback; so, I concluded it must have been Malletts Bay [as I had been to one race there in 1958 and it was the only racing bay I could think of]. "Malletts Bay" would have been the abovementioned Colchester - Bayview track.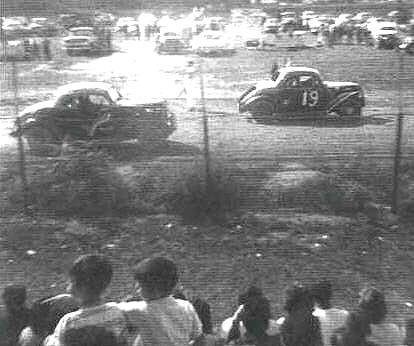 L. A. West Photo
When the mysterious 19 took to the track for a heat race, in front of John Quenneville's Checkmate, not much was known about it.
Below - The car appears in a heat race at Fairmont. Coincidentally, it is running against two other former Warrensburgh cars -
Red Smith's 33 1/3 and the Wilbur Baker - owned ME2.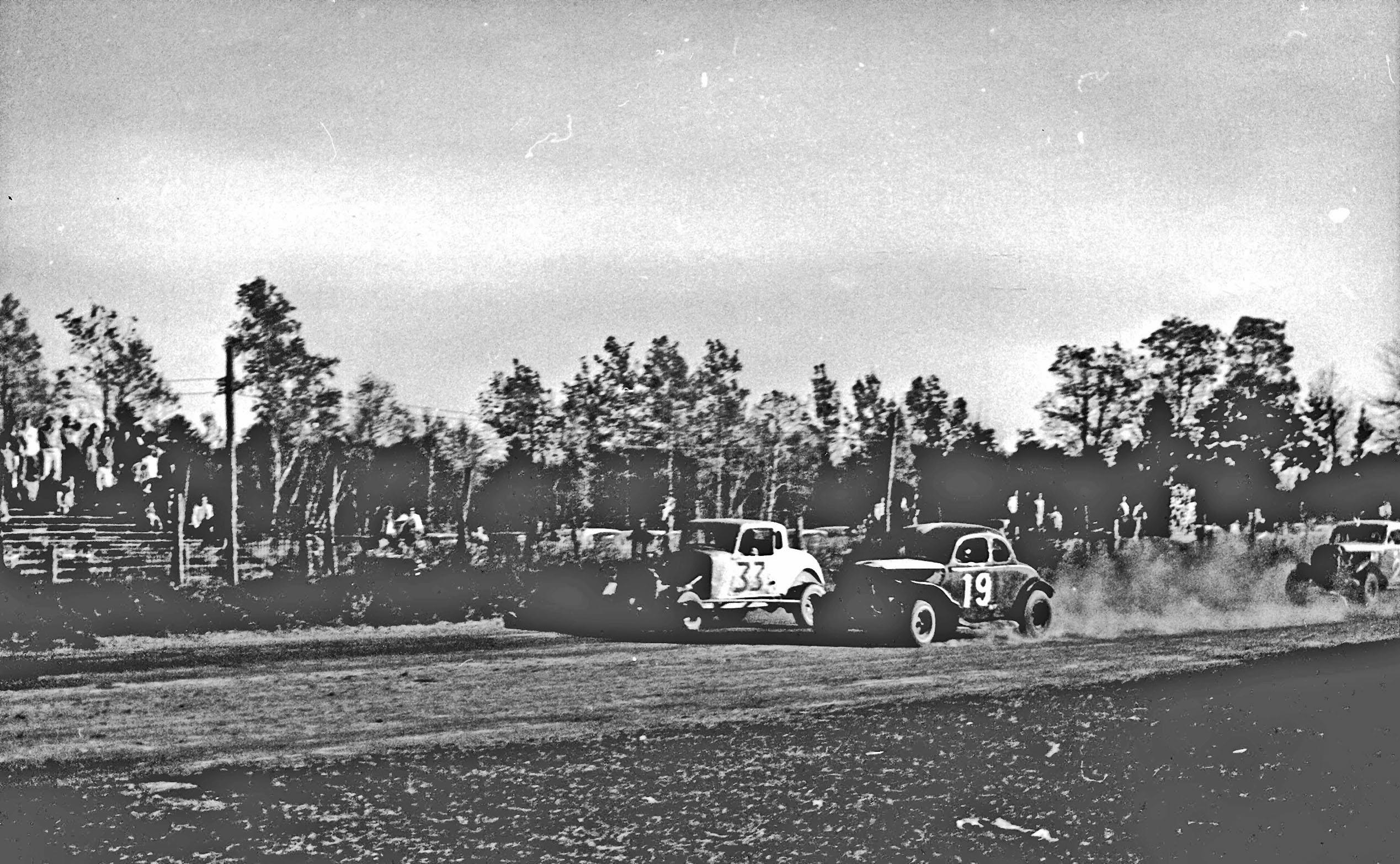 Bob Frazier Photo Courtesy of C.J. Richards
I assumed, from that day forward, that it was a Malletts Bay Speedway car that was making a forbidden pilgrimage South, hoping that the NASCAR Nazis wouldn't find out. As the years [and decades] went by, nothing more was seen or heard of the maroon Ford coupe. When I began serious race history research in 2005, no one seemed to know anything about that car – at any of the many Colchester tracks on the 1950's. The prevailing red #19 of that era was that of Rex Shattuck, with a coupe that may have been a partnership with Norm Cyr. I had seen Shattuck and that particular car at the Otter Speedway track in 1961, not surprising because both Malletts Bay and Otter Creek were sanctioned by NASCAR.
Problem was, as I soon discovered, by 1962 there was no longer a need to hide anything from NASCAR, in terms of the Colcheste – Bayview track because it had closed after the 1959 season. Otter CreekSpeedway did have that smattering of local cars [mostly in what NASCAR called the Hobby division. Thses cars came from the closed Colchester track, from Thunder Road, and a few from newer local sources; but, there was no car like the one that appeared in the dump truck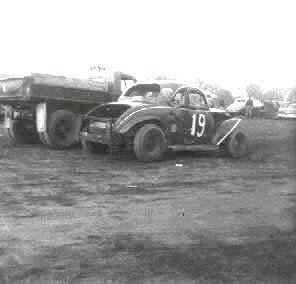 Ladabouche Photo
The mysterious 19 remained just that – for over forty years. Below - Reults from the local Warrensburgh newspaper show
Tom Bennett driving, but not in a #19. The car 19Jr is often referred to in results, but I don't think it is the same car.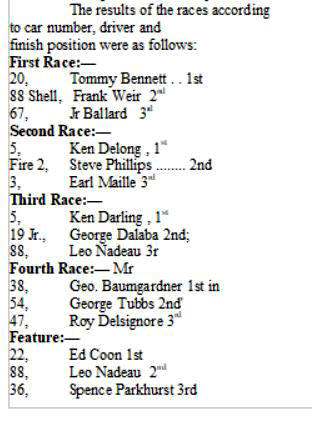 Source Unknown
One Saturday night, during this past summer, I found myself at Mike Perrotte's Airborne Speedway over in Plattsburg, New York. Trying to find out more about the old Ashland Park track in Warrensburg, I was visiting the hauler of modified driver Terry Hayes. As luck would have it, I was referred to Bruce Keith, a man seeming too young to know anything about any track from the era of which I was inquiring. Keith's mother, as it turns out, was not only a scorer at Warrensburg, but an avid historian as well. Although Mrs. Keith had recently passed away, Bruce had learned a lot from his mother.
Meanwhile, Bruce had motioned to another man sitting quietly nearby on one of Hayes' racing slick inside the hauler with us. The large, crew-cut man turned out to be former driver "Rapid Ralph" Palmer, from Glens Falls. Between the two, the truth about the maroon #19 inadvertantly tumbled out. The car turned out to be not a Malletts Bay, but a Warrensburg regular. It was the Red Lamphere – owned car, which ran out of Lake George, New York; and it most likely was also a regular at Whites Beach, the Ballston Spa track that seemed linked to Warrensburg.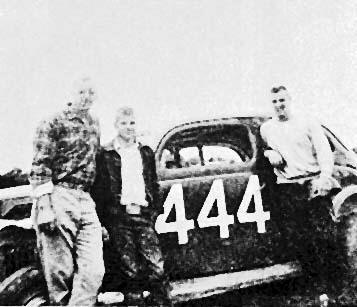 Bob Frazier Photo via Cavalcade of Auto Racing
Ralph Palmer had come to Fairmont around 1964 with this former Earl Maille
444 which had run places like Warrensburgh and Whhites Beach. Below -
Whites Beach Speedway often shared competitors and even officals
with Warrensburgh. Possible drivers Bob Ruschdeschel [74] and Red
Knoblauch lead a field.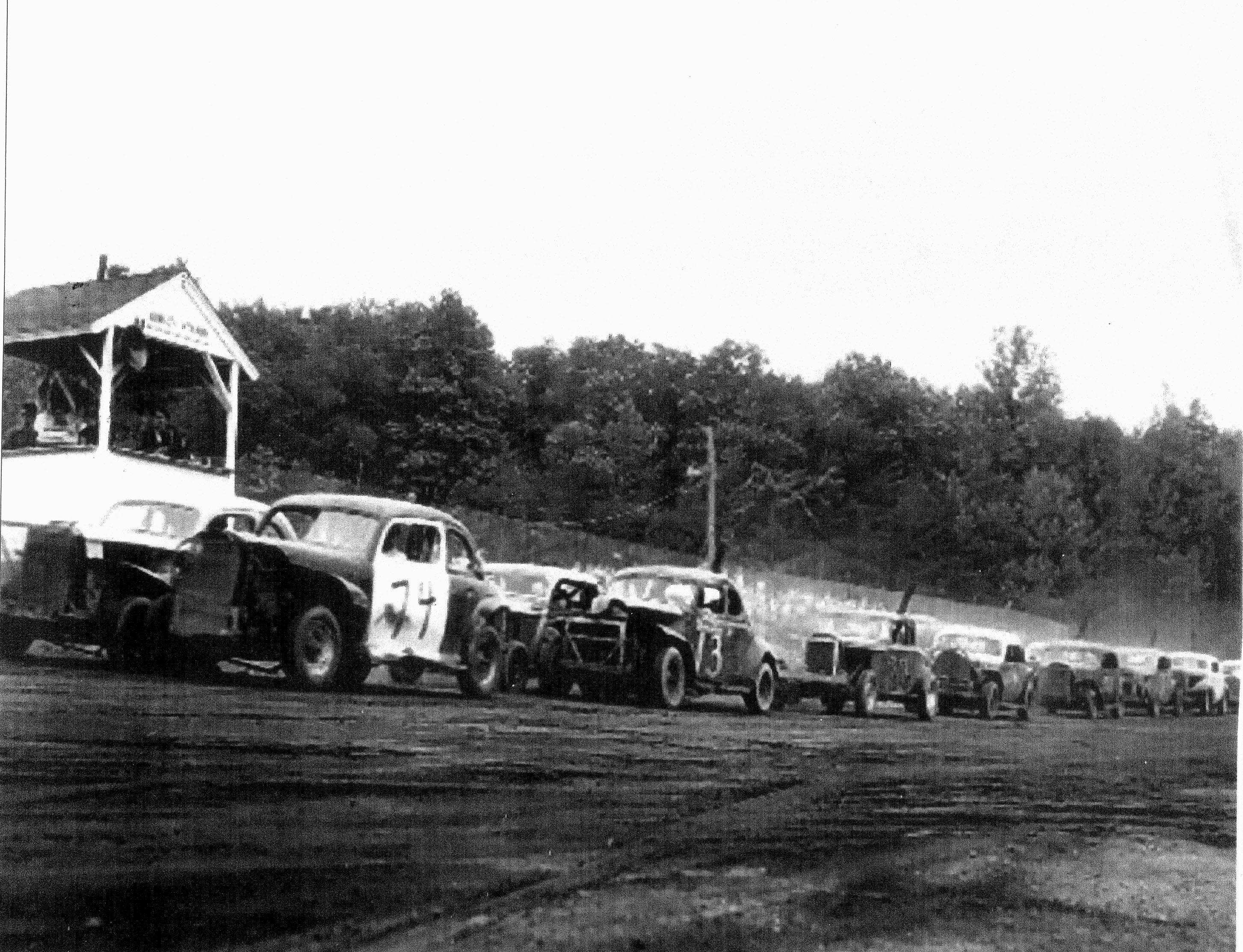 Irv Conron Photo
Another Fairmont mystery car that took a long time to sort out was a blue and gold 1934 Ford coupe that was trailered into Fairmont around 1964 to be driven [just once] by local legend Moran "Sonny" Rabideau, a man destined to be inducted into the NEAR Hall of Fame by the year 2003. I always figured the car was a Lebanon Valley runner, as it had that Valley look and it had equipment far superior to the Fairmont regulars. It couldn't have been a Fonda car, as the track had outlawed the flat-topped pre-1936 coupes by then. The car had a professionally – done #43 on the sides and trunk, flanked by checkered flags. I don't remember what Rabideau did that day or why he landed the ride; but, I am sure he didn't win the feature.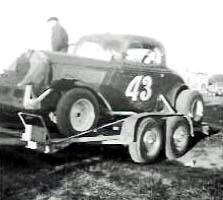 Ladabouche Photos
Two shots I took of the mystery invader 43. The car, in retrospect, had a distinct style
ala Lebanon Valley and Midstate Speedways.
Nothing was heard of the car at Fairmont, and years passed without the car ever being seen in our area again. It had occurred to me that the car was not only like Valley cars, but it was extremely similar to Ralph "Rufus" Chittenden's #32, which ran at Fairmont semi-regularly [and very successfully]. I also assumed that Chittenden was a Lebanon Valley regular because of the car's look. After seeing Chittenden featured on the Onteora Speedway Park page in the 1964 version of "The Cavalcade of Auto Racing", I realized other tracks enjoyed regulars who might have run Lebanon Valley. I didn't realize it, but it was here andat Mid State, in Morris, NY, that the car often ran.
In 2004, I had begun sending photos to the vintage modified web site of Otto Graham, in New York. The photo of the blue and gold Ford immediately struck the attention of Graham and there ensued a flurry of attention to it from Otto, Rick Parry, Jeff Ackerman, and other area race historians. As it turned out, the car was a regular at Morris's old fairgrounds track, and it was driven by Don Wayman, of Cobleskill. I noticed it was similar to several Morris cars, including the puke green bounty car of Gene Cole and one driven by Stitch Mauriano.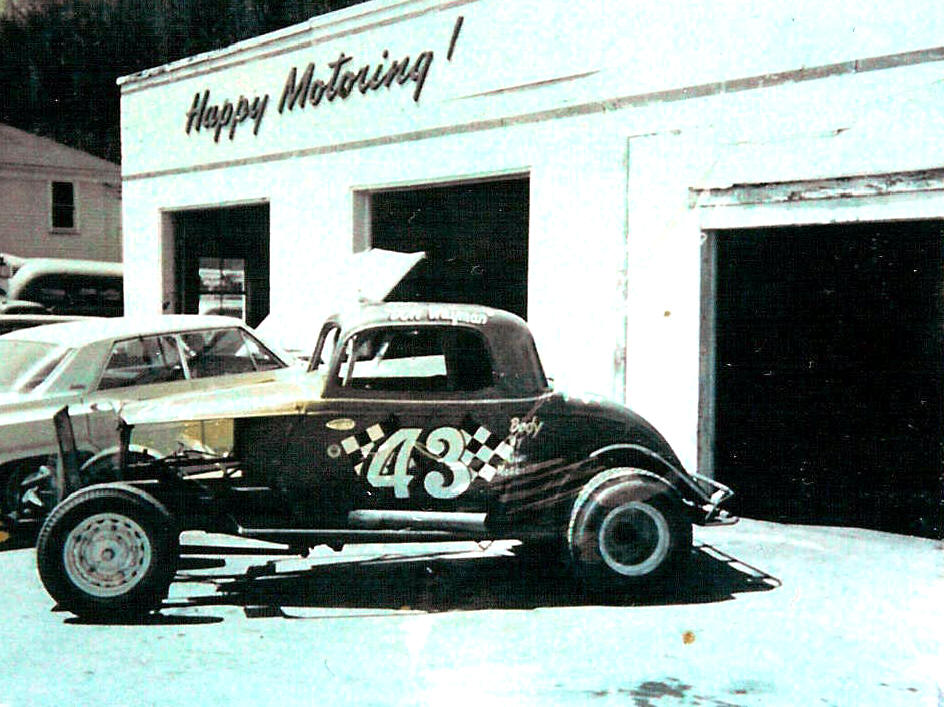 Photo Source Unknown
There was that same #43 car, sitting outside a vintage 1960's era
gas station, sporting Don Wayman's name. Below - Stitch Mauriano's
Midstate Speedway car 32 has a similar look to it.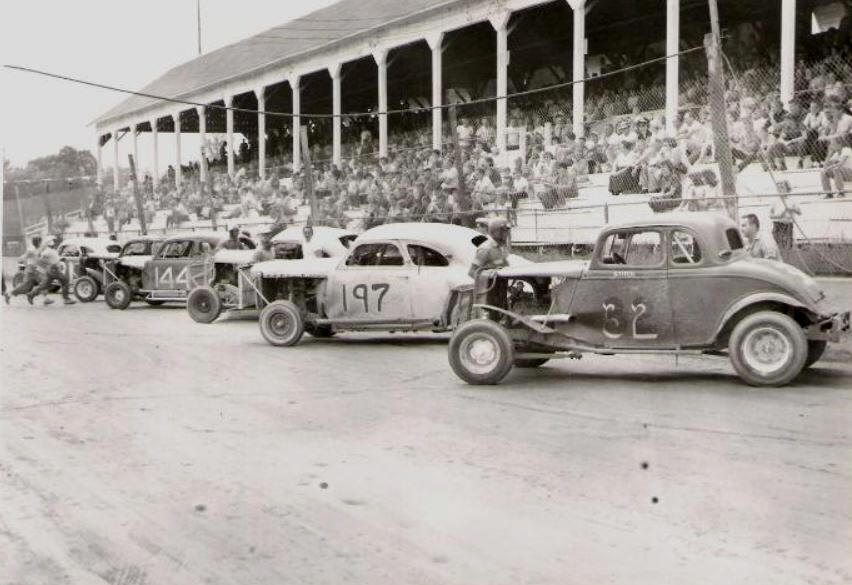 Mel Ogden Photo via Midstate Club
As it turned out, we had more photos of that 43, outside someone's old ESSO station in mid New York somewhere. Prophetically, the sign on the station wished the old car "Happy Motoring". Don Wayman, usually a Fonda regular who loved to drive the Wright/Zautner cars, was the car's most customary chauffeur apparently. I never learned the owner's name and it not clear what happened to the car, but there is little doubt that Rabideau had driven Donny Wayman's ride that one time.
Wayman, it turns out, drove an almost uncountable number of cars. He was the true example of a hired driver, for sure. Beginning possibly with is own equipment in the early days of racing - around his hometown of Cobleskill, he soon ended up driving for owners ranging from Dick Bennett, to the Wright/Zautner team, to Frank Trinkhaus - and many more. Trouble is, the owner of car in question here is one I have never been able to ascertain.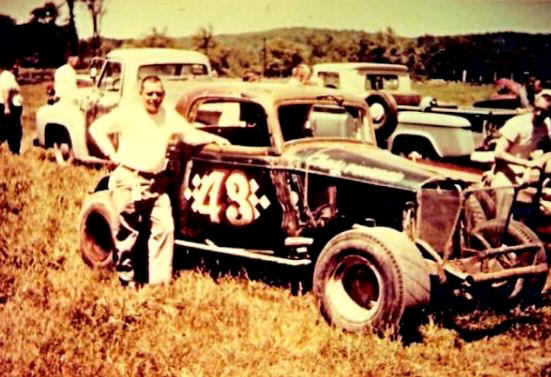 Mel Ogden Photo via Midstate Club
Don Wayman with the 43 car in question - at Midstate in the mid 1960's.
The third mystery Fairmont car was a 1939 Ford that made so few waves in its only visit to the track that I didn't even have a clear idea of who had actually driven it. For 41 years, I could only recall the car's sky blue and white color scheme, and I had been given the mistaken impression that it was driven that day by Butch Jelley, a Valley regular who had not yet begun his legendary stint with the Martin Riiska yellow X cars.

The car had come to Fair Haven, sporting the number 39 [probably for its date of manufacture]. Clearly, the vehicle had been carefully prepared – at least at the outset – because it obviously had been painted professionally and the graphics were also done by a commercial sign painter. The #39 was thought to be run by Jelley, even though no one could fathom where it had come from or how he would have come into that job. There was an ambiguous reference to the "U.S. Air Force" on the side; and, I assumed that might have explained the sky blue color of the body. But, in those days, branches of the service certainly did not sponsor weekly bullring cars.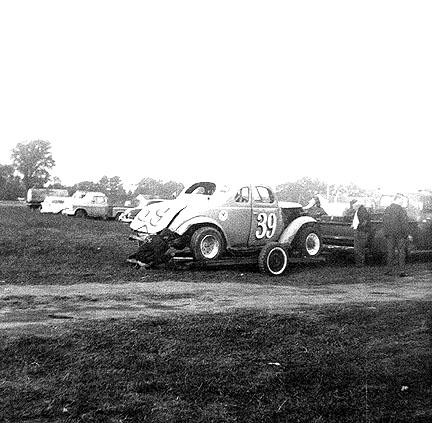 Ladabouche Photo
The pretty blue Ford ended up being run by Jim Langenback, from Schenectady. Thank God I never threw anything away.

The car did not appear to run smoothly, and it did not enjoy much success that say. As with the other two mystery cars, the years came and went, and no one knew anything about the #39. Finally, this past September, I happened to luck into finding an old printed sheet that served as an insert to one of C.J. Richards' C.V.R.A. race programs from an early 1960's Fairmont show. On the sheet, was a drivers' roster, which included the names of several drivers whom I had long forgotten.
One of the long-forgotten entries on the mimeographed Fairmont entry sheet was #39, Jim Langenback, of Schenectady. I had remembered "Ed Zackenback" – but with an older – bodied # Z1 as an infrequent Fairmont visitor from the Capital District. His cutdown Z1 hadn't exactly cut a swath through the Fairmont competition. But, after helpful info from Russ Blake, I now know it is the familiar Valley runner, Langenback. So, most likely, it was Jim L whose car I had photographed, not Jelley. If Butch had anything to do with the car, he would have had to be a last – minute relief driver. No matter who drove it, the Air Force car drove more like a World War II tank.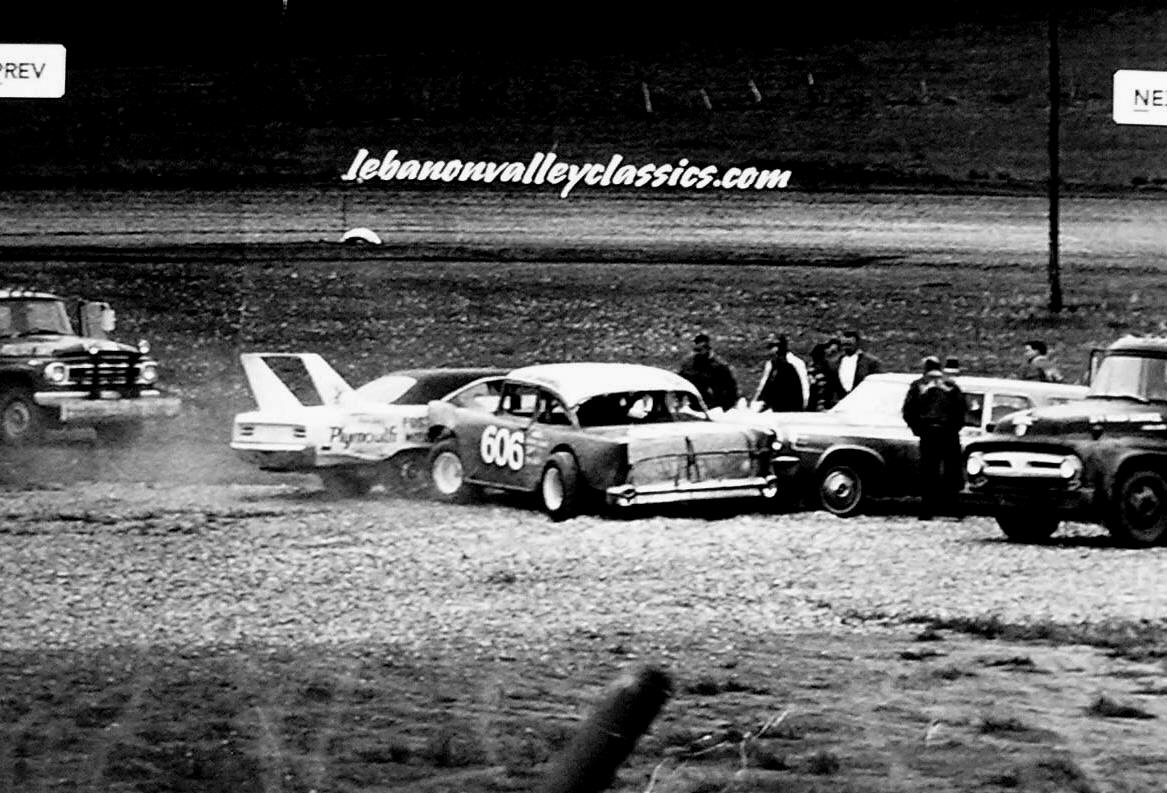 Bob Frazier Photo Lebanon Valley Classics
OOPS ! Below - The Art Wilson 8 Ball.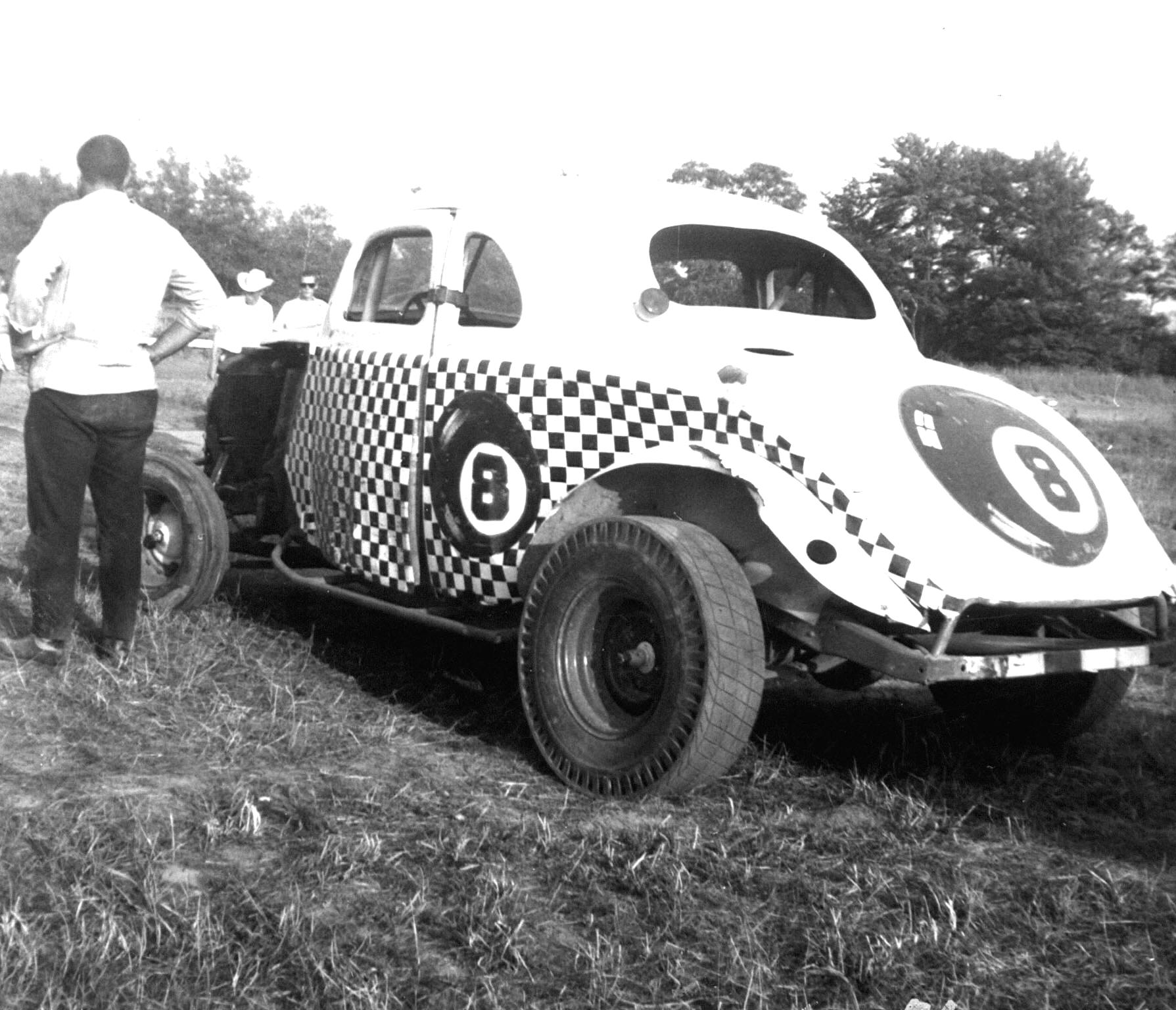 |
Ladabouche Photo
Langenback would fatefully have another meeting with then- Fairmont Speedway promoter C.J. Richards. When C.J. opened Devil's Bowl, in 1967, he eventually had two Plymouth Superbirds, at least one of which he used as the pace car at the track one year. Langenback, by that time, was running a Lebanon Valley late model Chevy - and the Bowl had taken to running the same kind of cars. So, Langenback ended up running there on Sunday nights. At one show, he somehow lost control of his car, went into the infield, and rammed one of the Superbirds. It's a wonder he escaped the place alive.
Fairmont, in particular, had its share of cars I had a hard time tracing. One such entry, a checkerboard - decorated car #8Ball took me fifty years to find. It arrived in 1963. It turned out to belong to one Art Wilson of Chestertown, NY and was usually driven by Warrensurgh regular Roger Bolton. Another car, a #1NY took a while to figure out but it was a Ford coupe belonging to former Route 66 Speedway driver and early Valley driver George Gowie, of Defreestville, NY. I don't even know how"the snapshot of Gowie's car ended up on my Kodak Brownie camera; I wasn't there that wekk and they say he didn't get to actually run. I do have one, however, of Gowie in an early '50's lineup at the old version Fairmont track.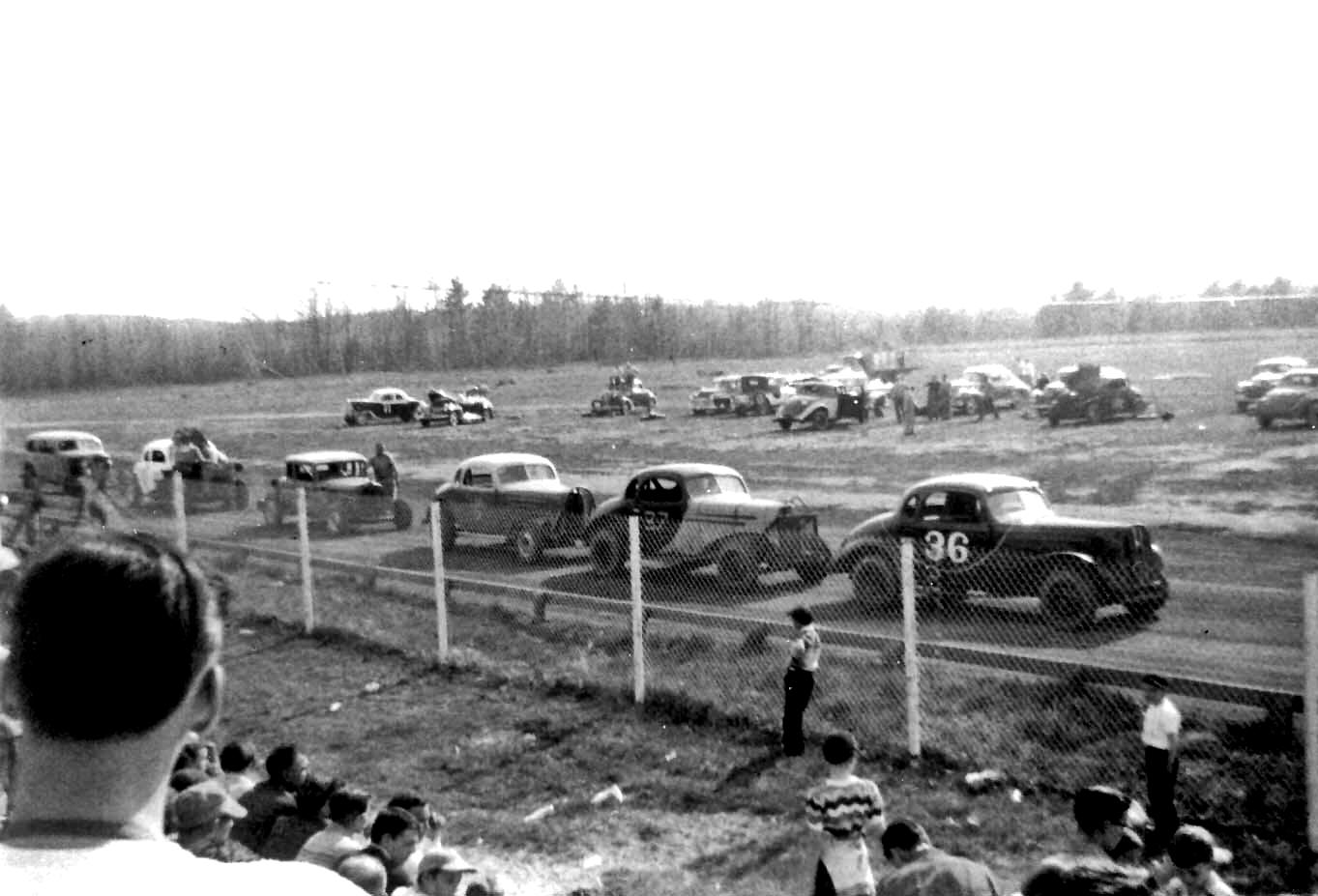 Courtesy of Mark LeFrancois
George Gowie can be seen five cars back with the hood up in this 1951
photo of Fairmont Park Motor Speedway. Below - The Gowie car, in
1963, at Fairmont Speedway [version II].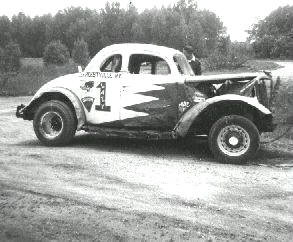 Ladabouche Photo [apparently]


Please email me at wladabou@comcast.net if you have any photos to lend me or information and corrections I could benefit from. Please do not submit anything you are not willing to allow me to use on my website - and thanks. For those who still don't like computers - my regular address is: Bill Ladabouche, 23 York Street, Swanton, Vermont 05488.
AS ALWAYS, DON'T FORGET TO CHECK OUT THE REST OF MY WEBSITE:
www.catamountstadium.com
Return to the Main Page
Return to the Main News Page
Return to the All Links Page
Return to the Weekly Blog Links Page